Professional photographer Michele Sprague takes us on a visual truck camping journey into Utah's incredible national parks, state parks, BLM lands, and boondocking opportunities.  Let's go camping in Utah!

In the short year and a half we've owned our truck camper, we've had the opportunity to camp in seven states and see some truly incredible places.  My most prized possession is now my camp journal that details all 145 nights we've spent in our truck camper along with a photo of every place we've camped.
No matter where we go, we find something new and inspiring and are always blown away at the places our truck camper can go while providing us all the comfort we could ever need.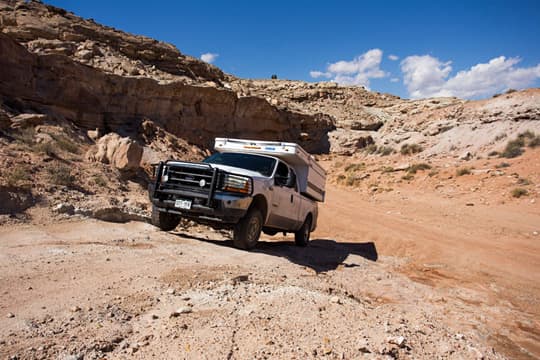 Above: Wild Horse Road, North of Hanksville, Utah
So far, Utah stands out above the rest as a state that truly satisfies our exploring souls while still leaving us craving more.
Last April we set out for a ten day trip throughout Southern Utah.  Spring break was not on our radar until we pulled in to Goblin Valley State Park.  In the park were more crowds than we could have imagined.  RVs and RVers were everywhere.
Finding the nearest four wheel drive required road has always been our most successful way of losing the crowds.  We did just that as we set off down Wild Horse Road.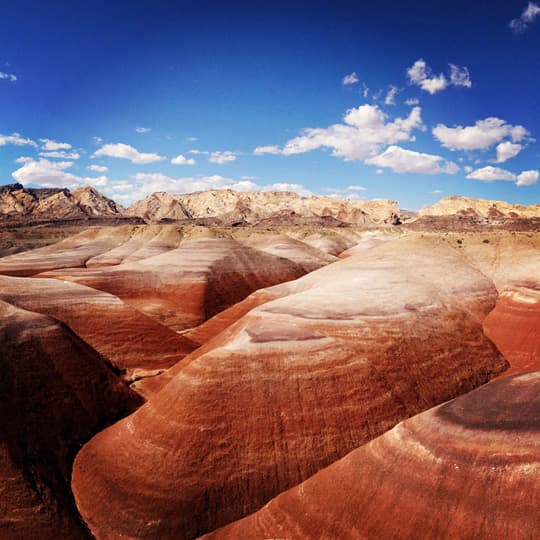 The best part of throwing your plans out the window are all the unexpected surprises of spontaneous travel.  On Wild Horse Road we encountered this truly other world landscape.  It was unlike anything we'd ever seen before.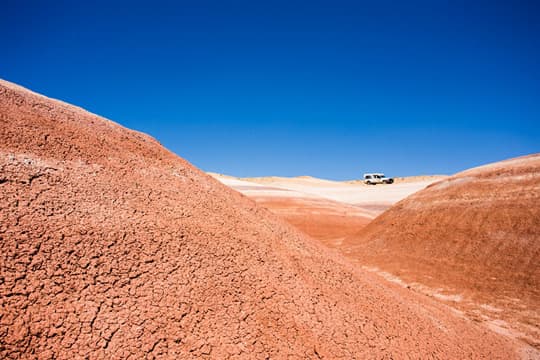 Above: Another view of the formations we discovered along Wild Horse Road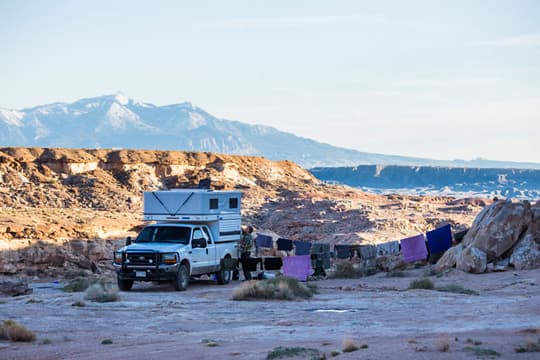 Above: Our campsite off Wild Horse Road, Utah
The moon-like terrain of this area was incredible.  After hiking around for a bit, we discovered a portable water container had leaked in our camper.  This resulted in our needing to find the nearest campsite to air dry towels and clothing.
Truck Camping Tip: If you're going to carry portable water jugs in your camper, place them on the floor alongside items that can survive a potential water leak.  Fortunately, my husband had already thought of this and only our clothes and towels got wet.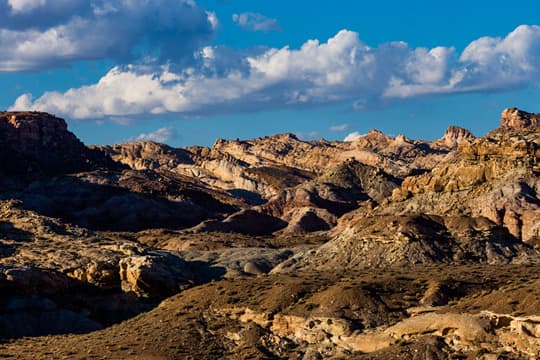 Above: The view from our campsite on Wild Horse Road, Utah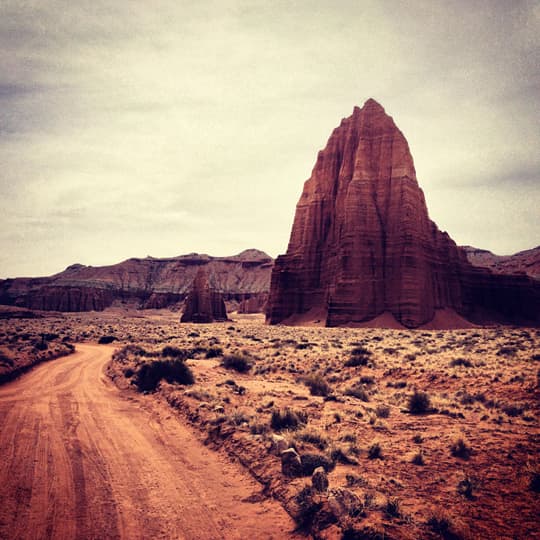 Above: Cathedral Valley Road, Capitol Reef National Park, Utah
Cathedral Valley Road in Capitol Reef National Park was a real treat.  We felt as though we had this beautiful corner of the National Park all to ourselves.
Cathedral Valley Road loops through the National Park.  We accessed it from Highway 24 near Caineville.  That afternoon we decided to set up camp in the nearby BLM lands.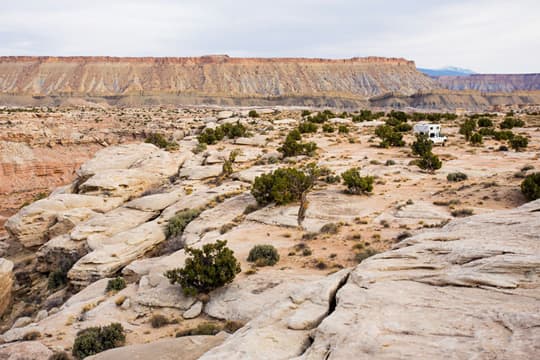 Above: BLM land near Caineville, Utah and Caineville Wash Road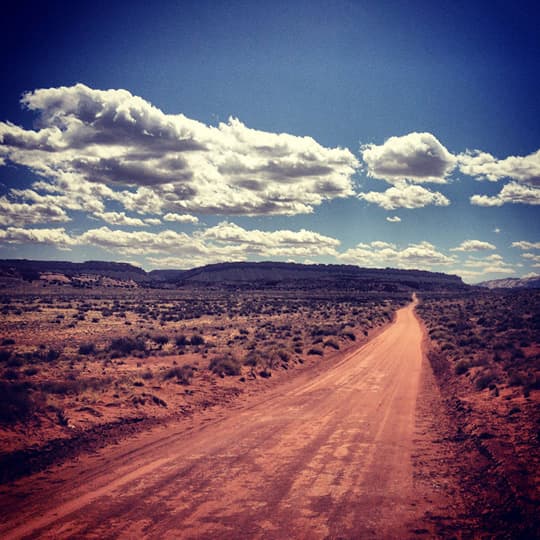 Above: Notom-Bullfrog Basin Road, Capitol Reef National Park, Utah
Notom-Bullfrog Basin Road runs south off Highway 24 and takes you right into Capitol Reef National Park alongside the spectacular Waterpocket Fold.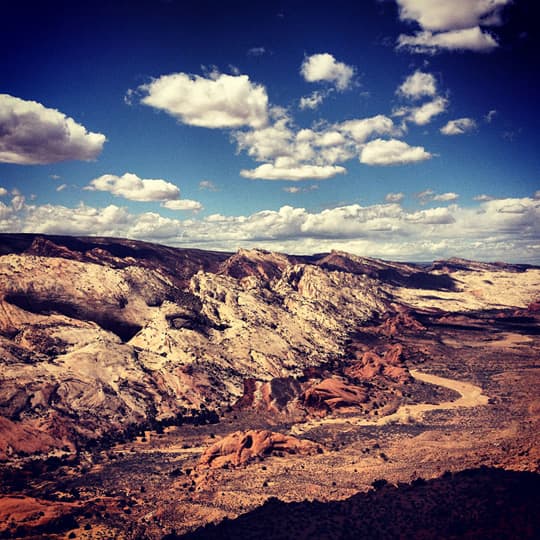 Above: Waterpocket Fold, Capitol Reef National Park, Utah
The Waterpocket Fold is a 100-mile geological landform that defines Capitol Reef National Park.  It's an incredible site and offers some excellent hiking opportunities inside the National Park.
We always travel with our two dogs, Kaia and Cosmo.  Since they are not permitted on trails or in the backcountry of National Parks, we admired the views and then set off to find a campsite on the dog-permitting BLM land adjacent to the National Park.
During our travels throughout Utah, we've learned that the National Parks are not the only places to see the sites.  Nearby BLM land and National Forest sometimes have just as much to offer, minus the fees and the crowds.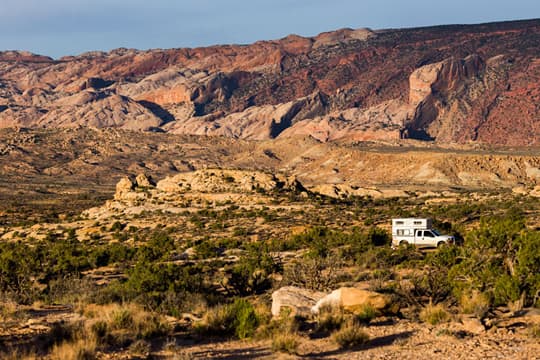 Above: BLM land off Stanton Road, Utah
The BLM land we found alongside Capitol Reef National Park offered spectacular views of the Waterpocket Fold.  The BLM land shown above is West of Highway 276 and is quite remote. There are no amenities or services nearby.  In exchange, you get all the solitude you could ever want.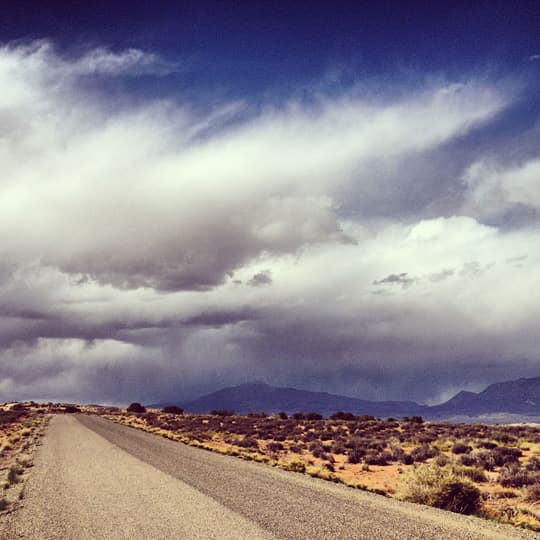 Above: The beautifully remote Stanton Road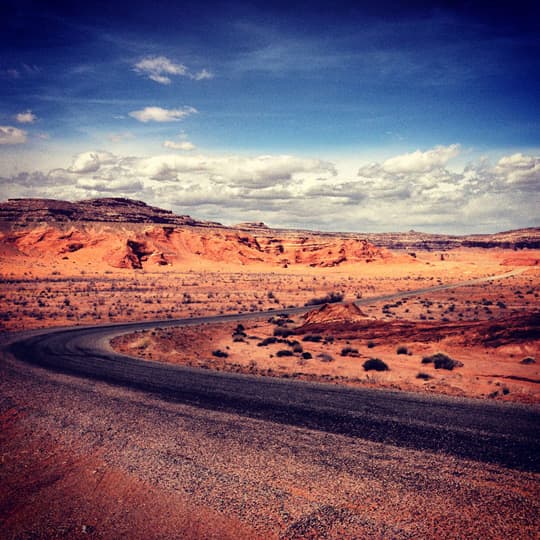 Above: Stanton Road before arriving at Bullfrog Marina and Lake Powell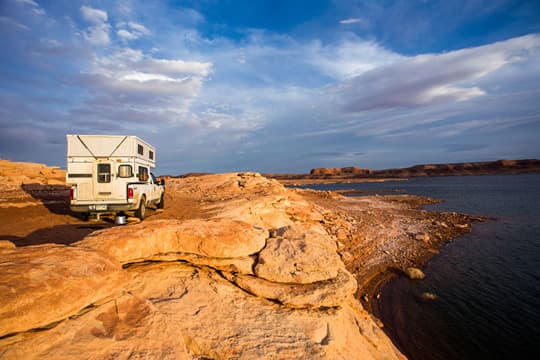 Above: Stanton Creek Campground, Lake Powell, Utah
We feel so lucky to go to so many amazing places.  Stanton Creek Campground at Lake Powell in Utah was an unexpected find and one that we are anxious to get back to.
Lake Powell has always been a really special place to me.  I've done houseboat trips on the lake and, last year, we took our truck camper to Alstrom Point high on a plateau overlooking Lake Powell.
After spending close to a week wandering the arid desert of southern Utah, we set out to find a campsite that would protect us from the relentless wind we'd been dealing with all week.  Finding this site right on the water's edge rejuvenated our traveling spirits.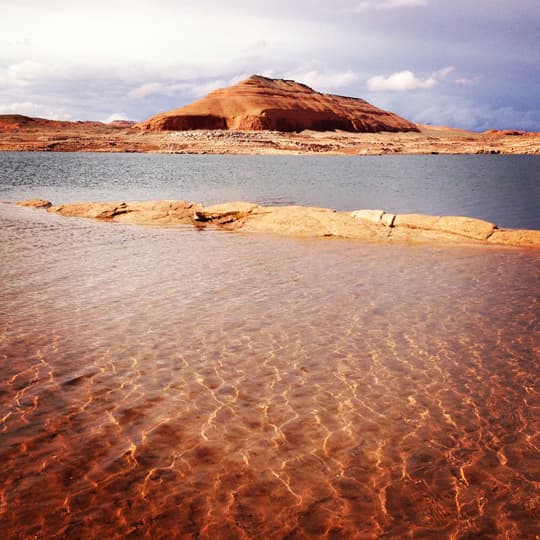 Above: One of the many beautiful views from Stanton Creek Campground
Stanton Creek Campground near Lake Powell is less of a campground and more a beach where you find your own little piece and make it your own.
No hookups or amenities of any kind are provided at Stanton Creek Campground, but the ability to camp right on the water's edge of Lake Powell made it worth the six dollars per person, per night, fee.
Only a few miles away is the small community of Bullfrog Marina where we were able to refuel, shower, eat a hot meal, and purchase a few groceries from a very limited selection.  Stanton Creek is far from any other developed town so be sure to come prepared.  It would be a shame to leave before you want to because you need supplies.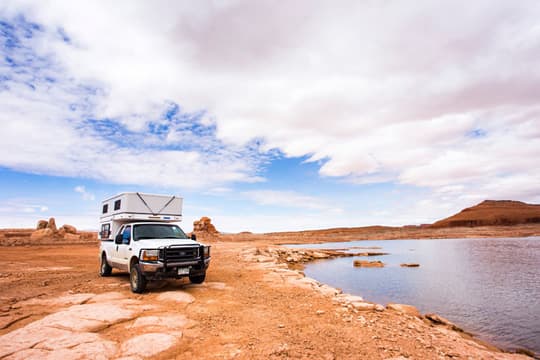 Above: Our second campsite at Stanton Creek Campground.  There were so many great places to camp.  We camped at two different spots during our stay.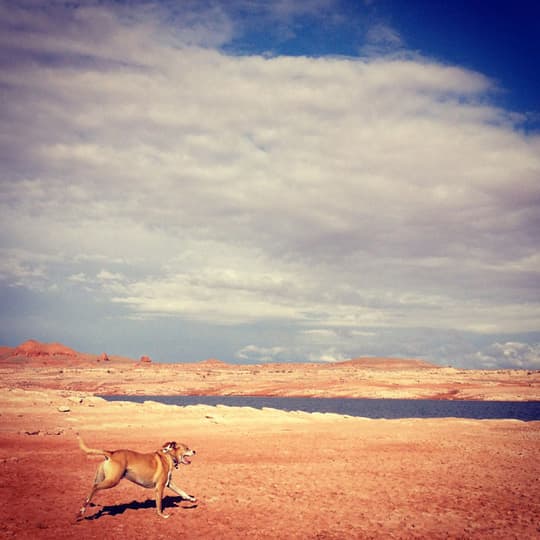 Above: Cosmo loving life at Stanton Creek Campground, Lake Powell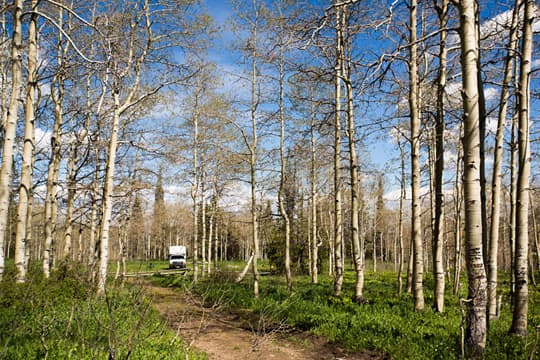 Above: Forest Rd 377, Uinta National Forest East of Heber City, Utah
After exploring some of Southern Utah, we decided to take a trip further North and explore Uinta National Forest East of Heber City.  Once again, we were delighted by Utah and its diverse, expansive public lands.
The quantity and quality of boondocking sites we saw was impressive, making it hard to choose where to call home for the night.  We spent five nights in four different locations, enjoying each one equally.  My favorite part of every site was the abundance of Aspen trees in every direction.  I imagine this would be a spectacular area to visit during the Fall.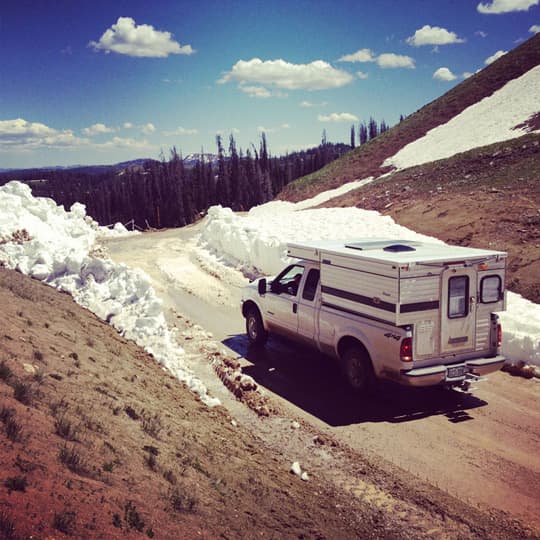 Above: Currant Creek Road in Uinta National Forest.  It was a pleasant surprise to find some lingering spring snow had been plowed allowing us to continue exploring
Above: Off Strawberry River Road, North of Highway 40, Uinta National Forest, Utah.
The campsite above was a sigh of relief after a long day.  Our trip to this area centered around a half-marathon I was set to race in Provo.  We had reserved a site at a campground near the starting line that turned out to be a real drag.  It was packed full of weekend warriors who looked ready to party into the wee hours of the night.
I had a 3:00am wake-up call the next day.  Combined with some other race complications I had encountered earlier that day, I was far from looking forward to the marathon I had prepared three months for.
My awesome husband suggested we pack up camp, leave the dumpy campground, and find a remote, peaceful campsite deep in the forest.  He went on to add, "Get up whenever you feel like it, and go run thirteen miles through the mountains at your leisure."  We ended up at the gorgeous site pictured above.  The next day I ran a one-woman half-marathon.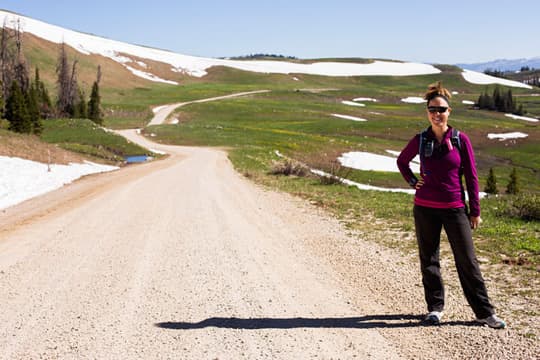 Above: The starting line of the best race of my life.  Before the truck camper, I stayed in hotels, slept like crap, and woke up well before dawn for a race that cost me a lot of money.  Now I'm creating my own races.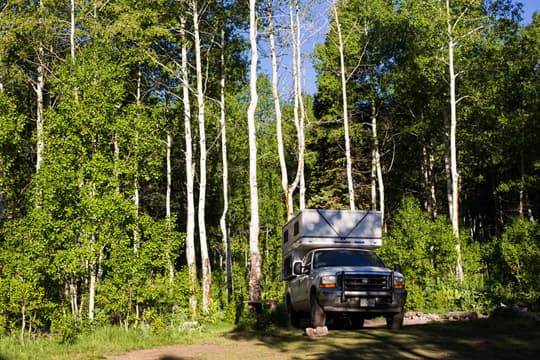 Above: Uinta National Forest off Highway 92 near Sundance
The above campsite was the only available site we could find on a Saturday night in June.  Although there was a fairly busy road not far behind our site, it was still a beautiful setting.  Before arriving we enjoyed great food and a little exploring in nearby Midway.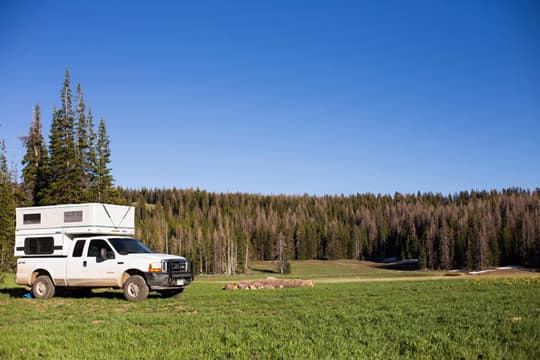 Above: Uinta National Forest, Utah
Our last night in Uinta National Forest took us a little higher into the Alpine forest.  Again, the number of available boondocking sites was incredible, but the number of campers occupying many of the sites was incredible as well.  Regardless, we learned that Southwest Utah is not the only place to offer spectacular camping opportunities.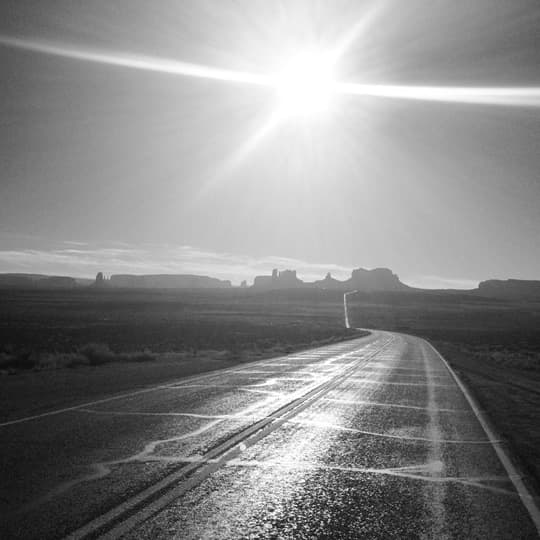 Above: Highway 163 heading to Monument Valley
The end of last year drew us back to Southern Utah where the mild temps last a little longer than where we reside in the Colorado Rockies.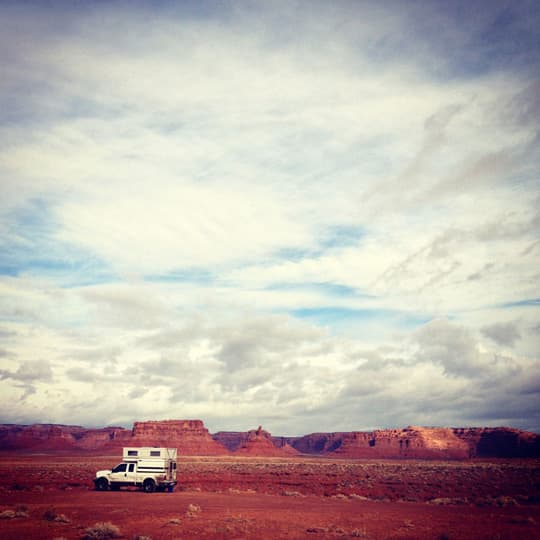 Above: Valley of the Gods, near Monument Valley, is one of our favorite places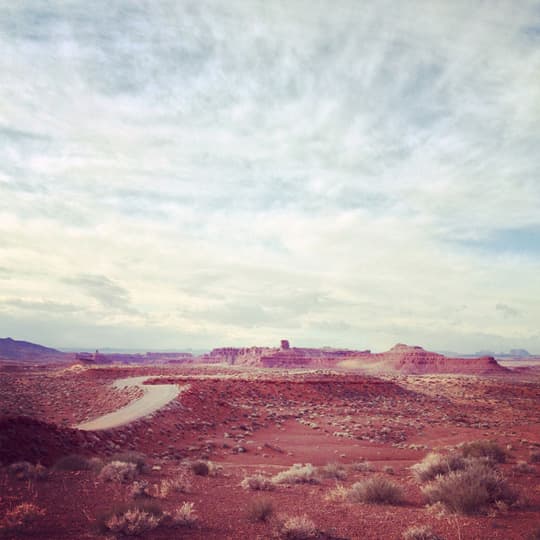 Above: Valley of the Gods, Utah
Every time we visit Valley of the Gods we're enamored by the photo opportunities, the star-gazing, and the peace and tranquility.  A camera and tripod is a must for this area.
Our truck camper has opened up an entirely new world for us.  We've learned that we thrive on living in small spaces, we love to move around at our heart's desire and we relish exploring new places.
For locations of the above campsites and more, check out our website at twohappycampers.com. To visit the Four Wheel website, go to fourwheelcampers.com. Click here for a free Four Wheel brochure.
Note: All the above campsites are primitive campsites with no services at or near the campsite.  Come prepared and enjoy the serenity of these remarkable places!