Phoenix Custom Campers introduces the first flatbed, overland-ready with a sofa, pop-up, slide-out camper in history.  Did we mention it has a camper-to-truck pass-through?  And a custom aluminum storage bed?

If we've learned anything from watching Phoenix Custom Campers over the years it's this; expect the unexpected.  Robby Rowe, Phoenix's Chief Creative Genius and Resident Camper Artist, is capable of making a custom camper for just about anything.
Jeep JK?  No sweat.  Ford Raptor Camper?  Easy peasy.  Ford Bronco Camper?  That's nothing.  Chevy Avalanche Camper?  You bet.  Unimog Camper?  Find him a ladder, and it's done.  Robby could probably make a truck camper for an AMC Gremlin out of nothing but sardine cans and fishing wire, if he had too.
Even more impressive, Robby manages to make even the most insane of customer requests work.  Forget LED lights and solar panels, that's kids play.  We're talking about squeezing an enclosed bathroom with a toilet, sink, and shower into a pop-up camper for a Tacoma.  Yes, that's nuts.  And yes, Robby can do that too.
For Phoenix Camper's latest trick, Robby and his team have created something the world has never seen before; a pop-up, flatbed, side-entry, demountable truck camper, with a sofa slide.  One look at this camper and the entire truck camper community will be asking two questions, how the heck did Phoenix do that?  And, why?
But wait, there's another first to report here.  This is also the world's first flatbed, sofa camper that pops-up and slides-out – with a pass-through!  That's right, this camper has a camper-to-truck pass-through.  Robby and the Phoenix Custom Camper team have seriously out done themselves this time.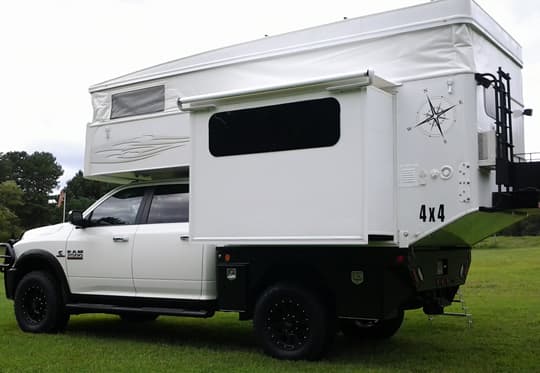 Above: An industry first – a pop-up, slide-out truck camper with a sofa, and pass-through
TCM: Where in the world did the idea for a pop-up, flatbed, demountable truck camper, with a sofa slide and pass-through come from?
Robby: I've been asked to build slide-outs for a few years and simply said, "No".  Here at Phoenix, we try to stay low profile with our truck campers, and slide-outs don't fit that concept.  Besides, our pop-ups usually have three feet of side wall before the pop-up roof.  That's not much room for a slide-out.  For these reasons, I dismissed slide-outs for years.
Then a customer contacted us and insisted that he would like for us to build a flat-bed with a slide-out and sofa.  I thought about it and said, "A slide-out could work with a flat bed".  Since we have been building flatbed campers for years, why not expand into something new?  So we went for it.  This is the first slide-out camper we've ever done.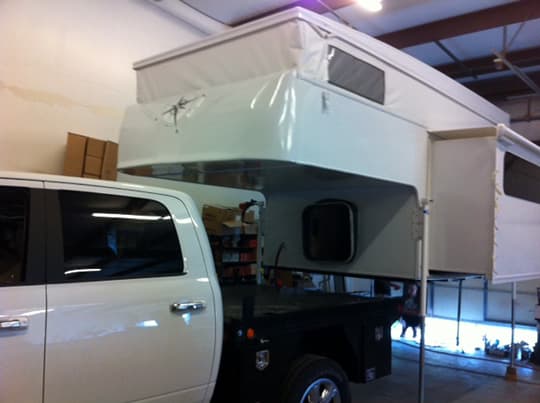 Above: The truck and camper coming together. Note the removable corner jacks.
TCM: What was it like approaching a camper build with a slide-out?
Robby: Honestly, it was scary as hell.  I started by researching slide mechanisms, components, and trims, and how other RV manufacturers built with slide-outs.  With that research, I took the best ideas from the different companies and adapted them to this build.
TCM: What slide mechanism did you use?
Robby: I chose the Happijac Secure-Trac Fixed Frame slide mechanism.  The Happijac mechanism bolts to the camper floor, and then the room slides-out on two rails.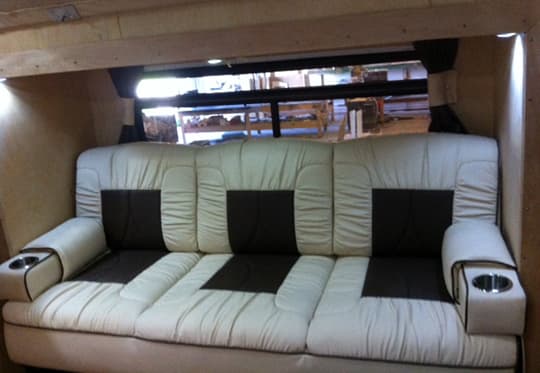 Above: The full size sofa in the Phoenix pop-up camper