Phoenix Campers builds another remarkable custom pop-up camper for a Ford Raptor.  This is one lean mean desert cruising machine.
Sometimes a truck and camper comes together and all you can say is, "Wow".  When Robby Rowe sent us a few photographs of this latest Ford Raptor camper, we were almost in disbelief.  This is truly one of the most amazing truck camper rigs we've ever seen.  Sure it's small and not for everyone, but just look at this rig.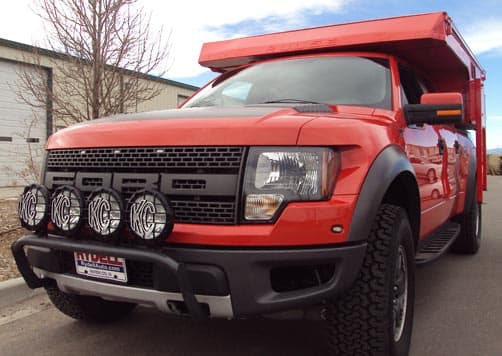 Immediately after we saw the photographs, we contacted Robby to find out more about this extremely unique truck and camper combination.  Robby had designed the camper from the ground up and told us about the camper.  Here are his comments:
"A gentleman called me from a Ford dealership in Iowa and told me that a customer, Jim Rydell, was looking for truck camper that's lightweight and would be used for off-road travel.  Jim was ordering an orange, crew cab, 2011 F-150 Raptor, a factory modified Ford F-150 designed for high speed off-road travel.  We don't normally work through dealerships, but this was obviously a special case.
When we asked Jim if he wanted anything special for his PULSE, he said all he wanted was a basic lightweight camper that could be easily carried by his Raptor.  He also said that the camper needed to fit tight to the truck.  Jim didn't ask specifically for the PULSE, but the PULSE was clearly what he was describing with its custom low profile and super aerodynamic design.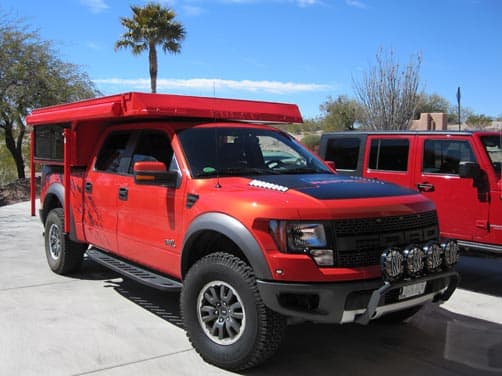 During the design phase, we made Jim's PULSE fit very tight above the truck cab as to not trap wind on the highway.  The PULSE also follows the exact angle and line of the windshield to further improve aerodynamics.  We made the PULSE shorter in length to fit the Raptors unusual five and a half foot bed.  Per Jim's request, the camper even fits with the tailgate closed allowing full use of the Raptor's built in tailgate back-up camera.  Jim also wanted the extra security of a locked tail gate behind the camper.
To compliment and blend with the Raptor's stunning and aggressive aesthetic, we designed the PULSE with custom paint and graphics.  When it was completed, the rig looked like a full conversion.  The camper was completed just a few weeks ago and it's already cruising the deserts of the Southwest somewhere.  It's awesome.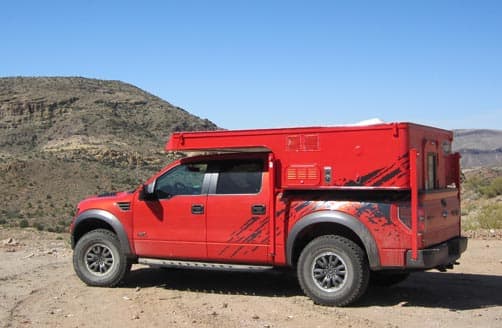 The Raptor PULSE camper includes our ratchet strap tie-downs and the jacks are fully removable with the entire bracket assembly.  There are acorn nuts that stick out, so the jack and bracket come off the camper easily.  It has a perfectly smooth look without the jack posts.  The jacks are regular Happijac jacks, we have just changed the mounting system to be an internal steel stud system that allows you to take the entire jack bracket off to have nothing on the wall.  It gives the camper a finished look.  We are calling this the Invisalift.  Removing the jacks also shaves one hundred and fifty pounds off the camper.
Jim's Ford Raptor PULSE has a three-way refrigerator, three-burner stove, Fantastic vent, a double sink, a water tank and pump, storage under the bed, and a queen-sized push button air filling mattress which is a high quality mattress.  The electric air pump for the air mattress has a battery inside so it's self contained.  You could even put the mattress on the roof and lay outside.  And having an air mattress allows us to have full under bed storage with a low profile design.  The lower dinette is comfortable and makes out into a five and a half foot bed."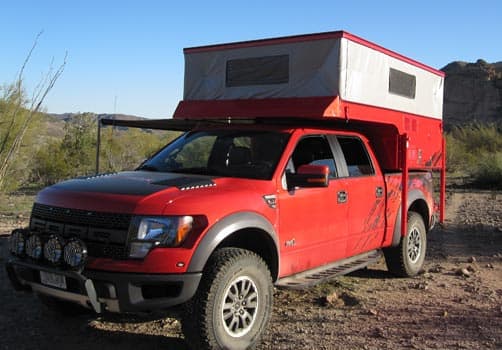 After talking with Robby, we followed up with Jim Rydell to ask him about his new Raptor camper.  Here are his comments:
"I've done a lot of driving in the desert and I decided to buy a Ford Raptor so that I can do more things in the desert.  I did an online search for Raptors with campers, found Phoenix Campers, and contacted them.
I go out in the desert and mountains in Arizona.  There are some hills and rocks and plenty of off-roading opportunities.  I also do a lot of hiking, rock hounding, and photography.  You have to go a long ways off-road to get to the places I want to go.  With the Phoenix Camper, I can stay overnight.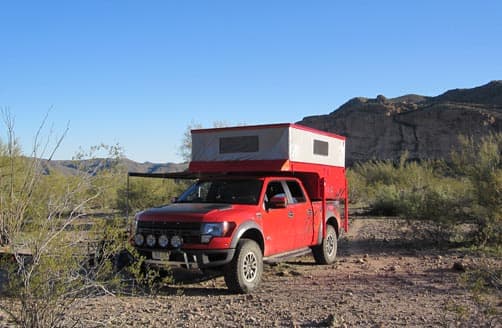 I wanted something to withstand the rigors of off-road travel.  I also wanted something for the Raptor and its five and a half foot bed.  Phoenix Campers are custom built so they will fit in the vehicle you want.  There is nothing else on the market that would fit in the Raptor properly.
I didn't want an overhang.  I wanted my camper to fit in the box of the truck and have the ability for the tailgate to shut.  I also didn't want the camper to be high over the cab of the truck.  I wanted to reduce the size so that my entire truck camper could fit in my garage.  Also by having a lower camper, I will have less wind resistance.