This is what happens when you're raised a Denver Broncos football fan and a custom camper manufacturer.  Introducing the Phoenix Bronco Bronco, a football party machine on wheels.

In the six years we've known Robby and Cari Rowe, Co-Owners of Phoenix Campers, we have learned to expect the unexpected.  In the recent past, Robby has rocked the RV marketplace with Chevy Avalanche Campers, Ford Raptor Campers, and Jeep Campers of every description.  He's fearless about creating totally custom campers for almost any vehicle his customers bring him, and equally fearless about making their wildest camper dreams come true.  Have a unique idea for a camper?  Cari and Robby want to hear from you.
This brings us to the subject of today's story, the Bronco Bronco.  In a nutshell, the Bronco Bronco is a Denver Bronco themed camper built on, what else?  A Ford Bronco!  All at once the Bronco Bronco seems like the craziest and the most obvious camper we've ever seen.  Crazy because, well, just look at it.  This may be the most over the top camper ever made.  And obvious because, well, someone had to build a Bronco Bronco, right?  See what we mean be expecting the unexpected?
We contacted Cari and Robby to get what had to be an equally amazing back story on their Bronco Bronco.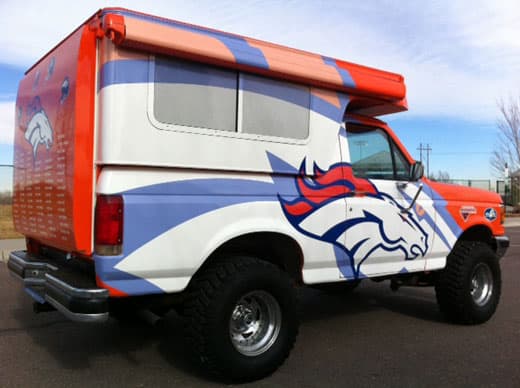 TCM: What inspired you to create the Bronco Bronco?
Robby: We have always loved the Denver Broncos. We are die hard fans. When they are not winning, we still watch the games, throw parties, wear our jerseys, and cheer our heads off. That's the first reason we built the Bronco Bronco.
The second reason we built the Bronco Bronco was to have a demo camper to show to customers. Every time we build a camper for a customer, it disappears as soon as it's ready. So, we built something really cool that stays here with us. The Bronco Bronco shows our potential customers what we can do, and it includes our latest features. Once we had the basic idea, it started to snowball.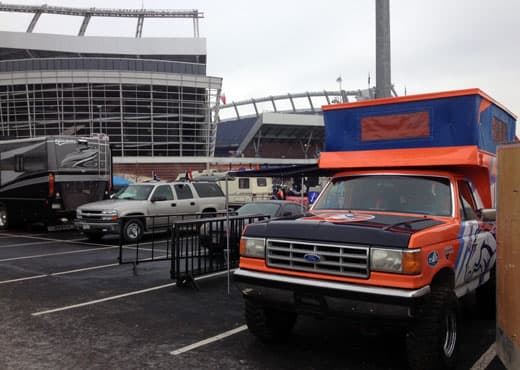 Above: Tailgating at Mile High Stadium, Denver, Colorado
TCM: Is the Bronco Bronco specifically for tailgating at Bronco football games, or will it also be used for actual camping?
Robby: We've been tailgating at Mile High Stadium off and on for many years. We have already been tailgating with the Bronco Bronco. The Bronco Bronco is definitely the ultimate tailgating machine. Now we're even more excited for next season.
This is our primary camping camper as well. Of course we have to go to campgrounds after dark and get out before it's light because we'll get swarmed, but we're definitely camping in it. This summer we'll go fishing and water skiing on the lake. We may pull the boat too. And who knows, maybe the boat will get transformed as well.
TCM: How did you shoe horn a separate bathroom, cassette toilet, shower, kitchen with sink and range top, dinette and bed onto the back of a Ford Bronco?
Robby: That's the trick we always try to pull off. We make a lot of room on the inside even though it looks small on the outside.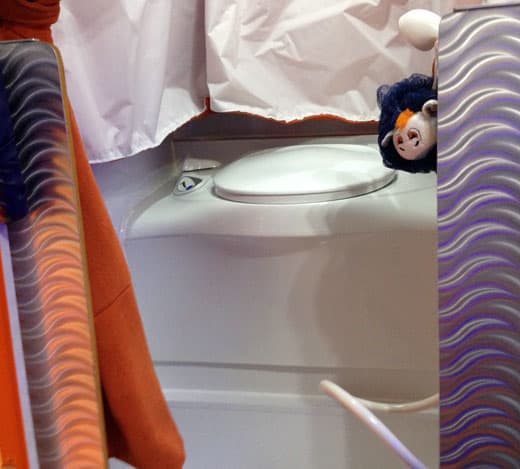 Above: The wet bath of the Bronco Bronco features a shower and cassette toilet
This is absolutely the most advanced Bronco camper I have ever built. The Bronco Bronco has a shower and toilet, which are very rare features in a Bronco camper. There's also a new solar vent in the bathroom like they use for sailboats with no battery power. We also have a full bed over the cab with a slide extension.