Nobody embodies the Go Anywhere spirit of truck camping more than Jim McCoy.  With his Ram-Hallmark rig, he pushed the four-wheel drive limits on Elephant Hill.  Don't miss his insane video.

I started my camping last year by hitting the 2014 Overland Expo West near Flagstaff, Arizona.  There I caught up with truck camper builders I have become friends with through Truck Camper Magazine; Four Wheel Campers, Hallmark RV, and Phoenix Custom Campers.  I also ran into XP Campers and the TCM Expo West reporters for this year, D.Gorton and Jane Adams.  As always,  Overland Expo West was a blast.
After the Overland Expo, I tried a route from Big Water, Utah, to Escalante, Utah, that looked doable on the maps by a truck camper, but I wanted to recon it in my Jeep first.  If it panned out, I would take my truck camper at a later time.  It included a place along Lake Powell called Alstrom Point that I have seen other four wheel drive truck campers post photos of on the web.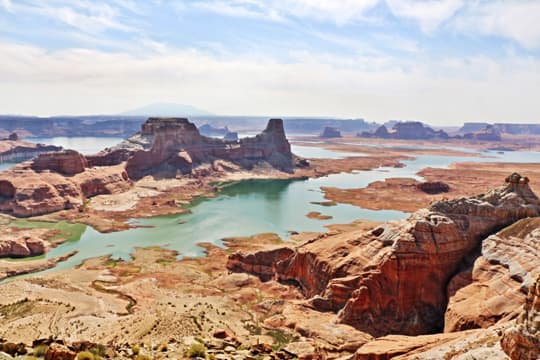 Above: At Alstrom Point, looking north over Lake Powell
From Alstrom Point, I continued following backcountry four wheel drive roads to get to Escalante.  They covered about 125 miles of scenic canyon country along Lake Powell, and then climbed up onto 50 Mile Bench and skirted a canyon wilderness area.  I spent a few days up on the bench exploring some of the canyons in the wilderness area on foot.  Continuing the four wheel drive route, I dropped back off 50 Mile Bench on its western end onto Hole In The Rock Road, and then continued northwest to Escalante.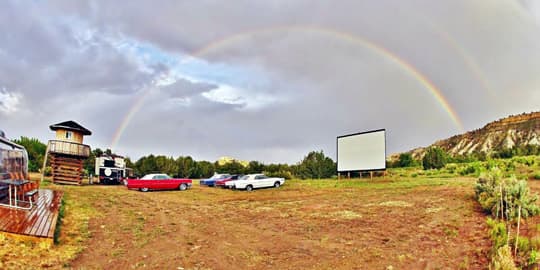 Above: Shooting Star Campground
In Escalante, I discovered an incredible campground, for those that like to enjoy them.  Truck campers and all other travelers will love it!  It's called The Shooting Star RV Resort.  This was a huge campground area that is suitable for jamborees or just finding a quiet corner.  It boasts all kinds of 1950s cars around the property as well as an old fashioned drive-in theater!  They serve refreshments from a refurbished Airstream, and you can rent a 1950s convertible to watch the movie from.  Hook ups, water, and WiFi is available.  Very friendly staff and a low key place.
I did a few local trips around my part of Colorado, but I also took my off-road truck camping to a new level this year and undertook three major trips.  They were more like big expeditions.
I had read about the Colorado Backcountry Discovery Route that a motorcycle group put together, traversing the entire state of Colorado north to south on off-road double track routes.
From what I researched, it looked like an off-road four wheel drive enthusiast truck camper could do most of it, while seeing some incredible less-traveled back roads.  I used two state atlases and highlighted all the roads comprising the route.  They were all pre-existing mapped forest routes that linked up to make the route.  I also picked up a few topograhic maps with higher detail of certain areas to make sure I had it all covered well.
With a heavy duty set up four-wheel drive truck and my lightweight Hallmark camper, I embarked on an amazing journey along Colorado's back ways and four-wheel drive roads, from Wyoming to four corners.
I broke the adventure into two separate trips.  The first or north half of the state, covering from Wyoming to Buena Vista Colorado, taking five days.  And the second trip, or south half of the state, continuing from Buena Vista to the Four Corners area.  The southern half can be done in as little as four days, but give yourself more time to enjoy things along the way.
The north highlights were sweeping mountain and countryside vistas, and following of the Colorado Riverway for a whole day.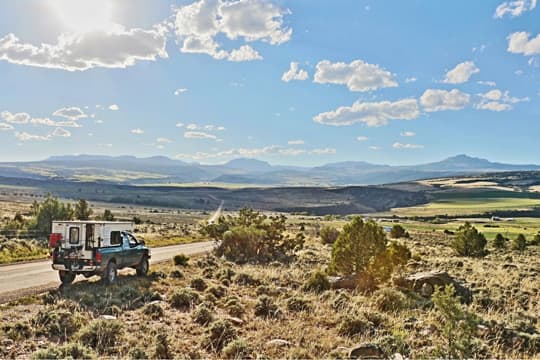 Above: A north section paralleling the Colorado River
The south highlights were more mountain vistas and four-wheel drive passes, sage country, and the incredible scenery and rugged four-wheeling through the San Juan Mountains.  The San Juan Mountain part of the trip was mostly Jeep trails, which can be challenging in a full-size truck and pop-up camper.  Squeezing my truck camper down Corkscrew Gulch literally had me on the edge of my seat!