A Phoenix Custom Camper for a Chevy Avalanche takes Joel Bingham and his family back to the future.  This story proves that truck campers can be time machines.

Can truck campers be time machines?  We already know they can go anywhere, but can they transport us back in time?
In a literal sense, probably not.  Until someone is able to create a working flux capacitor, install it in a truck, generate 1.21 gigawatts with a Honda EU2000i, and drive said rig exactly 88 miles per hour, truck campers will likely remain firmly planted in the present.  Sorry McFly.
However, in the way a song or photograph can instantly transport us to another time and place, truck campers do have some incredible abilities that transcend what most folks accept as reality.
First, you can get into a truck camper, travel clear across the country, and still be home.  Second, you can visit long lost friends and family, reconnect like old times, and then stay to enjoy the moment without becoming annoying house guests.  And third, truck campers can take you to places frozen in time, from ancient landscapes in National Parks to forgotten ghost towns in Nevada, where you can spend a few days walking the paths of history.
There's at least one more way that truck campers can be time machines; when truck camping is passed down from generation to generation.  Joel Bingham has a wonderful multi-generational truck camping story, one starts with hunting trips with his father and uncle, and leads to flipped pancakes and sinking battleships that span decades in the blink of an eye.  All of this time travel is happening in a very unusual rig; a Chevy Avalanche truck camper by Phoenix Custom Campers.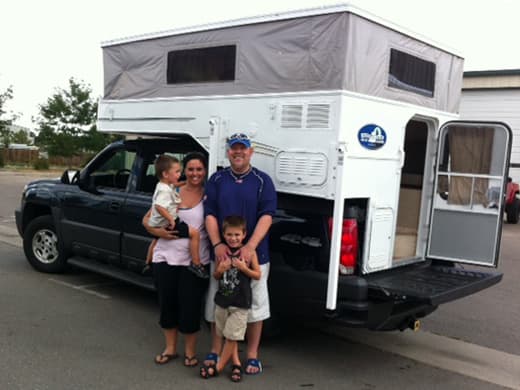 Above: Casey, Melinda, Joel, and Tanner Bingham
TCM: How did you get into truck camping?
Joel: My Uncle Mike and older cousins, Neil and Daven, had truck campers growing up.  I have very fond memories of playing Battleship with my Uncle Mike in his truck camper after a long day of hunting.  My dad also had a smaller pull behind camper that we had great times in while hunting.  My cousin Neil would even live out of his truck camper in the summer.  He would travel around Minnesota and stay for periods of time with family around the state.  Neil is no longer with us.  Most of the good memories we have of Neil involve the outdoors.
Once my dad and I got lost deer hunting. When we finally found our way back to the campsite, I remember how good the pancakes were that my Uncle Mike made us on his truck camper stove. As he made the pancakes, we jokingly checked the milk carton for our missing person pictures.
As a start for my boys to enjoy the outdoors, and a start for me on the truck camper path, I built a small nine by ten foot cabin playhouse in our backyard.  I built the cabin out of recycled materials to see how nice and cheap I could make such a thing. I thought this cabin playhouse would be a great outlet for my boys to camp in the city as I did so much camping growing up in the woods.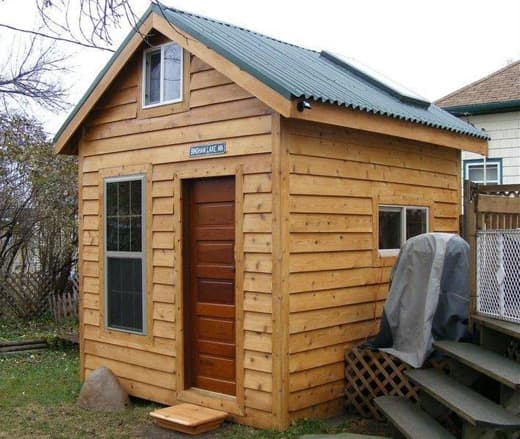 Above: The playhouse Joel made for his kids
I was inspired by a community of people who built small houses and live in them.  They often put them on trailers and have a mobile log cabin.  I used wood that I had, a lot of materials from Habitat for Humanity (they know me well there), and insulation I found in dumpsters or on the side of the road.
I ended up with a beautiful (yet overdone) playhouse cabin for my boys that a person could happily live in.  It has a loft for sleeping, lots of windows, heat, electric, cable television, a fire pit outside, cedar siding, and an opening skylight window on the roof for gazing at the stars.
TCM: That sounds like a Tiny House.  They are interesting.  Did building the cabin playhouse lead you to getting a truck camper?
Joel: In a way, it did.  Even with this playhouse cabin in our backyard, I still wanted to travel.  I thought about building a cabin, like the playhouse, for my Chevy Avalanche.  Unfortunately, I quickly discovered that the weight of a wood cabin would make it too heavy for the Avalanche.
That's when I started thinking about a pop-up truck camper.  A pop-up truck camper would keep the weight down and make the camper easier to haul.  Since my construction skills are focused on wood rather than aluminum and fiberglass, I looked for a company that could build a truck camper for a Chevy Avalanche.
Then I came across Truck Camper Magazine and discovered Phoenix Campers was building a prototype truck camper for an Avalanche.  Phoenix Campers specializes in custom campers and can design and manufacture a camper for almost any vehicle or truck imaginable.  As someone who likes to invent solutions to things, I immediately became a fan the Phoenix PULSE camper line.
Soon after finding Phoenix in TCM, I contacted Robby and Cari Rowe, Co-Owners of Phoenix Campers, and told them what I was looking for.  Cari told me they would be happy to build an Avalanche truck camper for me and came back with a quote.  When the quote arrived, I was quickly reminded that I was at an earlier point in my life where I was responsible for two young sons and a mortgage.  The quote was not in my price range.
With my tail between my legs, I kept in touch with Cari and kept reading up on the campers they were building.  I poured over Phoenix Camper articles and pictures like I used to do with the JCPenney Christmas toy catalog when I was growing up.  I even had a folder of pictures, articles, quotes, and emails.
TCM: We did that when we first got into truck camping, two years before starting TCM.  We had piles of truck and camper brochures and printed website pages and notes.  How did you finally end up with your Phoenix Camper?
Joel: Cari contacted me.  Phoenix had an Avalanche camper on trade-in.  The owner decided to travel around Europe and commissioned Phoenix to build a bigger camper.
TCM: That was lucky.
Joel: It certainly was.  I agreed to a deal with Cari, and asked for a few modifications to be done before pick up.  Specifically, I had played with solar on the cabin playhouse and wanted my solar power system on the truck camper.  Cari said, "No problem" and set a date to pick up the camper.
When it was ready, I drove west with my family to get our new toy.  When we arrived, Robby had mounted my three solar panels on the roof, and my charge controller and inverter were mounted in the camper.  All the cables were hidden and my solar system was ready to go.  I had a second battery for the system which I could mount in the battery box.
TCM: What was it like picking up the camper?
Joel: It went very well.  I had talked with Cari and Robby before, but my beautiful misses, Melinda, had not.  I am sure she was wondering what goofy adventure I was dragging them on this time, and who were these people I was buying this Avalanche camper from?  She was very impressed with Cari and Robby and raved about how nice they were and what a cool business they had.  The lesson is that she should trust me more, right?
TCM: Absolutely.  Did you enjoy your new camper before heading home?
Joel: We did.  We explored Denver and did some urban camping the first night we had it.  I would have rather been in the wilderness, but it was nice to be able to quickly pop-up anywhere; whether that be a Walmart parking lot, or next to a river.
In the days that followed, we took in my son Tanner's favorite place in the world, the Lego Store, and one of my favorite places, a major league baseball stadium for a Rockies game.  Then we headed back towards Iowa.
On the way, we decided to camp for the night in North Platte, Nebraska and came across a campground the city maintains.  In talking to the locals, I found out that the money for the campground was donated by a gentleman who wanted a place for children and families to enjoy themselves as he would have liked to when he was young.  It was $5 a night to camp.
TCM: What a great find.  That's what we call road magic.
Joel: It gets better.  Already we were learning how great it is to camp in a free or inexpensive campsite instead of spending hundreds on a hotel room.  The North Platte campground also had a small zoo with free admission.  The zoo featured buffalo, elk, birds, deer, an amusement park, and an affordable restaurant.  This was heaven for my four and seven year old.  I would have never found this place without my Phoenix camper.
I woke up the next morning and had my coffee while watching a flock of Canadian geese on the shoreline of the river that was our backyard.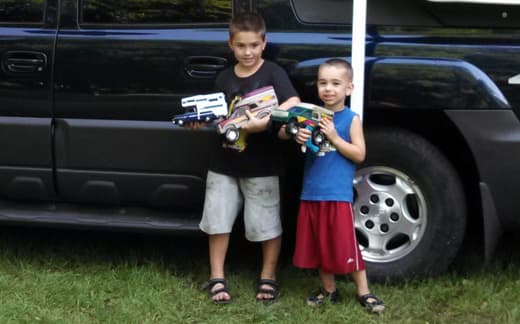 Above: Tanner and Casey with their truck camper toys
TCM: That's a great story.  Let's get back to your rig.  Why did you choose a Chevy Avalanche?
Joel: I am very fond of how the Avalanche fits my lifestyle.  It's also reasonably fuel efficient at 17-18 miles per gallon without the camper and about 14-15 miles per gallon with the camper loaded, wet, and packed with our stuff.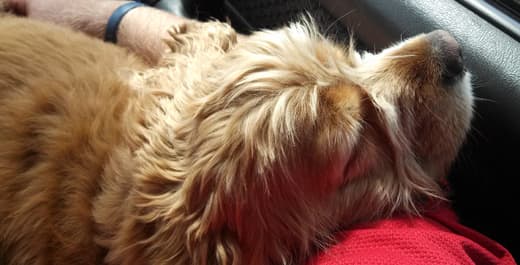 Above: Nicky exhausted after a long day of camping
TCM: But with you, your wife, two boys, and a dog, isn't it a bit tight camping in the back of a Chevy Avalanche camper?
Joel: It is very cozy with all of us in our little space.  It helps that we all get along.  That's a part of being in the camper that we enjoy.  Our cockerspaniel, Nicky, is able to jump up on the loft and loves going camping with the family.  We also realize that we are going to bump into each other.  We just need to say, "I need to get up there" or, "I need to get down".  It's worked out well.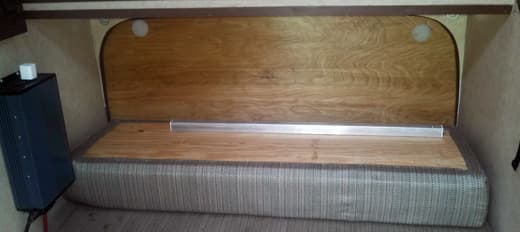 Above: The door that folds into the back seat of the truck for an extra bed
One place that Robby Rowe made extra space was in between the truck and the camper.   He built a wood door that folds into the back seat of the Avalanche so that we have an adult size bed there.  We also have a couch on the passenger's side that makes into a small bottom bed.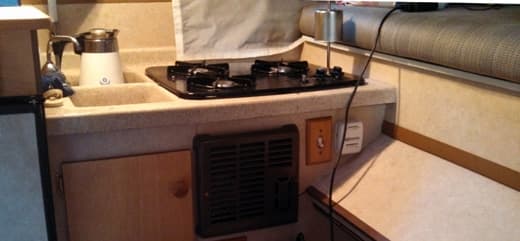 Above: Avalanche camper features a three burner stove and double sink
TCM: What kind of amenities do you have in your Avalanche camper?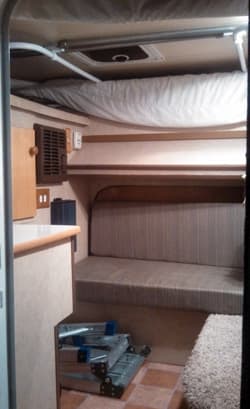 Joel: Robby is very innovative in taking full advantage of the space available.  We have a lot of the same amenities that other truck campers have.  I have a small refrigerator in the camper that can run on propane, battery, or shore power.
We have a three-burner range top in the camper.  Melinda makes a mean cup of coffee with our old school percolating coffee pot.  I have been working on being a gas stove cooking expert.  It's a work in progress but, my clientele (a picky audience at four and seven), love Dad's camper stove burgers, pancakes, and mac and cheese.
We also have a double sink for washing dishes, a queen bed with under bed storage, ten gallons of fresh water, and storage under the front seat.  We also have the three previously mentioned solar panels and two batteries so we can camp off-the-grid.
We do not have a toilet or shower in our camper.  I find bathrooms readily available on the road, campsites, or even a bush is fine for me as an outdoorsman.  So the lack of shower or toilet has not been a huge concern.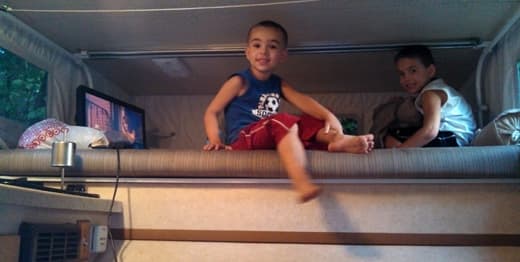 Above: Casey and Tanner enjoying the camper
TCM: How do your kids like the camper?
Joel: Casey and Tanner were my biggest motivation for getting the camper.  They love the camper and want to go camping every weekend, which I am fine with.
I grew up in a very touristy area of Northern Minnesota with more than enough lakes, trees, and adventure for any kid.  Now I live in Sioux City, Iowa, an area that's low on outdoor opportunities compared to what I had growing up.  Even with this limitation, I wanted a tool to be able to have outdoor adventures with my boys, just as I did growing up.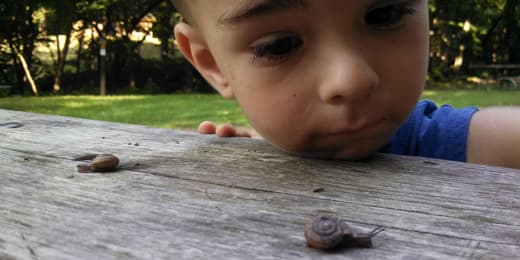 Above: Casey and his pet snails
I love that the truck camper can teach them things.  We live in a city of 90,000 people.  We recently saw the movie, Turbo that's about a snail.  Living in the city they had not seen a snail in real life, so we went camping in a local state park and they saw many in person.  They picked them up as pets for the weekend and named them all after characters from the movie.  We also went on a five mile hike.  I couldn't believe they wanted to keep going.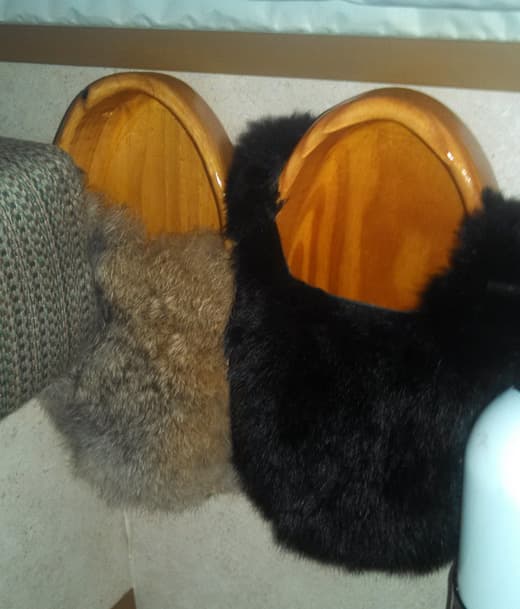 Above: Joel's invention; wood bowls with fur to hold cell phones and/or a wallet
TCM: You said in one of your emails, "I am a woodworker and have been adding my touches to the camper when I have not been camping".  What modifications have you done?
Joel: I added some small wood touches to the camper like walnut and maple key hooks, wood outlet covers, a serving tray/small table, a longer wood and metal door catch for the door, and towel holders.  Next to the bed, on the right side, I added wood bowls with fur to hold my cell phone and wallet.  The camper doesn't have a night stand, so the bowls work well.  I also plan on adding a flip down RV television that comes down from the ceiling.
I look forward to continuing to improve my small camper space.  Our camper will always be evolving.  I want to build a table with a hinge so that we can get it out of the way when we're not using it.  That will take some engineering.
TCM: Maybe you'll have a few entries for the next mod contest.  What's next for you and the family with the Avalanche camper?
Joel: We will be exploring everywhere we can around northwest Iowa, South Dakota, and Nebraska.  We also have big plans to go to Jacksonville, Florida this winter.
We had one camp-out where we woke up to a rainstorm.  My eight year old son, Tanner, wanted to pull out the Battleship game.  We played a couple games of Battleship in the camper until the rain passed.
How full circle have I come to be enjoying Battleship in the camper with my sons!  They even enjoy camper pancakes as I used to with my Uncle Mike.  In fact I went up camping in Motley, Minnesota this summer with a friend I grew up with.  My Uncle Mike loved the camper and mentioned our cousin, Neil.  Mike said that he wished Neil was here.  He would have loved to see you camping with your family and dog in the camper.  The truck camper has been a fantastic tool for me to get to those outdoor places and share adventures with my family.
Truck: 2004 Chevy Avalanche, extended cab, short bed, 4×4, gas
Camper: 2010 Custom Phoenix Avalanche Camper
Tie-downs/Turnbuckles: Three bolts into the floor that hold it on