A Phoenix Custom Camper for a Chevy Avalanche takes Joel Bingham and his family back to the future.  This story proves that truck campers can be time machines.

Can truck campers be time machines?  We already know they can go anywhere, but can they transport us back in time?
In a literal sense, probably not.  Until someone is able to create a working flux capacitor, install it in a truck, generate 1.21 gigawatts with a Honda EU2000i, and drive said rig exactly 88 miles per hour, truck campers will likely remain firmly planted in the present.  Sorry McFly.
However, in the way a song or photograph can instantly transport us to another time and place, truck campers do have some incredible abilities that transcend what most folks accept as reality.
First, you can get into a truck camper, travel clear across the country, and still be home.  Second, you can visit long lost friends and family, reconnect like old times, and then stay to enjoy the moment without becoming annoying house guests.  And third, truck campers can take you to places frozen in time, from ancient landscapes in National Parks to forgotten ghost towns in Nevada, where you can spend a few days walking the paths of history.
There's at least one more way that truck campers can be time machines; when truck camping is passed down from generation to generation.  Joel Bingham has a wonderful multi-generational truck camping story, one starts with hunting trips with his father and uncle, and leads to flipped pancakes and sinking battleships that span decades in the blink of an eye.  All of this time travel is happening in a very unusual rig; a Chevy Avalanche truck camper by Phoenix Custom Campers.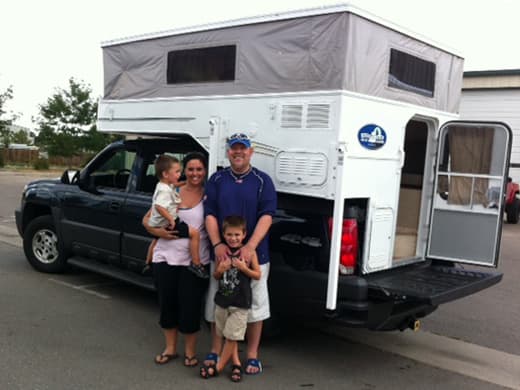 Above: Casey, Melinda, Joel, and Tanner Bingham
TCM: How did you get into truck camping?
Joel: My Uncle Mike and older cousins, Neil and Daven, had truck campers growing up.  I have very fond memories of playing Battleship with my Uncle Mike in his truck camper after a long day of hunting.  My dad also had a smaller pull behind camper that we had great times in while hunting.  My cousin Neil would even live out of his truck camper in the summer.  He would travel around Minnesota and stay for periods of time with family around the state.  Neil is no longer with us.  Most of the good memories we have of Neil involve the outdoors.
Once my dad and I got lost deer hunting. When we finally found our way back to the campsite, I remember how good the pancakes were that my Uncle Mike made us on his truck camper stove. As he made the pancakes, we jokingly checked the milk carton for our missing person pictures.
As a start for my boys to enjoy the outdoors, and a start for me on the truck camper path, I built a small nine by ten foot cabin playhouse in our backyard.  I built the cabin out of recycled materials to see how nice and cheap I could make such a thing. I thought this cabin playhouse would be a great outlet for my boys to camp in the city as I did so much camping growing up in the woods.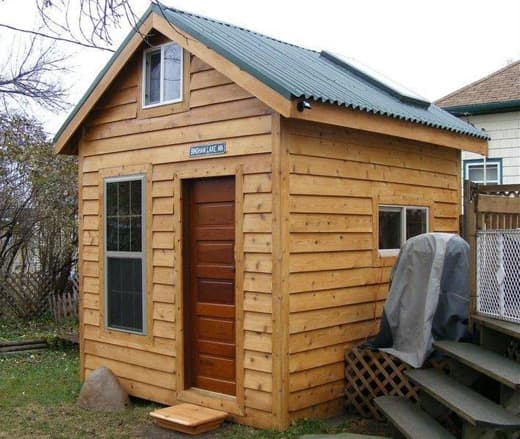 Above: The playhouse Joel made for his kids
I was inspired by a community of people who built small houses and live in them.  They often put them on trailers and have a mobile log cabin.  I used wood that I had, a lot of materials from Habitat for Humanity (they know me well there), and insulation I found in dumpsters or on the side of the road.
I ended up with a beautiful (yet overdone) playhouse cabin for my boys that a person could happily live in.  It has a loft for sleeping, lots of windows, heat, electric, cable television, a fire pit outside, cedar siding, and an opening skylight window on the roof for gazing at the stars.
TCM: That sounds like a Tiny House.  They are interesting.  Did building the cabin playhouse lead you to getting a truck camper?
Joel: In a way, it did.  Even with this playhouse cabin in our backyard, I still wanted to travel.  I thought about building a cabin, like the playhouse, for my Chevy Avalanche.  Unfortunately, I quickly discovered that the weight of a wood cabin would make it too heavy for the Avalanche.
That's when I started thinking about a pop-up truck camper.  A pop-up truck camper would keep the weight down and make the camper easier to haul.  Since my construction skills are focused on wood rather than aluminum and fiberglass, I looked for a company that could build a truck camper for a Chevy Avalanche.