Designed as a lighter, tighter, and more affordable pop-up camper, Phoenix Campers' Stealthy Mini comes well-equipped and fits in many standard garages. And it can be custom fit to anything from a Jeep Gladiator to the anything-goes world of electric trucks. Now that's sneaky!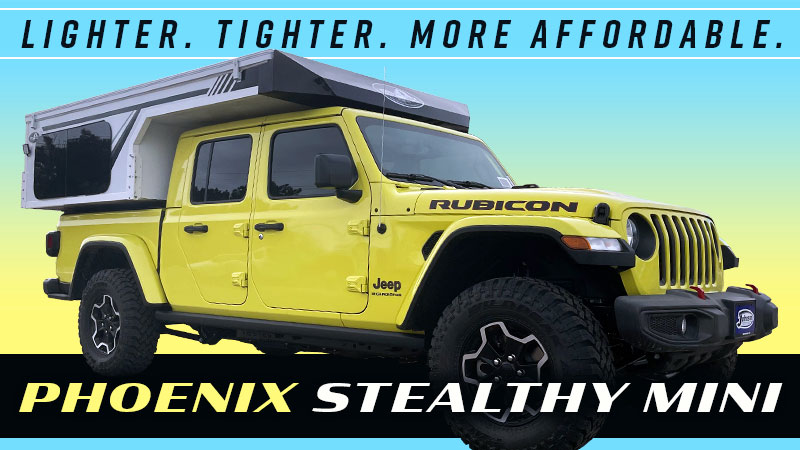 It's no secret that I've been preoccupied with the rapidly changing truck bed dimensions. It's one thing when the start-up electric truck brands reinvent the pickup, but even the Detroit majors have been threatening to toss the traditional truck bed standards out of the proverbial tailgate. And with that, my friends, potentially goes the viability of production truck campers. We're nowhere near that now but, when I shake the Magic Truck Camper 8 Ball and ask, "Will traditional truck bed standards survive?", out of the blackness emerges, "Don't count on it."
Perhaps no other truck camper manufacturer is better suited to this possible future than Phoenix Campers. After all, they've been custom-building truck campers to fit a customer's truck for decades. Whether a customer brings them a 2023 Ford F-150 or a 2010 Ford Explorer Sport Trac, their process of custom building the ordered camper to the truck remains the same. Take that thought a synapse further and you realize that the absurdities that pass as truck beds in the electric truck world don't scare Phoenix Campers either. Rivian R1T? Bring it. Silverado EV? No problem. Hummer EV? Got it. The Tesla Cyber Truck that hasn't even seen the light of day in production form yet? Robby Rowe, Co-Founder of Phoenix Campers, says, "No problem."
To kick Phoenix Campers' "bring-us-your-truck-and-we-shall-fit-it" approach up a notch, Robby created the Stealthy Mini. Not only is the Stealthy Mini able to be built to fit any truck, but it's also lighter, tighter, and lower. That means it's also compatible with many of the less-than-ideal payload capacities half-ton and less than half-ton trucks offer. The tighter and lower attributes mean the center of gravity is also more friendly – not to mention better for handling and overall driving performance and fuel economy. And just to be even more awesome, Phoenix Campers loaded the Stealthy Mini with features and made it their most affordable camper. As I shake the Magic Truck Camper 8 Ball again and ask, "Will the Stealthy Mini be Phoenix Campers' best-selling model in the future?", out of the blackness emerges, "Outlook good."
To dig into the Stealthy Mini, we talked to Robby Rowe, Co-Owner of Phoenix Campers.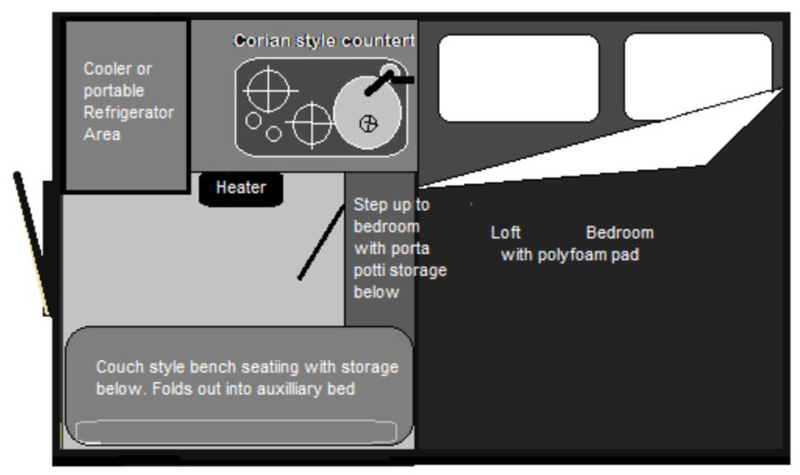 Phoenix Stealthy Mini Specifications
The 2023 Phoenix Stealthy Mini is a pop-up camper made for any truck.  Unless custom ordered, the interior floor length of the 2023 Phoenix Stealthy Mini is 6'2″ and the interior height is 6'3″ when it is popped up.
The Phoenix Stealthy Mini has an 11 gallon fresh tank, a 100-amp hour lithium battery, and one twenty-pound propane tank.  Some options customers request are six-gallon water heaters, grey tanks, and porta-potties.
Phoenix is reporting the base weight of the Stealthy Mini to be 900 pounds.  The base MSRP for the 2023 Phoenix Stealthy Mini is $29,740.  Click here to contact Phoenix Campers about the Stealthy Mini.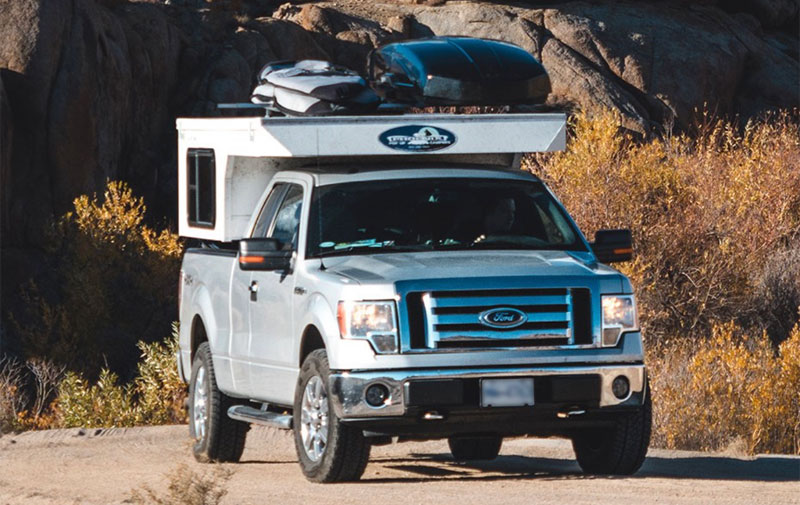 Above: Stealthy Mini on a Ford F150
Phoenix Campers Stealthy Mini model has been a quiet offering on Phoenix's menu for some time. We would hear about it here and there, but never did it bubble up to the surface as a formal new camper.
Tell us the origin story of the Stealthy Mini. Where did this model originate from?
We consistently have customers who are payload and/or price-conscious. For a while, I was losing sales to people who want something even lighter, or less expensive than our L1 and L2 models. With the Stealthy Mini, I wanted to offer a well-appointed camper with a nice price and weight point that worked with nearly any truck.
The Stealthy Mini is $29,740 with a generous list of standard features; stove, sink, furnace, fan roof vent, and battery. There's even space for porta-potty storage. The Stealthy Mini is the perfect camper for those who want to be within GVWR and are budget conscious, too. It's a lighter, tighter, lower, and less expensive camper.
"It's a lighter, tighter, lower, and less expensive camper."
Above: Stealthy Mini on a Ford Ranger with the tailgate closed
What dimensions were you shooting for with the Stealthy Mini?
Lengthwise, I wanted the Stealthy Mini to go on a 6-foot Tacoma, Frontier, Ranger, or Colorado with the ability to close the tailgate. That was the length decision. The Stealthy Mini also works well with a 5-foot bed. It protrudes a little, but not much. And at 78 inches wide, the Stealthy Mini is a little narrower than a lot of other mid-size campers.
By taking out the underbed storage, the Stealthy Mini is 5-inches lower than our L1 and L2. That makes a Stealthy Mini rig about 10-percent lower in height, which also shaves off about 10-percent of the weight, and puts the center of gravity lower. That change also helps the Stealthy Mini handle exceptionally well on a truck.
Another huge benefit of being 5-inches lower is that the Stealthy Mini often fits in a standard garage with most trucks. You'd have to measure, but it's low enough with some trucks to fit in a 7-foot garage. If you live in a condo complex and they don't like the look of truck campers, I think you could sneak this one in looking more like a topper than a camper. You would get less attention.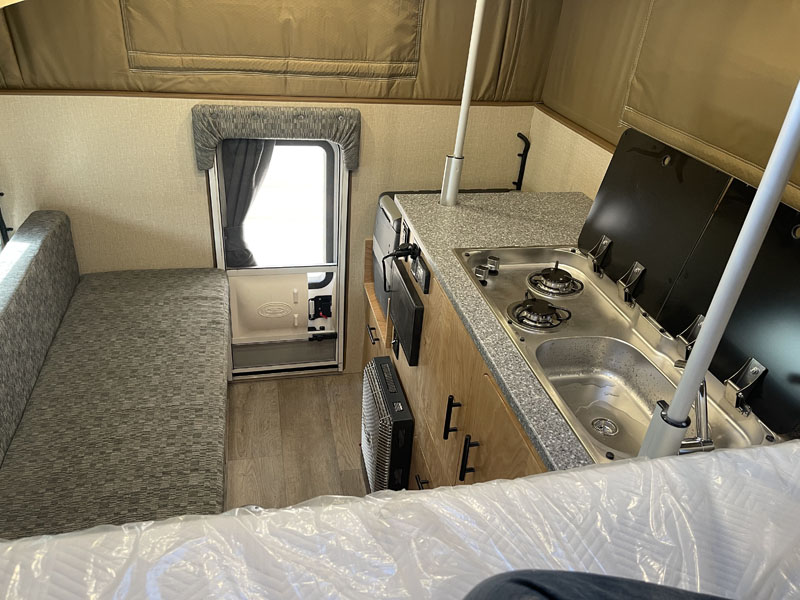 Above: The interior of the Stealthy Mini
That is 'stealthy'. Is that where the name came from?
The Stealthy Mini name came from adding so little to the truck.
Did the new Phoenix Stealthy Mini superseded and replace any older models in the Phoenix Campers line?
The Stealthy Mini replaced our GeoDen Flip. The floorplan is identical and the equipment package is almost the same, but there's no canvas flippy top. The Stealthy Mini has a lower profile and the center of gravity is shifted forward. Plus it has a push-button lift and it has an insulated pop-up wall with a roof over your head. There are many benefits over the GeoDen Flip.
Are Stealthy Mini campers built to order to the dimensions of the customer's truck?
Yes, we build the Stealthy Mini to the dimensions of the customer's truck. Even if you have a 5-foot bed we can build it so that you can close the tailgate. I am building one now for a Ford Explorer Sport Track. We can customize your camper to the dimensions you need.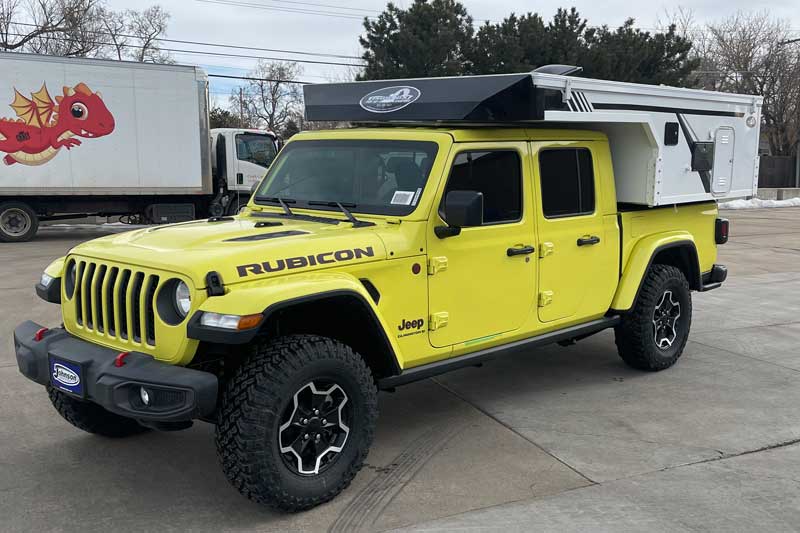 Above: Jeep Gladiator supplied courtesy of Johnson Auto Plaza in Brighton, Colorado
What trucks does the Stealthy Mini fit; a full-size, mid-size, Jeep Gladiator, and EV models?
Yes, Yes, Yes, and Yes. That's another reason why I'm excited about the Stealthy Mini. This camper would be great for the Ford Maverick, Rivian R1T, Hummer EV, and the Tesla CyberTruck. Nobody has seen the final Cybertruck, but I know we can fit it. We'll take a look at your truck, take measurements and build the Stealthy Mini to fit it.
"We can build a Stealthy Mini to fit and payload match just about anything."
So you're confident that you'll be able to fit a Stealthy Mini in the upcoming electric trucks with their anything-goes bed sizes and dimensions?
Absolutely. That's the advantage of building lightweight campers that custom fit the customer's truck. We can build a Stealthy Mini to fit and payload match just about anything.
I also wanted to approach Tesla and GM to put in an extreme solar pack that would charge the truck when you are parked. It would flip open and the solar array would be bigger than the camper. There could be hundreds of square feet of solar so you could have a fully charged truck when you're boondocking. If I had a million bucks, I would create a desert scene at SEMA and go crazy. I'd put a fake sun overtop, or the real one if we had a booth outside.
Can you see a time when you offer a 100-percent electric Phoenix Camper?
Absolutely! I am waiting for a really efficient electric heater. Some are 110-volts, but you have to transfer 12-volt power through the inverter which is a waste of power. You need to have a big battery bank and a lot of solar at this point. I'm looking for a good electric heater and we'll be ready to roll. The electric vehicle manufacturers have electric heat solutions, but I haven't seen anything available as an RV or marine component. It will happen.
That would be amazing! Since you're targeting extreme size and weight requirements, why not make everything in the camper modular and removable?
If I am offering something that's a home or shelter, I believe it should be fully functional as delivered. You can tuck equipment out of the way without people having to fully pack and unpack. Throw in the groceries and go. If it was requested, I would entertain things like portable power packs.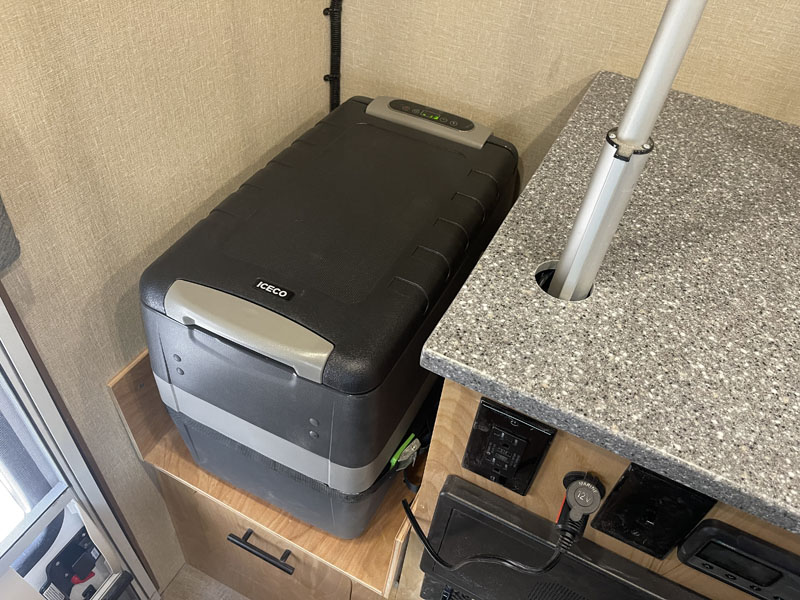 How has the Stealthy Mini evolved since its introduction?
It has definitely improved; especially in capacity and storage. The water tank location was changed to the front left area in the cabinet. There's porta-potty storage front and center. There's now a dedicated place for chest style refrigerator or cooler, with a built-in security strap. We include a basic cooler, but we do install a power source next to that area if you want to add a 12-volt compressor refrigerator.
Tell us about the framing material, lamination, and other construction details.
We have incorporated our latest and greatest weight and structural improvements from our L1 and L2 models. For example, the Stealthy Mini features a wood-free, lower-floor aluminum cage-frame laminated structure, which is the same as our other models. The lower profile nose cap on the Stealthy Mini is aluminum, so it is a hand-bent, welded, and powder-coated aerodynamic cap. Again, the Stealthy Mini camper is lower and lighter weight than our other campers.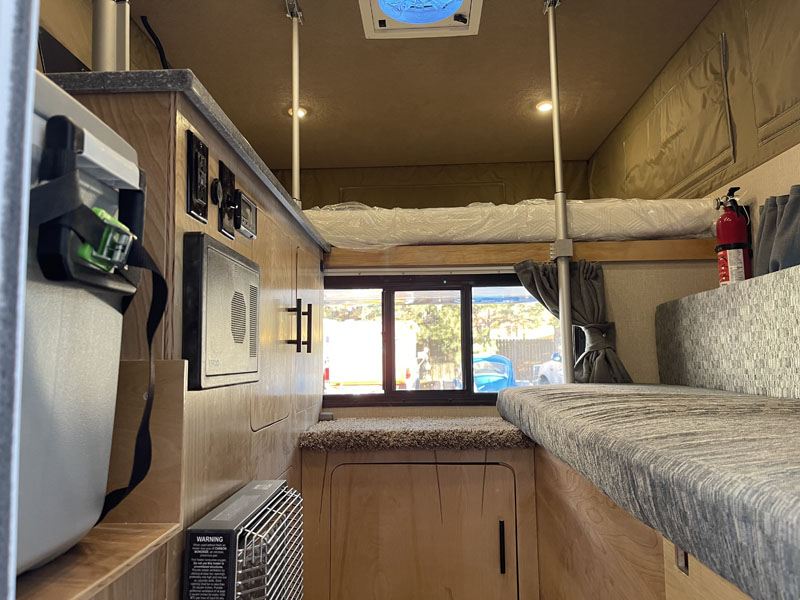 Is the front nose constructed differently without the underbed storage of the L1 and L2?
Under the mattress, the Stealthy Mini overcab platform is the same as the other models. It's a hard platform framed on both sides and underlaid with Azdel and aluminum on the bottom. The underbed storage on the L1 and L2 is not structural. It's just storage.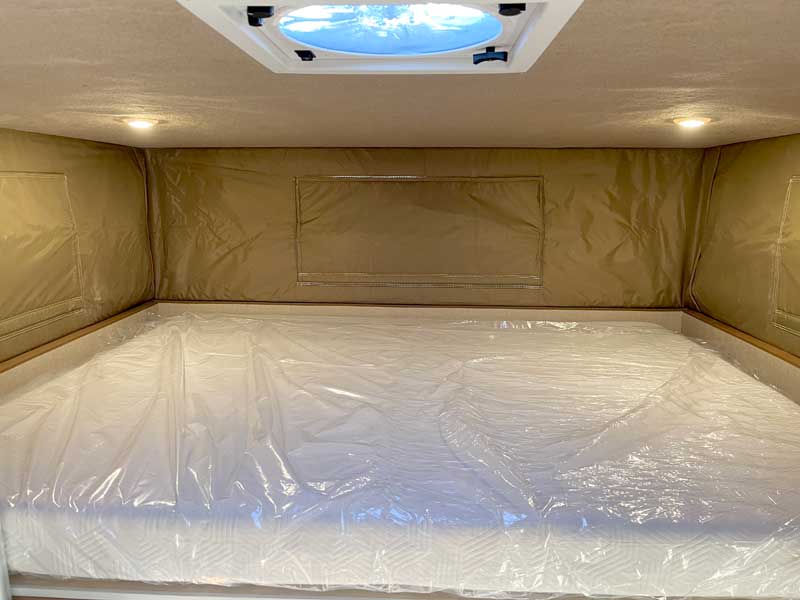 What are the interior fabric options for Stealthy Mini customers?
It's exactly the same as our other campers. Customers can choose their fabrics, draperies, upholsteries, and countertops. If you want to upgrade to a stained cabinetry color, it's extra. Hand-finished birch is standard.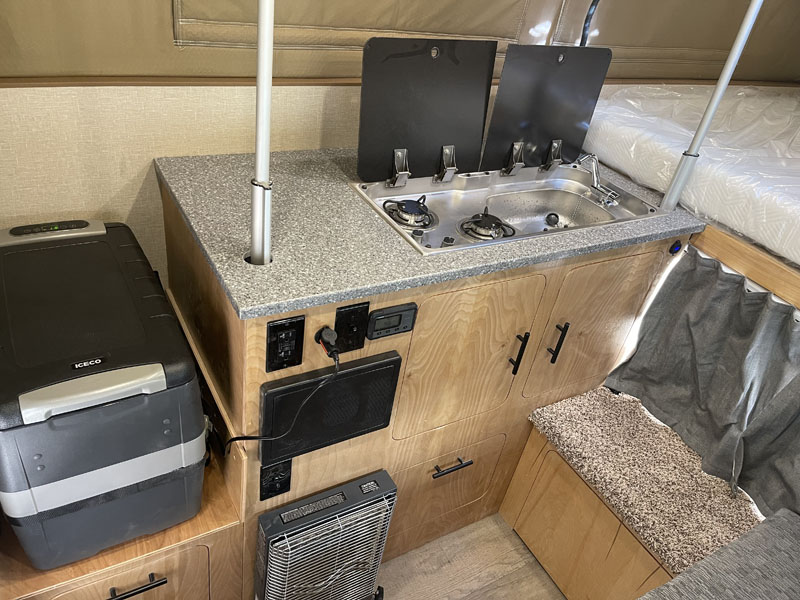 Tell us about the pop-up mechanism and roof on the Phoenix Stealthy Mini.
It's also the same as our L1 and L2. There's a push button at the entry door. You open the door, press the button, and raise the roof effortlessly. Canoes, kayaks, bikes, or a small storage pod can be placed on the roof. You don't have to unload your roof stowage because the electric lift will support the weight. It's an electric actuator system that we developed about 12 years ago and we love it.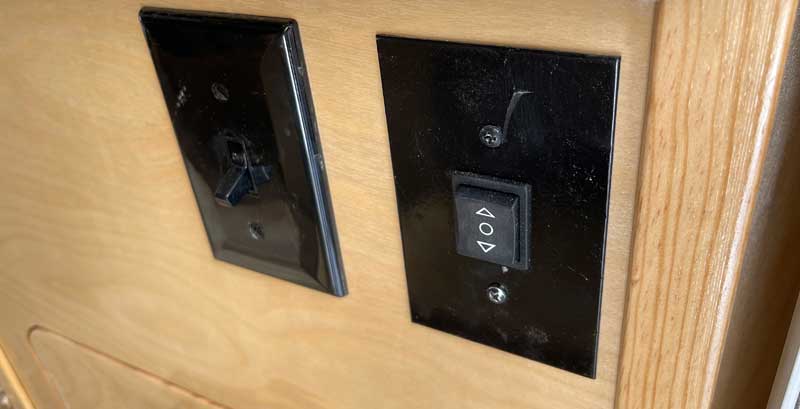 Above: Just push the button the pop-up roof goes up or down
Our roof is really strong. We have lots of artists and photographers who have purchased our campers. They like to go on the roof to get a higher perspective for their art or photography. They can climb up the ladder and stand on the roof to do their art work.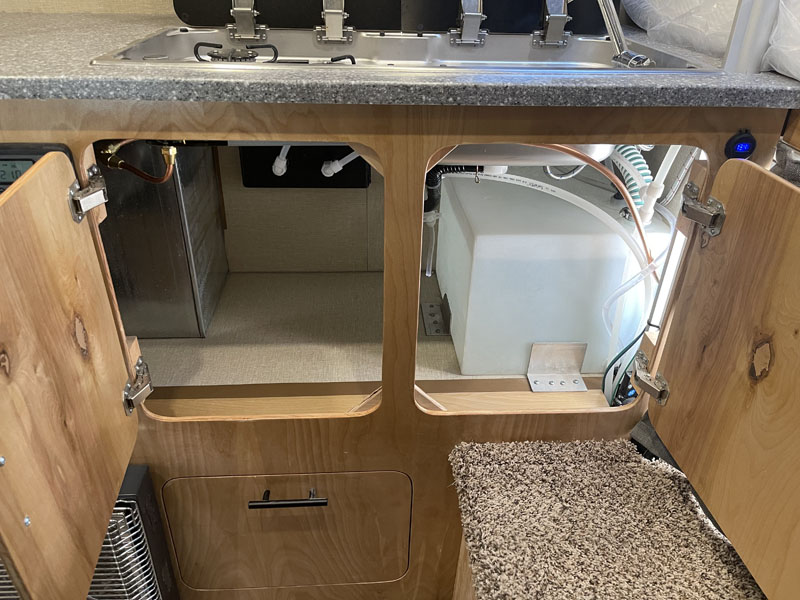 The Stealthy Mini comes with an 11-gallon fresh tank. Can you go bigger?
You can add, subtract or modify almost anything you want. We chose the 11-gallon tank because it fits nicely in the front left corner of the cabinet. It's out of the way and allows that area to be storage. If you want more fresh water capacity, there is extra room in that cabinet or we could use the storage on the floor, but it would eliminate your extra storage. Everything is a trade-off.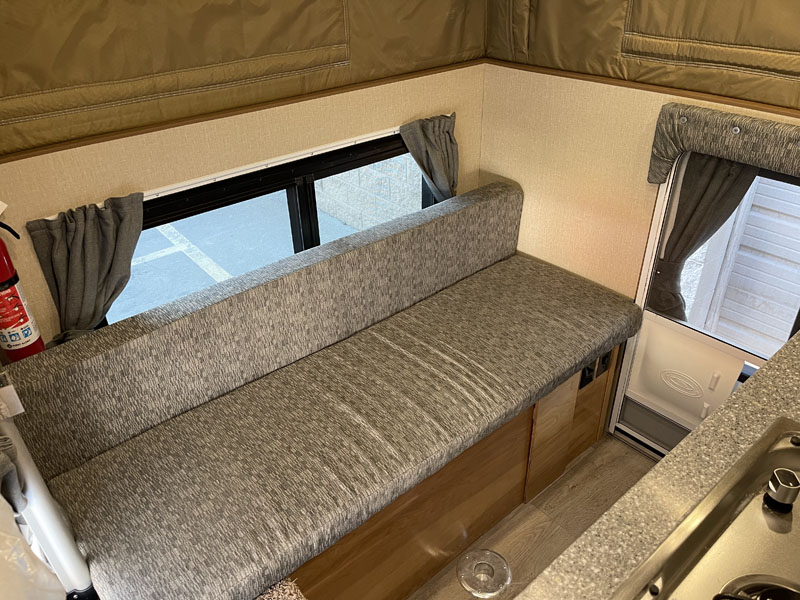 Everything is a trade-off in every camper. What is the optional grey tank size and location?
You can have any size grey tank. There's enough room in the main cabinet to have a 5 or 6-gallon grey tank next to the fresh water tank. If you want 7 to 9-gallons of grey tank capacity, we could put it in the lower storage space under the couch or across the front of the camper. We can give you options.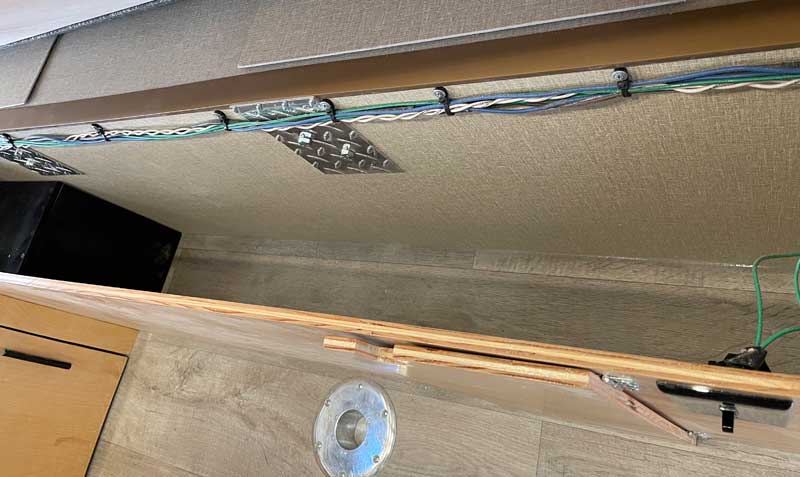 Above: Under dinette seat storage area
If you don't have a built-in shower, my advice is to not get a grey tank. With a built-in grey tank, you are dedicating space that could be better used for interior storage. I would get an expandable grey water tank with hosing that goes on the ground. The expandable tanks collapse to nothing. That option gives you an auxiliary tank.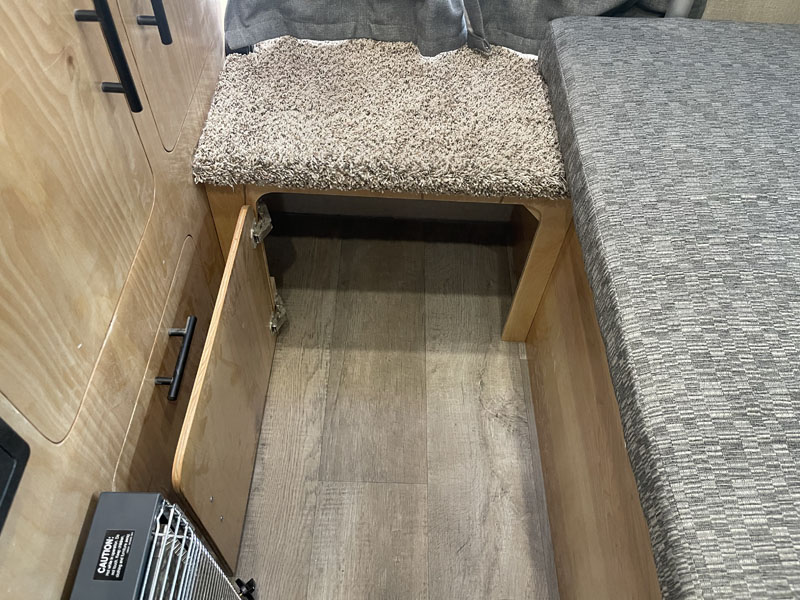 What toilets or toilet systems are available for the Stealthy Mini?
The available toilet space is not large, but it fits a small porta-potty. If we built a Stealthy Mini for inventory, it would have porta-potty space for the smallest porta-potty available which is 12-inches wide, 12-inches deep, and 13-inches tall. If you came to me and said, "I want a specific potty", we can adjust to make your preferred potty work.
Two days ago I designed a truck camper for someone who has been camping for 30 years. He gave me a whole list of what he wanted from his own porta-potty to fishing poles to the stuff they always bring with them. They are downsizing. We were able to find room for everything. We take it one item at a time and that's how we do it.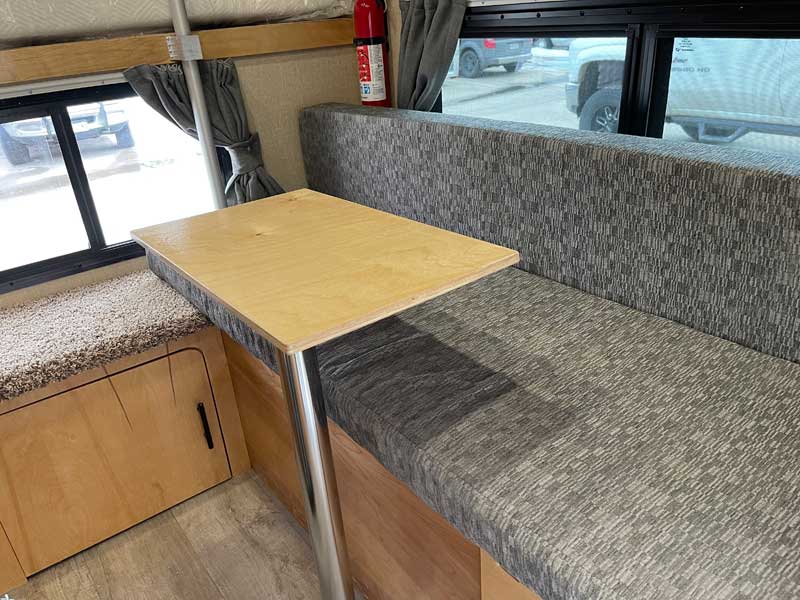 Sounds like camper design Tetris. The Stealthy Mini is specified with a 100 Ah lithium battery. Where is the battery compartment on the camper?
It's in the front right corner under the couch. The weight distribution on the Stealthy Mini is good because the battery is on the front right side and the fresh water is on the front left side. And everything with a lot of weight is as far forward as possible.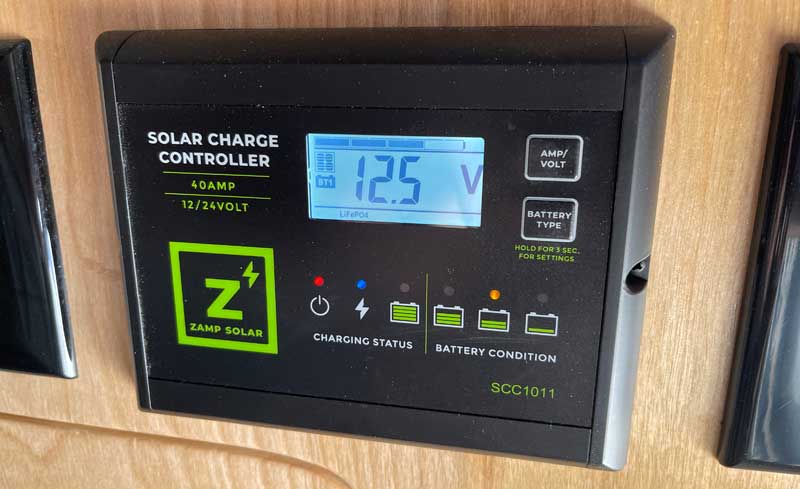 What solar charge controller are you currently using?
I like the Zamp charge controller with the lithium wake-up mode. It's already saved us in a couple of situations. Lithium batteries have a sleep mode. Below 12-volts, they can go to sleep and won't work. If the solar charge controllers don't sense a battery on the other side of the charge wires, they don't send a charge. In the morning, the sun is up and the solar should be making power. Everything looks dead and people start freaking out. To wake up the batteries, you need to start the truck or use shore power. The Zamp with the wake-up mode fixes this problem by sending a charge to wake up the Lithium batteries. It's pretty smart and works well.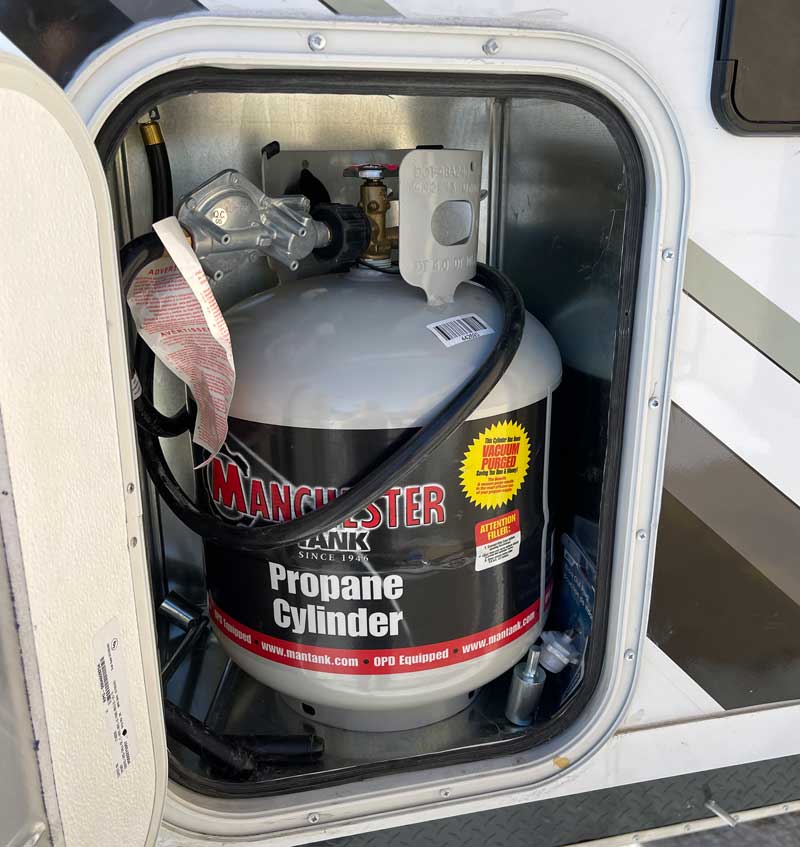 The Stealthy Mini is specified with a 20-pound propane tank. Where is that located?
It's on the left wall inside the main cabinet, approximately over the truck axle.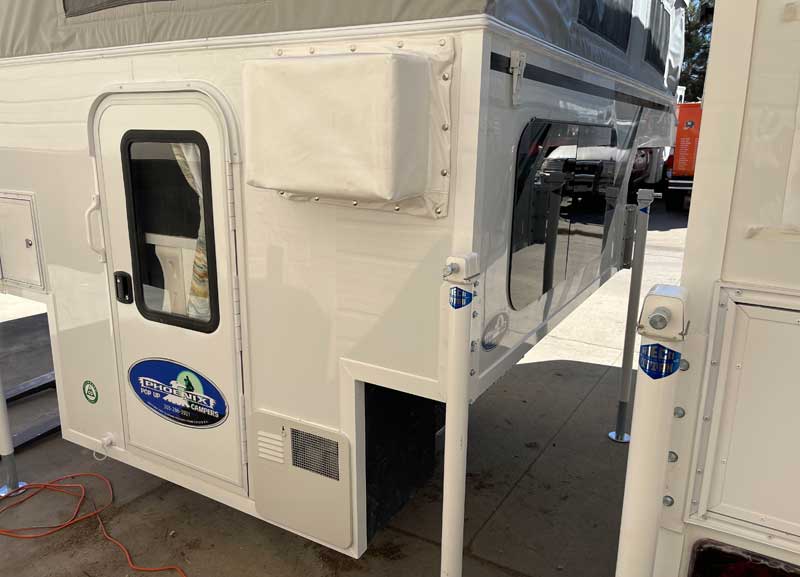 Is there an optional air conditioner available for the Stealthy Mini?
Yes, air conditioning is an option for the Stealthy Mini, as it is for our other campers. We have a wall mounted 5,000 BTU air conditioner. It's a $599 option. It goes on the rear wall on the right side on the top of the wall. It protrudes 6-inches outside and 4-inches inside and comes with a snap-over vinyl cover for the exterior.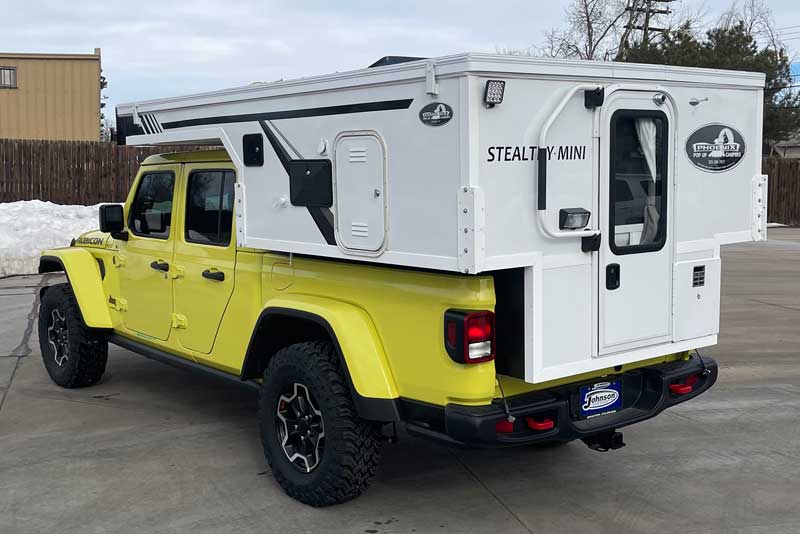 Tell us about the standard bumper and entry step system for the 2023 Phoenix Stealthy Mini. What do you typically recommend to customers?
Aluminum scissor steps from Brophy or Torklift work well. Honestly, a two-step plastic step from Home Depot or Lowes is also a good lightweight option and only $30.
Can I get the Stealthy Mini as a shell model?
Sure. One would just order our shell camper with a low-profile cabover option.
What is the optional water heater?
We use Dometic or Suburban six-gallon water heaters. We have probably installed almost every brand of tankless water heater and found not one that has had good performance. They are not that much lighter in weight and they are more expensive. Some give you spotty heat that's not consistent, so it's not saving you much propane. The Dometic or Suburban six gallon water heaters are so well insulated, the performance is good, and they are dependable.
We just built a Stealthy Mini for a gentleman with a water heater and exterior shower option. He has hot water at the sink. The water heater is located under the main couch. The exterior shower is on the driver's side wall.
What are some of the more popular options for the Stealthy Mini?
The most popular options are the awning, jacks, and solar. As it is standard, the Stealthy Mini is already well-appointed with a fresh water tank, furnace heater, and propane system. It's already a livable little house. Everything else is luxury.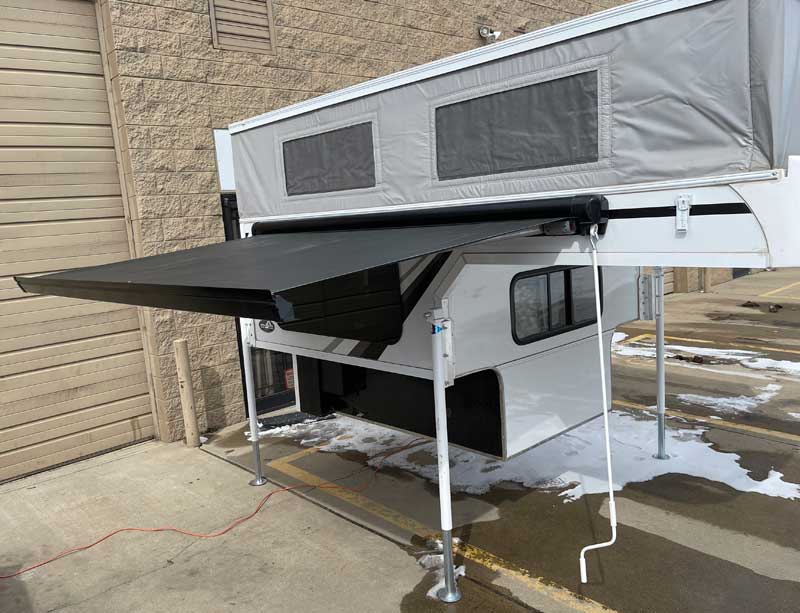 Since the Stealthy Mini is custom-built to a customer's truck, how does a future owner figure out what the camper will weigh?
People almost always throw that question back to us. I have weighed almost all of the campers we have ever built. We have a truck scale about four miles away, so we weigh the empty truck and then we weigh the truck with the camper. I usually have a comparable unit to share with people so that I can give them that weight. That way our customers have a reference point and can make decisions based on that.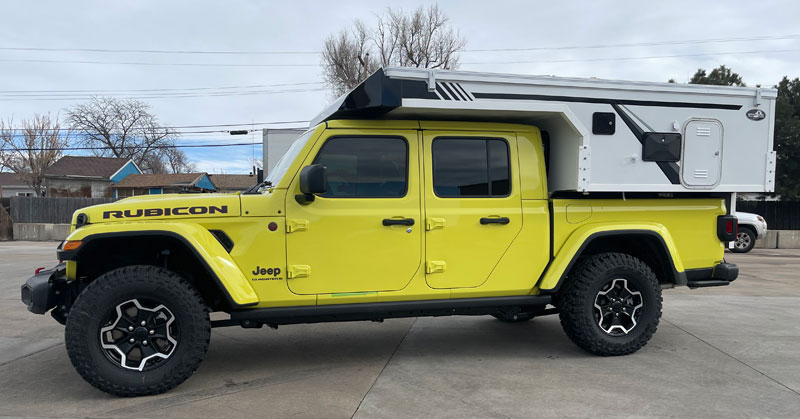 How about the center of gravity?
I figure that the same way I do with the weight. With our standard equipment, the Stealthy Mini has a center of gravity about 15-inches back from the front wall. Of course whatever you do to change the equipment package is going to impact the center of gravity.
You already said it once, but it bears repeating. What is the MSRP for the 2023 Phoenix Stealthy Mini with standard build features?
With standard build features, the Stealthy Min is $29,740.
What is the warranty for the 2023 Phoenix Stealthy Mini?
There is a one year warranty on everything except the pop-up liner which has a five year warranty. You can come here to the factory to get labor work done on the portions we built. If you have a failed refrigerator, stove, or furnace, you should be able to drop into any RV repair place and those repairs would be covered by Suburban, Dometic, etc.
We can help you work through situations over the phone. Our customers do tend to be relatively handy. If something we built fails, we do what we can to send parts, instructions, and a video if you have to fix something and you don't want to make the trip to the factory.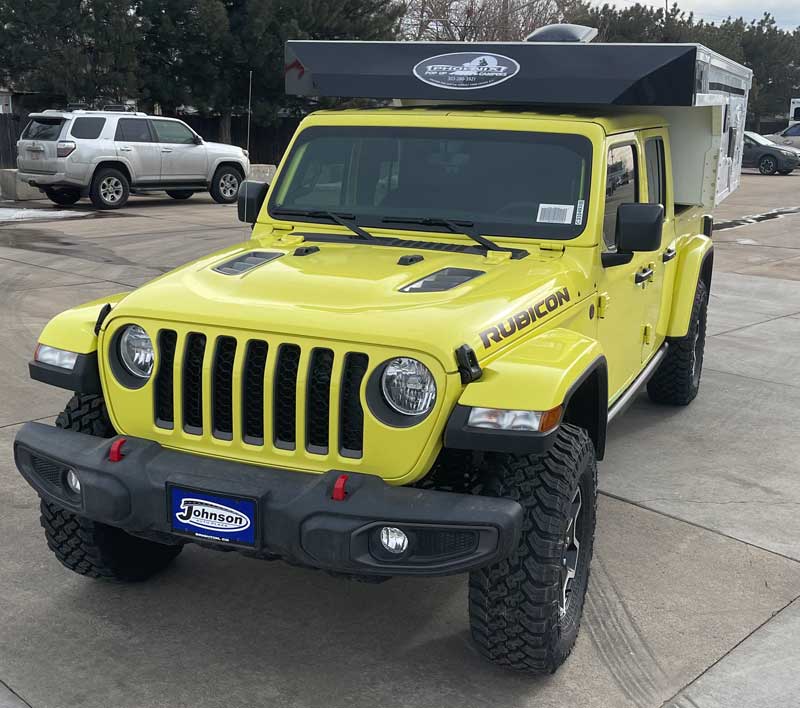 How does somebody order a Stealthy Mini?
The best way to build and configure a Stealthy Mini is to use the Build Your Own tool on our website. Put everything in the camper that you want and the Build Your Own will give you a price. Filling out the Build Your Own form or emailing us is the best way to get a fast response. As a last resort, leave us a phone message and we'll get back to you.
Is there anything about the 2023 Phoenix Stealthy Mini that you would like to add?
The Stealthy Mini is the culmination of a lot of custom designs that we've done for a lot of people over the years. We've built them, put them in our inventory, and tested them. I love the way trucks handle this camper. It also looks really nice. It's a camper people really love. A lot of our Stealthy Mini customers were tenters or rugged overland people, so this is perfect for them.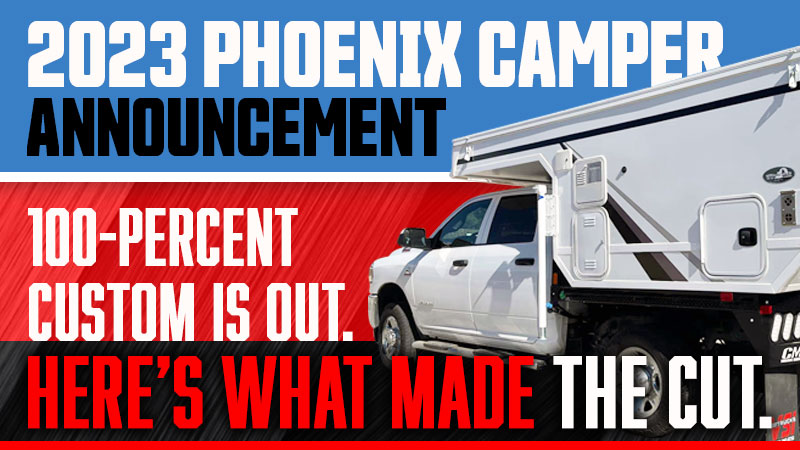 Last November, Phoenix Campers announced that it was stopping 100-percent custom campers to focus on seven proven truck camper models. Have you been able to streamline production or boost your numbers since that announcement?
I haven't added up last year's numbers yet, but I am positive we increased our number of units last year, and we were still finishing up a lot of custom campers. I feel like our quality is the best it has ever been. I think we are at the right balance point right now.
If a person calls and wants custom this and custom that, we're able to say, "Wait a minute. We're not that custom". If you are looking at Phoenix Campers, go to our Build Your Own system and see if we make a camper that works for you. Or maybe buy a shell model and make it work for your needs. We do still do some custom sizing and arrangements depending on what you ask for.
Are there any other new model announcements or model year updates coming from Phoenix Campers in 2023?
We are going to be announcing a camper for the Honda Ridgeline soon. The one I will be sharing is an L1 with options. It's really nice. You will be able to shut the tailgate and it has a tire rack on the back. It handles it well and looks fantastic.
"We are going to be announcing a camper for the Honda Ridgeline soon. You will be able to shut the tailgate and it has a tire rack on the back."
Okay, now the most important question. Are you guys planning any personal time off to go camping yourselves in 2023?
(laughs) Yes, we are going on some trips. I don't have camping trips planned, but they usually come up as surprises; usually as shows or when we want to visit someone. That's how we like it.
Click here to explore Phoenix's updated Build Your Own System.
Click here to request information from Phoenix Campers.