The 2021 Ford F-150 and new F-150 Hybrid offer one feature that potentially shifts the truck camper power paradigm; a built-in truck generator.  The question is, does it?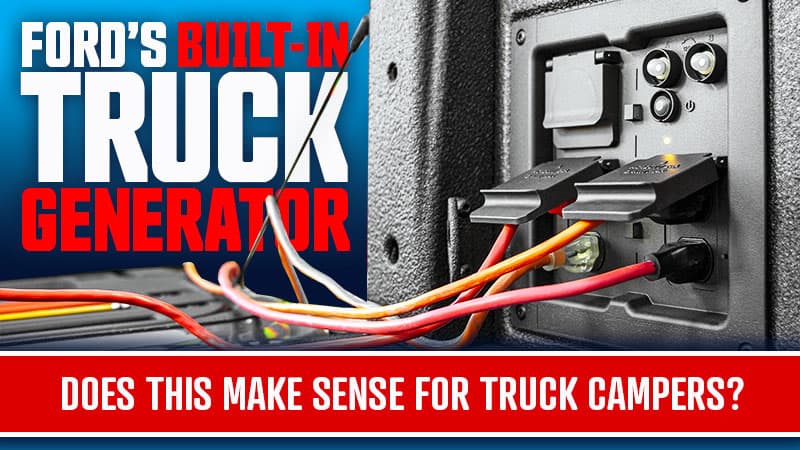 This past summer Ford Motor Company debuted the 2021 Ford F-150 with an optional built-in generator system.  And not just one generator, but three generator configurations will be available; 2.0-kW, 2.4-kW, and 7.2-kW.
A built-in truck generator is a groundbreaking feature to be sure, but does it make sense for truck campers?  Let's dig into Ford's new F-150 and find out.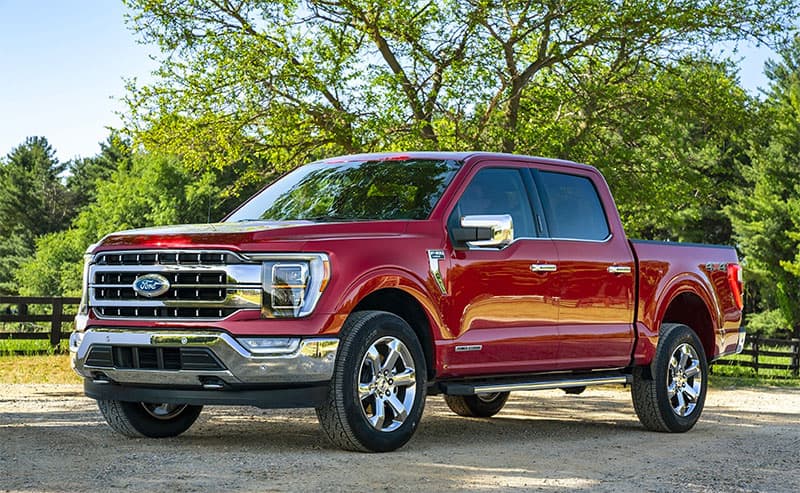 First Blush: 2021 Ford F-150
Ford wrapped their 2021 half-ton line in refreshed sheet metal and made significant interior refinements.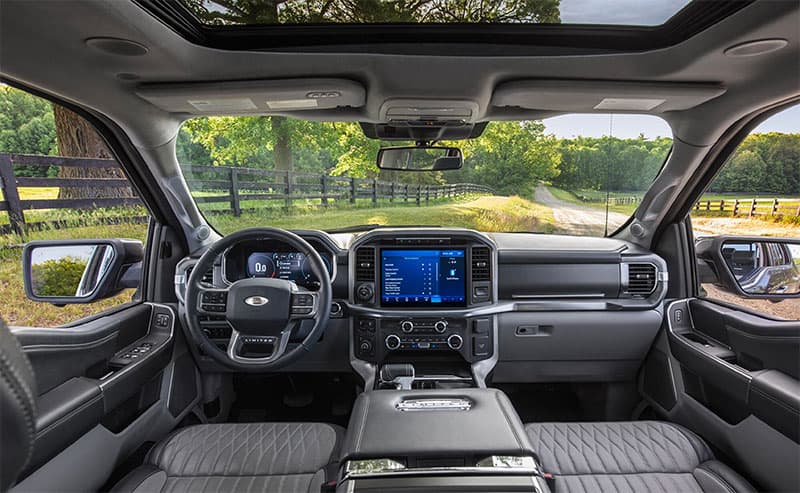 In particular, the front dash has received a major update including an available 12-inch infotainment touchscreen.  The redesign is mostly receiving accolades from the automotive press.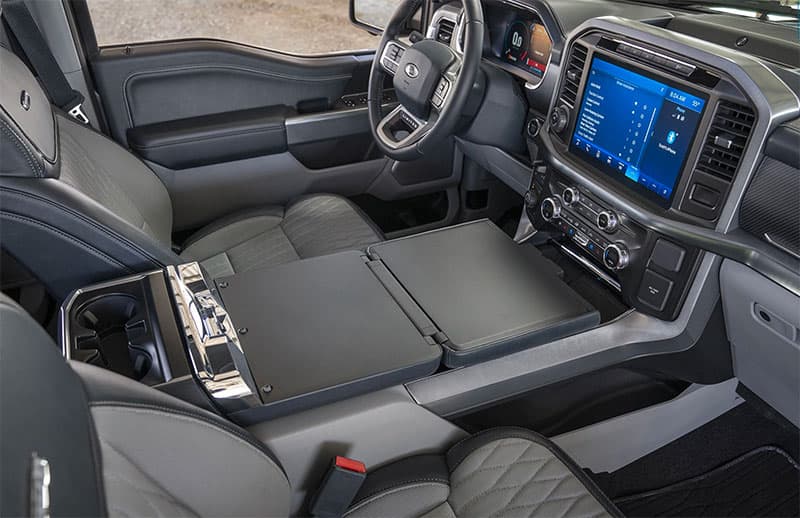 Of particular note is the new Interior Work Surface, a fold-out front seat desk.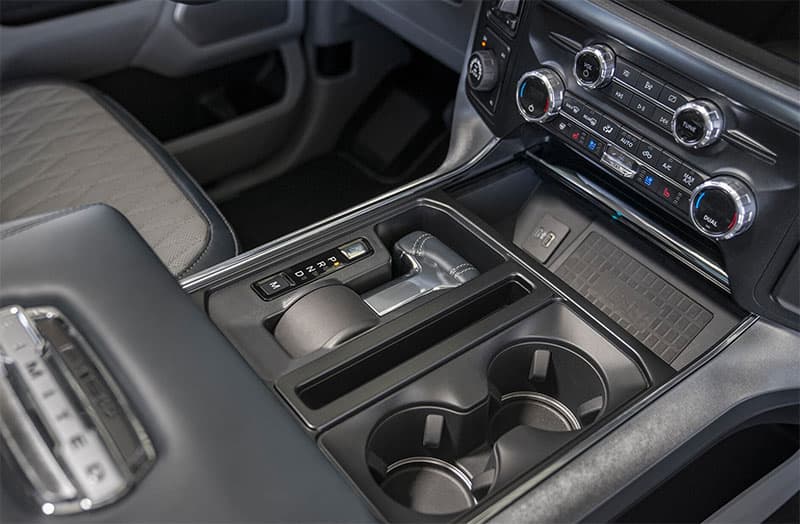 With the transmission in park, the shifter can tuck flat into the center console (shown above) allowing for the deployment of a hinged fold-out table.  With so many folks working from the road in various capacities, this will be a welcome addition.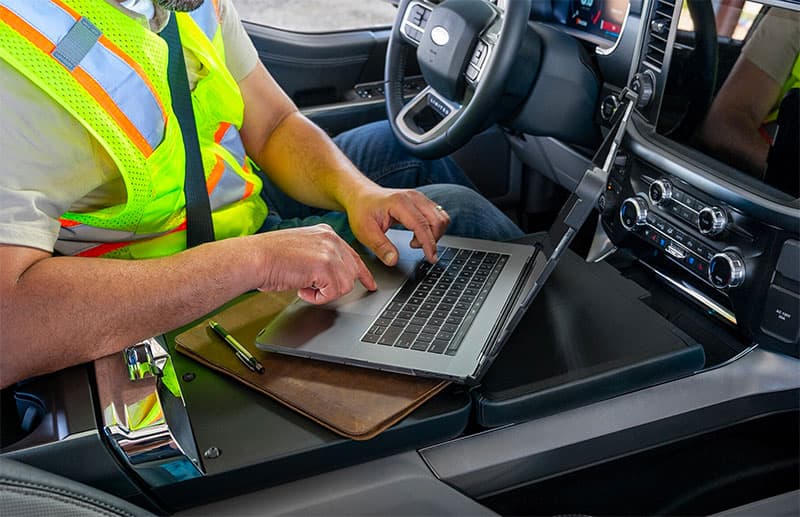 The Yin to this Yang are the new Max Recline seats.  Evidently, Ford discovered that folks take siestas in their trucks.  To accommodate their customers' cat naps, the Max Recline Seats repose to nearly 180-degrees.
New F-150 Hybrid PowerBoost
Primarily aimed at increasing fuel-economy, the new Ford F-150 Hybrid PowerBoost (3.5-liter V6) delivers an additional 4-miles-per-gallon over the non-hybrid 3.5-liter option.  That may not sound impressive at first, but it's a full 20-percent improvement in fuel economy.
Still not impressed?  How about a 24-mpg combined EPA?  How about Ford's estimated 700-mile range on a single tank of fuel?  I would give my left front turnbuckle for that kind of fuel economy on our truck.  Yes, please!
On balance, the 2021 Chevrolet Silverado 1500 diesel achieves 27-mpg combined EPA and the Ram 1500 diesel is right there with 26-mpg.  Diesel half-tons still win the fuel economy battle but, with the 2021 Ford PowerBoost, hybrids are starting to look competitive.  That won't sway the diesel die hards, but it's good news to those who prefer truck camping with gas.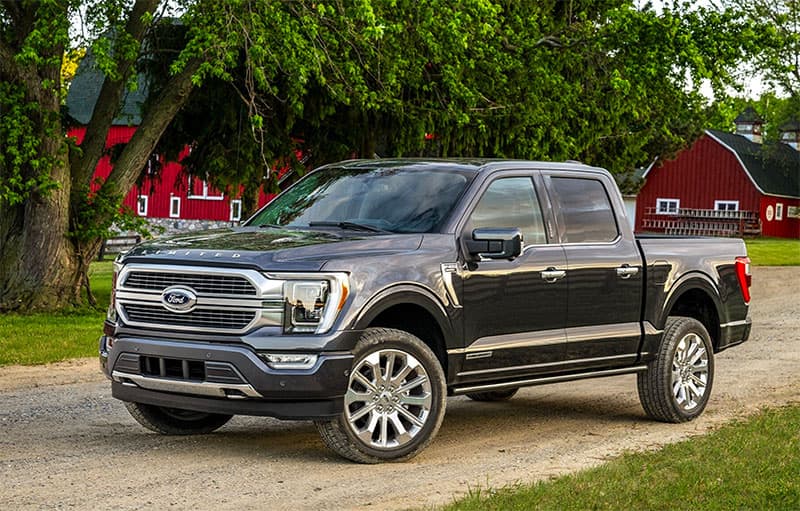 The Ford F-150 hybrid combines a 47-horsepower electric motor with a 3.5-liter V6 to achieve 430-horsepower and 570 lb-ft of torque.  For a half-ton truck, those are some impressive numbers and is even competitive with Ford's own F-150 3.0L V-6 diesel.  There's a trend emerging here.
The Ford F-150 Hybrid PowerBoost is now the most powerful Ford F-150 outside of the Raptor (currently 450-hp).  For those who want a powerful F-150 but don't want or need the Raptor's extreme off-road capacities, the 2021 F-150 Hybrid PowerBoost is your top choice.
Pro Power Onboard Generator
Okay, enough Ford-play.  Let's get into the bed.
Ford's new Pro Power Onboard electrical generator system utilizes the truck's engine to generate power with a built-in pure sine wave inverter.  That's the exciting headline, and it gets better.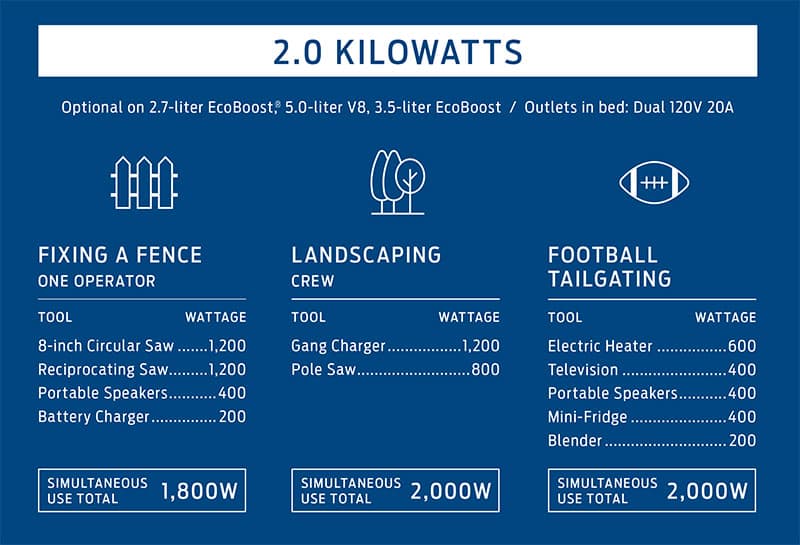 The lowest power 2.0-kW system is available for any gas engine Ford F-150, with the exception of the 3.3-liter V6.  That means any Ford F-150 can now have the equivalent power of a portable Honda EU2000i built-in.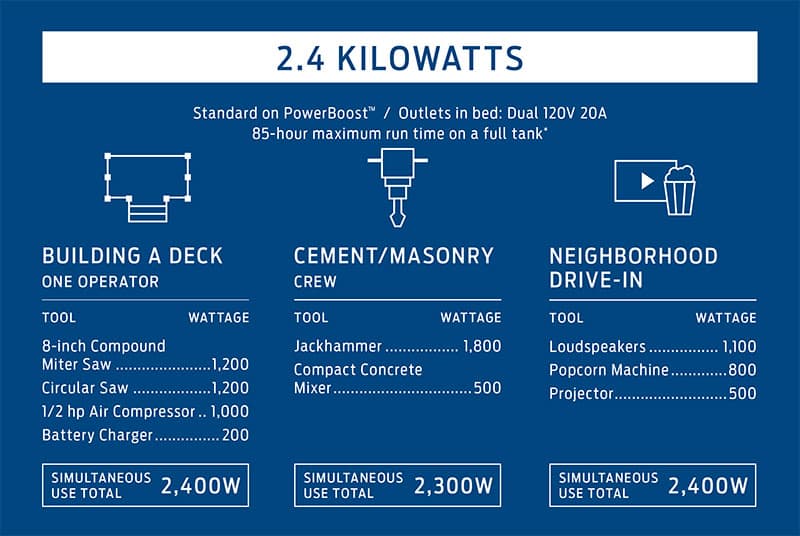 The more powerful 2.4-kW system comes standard with the 2021 Ford F-150 Hybrid.  This alone will have many leaning towards the hybrid option as it surpasses even the updated Honda EU2200i in power.  This may be all the generator power most truck campers need as even the lesser Honda EU2000i can run the more efficient roof-top air conditioners or microwaves.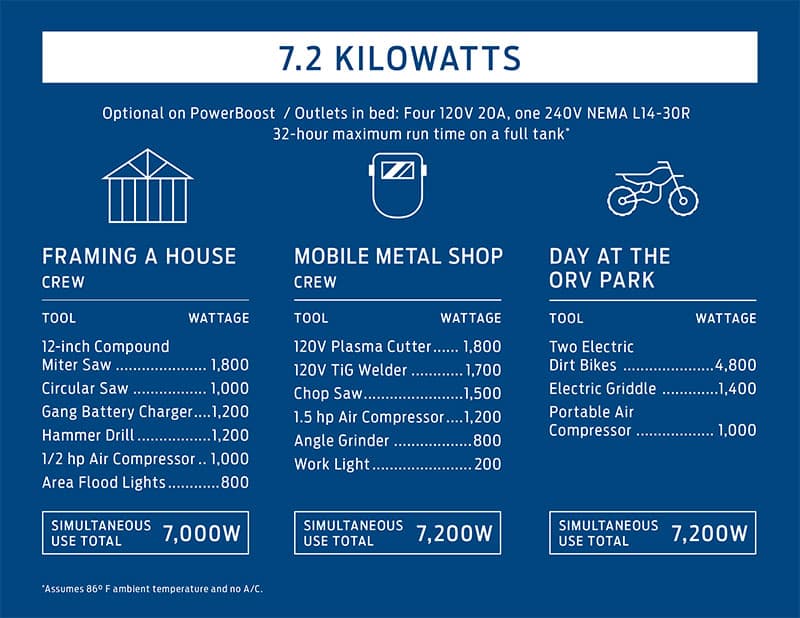 The third and most powerful Pro Power onboard generator system supplies a whopping 7.2-kW.  That's more than double the power of the most-powerful generator systems built into truck campers (I'm looking at you Onan) and should allow the simultaneous use of your air conditioner, microwave, vacuum tube stereo system and a plasma cutter.
I'm not kidding about the plasma cutter (see above).  There's no doubt that 7.2-kW should run anything a truck camper might have on board, while charging your batteries.  This kind of power may even encourage RV manufacturers to consider all-electric RVs; no propane required.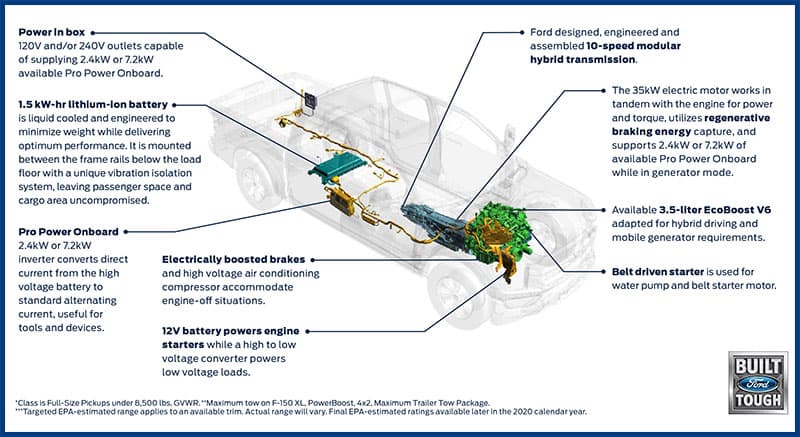 All three generator options feed 120-volt power to outlets in the truck's cabin and a dedicated panel in the truck's bed.  For the 2.0-kW system, the bed panel includes two 120-volt, 20-amp, 3-prong outlets.  This would be ideal for most pop-up truck campers and some smaller and more simple hard sides.
The 2.4-kW system puts four 120-volt power to outlets in the truck's bed.  The additional outlets could be useful for inflating a portable boat, charging an electric bike, powering tools for outdoor projects and mods.  Just keep in mind that accessing this area could be challenging with a loaded camper.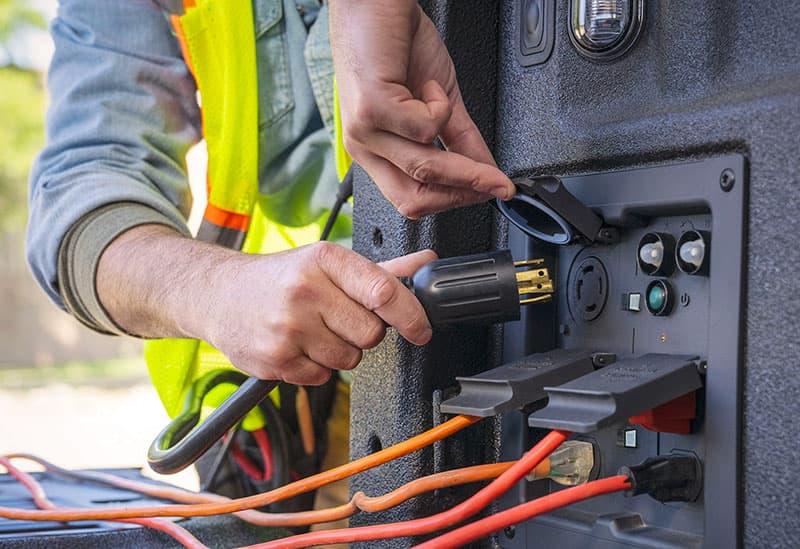 Above: The 7.2-kW system provides a 4-prong twist-lock NEMA L14-30R 240V 30-amp outlet.
WARNING: Do not plug-in your camper to this this 240-volt NEMA outlet! 
RVs and campers are designed for 110-volt power (at 30 or 20-amps), not 240-volts.  Only plug your camper into one of the 120-volt, 20-amp, 3-prong outlets.
I joked running a plasma cutter with this kind of power, but even Ford suggests a mobile metal shop is possible with 7.2-kW.  How about running that plasma cutter (1,800-watts) along with a TIG welder (1,700-watts), chop saw (1,500-watts), 1.5-hp air compressor (1,200-watts), angle grinder (800-watts) and a work light (200-watts) – at the same time!  Holy smokes.
Amazingly, Ford reports that the 2.4-kW system can run for about 85-hours at maximum load on a single tank of fuel.  The 7.2-kW system will go for approximately 32-hours under a maximum load.  That time should be even higher when not operating under maximum load.
Does A Built-In Truck Generator Make Sense?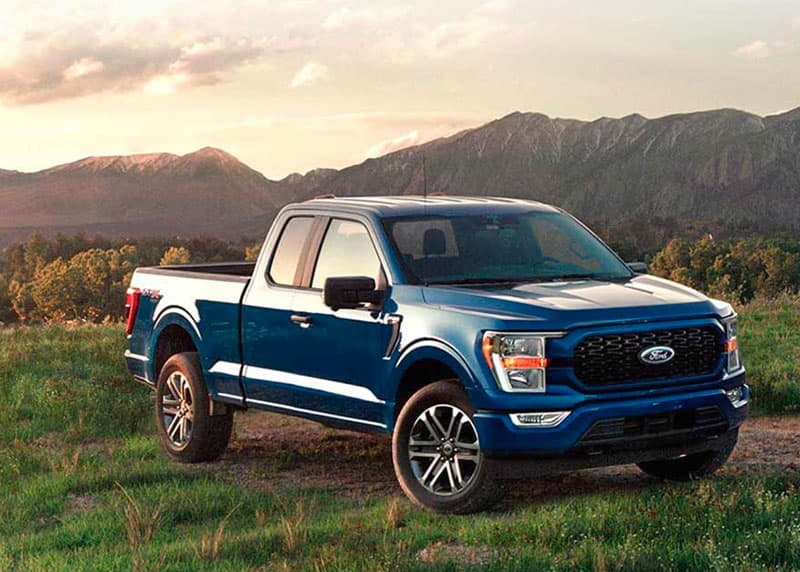 Prior to the debut of the 2021 Ford F-150 built-in generators, we never heard anyone wishing for a truck with a built-in generator.  In fact, many fellow truck campers already used their trucks in this capacity by simply running their truck's engines to periodically charge their camper batteries (via the alternator).  This is not a fuel-efficient approach to charging house batteries, but it gets the job done.
Furthermore, there has been a long debate (at least 15-years now) about the advantages of built-in versus portable generators for truck campers.  We have written about this extensively and even put the question to our readers.  For a deep dive into nearly every perspective on built-in versus portable generators, check out the hard side and pop-up feedback.
The debate tends to boil down to convenience (favoring built-in) versus versatility (favoring portable).  Cost and noise are also a major considerations with many portable generators being significantly cheaper and quieter.  And yet, some people would refuse to go camping without push-button power on-demand.  No button, no camping.
Angela and I have eschewed generators all together preferring to upgrade our solar (490-watts) and battery bank (two Group 31 AGM batteries).  We removed the microwave as soon as we found it and avoid hot weather whenever possible.  Does that always work?  No, but that's when we seek shore power.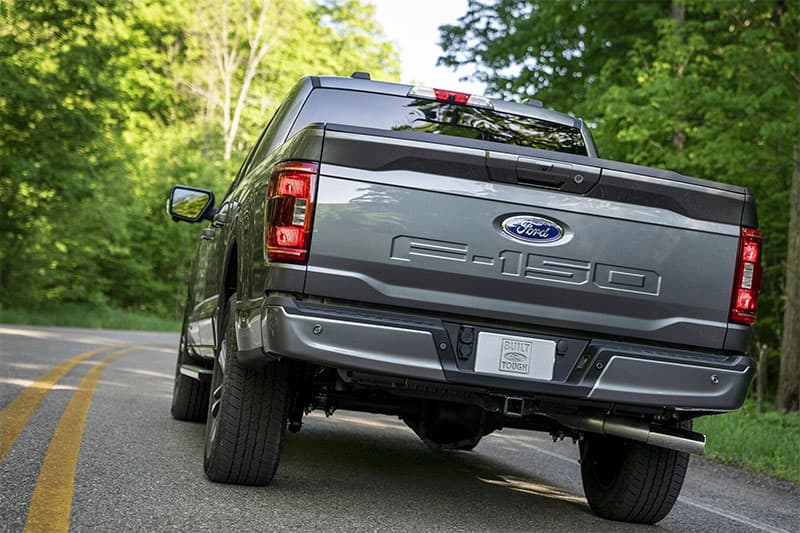 The point here is that we, as a community of truck campers, have been getting along just fine without having generators built into our trucks.  Now that Ford has this option, is it better than what we are already doing?
For folks who have a powerful solar panel system and an ample battery bank, probably not.  From experience, we often go days and even weeks without needing (or wanting) shore power, much less a generator; built-in or otherwise.
For folks who are happy with their built-in camper generator, probably not.  Why add another built-in generator in your truck when you already have one built-into your camper?  Yes, built-in camper generators are noisy.  Yes, they require propane and maintenance.  But are these considerations enough to warrant the expense of a new truck?
For folks who are happy with their portable generators, probably not again.  The versatility, fuel-efficiency and low-noise of a portable gas generator is hard to beat.  We know plenty of truck campers who love their 2,000-watt (or better) Hondas and Yamahas.
For folks who need 7.2-kW of power on demand, absolutely yes.  Maybe you work with Habitat For Humanity and can use that kind of power to rebuild houses.  Or perhaps you have a remote gold mine and need to run your sluice box and shaker table.  7.2-kW is way more than most of us would ever need, but I am sure some individuals will find unique applications.
Dollars and Sense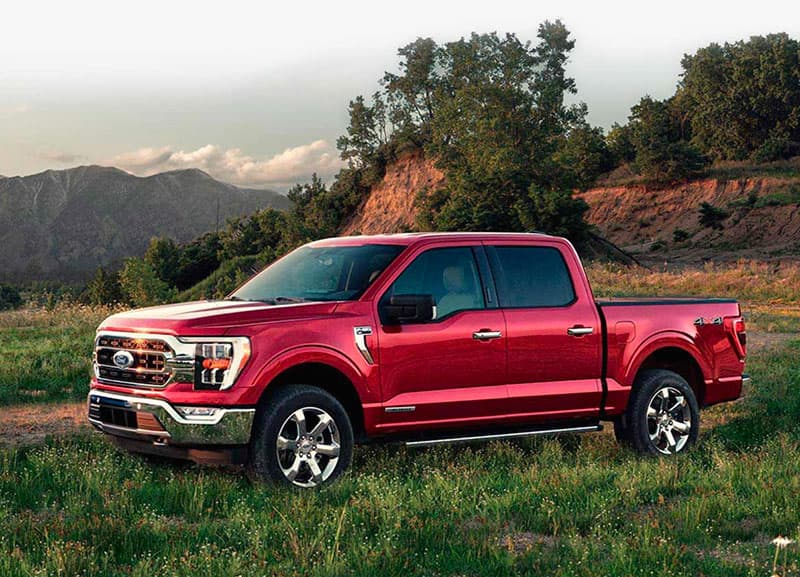 The 2.0-kW Pro Power Onboard generator will be a $995 option.  This is the least powerful system (equal to the Honda EU2000i) and is available with any 2021 Ford F-150, except the 3.3-liter V6.
That seems like a good deal when you consider the Honda EU2200i sells for about $1,100.  For less money than the Honda, you get a built-in generator that doesn't require you to lug around a gas can or risk generator theft.  For campers that don't need the versatility of the portable generator, the 2.0-kW option makes sense.
You can also start and stop the Pro Power generator with Ford's FordPass smartphone app effectively giving you the convenience of a generator built into your camper.  Just push the screen button.
Things get less clear with the more powerful 2.4-kW system that comes standard with the 2021 Ford F-150 Hybrid.  Why?  The cost of the Ford F-150 Hybrid will be just shy of the Ford F-150 diesel adding $4,495 to the price of the base 3.3-liter non-hybrid.  Is that cost worth a 20-percent increase in fuel economy and a built-in 2.4-kW generator?  When you consider you could potentially forgo the cost of a camper's generator, perhaps.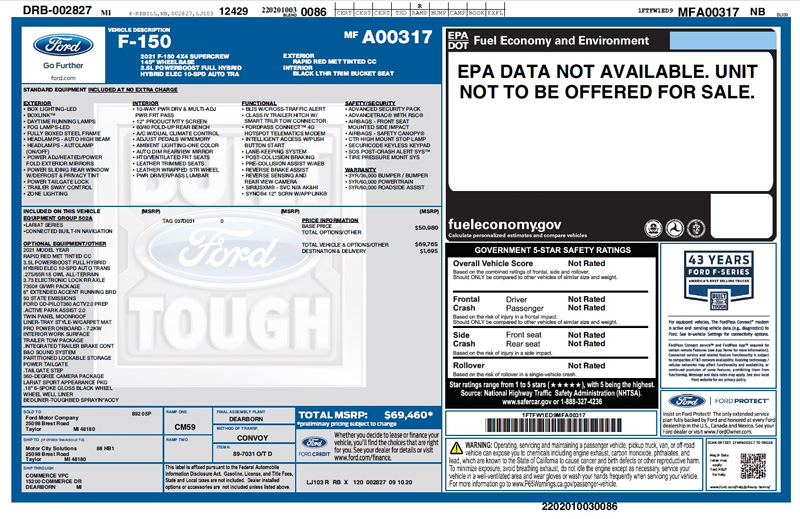 The F-150 Hybrid 7.2-kW upgrade is $750.  That seems like a no-brainer, but keep in mind a 2021 Ford F-150 can very easily reach into the $50K level.  A reader recently sent us a window sticker from 2021 Ford F-150 Hybrid that he saw on Fleet Owner's website (pictured above) with the 7.2-kW option at nearly $70K.  Ouch.
Final Thought: Carbon Monoxide
The Pro Power Generator works by utilizing the truck's engine to generate power.  That means the "generator" exhausts through the truck's tail pipe.  Depending on the truck and camper combination, the tail pipe will either be under the rear overhang, or just behind the unit (with a camper that ends at the tailgate).
In the open air with a slight breeze away from the camper, that should be fine.  However, it's not hard to imagine a scenario where the exhaust rises or is pulled into the camper through the open rear or side door, or the windows.  Many of us commonly run our ceiling vents to pull outside air into our units.  In this situation, the vent might also bring in the truck's exhaust.
Naturally, this is a concern for any generator used in a camping situation; built-in or portable.  For this reason, it's critical to have functioning and current CO (carbon monoxide) detectors in your camper.  In addition to updating our detectors, I have also put a portable Kidde CO detector in our cabover.
Final Thought 2: Engine Maintenance
Another catch to Ford's new built-in generator is (again) that it requires the truck's engine to run.  Most of us would prefer not to idle our engines for extended periods of time purely to avoid the consumption of fuel, oil, belts and other maintenance items.  From a long-term maintenance perspective, it may be more cost-effective to use a built-in Onan or portable Honda EU2200i.
Just Answer the Question
When I first saw Ford's built-in generator announcement I had an immediate, "that's awesome" response, but then struggled to make real world sense of it.  Does a built-in truck generator make sense for truck campers?
The answer is yes, for the right truck and camper combination, and/or people who have a truck camping lifestyle that calls for it.  For example, I can see someone choosing the 2021 Ford F-150 Hybrid PowerBoost to use as a more fuel-efficient daily driver and enjoys the standard (with the Hybrid) 2.4-kW generator with their pop-up truck camper on the weekends.  That makes sense.
Would I want a truck with a built-in generator?  Given our current set-up, no.  However, my truck camping lifestyle and requirements are not yours.  Perhaps if we winter camped in the cold.  Perhaps if we towed lithium-powered golf carts, bikes or ATVs.  I am positive some of you are thinking, "Heck yes!" and dreaming of what 7.2-kW of power could do.
And if you need help with that gold mine, please call.