We found ourselves a real hot button with this week's generator poll and Question of the Week.  First, more than 600 readers completed the poll and another 200 answered the question.  That's over 40 pages of responses!
"The poll is simple enough, but how are we supposed to proofread 40 pages of responses and get the rest of our work done?" asked Angela with her all too familiar 'Look at what did you do this time' look.  See what I go through for you folks?
"We could split the responses into two; pop-up responses, and hard side responses," I suggested.  "Then readers can see where the two truck camper types stand on the generator debate."  She bought it.
You're probably reading this thinking this is a cute introduction, but not what really goes on at TCM HQ.  Let me assure you, this is exactly how this went down in our project camper at a Florida campsite the day before this published.
The Generator Poll Results
The first part of this Question of the Week was a two question poll.  The following poll results reflect responses from both pop-up and hard-side camper owners.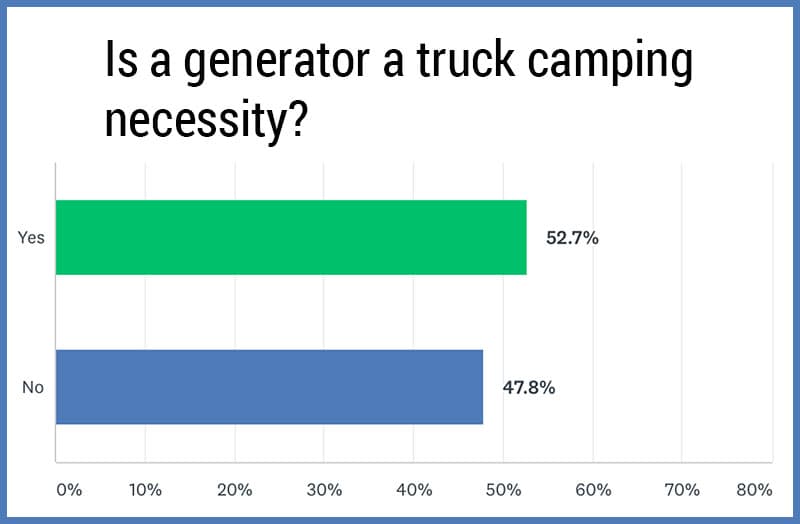 More than half of Truck Camper Magazine readers believe a generator is essential to their truck camping lifestyle.  This mirrors what we have seen in the field; at least half of the rigs have a built-in or portable generator.  No surprises here.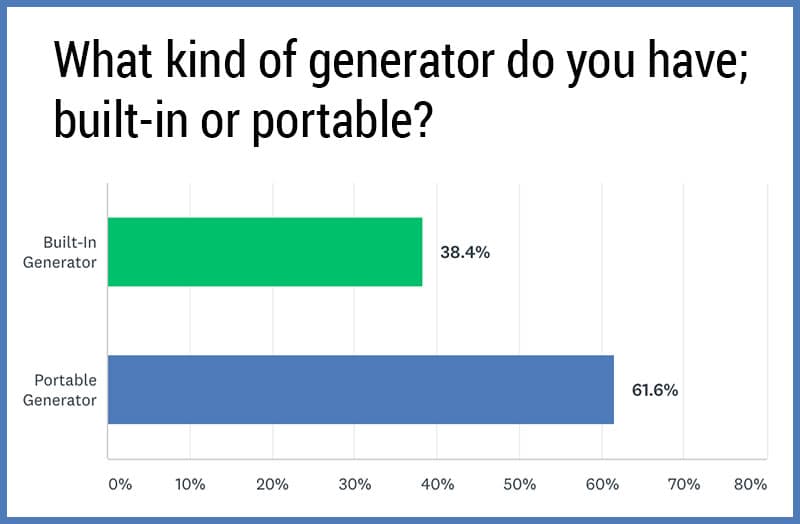 For those who have a generator on their truck camper rig, the majority own a portable generator.  This also makes sense considering how many truck campers do not offer a built-in generator option, and the fact that portable generators are less expensive, quieter in operation, and more versatile for use beyond truck camping.  Built-in generators are more convenient, but are more single-purpose products.
QOTW Response: Pop-Up Campers
What follows are reader responses from pop-up truck camper owners only.  We will publish the responses from hard side truck camper owners next week.
"I do not have a generator and prefer camping where there are no others running generators.  It's nice to be able to listen to nature when camping and some of the generators are very noisy.  And who wants to hear one start next door at 5:30am when they make coffee?
Two AGM batteries and 160-watts of solar provide plenty of power for my camper even with the compressor refrigerator." – Stan Blodgett, 2016 Ram 3500, 2016 Four Wheel Camper Hawk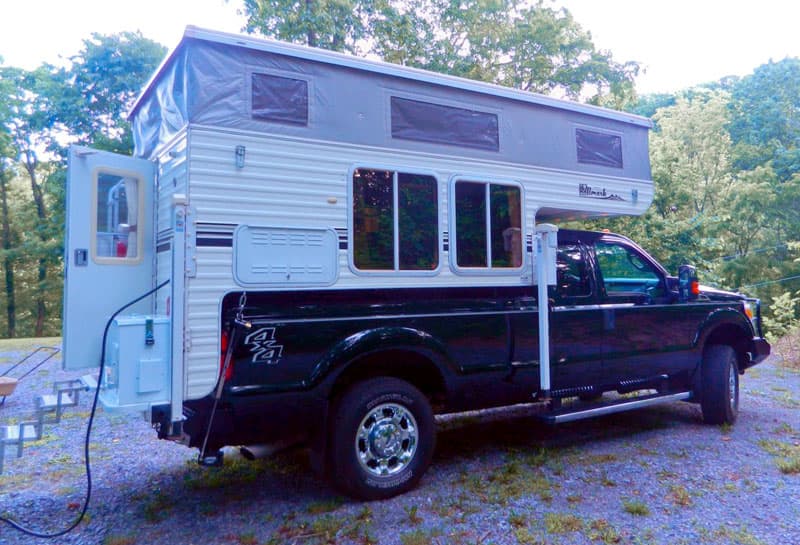 "We carry a Yamaha 2000 housed in an aluminum box I made to fit the rear bumper.  I have also had solar on several of our RVs over the years.  Solar is fine, but simply not as flexible as having a generator.  And real solar systems don't come cheap.  Plus, you can't always camp in the sun and I don't feel like monitoring load or solar output.
We actually don't use the generator very often.  Our rule is that if folks around us don't have one, we don't run ours.  If we have to recharge, we time our generator use for when they are away from their camper.  We hate generator noise and assume most others do as well.  But in a pinch, it is nice to have." – Steve Savage, 2012 F350, Hallmark Ute XL
"We have a Honda EU2000i for emergency backup at home, but I do not take it truck camping.  I rely on two deep cycle batteries charged by the truck.  I would go with solar if I needed it." – Bill Peters, 2017 Chevy Silverado, 2013 Four Wheel Camper Hawk
"Use solar and leave your flat screens at home.  It's called camping!" – Martin Spriggs, 2007 Ford Ranger, 2014 Four Wheel Camper Eagle
"I have a Generac portable generator.  I will have to start using it more often now that I have a BiPAP for sleep apnea.