Get ready to push buttons, pull cords, and rumble into the heated built-in versus portable generator debate.  This time the hard side campers join the power struggle.
The response to the built-in versus portable generator Question of the Week was so extensive we split it into two; responses from pop-up owners, and responses from hard side owners.  We published the generator poll and the pop-up responses last week.
Here are the hard side camper responses to the question, "Is a generator a truck camping necessity?"  Buckle up reader friends.  This one's a doozy!
"Being the belt and suspenders kind of guy, Jon has equipped our rig with the built-in Onan 2500 generator, a Honda 2000 generator, and 220-watts of solar.  We camp comfortably anywhere, anytime.  Jon says that's what I get buying the biggest truck camper on the market.  But nobody else needs to do that, right?" – Kathy and Jon Dresbach, 2015 Ram 3500, 2016 Eagle Cap 1165
"On short weekend trips, we use our Goal Zero Yeti 1000 and charge it with the Nomad 100-solar panels.  On longer trips we take the Honda EU2000i as well.  We like the portability of the units.  They can be used for both camping and anything else we desire." – Scott Gettman, 1997 Ford F350, 2016 Adventurer 89RB
"I have both a Honda EU3000 and a built-in generator.  When I don't want to use propane, I use the Honda for extended periods while dry camping." – Jesse Black, 2015 Chevy 3500, 2010 Lance 1055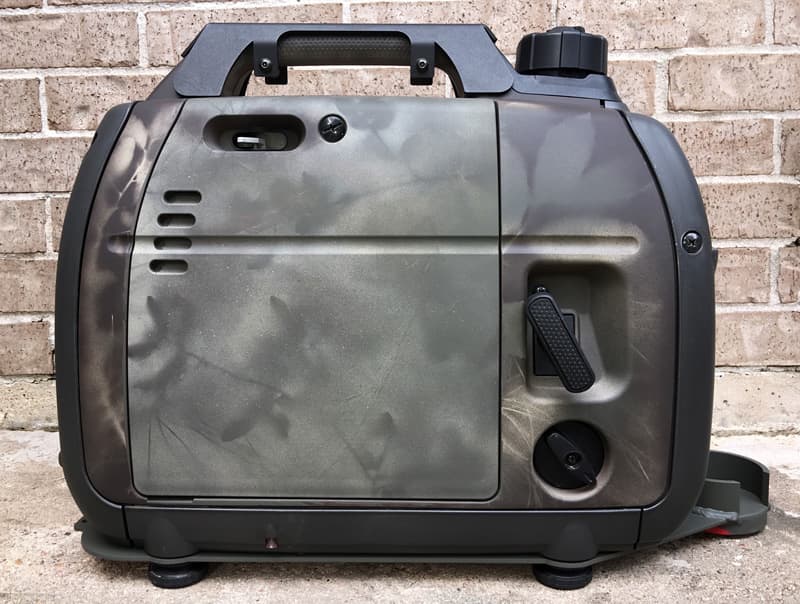 "We have a portable Honda EU2000i companion generator.  It can easily be removed for other tasks, serviced, or replaced.  We live in hurricane country, and electrical power service was out for two weeks once, and several other times for days.  Kira wants to be able to run a sewing machine and an Instant Pot, no matter the location.
To avoid running a battery system down below a certain voltage, consider using a 12 volt, adjustable, automatic, low voltage disconnect battery saver.  These come in many different configurable models, from simple to complex.
Also, obtain a charge percentage to voltage relationship spreadsheet for your battery type, and keep it handy for reference.  When the system voltage gets near the lower/minimum threshold, stop using the batteries.  See spreadsheet/chart for AGM 12-volt battery." – Bill and Kira Jones, 2017 Ford F-350, 2018 Northern Lite 9-6Q SE
"I don't use my generator but, since my camper had the generator prep built in, I modified the generator compartment to hold a small WEN outboard generator.  In addition, I have two Group 31 deep cycle batteries and two solar panels on the roof which meet our needs.
The generator is in case the sun doesn't shine.  I don't like the weight, noise and propane consumption associated with the onboard generator.  Our solar unit powers our 24-inch television, DVD player, dish satellite tuner with antenna, lights, vent fans and occasional laptop use.
A tip to minimize battery consumption is to use a high quality inverter that only runs its cooling fan when needed and has low consumption when there is no draw on the power." – Tobin Koch, 2003 GMC Sierra 2500HD, 2007 Lance 845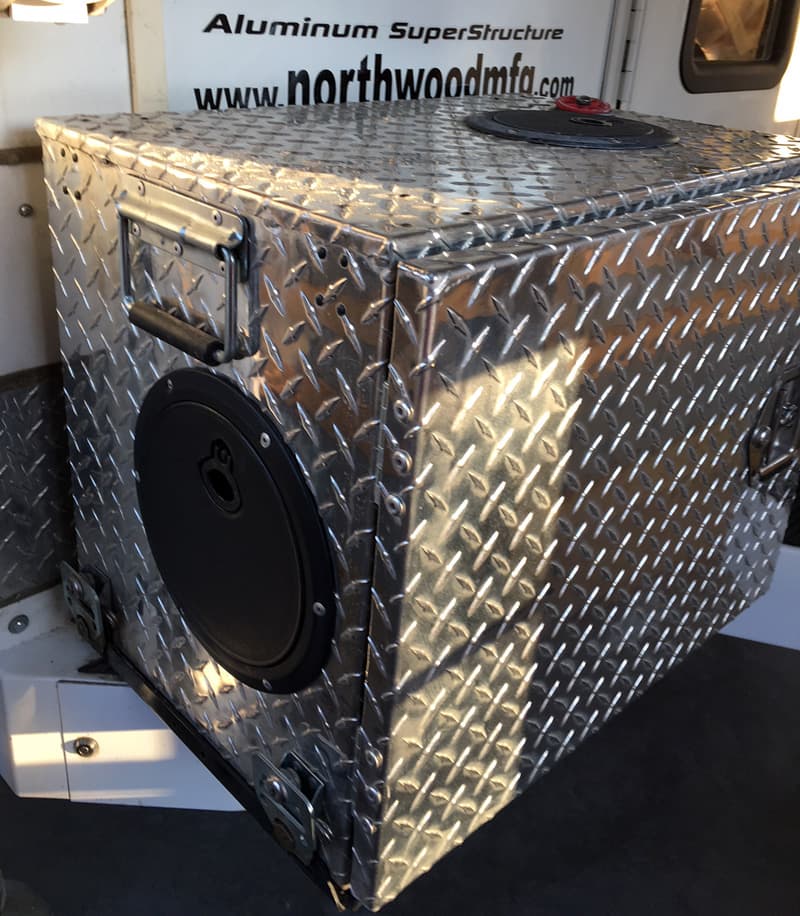 "I elected to get a Honda EU2000i generator versus the manufacturer installed built-in propane generator for initial cost, service network, location, noise, and vibration under the dinette booth.
I previously carried our portable generator in the designed location, outside and beneath the dinette.  While the generator is not massively heavy, it was necessary to tilt the unit and extend it into the storage box.  That was not a pleasant experience.  Also, securing the generator to prevent theft while running required more time.
We use the generator frequently, so it was wise to install a run clock to help keep track of oil changes.  As the generator can run eight hours on low speed, or four hours on high (using air conditioning), I added an extended run 2.5-gallon fuel tank and modified gas cap so I can sleep through a hot night without refilling the generator.
I diligently searched online and selected Generator Boxes, Inc.  The company owner was very helpful.  I included an option of a heavy steel gauge mounting plate which attaches to the bumper of an Arctic Fox 1140.  The generator box is then locked to the mounting plate.
The locking plate and storage box have performed admirably on all types of roads, the worst being Top of the World Highway in Alaska and Yukon.
Installation necessitated replacing the left rear deep set light of the camper.  I found a surface light unit by the same manufacturer used by Arctic Fox, so left and right are similar.  I purchased four anti-vibration pads which are placed beneath generator.  The pads work extremely well.  There is zero vibration from the generator into the camper.