Adventurer Manufacturing reveals renderings of thirteen updates and six new options for the 2023 Scout truck camper line plus six improvements to the current 2022 line up.  Scout is on the move.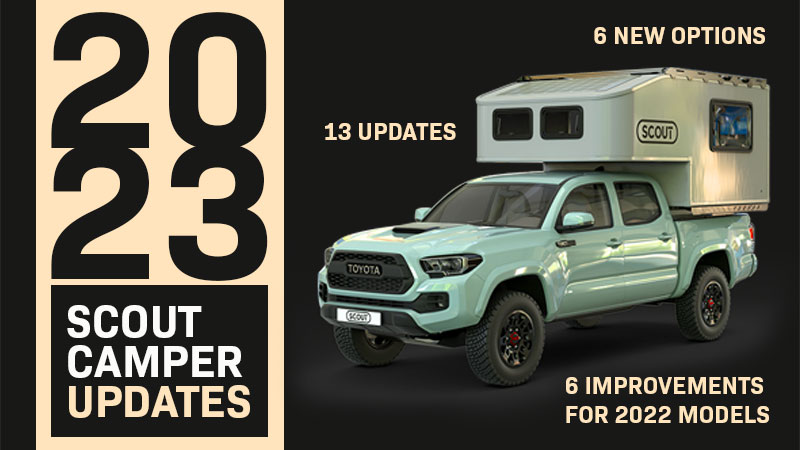 Adventurer Manufacturing has dropped a rather impressive list of updates for their 2022 Scout Kenai, Olympic, and Yoho, and even more interesting items in store for 2023. We'll start with the 2022 improvements, and then dig into the updates and new options for 2023.
2022 Model Year Improvements
Camper manufacturers often make running product changes between the announcement of model year updates. These changes are often improvements to materials or components and/or solutions to manufacturing or reported customer issues. Rather than wait for a formal model year update date, the manufacturers make the improvements as soon as possible on the production line.
For their current 2022 line-up, Scout has announced five key improvements that have already been implemented. Here's the list:
1. New and improved skylight
2. New and improved solar panel increasing capacity from 175 to 190-watts
3. Roof top tent installation for new, "Gear Ready Roof Rack"

4. Switch to universal top hinge for exterior gear locker
5. New radius edge and cabinet depth to improve dinette access
6. Improved roof integration to reduce maintenance.
Let's break these 2022 changes down. Three are component upgrades; a new skylight, a new Go Power 190-watt solar panel, and a universal top hinge for the exterior gear locker. These are precisely the kind of rolling model changes we want to see manufacturers pursue throughout the year; making their campers better as opportunities presents themselves.
The integration of the rooftop tent in a new 'Gear Ready Roof Rack' option is likely an efficiency update. After building a number of Scout runs and handling scores of customer orders, it's logical to bundle certain features to speed production, improve quality and avoid dealer installations that are often better handled at the factory level. In this case, the rooftop tent requires the Gear Ready Roof Rack.  Makes sense.
Next, Adventurer Manufacturing has redesigned the passenger's side cabinet with a radius edge for easier dinette entry. This is the kind of change that happens when units get into the field with customers who spend some serious time living in the campers. An email comes in, "Hey Scout Team! Our Kenai dinette could be so much better to get into if you made the cabinet with a radius edge. Please put that in your design hat." You might think nobody cares about these messages, but you'd be dead wrong. Especially at Adventurer Manufacturing, they write these comments down and discuss them at regular design meetings.
The next 2022 improvement really got our attention. Listed as, "Improved roof integrations to reduce maintenance,", this update is described as a reduction in roof fasteners, changing to a full glue-down process for the solar panel, the removal of front clearance lights on the Yoho model, the removal of rear storage doors on the Kenai, and an, "improved seal process". This list creates as many questions as answers, which is something we simply can't resist. We're excited to learn about these changes and promise to follow up with the Scout team for specifics. Like a cat chasing a laser.
2023 Model Year Improvements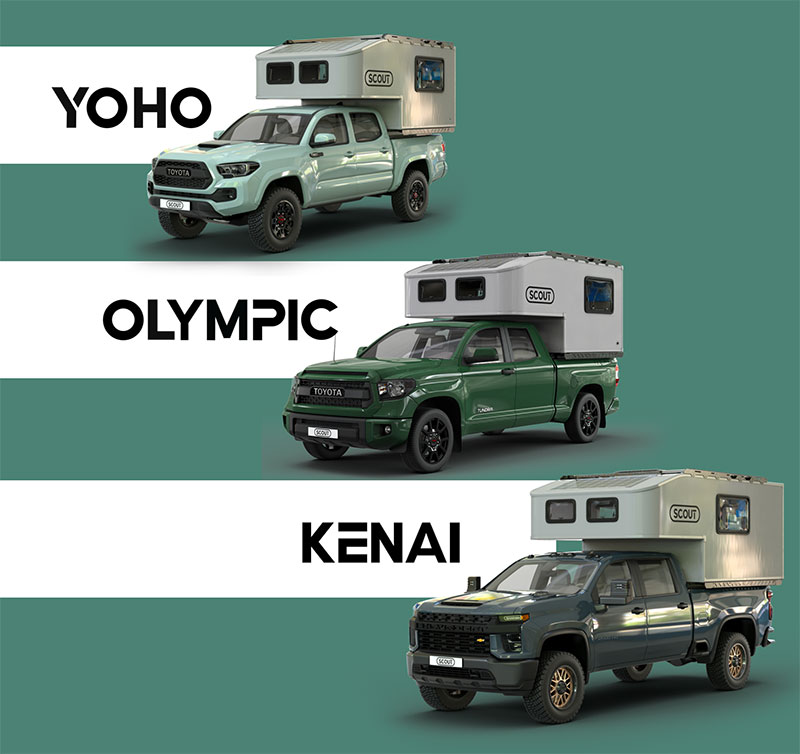 For 2023, Scout is announcing thirteen updates stem-to-stern across their Kenai, Olympic and Yoho truck camper line. Again, details are light but we at least have the list and a few renderings to showcase.
Here's the 2023 Scout Camper update list:
1. Clear window and snap-on cover on entry door
The first model year of Scout Campers featured frosted/opaque glass windows. For 2023 rear Scout windows will be clear across all three models. We have seen this request made by Scout customers and would-be customers on social media as it helps with visibility. When you hear that noise behind your camper at 2:15am, it's important to be able to see what's going on.
2. Switched to light bar-style clearance lights for the Kenai and Olympic
3. Low profile door latches for gear locker storage
4. Auxiliary solar plug on driver's side for aftermarket portable solar
This new feature greatly strengthens the versatility and modular approach of Scout Campers. It's no secret that Scout Camper owners tend to prefer camping off-grid. That means sourcing power from the sun, a method that can be tricky in tree-shaded areas. The ability to connect a portable solar panel, place it in the sunlight, and position it toward the sun will make a significant difference. Together with the improved 190-watt panel on the roof, there should be no issues sourcing power; weather permitting.
5. Increased propane capacity to 15-pounds on the Olympic
6. Propane quick-disconnect in LP compartment, all models
7. Improved convertible lounge seating in the Kenai
The Kenai's table has been enlarged, the lounge has been increased in length, a footrest has been added below the GoalZero portable power station and the window ledge height has been reduced for improved ergonomics. In short, the Kenai lounge should be more comfortable and functional for 2023.  We can't wait to take a seat, and try it.
8. Adjustable shelving in the driver's side wardrobe storage in the Kenai
9. Integration of thermal barrier along internal seams of aluminum extrusions
And our ears perk up. This is the kind of engineering detail that we would love to learn more about. Often times a thermal barrier is as simple as an air gap. Other times it's more complex. Either way, we hope to get the details on the thermal barrier change in the near future.
10. Ceiling prep-ports to facilitate future addition of Scout Utility Hanging Brackets
It's not unusual for companies to build in features for options that aren't yet ready. Storage is obviously at a premium in every truck camper and even more so in lighter and smaller units like the Scout series. The Scout Utility Hanging Brackets sound like one more solution to maximize storage options. The Scout team should chime in when this announcement is ready.
11. Engage LPG mount for improved tank support
12. Improved accessibility to main wiring to support mods and serviceability
A company specifically designing their campers to be modified and serviced? I don't think I've heard a more in-tune concept coming from a manufacturer in a very long time. Every truck camper manufacturer should examine their products nose-to-bumper and ask, "Is this as service-friendly as possible?" Making it mod-friendly would be an amazing bonus. Thank you, Adventurer Manufacturing, for being proactive on these fronts.
13. Advanced performance composite; a Scout exclusive
Normally, this might have been the lead headline; "Adventurer Manufacturing Develops Exclusive Composite for 2023 Scout Line". From experience, our readers click on those stories to read about what the composite is, how it came to be, why it's better, and what the implications of this material are.
For now, all Adventurer Manufacturing is offering is a few teasing lines; "…reduced weight, improved insulation values, and improved exterior finish." This is akin to Porsche coming out with a new 911 and saying it's faster and better lookin'. All good news, but how is this new composite lighter and better insulated? And what is the new exterior finish? Fellow readers, we will stand outside their office windows and throw tiny pebbles until they answer these questions. Plink… plink… plink…
New 2023 Scout Options – All models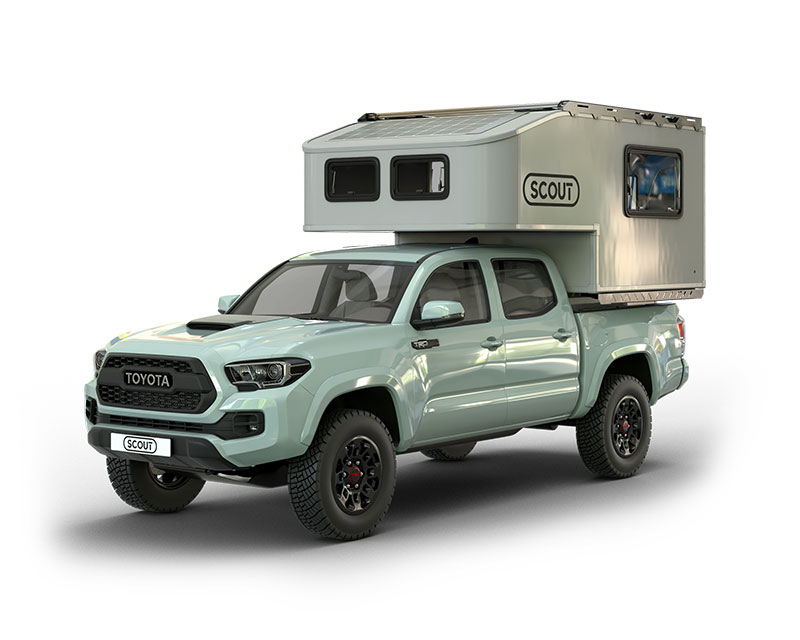 Above: The optional front bunk windows on a 2023 Scout Yoho
The very first thing we noticed when Adventurer Manufacturing released the new 2023 Scout update renderings were the new optional front bunk windows. If you've been keeping score over the past few decades, front camper windows almost completely disappeared in the mid-2000s only to make something of a resurgence over the past five-years or so. With this announcement, we now have four companies that have embraced front windows in campers again. Front camper windows are back!
2023 Option 1: Clear View Bunk Windows
Rather than one large front window, Scout is offering two dual-pane thermally-insulated and self-hanging windows. These are the same window type installed in the main galley and offer adjustable black-out shades and bug screens. The advantage of these windows is huge for cabover ventilation, looking out at night (something we loved in our first camper), and bringing more natural light into the camper.
2023 Option 2: Portaledge Bunk Extensions
One downside to the original Scout design was the strictly east-west cabover configuration. Not only did this necessitate climbing over each other to enter or exit the cabover, but it also meant you needed to park upward on one side or the other.
For 2023, Scout is introducing a clever solution called Portaledge Bunk Extensions. These extensions are 31.5-inches wide by 24-inches long and effectively turn the cabover into a north-south configuration. No more climbing over your significant other. And if you're parked more nose-up (which is more common in our experience) you can sleep north-south in comfort.
The porta-ledge extensions anchor to Scout ceiling brackets and are designed to store easily during travel. The "Utility Ceiling Brackets" option is required for this option.
2023 Option 3: Autotem Air 2D Rear mount diesel heater
The Autotem Air 2D is an exciting new component option for Scout customers who plan on camping in cold weather for extended periods of time. Designed to be powerful, compact, and efficient, the product provides 2,000 kW of maximum output and works in temperatures below -49 degrees Fahrenheit / -45 degrees Celsius. The heater consumes 0.24 liters (0.063-gallons) of diesel fuel per hour and a brushless induction motor helps to keep the operating noise levels down.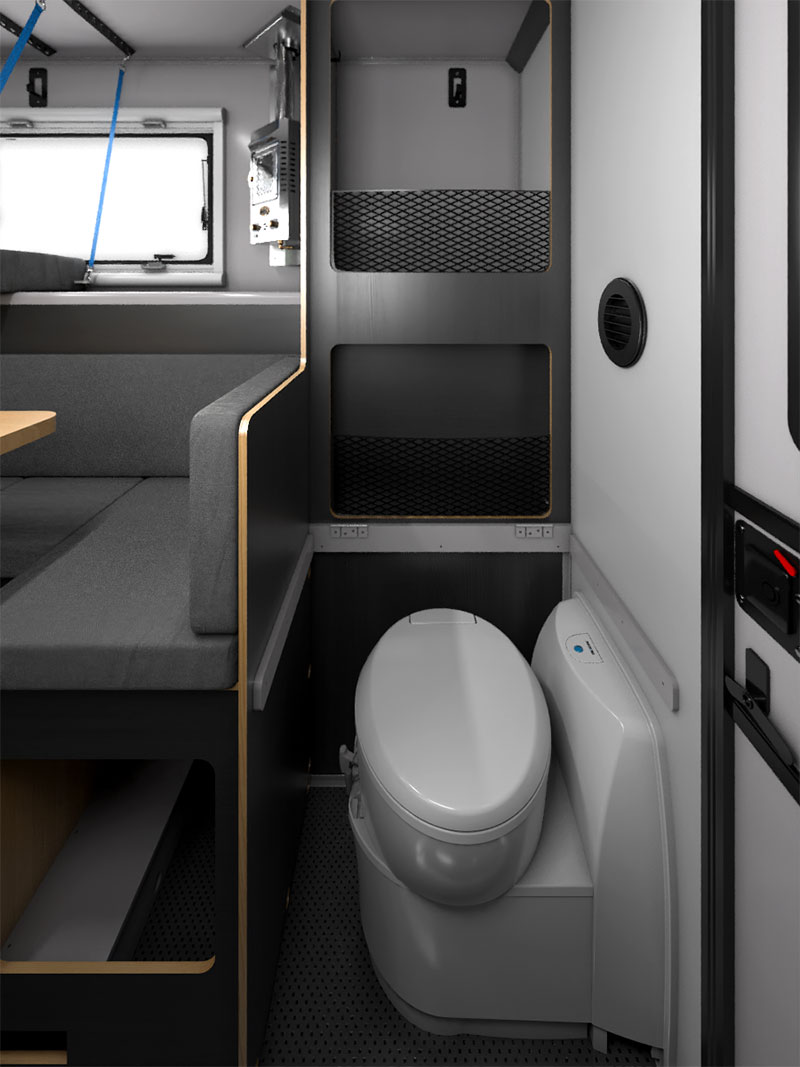 Above: 2023 Scout Kenai interior heating duct
In our preliminary research, we found more of these installed in boats than campers, often a good sign of quality. Scout will house the Autotem Air 2D in a removable metal box on the exterior back wall. We hope to learn more about how this product works, connects, and operates when the 2023 Scout line hits the market.
2023 Option 4: Bilateral bed rail runners
From what we can gather, the new bilateral bed rail runners are a more versatile set of full-length tie-down points. The runners are designed to be more rugged and resistant to dents and dings during off-road travel.
2023 Option 5: Duncan Under mattress vapor barrier
The difference between a warm cabover (with people sleeping inside) and the cooler outside temperatures can create condensation under a camper mattress. It's a problem we've experienced, especially in colder camping situations.
For 2023, Scout is offering a mattress vapor barrier described as a compact, portable and washable mesh insert designed to mitigate under-mattress condensation by wicking moisture away. If you're planning to camp in the fall and winter, this option should be considered mandatory.
2023 Option 6: Gear-Ready Roof Racks
Introduced for 2022, Gear-Ready Roof Racks have been developed to provide more rooftop storage utility for Scout Campers. Adventurer Manufacturing describes the attachment as "structurally-mounted" to support the weight of equipment or an additional one or two solar panels. Note for Scout Olympic or Kenai orders, Gear-Ready Roof Racks are required if you select the "Roof Top Tent" option.

More To Come
Details about these changes are relatively scant at this point, but we already have a request in with Adventurer Manufacturing's leadership team for more information. As you all know, we always want the back story.
Also, keep in mind the great majority of the 2023 updates are purely electrons at this point. Renderings are interesting but, unless you're using VRV, you can't camp in a 3D digital illustration. That means details might still be forming at Adventurer and things may change as these campers physically come together. In the meantime, the team in Yakima has certainly given us a lot to look forward to.
To learn more about Scout campers, visit their website at scoutcampers.com.  Click here to request a free Scout brochure.