From Silicon Valley, California comes a new company seeking to alter the very concept of RV travel and make it affordable and accessible to everyone.  Get ready to have your mind blown.  Introducing OpenTour's VRV.
About two months ago we received an unsolicited product sample from a new start-up based out of Saratoga, California; OpenTour.  Now it's not unusual for companies to send us product samples in hopes of media exposure or a review, but OpenTour's VRV product was unlike anything we had seen before.
OpenTour has developed a complete virtual RVing and travel system called VRV.  Inside their box, we found a letter explaining the VRV concept and two Oculus virtual reality headsets.  The letter, signed by OpenTour's Founder and CEO, Joshua Kilman, included basic set-up instructions.  Once properly set up, Joshua's letter insisted, the VRV product would be self-explanatory.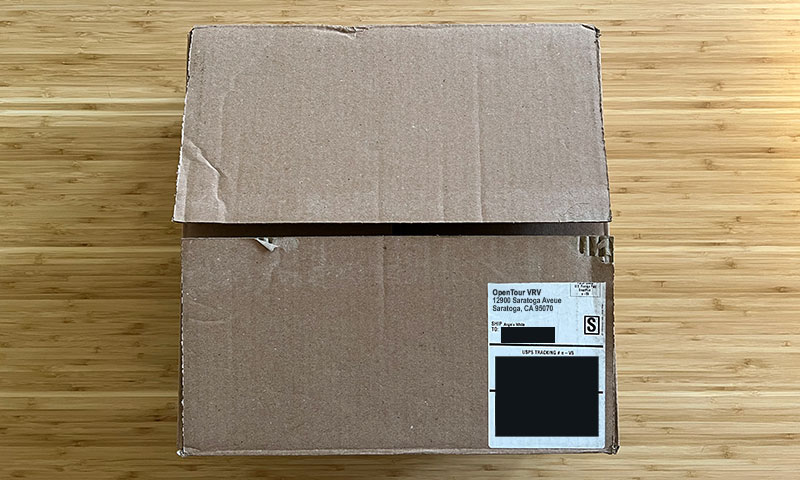 Above: The OpenTour box arrived in rough condition, with no suggestion as to its contents.
Right off the bat, I need to make clear that (a) I don't like covering anything that isn't strictly truck camping, and (b) I have a strong aversion to anything to do with virtual reality.  My comfort level with virtual reality started and ended with a red plastic View-Master in the late 1970s.  Just looking at OpenTour's supplied Oculus VR headsets gave me serious pause.  With that, the OpenTour box sat closed for the better part of a month.
"If you're not going to try OpenTour's VRV, you should send it back."
It was a Friday afternoon and Angela was tired of seeing the box sitting in our office space.  I have a way of ignoring things I don't want to do and this product was definitely on that list.  Looking at Angela, it was clear the only way to take OpenTour off that list was to go straight for it.   Two minutes later we were starting with Joshua's instructions.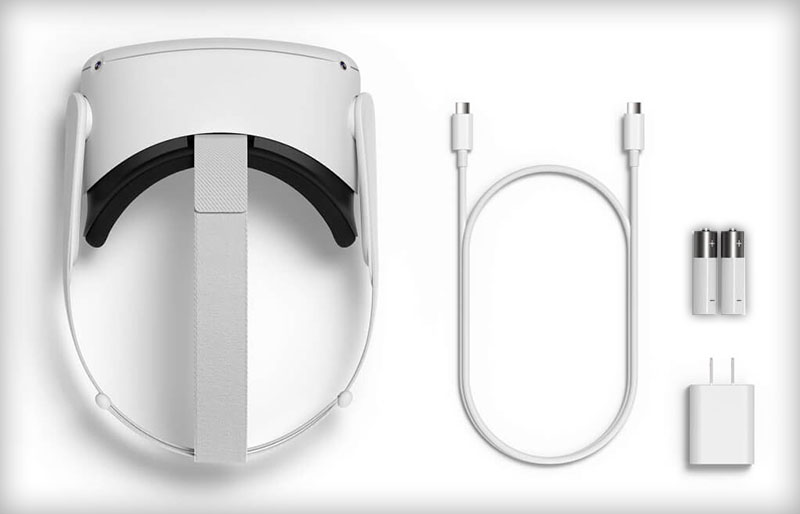 Above: The Oculus Quest 2 system and accessories.  Photo courtesy of Oculus / Facebook Technologies, LLC.
Per his letter, Joshua sent us two black developers' Oculus headsets (see one of the headsets below).  OpenTour customers will receive a new production version of the Oculus Quest 2 VR headset (shown above), one charging cable and power adapter, and a set of two rechargeable lithium AA batteries.  The $299 64GB system is fully self-contained and does not need to be connected to a computer.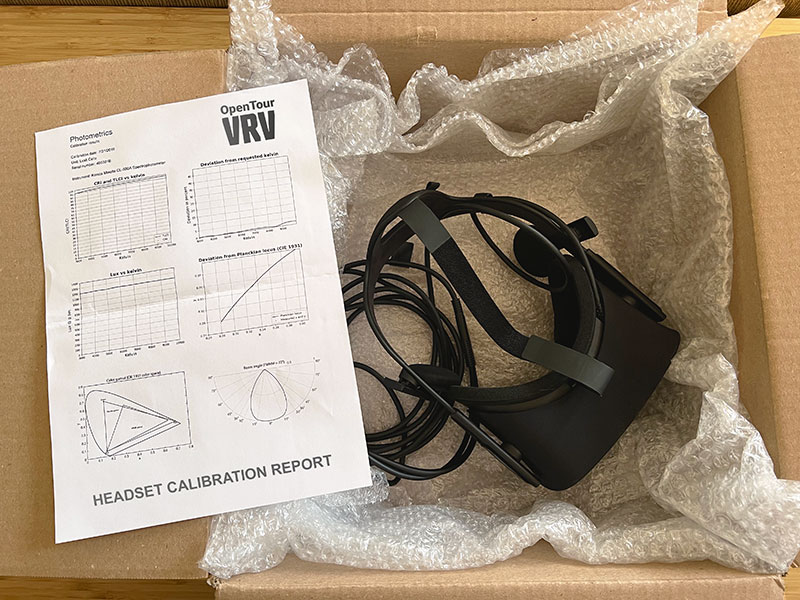 Above: One of two Oculus developer headsets sent to us by OpenTour VRV
The Oculus headset was easy to put on, adjust for comfort, and power up.  With the physical set-up completed, we connected the Oculus to our WIFI network, downloaded the Oculus app, and installed OpenTour's VRV module.  Upon launching VRV, a three-dimensional truck and camper appeared before us and a female voice started to guide us through the calibration process.
"Headset pairing has been successful," said the voice.  "Please follow the instructions to calibrate your floor level, play space, and eye-tracking.  Please make sure you have at least six-square feet of unobstructed free space around you before proceeding."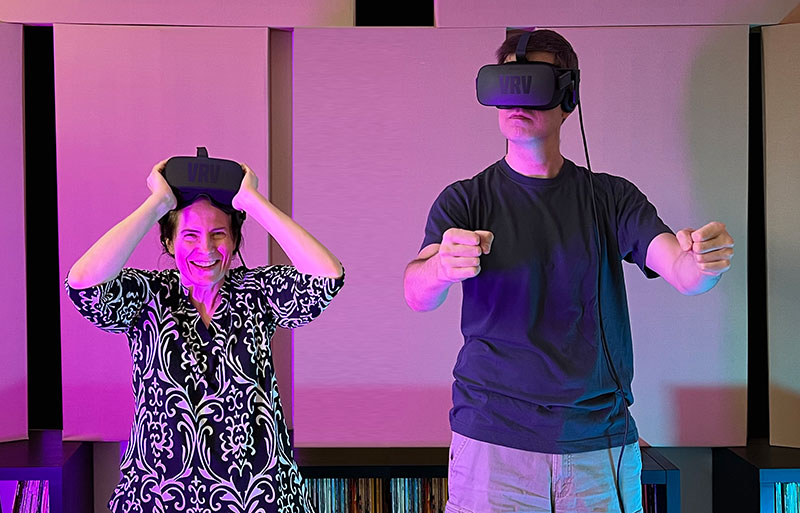 Above: Angela preparing to go 'truck camping' in VRV virtual reality.  I'm already 'driving' the truck.  Note the violet and cyan light the OpenTour VRV sensors project.  OpenTour asked us not to show these sensors as they are prototypes.
Once calibrated, the headset zoomed us inside the pickup truck.  Sitting in the driver's seat, the realism and fluidity of OpenTour's virtual reality were incredible.  There was no mistaking the experience for the real world, but it was convincing enough to fool your brain into believing what we were seeing.  What really freaked me out was when I turned back to look at the backseats.  You could literally look up down and all around and see what would be there in real life.  Convincing?  You bet.
"Where would you like to go?" asked the female voice.
"Yellowstone?," I asked.  Again the screen zoomed and suddenly we were 'driving' into Yellowstone National Park's Northeast Entrance.  The truck drove itself, but I could 'grab' the steering wheel with my hands and change directions.  I could also hear the engine running and tires on the road.  It still wasn't real life, but it was close enough to be compelling.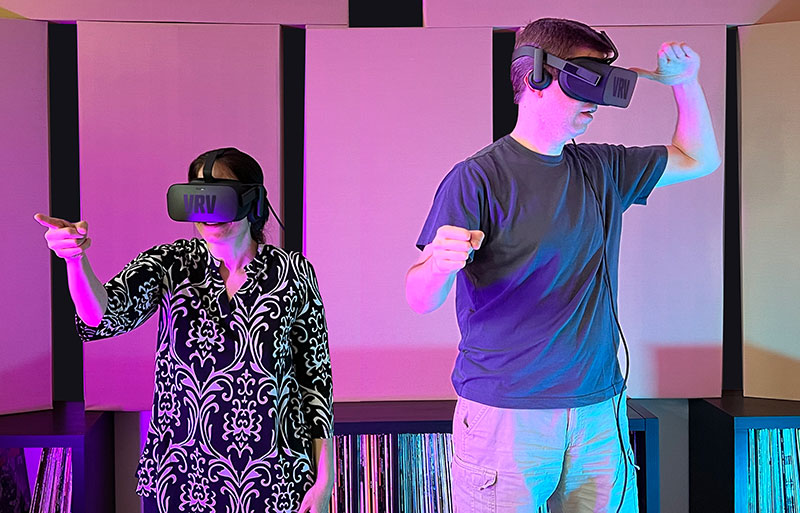 Above: Here we are driving into 'Yellowstone'.  Angela has spotted a group of Bison.
When we reached a pull-off, I 'steered' the truck to a stop.  When the truck stopped, Angela and I were able to find the door handles, open the doors and exit the vehicle.  From the outside, the truck and camper looked a little crude, but remarkably accurate.  The park itself was almost photo-real.  We walked to the back of the camper, opened the camper door, and climbed inside.  The walking and climbing were more like pointing in place toward where we wanted to go.  It was weird and awkward at first, but we got used to it.
Inside the camper was about as coarsely rendered as the exterior, but everything was where it should be.  We sat in the dinette, opened the refrigerator, and 'climbed' into the cabover.  Even the Fantastic vent in the ceiling was there.  It didn't open or operate, but it was there.
Folks, the low down is this; Angela and I spent about an hour virtually driving around in a truck camper rig and exploring Yellowstone National Park.  It wasn't the real thing, but it was closer than I ever would have ever imagined.  If OpenTour's VRV continues to advance this technology, there may come a day when we may not know the difference.  Incredible?  Unbelievably so.  Not everyone will be happy to hear this, but OpenTour VRV could possibly be a disruptive product for the entire RV industry.
To find out more about the VRV system, we contacted OpenTour Founder and CEO, Joshua Kilman.  To accommodate his schedule, this interview was conducted via email.
Why would anyone want to go truck camping virtually instead of the real thing?
That's an excellent question, and there are many important answers.  First and foremost, our VRV technology makes RV travel truly accessible and affordable to the general public.  As the cost of motorhomes, towables, and campers goes up, the lifestyle becomes less attainable to more and more people.  With VRV, folks can travel the United States, Canada, and beyond for the price of an Oculus headset and a low-cost subscription.
Second, the more popular camping destinations cannot handle the demands they are facing today.  Twenty-five years ago you could often get a campsite at a major national park that day.  Now you'd be lucky to score that same campsite a year in advance.  With VRV, campers can go where they want, when they want – even on short notice.  No reservations or campsite fees are necessary.  North Pines Campground in Yosemite tonight?  No problem with VRV.
For people who already own a camper, they can use VRV to scout camping experiences in advance.  Imagine being able to virtually drive, walk around, and camp in the locations you're considering without having to spend the time, fuel, and reservation costs to get there?  If you like what you see in the VRV, book the trip in real life.  Most of the time, the in-person experience will be even better.
Finally, thousands of RVers age out of truck camping each and every year.  With VRV, they'll be able to stay home and safely continue truck camping.  I know I'll be the first one on VRV once I age out of RVing.
That's a point we hadn't considered.  Do you have any concerns that future generations may prefer VRV truck camping to the real thing?
I think the two can co-exist.
The truck and camper in OpenTour VRV are well done, but still crude by real-life standards.  Is that something you will improve?
Yes.  You experienced a beta version of our generic truck and camper.  We are working with several major truck camper manufacturers to render their current models into the system.  Many camper companies already have three-dimensional CAD files and computer renderings for their brochures and websites.  You may have noticed camper companies using computer-generated images instead of real photography for the past few years.
The final VRV truck and camper rigs will be photo-real and 100-percent authentic.  You'll be able to select from multiple real manufacturers and choose from real floor plans – right down to the options and decors.  The leatherette in your virtual camper dinette will look like genuine leatherette.  The vacuum-formed countertops will look like real faux granite.  We don't want you to give up truck camping just because you're in virtual reality.
One of our engineers is even working on ways users can modify their virtual campers and perform basic maintenance.  Maybe we'll create an option where various systems fail and need to be fixed or replaced.  For many, this is an important part of their RVing enjoyment.
We might skip that feature.  Will it be possible to design your own virtual truck camper with VRV?  I know we would love to do that.
Absolutely.  We developed our core VR technology for the real estate industry to pre-visualize build-outs and make changes in the computer before construction.  I see no reason why we won't add that capability into VRV.
While we were in the VRV system, we saw a greyed-out option for games.  What is that about?
We are developing a series of virtual games to play while you travel in VRV.  The games will be focused on what people like to do while they RV.  For example, there will be fishing and hunting games as well as outdoor sports like skeet shooting, mountain biking, golf, skiing and more.  For a broader audience, we will have scavenger hunts, geocaching, and the ability to take selfies and post them directly to social media in the real world; all within the VRV system.
The VRV asked for a lot of personal information to create our OpenTour account, avatars, and preferences.  How do you approach the question of security?
Your personal avatars and overall user profiles are secured with our custom blockchain architecture.  The blockchain itself is located in a hybrid cloud environment hosted by Amazon Web Services.  If you buy things in the physical world on Amazon, you already know how reliable and secure that system is.
Is there anything else about VRV that you'd like to add that we didn't ask?
Oh my gosh.  We are moving in so many directions simultaneously that it's hard to encapsulate everything in a short interview like this.  For example, our licensing division is working with major Hollywood studios to develop fictional camping destinations like Jurassic Park, Hobbiton in the Shire, and Star Wars' Tatooine.  I have a vision of using NASA's detailed scans of Mars to allow terrain-accurate RVing on the red planet.
For adults, we will eventually offer options for mature themes and dream travel partners.  Of course, we will establish parental controls to prevent minors from accessing those areas.  There's literally no limit to what we can do with VRV.  That's why we called the company OpenTour.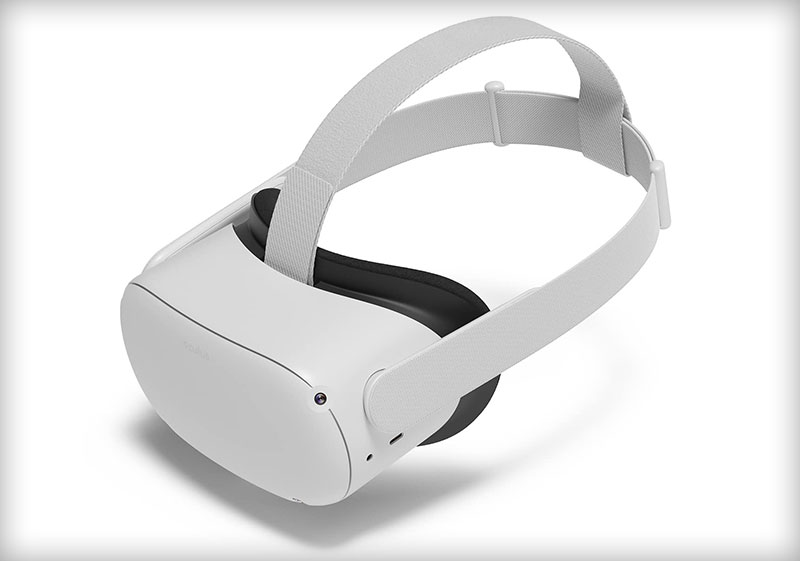 Above: The Oculus Quest 2 headset.  Photo courtesy of Oculus / Facebook Technologies, LLC.
When will the OpenTour VRV system be available?
We were originally scheduled for launch late last year, but we have been delayed by electron shortages and a computer virus that keeps popping up.  Once that's all worked out, I'm hoping to have things moving forward by late spring.
And the subscription price?
As a forward-facing company, we will only be accepting payment via Bitcoin.  Right now we're shooting for 0.00023494 Bitcoin per month, or approximately $10 USD.  With inflation the way it's been, we may need to go to 0.00023495 Bitcoin per month.  I'm hoping that's not necessary.
You asked us specifically to publish your interview on April 1st.  You realize some folks may think this is all an April Fools joke, right?
Well, it is.  Heck, OpenTour, VRV, and my very existence are merely a figment of some knucklehead's imagination.  However, every technology I've talked about is either currently available, under development, or entirely possible.  Like Marty McFly said after his bitchin' guitar solo at the end of Back to the Future, "I guess you guys aren't ready for that yet, but your kids are gonna love it."
Happy April Fools Day!