General Motors has rolled out a fiercely redesigned 2019 Chevrolet Silverado 1500 with significant weight savings, a new diesel engine, a refined interior, and more.  Unfortunately that's not the whole story.  Truck camper community, we have a situation.

Ladies and gentlemen, we have a situation emerging in the truck market.  It seems the truck manufacturers are throwing any sense of standards out the window and designing their new truck cabs, truck beds, and overall truck exterior dimensions to be relentlessly longer, wider, and taller.
As these new longer, wider, and taller trucks debut, truck camper manufacturers, dealers and consumers are going to need to pay more attention to fit compatibility between trucks and campers.  Just as we can't assume a truck and camper will be weight and center of gravity compatible, we will no longer be able to assume a truck and camper will be fit compatible.
This situation is not exactly new.  The big three have made cab height, rail height, and other truck bed alternations many times over the years sending truck camper manufacturers scrambling to adjust the fit compatibility of their line ups.

What makes this different and alarming are the quantity and severity of changes being made to seemingly every exterior truck dimension being announced.  For example, the truck bed on the 2019 Chevrolet Silverado 1500 is 6.75-inches wider than its predecessor.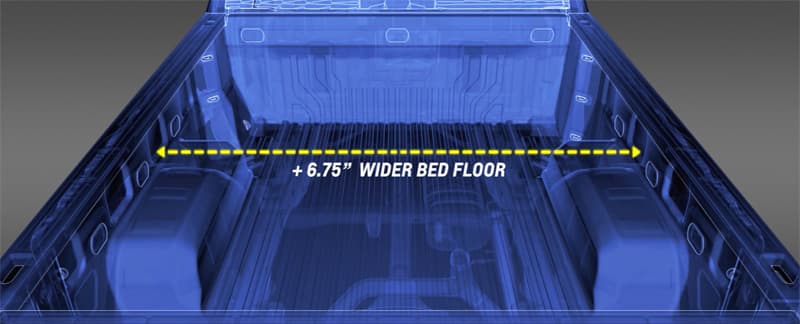 GM has also made the 2019 Chevy Silverado 1500's truck bed longer and cab taller.  The GM team showcased these dimensional changes during the truck presentation (see slide data in the images below).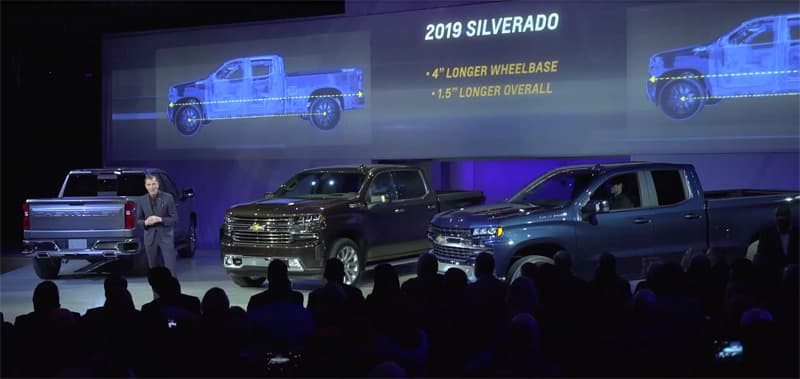 From their slides and subsequent press release, the 2019 Chevy Silverado has a 4-inch longer wheelbase, is 1.5-inches longer overall, and is higher and taller.  These changes are almost guaranteed to cause conflicts with a number of current truck camper designs.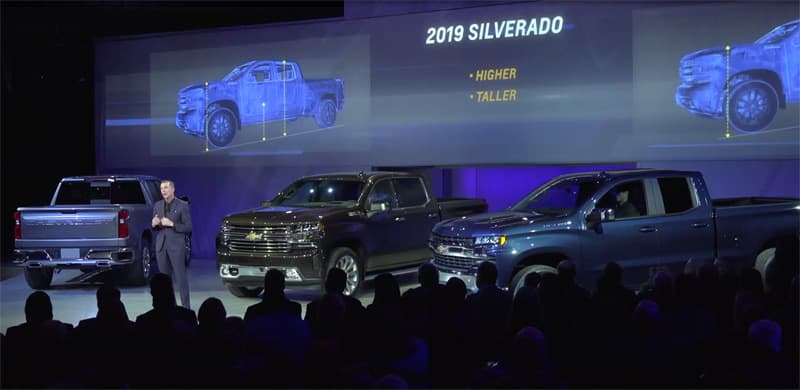 If anyone thinks I'm singling out Chevy, Ram's newly announced 2019 Ram 1500 has similar issues and the 2017 Ford Super Duty series has given many truck camper manufacturers critical fit compatibility issues over the past year.  Some truck camper manufacturers simply adapt with various riser kits and front bumpers, but these fixes raise and/or push back center of gravity; not exactly ideal.

Above: The new Silverado's debut in Detroit this past week
This may or may not end up being a problem with the 2019 Chevy Silverado 1500, but what really concerns me is the trend.  What if Ford, GM, and Ram all continue to go wild with their truck cab, truck bed, and overall dimensions?
To maintain fit compatibility, the truck camper manufacturers will have to continuously redesign their campers to meet the expanding dimension extremes of each truck brand.  That would mean major truck camper design compromises no matter what truck and camper you buy.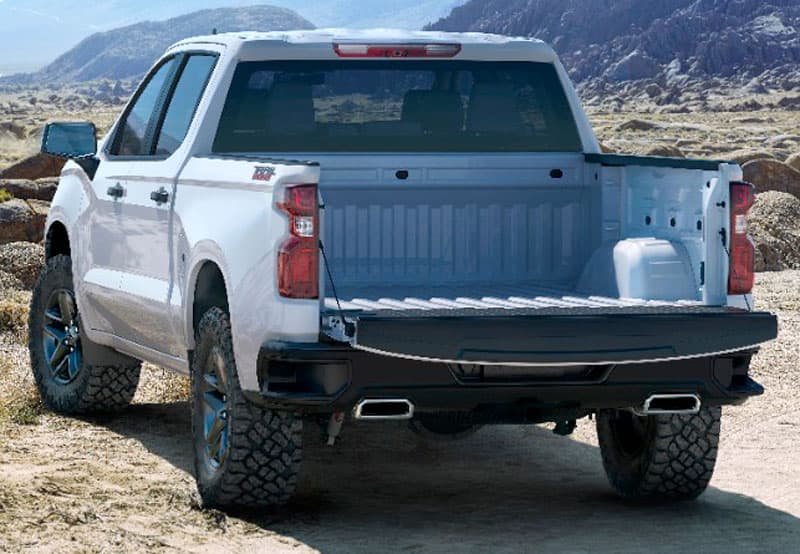 This is not how I wanted to begin this new truck announcement, but you can't have a truck bed width increase by almost 7-inches and not trigger a truck camper fitment alarm.
Fortunately, there's a lot more going on with the 2019 Chevy Silverado 1500 starting with some very provocative sheet metal.  Dimensional madness aside, this is one seriously interesting new half-ton.
Above: Video from the Detroit announcement
Dramatically Aerodynamic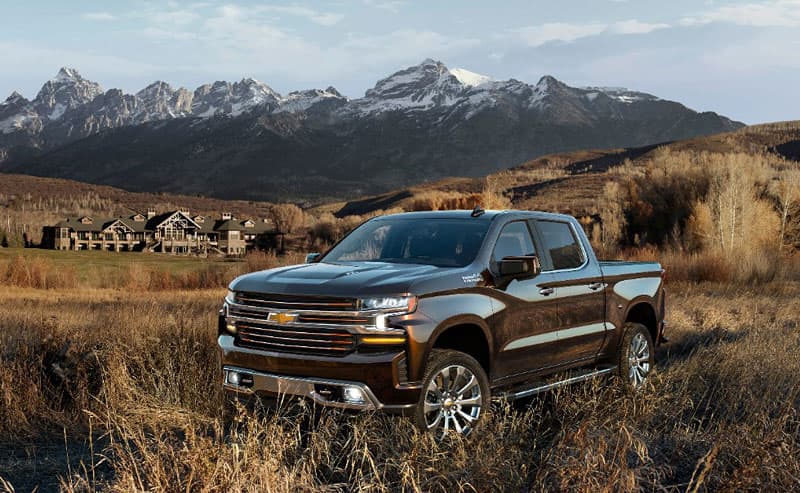 Aerodynamics were a leading design inspiration when developing the new 2019 Chevy Silverado 1500.  Every facet of the grille, hood, roof, and side panels have been smoothed and channeled to improve the drag coefficient of the new truck.  The most eye-catching example of this focus is the Camero-like side gills designed to draw air in and around the front wheel wells.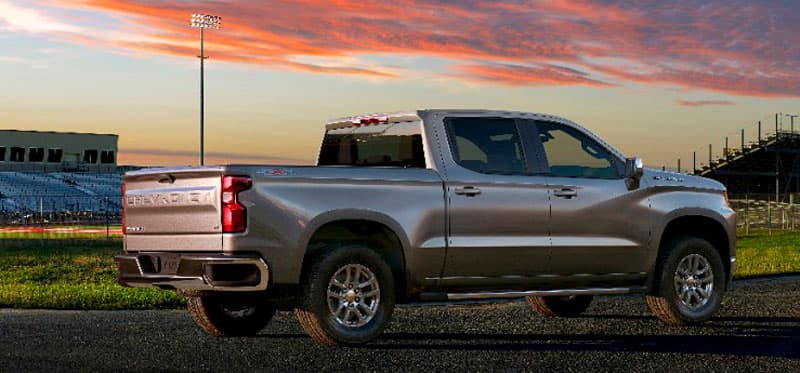 Further aerodynamic enhancements include grille shutters that activate when cooling is unnecessary, a taller hood that moves air over the otherwise turbulent windshield wipers, a re-angled windshield, and channels and lips on the hood, roof, and tailgate to efficiently move air around the truck.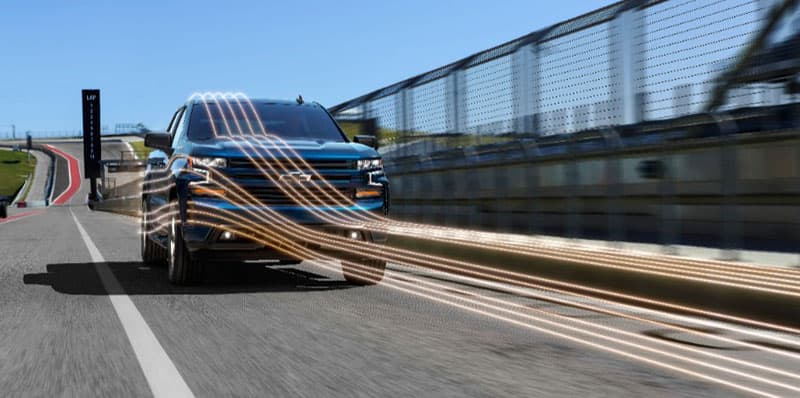 Wouldn't it be amazing if the truck camper industry took a page from GM and designed their campers to be more aerodynamic?  There has been some attention to aerodynamics with front nose cap design, but it's that front wall that catches the most wind.  Solve that problem, and we'll see fuel efficiency go up, and truck cab noise go down.  All in favor say, "Aye!"  Did you hear that truck camper industry?  Aye!
Refined Interior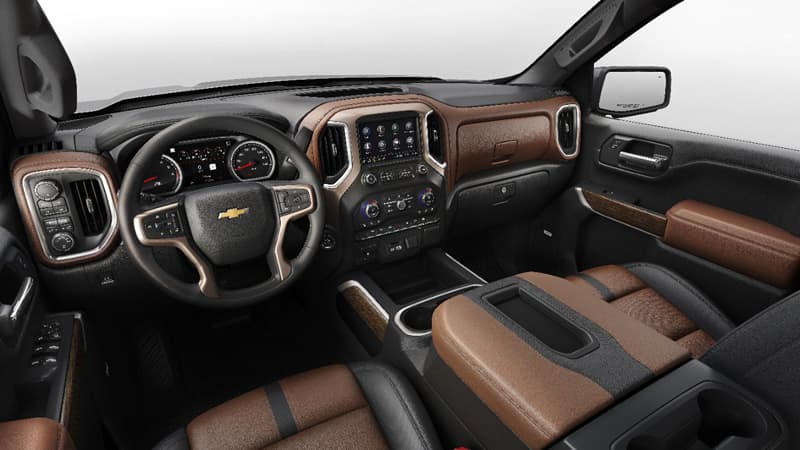 Above: The High Country interior in the Chevy Silverado 1500
Where GM completely redesigned the exteriors, they have opted to make more subtle refinements to the interiors.  In short, they centered the steering wheel for ergonomics (it had been off-center), added padding to the seating and center console cover for improved comfort, lengthened the seat tracks for tall folks like me (thank you), added storage opportunities, added legroom in the back seat with longer wheelbases, and further flattened the load floors.
It's hard to fault a company for refining an existing interior design, but Ram's new 1500 interior has many in the automotive press suggesting GM should have gone further.  This is a subjective opinion, so we're going to let you decide if GM's refined interior is appealing, or needs more work.  I can tell you that the seats in our 2013 Chevy Silverado 3500 were way more comfortable than our current Ram.  We miss the GM seats.
Right Materials For the Job
When Ford announced their aluminum-bodied F-150 redesign for 2015, they touted aluminum panels and high-strength steel frames as the primary answers to strengthen and light-weight their trucks.  They followed with the aluminum-bodied 2017 Ford Super Duty series, and have enjoyed exceptional sales from both redesigns.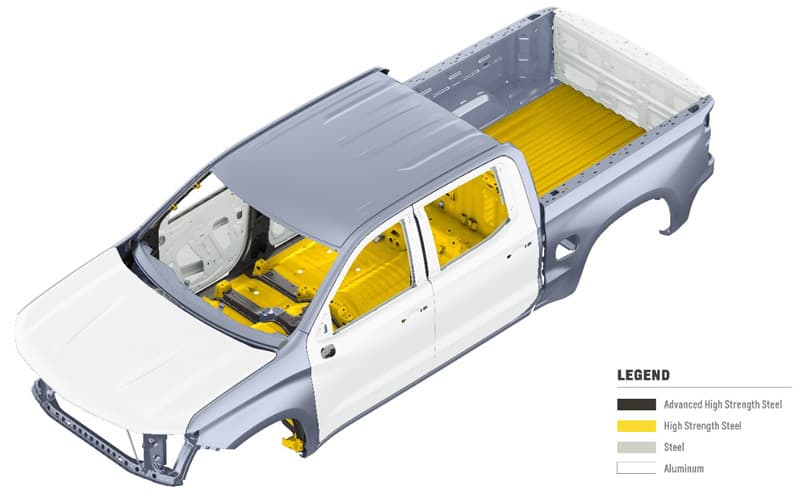 In direct response to Ford's success with aluminum, GM has a more sophisticated strategy for their material choices.  Rather than use one metal for their sheet metal and another for their frames, GM is applying an array of materials including aluminum, high-strength steel, advanced high-strength steel, and composites to improve strength and reduce weight.  Think of it as a "right material for the job" approach.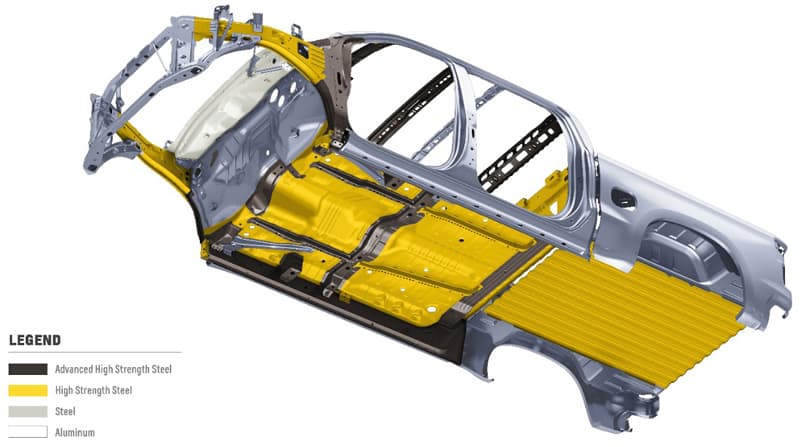 The result is a truck with an aluminum hood, aluminum doors, aluminum tailgate, stamped steel roof, stamped steel fenders, and roll-formed (not stamped) high-strength steel bed and cab floor.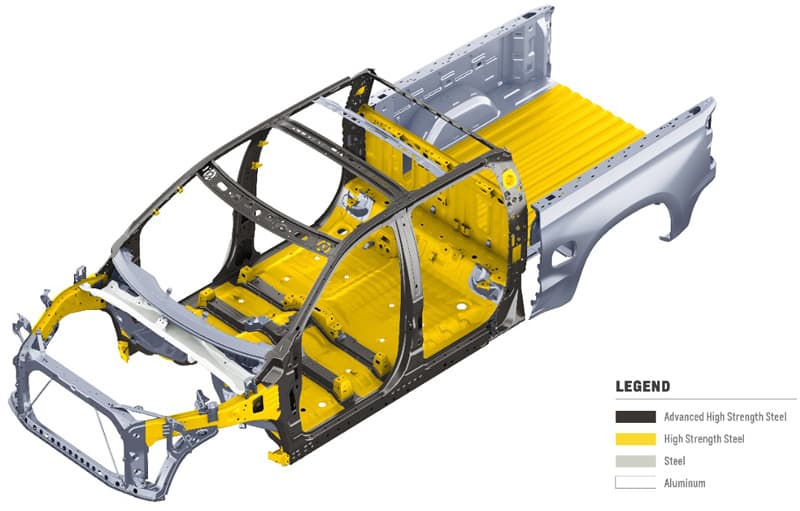 This nuanced use of exterior sheet metals resulted in an 88-pound savings from the body weight.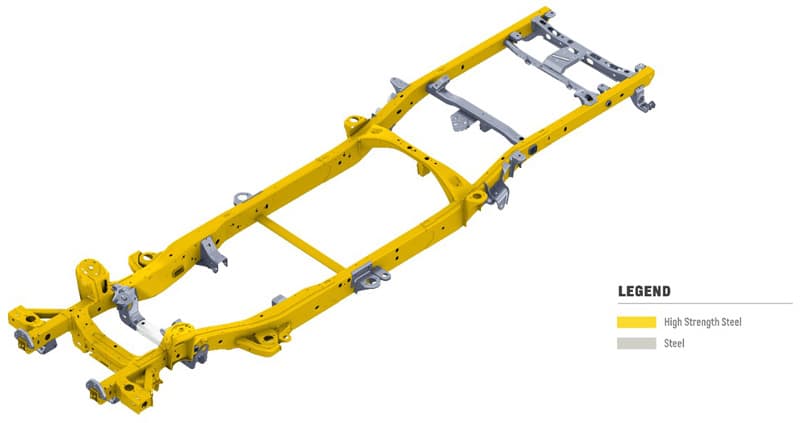 The Silverado 1500's steel frame has also been redesigned.  The new frame removed nearly 100-pounds of weight and increased stiffness by 10-percent.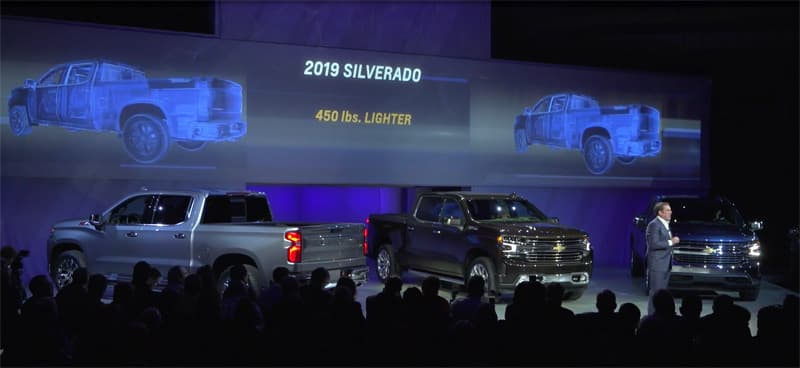 In total, GM is reporting up to 450-pounds of weight reduction compared to a identically specified current model.  That weight savings should mean more payload for truck campers when payload information is announced.
All-New Diesel and Two Reengineered Gas Engines
Perhaps the biggest news about the 2019 Chevy Silverado 1500 is the announcement of an all-new 3.0-Liter turbo-diesel straight-six diesel engine.
Although power and torque information for the new diesel has not been announced, GM is promising (surprise, surprise) better numbers than the Ford 3.0L Power Stroke or Ram EcoDiesel.  With the Ford 3.0L Power Stroke offering 450 pounds-feet torque and the Ram EcoDiesel offering 420, the new GM diesel will likely push 450 pounds-feet torque, or better.
Along side of the new diesel, GM announced two re-engineered gas engines; a 5.3-Liter V8 and a 6.2-Liter V8.  Both gas engines feature Dynamic Fuel-Management, a system that turns off up to seven cylinders depending on demand.
The 6.2-Liter V8 gas and new 3.0-Liter turbo diesel will be mated with a 10-speed transmission that was – believe it or not – co-developed with Ford.  General Motors and Ford collaborated on the development of a 10-speed transmission starting in 2013.  The resulting transmission was designed to improve fuel economy and improve overall performance with smaller engines.
One Can Dream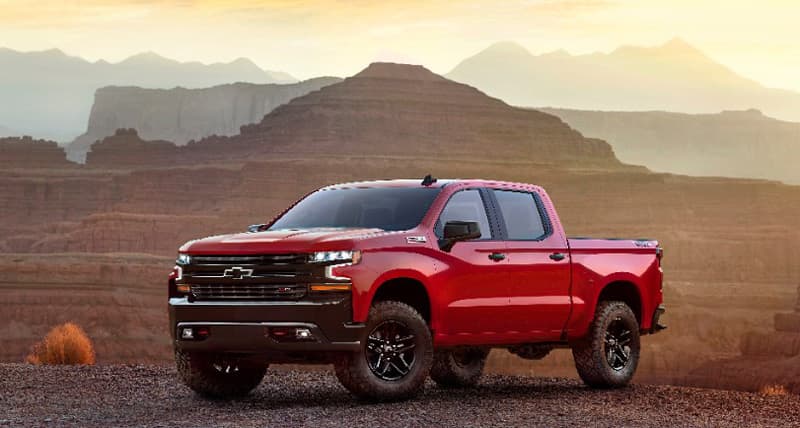 The 2019 Chevy Silverado 1500 is scheduled to go on sale in the third quarter of 2018.  The power, towing, payload, and pricing should be announced over the coming months.
Given the weight reduction and what we know about the engines, we expect a nice bump in payload.  Of course we also expect a bump in price.  Until these numbers are made official, it's a wait and see.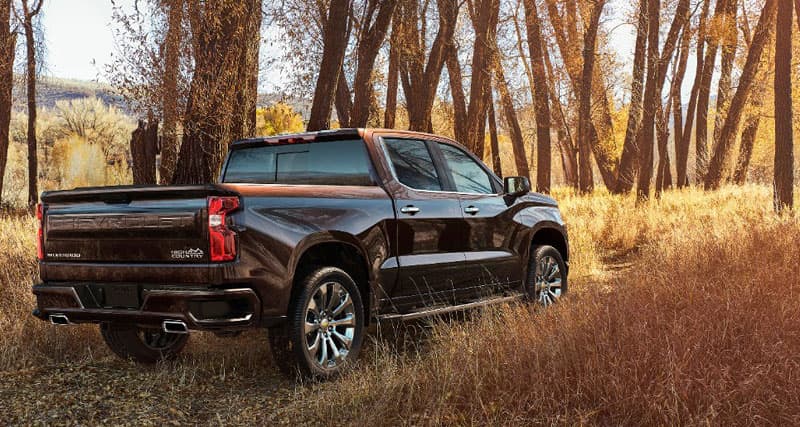 I remain gobsmacked at the 2019 Chevy 1500's dimensional changes to the truck bed and cab.  I would hate to see the truck camper industry constantly altering their current designs for the new trucks rather than developing new and improved truck camper models.  "But now it fits the new trucks" is hardly a compelling sales pitch for future marketplace growth.  Thanks for that, GM (and Ram, and Ford).
I will be sending this article to my contacts at General Motors in Detroit.  They will likely ignore it and then cancel my media privileges, but what's the point of all this if we're not championing issues important to truck campers?  At a minimum, the truck camper industry needs more of a heads up about these changes as they're in development.  One can dream.