General Motors has rolled out a fiercely redesigned 2019 Chevrolet Silverado 1500 with significant weight savings, a new diesel engine, a refined interior, and more.  Unfortunately that's not the whole story.  Truck camper community, we have a situation.

Ladies and gentlemen, we have a situation emerging in the truck market.  It seems the truck manufacturers are throwing any sense of standards out the window and designing their new truck cabs, truck beds, and overall truck exterior dimensions to be relentlessly longer, wider, and taller.
As these new longer, wider, and taller trucks debut, truck camper manufacturers, dealers and consumers are going to need to pay more attention to fit compatibility between trucks and campers.  Just as we can't assume a truck and camper will be weight and center of gravity compatible, we will no longer be able to assume a truck and camper will be fit compatible.
This situation is not exactly new.  The big three have made cab height, rail height, and other truck bed alternations many times over the years sending truck camper manufacturers scrambling to adjust the fit compatibility of their line ups.

What makes this different and alarming are the quantity and severity of changes being made to seemingly every exterior truck dimension being announced.  For example, the truck bed on the 2019 Chevrolet Silverado 1500 is 6.75-inches wider than its predecessor.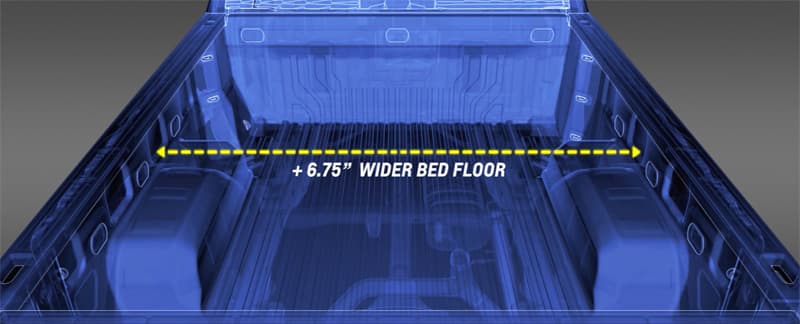 GM has also made the 2019 Chevy Silverado 1500's truck bed longer and cab taller.  The GM team showcased these dimensional changes during the truck presentation (see slide data in the images below).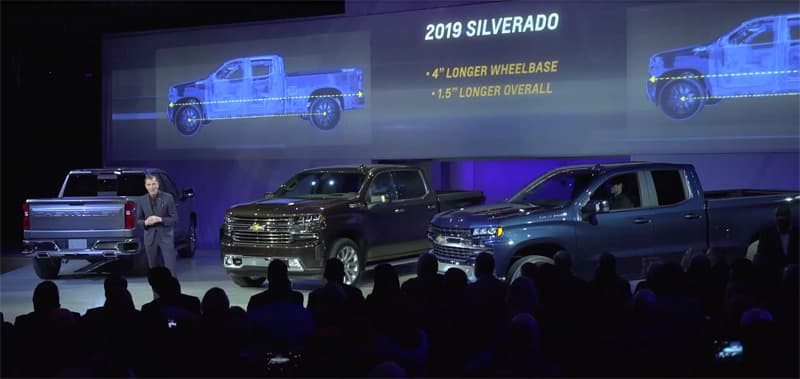 From their slides and subsequent press release, the 2019 Chevy Silverado has a 4-inch longer wheelbase, is 1.5-inches longer overall, and is higher and taller.  These changes are almost guaranteed to cause conflicts with a number of current truck camper designs.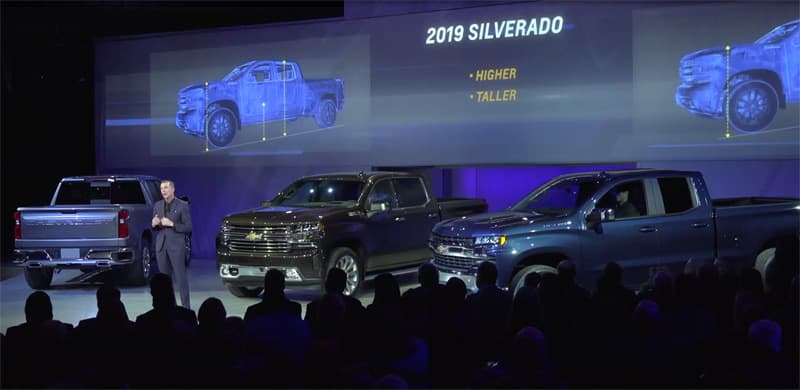 If anyone thinks I'm singling out Chevy, Ram's newly announced 2019 Ram 1500 has similar issues and the 2017 Ford Super Duty series has given many truck camper manufacturers critical fit compatibility issues over the past year.  Some truck camper manufacturers simply adapt with various riser kits and front bumpers, but these fixes raise and/or push back center of gravity; not exactly ideal.

Above: The new Silverado's debut in Detroit this past week
This may or may not end up being a problem with the 2019 Chevy Silverado 1500, but what really concerns me is the trend.  What if Ford, GM, and Ram all continue to go wild with their truck cab, truck bed, and overall dimensions?
To maintain fit compatibility, the truck camper manufacturers will have to continuously redesign their campers to meet the expanding dimension extremes of each truck brand.  That would mean major truck camper design compromises no matter what truck and camper you buy.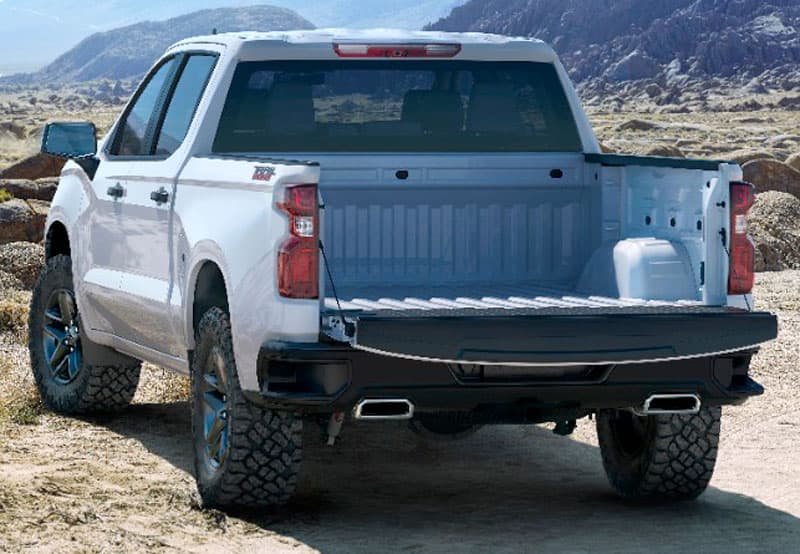 This is not how I wanted to begin this new truck announcement, but you can't have a truck bed width increase by almost 7-inches and not trigger a truck camper fitment alarm.
Fortunately, there's a lot more going on with the 2019 Chevy Silverado 1500 starting with some very provocative sheet metal.  Dimensional madness aside, this is one seriously interesting new half-ton.