Fiat Chrysler Automobiles announces a radical new 2019 Ram 1500 with new sheet metal, new interiors, more torque, more payload, more towing capacity, and a list of forward-thinking upgrades to make the competition sweat.  Ram's half-ton just became a serious truck camper player.  Here we go…

The Detroit Auto Show kicked off this week and oh baby is there a lot of truck news.  Ford has finally launched the 2019 Ford Ranger.  Chevrolet has debuted the 2019 Chevrolet Silverado 1500.  And Ram has produced an all-new new half-ton.
On top of all this, last week Ford announced their new diesel half-ton and Fiat Chrysler reported that it's moving Ram HD truck production from Mexico back to the United States.  It's a big truck news moment folks; right here and now.
The torrent of truck news from Detroit nearly had me driving our rig to BLM beyond the reaches of cell towers and civilization.  In the midst of my flight prep, I decided to take on these announcements one at a time.  We are going to tackle each of these new trucks individually and analyze their implications for the truck camper marketplace.  After all, a truck is only as good as its capability to properly carry a truck camper, right?
First Up: 2019 Ram 1500
Where last week's 2018 Ford 1500 diesel was essentially a newly tuned Lion turbo-diesel in the 2018 Ford F-150, the 2019 Ram 1500 is truly an all-new truck.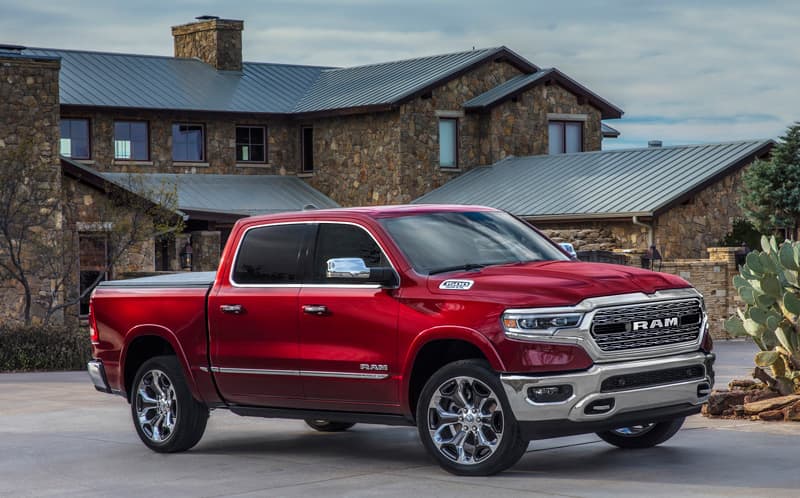 Ram's exterior sheet metal is new.  Ram's interior design is new. Ram's frame is new. Ram's suspension is new.  Ram's mild-hybrid system and transmission are new.
What follows is a breakdown of these elements, and their implications for truck campers.  Let's do this.
The various incarnations of the 2019 Ram 1500 feature all-new body panels, hoods, grills, headlight and taillight designs, and no less than 16 wheel choices.  Since the appeal of the exterior design is purely subjective, we'll let Ram's photography speak for itself.
The interiors are also completely new and offer additional space from longer wheelbases.  Among the changes, Ram developed a new gauge cluster and integrated several new and improved interior storage opportunities including a new center console.
The rear seating area features larger bins (under the floor storage areas), an optional flat fold floor, rear seat center console, and reclining rear seats.  Again, we'll let Ram's photography do the talking.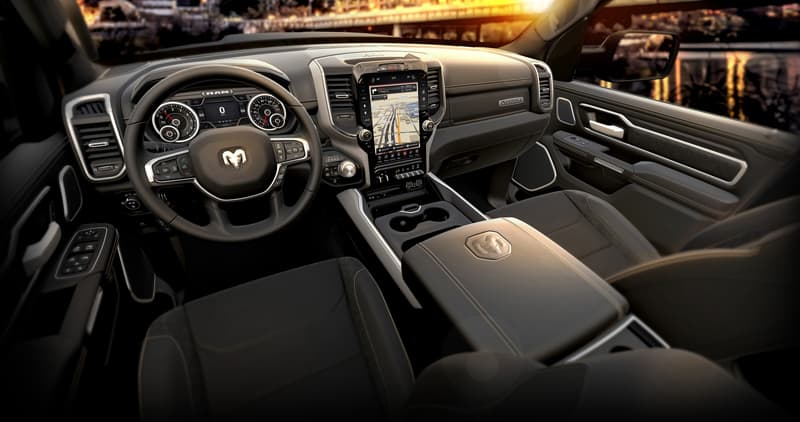 Perhaps the most visually grabbing element in Ram's photography is the optional 12-inch Uconnect touchscreen multimedia system (see above).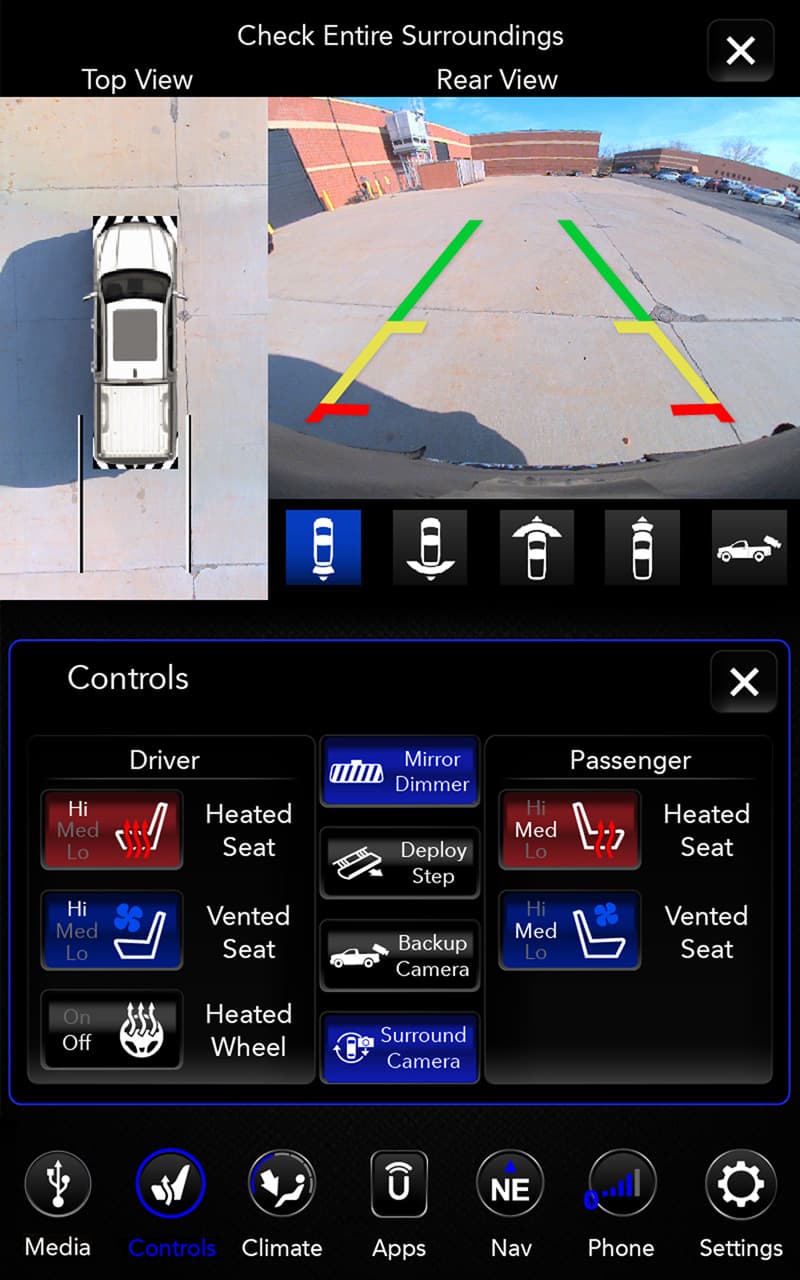 This enormous screen not only controls the radio and climate controls (see above), but also displays navigation and real-time weather.  Ram is also offering 5-inch and 8.4 inch Uconnect systems with manual controls for climate control.
An optional camera system provides a birds-eye surround-view of the truck.  Whether this system could be useful while loading and unloading a truck camper remains to be seen.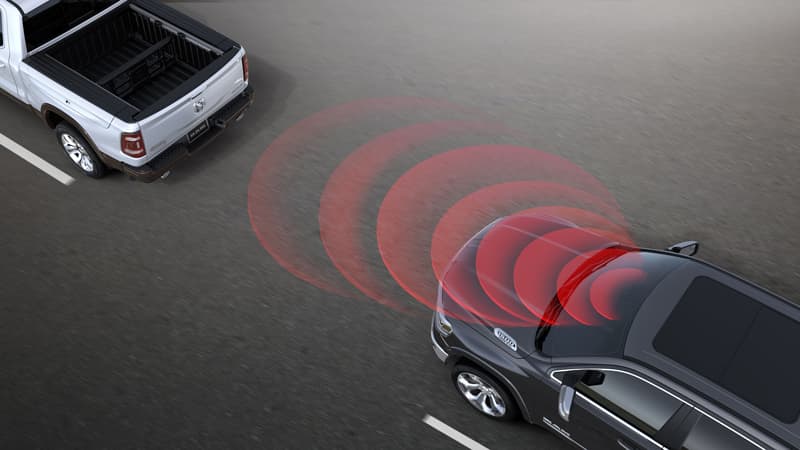 Above: 2019 Ram 1500, Forward Collision Warning-Plus
For anyone who is concerned about self-driving trucks, stop reading here.  The 2019 Ram 1500 takes us right up to the precipice of self-driving with adaptive cruise control, forward collision warning with break assist, lane departure warning, parking assist, and blind spot sensors.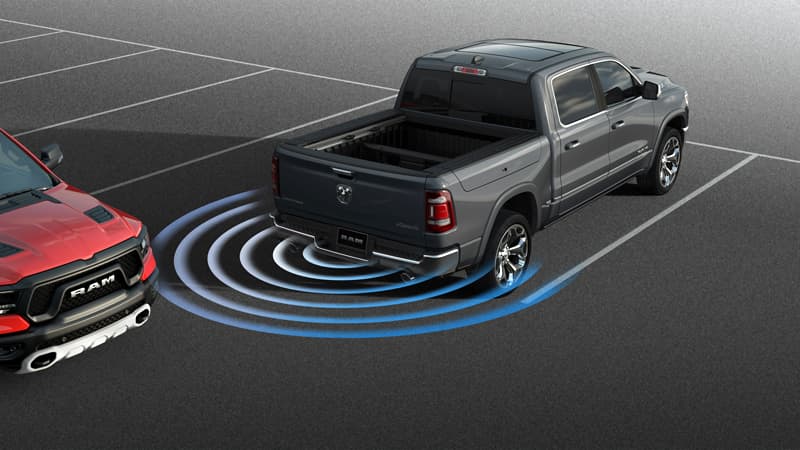 Above: 2019 Ram 1500, ParkSense feature
Pretty soon we'll all be sitting in our truck as it drives us to Yellowstone.  Don't laugh, it's coming.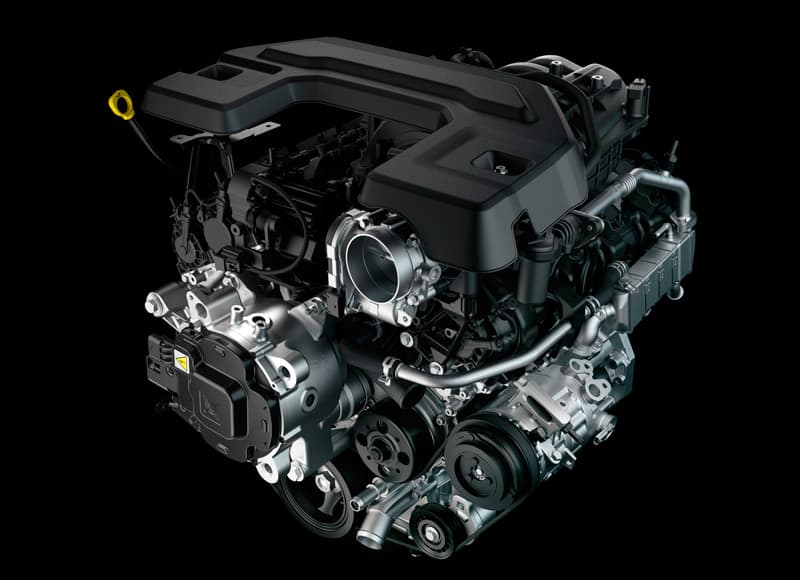 The base engine for the 2019 Ram 1500 is the 3.6-Liter V-6 Pentastar with 305-horsepower and 269-pounds-feet-torque.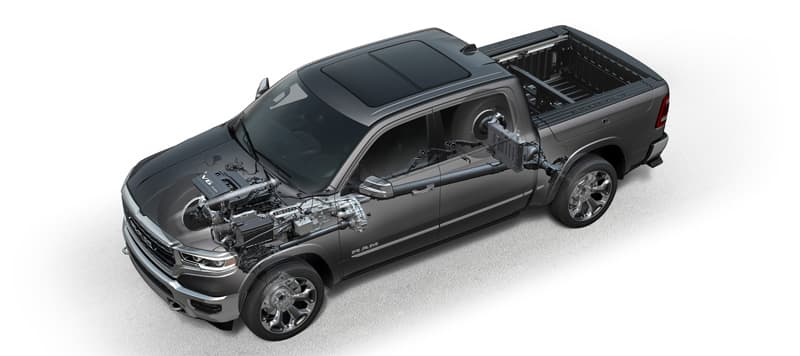 Above: 2019 Ram 1500 with 3.6 Liter eTorque Powertrain
The 3.6-Liter V-6 Pentastar is enhanced by an eTorque mild-hybrid system that (a) replaces the alternator with a motor generator, (b) supplies 48-volt current, and (c) charges a 300-watt hour lithium-ion battery.  The result of the eTorque mild-hybrid is an additional 90 pound-feet of crankshaft turning torque.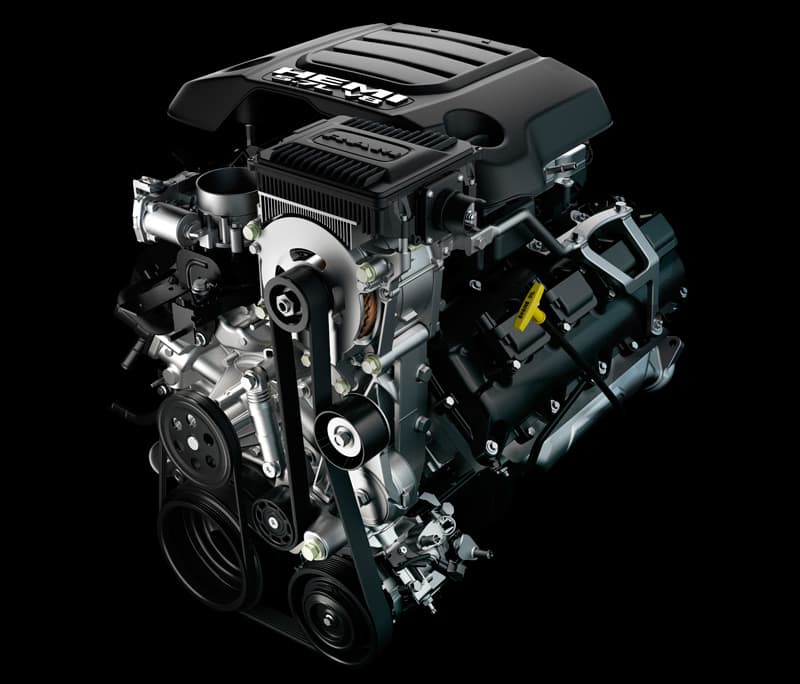 The 2019 Ram 1500 is also available with a 5.7L Hemi V-8.  The eTorque mild-hybrid is optional for the 5.7L Hemi and adds 139 pounds-feet torque.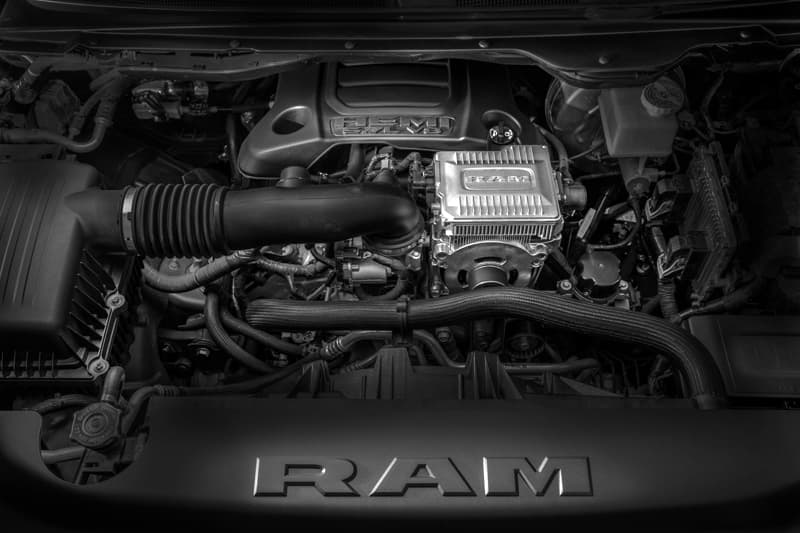 As you digest the idea of a mild-hybrid truck without an alternator, consider the advantages of this technology; improved fuel economy and improved torque.  Wait, that sounds like two of the hallmark advantages of diesel engines.  If mild-hybrids become a trend for gas trucks (which certainly makes sense), the gas versus diesel debate could get even more interesting.
Further enhancing the fuel efficiency and torque of the eTorque system is a new TorqueFlite 8-speed transmission, switch defeat-able start-stop technology, and brake energy regeneration.  And Ram didn't stop there.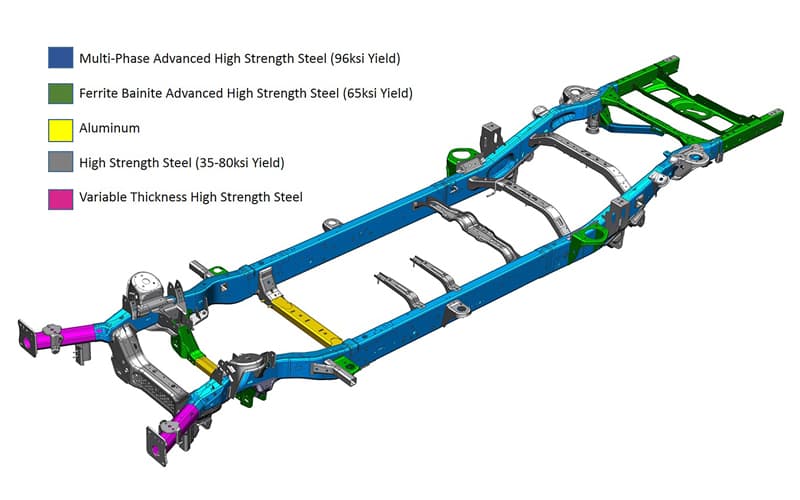 The 2019 Ram 1500 features a new fully-boxed ladder frame that's both stiffer and lighter than its predecessor.  In fact, through the use of both high-strength and ultra-high-strength steel, Ram was able to reduce the weight of the Ram 1500's frame by 90 pounds.

Ram further light-weighted their new 1500 by using composites and aluminum in the front suspension.  They also updated their axles to include three ratios; 3.21:1, 3:55:1, and 3.92:1.  These are exactly the kind of changes that result in increased payload capacity for a truck camper rig.
Speaking of payload, the maximum payload possible for the 2019 Ram 1500 appears to be 2,320 pounds.  To achieve this payload, you'll need to select a Quad Cab, 4×2, 3.6-Liter V-6 with 3.55:1 axle ratio, and 7,100 pound GVWR.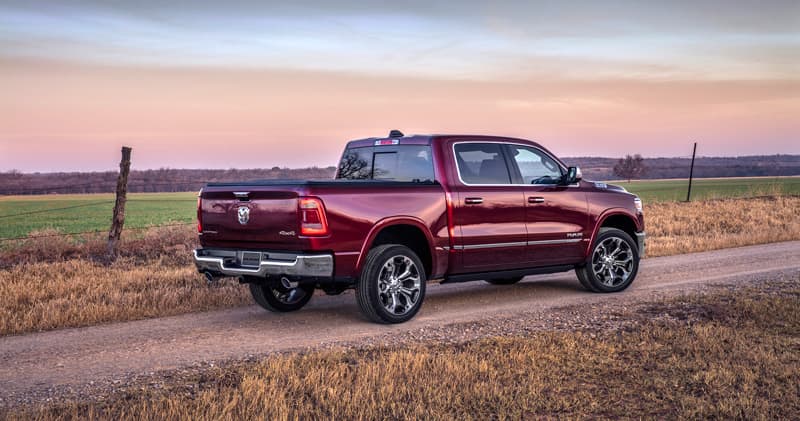 That's a very respectful payload number for pop-up and ultra light weight hard side truck campers, but falls short of the 2,870 pounds of payload available from a 2018 Ford F-150, Super Crew, 4×4, 156.8-inch wheelbase with the 3.5L EcoBoost V6.  When it comes to half-ton payload possibilities, the Ford F-150 is still best in class.
Just don't expect these kinds of payload numbers from Ram or Ford (or any half-ton for that matter) without special ordering a truck.  Looking through Ram's preliminary data, most of their 2019 Ram 1500 trucks will offer 1,700 to 1,900 pounds of payload capacity.
In reality we expect the 2019 Ram 1500 trucks on dealer lots to be closer to 1,500 pounds due to dealer ordered features and options.  Dealers always order profitable and heavy features and options, not for payload capacity.
Truck Camper Red Flags: Fit Compatibility Concerns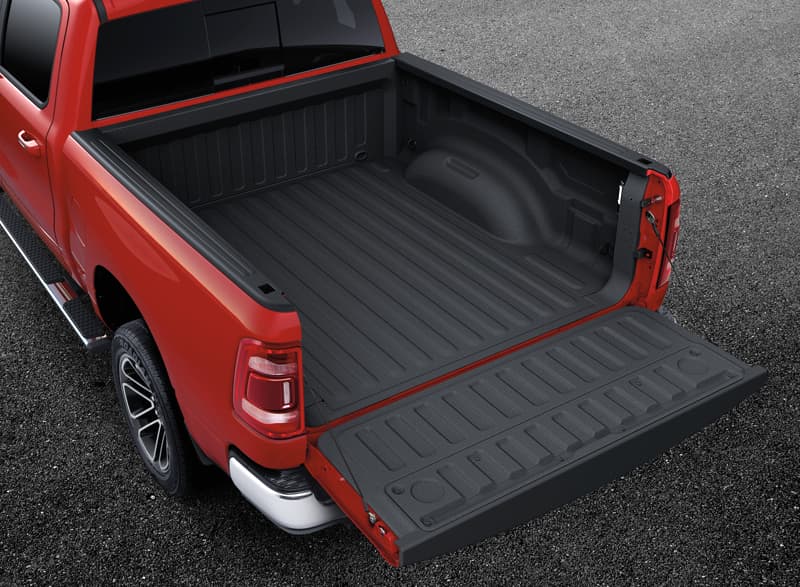 Information on the 2019 Ram 1500 bed dimensions is still a bit fuzzy, but Ram is reporting the width of the 2019 model as 1/2-inch wider, the bed as 1.5 inches taller, and the wheelbase as up to 4-inches longer depending on configuration.  All of this raises a possible red flag for fit compatibility with current truck campers.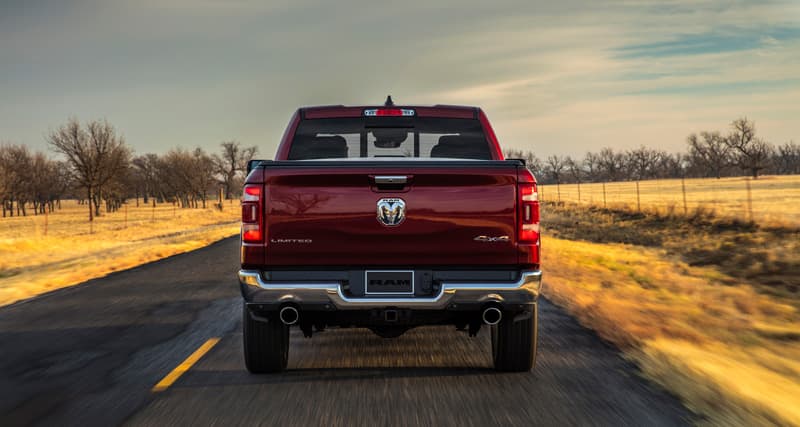 Above: Note the "smile" shape of the rear bumper
Furthermore, studying the exterior photography reveals a smile-shape to the rear bumper.  The Ram's smile-shape bumper design is reminiscent of the smile-shape bumper on the 2017 Ford SuperDuty series that gave many truck camper manufacturers fits as it conflicted with their rear design and overhang.
For the 2017 Ford SuperDuty, this has been resolved with various risers and a number of redesigns.  Whether the same conflict and solutions will be applicable to the 2019 Ram 1500 remains to be seen.
Wrap Up: Ram On The Warpath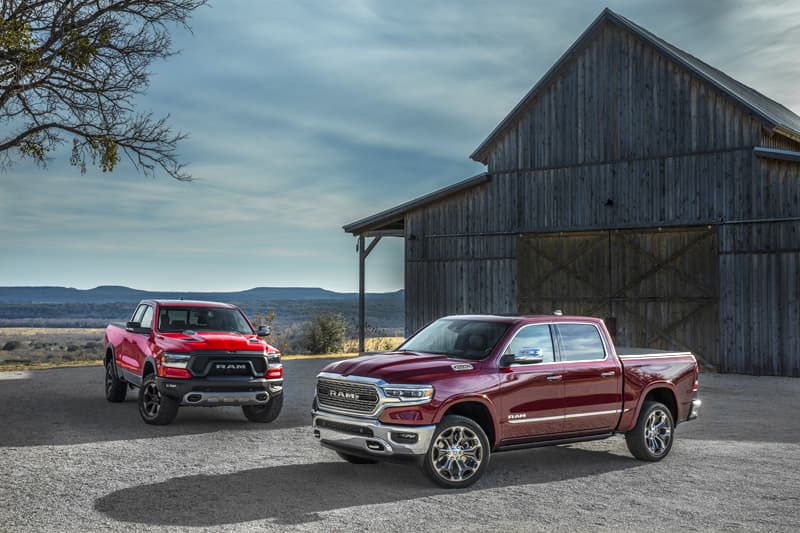 Above: The Ram 1500 Rebel (left) and the Ram 1500 Limited (right)
There's actually more to the 2019 Ram 1500 than I have covered including new Bilstein shock absorbers, a thermal heated rear axle system, optional electronic tailgate with key fob, and an optional rear locking differential for the 4×4 Off-Road Package and Rebel.  It's truly incredible how much cake Ram just brought to the half-ton party.
I would love to be a fly on the wall at Ford, GM, and Toyota right now.  Ram hasn't surpassed their competitors on all fronts, but they've certainly given them all a lot to sweat over.  If Ram's forward-thinking truck delivers on its promise of improved fuel economy, torque, payload, and towing capacity, it's a shoe-in to win valuable marketshare.
The automotive media is scheduled to put this truck through its paces in the coming weeks and the EPA fuel economy test results will be released closer to the retail debut date.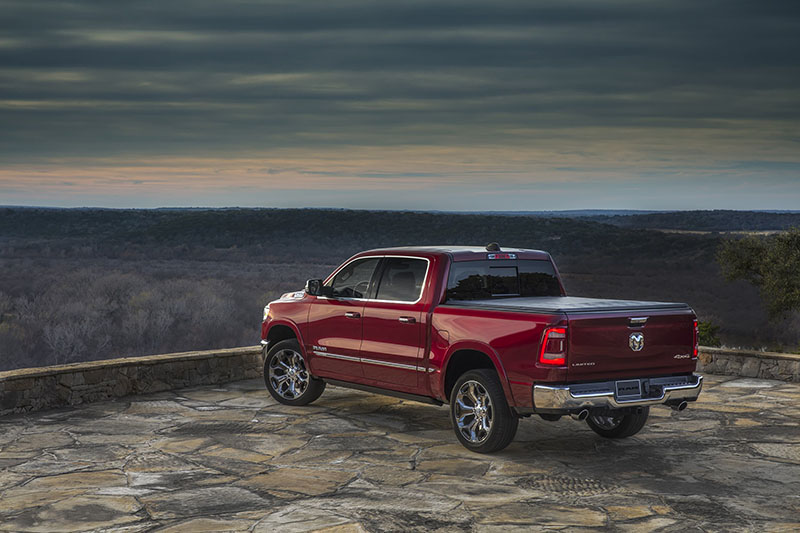 For the truck camper marketplace, the Ram 1500 just became a lot more relevant.  With a maximum possible payload of 2,320 pounds, the 2019 Ram 1500 can be considered a viable candidate for many pop-up truck campers, and a smattering of hard sides.
The new Ram is not truly competitive with the 2,870 pounds of payload possible on a 3.5L EcoBoost Ford-F150, but not everyone needs that much payload, or wants a Ford.  The 2019 Ram 1500 is likely to cost less than the Ford, but pricing information has not yet been announced.
I am concerned about the fit compatibility of the new Ram 1500 with its wider, taller, and longer bed dimensions and the smile-shaped bumper.  This will need to be studied by the truck camper industry as more details emerge, and the trucks begin arriving on dealer lots.
I would caution anyone from purchasing this truck for a truck camper rig until this information is known and any fit compatibility issues are found and resolved.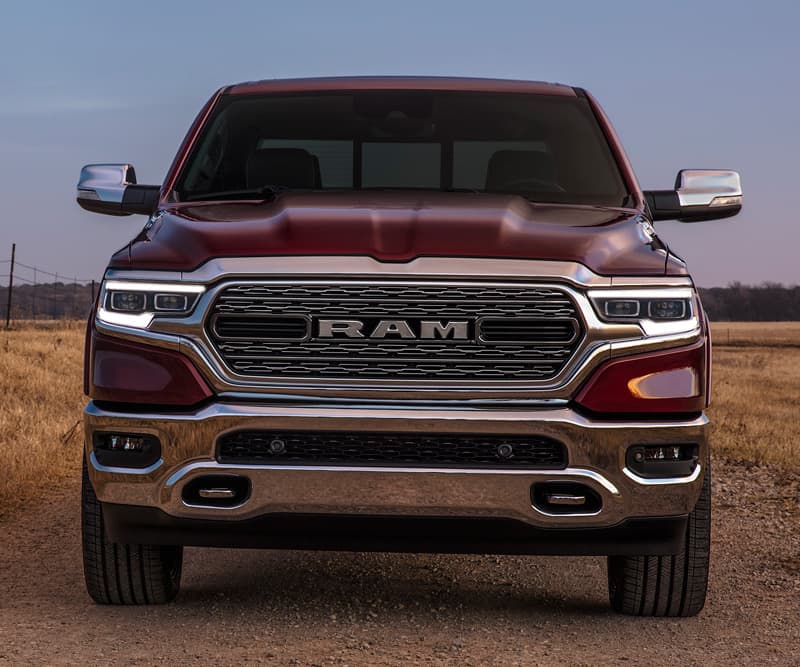 Finally, with so many new design and technology elements going into the 2019 Ram 1500, it would be wise to wait for any possible production kinks to be worked out.  Ram has probably tested every aspect of this truck, but there's no test like thousands of customers using the product in the real world.  Let others be the test pilots.