Truck Camper Magazine examines the new 2018 Ford F-150 3.0L Power Stroke diesel and its implications for truck campers.  How does it stack up to the EcoBoost 3.5L for payload, performance, and fuel economy?  Let's dig into Ford's new diesel half-ton.

On January 8th, Ford Motor Company announced a new 3.0L Power Stroke diesel engine for its 2018 Ford F-150 line.  With the strong popularity of Ford, half-tons, and diesel engines among Truck Camper Magazine's readership, this is exciting and potentially important news for our industry and community.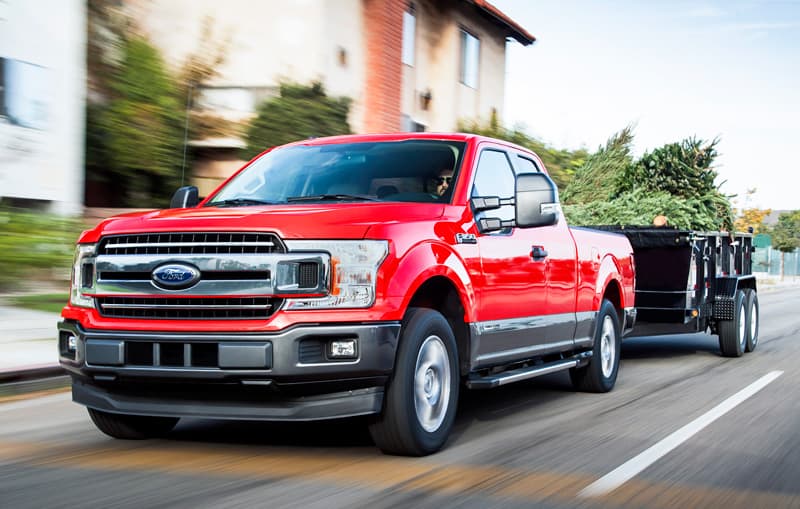 The new diesel engine is an upgraded variation of the Lion turbo-diesel engine Ford designed in partnership with French car manufacturer Group PSA, producer of the Peugeot and Citroen automotive brands.
The Lion upgrades for the F-150 were developed by the same Ford team that created the 6.7L Power Stroke and include several EcoBoost derived technologies including a cast compacted graphite iron engine block and the forged crankshaft from the 2.7L EcoBoost.
Payload Punishing Restrictions
Ford is restricting the availability of the new 3.0L diesel to its premium Lariat, King Ranch, and Platinum trims.  Ford is then further restricting availability to SuperCrew (5.5-foot super short bed and 6.5-foot short bed) and SuperCab (6.5-foot short bed).  Only fleet customers will be able to order 3.0L diesel F-150 in the XL or XLT trim levels.

These restrictions throw two flags for truck campers.  First, Ford states the maximum payload capacity of the 2018 Ford F-150 with the 3.0L diesel at 2,020 pounds.  Presumably this is the maximum payload possible with the 3.0L diesel and the lightest XL trim build – a fleet only order.
Once you add the considerable weight of the Lariat, King Ranch, or Platinum trims, that payload will shrink considerably.  I would not be surprised to see dealer-ordered 2018 Ford F-150 3.0L diesel trucks with payloads well under 1,500 pounds.  The dealers always order the features and options customers want, payload capacity be damned.
The second flag is price.  We are already dealing with Ford F-150 trucks that routinely push $40,000 and even $50,000.  The new 3.0L diesel is a $4,000 premium over the 2.7L EcoBoost and a $2,400 premium over the 3.5L EcoBoost.  With the new diesel requiring a Lariat, King Ranch, or Platinum trim, it's very likely that the 2018 Ford F-150 will start at $50,000 – or more.  At those prices, you may as well step up to a Ford Super Duty and get some serious payload.
Hopefully, Ford will eliminate the payload-crushing restrictions in the near term and allow buyers to custom order the trucks they want.  This is America right?  We don't like to be told what we can and cannot buy.  Give us the trucks we want.
3.0L Power Stroke Diesel vs 3.5L EcoBoost Gas
Ford has its fingers and toes crossed that the 2018 Ford F-150 with the 3.0L diesel will score 30mpg when the EPA tests the truck.  That would make the new Ford diesel the most fuel efficient half-ton and edge out Ram's half-ton EcoDiesel at 27mpg.
Obviously a 30mpg capable half-ton is a big deal.  Our 2012 VW GTI 2.0L gas barely reached 30mpg and that was a hatchback for crying out loud.
Compare 30mpg to Ford's 2.7L and 3.5L EcoBoost engines and the contrast becomes even more evident.  The 2.7L EcoBoost offers 20mpg city and 26 highway.  The 3.5L EcoBoost offers 18mpg city and 25 highway.
If the truck camper ball game was won strictly by fuel economy, the game would be over.  With anything close to 30mpg highway, Ford's new 3.0L diesel runs away with it – efficiently.  Unfortunately, fuel economy is not the whole truck camper ball game.  Payload capacity and price are at least as important, if not more so.