Things happen on the road that not only change our course, but change our lives.  For truck campers, this seems to happen more often than not.  The Rivers know why.  It's road magic!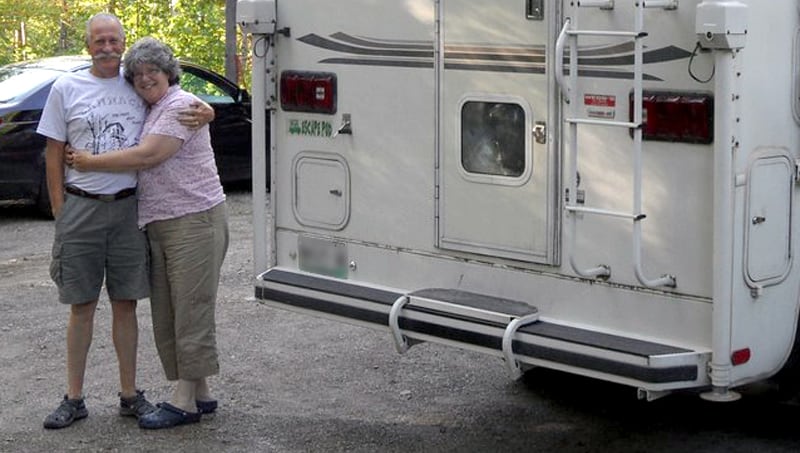 Above: Keith and Nancy Rivers discovered Road Magic on their seven week cross-country trip
If there's a lesson to be learned from the following story, it's to let the trip take you.  Sure, we all have at least an outline of where we want to go, and what we want to do, but it's important to leave as much flexibility in your schedule as possible to allow road magic to happen.
Yes, road magic.  Road magic is what happens when you're in line at a grocery store and the clerk tells you about this amazing place, just down the road, that you have to see while you're in town.  Road magic is what happens when you happen to meet someone at the end of a long hike who becomes a long time friend.  Road magic is that moment when you lock eyes with an Elk in Yellowstone, just a few feet off the path.
You cannot buy road magic.  You cannot make road magic happen.  Road magic will only come to you if you're on the road, and open to new experiences.
"Road magic is waiting for you.  It's not on your sofa.  It's not on your television.  In fact, it's nowhere in your regular home routines.  It's out there, on the road.  Go get it."
Best of all, truck campers are the ultimate road magic vehicles because they are nearly limitless in where they can go and what they allow you to do.  Maybe we should rename truck campers, "magic campers".  You read it here first.
I strongly believe Keith and Nancy Rivers are reading this introduction and agreeing with every word.  While the following truck camper adventure was well planned, they had their fair share of road magic along the way.  They ate at wonderful restaurants, explored amazing hikes, crossed paths with beautiful wild animals, and nearly drove off a cliff with some tasty cinnamon gummy bears, all because of road magic.
This summer, road magic is waiting for you.  It's not on your sofa.  It's not on your television.  In fact, it's nowhere in your regular home routines.  It's out there, on the road.  Go get it.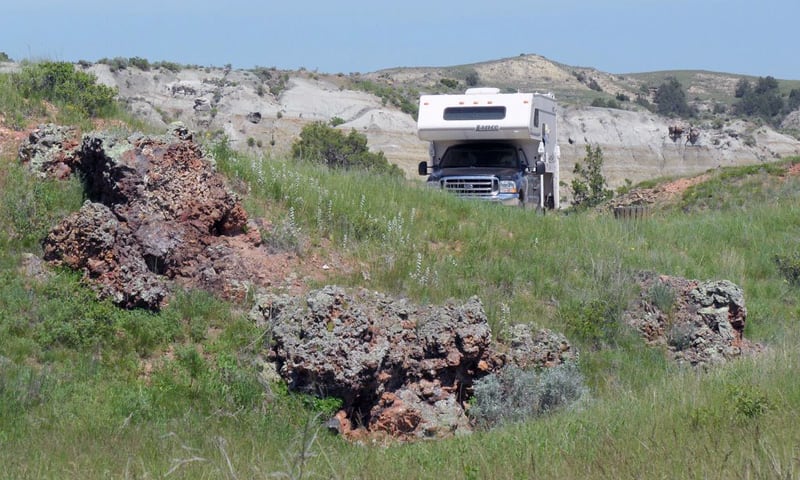 Above: At Theodore Roosevelt National Park in Medora, North Dakota
How did you get into truck camping?
Keith: I have enjoyed camping since the early 1970s when I hiked most of the Appalachian trail.  Early on in our marriage, we went car camping and backpacking.  Later we got a pop-up tow behind, which was fine for what we used it for.  When we decided our dream was to go to Alaska, we researched fifth-wheels and travel trailers before discovering the versatility of a truck camper.
Nancy: We had the truck already and started looking for used truck campers.  Some friends who knew we were looking for a used truck camper happened to pass a private driveway and see one for sale.  The next day we went to look at it.  The camper was none years old, but had been lightly used and well cared for seven years.  We bought the camper right then and there and have owned it for four years.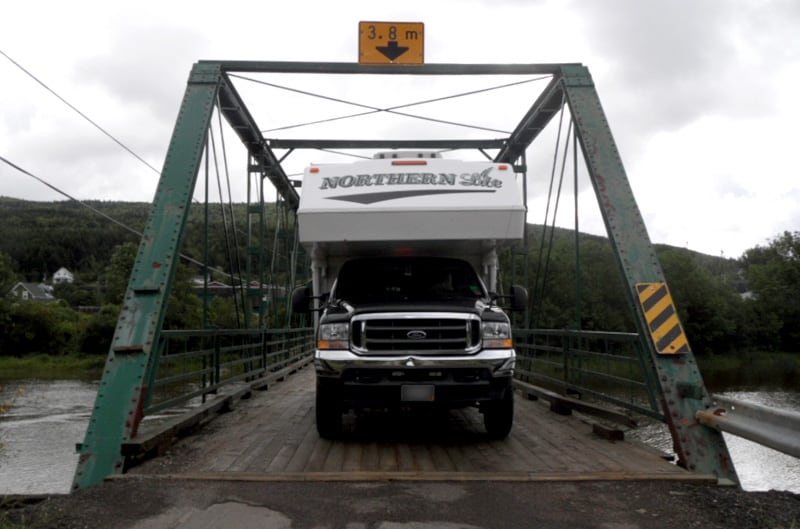 Above: If you travel through Canada, know your camper's height in meters.
We met you at the Springfield RV Show.  You were planning to take a trip to Glacier National Park.  Tell us about your preparations for that trip.
Nancy: I love to do pre-trip research. I looked online at potential routes, and knew that Glacier National Park was our goal.  We had heard Glacier National Park was like Alaska. I  wanted to see what we could do on the way there and on the way back, so I looked into national forests, campgrounds, and national parks.
We bought a campground guide, but didn't use commercial campgrounds all that much.  Truck Camper Magazine was also extremely helpful.  We love reading about what other people have done.