Inspired by our truck camping experiences, I wrote the following article on how we, "Do More and Spend Less" in our Northern Lite truck camper.

A month after my graduation from college, my husband and I purchased a thirty-two foot Airstream travel trailer, sold our 2,500 square foot house, and became full time RVers with a limited income and a very long list of places to visit.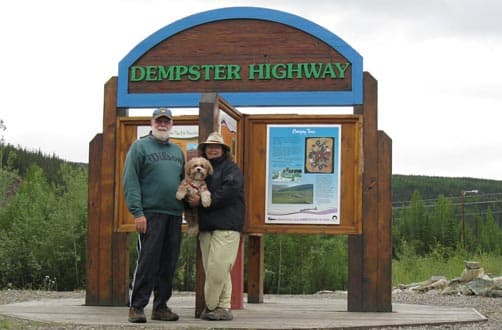 After more than 150,000 miles and few sets of tires, we needed to drop anchor.  First we sold our Airstream.  Then, a few months later, we purchased a Northern Lite 9.6 Queen Classic truck camper that complimented our new log cabin in Texas.  Our life has not been the same since.
Do More! 
When getting ready for a new adventure, we start by researching and finding a great destination.  Once we have a destination in mind, we use maps, online information, and travel books to find special places to visit on the way.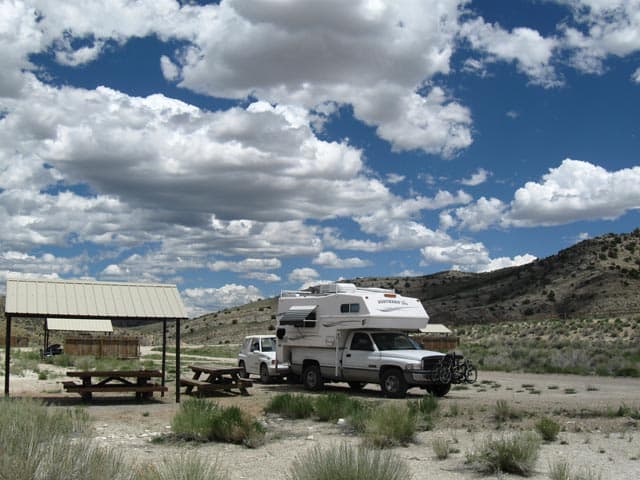 These "on the way" places are often well off the beaten path.  And we always have some wonderful "surprise detours" along the way.

After a few trips visiting our daughter in Colorado, we also came up the idea of never taking the same road twice.  This gives us the opportunity to discover new roads and new experiences, even in our home state of Texas.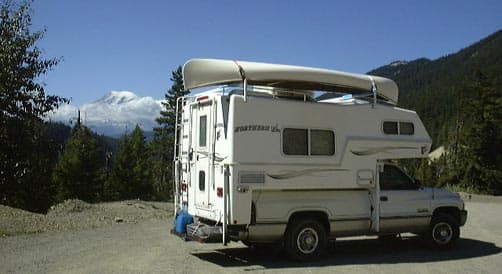 We have assembled a bank of good campground information including National Park campgrounds, National Forest campsites, BLM areas, and some state parks.  This bank of camping sites gives us a wide selection to choose from when we're on the road.  If we stumble on a free campsite not known to us, boondocking it is!
We arrange our travel plans according to the annual temperature and weather patterns.  For example, we only visit New Mexico, Utah, Nevada, and California in May and October.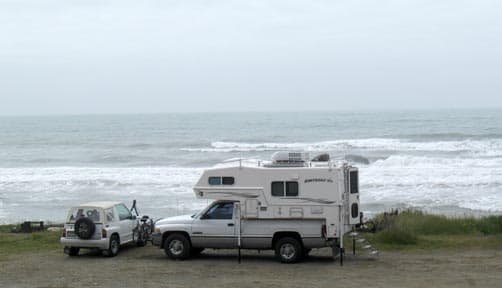 Because of our self imposed "restrictions", we are forced to create routes that are not always a direct path to our destination.  For example, once we made a 300 mile detour to see a friend.  The rewards of seeing our friend were far greater than the cost of 300 miles of fuel.  We hope you know what we mean.
Last, but not least, we learned to have fun while on the road.  We have created a good number of road games.  Our favorite is, "No Interstate Highway".  It's very, very rare that we have to be on an interstate.  We have great countries, the United States and Canada, for alternative routes.  On our big trip last summer, we were only on interstates for fifty-two miles.  Here again, avoiding interstates is a way to help us discover hidden paradises.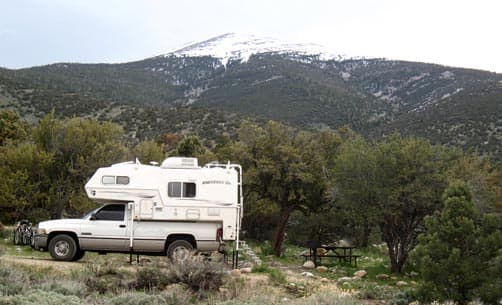 Staying in one area and exploring it well is also important to us.  We try to maximize our adventures.  In doing so, we're also able to maximize our budget.  We travel less than 250 miles each time we move.  More often than not, we travel less than 100 miles because we find something to look at that no one told us about.  Do more!
Spend Less!
Our children call us "resourceful," which is a nice way to say we're cheap.  We're proud of it!  A few years ago, we traveled for 105 days and only visited a campground for water and electricity services for five days.
Because we are traveling in a truck camper, we need to be extremely efficient in the use of storage space.  To help our efficient use of space, our truck camper must be in good condition and cleaned before we go anywhere.
We didn't have any shelves in our camper when we bought it, so we had to be creative and made some modifications.  Visiting one of our local home improvement stores, we purchased closet system shelves using an open frame rack.  They are light, easy to install, clean, and see through.  With a good flash light, you can see all the way into the storage areas.  With our new closet system, our storage and organizational problems were solved.
This brings me to one of our rules of thumb; a full freezer is an efficient freezer.  During the last month we are home before a long trip, I cook for four to eight people at a time.  I use two portions the first day and freeze the other portions for our trip.
Purchasing only square re-usable freezer storage containers, you will be surprised at the capacity of your truck camper's freezer when it's planned well.
A two-cup container is a perfect size for most casserole dishes, soups, stews, and meat portions; just to name a few.  We didn't opt for an oven in our camper, but we have a portable oven that sits on our portable stove.  This gives us options for dessert.  Brownies anyone?  (Angela's comment: Yes, please!)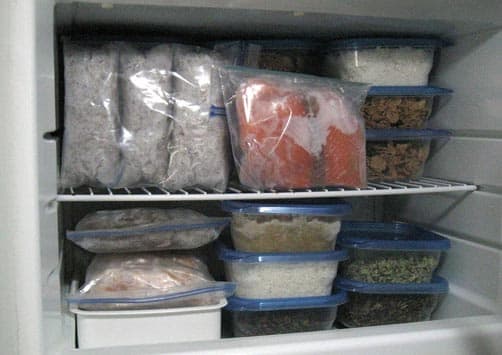 We have a 5.5 cubic foot refrigerator.  The camper freezer will hold about twenty prepared meals that are stacked well on the top shelf.  I create four meals of fish and four meals of meats for grilling.  We purchase the fish and meats on sale a few weeks prior to departure.  These are stored as flat as possible on the bottom of the freezer.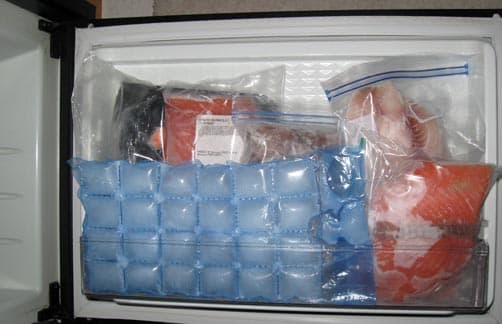 In the freezer door area, I use two quart-size freezer bags that are each filled with four snack-size bags of cooked ground meat.  Cooked ground meat can be added to spaghetti sauce or to a rice dish.  Then, I have another eight snack-sized bags of cooked chicken to be added to a stir-fry or for a good sandwich.
By the way, I buy rotisserie chickens (lemon spice, bar-b-que, and Italian herb) that get deboned and stored in the same way.  Why cook when you can get it ready for the same price or less?
Don't forget to label each bag using surgical tape and a pencil.  That works the best for me.  I remove the tape after each use to avoid future confusion.  With already prepared food in the freezer, we don't go as often to restaurants.  That means we're spending less and saving for other great activities.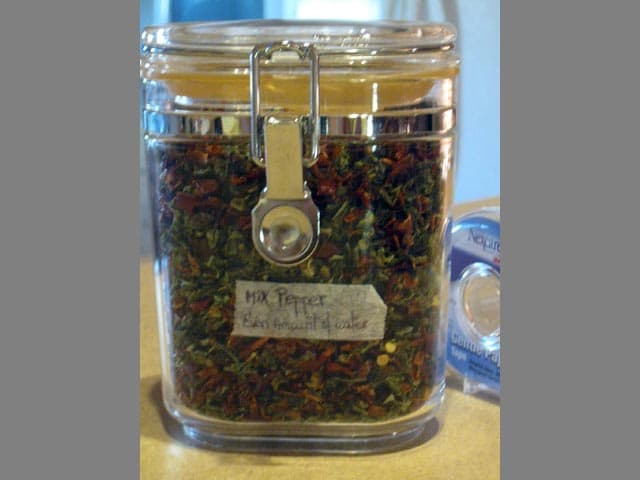 Above: Dried staples keep costs down when cooking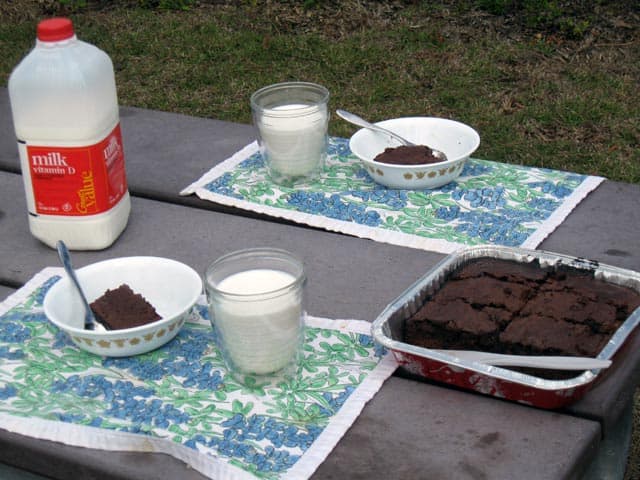 Above: Homemade truck camping brownies – YUM!
Once a year, we purchase large cans of dry onion, pepper, mushroom, beans, and celery.  These dry staples give us fridge space for fresh local in-season fruits and vegetables.  We use an airtight Plexiglass container to keep them dry and place them together in front of the spices.  That way I see my dry condiments and use them!
There are good Internet sites, like waltonfeed.com, mrefoods.com, and harmonyhousefoods.com, that we use to spend less.
We also like some of the freeze-dried meals that you just add water to.  Freeze dried food is basically backpacking food.  We go to REI a lot to give us ideas!
We've even had astronaut ice cream.  You can get freeze dried foods at sporting goods stores.  You have to be hungry to eat freeze dried food, but it's good for when we go on a day trip hiking or just run out of other types of food.
We bring a twenty-five-year-old Coleman stove with us.  We use that stove when it's hot outside, but mostly for smelly cooking such as fish.  We use a ten-inch cast iron griddle that fits on the stove.  It's perfect for our grilling needs.
We dislike using the expensive "non-refillable" little propane containers that are common for Coleman stoves, so we acquired a small one gallon refillable propane container that usually lasts for about three months on the road.  Again, this helps us to spend less.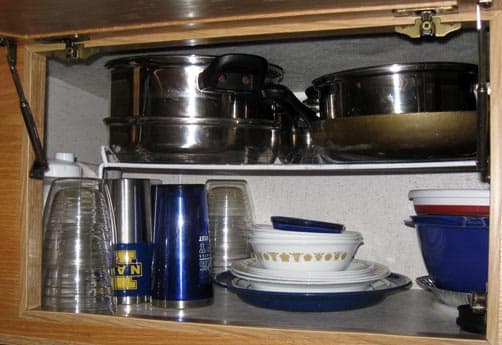 We carry three pans (two non-stick and one large rim), one eight quart, one four quart, and a one quart pot.  We also bring a metal plate and a square baking pan.  We carry two flat mid-size plates, two mid-size bowl-plates, four small plates, and two cereal bowls.  We have a bowl and strainer set.  The bowl is used for washing dishes or for a big salad at a potluck.  The strainer is used for fresh vegetables and fruit storage, or to drain pastas.  We have four mid-size tumblers and four insulated coffee mugs with lids.
We have two wine glasses that have been with us for more then twelve years.  Each glass is stored in a sock with the sock being twisted and stuffed into the glass.  Then we turn it upside down in the cabinet's lower shelf.  We have never broke one!
Now my first peeve: no paper products go in my truck camper.  Paper products create too much garbage.  Doing dishes in a truck camper is one of my favorite topics.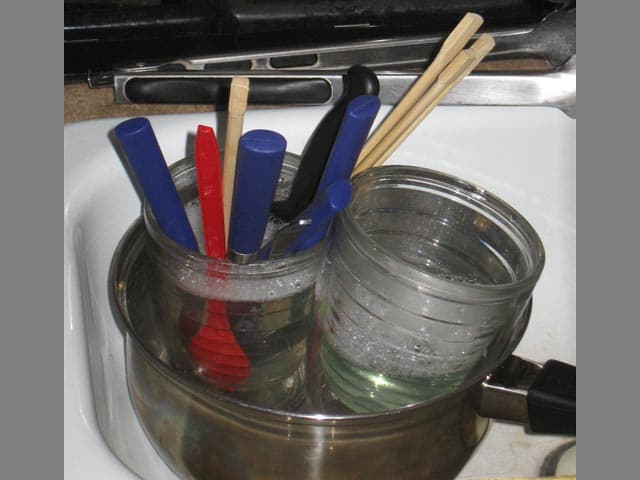 Here's how we wash dishes using a minimal amount of water.  Since we don't use our hot water heater, we start by warming up three-cups of water on the stove.  Using cold to wash the dishes and adding a quarter-spoonful of blue "no phosphate biodegradable" dishwashing liquid.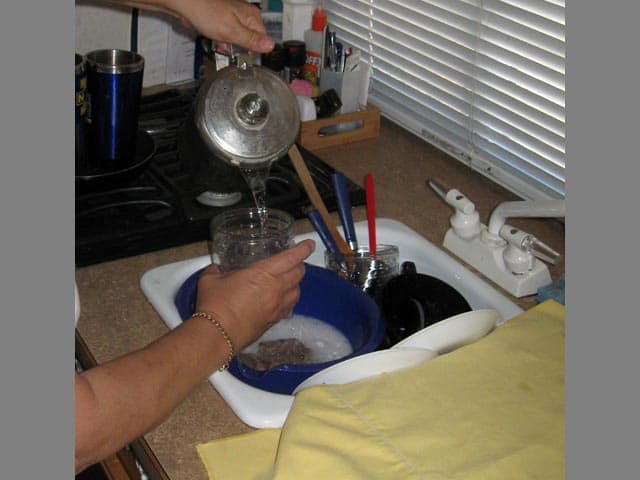 Using the warmed up water to rinse, we rinse one of the cups, and re-use the water for the second, then the cutlery, and so on, and so forth.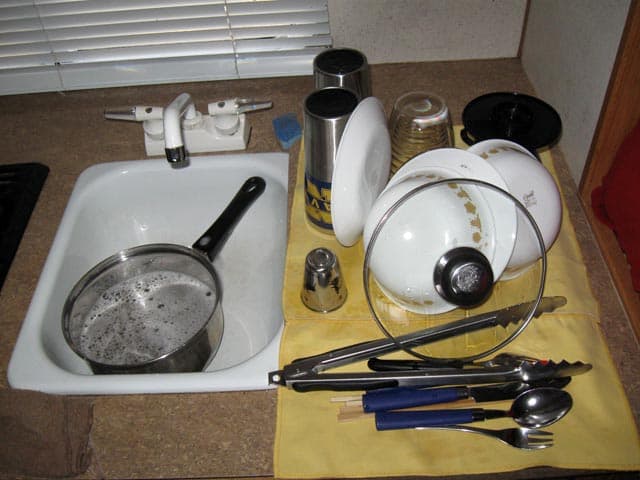 With the mixed water that is now in my pan/dish washing bowl or sink, I clean the table then the stove.  Voila!  Most of the time I even have warmed water left over to rinse my dishrag and sink.
Now my other peeve; laundry.  We don't ever wear white while traveling in our truck camper!  Colored clothing is washed with a good laundry soap that is "earth friendly".  By washing just colors and not having whites we spend less on laundry.  I rarely wash by hand, unless one of us has an emergency like running out of undies!
We hardly ever use our water heater.  We prefer boiling water on the stove giving us a monitoring tool for our water conservation.  With five cups of water for dishes twice a day, we use 4.375-gallons per week.  Then with about four cups of warm water for a birdbath each night, we use about three and a half gallons of water per week to bathe in.
And now for a great energy saver: our five-gallon shower sun bag.  When we first got our shower sun bag, we practiced using it at home, taking showers with only two gallons of water.  It was different and we learned how much water we could save at home, too.  While on the road in the month of August 2010, we only took one "real" shower.  It's fun and you have plenty of free hot water too!
Our shower bag is wonderful.  We usually take the water from a campground faucet, but once we even took water from a nearby lake.  We can regulate it a little bit to get more pressure.  You are limited by the bag as it's only five gallons.  There are also two-gallon and three-gallon shower bags.
We put the bag on the ground with a towel under it so we don't scratch the bag.  The bag is black and it takes two to five hours to warm up.  You learn to take your shower with a bathing suit.
We started using the shower bag to warm up water for dishes or so I could wash my hair.  At Flamingo Campground in Everglades National Park, they have shower stalls.  Before 2010, they only had cold water in the shower stalls.  We saw people were going into the showers with the shower bags.  They were going in the bathroom stalls with their warm water from their shower bags.  They now have solar panels to heat up the water at Flamingo.
Using a well-known water filter refrigerator container (look for a rectangular shape one), we keep our drinking water tasting good and safe.  During the day, we leave the water pump on but at night we don't, saving few cups of water with each flushing.
Our truck camper is geared up with a twenty-four gallon tank for fresh water (not including the six gallons in our hot water tank), twenty-one gallons of gray water, and thirteen gallons of black water.  With the above "spend less" tactics, we are able do seven days of boondocking with our tank capacities.  If we have access to a pit toilet or fresh water, we can make it to fifteen days of freedom!
We have two five-gallon propane tanks that are perfect for morning light furnace use, running our refrigerator, and stove needs for about fourteen days.  Plus, we always have our mini propane tank in case of an emergency!

We save on fuel by using our Suzuki towable.  We can go further with it with less fuel.  In Alaska, if we hadn't had the Suzuki there would have been a lot of places we wouldn't have been able to get to.  Having the Suzuki saved us money in Alaska when diesel was $7.00 a gallon.
We are able to enjoy our lifestyle because we saved here and there.  It's part of who we are and what we believe in.  We're on a fixed income so saving money anywhere we can helps.
We do splurge on a few things.  The first thing that comes to mind is that we enjoy visiting Chinatowns in every city in the United States and Canada.  We really like Chinese food.  When we want to go into a town or to a nice meal, we spend our money.
In conclusion, do MORE and spend LESS and three squares of toilet paper is just fine!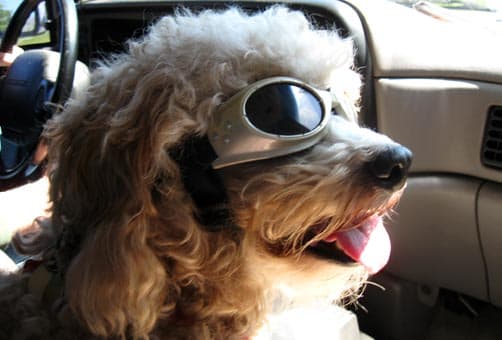 Sylvie and Jake Mathis' Truck Camper Rig
Truck: 1994 Dodge Ram 2500, regular cab, single rear wheel, long bed, 4×2, diesel, Bank Conversion, and ATS Heavy Duty Torque Converter
Camper: 2005 Northern Lite, 9.6 Queen
Tie-downs and Turnbuckles: Happijac
Suspension Enhancements: Firestone Ride-Rite Rear Air bags, Load Leveler, Heavy-duty anti-sway bar, adjustable air Shock absorber, Hellwig Anti-sway Bar
Gear: Towing a 4×4 Suzuki Sidekick or a 26M MacGregor motor/sailor boat.