After a bad tenting experience, Chris Adams and his wife, Michelle, discovered CampLite campers and never looked back.  Hop in Ella and Lucy.  Four Corners, or bust!

Unless you're retired, or your last name happens to be Buffett, Walton, or Zuckerberg, chances are you're still working, and have daily responsibilities.  For most of us, this is called reality, and we all need a break from reality once in a while.
That's where truck camping comes in.  Just imagining the freedom of a truck camping adventure can help us cope with a clock that seems to take its time getting to the close of business, every darn day.  Tick… tick… tick…
One very realistic solution to the daily grind is finding opportunities to go truck camping in short bursts.  For example, pack up and prepare your rig on a Thursday night and head out the moment you get out of work Friday afternoon.
From that glorious moment until 8:00am Monday, it's road trip, or bust!  Sure, you can't go that far, but who cares?  You're out in your truck camper having fun!  Just don't forget the beer in the fridge, and a toothbrush.
Speaking of truck camping "catch as catch can", allow us to introduce Chris Adams, his wife, Michelle, and their dog friends, Ella and Lucy.  After an uncomfortable tenting experience, Michelle let it be known that tenting was out, and a camper needed to be put on the agenda.  Soon after, they saw a CampLite truck camper on the beach in the Outer Banks.  The rest, as you are about to read, is truck camping history.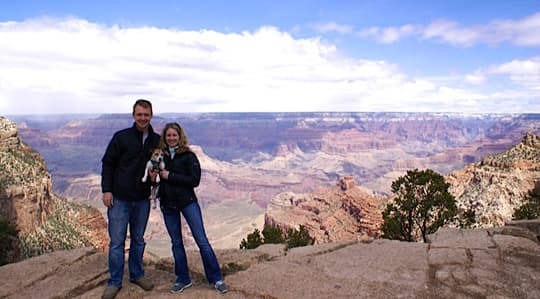 Above: Chris, Michelle, and Ella Adams at the Grand Canyon
TCM: What led you to get your CampLite 8.5?
Chris: It all started with a bad experience tent camping two years ago.  It was raining, hot, and miserable.  My wife, Michelle, said if we were to go camping again, we would have to get a camper.
TCM: We've heard this story before.  The truck camper industry should arrange for bad tenting experiences and just happen to have a truck camper rig nearby.
Chris: Soon after, we were down in the Outer Backs of North Carolina and saw a black CampLite truck camper.  We liked how the camper looked and started researching CampLite.  From our research, we liked the CampLite 8.5 floor plan.
At the time I had a Toyota Tundra short bed.  On CampLite's website they showed the 8.5 on a Tundra, so I thought it might be a good match.  After running the numbers, I realized we would need a three-quarter ton to properly match the truck and camper once fully loaded with water, batteries, propane, and our gear.  My parents have a GMC 2500, and also steered me in the direction of a bigger truck.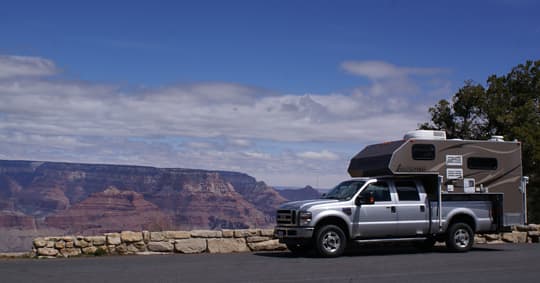 Above: Their 2010 Ford F-250 and 2012 CampLite 8.5 on the east rim of the Grand Canyon
TCM: It's always good to run those weight numbers in advance of a purchase.  What truck did you get?
Chris: A 2010 Ford F-250.  We bought the camper in July of 2012.  The truck and camper are a good match.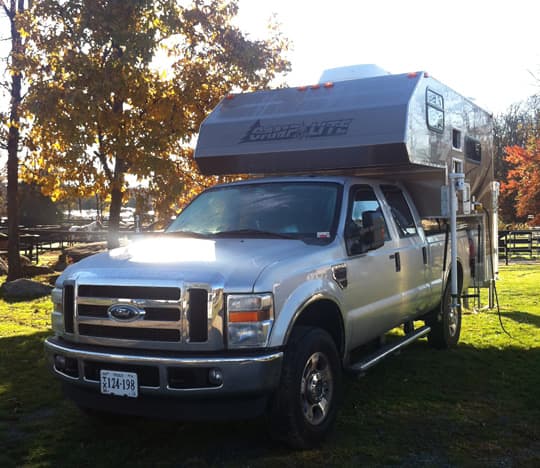 Above: Equestrian Campground in Gettysburg, Pennsylvania
TCM: What's your truck camping lifestyle like?
Chris: In the beginning, we enjoyed short weekend trips around the East Coast.  We have been all over Virginia on weekend adventures.  We also took a trip into northern Pennsylvania, a trip to Gettysburg National Military Park, and a few trips to the Outer Banks.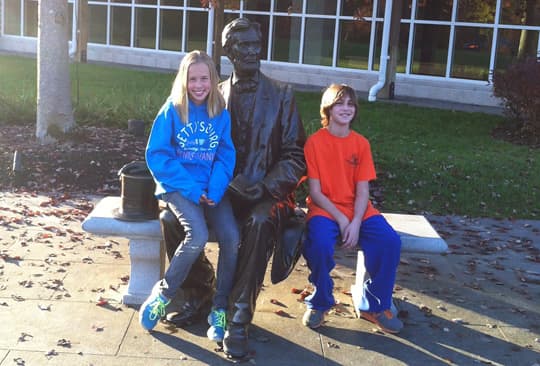 Above: Chris' niece and nephew at Gettysburg National Military Park, Pennsylvania
TCM: Since you got your CampLite, have you seen the black CampLite that caught you eye in the Outer Banks?
Chris: Not yet.  We stay on Ocracoke Island, which is the last island on the Outer Banks.  We take a free ferry across to the island and stay at the state park campground.  It's fairly cheap, but the showers are cold.  That's why we wanted a full bathroom in the camper.
Above: Ocracoke Lighthouse, Outer Banks, North Carolina
TCM: What do you recommend in the Outer Banks area?
Chris: There are tourist activities like any big beach town.  There's the Wright Brothers National Memorial in Kitty Hawk.  That's a must see.  If you want solitude, head down toward the Cape Hatteras Lighthouse or Ocracoke Island.
In the north part of the Outer Banks, wild horses run free.  Once you get past the town of Duck, it turns to sand roads.  There's awesome surf fishing up there.
The Outer Banks can get crowded in the summer.  I would avoid the Fourth of July.  If you go almost any other time of the year it's nice and not too crowded.  A lot of people don't like to mess with the ferry.
Down in Ocracoke there's not a ton of things for kids to do, so it's mainly just adults there.  Once we're there, we park the truck and don't move it.  We ride our bikes into town.
TCM: That's something we should do, but we need to get bikes first.  Where do you store your bikes?
Chris: We flip up the back seat of the truck, and put them there.  I was originally thinking about a bike rack on the front, but I didn't want things hitting the bikes.  We take bikes wherever we go.  By putting them in the back seat, we don't have to move anything around.
Biking and hiking are the biggest things we do while we're traveling, unless we're at the Outer Banks.  Then we're sitting on the beach and hanging out.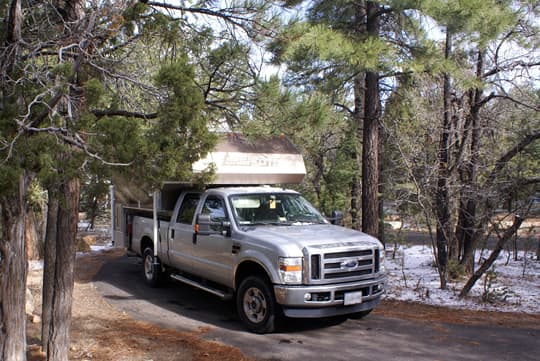 Above: Mather Campground, Grand Canyon National Park
TCM: You and Michelle went on a long-distance trip out west.  How did that come about?
Chris: I'm in the military.  When I left my previous command, I was able to work time in between jobs for a three-week trip out west.  Michelle works in an emergency room, so she was also able to get some time off.
I had been to the Grand Canyon once with my grandparents when I was ten years old.  Michelle had never been west of the Mississippi River, so we planned a 5,000 mile, three-week trip.
Above: Michelle and Chris hiked down to the bottom of the Grand Canyon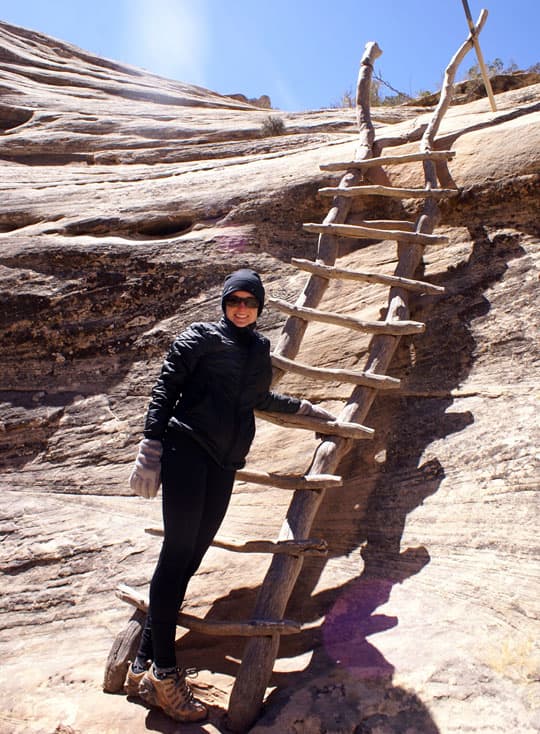 Above: Michelle at Natural Bridges National Monument
TCM: Good deal.  Where did you go?
Chris: We started from our house in Virginia and drove to the Grand Canyon.  We explored the north and south rim, Natural Bridges National Monument, Bryce Canyon National Park, and Monument Valley.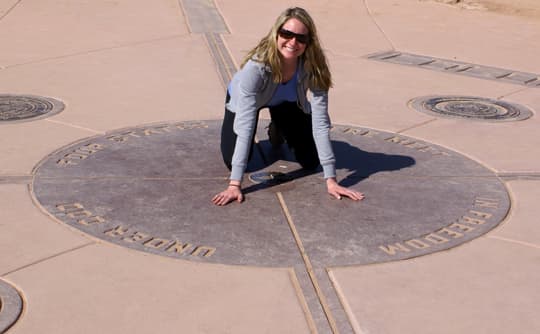 Above: Michelle at the Four Corners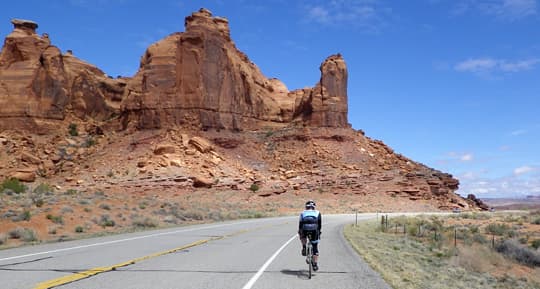 Above: Cycling around Moab, Utah

Above: Arches National Park, Utah
Above: Arches National Park, Utah
A highlight of our trip was Moab.  We went cycling around Moab and saw many arches.  We spent two days in Arches National Park.  I would love to go back there.
TCM: You responded to our Question of the Week about favorite roads and said that the Moki Dugway was one of your favorites.
Chris: We actually found the Moki Dugway by accident.  When we left the Grand Canyon, we decided to go to Hite Marina on Lake Powell next and put that destination in our GPS.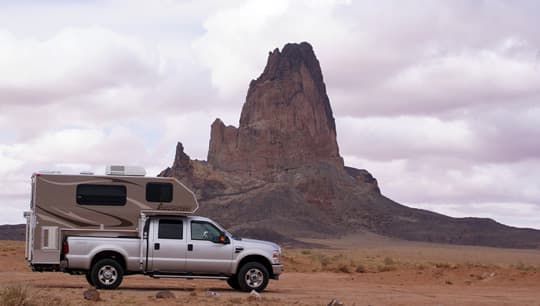 Above: Chris and Michelle's CampLite in Monument Valley
On the way there we stopped at Monument Valley and Mexican Hat and then went up the Moki Dugway.  We spent thirty to forty-five minutes on the Moki Dugway stopping and taking pictures as we drove up.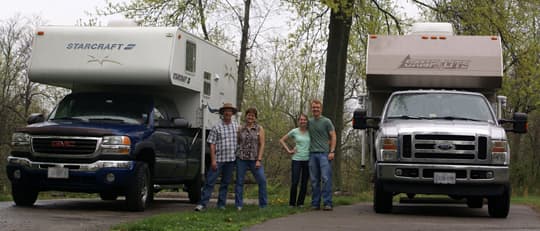 Above: Chris and Michelle met up with Chris's parents at Fort Massac State Park
TCM: Where did you go after leaving the Four Corners area?
Chris: We drove through the Colorado Rockies and then headed east towards Kansas on our way home.  Then we met my parents in southern Illinois for four days and stayed in Shawnee National Forest.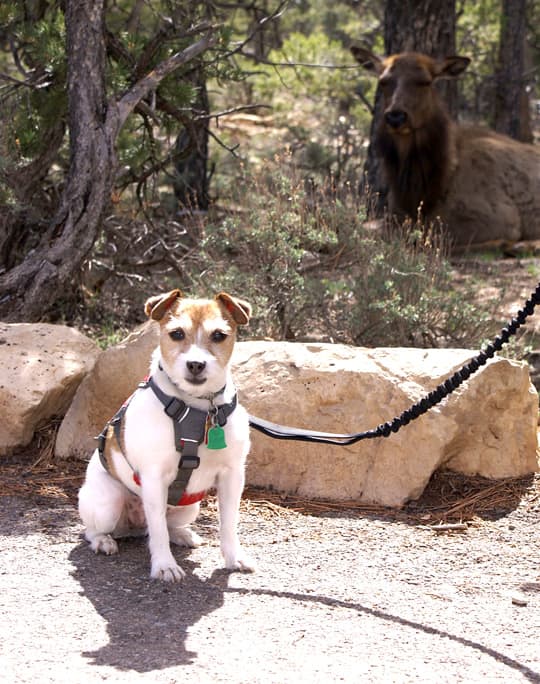 Above: Ella at the Grand Canyon
TCM: How does your dog, Ella, like truck camping?
Chris: Ella is a Jack Russell.  My wife jokes that we bought the camper so Ella could come with us when we travel.  When we tent camped, we would have a friend watch her at home.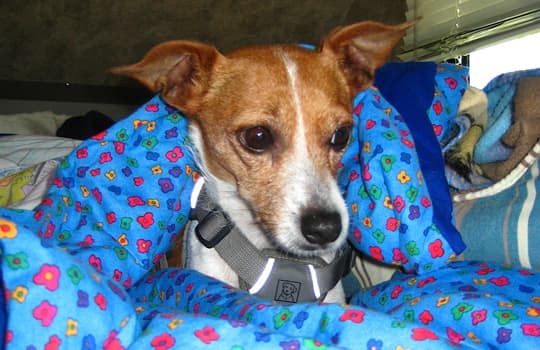 Above: The new addition to their family is Lucy
Right after the Arizona trip, we got Ella another dog friend to keep her company.  Now both Ella and Lucy come with us.
Above left and middle: Ella enjoying the camper and sleeping in the truck, right: Lucy and Ella sleeping in the truck
TCM: Where do the dogs go when you're driving the rig?
Chris: Ella just hangs out in the truck, but Lucy likes to get up and walk around.  We have to tell her to lay down.  It's not a big deal until you stop and then they want to get out.
If we have to go anywhere and leave them in camper, they keep each other company.  We come home to the camper, we often find the two of them nesting in the cabover bed.  Both Ella and Lucy came with us to Key West.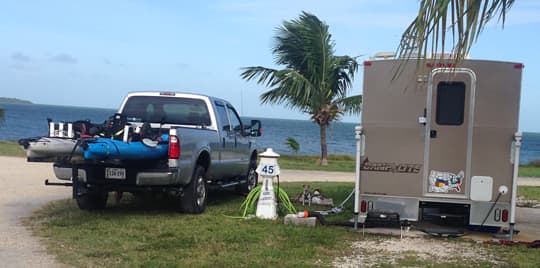 Above: Relaxing in Key West at Sigbee RV Park
TCM: You went to Key West?
Chris: I got back from deployment in November.  Michelle was stir crazy, and wanted to go somewhere warm for Thanksgiving.
The warmest place within a couple days drive was Key West, Florida.  For ten days we stayed at Sigbee RV Park at the Naval Air Station in Key West.  We were right on the beach.
Once again, we took our bikes to everything.  We also went kayak fishing, deep sea fishing, and sampled the local dining establishments.
TCM: Sounds like the four of you had a good time.  What's next?
Chris: We're planning a three day hiking trip to South Carolina, and then I've got another trip with my buddies the weekend after that.  My parents are going down to Jekyll island in Georgia, so we're going there for a week.
We love our camper.  It allows us to enjoy the activities that we love to do.   I finally got Michelle into truck camping!
Truck: 2010 Ford F-250, crew cab, single rear wheel, short bed, 4×4, diesel
Camper: 2012 Camplite 8.5
Tie-downs/Turnbuckles: Torklift Fastguns
Suspension: Torklift Quick Disconnect Lower StableLoads, Firestone Airbags
Gear: Front hitch, Getting a Torklift Lock and Load for a Champion 3100 generator