After a bad tenting experience, Chris Adams and his wife, Michelle, discovered CampLite campers and never looked back.  Hop in Ella and Lucy.  Four Corners, or bust!

Unless you're retired, or your last name happens to be Buffett, Walton, or Zuckerberg, chances are you're still working, and have daily responsibilities.  For most of us, this is called reality, and we all need a break from reality once in a while.
That's where truck camping comes in.  Just imagining the freedom of a truck camping adventure can help us cope with a clock that seems to take its time getting to the close of business, every darn day.  Tick… tick… tick…
One very realistic solution to the daily grind is finding opportunities to go truck camping in short bursts.  For example, pack up and prepare your rig on a Thursday night and head out the moment you get out of work Friday afternoon.
From that glorious moment until 8:00am Monday, it's road trip, or bust!  Sure, you can't go that far, but who cares?  You're out in your truck camper having fun!  Just don't forget the beer in the fridge, and a toothbrush.
Speaking of truck camping "catch as catch can", allow us to introduce Chris Adams, his wife, Michelle, and their dog friends, Ella and Lucy.  After an uncomfortable tenting experience, Michelle let it be known that tenting was out, and a camper needed to be put on the agenda.  Soon after, they saw a CampLite truck camper on the beach in the Outer Banks.  The rest, as you are about to read, is truck camping history.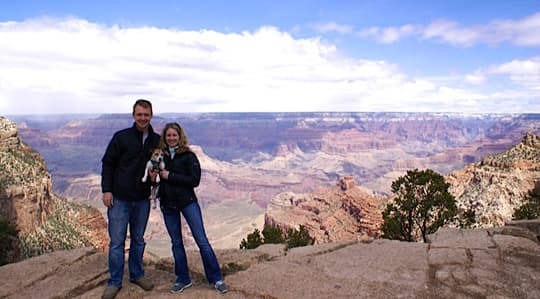 Above: Chris, Michelle, and Ella Adams at the Grand Canyon
TCM: What led you to get your CampLite 8.5?
Chris: It all started with a bad experience tent camping two years ago.  It was raining, hot, and miserable.  My wife, Michelle, said if we were to go camping again, we would have to get a camper.
TCM: We've heard this story before.  The truck camper industry should arrange for bad tenting experiences and just happen to have a truck camper rig nearby.
Chris: Soon after, we were down in the Outer Backs of North Carolina and saw a black CampLite truck camper.  We liked how the camper looked and started researching CampLite.  From our research, we liked the CampLite 8.5 floor plan.
At the time I had a Toyota Tundra short bed.  On CampLite's website they showed the 8.5 on a Tundra, so I thought it might be a good match.  After running the numbers, I realized we would need a three-quarter ton to properly match the truck and camper once fully loaded with water, batteries, propane, and our gear.  My parents have a GMC 2500, and also steered me in the direction of a bigger truck.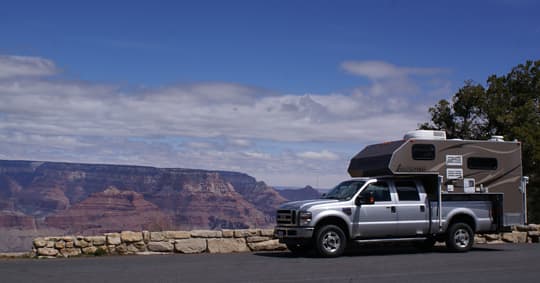 Above: Their 2010 Ford F-250 and 2012 CampLite 8.5 on the east rim of the Grand Canyon
TCM: It's always good to run those weight numbers in advance of a purchase.  What truck did you get?
Chris: A 2010 Ford F-250.  We bought the camper in July of 2012.  The truck and camper are a good match.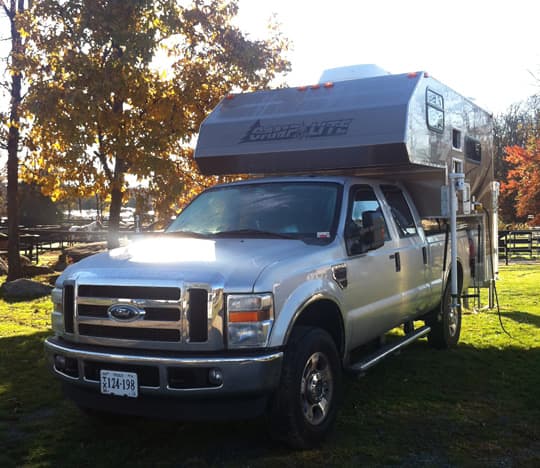 Above: Equestrian Campground in Gettysburg, Pennsylvania