There's nothing like a steep two-way cliff-side gravel road with switchbacks and no guardrails to get the blood pumping.  Put the Moki Dugway on your bucket list, if you dare.

In all of our truck camping travels, Utah's Moki Dugway is, by far, the most insane, and the most fun road we've ever driven.  Built in 1958 to transport uranium ore, the Moki Dugway is part roller coaster, and partly mad.  Needless to say, we love it.
Since pictures don't tell the whole story, we mounted a GoPro time-lapse camera to the hood of our Chevy Silverado and captured a taste of what this serpentine is like.  Press play, and hang on.
To watch the above video in HD, press play, click on the quality "gear" symbol in the lower right corner, and select 720p or 1080p.  HD video takes longer to load and play.  Click on the box in the lower right corner to view the video full screen.
Above (click to enlarge): Before you start up the Moki Dugway, you see many signs warning you about the gravel, switchbacks, and steep grades.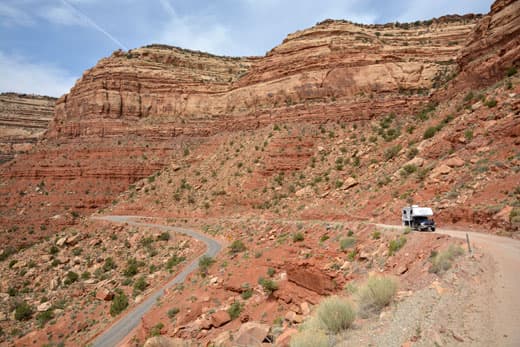 As you enter, the road goes from pavement to gravel.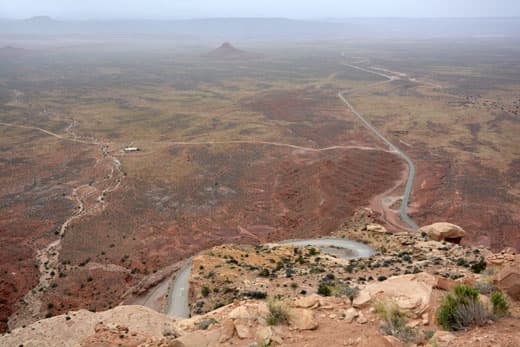 You can see Valley of the Gods from the viewpoints on the Moki Dugway.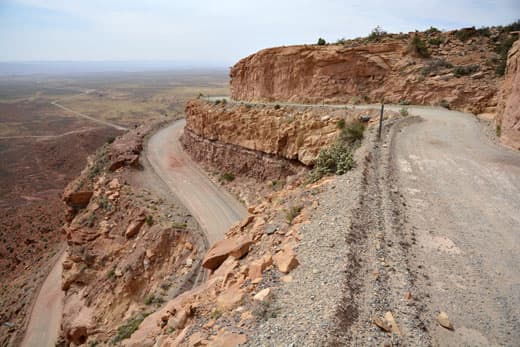 The switchbacks are really fun to drive.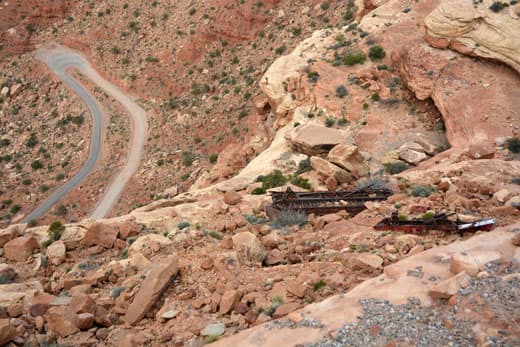 But be careful!  Cars and trucks that have fallen off the sides.  The wreckage of a truck and trailer (and several other cliff-side wrecks) prove how dangerous this road can be.
Above (click to enlarge): The camper rounding the last turn on the top of the Moki Dugway.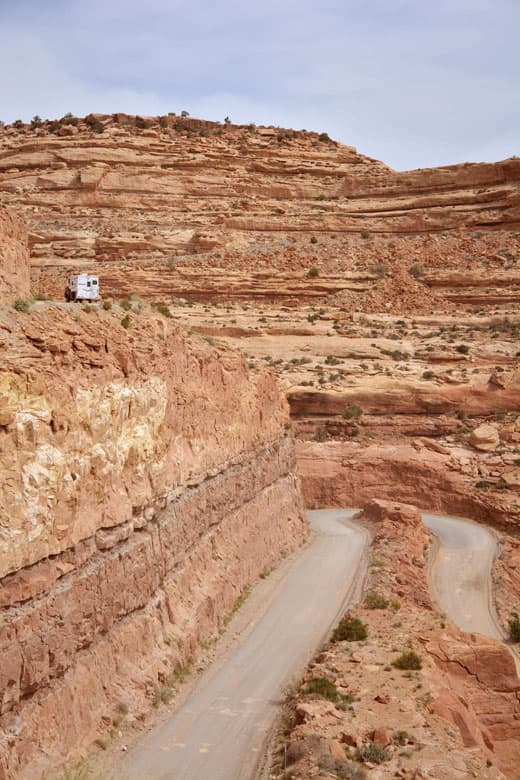 Turns like the one above, and the resulting views, are what make the Moki Dugway our favorite road in the United States.