TCM talks to Rick Barna, LivinLite RV's Vice President of Dealer Relations, about their first self-contained all-aluminum and composite truck camper, the CampLite 8.5.

We first saw the CampLite 8.5 prototype at the annual industry trade show in Louisville, Kentucky last December.  The camper received a lot of attention and had many dealers who were not currently truck camper dealers considering adding truck campers to their inventory.  This is good for all of us as it introduces truck campers to more dealers in more locations.  Go LivinLite.
Since the Louisville show, we haven't heard too much about the CampLite 8.5.  Then about two weeks ago, CampLite 8.5's began to appear on dealer lots.  When PJ from Princess Craft RV posted pictures of the new model, we immediately picked up the phone and asked for more.  Thank you PJ and the Princess Craft team for supplying the photographs for our story.
To get the background on the CampLite 8.5, we contacted Rick Barna, LivinLite RV's Vice President of Dealer Relations.  We met Rick at Louisville next to the CampLite 8.5 and he's the designated truck camper champion at the company.  We also emailed Scott Tuttle, President of LivinLite RV, for some additional information on the design and development of this extremely interesting new camper.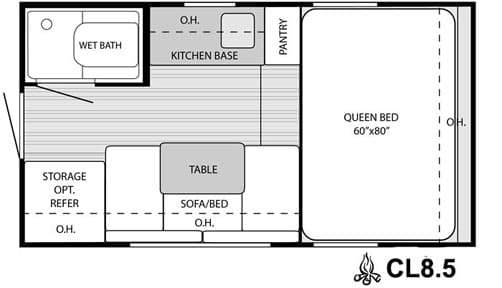 The following is an interview with Rick Barna, LivinLite's Vice President of Dealer Relations.  To see our email interview with Scott Tuttle, President of LivinLite, scroll down to the bottom of the story.
TCM: Before we talk about your new model, tell us how you got into the RV business.
Rick: I grew up in Elkhart, Indiana.  When I got out of the military, I worked for a local manufacturer.  I briefly moved to Colorado and then returned home to Indiana.
For twenty some years, I sold Class A motorhomes.  When the Class A market took a nose dive a few years ago, I didn't know what I wanted to do.  Then I read an article about LivinLite in RV Business Magazine.  I knew Scott Tuttle, President of LivinLite,  so I gave him a call.  At the time, the world was experiencing escalating energy prices and his lightweight all-aluminum product made a lot of sense.  In July of 2008, I joined LivinLite.  That's my career in a nutshell.
TCM: You're now involved with the marketing and sales for LivinLite's CampLite truck campers.  How did you get interested in truck campers?
Rick: I've had several truck campers over the years and I loved them.  I especially love the practicality of truck campers for camping in the wilderness and the ability to take the camper off to use your truck at a destination.  There's just something about the freedom of a truck camper.  It was actually my idea to introduce LivinLite truck campers.
TCM: Why did you think LivinLite had something to offer the truck camper marketplace?
Rick: With our unique welded aluminum and composite manufacturing approach, our CampLite truck campers are nearly indestructible.  There will never be any rot or rust problems in our CampLite campers, which is a problem most campers have suffered at one time or another.  If a leak somehow occurred on a CampLite truck camper, you could seal it up and the camper would not rot.  The camper wouldn't mildew either because mildew needs an organic substance to grow on.
We believe people are getting away from the Bic lighter mentality where folks bought something disposable, used it up, and threw it away.  Today people are paying a lot more attention to the dollars they're spending and how long a product will last.  Our CampLite truck campers will literally last you a lifetime.  In fact, CampLite truck campers are legacy products that can be handed down to your kids and grandkids.
TCM: What is your position at LivinLite?  What do you do?
Rick: My position is Vice President of Dealer Relations.  I interact with dealers and retail customers.  For example, I work with potential customers to ascertain their needs and then match them up with dealers near them who can sell them our products.  I'm hoping to attend the Mid-Atlantic Truck Camper Rally this April with a CampLite truck camper.
TCM: When we interviewed LivinLite's President, Scott Tuttle, last July, he explained how LivinLite had adapted it's unique aluminum manufacturing process to CampLite truck campers.  Now that LivinLite has manufactured it's first truck camper production runs, have there been any changes to the construction or materials used in the CampLite truck campers?
Rick: Nothing has changed about the structure of the campers.  We use the same materials; a mixture of aluminum and composites.  We made some changes with the suggestions of Bill Penney at East End Campers / Truck Camper Warehouse and PJ Buerger at Princess Craft Campers.  Their expert feedback has been very helpful to improve the CampLite truck campers overall.
TCM: As all-aluminum campers, the first CampLite prototypes didn't feature the warmest interior aesthetics.  Have you made any changes to the interiors?