TCM talks to Rick Barna, LivinLite RV's Vice President of Dealer Relations, about their first self-contained all-aluminum and composite truck camper, the CampLite 8.5.

We first saw the CampLite 8.5 prototype at the annual industry trade show in Louisville, Kentucky last December.  The camper received a lot of attention and had many dealers who were not currently truck camper dealers considering adding truck campers to their inventory.  This is good for all of us as it introduces truck campers to more dealers in more locations.  Go LivinLite.
Since the Louisville show, we haven't heard too much about the CampLite 8.5.  Then about two weeks ago, CampLite 8.5's began to appear on dealer lots.  When PJ from Princess Craft RV posted pictures of the new model, we immediately picked up the phone and asked for more.  Thank you PJ and the Princess Craft team for supplying the photographs for our story.
To get the background on the CampLite 8.5, we contacted Rick Barna, LivinLite RV's Vice President of Dealer Relations.  We met Rick at Louisville next to the CampLite 8.5 and he's the designated truck camper champion at the company.  We also emailed Scott Tuttle, President of LivinLite RV, for some additional information on the design and development of this extremely interesting new camper.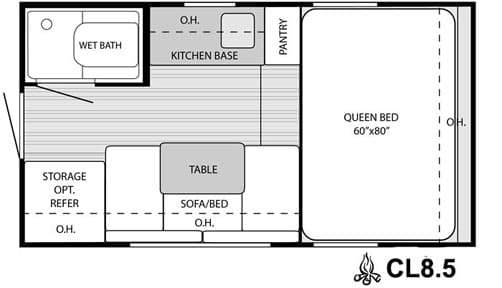 The following is an interview with Rick Barna, LivinLite's Vice President of Dealer Relations.  To see our email interview with Scott Tuttle, President of LivinLite, scroll down to the bottom of the story.
TCM: Before we talk about your new model, tell us how you got into the RV business.
Rick: I grew up in Elkhart, Indiana.  When I got out of the military, I worked for a local manufacturer.  I briefly moved to Colorado and then returned home to Indiana.
For twenty some years, I sold Class A motorhomes.  When the Class A market took a nose dive a few years ago, I didn't know what I wanted to do.  Then I read an article about LivinLite in RV Business Magazine.  I knew Scott Tuttle, President of LivinLite,  so I gave him a call.  At the time, the world was experiencing escalating energy prices and his lightweight all-aluminum product made a lot of sense.  In July of 2008, I joined LivinLite.  That's my career in a nutshell.
TCM: You're now involved with the marketing and sales for LivinLite's CampLite truck campers.  How did you get interested in truck campers?
Rick: I've had several truck campers over the years and I loved them.  I especially love the practicality of truck campers for camping in the wilderness and the ability to take the camper off to use your truck at a destination.  There's just something about the freedom of a truck camper.  It was actually my idea to introduce LivinLite truck campers.
TCM: Why did you think LivinLite had something to offer the truck camper marketplace?
Rick: With our unique welded aluminum and composite manufacturing approach, our CampLite truck campers are nearly indestructible.  There will never be any rot or rust problems in our CampLite campers, which is a problem most campers have suffered at one time or another.  If a leak somehow occurred on a CampLite truck camper, you could seal it up and the camper would not rot.  The camper wouldn't mildew either because mildew needs an organic substance to grow on.
We believe people are getting away from the Bic lighter mentality where folks bought something disposable, used it up, and threw it away.  Today people are paying a lot more attention to the dollars they're spending and how long a product will last.  Our CampLite truck campers will literally last you a lifetime.  In fact, CampLite truck campers are legacy products that can be handed down to your kids and grandkids.
TCM: What is your position at LivinLite?  What do you do?
Rick: My position is Vice President of Dealer Relations.  I interact with dealers and retail customers.  For example, I work with potential customers to ascertain their needs and then match them up with dealers near them who can sell them our products.  I'm hoping to attend the Mid-Atlantic Truck Camper Rally this April with a CampLite truck camper.
TCM: When we interviewed LivinLite's President, Scott Tuttle, last July, he explained how LivinLite had adapted it's unique aluminum manufacturing process to CampLite truck campers.  Now that LivinLite has manufactured it's first truck camper production runs, have there been any changes to the construction or materials used in the CampLite truck campers?
Rick: Nothing has changed about the structure of the campers.  We use the same materials; a mixture of aluminum and composites.  We made some changes with the suggestions of Bill Penney at East End Campers / Truck Camper Warehouse and PJ Buerger at Princess Craft Campers.  Their expert feedback has been very helpful to improve the CampLite truck campers overall.
TCM: As all-aluminum campers, the first CampLite prototypes didn't feature the warmest interior aesthetics.  Have you made any changes to the interiors?
Rick: We have actually.  We have gone to a warm beige interior wallboard (wood-free of course) with upgraded fabrics and champagne cabinetry throughout.  This added warmth has really made the CampLite truck camper and travel trailer much more attractive to customers.  Another thing we're now offering are snap-in carpets.  The cabinets are still a painted aluminum, but with the champagne color, they really coordinate well with the wallboard and fabrics.
I tell people that our campers may not offer as much fluff, but there's more practicality, usability, and functionality in the CampLite truck camper than the market has ever seen.  That is the approach we take with our product; reliability and durability over fluff.
TCM: People may be concerned that an aluminum and composite camper would be cold in the winter and hot in the summer.  What do you say to consumers who raise those concerns?
Rick: The RV industry has been building aluminum exteriors for as long as I am old.  Our interior wallboards are an Azdel composite, and there is the same layer of block foam insulation in the walls that others use.  We have three inches of block foam insulation in the ceiling and the walls have one inch insulation.  That helps to keep our campers comfortable.
So, it's very similar to traditionally built truck campers when it comes to the insulation factor.
TCM: Let's talk about the new CampLite 8.5.  Other than building with aluminum and composites, what makes the new CampLite 8.5 truck camper unique in the marketplace?
Rick: As our first self contained truck camper, and being designed for half ton trucks, this model takes us more into the mainstream of the truck camper market.  The CampLite 8.5 has a base price of approximately $14,500.  Loaded with options, the 8.5 would only be approximately $16,500.  I think the 8.5 is a lot of camper for the money.
TCM: Let's talk about the trucks that the CampLite 8.5 is designed for.
Rick: It's a short bed truck camper.  The dry weight of the 8.5 with an air conditioner and refrigerator, propane tanks, range, furnace, water heater, and basic options is approximately 1,800 pounds.  The 8.5 is about 1,600 pounds before those options are installed.  To be safe, a three-quarter ton short bed would be perfect, especially when you factor in the wet weight and the weight of your belongings.
TCM: We'll have the 8.5 wet weight calculated in our 2011 Buyers Guide for our readers.  Can you send us a certified weight ticket for the 8.5?
Rick: Yes, I'll submit one.
TCM: Are there any options you can't get on CampLite truck campers?
Rick: We do not offer generators on our units as there is no physical space for them.  Down the road we may offer space for generators.  For now, you can hook our campers to a portable generator like a Honda eu2000i.  A lot of customers do that with our other products.  You also can't get solar panels at this time.  If a customer is interested in their  a generator or solar panels, contact me and I'll see what we can do.
TCM: Where can our readers see the 5.7 and 8.5 CampLite truck campers?
Rick: Unfortunately, the campers are only now rolling off the production line at LivinLite and aren't widely available yet.  They will be on a number of dealer's lots this summer, as well as on display at the Fall RV shows.  Bill Penney and PJ Buerger don't have any CampLite campers in stock yet, but their campers are now in production.
We are getting tons and tons of calls on these new camper models.  We should have our orders filled by the late Spring or early Summer.  Right now we have about a dozen dealers for the truck campers and geographically the regions are getting covered.
TCM: Are there any more CampLite truck camper models planned for 2011?
Rick: Yes.  We're building a smaller and lighter camper for half ton short beds and a 9.5 foot truck camper for full size trucks.  We are looking to build about four to five camper models to complete our truck camper line.  With our complete truck camper line, we will be able to fulfill the needs of most truck campers and accommodate almost every truck built.  This should be the case by the end of this summer.  That's our goal.
Common sense camping is what we're going after; practicality and durability.  We want something to keep us fed, keep us clean, keep us camping, while being comfortable.  People want a confident rig that will meet the rigors of truck camping. That's what we offer.  That's CampLite in a nutshell.
TCM: Thanks Rick.  Let us know when those new models are ready.
Rick: I certainly will.
The following is an email interview with Scott Tuttle, President of LivinLite RV, on the design and development of the new CampLite 8.5.
TCM: Tell us about the design and development of the CampLite hard side truck campers.  How did you begin research and development?
Scott: It was a team effort.  It began with a couple of our dealers asking us if we would ever consider building a truck camper utilizing our already established CampLite travel trailer construction.  We had dabbled in the truck camper market with our Quicksilver all aluminum soft top truck camper, so we knew that there was a market for smaller, lightweight truck campers.
When we started to look at what was available on the market, what we found was a lot of very large, fairly expensive truck campers that required a pretty hefty truck to utilize.  So we designed our CampLite truck camper with the small to medium truck owners in mind.
We started out by designing the basic structure of the camper on SolidWorks/CAD, which allowed us to model it in three dimensions.  We then tried our best to keep the design of the LP system and wet bath as close to what we do in our CampLite travel trailer as possible.  We started the prototype and basically built it off the line at one station.
TCM: Tell us about the materials other than aluminum that are used in these campers.  For example, tell us about the composites, why you use them, and how.
Scott: It is our policy at LivinLite to not use any wood at all in our campers.  This provides our owners with a truck camper that will last for generations.  To do that, we start out with all aluminum construction, including our cabinetry and flooring.  We then utilize Azdel composite material on our interior wall board and ceiling board.  This composite material is wood-free and is impervious to moisture or molding.
Instead of using presswood in our counter tops, we utilize an ultra lightweight composite foam board that, again, is not negatively affected by water or moisture of any kind.   The windows in the CampLite are made of a European composite instead of the glass and metal design of so many others.  This not only saves weight, but is recyclable, as is basically 98% of the CampLite camper.
TCM: Is there anything else you would like for people to know about the design, materials, or construction of the CampLite campers?
Scott: Now that we have entered the truck camper marketplace, we are getting a tremendous amount of design ideas and input from consumers around the country.  People love our construction and are eager for us to come out with more floor plans and larger models.
We have to tell them to be patient with us, as we grow into a truck camper manufacturer that we want to be – one that focuses on quality and that is going to impact the market for a number of years to come through our innovative, long-lasting designs.