TCM packs up their 2012 Travel Lite 1000 SLRX Ultra and explores the battlefield and state-of-the-art visitor center at Gettysburg National Military Park.

We keep our truck camper rig in a nearby gated storage lot and it always feels like we're breaking it out of jail when we go on a trip.  And where would a newly freed truck camper rig want to go first?  To the fuel station of course!  We were delighted to find that fuel prices have continued to drop this Spring.  We paid about twenty cents less than we paid about six weeks ago.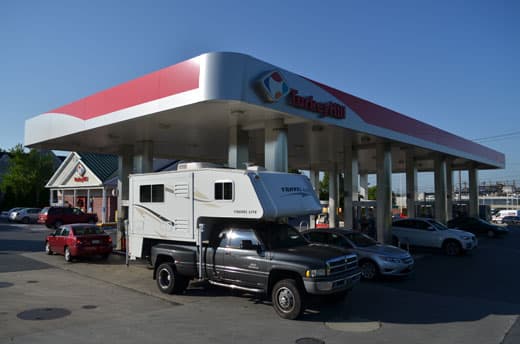 Free, fueled, and ready to go, we drove west to Gettysburg National Military Park.  It's embarrassing to admit that Angela had not been to Gettysburg National Military Park since a high-school field trip and I, born and raised in Philadelphia, and son of a high school history teacher, had never been.  What's more embarrassing is the fact that Gettysburg is only about an hour and fifteen minutes from our home in Lancaster.  Perhaps you can relate to the fact that many of us seem to ignore what's in our own backyard, but will drive across the country to see similar attractions.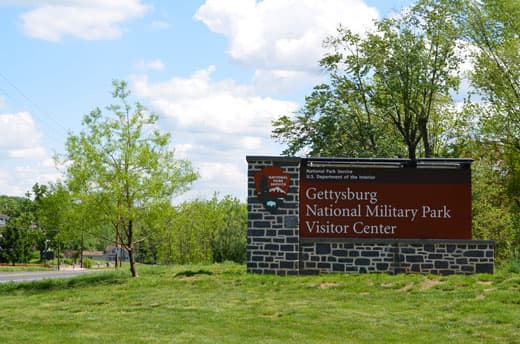 When we arrived at Gettysburg National Military Park, we were immediately challenged by our own motto, "Go Anywhere. Camp Anywhere."  The truth is that the parking spaces in the regular visitor center parking area were just too short and tight for our truck camper rig.  They would be fine for our Ford Focus, but not our Dodge 3500 DRW and Travel Lite 1000 SLRX Ultra.  Sometimes go anywhere means, "Go around the corner and find something a little bigger".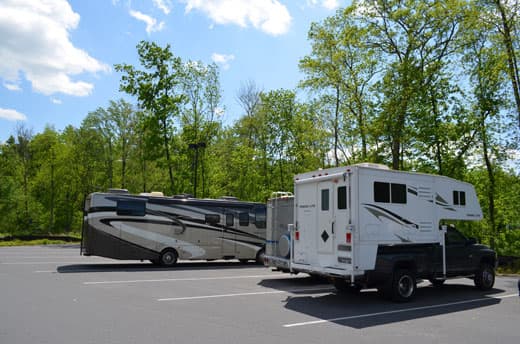 Fortunately, there's a fantastic RV and bus parking area a few hundred feet away.  In fact, the parking spaces in the RV and bus lot are too big and seem more appropriate for a Class A motorhome than our svelte lash-up, but I'm starting to sound like Goldilocks picking porridge.  Just park the rig already and get into the visitor center!
We have been to literally dozens of National Parks, Monuments, Preserves, Recreation Areas, Seashores, and Parkways throughout the United States and Canada and have never seen a visitor center as impressive as the Gettysburg National Military Park Museum and Visitor Center.  The $103 million facility opened in 2008 and you could literally spend a entire day, possibly two exploring the fantastic Civil War museum alone, never mind the amazing theatre, world famous Gettysburg Cyclorama, and the museum book store.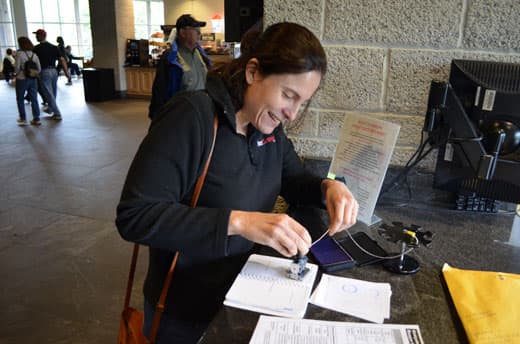 Give yourself extra time to explore this beautiful facility.  You will regret it if you have to rush through.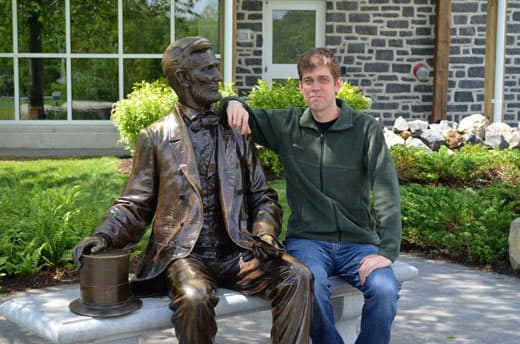 Just outside of the visitor center is a charming statue of Honest Abe.  Being an honest guy myself, we had a quick, decidedly one way conversation.  Let's just say the old, "A penny for your thoughts" didn't go over very well.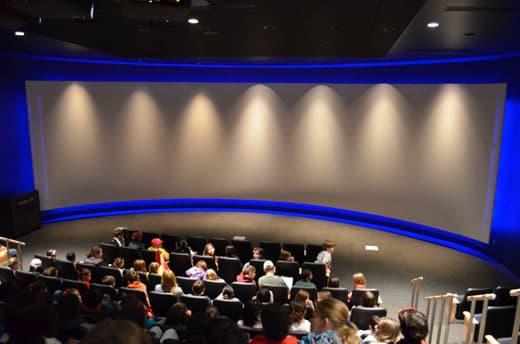 The first item on our visitor center agenda was the Morgan Freeman narrated film, "A New Birth of Freedom".  When we approached the theater, we discovered a large contingent of middle-school aged kids buzzing with field trip fever.  Lucky for us, a Ranger directed the half dozen or so adults in line to the top of the theater's stadium style seating.   As we walked in, the Ranger said, "The best seats in the house are the top seats anyway".  She was right.
The theater itself is quite impressive with an extremely wide curved screen.  It reminded us of an IMAX theater, but the screen is not as tall.  In twenty-two minutes, the film presents an overview of the events leading up to the Civil War, the Battle of Gettysburg, and the events that followed.  It's a powerful presentation and made us excited to learn more about Gettysburg and the museum under our feet.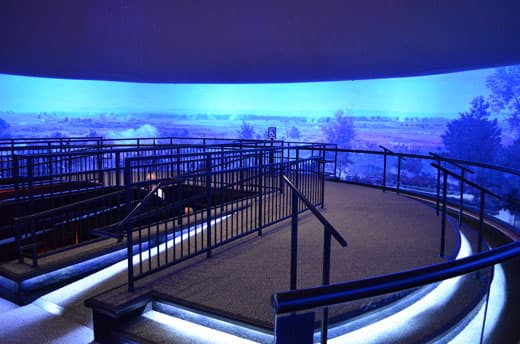 After the film, we were led up a set of escalators into the Gettysburg Cyclorama, a 360 degree, twenty-two foot tall cylindrical painting of "Pickett's Charge" that puts you in the middle of the battle.  The painting was completed in 1883 and has quite the history itself having been lost for decades, rediscovered in 1965, purchased by investors in 2007, and then finally put back on public display at the visitor center in 2008 after a full restoration.  Given the size and delicacy of the painting, it's incredible that it's here, hopefully now preserved for the ages.
Like the rest of the visitor center, you could spend a very long time with all of the stories being told in the Cyclorama painting.  It's a sobering testament to the horrors of the Civil War, and the enormity of the event that took place here 150 years ago.