Truck Camper Magazine reviews a Lance 960, a hard side, non-slide, wet bath truck camper for long bed full-size trucks. The Lance 960 signaled a bold new design language with new features and appliances to take the iconic brand into the future. Is the 960 a true leap forward for Lance? Take a seat.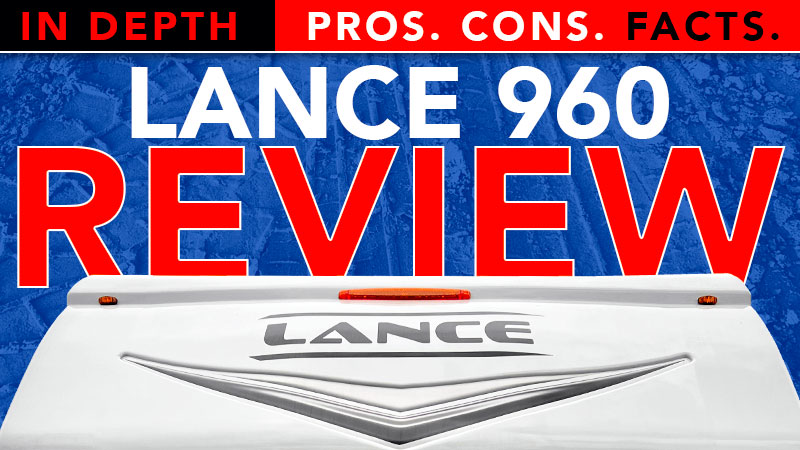 It's no secret that our first truck camper was a non-slide 2005 Lance 1030. It's also no secret that we sold that Lance Camper upon returning home from a six-month cross-country adventure and promptly went out of our minds thinking of ways to afford to get back into truck camping. Guess what that led to?
Since then, the days when I walk into a brand new Lance Camper and think, "Same old Lance" are long gone. For example, there's little that recalls our 2005 Lance 1030 in the new Lance 960. Even though the two Lance Campers are both hard side, non-slide models for long bed full-size trucks, the floor plan, framing, materials, and inside decor are radically different. Heck, even the Lance logo is different. Folks, if you think Lance hasn't changed over the past 18 years, you haven't been paying attention.
Announced in late 2020, the Lance 960 was developed as a statement product to showcase where Lance is taking their truck campers into the future. The fact that Lance decided to launch a non-slide as their first new model in nearly five years also reaffirms a trend we've seen across the truck camper marketplace; non-slide hard side campers are hot again.
On an overcast day at Parkview RV Center in Smyrna, Delaware, we went through a Lance 960 stem to stern. There's a lot to love about the newest Lance model and a few things we're still digesting. Is this a successor to our beloved Lance 1030 and the 1055 that followed, or something else entirely? Let's dig into this fresh and new-fashioned Lance, and find out.
Floor Plan Evaluation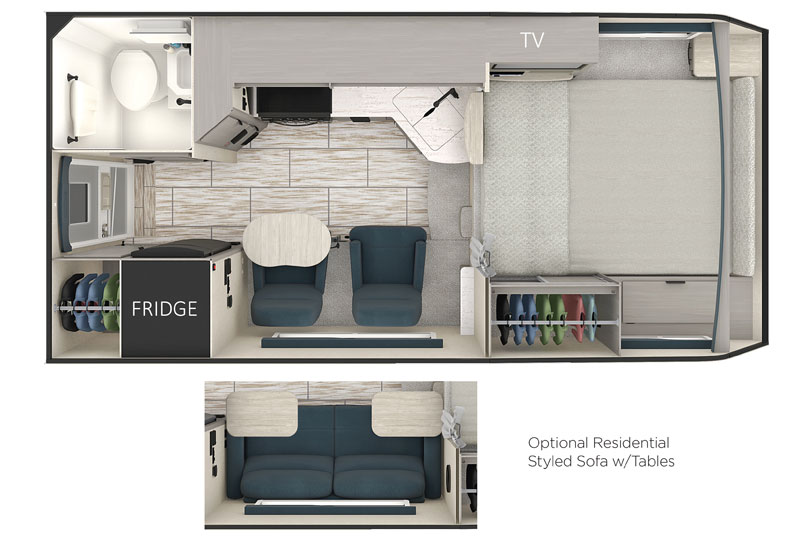 The weather didn't exactly cooperate for our Lance 960 photo shoot, but the laminated high-gloss fiberglass sidewalls looked fantastic nonetheless. The black awnings and tinted thermoplastic windows finish one sharp-dressed unit.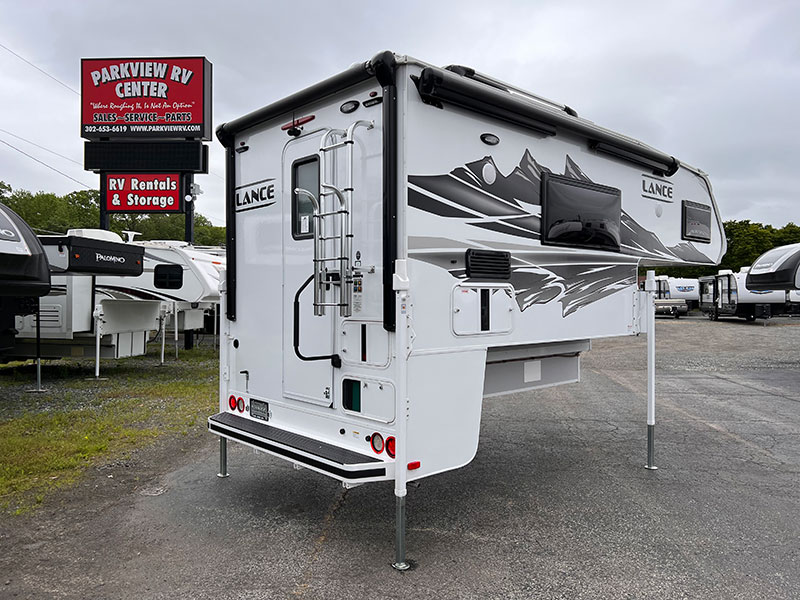 Above: All photos taken by Truck Camper Magazine at Parkview RV Center in Smyrna, Delaware
The story of Lance truck campers over the last decade has been steady and studied evolution. We could literally give dozens of examples of Lance features introduced on one model (or as an option) that later became standard.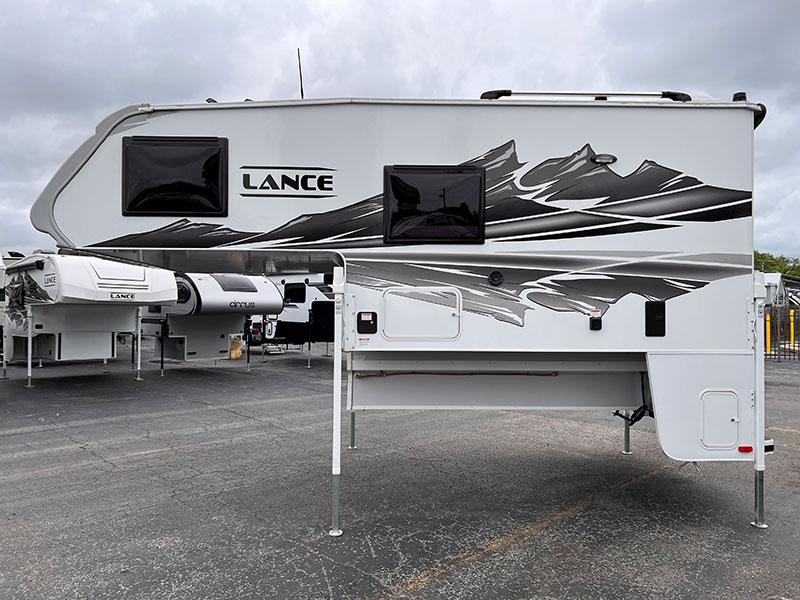 For example, the mountain scene graphics package pictured here was introduced as an option, then refined and updated before becoming the standard exterior in 2019. The thermoplastic windows debuted on Lance campers on the 650, and then were brought to the 960 before being introduced on the entire line in 2022.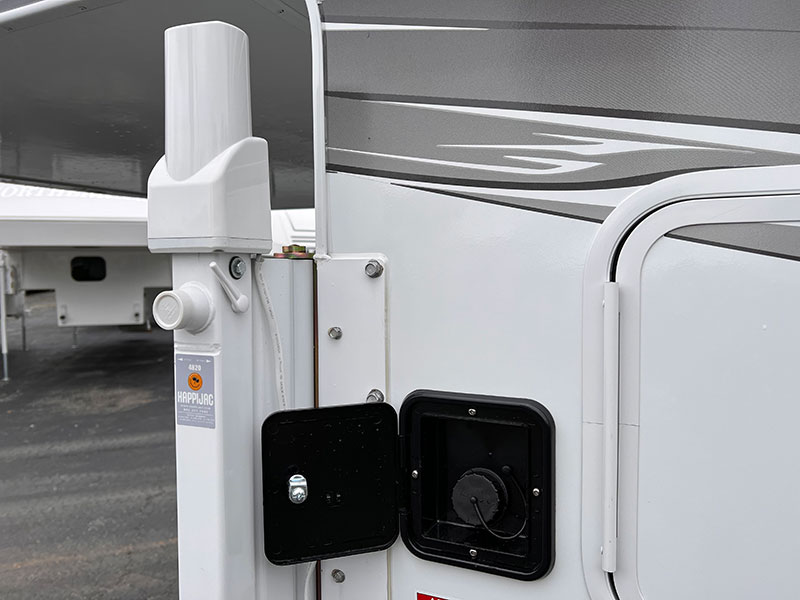 Front to back on the driver's side starts with the Happijac 4820 camper jacks and the water fill. This is the new generation of Happijac jacks developed with Lance for improved lifting capacity and faster operation.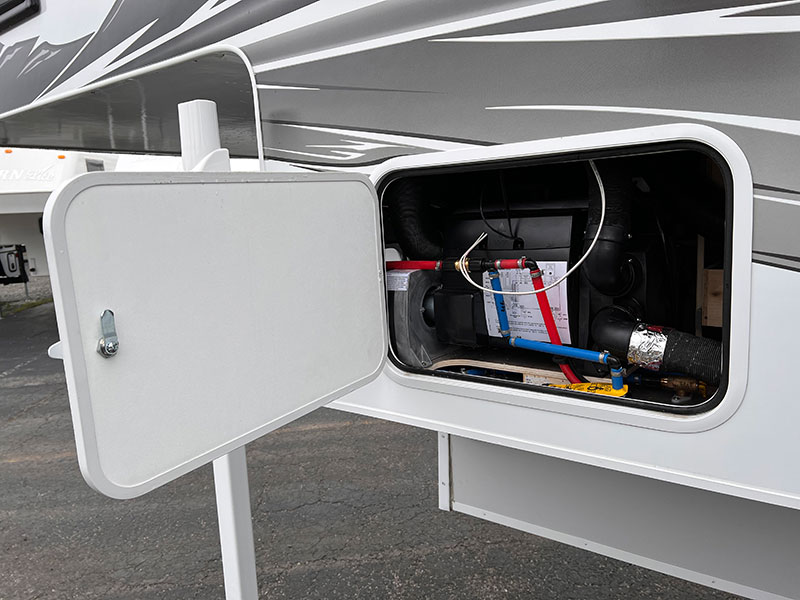 Prior to opening this compartment, I assumed it was storage. To my surprise I was greeted with the business end of the Truma Combi eco plus. This unit is a combination propane and/or 110-volt electric furnace and water heater.
Having easy access to the Truma Combi eco plus – or any component in a truck camper for that matter – is always appreciated. This is how you save time and money if and when maintenance is required.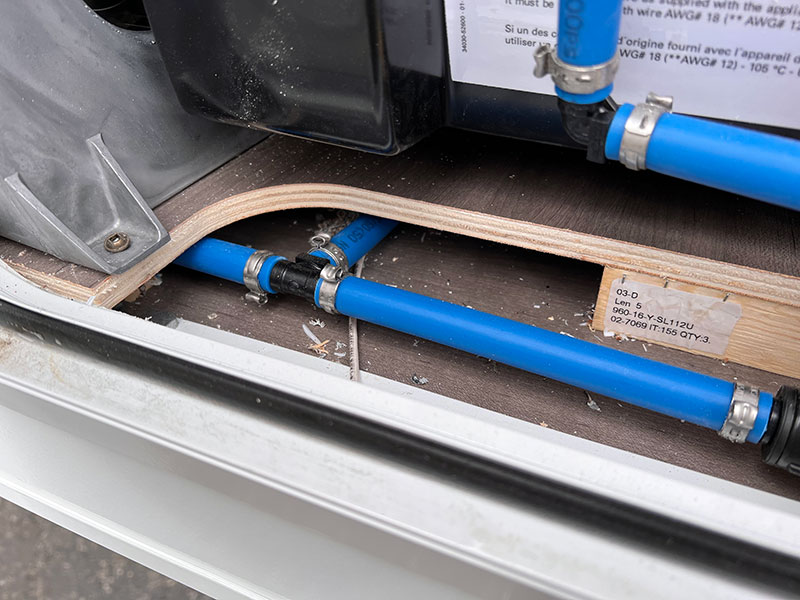 While I was poking my head around the Truma access compartment, I saw two signature Lance build quality markers. Note the CNC cut Euro-Ply curve and the labeled wood support. Lance Campers designs all of their campers in SolidWorks 3D CAD, cuts all of their cabinetry on CNC machines, and labels every part and material before it flows through the assembly line.
Unfortunately, there was a considerable amount of manufacturing debris – wood, metal and plastic shavings – in the access compartments.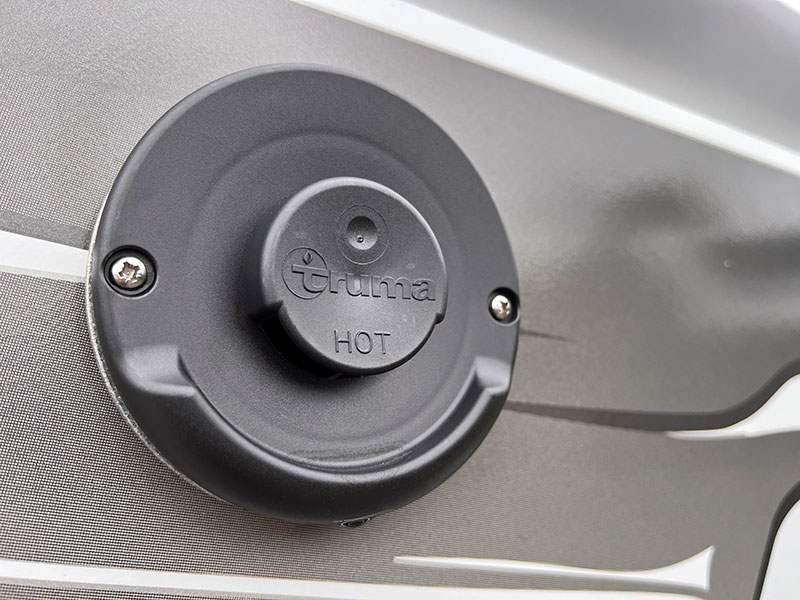 For 2023, Lance went to all-Truma furnaces, water heaters, and air conditioners. True to their slow and steady rollouts, that process started with the 960 after Truma products were field tested by the Mortons during a multi-month truck camping adventure to Alaska.
Unfortunately, we have not yet camped with a full Truma system and cannot speak to the function or reliability. Hey Lance, let's make that a priority for 2023. We would love to write a test and review of a complete Truma set-up like we did for Alde in 2019.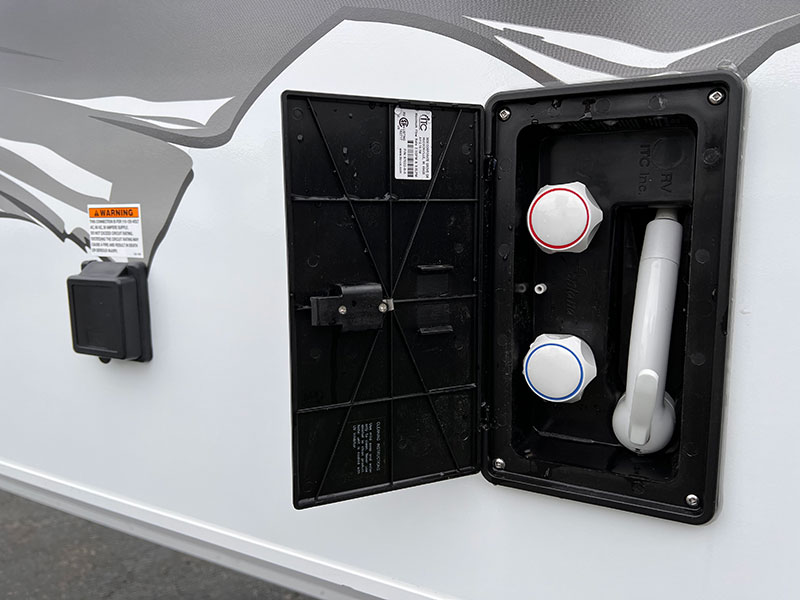 Lance uses detachable 30-amp power cords (connection shown center left). Once you adapt to how detachable power cords attach – line-up and twist on – the advantage of easy replacement is considerable. Our 19 year old camper has a permanently attached power cord and I have concerns about it getting damaged or giving up the ghost. With a detachable power cord, no such concerns exist.
Outside showers are a real boon for beach camping, cleaning shoes after a hike, rinsing dirty pets and kids, or taking actual showers outside. They're also a common point of failure as folks forget to winterize this out-of-mind plumbing feature. Caution aside, this is definitely one of the nicest outside shower setups we've seen.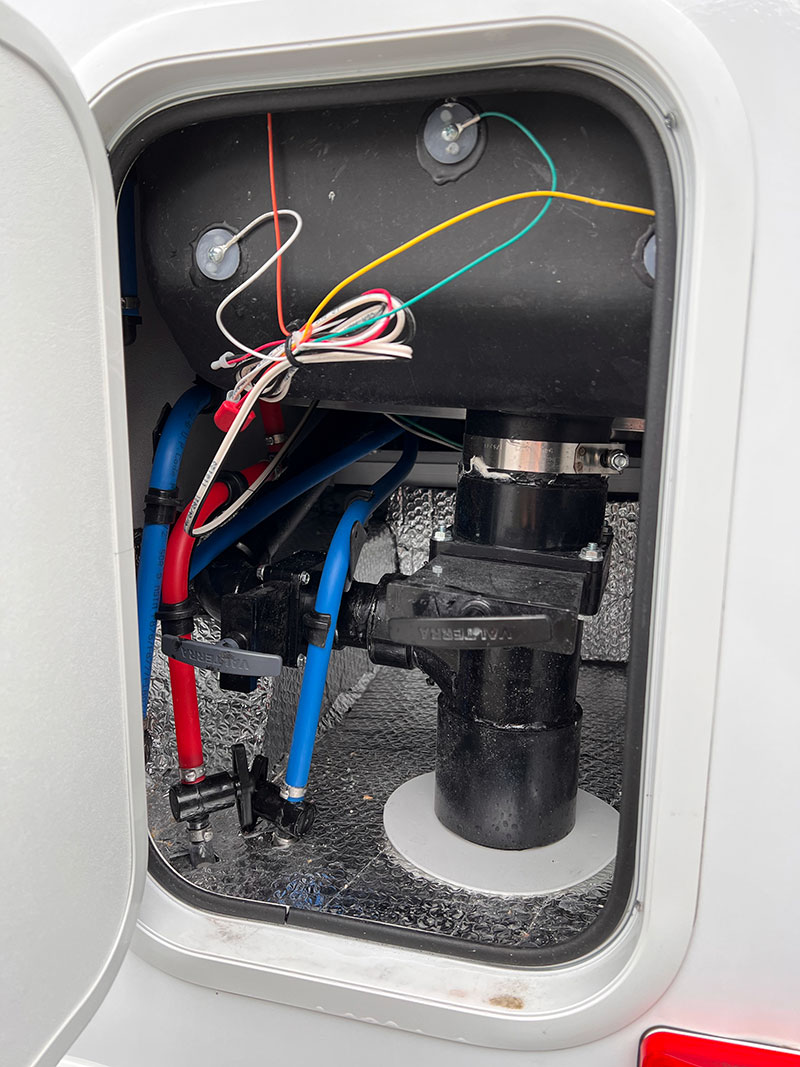 The final feature on the driver's side is the dump compartment. Inside this insulated compartment you can see the tank sensors (top), low water drains (left), and the black and grey dump pulls (left and center).
Bravo for the insulation on display here. Together with airflow from the Truma Combi eco plus furnace and the insulated windows, this unit should have exceptional winter camping capabilities.
The dump sensor wiring is a bit loose for my liking; especially if this camper is destined for off-road adventures. If this were our camper, we would use a few strips of Gorilla Tape (don't leave home without it) to better secure the wires.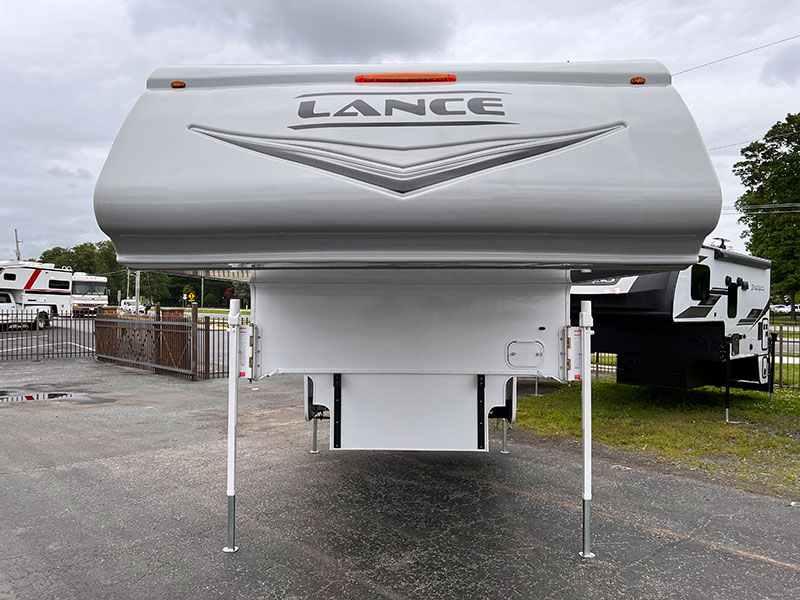 Continuing around the unit, we encounter the Lance TPO (thermoplastic polyolefin) front nose cap. First launched in 2013, Lance debuted the grey color for 2019 and updated the logo and graphics for 2020. The design has otherwise stayed the same.
The intended benefit of a front nose cap is overall durability, water resistance, wind resistance, and aesthetics. For all of these reasons, I wish our camper (photo bombing in the background) had a front nose cap. It's a quality addition to all Lance truck campers.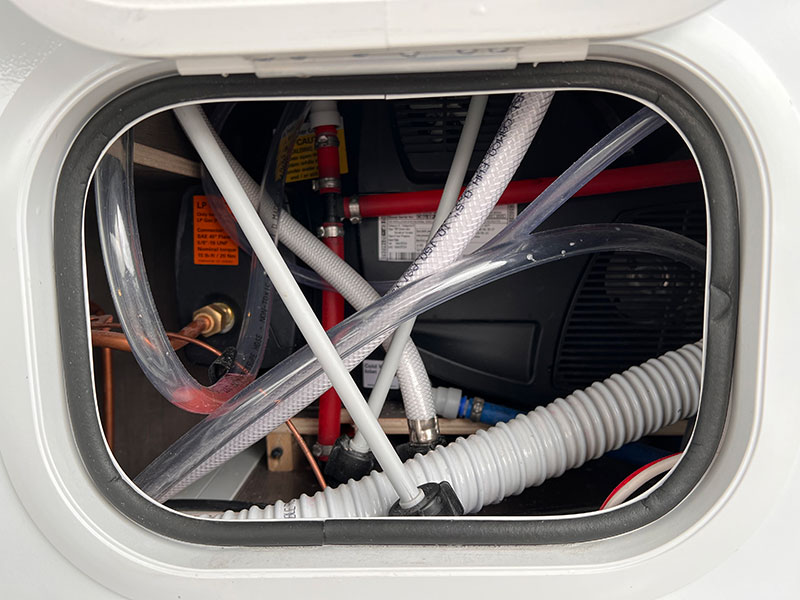 In the front profile photo, you may have noticed a small compartment on the front driver's side. This opens to give more access to the Truma Combi eco plus for maintenance and winterization (note the pink fluid in the uptake line).
I believe this compartment will be inaccessible once the camper is loaded on a truck. This could mean you need to unload the camper to properly winterize it. Hopefully, Lance will comment on this in a manufacturer's response.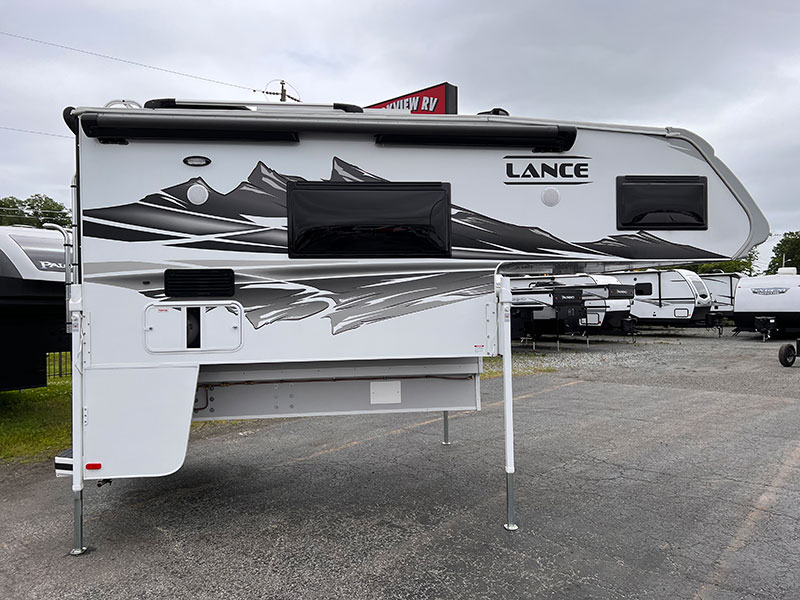 The passenger's side has an electric awning, LED light, stereo speakers, a refrigerator vent, and a propane compartment.
Lance chose dual 20-pound horizontal propane tanks for the Lance 960. This is somewhat unorthodox as most camper manufacturers favor 20-pound vertical tanks for their ubiquity and ability to be exchanged. Horizontal propane tanks are also more difficult and expensive to source, and unusual enough to raise the occasional eyebrow at propane filling stations.
All of that stated, we have 20-pound horizontal propane tanks and have no trouble getting them filled. The advantage of horizontal tanks is that their design can offer more space inside the camper.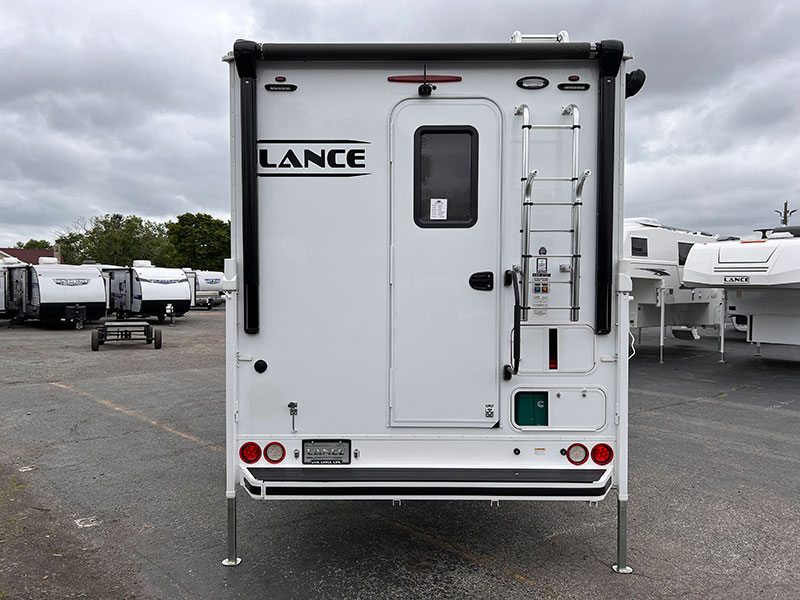 The rear of the 960 has a tantalizingly blank wall on the driver's side of the entry door. I can see mod makers surveying this large tract of land with glorious visions of mounted Rotopax, barbecue grills, campsite tables, and various storage pods. Before you put those idle hands to work, be sure to check with Lance about the structure and possible electrical wiring behind this canvas.
On the passenger's side are the Phat ladder, entry assist handle, battery, and generator compartments. Also note the rear lights, rearview camera, and rear awning above the door and the signature rear bumper step with built-in sewer hose container. No doubt this is a well-featured unit.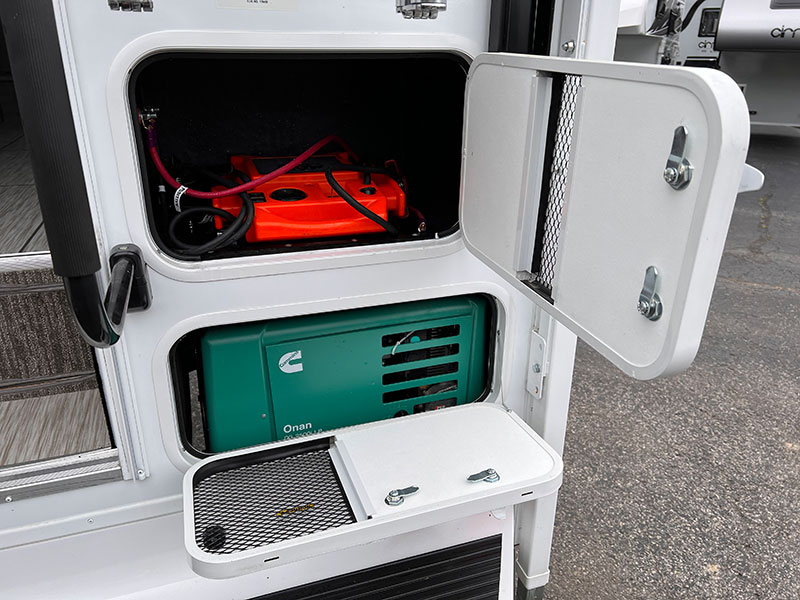 Please ignore the orange-red portable battery pack in the photo. That's how Parkview RV supplied power to the unit for this review. Normally this space would house two Group 27 batteries; flooded, AGM or lithium.
It's a bit surprising that Lance opted to use the rear wall for the batteries as (a) that's a lot of weight behind the rear axle, and (b) the back wall of a camper invites a lot of dirt and road grime when traveling. Of course this isn't a problem if you (c) properly match your truck and camper, and (d) keep an eye on your batteries and related terminals.
The optional Onan QG 2500i LP puts 2,500 watts of push-button convenient power on tap. This is perfect for running your microwave, coffee maker or air conditioner while topping off your batteries off-grid. The 2500i is also much quieter than its predecessor, and practically silent compared to the Generac beast on our Lance 1030. That thing woke the dead.
Be aware that the Onan QG 2500i is also a very expensive option. Prices online for the unit reach $5,000 USD. Compare that to a portable Honda 2200i at about $1,300 USD and the value becomes challenging. For the record, we don't have a generator opting instead for more solar panels, a larger battery bank, no microwave, drip coffee, and driving to where it's cooler.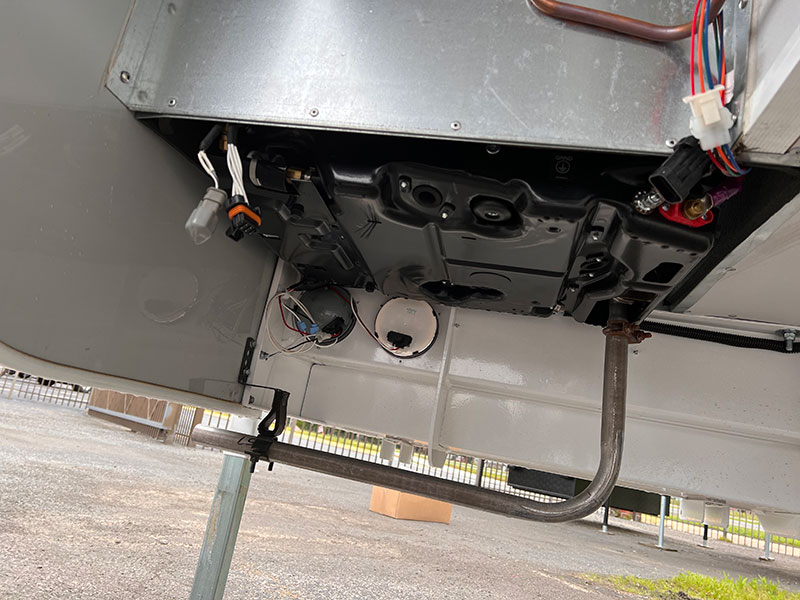 The underside of the generator compartment is exposed; likely a design requirement to dissipate heat. Undoubtedly the generator is also designed to resist water thrown up by the rear truck wheels, but the terminals and wiring in this area will need to be watched for corrosion.
I know a lot of people love their built-in generators, but the argument for built-in generators is getting tougher and tougher as solar and lithium prices go down, the overall efficiency of appliances goes up, and the quality and power of portable generators improve.
Stepping inside the Lance 960 you're greeted with a brighter and more modern Lance decor. Gone are the dated cherry wood tones, white appliances, two-tone dinette seats, valances and heavy carpeting of yore. In with solid surface countertops, neutral grey textures, black and stainless steel appliances and wide panel floors.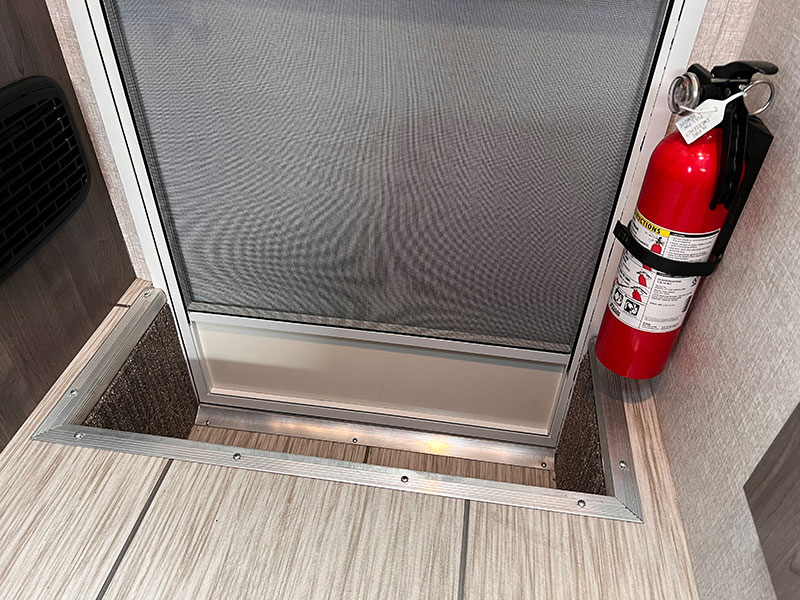 Another change from those old campers is the addition of a basement. In this case, a basement is a wheel well height area that contains the holding tanks and other plumbing and electrical features.
A basement requires either a taller step up to the entry door or the entry well step you see here. This is another one of those things that you quickly get accustomed to, but we remember slipping into this space a few times after only camping in non-basement campers.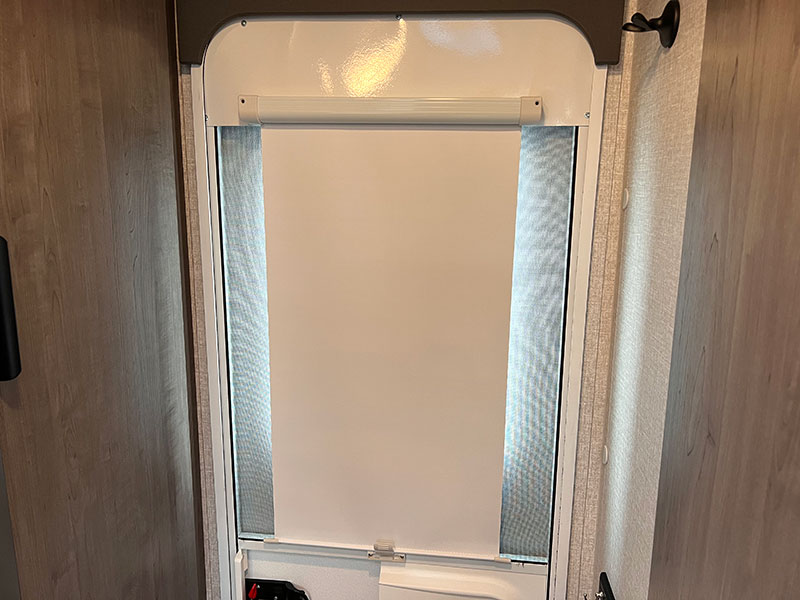 The rear door privacy screen may appear like one of those, "Well duh" products, but it's actually a nice feature. Before this product existed, rear door windows were either opaque for privacy or had a snap/Velcro-on cover behind the screen door. To open the cover, you had to open the door, divide the screen door and main door, and pull open (or close) the privacy cover.
With Lance's rear door privacy screen, opening and closing the cover is a cinch. That means owners will actually open the window and have more light and a rear view. And who doesn't like rear views?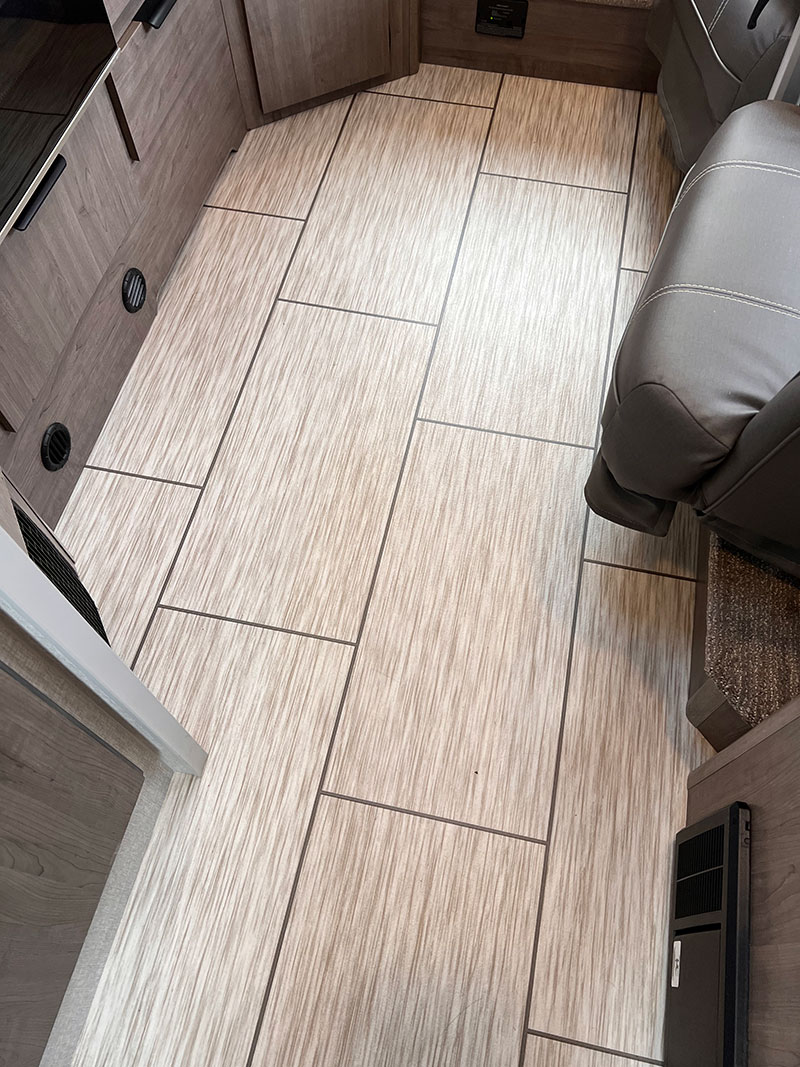 Another often overlooked feature is a camper's floor. Here Lance opted for a light and modern wide tile look that enhances the clean open vibe in the 960.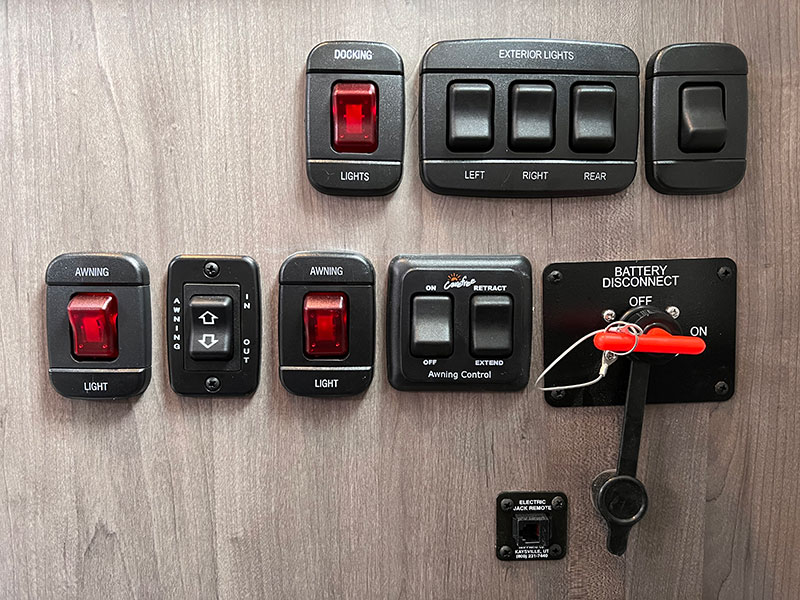 To the right of the doorway are ten switches, rockers, and the battery disconnect. Thankfully, every switch and rocker – but one – is clearly labeled. The switch that's not labeled (top right) is for the entryway lights.
Having the battery disconnect in this location is fantastic. For storage and winterizing, you can turn the battery disconnect on or off from the entry door. I also applaud the use of red-lit docking and awning lights to remind you that outside lights are on when you're inside. Using that same logic, I'm not sure why the row of three exterior lights (center right) is not lighted.
The awning controls are straightforward, but you will need a spotter for the side awning as you won't be able to see it deploy.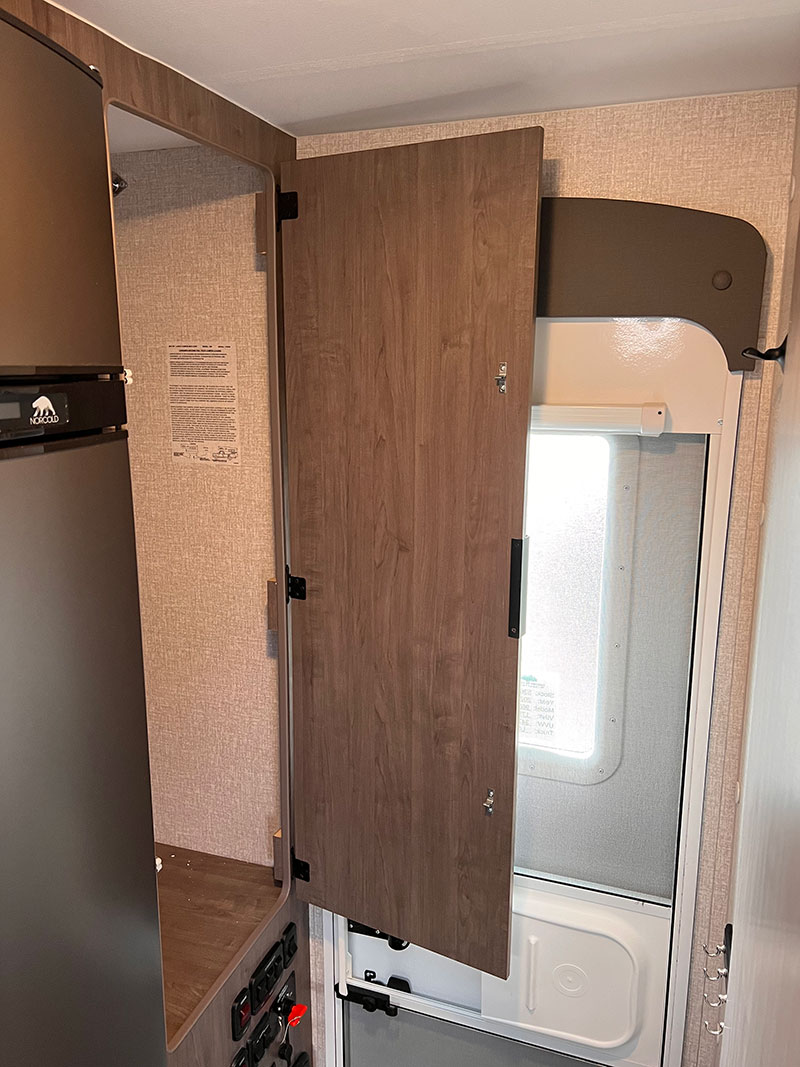 Directly above the door switches is a hanging closet for coats and other hanging clothing. It's also where we found the 'Consumer Information: Truck Camper Loading' sticker posted on the back wall.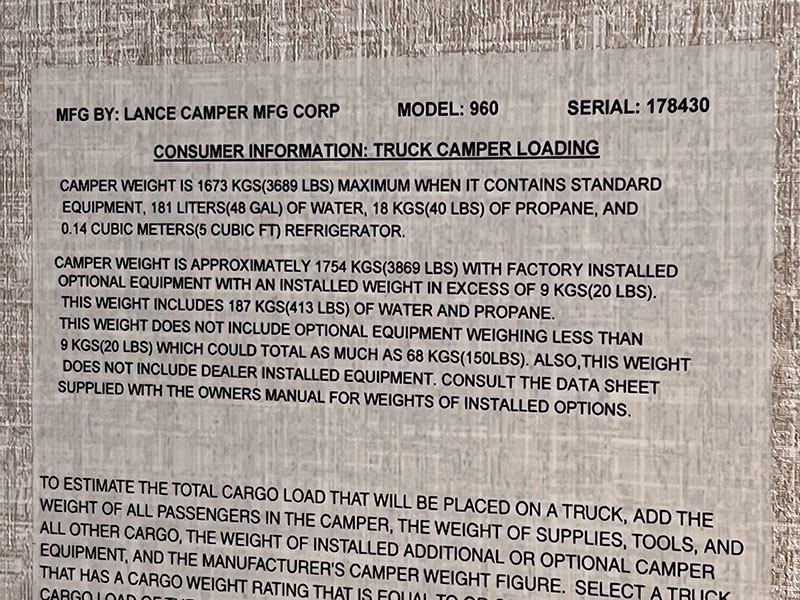 Unlike the exterior weight sticker, this sticker reflects the weight of a camper with options (excepting optional equipment under 20 pounds, and dealer installed options). I'll get into proper truck and camper matching for the Lance 960 in the Weight Calculation and Truck Recommendations toward the end of this review.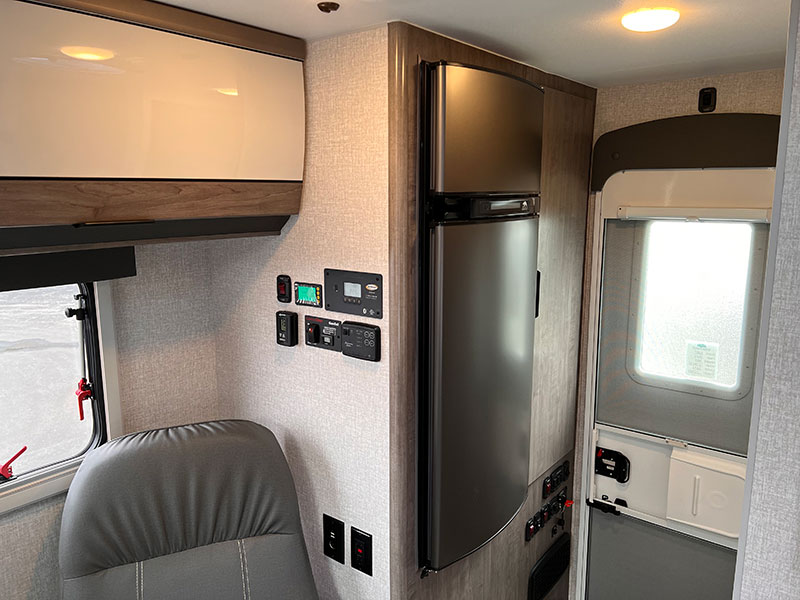 The Lance 960 features a five cubic foot two-way (propane and 110-volt) Norcold N4150 refrigerator and freezer. The N4150 has an automatic changeover between propane and 110-volt shore power, pull-out crispers, adjustable shelves, and LED lighting.
Five cubic feet is a bit smaller than the more standard six cubic feet traditionally found in full-size long bed campers, but is also lighter and a touch more efficient.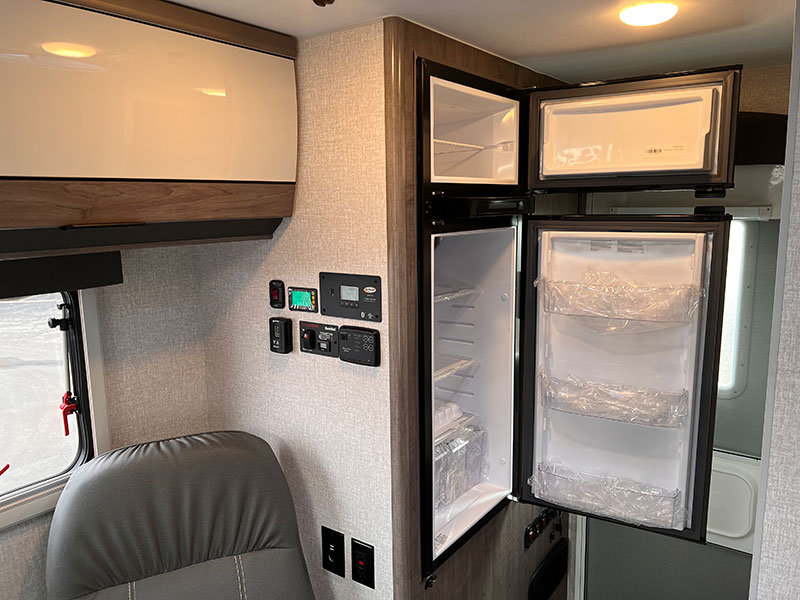 In use, we haven't found a lot of difference between how long we can go with a five versus six cubic feet of refrigerated food storage. It's a subtle difference. Like the rear battery compartment, I do wish the refrigerator was positioned further towards the front of the camper for the center of gravity considerations.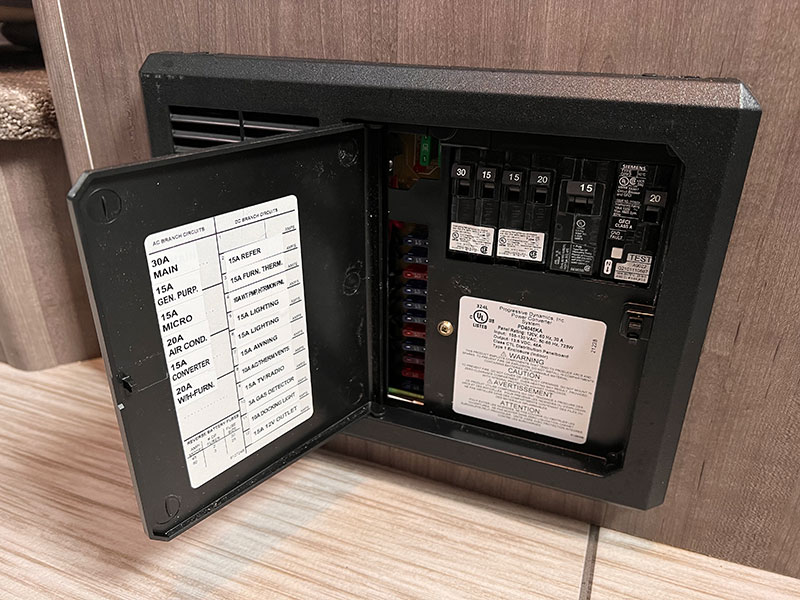 Directly under the refrigerator are the breaker and 12-volt fuse panel. The panel location is easy to access and the fuses are well-labeled on the panel door. Given how many times electrical problems can be traced to blown fuses, these are important points. However, given the proximity to the refrigerator above it, owners will need to be careful with drinks and other liquids that could spill into this area.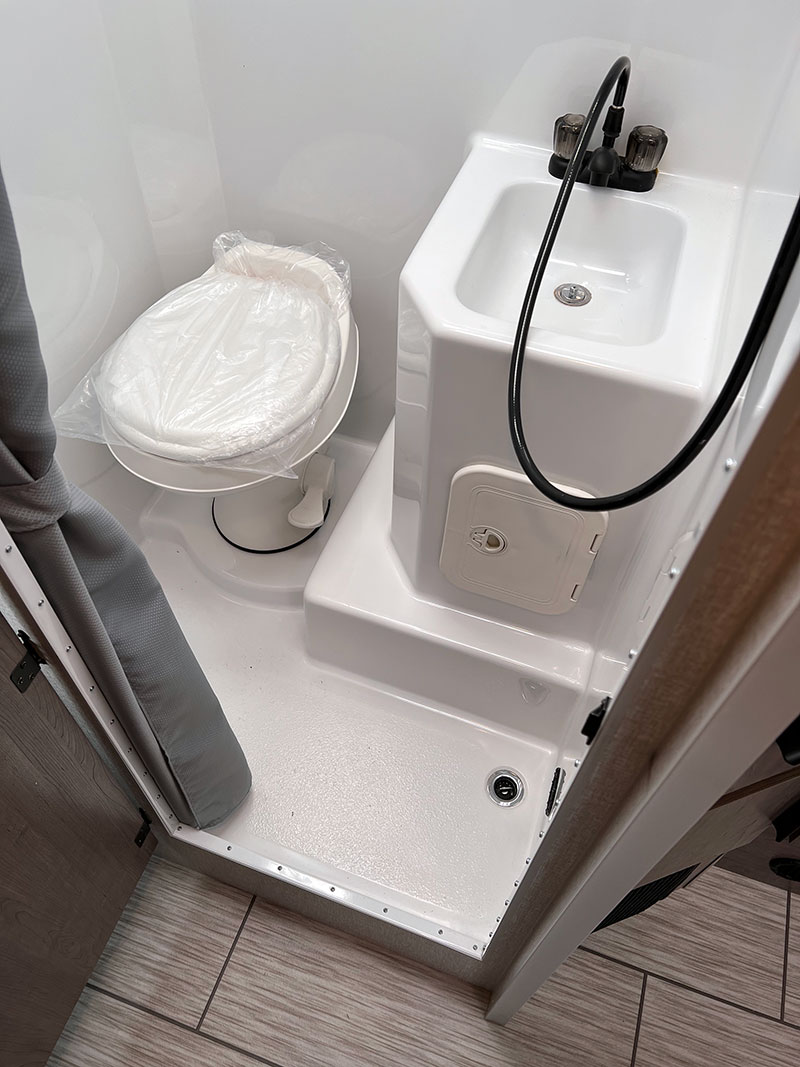 Across from the refrigerator on the driver's side is a one-piece large fiberglass wet bath with a toilet, sink, and shower. Hooray!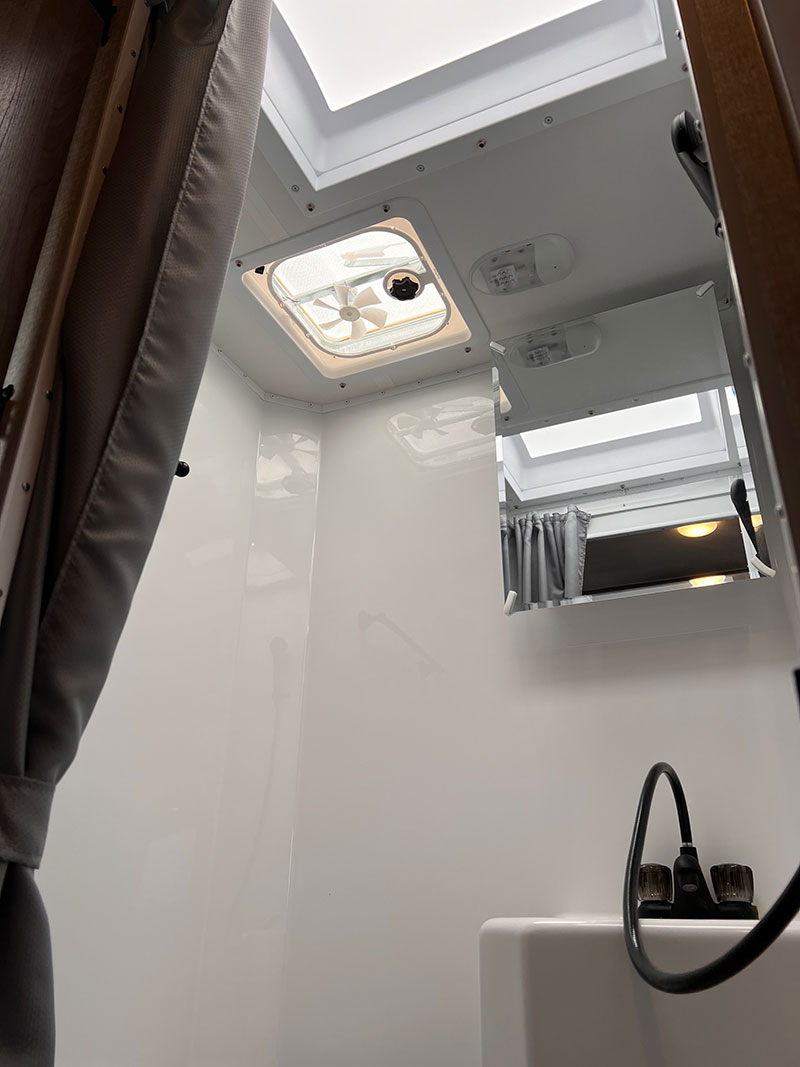 And wow! There's a skylight, vent with a fan, LED light, and mirrored medicine cabinet. Yee-ha!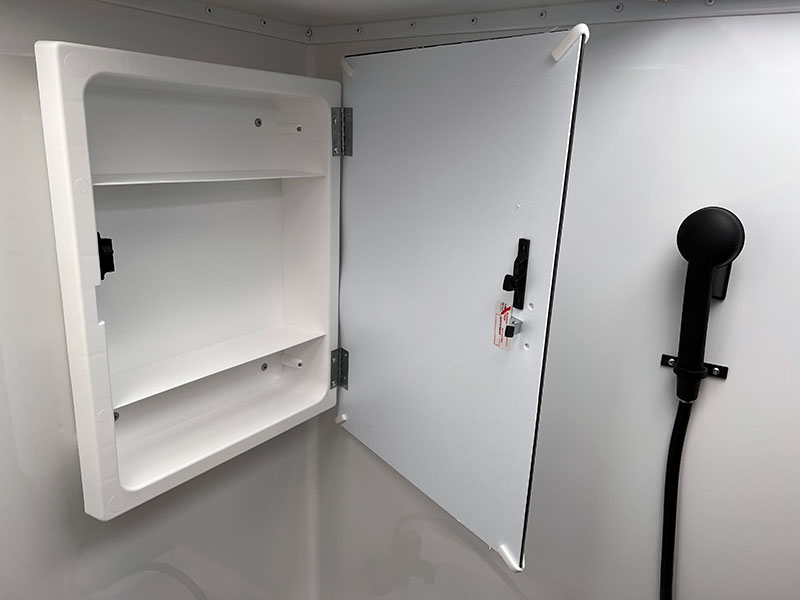 Why am I so excited to see these items? For the past few years, it seems like we've been announcing camper after camper without separate walled bathrooms, built-in toilet systems, bathroom sinks, and honest-to-goodness inside showers. After all, not everyone wants to go potty in the main living area in front of their spouse and Snarfy the sneezing Schnauzer.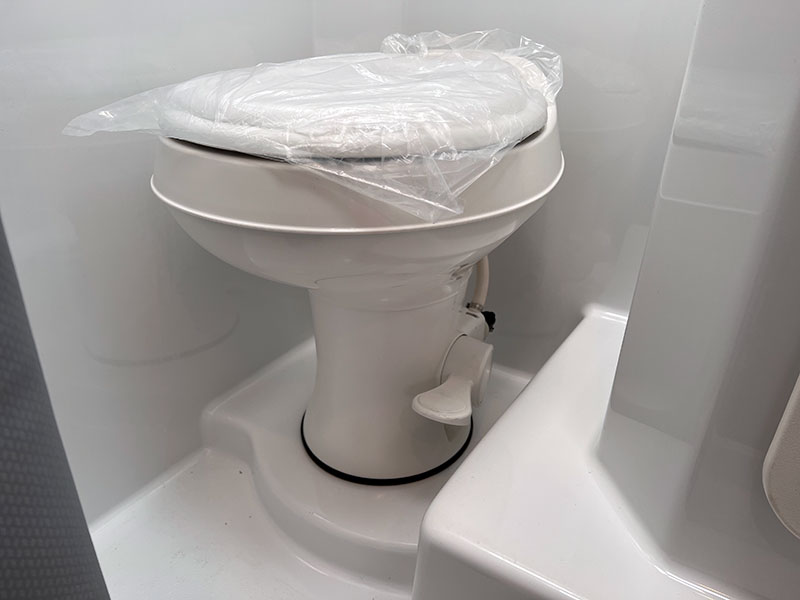 Take a minute and appreciate the phenomenal privacy and darn near domestic function of a true truck camper wet bath; with a fancy foot flush toilet no less. For those of us who still cling to what a hard side truck camper used to be, this is a very welcome sight. Fully self-contained truck campers like the Lance 960 still exist.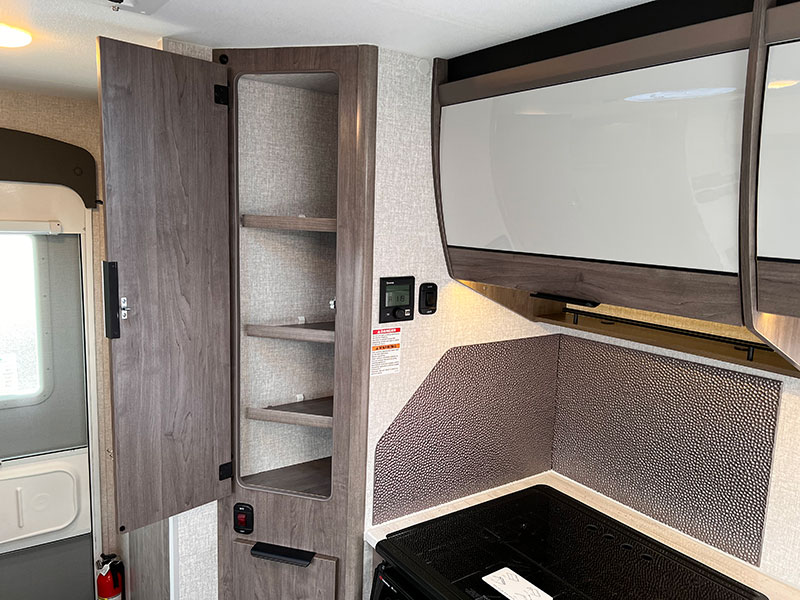 Forward from the glorious wet bath is an angled pantry area perfect for all manners of boxed, bottled and canned food from the center aisles of your local grocery depot. This is the right storage in the right place.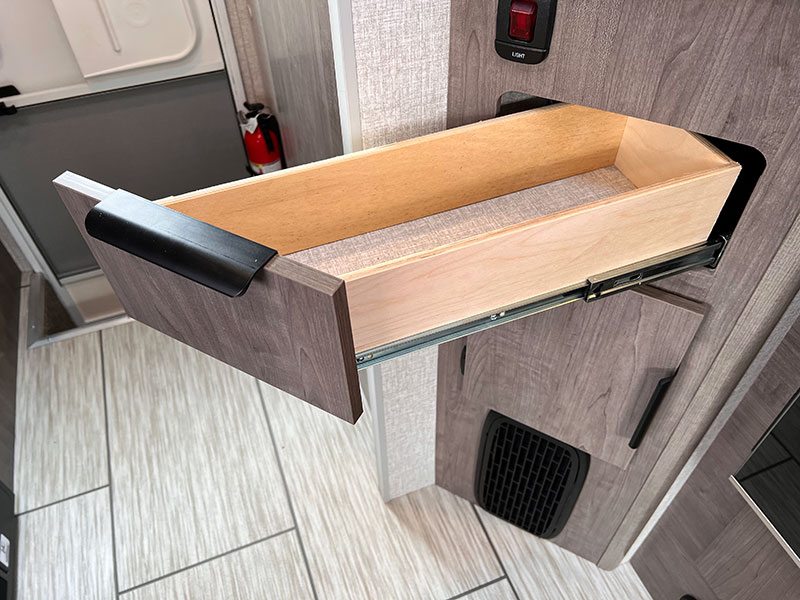 Under the angled pantry is a pull-out drawer. When you pull the drawer at the angle it's presented, it doesn't open at that angle but rather straight out. That's a bit awkward at first, but owners should quickly adapt.
Nothing in the camping universe is shaped like this drawer, but I'm sure every 960 owner will find a use for this acute container. Maybe this would be a good place to keep your keys, wallet and sunglasses. Or perhaps larger kitchen utensils like spatulas, wooden spoons and salad tongs. Laptop cords, adapters and dongles?
Okay, not again. My guess is that a space showed up in SolidWorks and the Lance design them said, "Let them have more storage." And there was more storage. For what? That's up to you future 960 owners. Of course, I'm 100-percent in favor of this open-back polyhedron, I just don't know why.
Immediately after writing the above, I showed this space to Angela. She said, "Cleaning supplies or cat food." I rest my case.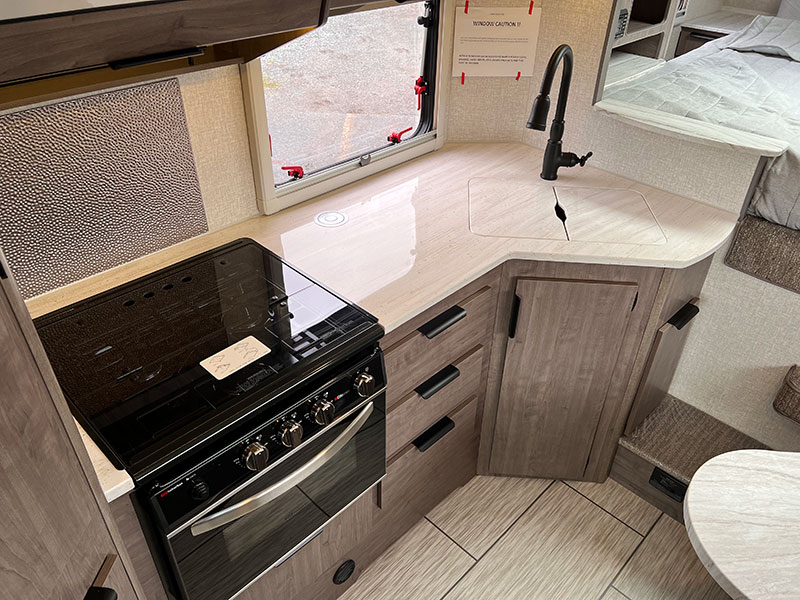 It's hard not to walk into the 960 and not be completely seduced by the gorgeous glossy solid surface countertop, perfectly CNC cut solid surface sink inserts, the flush mount cooktop and oven, and the tall faucet.
This isn't my father's Lance Camper, not that my father had one. Heck, it's not even our storied 1030. Not by a long shot. This is the instant wow; form, function, and refinement.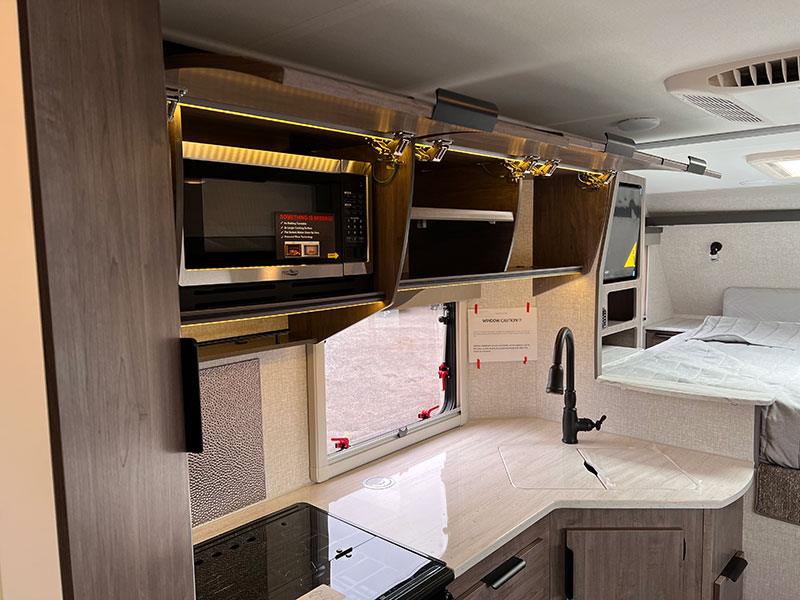 Above the luxurious surface are three aviation-style radiused upper cabinets. These cabinets lift up and are held open by spring-loaded hinges.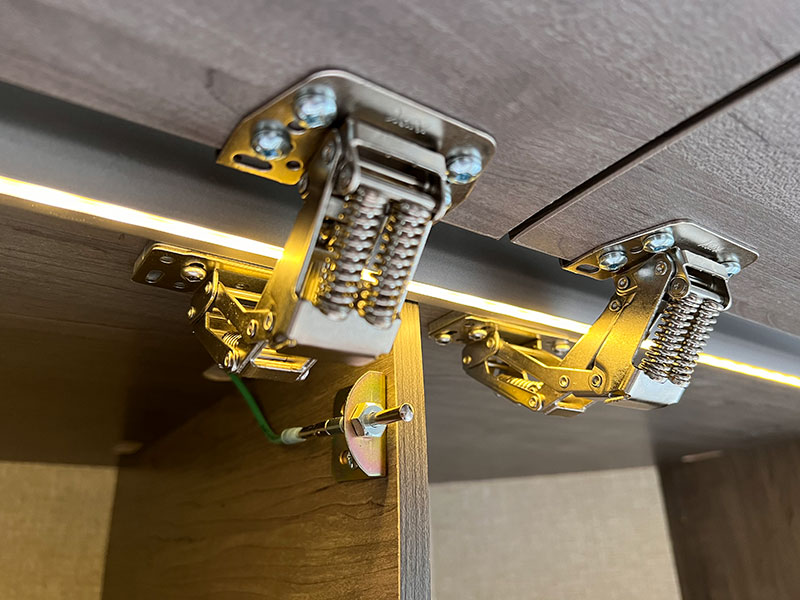 If that's not fancy enough, Lance has installed LED lighting that automatically comes on when you lift up the cabinet door.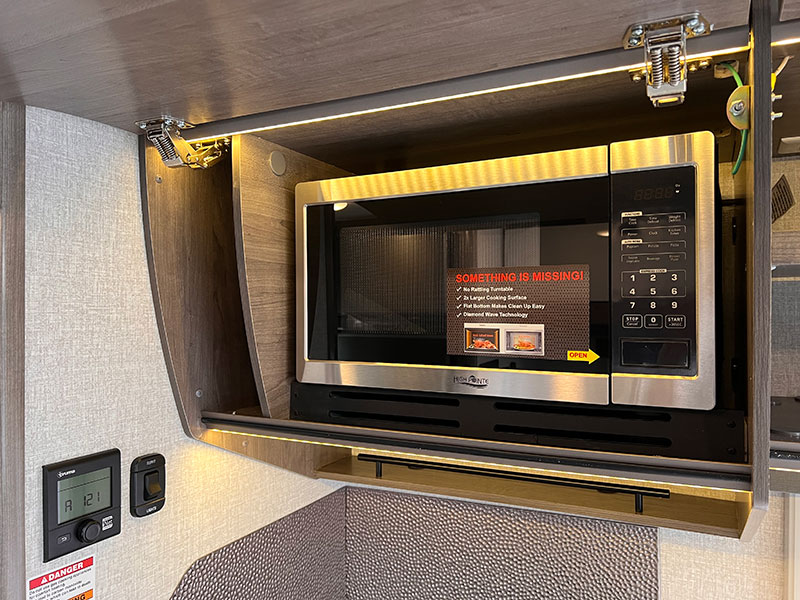 The first cabinet holds the standard stainless steel microwave oven.
While I like how the microwave is tucked away when not in use, I do wish Lance had kept the microwave optional. Not everyone wants this large 110-volt requiring appliance, and some of us would much prefer the additional storage. Then again, I'm sure many of you reading this use your microwaves on the road all the time.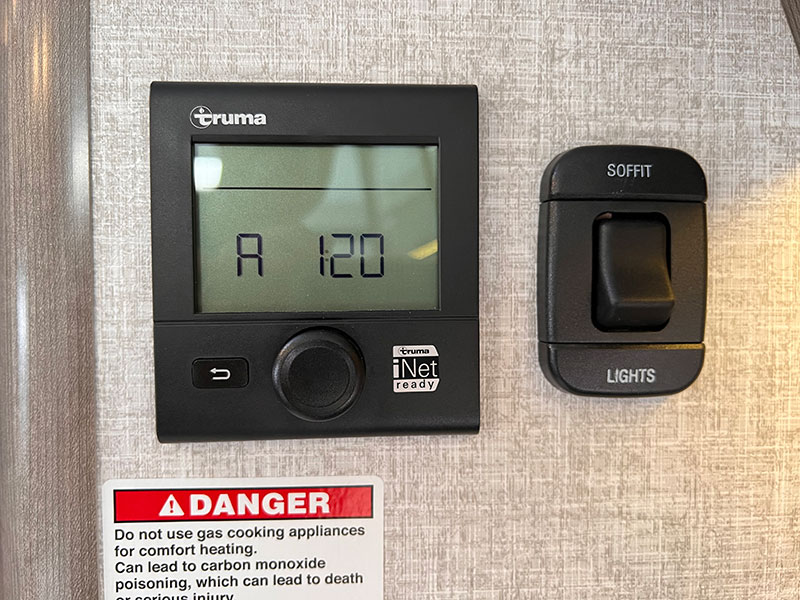 To the left of the microwave and cooktop oven is the control for the Truma Combi eco plus furnace and water heater. Placing this control mid-ship at approximately eye level makes perfect sense, especially since the system will take some getting used to and some programming.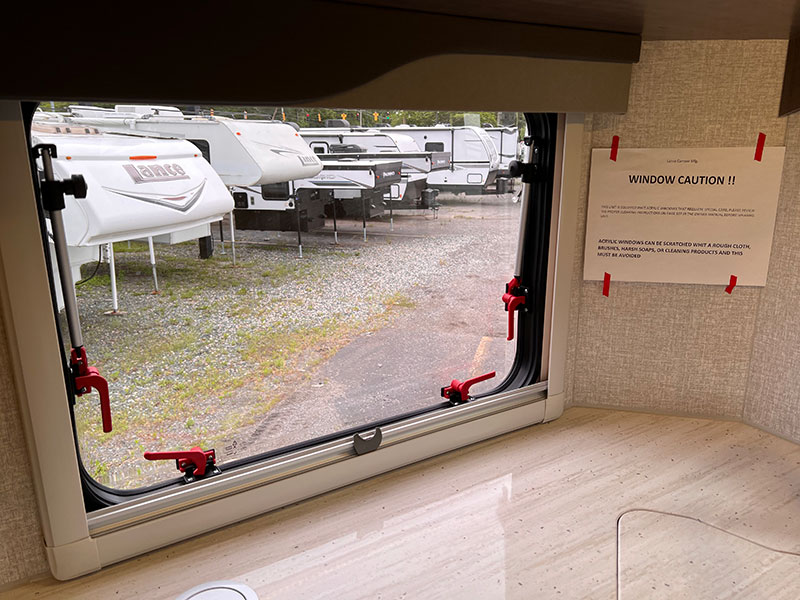 For the 2022 model year, Lance went all-in with thermoplastic windows. The advantages of thermoplastic windows are their insulation qualities, partnering black-out and screen options, and lighter weight compared to traditional glass windows. The primary disadvantage is that thermoplastic windows are easier to scratch than glass windows (note Lance 'Window Caution' on the middle right). In campers as in life, everything is a trade-off.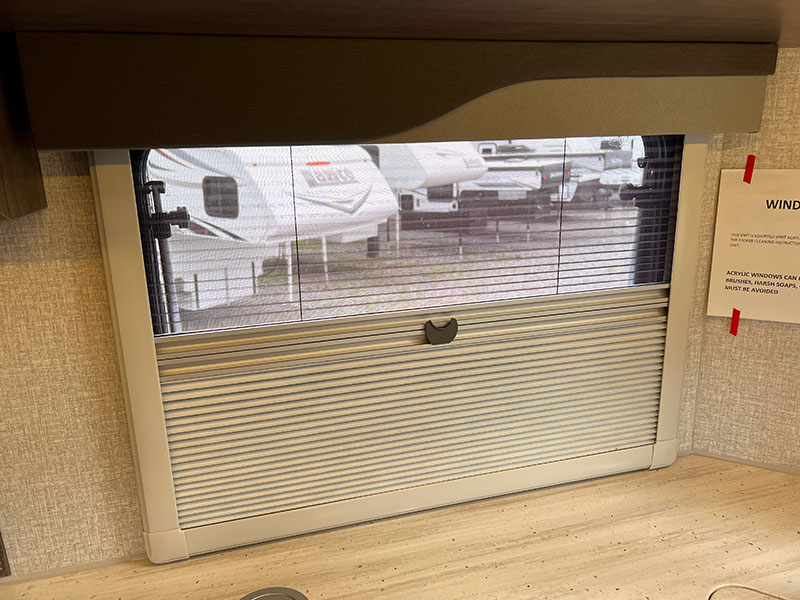 We have camped in many camper models that feature this style of black-out shade and bug screen. First off, they're intuitive to use and highly effective. When deployed, the black-out screen blocks nearly all light from coming in or out of the camper. And the bug screens are also quite effective.
What we don't care for is how these windows, (a) need to be opened to be closed, potentially letting bugs in, and (b) how you can't block the setting sun while still keeping part of the window open. The owner of this camper could flip the black-out/screen unit 180-degrees to address the second issue, but the first one is built into the window and screen design.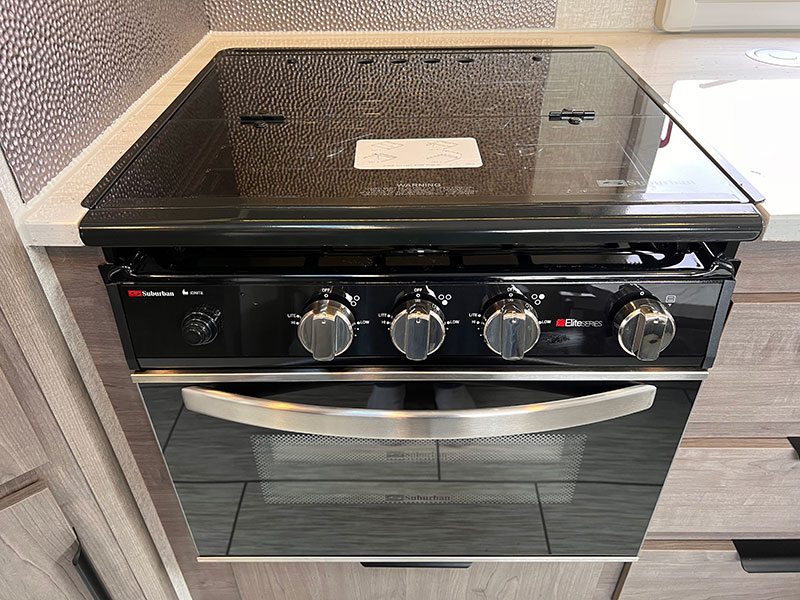 The Suburban Elite Series flush mount cooktop and oven is a knockout.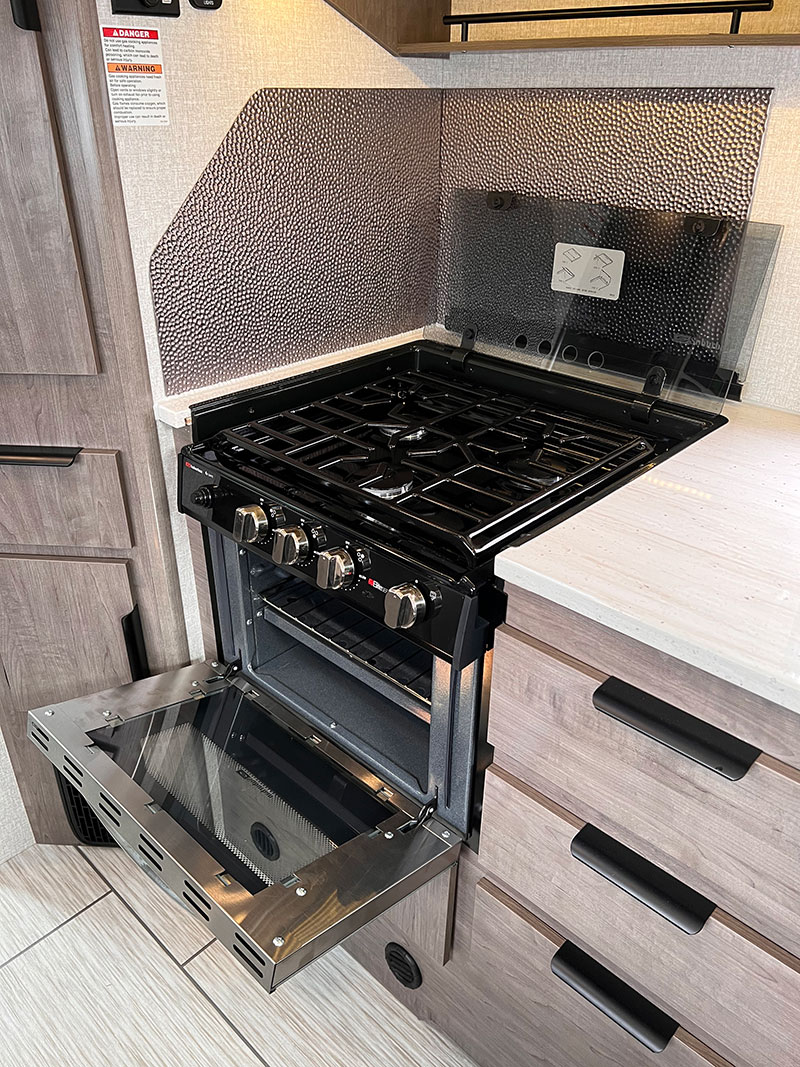 With the glass top pulled back and the oven opened, you see the full potential of this nearly domestic appliance; three top burners, cast iron grate, piezo ignition, backlit knobs, and a glass oven door with oven light. Attention truck camping gourmet cooks. The 960 is calling you.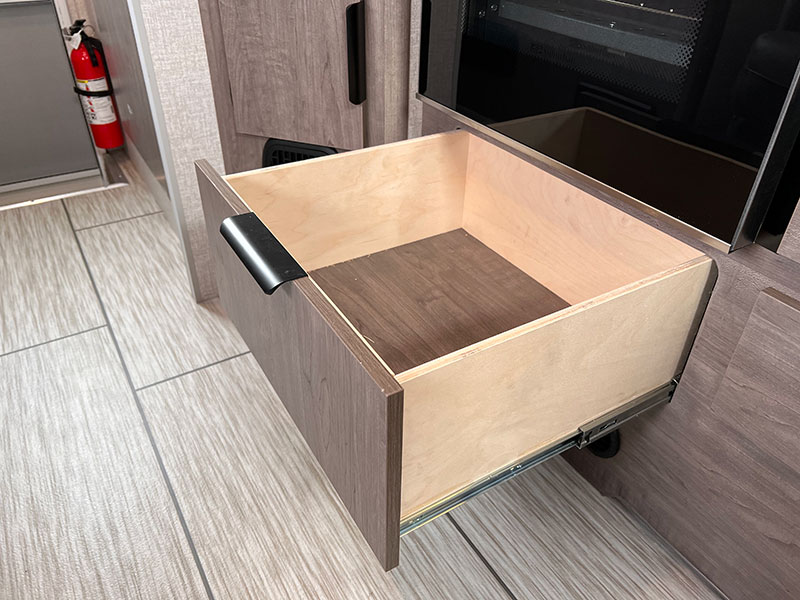 Under the oven is a large drawer perfect for pots and pans.
Here's another traditional truck camper feature that we don't see a lot in the newfangled overland-focused campers; three pull-out kitchen drawers. This is exactly where Lance sees your cutlery, utensils, pot holders, measuring cups, and all the other normal everyday kitchen drawer items you have at home. Also, notice the stainless steel drawer guides for long-term reliability.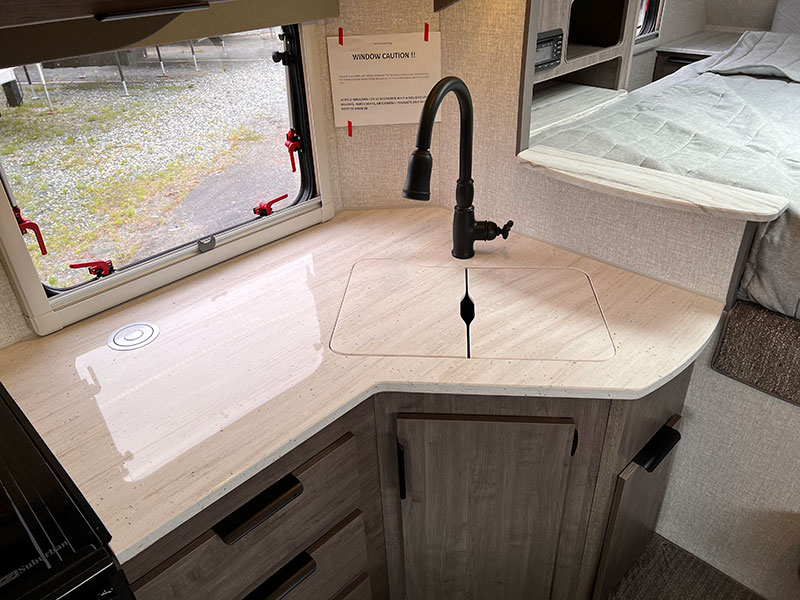 Honestly, Lance could probably just show this picture and sell the Lance 960. I'm sure there are folks out there with reservations about the weight of solid surface counters, or think that solid surface counters don't belong in a truck camper, but they're a show stopper.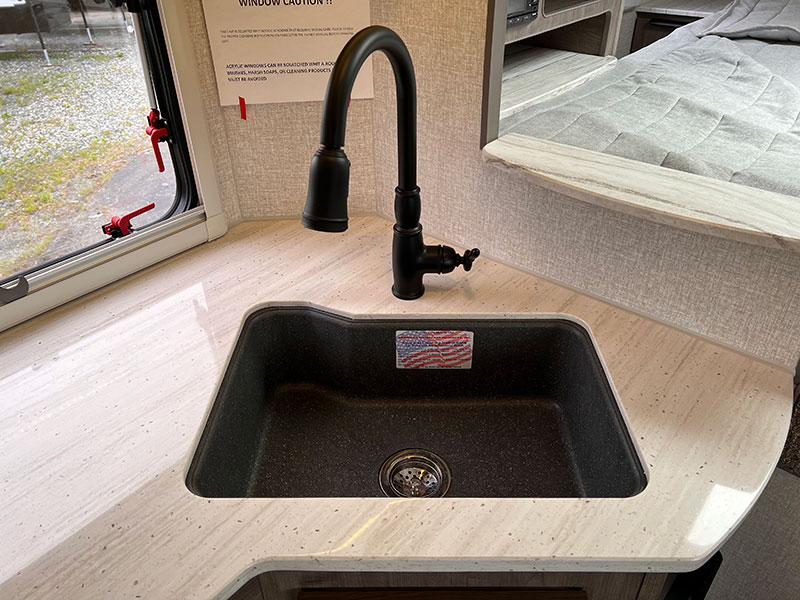 Lifting out the CNC cut sink inserts reveals a large single-tub sink. The look is phenomenal, but I'm a little concerned about the longevity of the sink material. It appears to be a high-strength plastic. I would have preferred to see a standard-size sink for easy replacement and a stainless steel basin.
Caveats aside, the look of this counter, sink, and faucet are all set to stunning.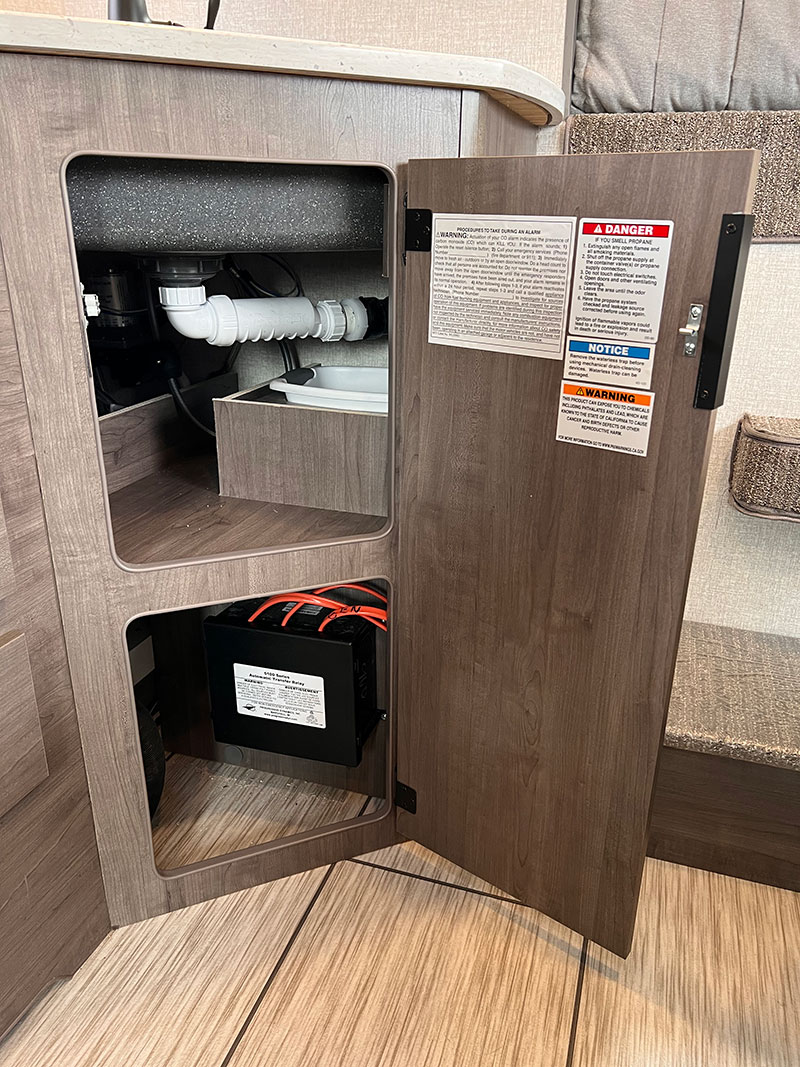 Under the sink presents a two-layered storage area with access to plumbing and the Progressive Dynamics PD5100 automatic transfer switch. The PD5100 switches between 30 amp shore power and the built-in generator. This is a high-quality item located in an area that's easy to access.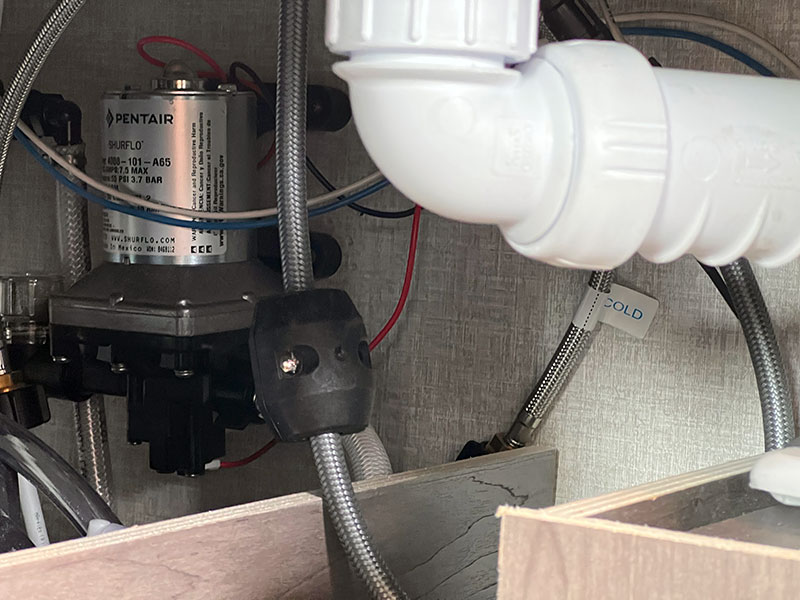 Also under the sink, I was a little disappointed to see the water pump set fairly back into the cabinet. This is the kind of item that tends to fail after a few years. We've replaced our water pump twice in a decade.
Taking another look under the sink, the plumbing was solidly installed and the braided stainless supply lines are a quality choice.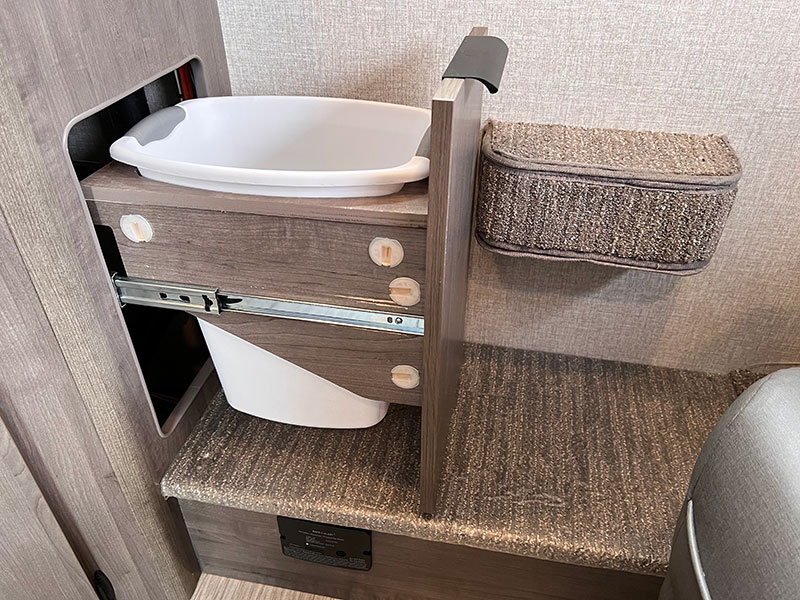 Ah yes, the famous Lance Can. This sure beats tying a trash bag to the oven handle; as a lot of us did back in the day. It's not the largest trash can, but it's right-sized for a camper.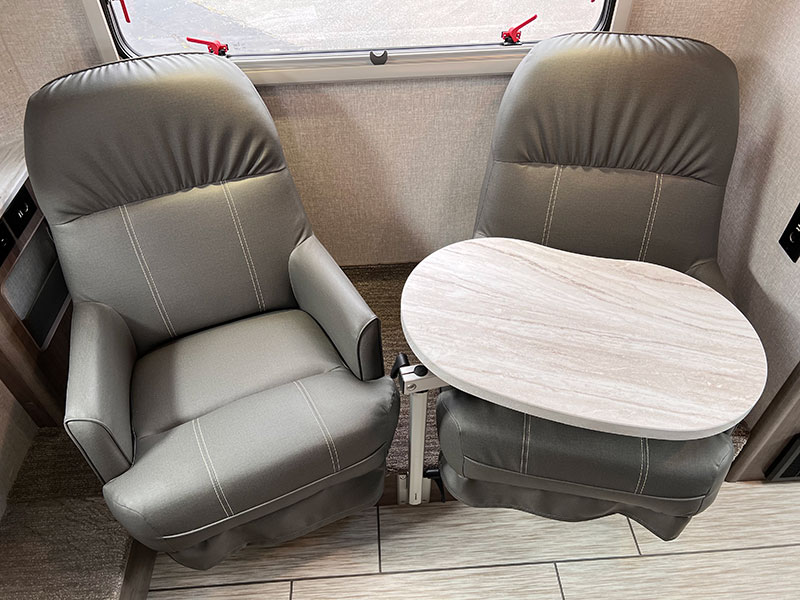 Across from the kitchen is probably the most beloved and controversial aspect of the Lance 960 design; two non-reclining swivel chairs with a Lagun table system and kidney-shaped table top.
This is a huge departure from the traditional face-to-face fixed dinettes Lance Campers have featured for a decade. The thinking behind this concept is that mostly couples will purchase the Lance 960, and that this approach made for the most comfortable seating in a non-slide camper.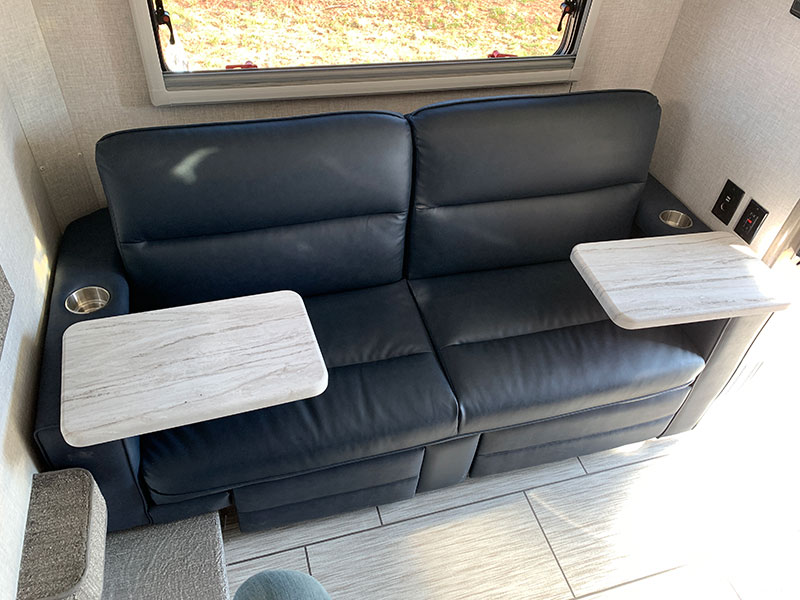 Above: The optional Lance 960 sofa option
The Lance 960 under review had dual swivel seats, but Lance also offers a sofa in the dinette area (see above). The sofa option also has two Lagun tables, one on either side of the sofa, satisfying my quibble about lacking suitable table space for meals and other table activities. If we were looking at the Lance 960, this would likely be our choice for this reason.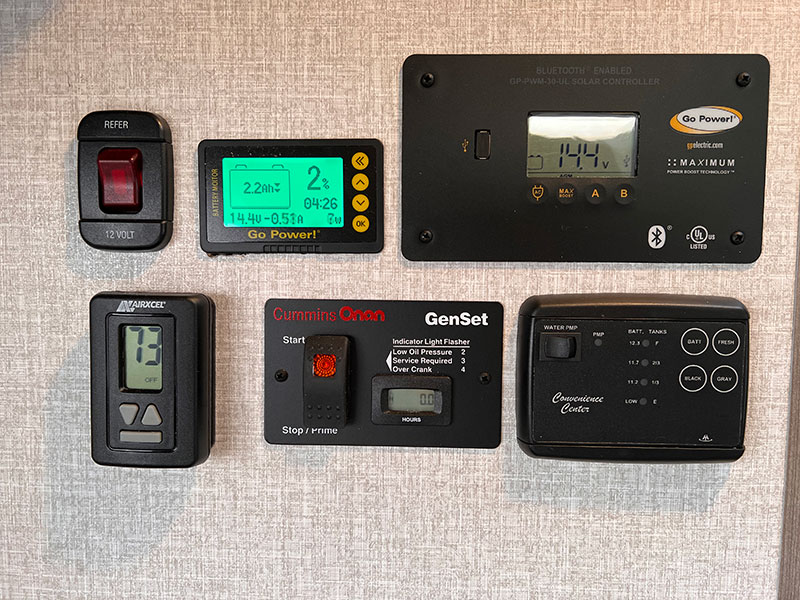 Facing the dinette seats is where we found the switch for turning the refrigerator on 12-volt, the Go Power solar controller and battery monitor, Airxcel thermostat, Onan generator controls, and a combination water pump switch and tank monitor panel.
I'm honestly confused as to why there's a 12-volt refrigerator switch. Running a refrigerator on 12-volts is a good way to quickly suck your batteries dry. That's why most of us always run our refrigerators on propane or turn them off for the brief times we can't; tunnels, ferries, or when we're filling with propane. I'm hoping Lance can inform us as to what this switch is about.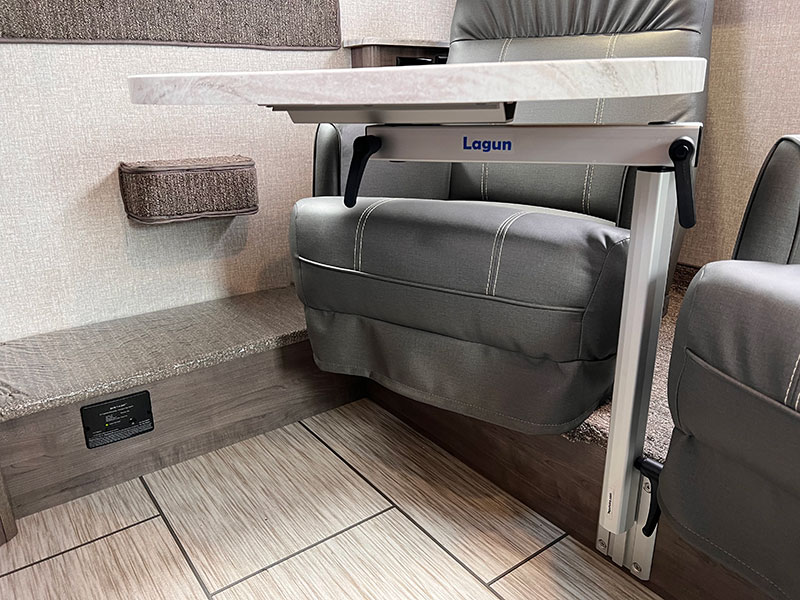 The Lagun table system has been widely accepted as the highest quality and most versatile table leg system for small campers and RVS, not to mention boats, tiny houses and beyond. With its adjustable height, 360-degree rotating arm, and secure tight hand locks, the Lagun sets the standard.
I will caution new Lagun owners to be patient as they learn how the Lagun system moves, unlocks, and tightens down. I had a few, "What the…" moments upon first contact, but you'll get the swing of it quickly.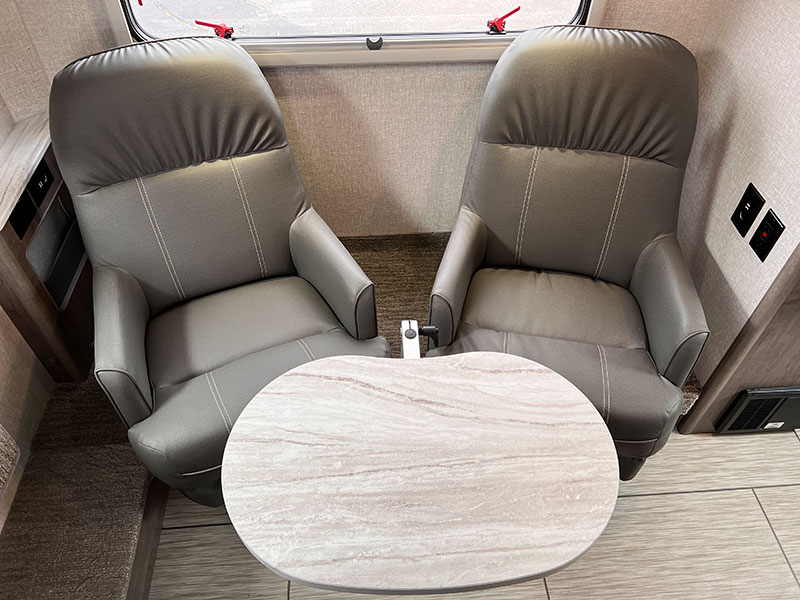 The Lagun can move the table between the seats for meals; card games and trip-planning sessions.
For more intensive activities, the Lagun can move the table to one side or the other. For example, if one person wanted to use a laptop, work on a sewing project, or look up the LP record finds of the day.
These seats are indeed some of the most comfortable chairs I've ever encountered in truck camper kind. I do wish they reclined, but they beat the bench seats in a face-to-face dinette any day of the week; at least for comfort. No contest. Give me the seats.
However, the utility of this dinette approach leaves much to be desired. Comfortable eating at the shared table could be challenging with the depth of the seats and the middle position of the table. The couple would need to sit forward to reach their food. And I'm not sure what you do if both people want a table for work and/or play.
In all fairness, we work in our camper. If you're retired and don't mind holding a book or tablet or laptop in your lap, then this could be perfection. For us, this dinette is a non-starter; horses for courses.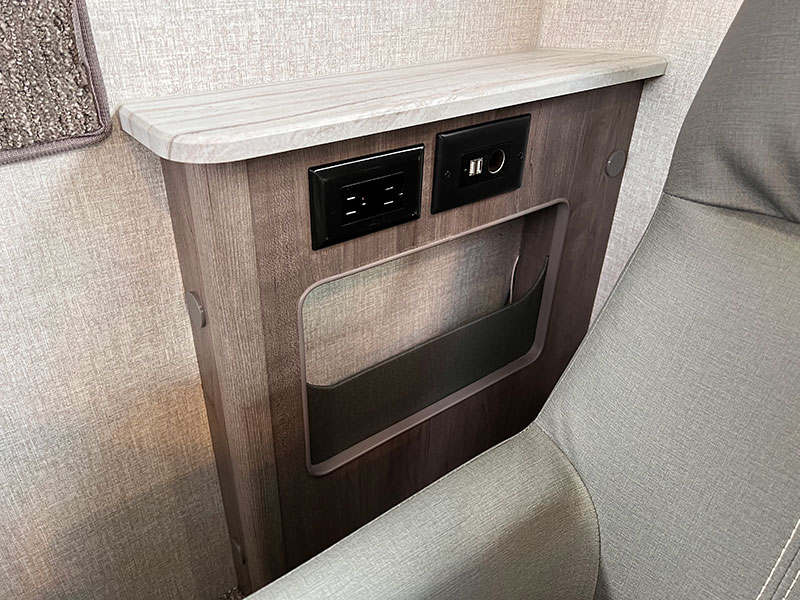 What would absolutely work for us are the incredibly convenient 110-volt, USB and 12-volt outlets on both sides of the dinette area, and the aviation style magazine pocket and small ledge on the front wall side. Very nice.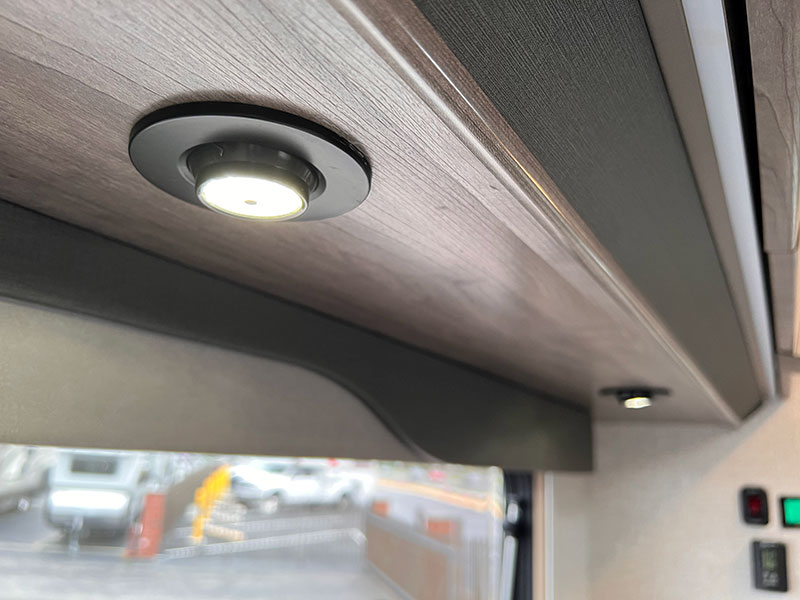 Continuing with the aviation style, above the dinette are small inset and positionable puck lights. All that's missing is the flight attendant call button. "Yes, I'd like a vodka tonic, please."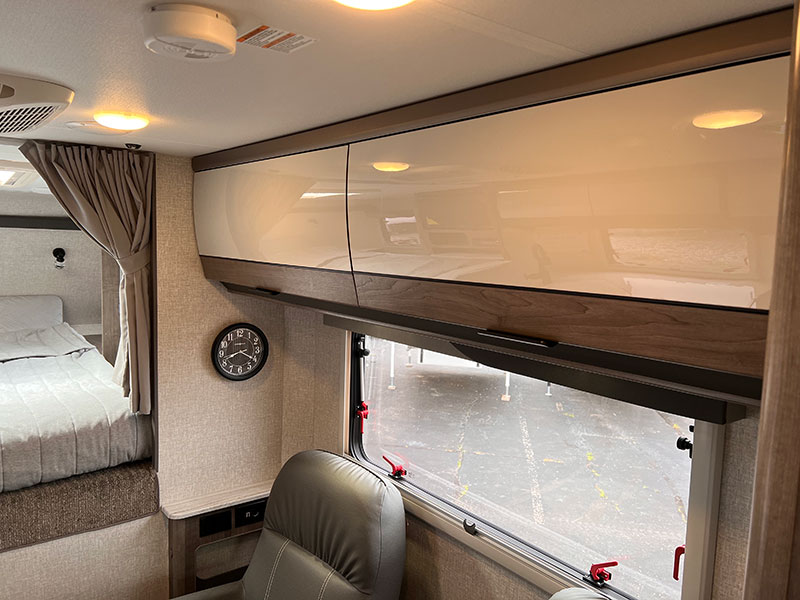 The upper dinette cabinets conceal a large storage area and a new bunk solution.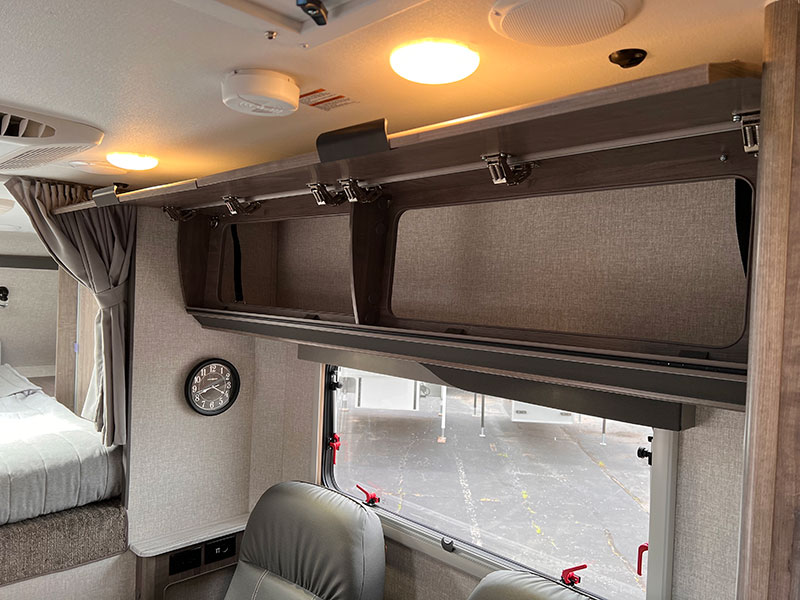 Like the facing kitchen cabinets, the radius-style cabinets lift up and are held in place by spring-loaded hinges. This is how we would use this space 99-percent of the time; for storage.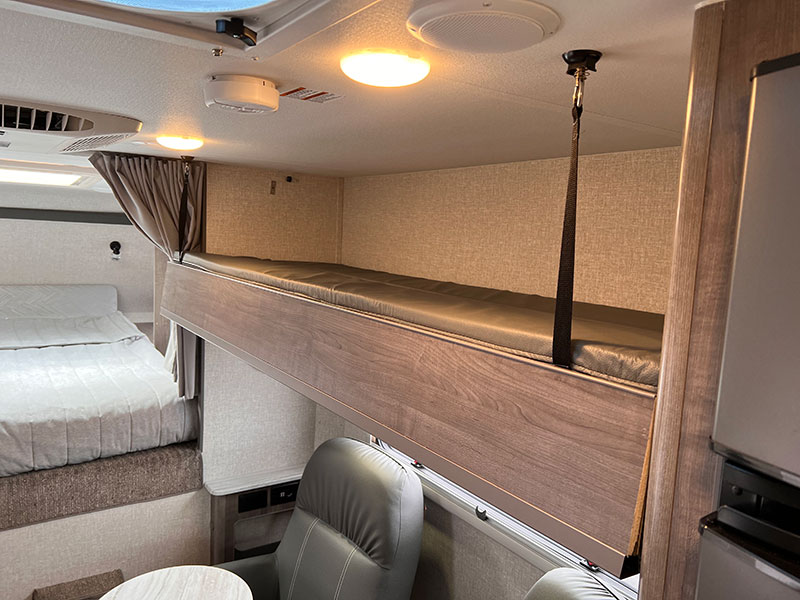 The other option is to release the cabinets to make a bunk bed. I only did this a couple times, but it seems like a more fiddly process compared to the old unlatch on both sides, lower and done dinette bunks of the past few decades. Then again, it could be like learning the Lagun table leg system; once you've got it down, you got it.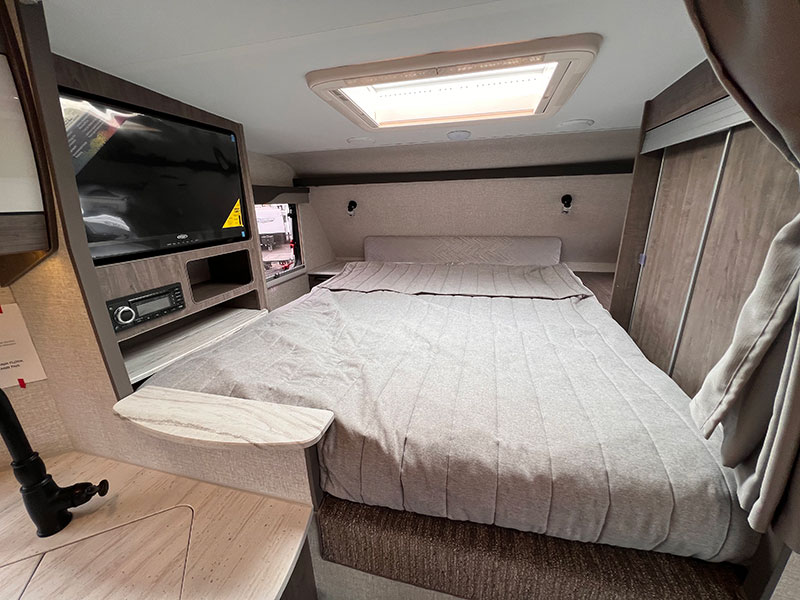 Turning toward the cabover, the queen size bed, built-in television and audio-video system, storage hampers, Heki skylight and sliding door closet should look relatively familiar to anyone who's been following Lance Campers. This is a winning formula repeated with updates and refinements.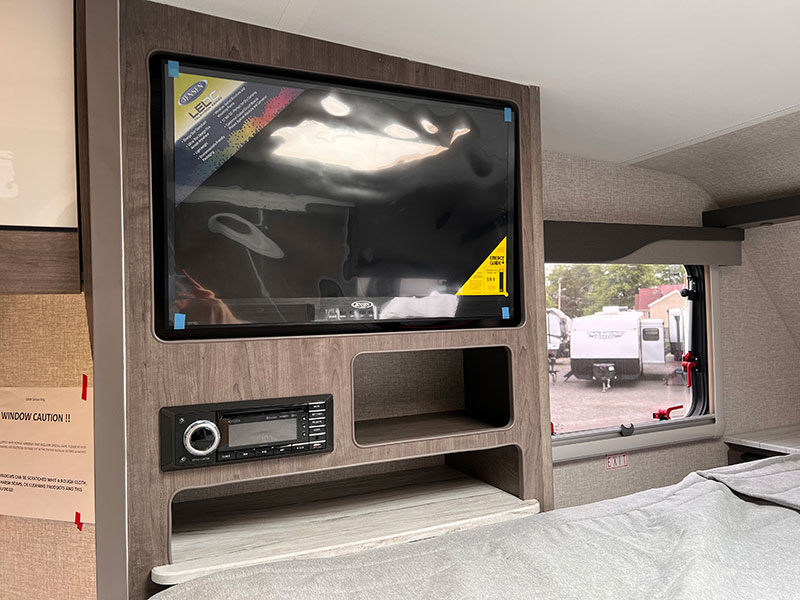 The CNC cut TV and audio-stereo cubby offers storage and the ability to watch television and movies from the cabover or dinette seating area.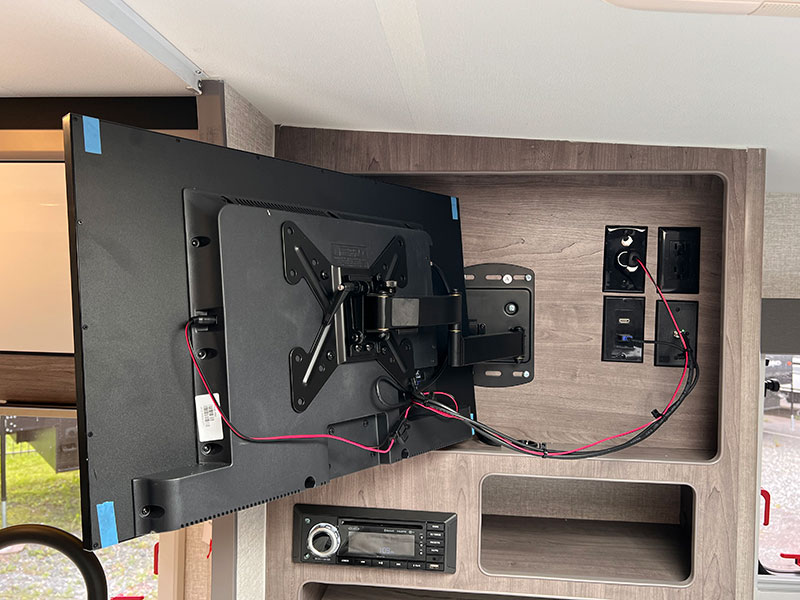 Moving the television swing-out arm reveals 12-volt power, HDMI ports, 110-volt outlets, and a powered coaxial antenna; neat and tidy.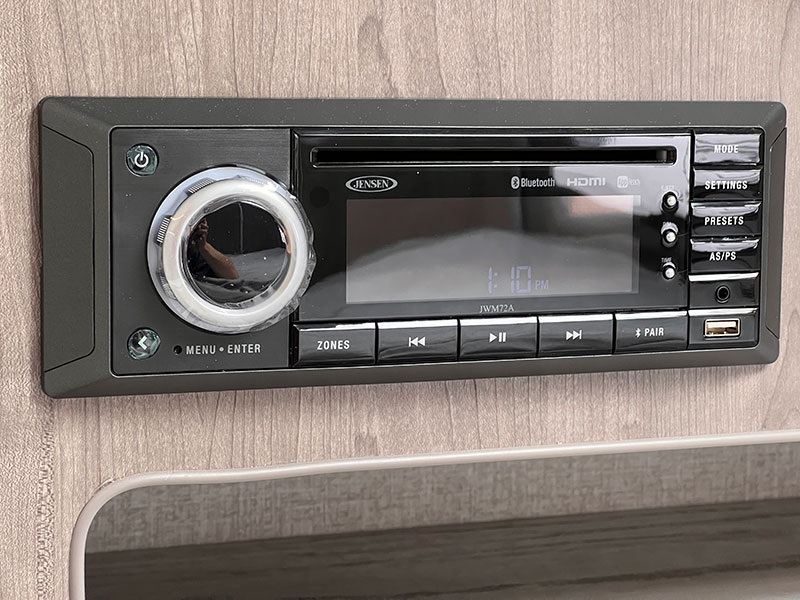 The Jensen brand audio-video unit plays music CDs and DVD movies, has Bluetooth connectivity, AM/FM tuner, a USB connection with 1-amp charging, a clock with an alarm, remote control, and more.
I'm old school enough to appreciate the inclusion of a nice flat-panel television and a CD/DVD player, but I wonder if younger buyers will value these features. Most would probably prefer a 12-volt television that accepts Bluetooth streaming from their phones. I'm afraid this device was out of date the moment it was installed.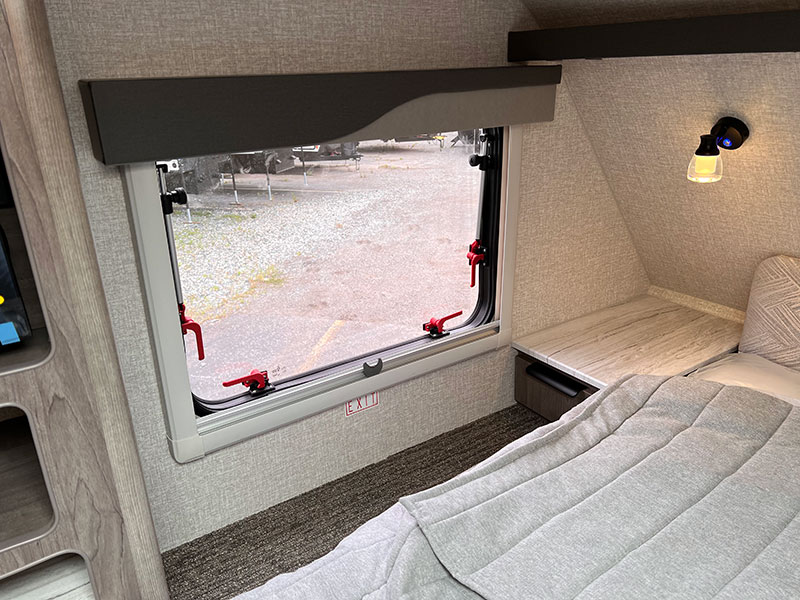 The Lance 960 might be the first camper we've seen with two emergency exit windows. The first was in the kitchen area. The second is here on the driver's side cabover. This might be a leftover of the pandemic shortages.
The rest of the passenger's side is a simple affair; a night table with a small drawer and a reading light. It's an attractive set-up, but there's not much in the way of enclosed storage.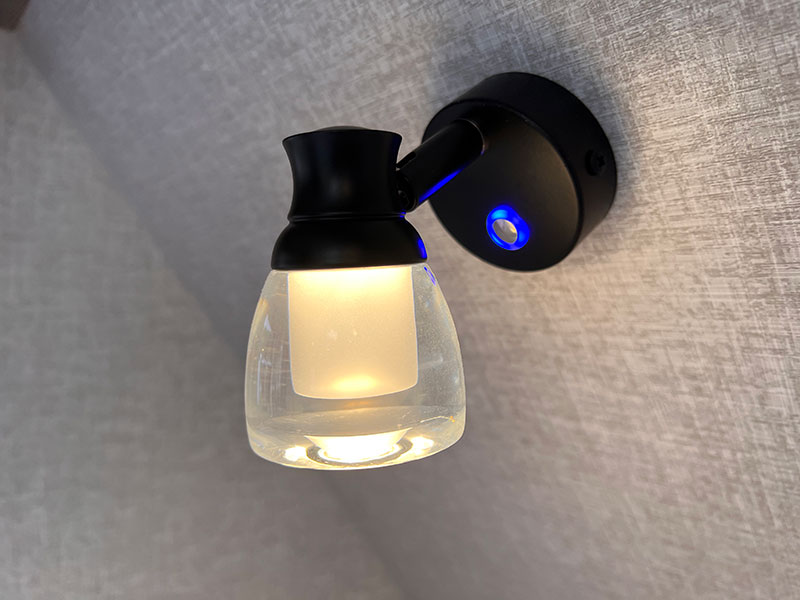 The reading lights are some of the most attractive lighting elements we've seen in all of camperdom.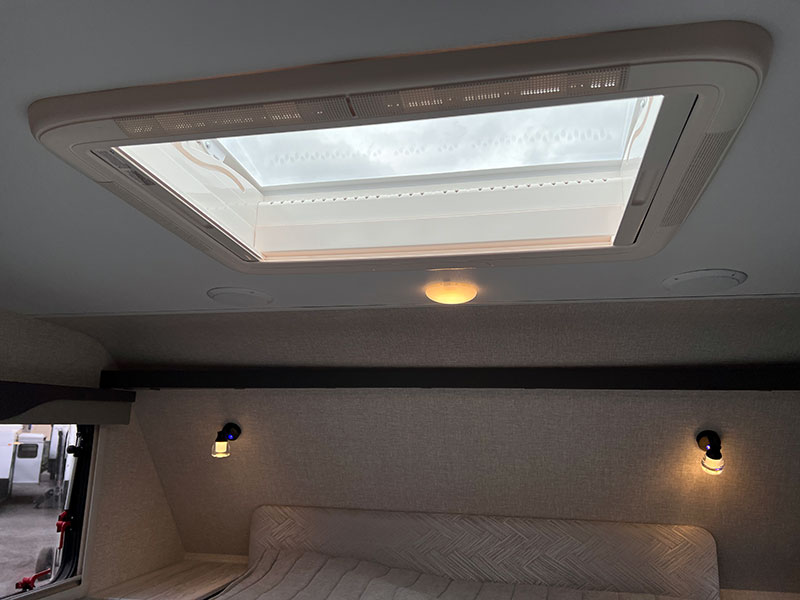 Heki skylights bring natural light and ventilation into the cabover. Over the years they've also been refined in their design, and become more robust and reliable. This is another welcome feature found in every Lance truck camper.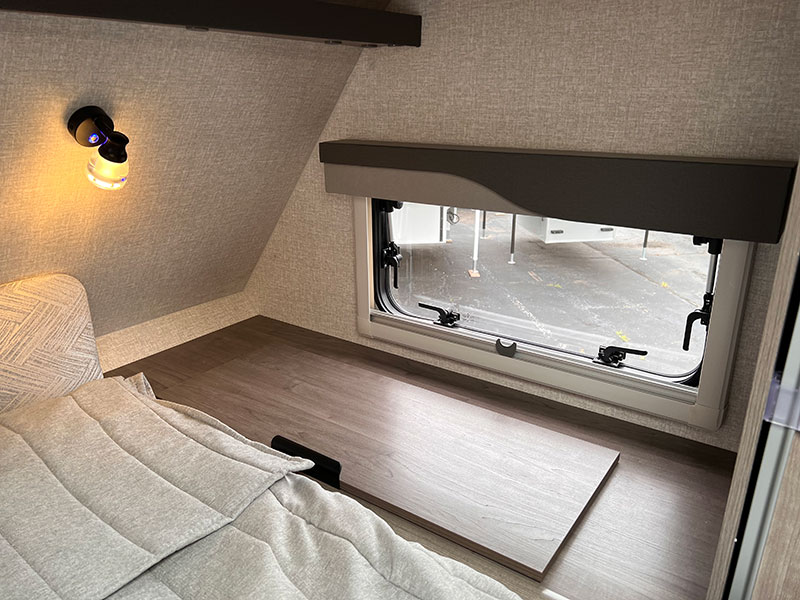 The passenger's side of the cabover gets a fairly large hamper.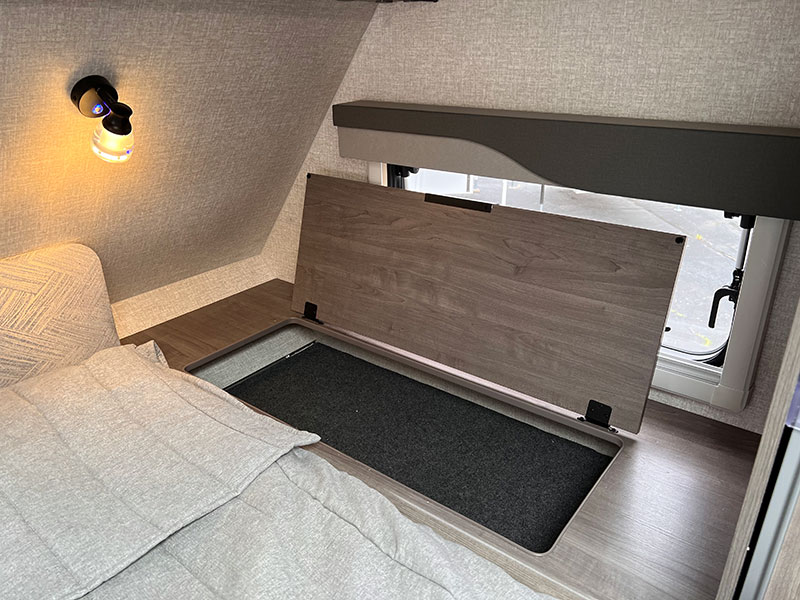 This is where you can store socks, underwear, books, small electronics, and other items. I find hampers to be one of the most useful storage areas in any camper. For this reason, I think the driver's side should also have a closable hamper rather than a night table and drawer. Whichever person slept on the driver's side would likely agree.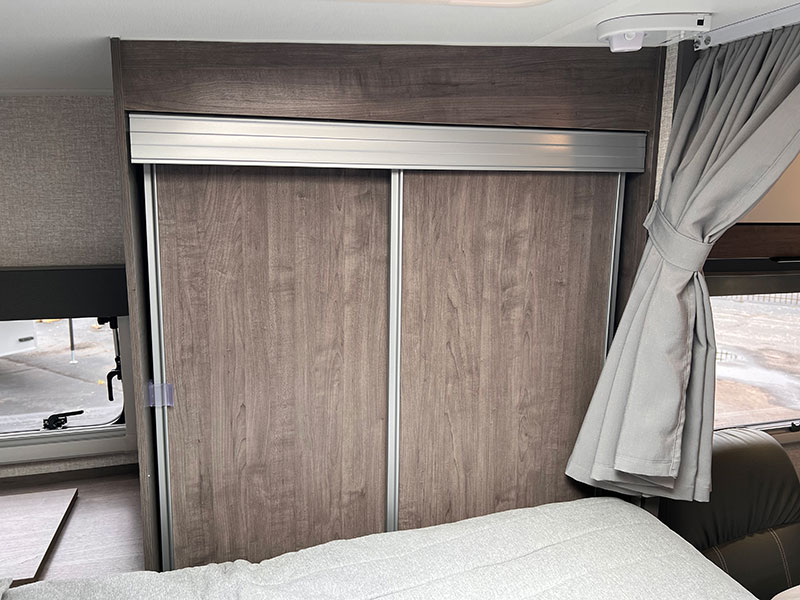 I believe it was the Lance Max series way back in 2005 that introduced the world to Lance's two-door cabover closet. Back then it was mirrored and Angela shrieked at the idea of having to see herself every morning. You'd think she would shriek having to see me every morning, but apparently not.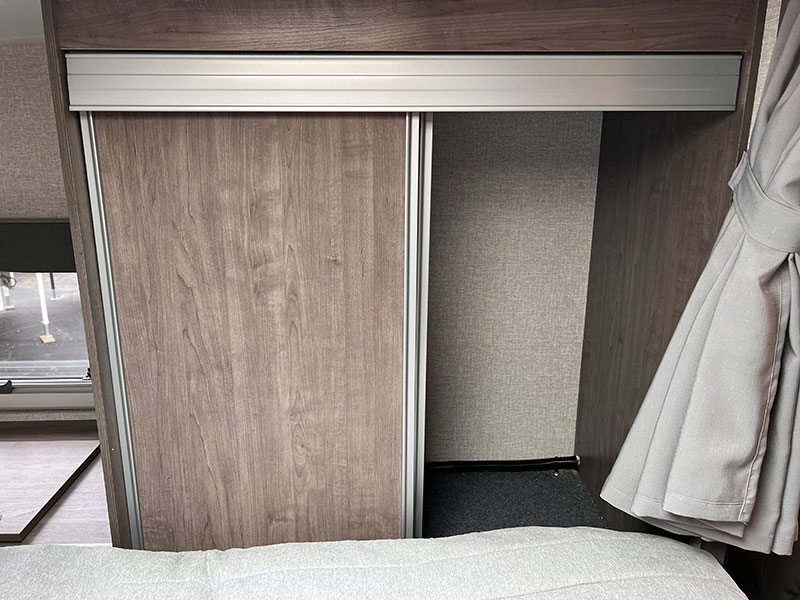 This closet area is impressively large and mostly makes up for the missing storage in the rest of the cabover. It's also a bit awkward as it's on one side of the cabover and lacks shelving or drawers.
Of course, the solution is obvious; add storage containers and/or systems with shelving and drawers. I am sure our mod-happy community has already solved this storage cavern hundreds of times. Lance should hold a contest.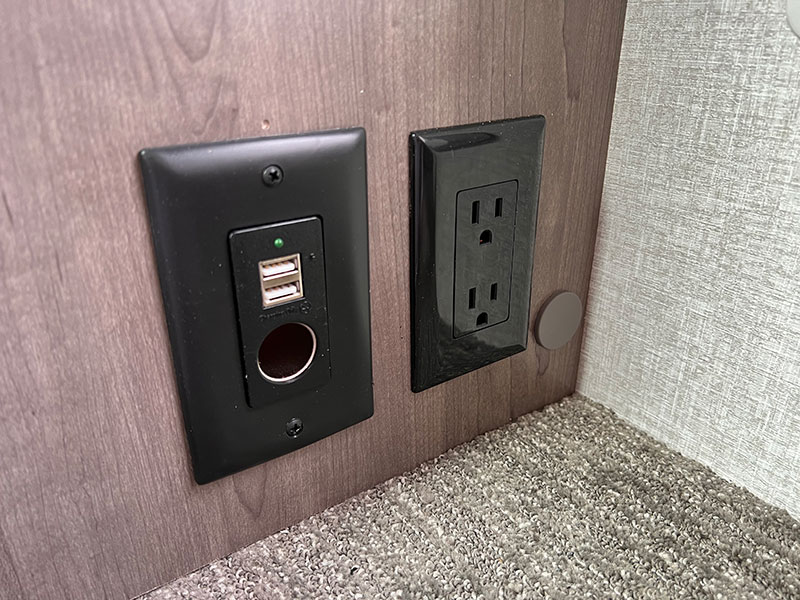 Lance has done a phenomenal job with outlets of every variety throughout the 960, even the cabover. CPAP users rejoice. Anyone who needs to recharge a phone or tablet overnight, you're in good hands. Nicely done, Lance.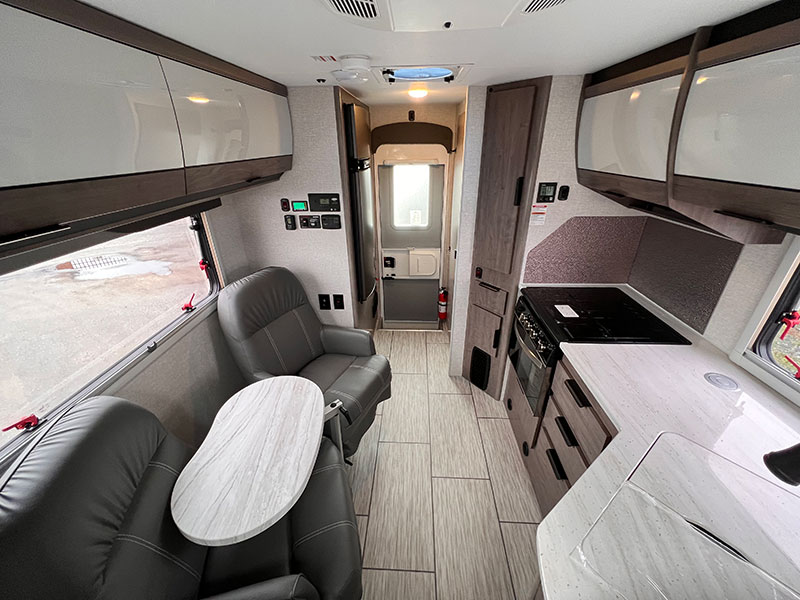 Looking back through the Lance 960 from the cabover, I am once again enthralled with the solid surface counters, bright and modern floors, cabinetry and finishes, and the overall airiness of the camper. Now let's go through the specifications, capacities, and weights and run the numbers on this latest Lance truck camper model.
Lance 960 Specifications
| | |
| --- | --- |
| Specifications | |
| Dry Weight | 3,254 pounds |
| Wet Weight* | 4,321 pounds |
| Floor Length | 9'11" |
| Overall Length | 19'0″ |
| Width | 96″ |
| Interior Height | 79″ |
| Exterior Height | 9'0″ |
| Center of Gravity | 47″ |
| Truck Type | Long Bed |
The manufacturer reported that the 3,254 pound base dry weight of the Lance 960 includes a long list of standard features including a full suite of premium Truma components (Combi eco plus furnace and water heater, and Avanta eco air conditioner), audio-video system with television, keyless entry, thermopane windows, three-burner range with oven, stainless steel microwave, solid surface counters, remote controlled electric jacks, and more. Given the robust standard feature list, 3,254 pounds dry is an impressive weight for a nearly 10-foot non-slide hard side camper.
Experienced truck campers who tow often prefer 10-foot or less floor length models to keep the camper overhang and the required hitch extension reasonable. At 9-feet, 11-inches, the Lance 960 squeezes under this 10-foot preference. If you plan to tow a boat, trailer, ATVs, snow machine or anything else behind your rig, the Lance 960 is a good floor length.
With nearly 6'6" of interior headroom, you will enjoy plenty of headspace in the 960. I stand 6'3" tall and never even thought about the air conditioner location in the main living area, or the ceiling when sitting up in the cabover. It's clear skies for most tall guys; basketball centers possibly excepted.
Lance reports the center of gravity of the Lance 960 at 47-inches. This is certainly within the proper range for long bed trucks. It's also a bit further back from where we see it on competing 10-foot non-slide campers. This is likely due to the rear position of the refrigerator and battery compartment. That stated, the 960's center of gravity is still further forward than you'll see on slide-out models.
I did not see a center of gravity sticker on the 960 under review. Manufacturers often push back on marking the center of gravity as it changes the moment you add options, fill the fresh tank, or so much as install toilet paper on the wet bath roller. This is true, but I maintain Truck Camper Magazine's position that center of gravity stickers are important to keep owners mindful of this critical aspect of safe truck and camper matching.
Lance 960 Capacities
| | |
| --- | --- |
| Capacities | |
| Fresh | 45 gallons |
| Grey | 30 gallons |
| Black | 28 gallons |
| Water Heater | 2.64 gallons – On Demand |
| Propane Tanks | 2x 20 pounds |
| Batteries | Two Batteries |
In our Lance 1030 days eighteen years ago, we would have sold our tie-downs and turnbuckles for the 960's generous holding tank sizes. The 1030's 15 gallon grey tank had us finding a dump station at least once a week, often twice. This is the kind of specification that urgently impacts your travel and adventure plans because you need a dump station, now.
With 45 gallons fresh, 30 gallons grey and 28 gallons black, the Lance 960 is exceptionally well equipped in the holding tank department. Once again, the limitation will likely be the 28 gallon grey tank, but that should be plenty for a week or more. The caveat is – of course – if you require daily showers, leave the water running while you wash dishes, or generally don't treat water like the precious truck camping commodity it is. Use bird baths or wipes most days and you could go for two weeks in the 960. We've gone longer with less.
The Lance 960 has two 20-pound horizontal propane tanks and the capacity for two Group 27 batteries. Both capacities are something of an industry standard for a 10-foot hard side floor plan.
Lance offers a GoPower brand lithium battery option for the 960 that allows for additional amp hours, at a lighter weight for a significantly higher cost. We have opted to stay with AGM batteries (for now) for their proven reliability and value, and supplement our camper battery bank with portable lithium battery stations. That stated it's only a matter of time before we put a set of lithium house batteries to the test in our camper.
Wet Weight Calculation
Before you purchase any truck camper, always, always, always run the numbers to calculate the wet weight of that specific camper. You probably won't get the weight perfectly right, but you should be able to get close enough to know if a camper will be a safe match for your intended truck.
To practice what we preach, let's run the numbers on the Lance 960.
Base Dry Weight (factory order only)
Lance 960: dry weight, 3,254 pounds + 45 gallons fresh, 375.3 pounds + 2.64 gallon full water heater, 22 pounds + 2x 20-pound full propane tanks, 40 pounds + 2 batteries, 130 pounds + stuff, 500 pounds = 4,321.3 pounds
Optioned Review Unit
The Lance 960 under review was well optioned with an Onan QG 2500i 2,500 watt propane generator, a 100-watt solar panel, a battery monitor, a rear 7'3" power awning with LED lighting, and a back-up camera with wireless monitor. The Lance 960 under review may also have included dual lithium batteries, but the dealer had removed them for security.
We conservatively estimate the weight of these options to be 185-pounds. Let's add that option weight to the Base Dry Weight of the Lance 960 and run the numbers again.
Lance 960: dry weight, 3,439 pounds + 45 gallons fresh, 375.3 pounds + 2.64 gallon full water heater, 22 pounds + 2x 20-pound full propane tanks, 40 pounds + 2 batteries, 130 pounds + stuff, 500 pounds = 4,506.3 pounds
Truck Recommendations
It's unlikely that anyone will purchase a base Lance 960 making the 4,506.3 pound well-optioned wet weight more real world. That wet weight includes a 500 pound provision for stuff including people, pets, gear, food, and clothing. We bring more than that. You might bring less. That's why we recommend running your own numbers taking into account the exact camper, options, and stuff weight relevant to your truck and camper match.
The 4,506.3 pound optioned wet weight puts the Lance 960 firmly in the one-ton truck category. The good news is that a late model one-ton single rear wheel is on the menu if you option and build a one-ton single rear wheel truck with payload as a priority.
For everyone else we would highly recommend a one-ton dually truck. Not only will a late model one-ton dually offer more than enough payload for the Lance 960, but it will also be the right choice when you decide to upgrade to whatever Lance comes out in the years that follow.
A dually will also be steadier on the road, requires less aftermarket suspension equipment, and has a higher chance of keeping you upright when your rig is broadsided in the middle of Oregon. It happens.
The Verdict
Lance had me at hard side, non-slide and under 10-feet. We have camped in hard side slide-out campers and love the space and floor plan possibilities they offer, but prefer to avoid the weight, maintenance and potential complexities slide-outs require. Old school hard side non-slides keep things simple.
As for the floor length, we have an 11-foot hard side non-slide and wish it was 10-feet. At 11-feet, the overhang stresses the truck and camper a bit too much and sometimes becomes an issue with campsites and parking. Measuring under 10-feet, the 960 is the perfect floor length.
Keeping my 50,000 foot perspective, the Lance 960's specifications and capacities including the holding tanks, propane tanks, and battery bank are also top-notch. The wet bath is the perfect example of a fully featured and walled bathroom in a truck camper. Storage is also above par. Of course I'd love to see more storage on the driver's side, and a better utilization of the passenger's closet. These last points fall under nit picks.
Zooming in, the Lance 960 is outstandingly well-appointed. The Truma Combi eco plus, Truma Aventa eco air conditioner (not pictured), five cubic foot Norcold refrigerator/freezer, flush mount cooktop and oven, audio-video system and television, and optional Onan QG 2500i generator, dual solar panels, and dual lithium battery system are all at or near top-of-the-line in the truck camper world. That stated, I cannot yet speak to the performance or reliability of Truma appliances due to a lack of long-term truck camping experience with their products.
If all of the above check your requirements, the Lance 960 probably boils down to the dual swivel seats or the optional sofa. The dual swivel seats are exceptionally comfortable. You may wish they reclined, but they sure beat a traditional bench for sitting support, cushiness, and a domestic feel.
However, if you need a larger table surface or seating for more than two adults, the swivel seat dinette area with its relatively small table is probably a deal breaker. This is where the Lance 960's sofa and two-table option comes into play. Having tried both, we would go for the sofa.
Unfortunately, the Lance 960's high-end appliances, luxury materials, and first-rate appointments come at a cost. As of this writing (mid-2023), it's common to find fully-optioned Lance 960 units going for $80,000 USD. Unsurprisingly, much of this cost is due to inflation. The Lance 960 debuted in November of 2020 with a base MSRP of $44,460 and is currently listed at $67,842. That's a 52 percent increase in the base MSRP in two-and-a-half years. Hopefully, inflation and camper pricing will eventually come back to earth.
Walking into the Lance 960, there is no mistaking Lance Camper's remarkable multi-decade evolution. I can see echos of our 2005 Lance 1030, the Lance Max series, and every new Lance model and model year update we've covered since 2007. This is one studied and refined Lance Camper, and has the right design elements, specifications, capacities, and features to prove it. If you're in the market for a hard side, non-slide camper under 10-feet, and the standard dual swivel chairs or sofa option meet your needs, the Lance 960 is a solid choice.
Pros
Dual swivel seats (or) sofa are both very comfortable
Gorgeous solid surface countertops and sink inserts
Interior decor is bright, modern, and neutral
Comes well-equipped with a long list of standard features
Numerous maintenance access points are provided
4-season insulated windows, dump compartment, and basement
Cons
Swivel seat dinette doesn't recline and is couples only
Single swivel seat table is shared and small for two people
Upper dinette bunk is fiddly to set up, but works well
Underside of the generator compartment is exposed to elements
Access areas had manufacturing debris that needed cleaning
Premium priced for a 10-foot non-slide camper
Model Information
2023 Lance 960
MSRP: $67,842
Warranty: 1 year limited warranty, 2 year structural warranty, appliances have their own warranties
Lance Camper Manufacturing
43120 Venture Street
Lancaster, CA 93535
Phone: 661-949-3322
Request a Lance 960 Brochure
Web: LanceCamper.com
Quality, Customer Service, and Long-Term Reliability
Truck Camper Magazine inspects all reviewed truck campers for design, material, and quality issues and reports what we find. However, since Truck Camper Magazine reviews only brand-new truck campers, our reviews do not address long-term quality, customer service, or reliability.
To learn about a brand's long-term quality, customer service, and reliability, Truck Camper Magazine recommends talking directly with truck camper owners at truck camper rallies and online via truck camper forums and truck camper owners groups.
Please be sure to balance your gathered feedback across multiple sources including direct correspondence with the truck camper manufacturers and your closest truck camper dealers.
If you are new to truck campers, visit our Newbie Corner.