Lance Camper announces their first new truck camper in almost five years, the 2021 Lance 960.  This hard-side, non-slide truck camper features Lance's latest advances and their fresh take on more a comfortable dinette.  Have a seat and check out this brand new Lance Camper!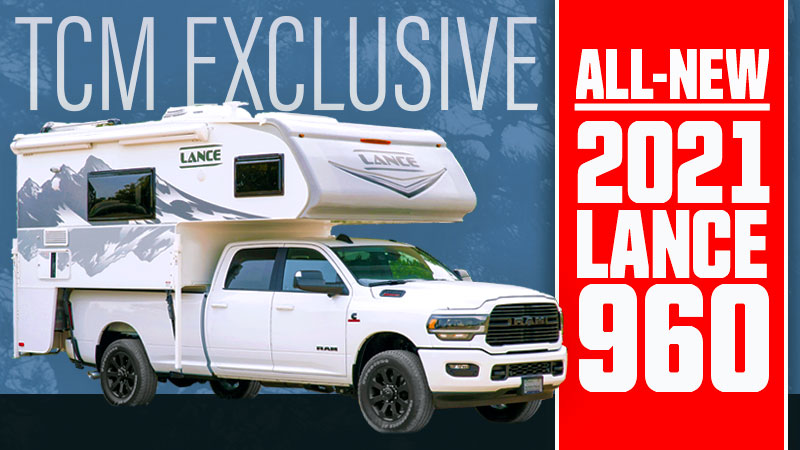 Since nobody will believe us anyway, we want to take this opportunity to test out our new Brain-Wave Analyzer.  Inspired by a fictional concept developed by Doc in Back to the Future, the device allows us to hear what you're thinking.  Here goes…
For a wide range of reasons, I have long believed there would be a resurgence of classic hard side non-slide truck campers.  First and foremost, they offer the most efficient way to attain what most people want in a truck camper; Go Anywhere, Camp Anywhere, and Tow Anything, plus the ability to stop and instantly have full use of the camper.
Non-slide hard-side campers are also significantly more stealthy than any other truck camper type.  In a pop-up camper, you are forced to advertise your presence by popping up the camper.  The popped-up canvas says, "Hey, we're camping in here!"
Wait, wait… I'm getting something on the Brain-Wave Analyzer.  Yes, Chuck Chatfield of Castle Pines, Colorado, you can camp in a pop-up with the top down, but that's a high price to pay to stay stealthy, don't you think?
Hard side slide-out campers are also forced to advertise they're inside their camper.  A parked camper (or any RV) with one or more slides out is like hanging a sign that reads, "Attention onlookers. We are staying the night in this location."
Oh boy, another transmission is coming in.  Yes indeed, Shannon Sanders of Salem, South Dakota, there are a few slide-out campers that can be camped in with the slides-in, but they're few and far between.  And the comfort and function is almost always compromised with the slides in.
We also prefer non-slides for their reduced weight, reduced maintenance, better storage and better and off-road durability.  As you might imagine (and we can hear) we get a lot of emails regarding truck camper maintenance and repair questions.  Of everything that comes in, issues related to slide-outs are still a leading factor.
Holy smokes!  Settle down people.  If you all think at once we can't understand you.  Okay, Peter Pace from Palmer, Pennsylvania.  Yes, slide-out mechanisms have improved in quality and reliability immensely, but they still have more potential issues, require more maintenance, add more weight, and require more structural compromise than a non-slide design.  It's just physics, and common sense.
Honestly, the only thing that ever makes us consider a slide-out camper is a sofa or comfortable lounge chairs.  Hang on to that thought, Gary.  We're getting to it now.
Despite rumors to the contrary, we can confirm that Lance Camper does not have a Brain-Wave Analyzer.  REV Group would never approve such a purchase.  What they do have is 55-years of experience designing, developing and building some of the most sought-after truck campers on the planet.  Lance Camper also has one of the largest well-established dealer networks in the RV business, and tens of thousands of active customers.
This deep community gives Lance Campers a keen sense of changes, developing trends and opportunities in the marketplace.  Together with Lance customer product surveys and TCM's own Ultimate Camper Survey, Lance makes very deliberate decisions on exactly what new products to bring to market.
Today the results of these efforts is the first new Lance truck camper model in almost five years; the hard side, non-slide 2021 Lance 960.  Yes, a non-slide.  Could it be that Lance Camper believes my long-awaited marketplace shift is finally here?
We could have just used our Brain-Wave Analyzer to find out, but we don't want the industry to know we have this technology.  To keep up appearances, and get the official how, what and why of the new 2021 Lance 960, we called Gary Conley, National Sales Manager, Bob Rogers, Director of Marketing, and Randy Hunter, Engineering Product Development Manager.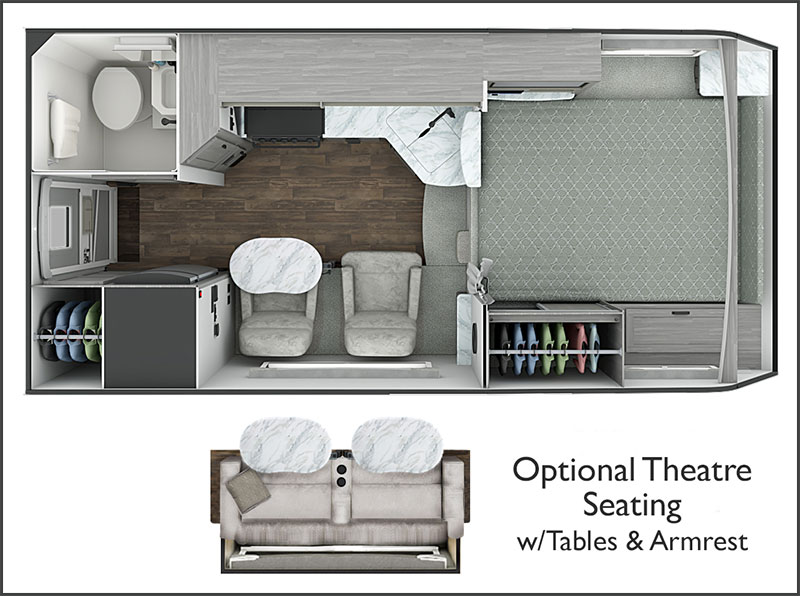 Lance 960 Specifications:
The 2021 Lance 960 is a hard-side, wet bath, non-slide truck camper for long bed trucks.  The interior floor length of the Lance 960 is 9'11" and the interior height is 79".  It has a 45-gallon fresh water tank, a 30-gallon grey tank, and a 28-gallon black tank.
Lance is reporting the base dry weight of the Lance 960 at 2,970 pounds without options. The base price MSRP for the Lance 960 is $44,460.  Click here to request a free Lance brochure.
Above: The 2021 Lance 960, all photography courtesy of Lance Campers
Like many areas of the United States, California has been hit hard by Covid-19. How has Covid-19 impacted the Lance Camper community?
Gary: We were shut down for seven weeks. From late-March to mid-May there was no production. During that time we invested in our manufacturing facility and layout. The truck camper line got moved and improved and we made important updates to the trailer area as well. That was one positive to come out of the downtime.
Is everyone at Lance Camper healthy and safe?
Bob: Yes, everyone is doing well here, making sure we all adhere to the protocols that our parent company, the REV Group, has established.
Have you experienced any supply chain interruptions with materials, parts or appliances?
Bob: Yes, we have experienced some of what other other RV manufacturers have experienced with suppliers, and fortunately I would say not nearly at the same level.
Every morning at 8:30am we have a leadership meeting to go over shortages. As a result, we have been able to keep up and change suppliers where needed.
Gary: The goal is production consistency. We don't want peaks and valleys with our production schedule. Our suppliers know well in advance what we need and have remained strong partners in supplying us with those items on time all the way up until the first part of October when we started to see some shortfalls with a few of the more common parts.
Did Lance get behind in production numbers?
Gary: Yes. We can't make up seven weeks of lost production. We don't have the capability of just turning up production and making up those lost weeks. In addition, retail demand has been so strong that we are currently sold out through the middle of 2021.
Is Lance Campers back up to full-production capacity at this point?
Gary: We are back to our production rate before the Covid-19 shut down. We are trying to increase, but we also have labor issues, compounded by current parts shortages. A certain number of employees were weighing the pay to work versus unemployment. This is resolved now with most now back at work.
Bob: I'm really proud of how we have handled the Covid-19 situation. Lance Campers is following what REV Group, the United States government, and the state of California are recommending. Some businesses didn't obey the shutdown orders and safety guidelines, but we did.
During the seven-week production shut down, Service and Parts stayed open because they were considered essential. We followed the mandates. We respected social distancing. Safety and Human Resources have balanced business and safety needs. It takes backbone to do that. They've done a good job.
Quality has been another critical focus. Right now, it's estimated that 50 to 60-percent of new camper sales are from first time RV buyers. Despite the protocols and increased demand, we are adhering to our quality standards.
From many years of camper production, we know that camper sales come in waves. Right now we are on a crest of wave, but it's not going to last forever.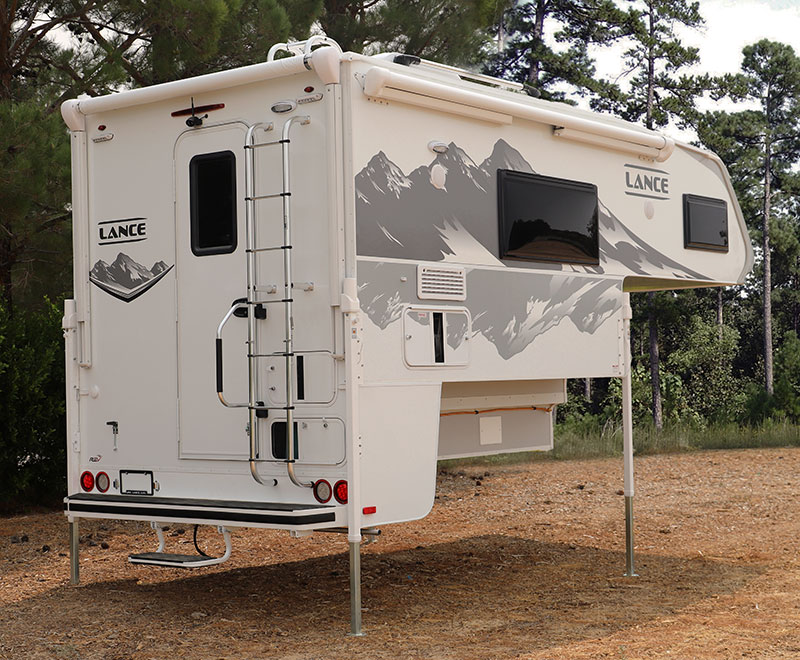 That's certainly true. After the Lance 650 was announced in October of 2015, Lance hasn't announced a new truck camper model, until now. Why hasn't Lance Campers announced a new truck camper model in almost five years?
Gary: We were going to launch this model almost two years ago, but dimension changes with full-size pickup trucks made us change course. We want our campers to properly fit modern trucks, and not require a riser kit. Changing our basement design to fit the new trucks cost us an entire model year.
Bob: In addition, the travel trailer market has been red hot. Our dealers were screaming for specific travel trailer floor plans. As a business, it wasn't hard to see where we needed to put our design efforts.
Our design team also has limited resources and time. That means we often need to choose between developing new travel trailers or truck campers. That is part of the reality of balancing our internal resources. More than any other factor, this is what delayed the introduction of a new Lance truck camper.
In 2014 and 2015, Lance Campers announced the 1052, 995, 975, 1062 and the 650. That's five new models in two years. Moving forward, do you think we'll see a return to that level of new Lance truck camper announcements?
Gary: Yes. I can't give you details, but yes.
Bob: With REV Group, we have an annual short term and long term business review. We have communicated that truck campers are here to stay at Lance. Truck campers are what made us. Truck campers are in our DNA. We will have more new and exciting Lance truck campers in the near future.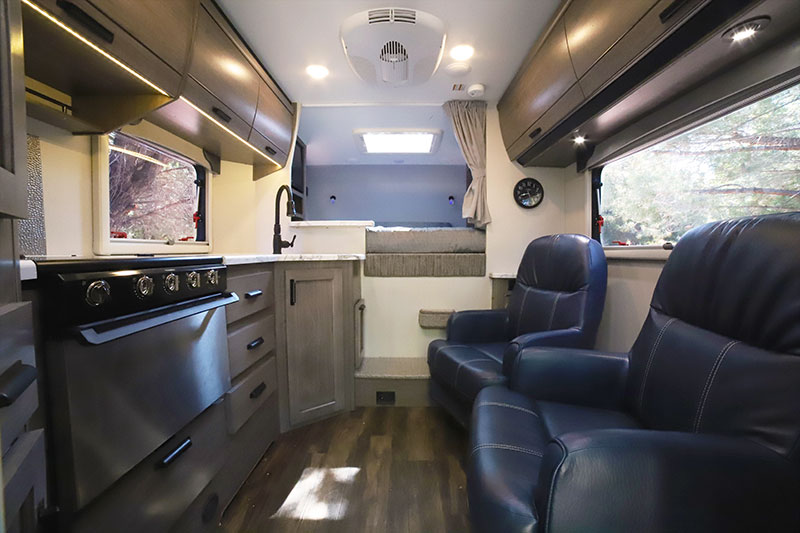 Let's talk the new 2021 Lance 960. Does the 960 replace any older models in the Lance Camper line up?
Gary: The 960 does not replace an existing model. The 960 is a brand new model that helps us fill out our truck camper line. With the 960, Lance now offers ten truck camper models.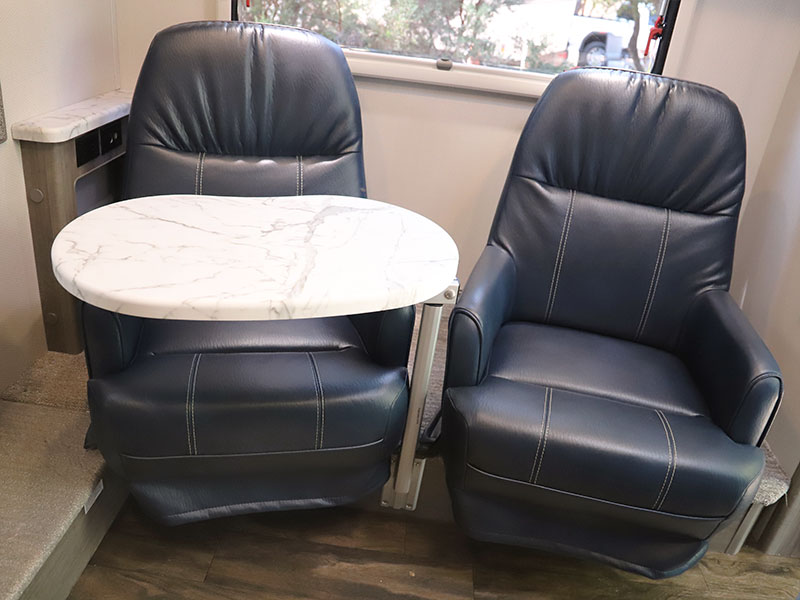 What niche does the Lance 960 pursue in the truck camper marketplace?
Gary: Dual rear wheel trucks can haul our bigger campers, but for someone who wants a single rear wheel truck as a daily driver, the 960 is the Lance Camper for them.
The dinette chairs also set the 960 apart in the marketplace. The 960 is designed for couples. With that in mind, we have designed the dinette with two very comfortable chairs. The chairs probably offer the most comfortable seating in any truck camper.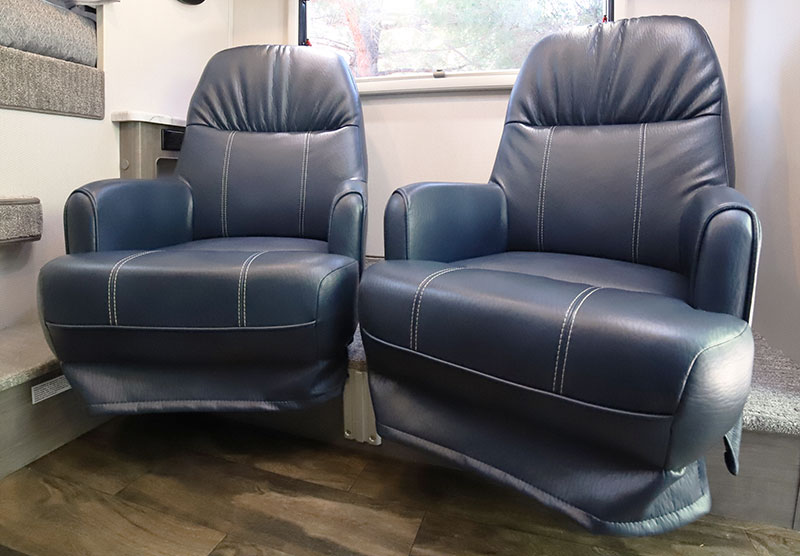 Then we didn't stop there! If the customer would rather have the benefits of theater style seating, the 960 has this arrangement as an option. The theater seating comes with kick up foot rests, built-in cup holders and two removable tables. Either way, it's a home run.
Where did the design choices come from?
Gary: A lot of the design decisions were based on Truck Camper Magazine's latest Ultimate Camper Survey results. We have nearly everything your readers asked for in this camper.
Bob: We already had the 960 under development when your survey came out, but we reviewed the survey to make sure before it was finalized. We were thrilled to see how well the design performed with your reader's preferences.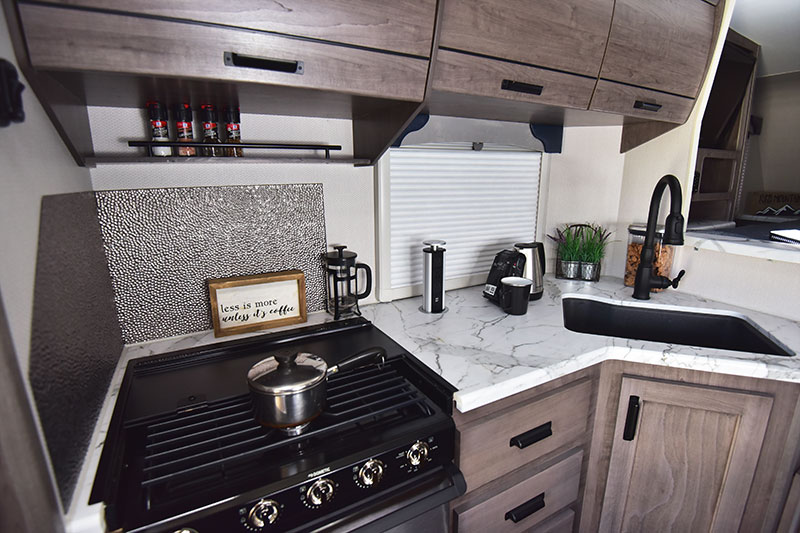 At first blush, the 960 looks like a Lance 995 translated as a non-slide model. Is that mostly accurate?
Gary: We used the basement of the Lance 995 for its base. The tank sizes and wet bath are the same. The base platform, the wet bath and the tanks of the 995 are really the only things that are the same.
Randy: We drew inspiration from the 995, including the wet bath, kitchen cabinetry and cabover, but the 960 is a unique model with more of a European cabinetry design flair.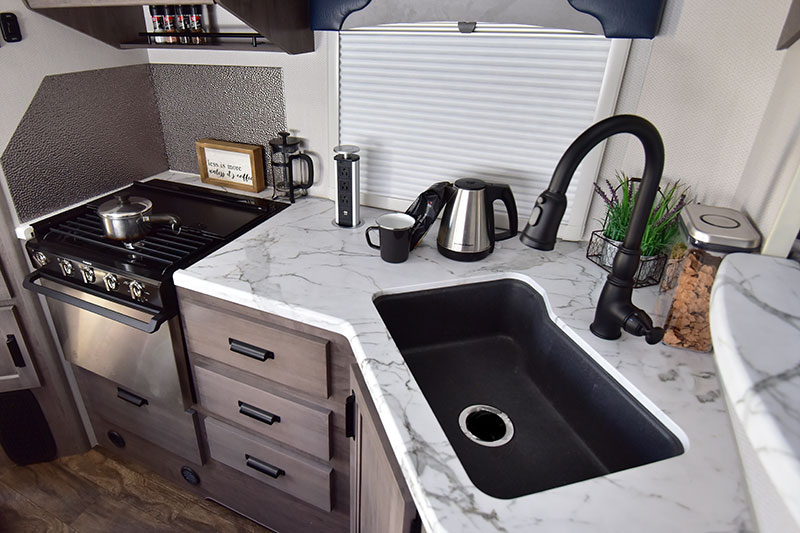 When we designed it, I kept referring back to my experience with TCM's Triple Dog Dare Challenge. I have used and, in some cases, lived in many RVs in my life. The perspective of the Triple Dog Dare really inspired a personal drive to review even the smallest of design related elements.
As a designer, every aspect of a camper takes on new meaning and dimension when you're out camping. This allowed me to go back and tweak the 960 here and there in meaningful ways.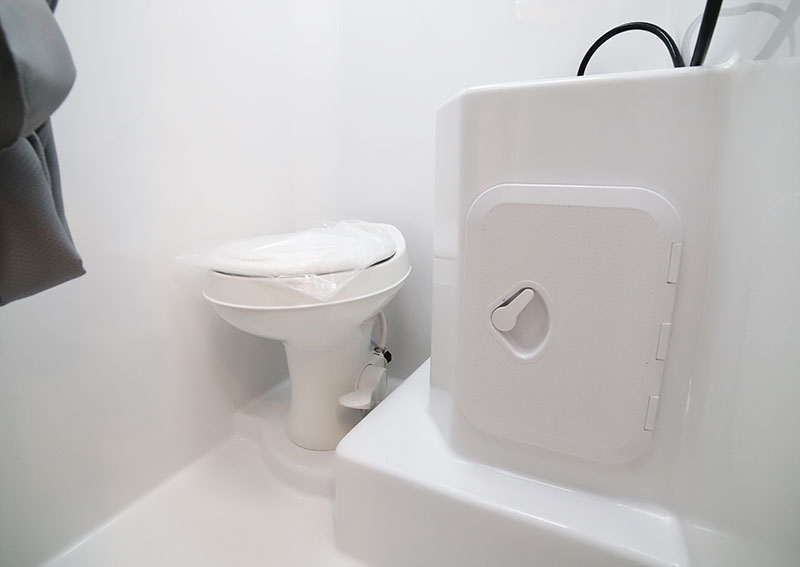 Why did you decide on a wet bath in the 960?
Gary: Space and weight. With a wet bath you also have more square footage to take a shower than you do in any dry bath. Wet baths also take up less space in the camper helping to open up the floor plan.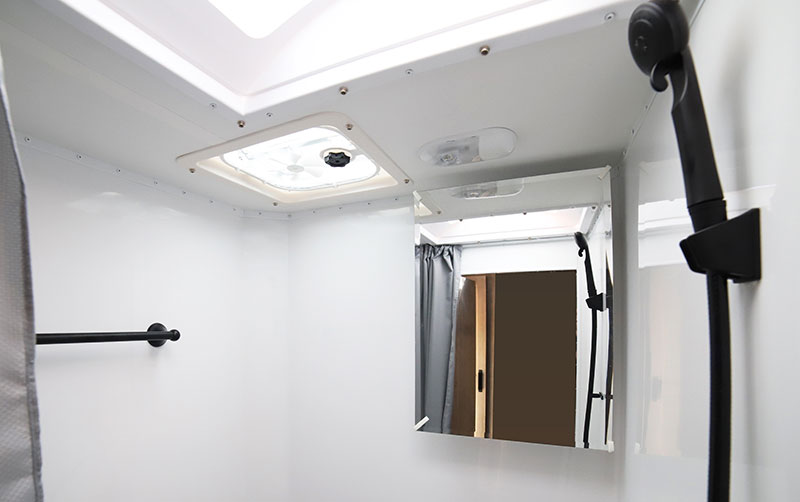 When you're boondocking you can have a nice shower. You can physically sit on the toilet and you have the whole area to use. The wet bath in the 960 is a home run.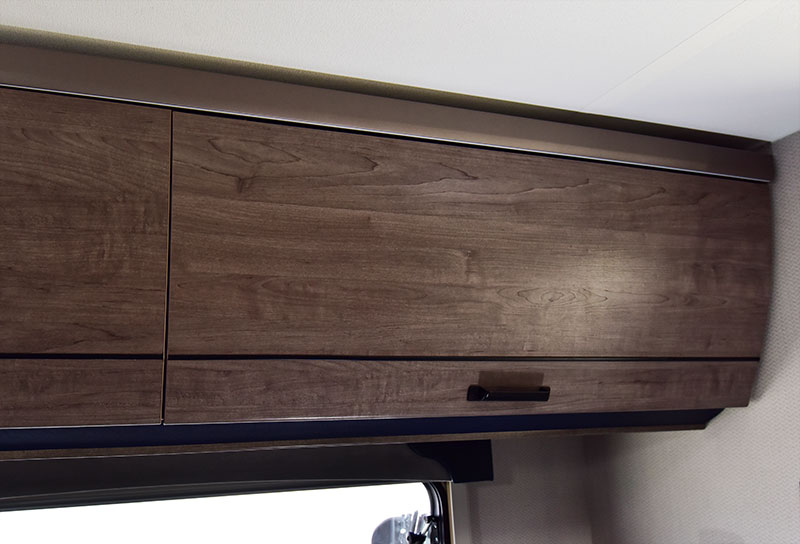 We were also able to open the floor plan with our new Euro cabinets. The new cabinets give consumers easier access for storage in the galley. The doors lift to ceiling and are self closing. This gives better accessibility to the cavity of the cabinet.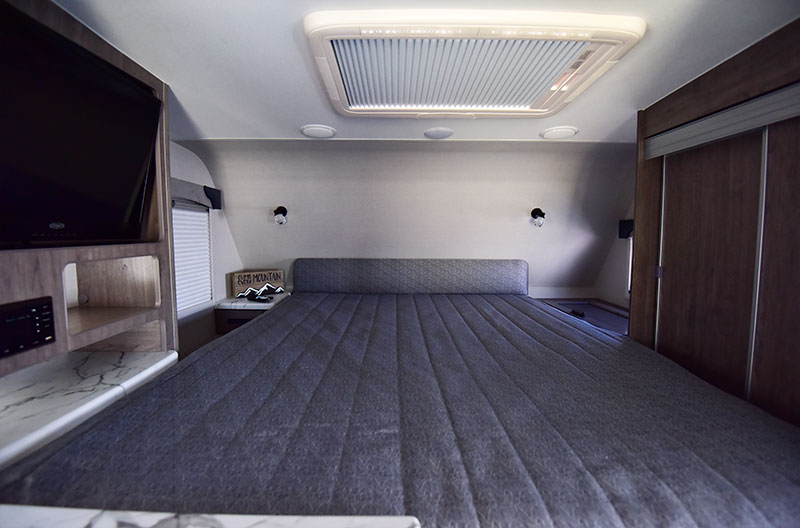 The 2021 Lance 960 is the first Lance truck camper to feature a Truma Combi system. Tell us about the Truma Combi, and why you selected it for the 960.
Gary: The Truma Combi is a combination heating system and water heater. It takes up less space than a Suburban or Atwood water heater and eliminates the need for a traditional furnace. By taking up less space, it allows us to provide more drawers in the kitchen.
It's also about 90-percent more efficient on propane use than your standard furnace. The furnace fan is variable with three levels; boost, run and high. If you are low on your battery levels, you can use the lower level.
The furnace fan is very quiet. With the Truma Combi, there is no freight train sound in the middle of the night when the heater turns on. If you are not using the heater, you can use fan to circulate air. It's like a household fan running.
Another positive to the Truma Combi is that it can run on both 110-volt or propane. This gives you the ability to heat your holding tank area via shore power when you're at a campground or at home. It's a huge improvement over a traditional furnace and water heater.
Will you have the Truma combi in your other models?
Gary: We would like to, but our designers need to adjust the other campers to incorporate that system. For certain models, it will work well. Another consideration is cost. The Truma Combi is expensive. It's almost double the cost of a standard water heater and furnace, but it gives you double the performance.
Many readers are going to be very excited about the new dinette chairs. Do they recline or swivel?
Gary: They do swivel, but they're not recliners.
When sitting at the chairs for meals and map planning sessions, is there a dinette table?
Gary: There are actually two small tables, one for each chair using the Lagun adjustable table leg system.
Randy: We were originally thinking of a single kidney-shaped table top, but it's more convenient to have a laptop table in front of each person.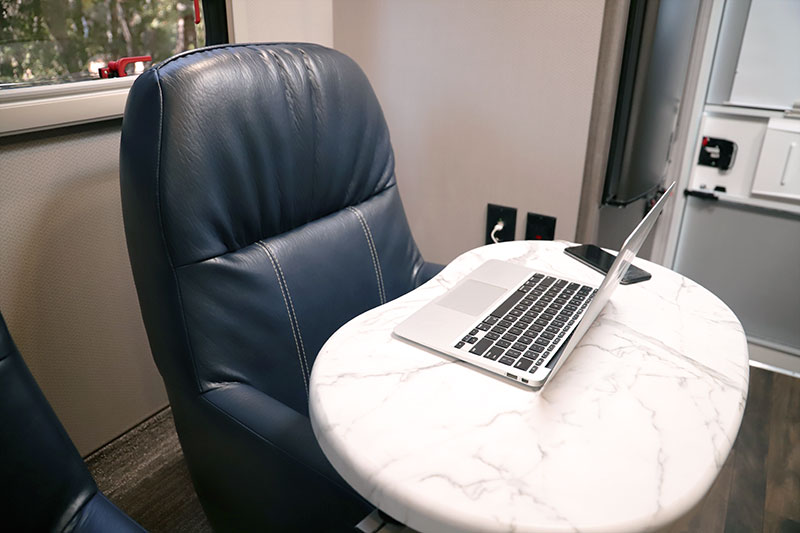 Did you consider a smaller two-top face-to-face dinette option?
Gary: If we designed a face-to-face dinette, we would also incorporate a slide. With the chairs facing into the camper, you feel like there's a slide, but it's a non-slide.
Are you going to make these chairs available in your other models? I'm sure a few folks would love to see this option in a Lance 1172 double-slide.
Gary: We're working on some possibilities there.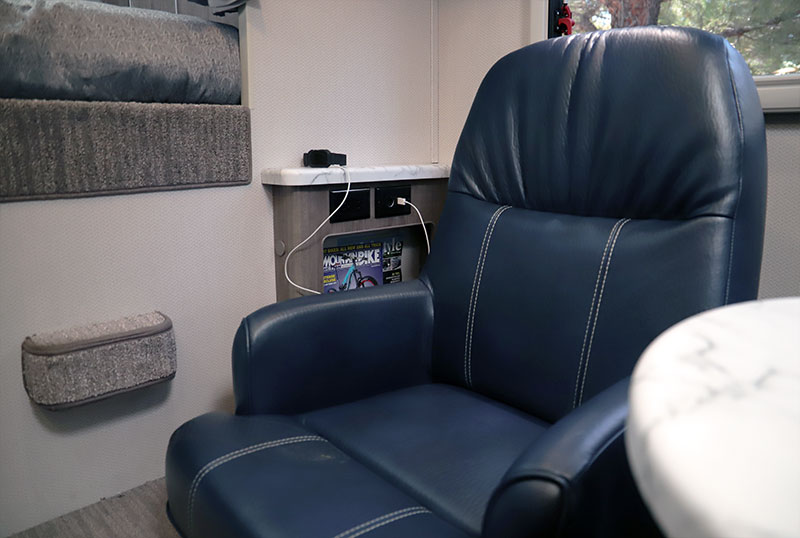 Are there 110-volt, 12-volt and USB outlets in the dinette area?
Randy: Yes, we have his and hers 110-volt, USB, and 12-volt outlets in the dinette.
Tell us about the thermoplastic windows in the 960.
Randy: They are Plastoform thermoplastic windows, the same that we have been using in the Lance 650. They're fantastic windows.
Gary: The huge weight savings and modern aesthetics were a big reason for choosing the Plastoform thermoplastic windows. They also fully open, so you will have good ventilation. When you open the window, the entire window area opens.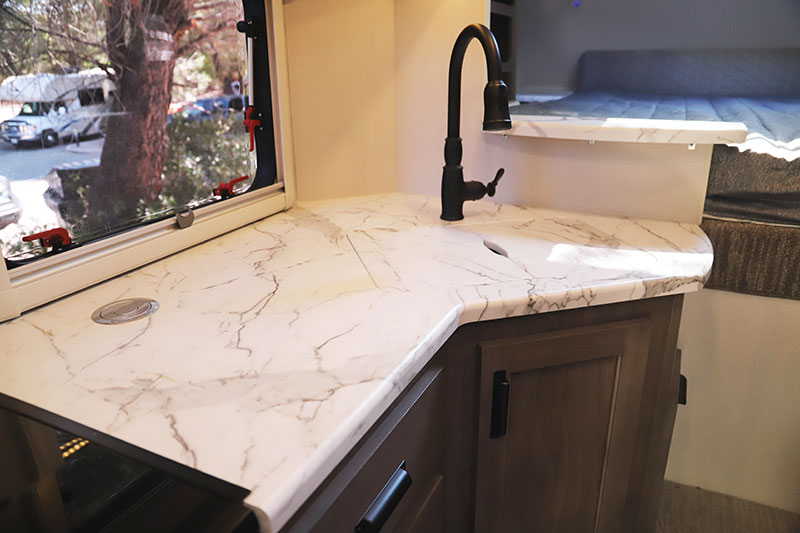 It's not like a slider with just one side of the window getting air. You are able to move air through the entire opening providing lots of ventilation. The seal on these windows is excellent. You don't get a draft compared to standard RV windows.
The Euro black-out shades can block out light and glare as well as give you privacy. You are not getting the transfer of cold because you get rid of the aluminum frame around the window. It's a superior insulating window.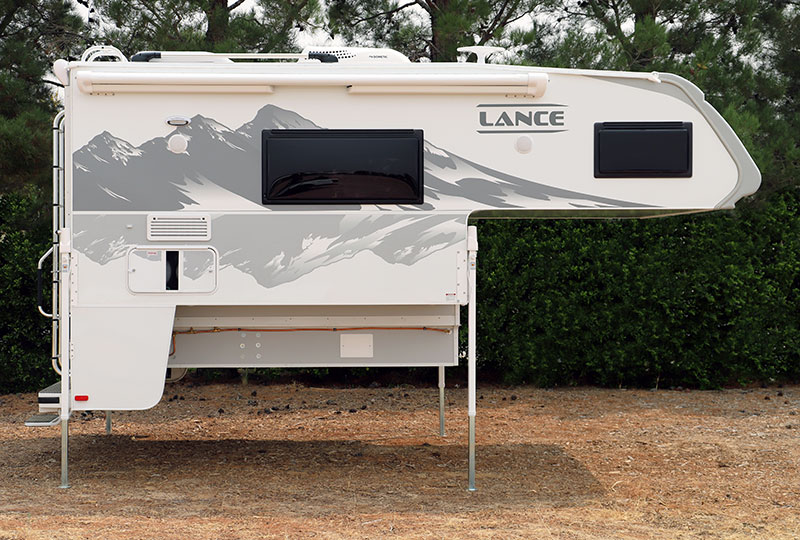 It sounds like you're quite happy with the Plastoform windows. Will you be moving in that direction with your other camper models?
Gary: For now, just the 960 and 650 will have them.
What size refrigerator is in the Lance 960?
Randy: It's a five-cubic-foot Norcold Euro three-way refrigerator and freezer. It's the same double door unit that we use in the 855S. It's much lighter weight. Although more expensive than the competing refrigerators, it does offer a nice look and touch.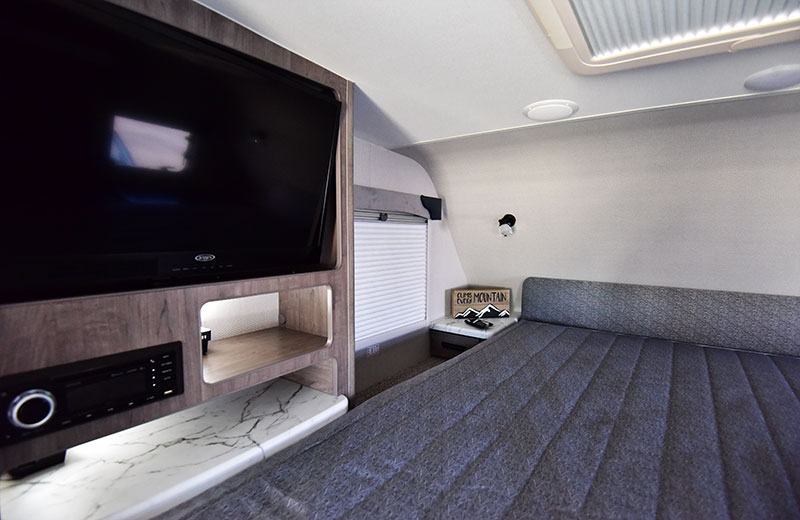 In December 2019, you indicated that the Lance 960 would represent the, "state-of-the-art in Lance's signature light weight construction." Tell us about the framing material, lamination, and other construction details of the 960.
Gary: The structure is the same standard Lance Lock aluminum framed construction of our larger campers. The process of what we were anticipating in December is coming in the future, but not for this model.
As you might imagine, we've had a multitude of projects and material changes since December. That said, every day we work with CAD and our manufacturing process to make improvements that no one sees.
Randy: We have made important engineering changes that make the 960 closer to our envisioned state-of-the-art. For example, we re-evaluated our entire electrical system and removed a significant amount of weight. With LED lighting, we no longer needed the lower wire gauge that we used for incandescents. By changing to 16 or 22-gauge, we removed a lot of weight from our electrical harnesses.
Gary: We are the only manufacturer with a 12-volt and 110-volt automotive plug-and-play wiring and electrical system. When looking at an RV on a dealer's lot you may not ask about plumbing, wiring or insulation, but those systems are critical to the long-term quality of the unit.
Our units are also designed with easy access for repair. With some modern trucks, you need to remove the whole cab to access the motor. With our campers, all of the components are easily accessible for maintenance. That becomes increasingly important the more you go camping.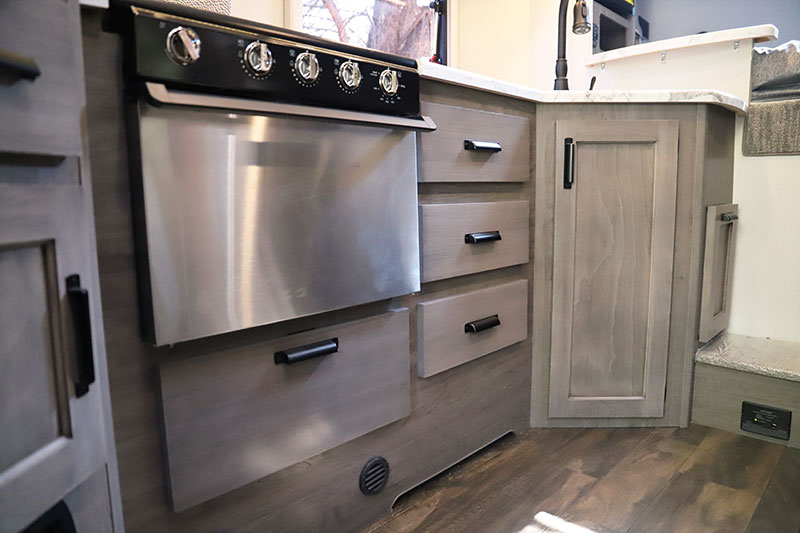 Yes it most certainly does. What are the available interior decor choices?
Gary: We have transitioned to the grey tones in all of our camper models. There are three interior choices; Royal, Java and Platinum. Every model now features a white marble countertop. The interiors are light and bright.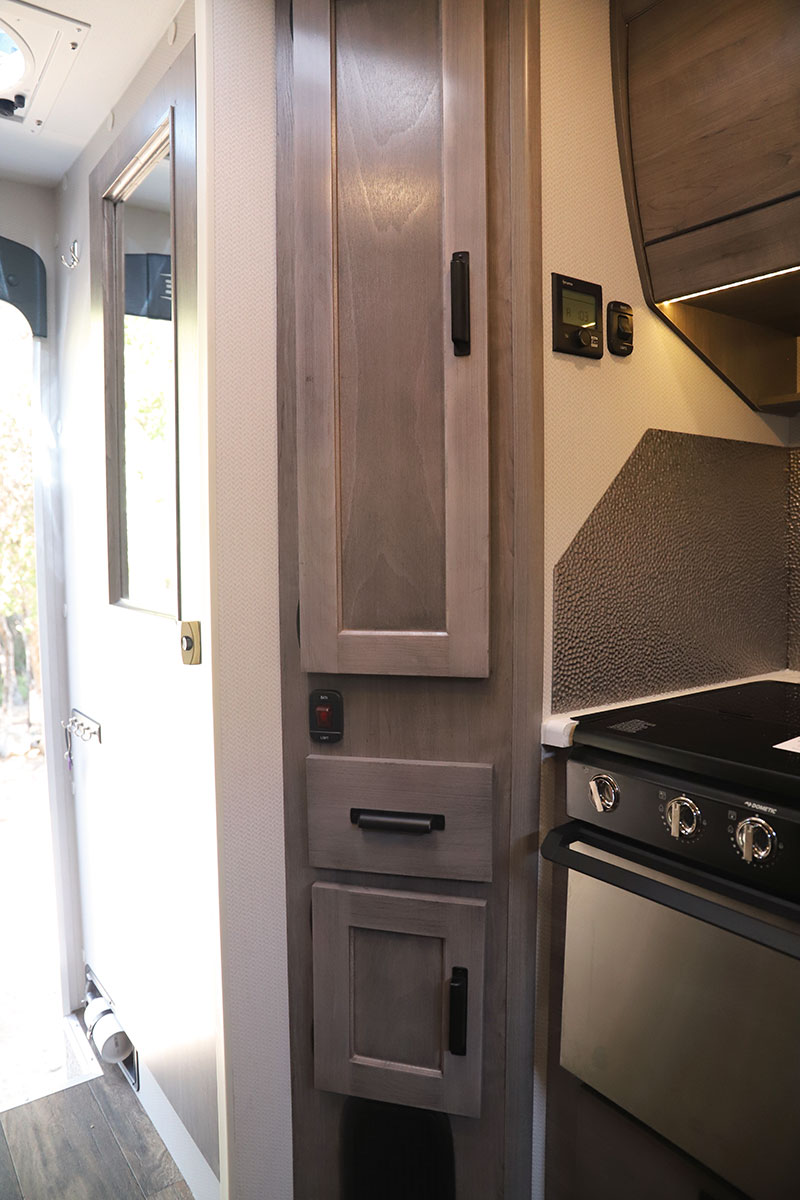 Is the Lance 960 a basement model?
Gary: It's a full, wheel-well height basement. It's almost identical to the basement on the 995 – same length, width and height.
Why did you choose the 995's basement design for the 960?
Randy: When we designed the 995, we struck a careful balance between size, weight and tank capacities. When we were in development for the 960, we were able to build from that design to create an ideal weight for a single rear wheel one-ton truck.
Had we made it longer, the center of gravity and weight would exclude single-rear wheels. Any shorter and we would be sacrificing the function and feel of the camper.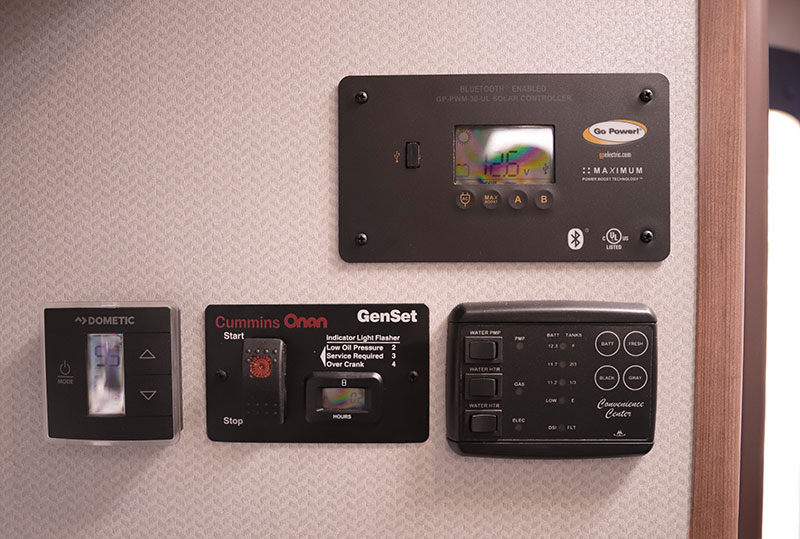 How many batteries does the Lance 960 have, and where are they located?
Gary: The battery storage area is on the rear wall and is accessible from the exterior.
Another key feature of the 960 is the GoPower battery monitor that comes standard. It tells you how many amps you are using. Based on that, you can estimate how long you can camp until your battery goes dead.
That's a nice upgrade. The battery location doesn't seem optimal for center of gravity.
Gary: Since low weight is a priority for this model, we would encourage 960 owners to get the optional lithium batteries. They're a lot lighter than traditional lead acid batteries. And you won't ever need to replace them. You can pass them down to your kids.
Are you still offering the GoPower lithium battery option?
Randy: Yes, the whole system is GoPower to ensure maximum compatibility and efficiency. We offer the option for GoPower solar panels, lithium batteries, inverter and battery monitor. The full system is GoPower, so everything works well together.
What are the propane tank sizes in the 960?
Gary: There are two horizontal 20-pound propane tanks. They are located on the passenger's side wing under the refrigerator.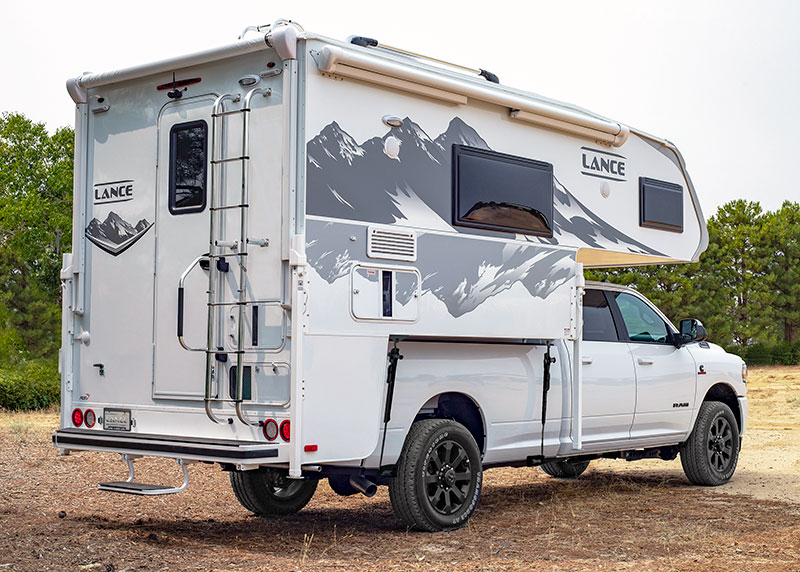 Tell us about the bumper and step on the 960. Back in December, you mentioned you were in development of a new system.
Gary: Unfortunately, that plan got cancelled. The final bumper and step was too expensive. We may revisit that design again someday, but it's off the radar for now.
Randy: The 960 reflects use of our traditional bumper/step design with optional availability of the Ultra-Deck Plus bumper should the consumer opt for this feature.
It sounds like the 960 design went through a number of iterations. Did you build more than one prototype?
Gary: We built one prototype, and then made important changes for the final unit. There were a lot of things that we removed to save weight. That process also simplified the build complexity, and brought down the price. We took over $7,000 out of the unit.
Randy: For example, the initial unit had an electric bunk bed over the chairs. That feature alone was $900.
Gary: It was high tech, but too heavy and too expensive.
Are there any new options that are available for the 2021 Lance 960?
Gary: The GoPower inverter and battery monitor are unique options to the 960. The dual GoPower solar panels are available options in our other units.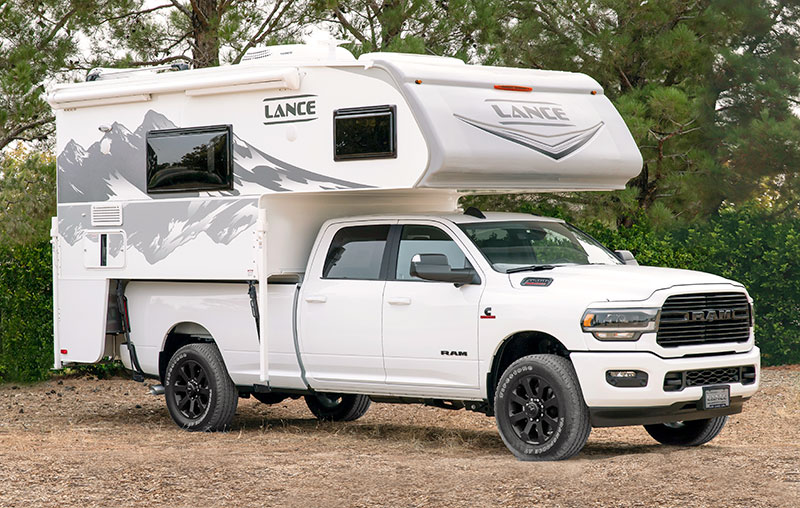 What trucks are you targeting for the 960?
Gary: We recommend a one-ton long bed truck. It will handle better on a dually, and we recommend that route for anyone who plans to tow.
The 960 can work with single-rear wheel trucks, but you need to be more careful about payload matching. As always, talk to your local Lance dealer about specific truck and camper combinations.
What is the MSRP for the 2021 Lance 960 with standard build features?
Gary: The base MSRP is $44,460. A standard build with air conditioner, generator, and solar panel system will be about $49,000.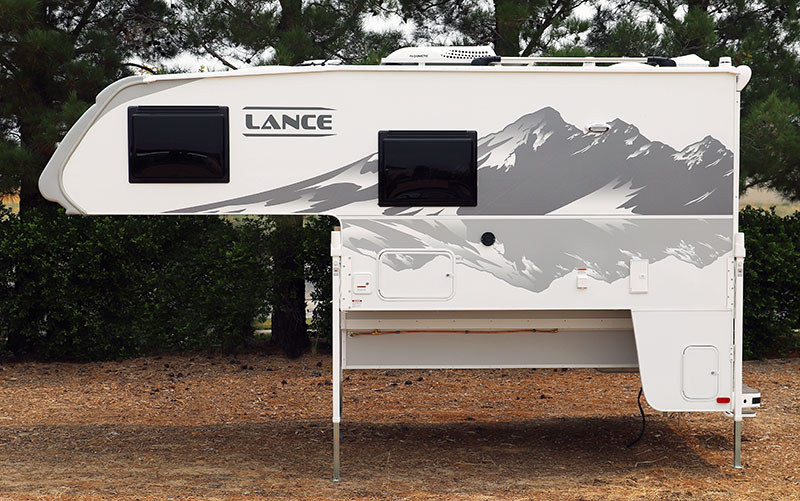 What does the 960 weigh?
Randy: A base Lance 960 without options weighs 2970 pounds.  The center of gravity is 47″ from the front wall.
What is the warranty for the 2021 Lance 960?
Gary: We have a two year structural warranty and a 12-month warranty on everything in the unit. Some appliances have their own warranties.
When will the 2021 Lance 960 be available?
Gary: The 960 will be on lots in February 2021.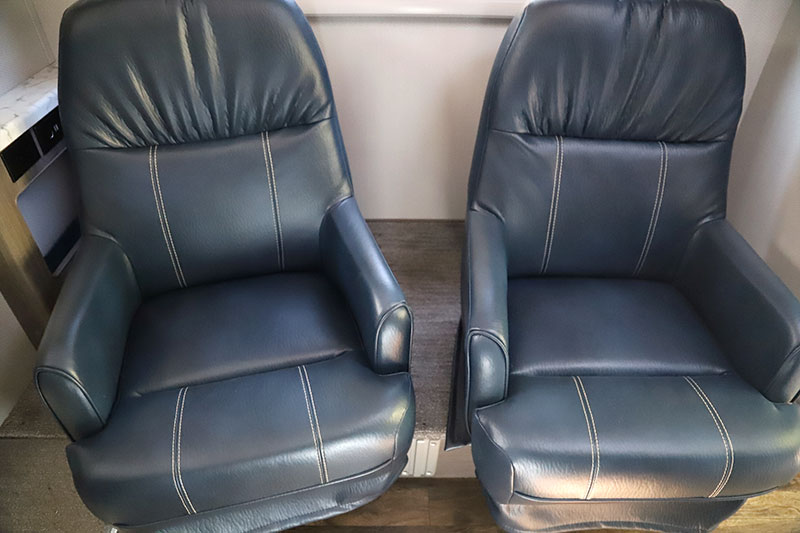 Is there anything about the 2021 Lance 960 that you would like to add?
Randy: We see a lot of people wanting more comfortable seating with theater or swivel chairs as well as non-slide models. The chairs in the 960 are very soft and extremely comfortable. We also are working with our furniture supplier with design of an optional residential style theater sofa with some very cool features.
Bob: I keep coming back to how the 960 hit so may of the TCM Ultimate Camper Survey items. It's on target for length, weight, holding tank sizes, and being a non-slide with the right balance of features. There were so many things that people mentioned in that survey that we hit in this model. There are always trade-offs, but we feel the 960 is what a lot of truck campers users want.
Gary: I would own this camper. I think it has huge potential. If you want to pull over and use the facilities or get to your refrigerator, there is no slide to block your path.
There is a bunk bed above the chairs where you can store long items like fishing rods and hunting rifles. It can also be a sleeper space if you need it. We did carry some traditional features over to this camper.
You also get the Lance features like the TPO front nose cap that is very aerodynamic and keeps the bugs off your jacks when you're going down the road.
It's comfortable inside, airy and roomy. It's like you're living in your house as far as all of the amenities that are offered. You can watch television comfortably from the chairs. It's like you're sitting in your living room.
It will handle really well on a dually. There will be no white knuckles. It's also going to perform well on a pretty much stock single rear wheel one-ton truck. With its length, you can tow easily because you don't have a huge overhang like you do with an 11-foot camper. This is the first new Lance in this decade. We are excited about it.
Bob: Here at Lance we can pick any camper or trailer to use on the weekends. I will take a truck camper every time. I can tow and we can bring our bikes. My wife, Laura, and I and our friends go boondocking on BLM land. The lithium batteries and solar make it so much easier. With a non-slide and single rear wheel, it's easier to go down those two track roads. With the bigger campers you are more limited to what you can do off-road.
To check out the 2021 Lance Campers, visit LanceCamper.com.  Click here to request a free Lance brochure.