Immediately we were a bit confused.  From the exterior, the camper looked just like every other Arctic Fox from 2014.  Northwood was very excited for us to see their new for 2015 exterior graphics package but, for the life of us, we couldn't see any difference.  Time to call Northwood.
Northwood explained that the 2015 exterior graphics package did not make the shipping deadline, so they sent us an early 2015 Arctic Fox 990, minus the new look.  While this news was initially disappointing, we simply adjusted the plan, and continued with the mission.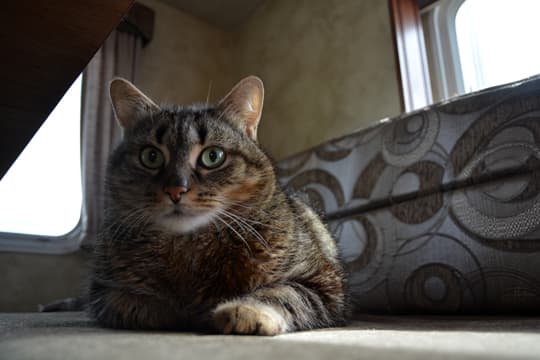 With Kent's assistance, we dropped our camper, loaded the Arctic Fox, and transferred all the food, clothing, and supplies we would need for a week.  Harley, our cat, was also moved into our temporary digs.  He was unimpressed, but a flaming meteorite could land next to him and he wouldn't care.  He's like that.
As we were loading the Fox, Angela and I were talking about our adjusted plan.  Kent suggested Bishop Castle, an illegally built stone and iron structure with an enormous fire-breathing dragon's head that had to be experienced to understand.  That was an easy sell.
Dry Camping at KOA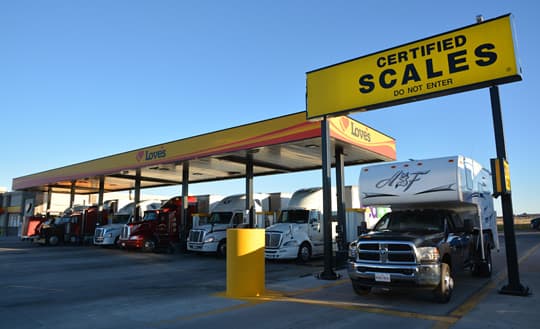 It was mid-afternoon when we left Boardman.  We stopped for lunch, drove to a CAT Scale to weigh the rig, and then pulled into a Walmart a few miles south of Pueblo.
There are good Walmarts for parking overnight, and there are not so good Walmarts for parking overnight.  A quick glance around the lot told us this was not a good Walmart for overnight parking, so we continued on.  Unfortunately, that left us with very few opportunities for overnight camping.  Looking at the AllStays app (highly recommended) on our iPhone, we found a KOA in Colorado City, and decided to call it a night.
I was exhausted.  All I wanted to do was pay, relax for a short while, and go to bed.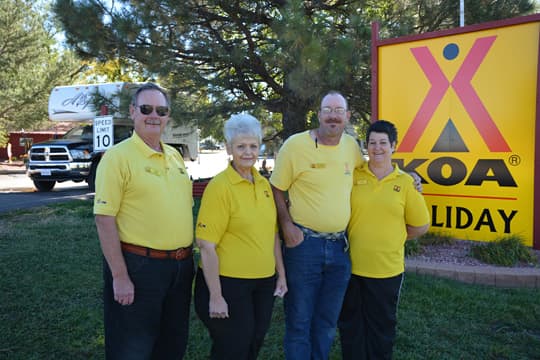 Left to right: Tim and Elena Johnson, KOA Campground Owners, and Scott and Julie Nash, KOA Work Campers
Then we got talking to the KOA folks, asking them what to do in the area.  One of the KOA-ians recommended Colorado Gators Reptile Park, a large fish farm and reptile sanctuary in central Colorado.  What?  Alligators in the middle of Colorado?
That's when it hit me.  We would seek out the most over-the-top crazy things we could find.  From Kent's description, Bishop Castle clearly belonged on this list.  Colorado Gators was also perfect for this new plan.  Finally, how about 750 foot high sand dunes 1,000 miles from the ocean?  Put Great Sand Dunes National Park on this docket, and we've got ourselves an adventure.  Crazy Colorado, here we come.
That night we did the usual campground dance.  We pulled into our campsite, unlocked the camper, locked the truck, and went to plug-in.  All was going well until I couldn't find the detachable power cord.  Angela and I opened every compartment and looked in every cabinet, but there was no power cord to be found.  A quick call back to Boardman confirmed what we had suspected, we were power cordless.  We should have checked for a power cord before we left Boardman, but forgot that basic step.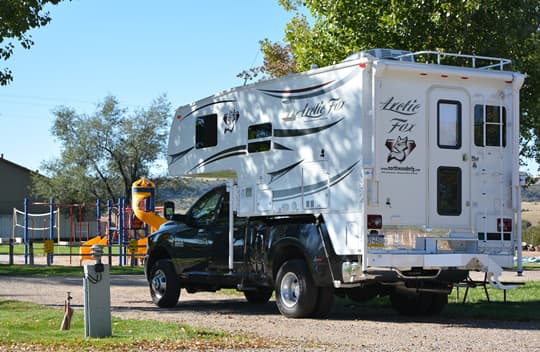 Above: What's missing from this photograph?  Hint, it's electric; boogie-woogie-woogie.
The Arctic Fox batteries were fully charged from a day of driving and, with all-LED lighting and an on-board generator, we were fine.  That said, there was something equally hysterical, pathetic, and upsetting about paying $40 to dry camp at a KOA.  After how the rest of the day had gone, all we could do is laugh, howl at the moon, and go to bed.
Bishop Castle