Truck Camper Magazine reviews a 2017 Arctic Fox 992, a hard side, full-wall slide, dry bath truck camper with the new cathedral arch ceiling and 2017 Northwood Manufacturing updates.

In 2009, Northwood Manufacturing made a significant change to their Arctic Fox line-up when they discontinued the 990 dry bath and introduced an all-new dry bath model, the Arctic Fox 992.  Of course the 990 wet bath remained in steady production and continued its reign as Northwood's most popular truck camper.
Seven years later, the 992 dry bath has joined the 990 wet bath as a top seller for Northwood.  In fact, we often speak with Arctic Fox prospects who are choosing between these two models.  Arctic Fox doesn't make this any easier by making the MSRPs identical for these two single full-wall slide floor plans; $33,108 (with the Fox Value Package) for either the 990 or 992.
Looking deeper into the specifications, the 992 is longer (10'2" vs. 9'10") and about 225 pounds heavier.  The grey tanks are identical at 39 gallons, but the fresh tank in the 990 is bigger (59 gallons fresh vs. 46 gallons fresh) as is the black tank (43 gallons black vs. 37 gallons black).  If one of these factors is a make or break, you have your answer.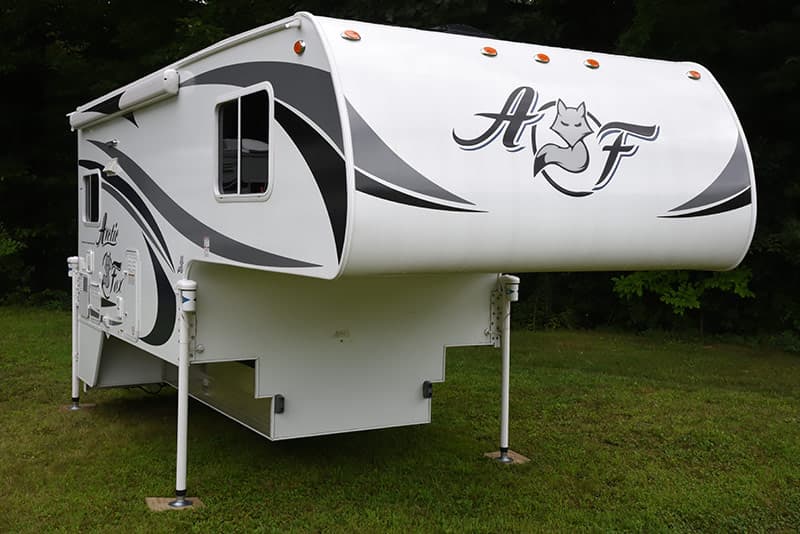 In reality, most of us choose one truck camper model over another based on the floor plan, and that's where the 992 really sets itself apart.  First, it has the largest dry bath of any Arctic Fox truck camper.  If you want a big dry bath in an Arctic Fox, the 992 is your unit.  Second, the 992 has its full-wall slide on the driver's side.  Every other full-wall slide Arctic Fox makes is on the passenger's side.  For some, the side where the slide is located is very important.
Third, there's the overall impression of standing in the 992 versus the 990.  While the family resemblance won't be missed by anyone, these campers are definitely not twins.  Put another way, it's likely that you will prefer one over the other in person.  For deeper insights into the Arctic Fox 990, check our 2015 Arctic Fox 990 review (and admittedly wacky Colorado adventure).  Don't miss Fluffy.
We have been wanting to review an Arctic Fox 992 for some time and finally found the opportunity at Truck Camper Warehouse in New Hampshire this past August.  As luck would have it, a shipment of two 992s had recently arrived with the new-for-2017 cathedral ceiling and other 2017 updates.
Would the new cathedral ceiling make much of a difference?  Is the 992 a worthy challenge to the ever-popular 990?  We rolled up our sleeves for another in-depth review.
Floor Plan Evaluation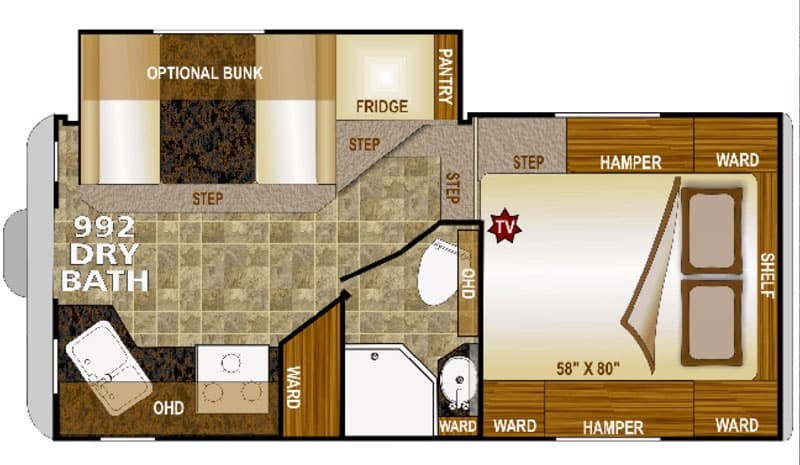 Any suggestions that the new cathedral arch ceilings wouldn't make much of a difference can be put on a wooden boat, pushed out to sea, and repeatedly shot with flaming arrows.  The cathedral arch ceiling is an instant show stopper giving the 992 a distinctly larger and more spacious interior feel.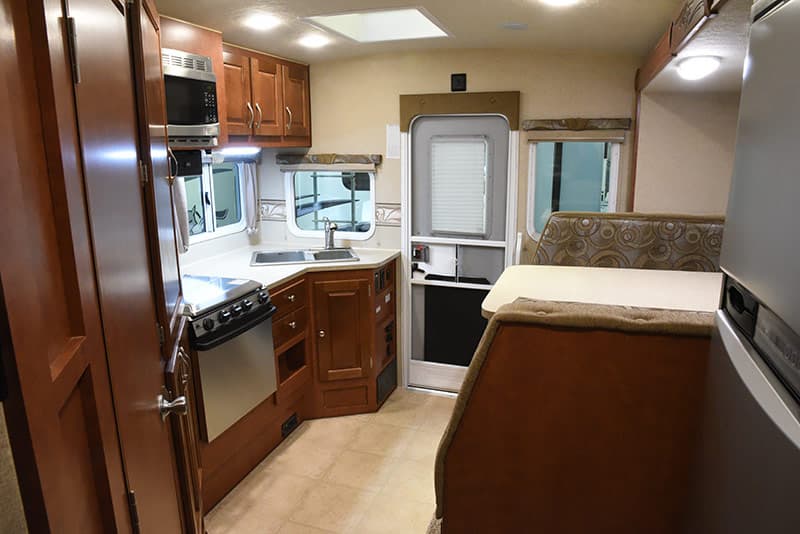 While we were at Truck Camper Warehouse, we looked at Arctic Fox models with and without the cathedral arch ceilings and it was surprising how big of a difference the taller curved ceiling made both aesthetically, and in the overall vibe of the camper.
This is the kind of design feature that you have to experience in person to fully appreciate.  The photographs don't really convey the difference.  Literally every area of the interior is affected by this change; main living area, bathroom, and cabover.  If you are considering a 2017 Arctic Fox or another competitive product, you need to see this.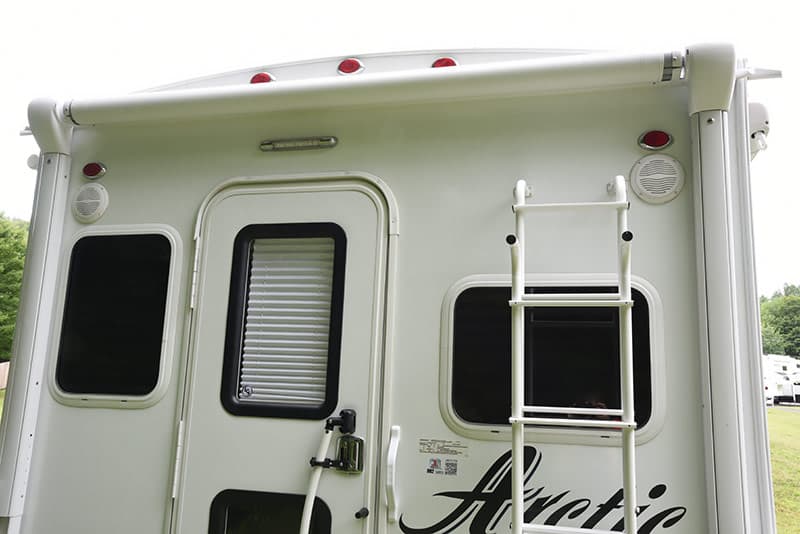 The only downside of the new cathedral arch ceiling is that it made climbing on to the roof more difficult.  Specifically, it's tough to bridge the gap between the top of the rear ladder to the taller roof while getting up and over the rear awning.  This would be much easier, and safer, if Northwood added a grab handle on the roof that lined up with the ladder.
When we did get on the roof, we were very impressed with the quality of the seals and the neat presentation of the TPO fiberglass and roof features.  Northwood vacuum bonds its truck camper roofs giving them a solid and tight finish.  Very impressive.
Anyone who enjoys preparing meals on the road will probably love the passenger's side kitchen.  With a respectable amount of counter top space, double sink, lots of upper and lower cabinetry, a stainless steel microwave, propane range top, and oven, even the traveling gourmet among us should find what they need.
The two windows, LED under cabinet light, 110-volt under cabinet outlet, three ceiling LED lights, and large entry-area skylight are also really nice touches to the kitchen.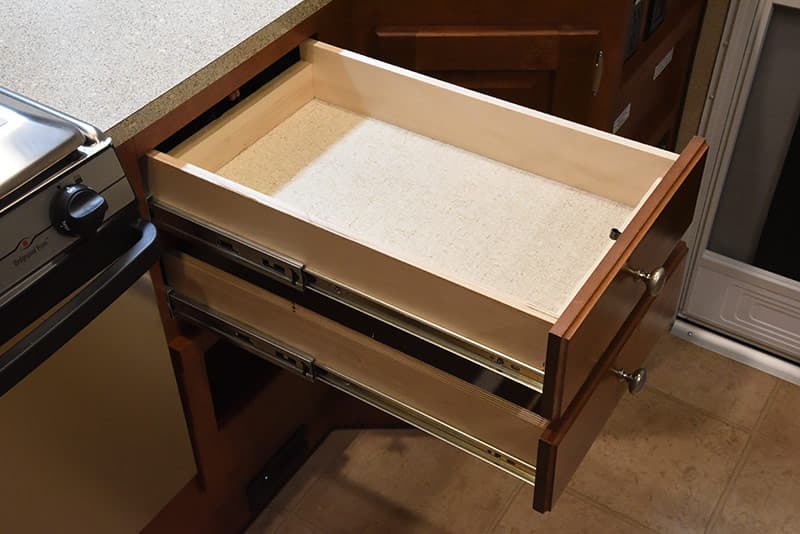 Under the counter top are two residential-style pull-out drawers on steel roller bearings.  The top drawer will undoubtedly be a silverware drawer for most folks.  If this were our camper, the lower drawer would be for larger cooking utensils, pot holders, and other kitchen odds and ends.  This is exactly the right storage opportunity in the right place, one of my favorite things.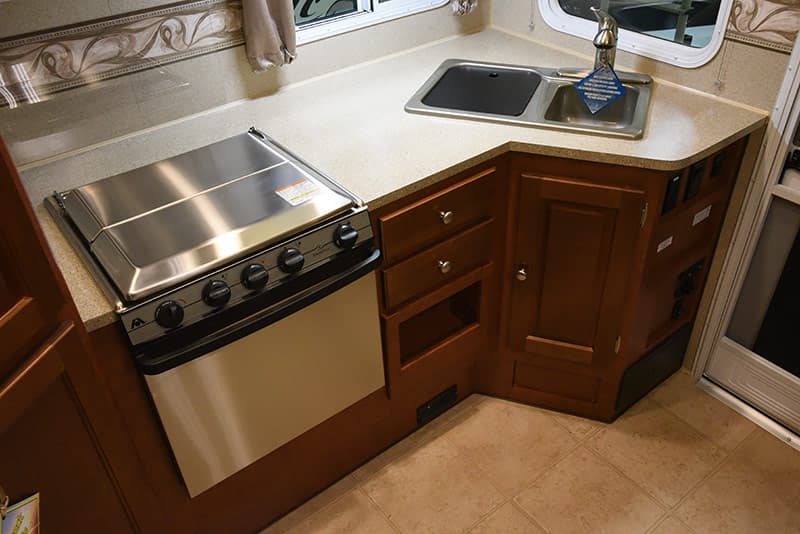 Under the drawers is an inset spice rack, perfect for spices to be sure, but we have also seen this space used for dish detergent and other kitchen items.  Northwood Manufacturing should have a photo contest on the best use of this clever kitchen cubby.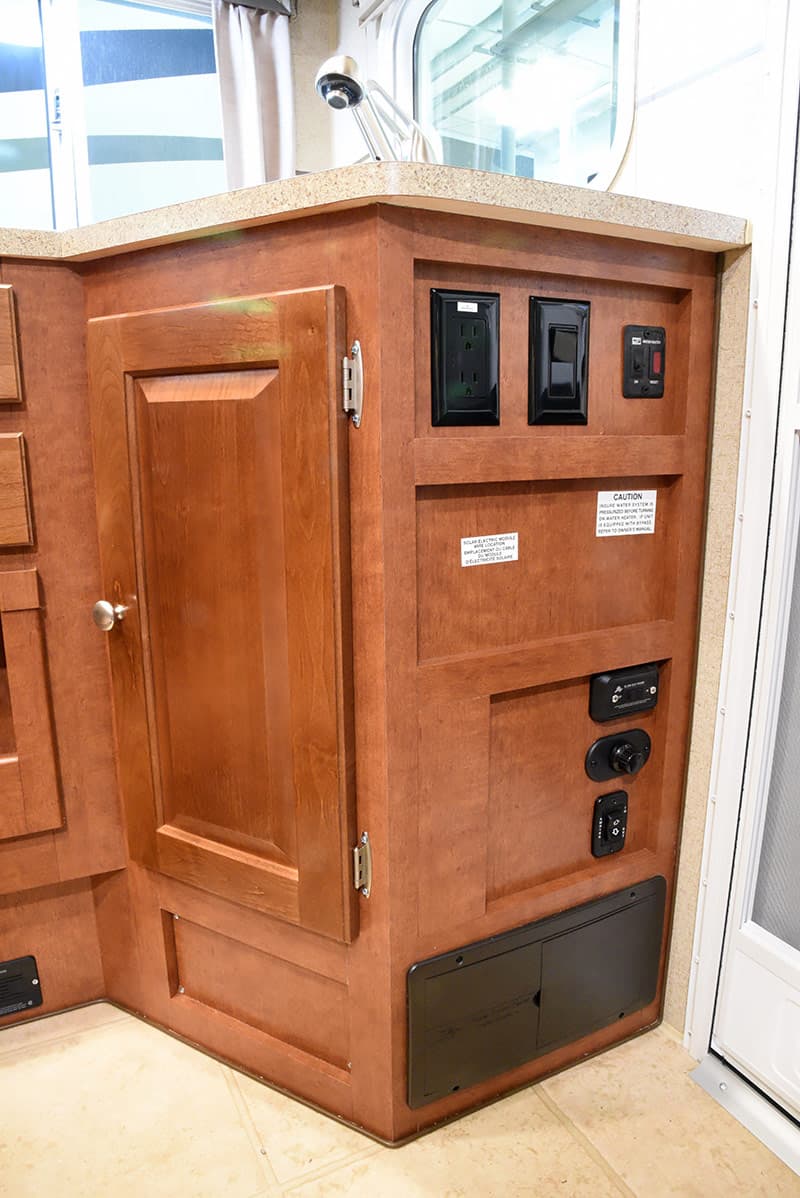 Just inside the entry door and under the sink counter is a 110-volt outlet, light switch, Suburban hot water heater switch, slide-out room rocker, interior light switch and dimmer, rear electric awning rocker, and the fuse panel.  The unit under review also had a the solar controller pre-wire location in this area.
For starters, it's fantastic to have all of these features neatly presented in a very convenient location.  Having the slide-out room rocker, interior light switch and dimmer, and rear electric awning rocker all within reach of the door is fantastic.  The floor level fuse panel might be tough for some to bend down and access.  However, folks can open the rear door and sit on the Fox Landing system to work with the fuses.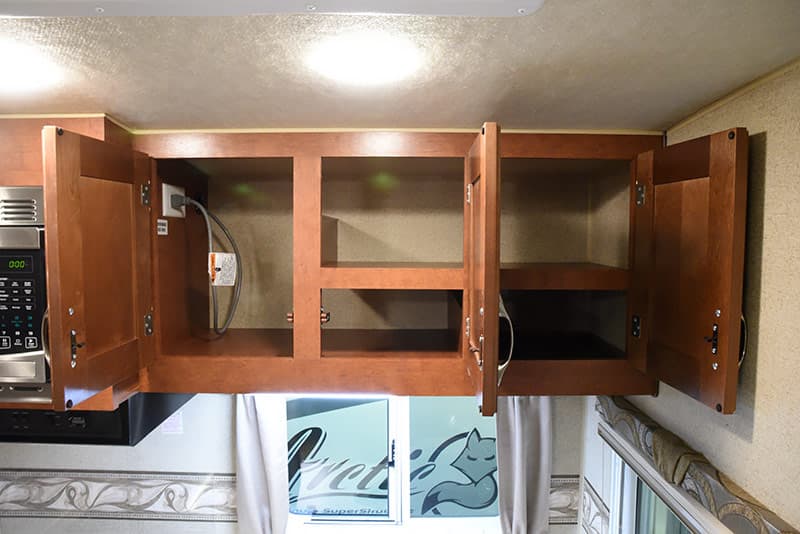 The upper kitchen cabinetry appears taller than the previous "flat" ceiling 992 with a generous amount of storage for cups, dishes, and dry food items.  Overall this kitchen looks and feels very domestic.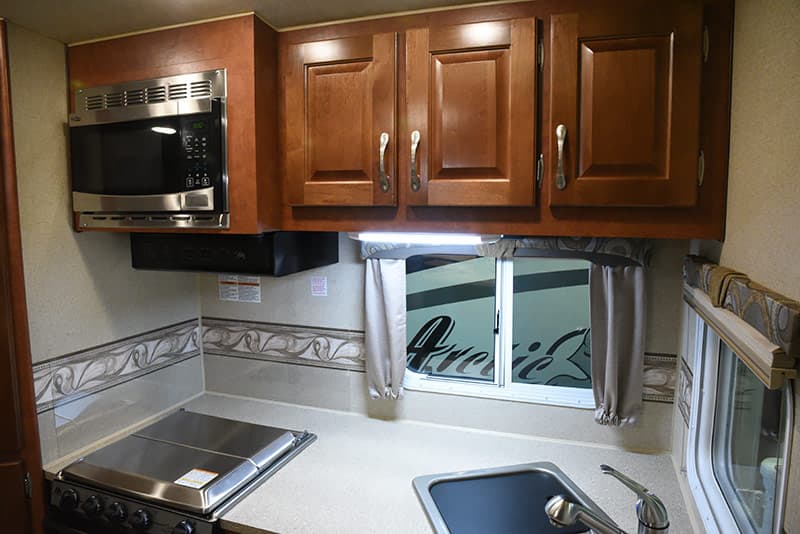 The microwave in the 992 is a residential-style stainless steel unit.  Where some manufacturers use mini-microwaves to save space and weight, Arctic Fox gives you a full-size model to use as if you were home.
There does seem to be an excess amount of cabinetry wall above and to the sides of the microwave, but that may be necessary to properly ventilate this unit.  As always, Northwood Manufacturing is welcome to explain this feature with a Manufacturer's comment.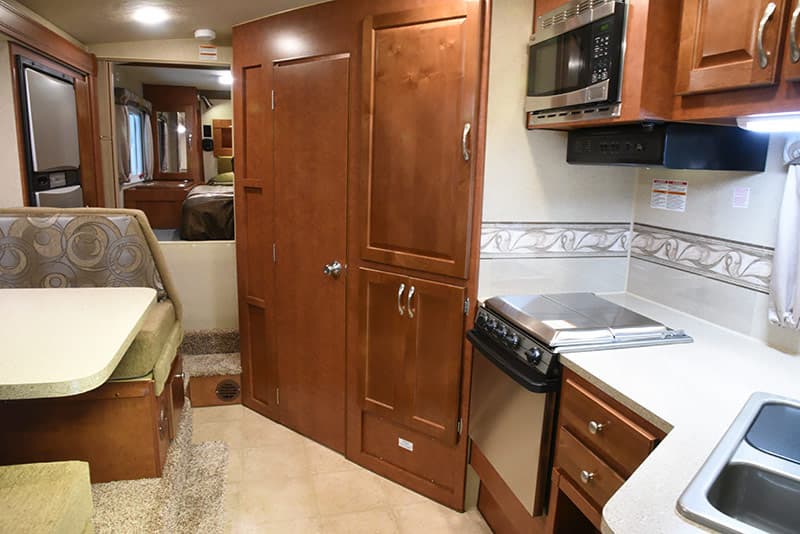 If the storage opportunities in the kitchen area failed to impress, hold your bonnets!  The angled double-door hanging closet in the middle of the camper is one of the largest interior storage areas you'll ever see in a truck camper.  This closet is perfect for hanging shirts, winter coats, and even formal wear.  We have used our truck camper to attend weddings and this closet size would be very handy in those situations.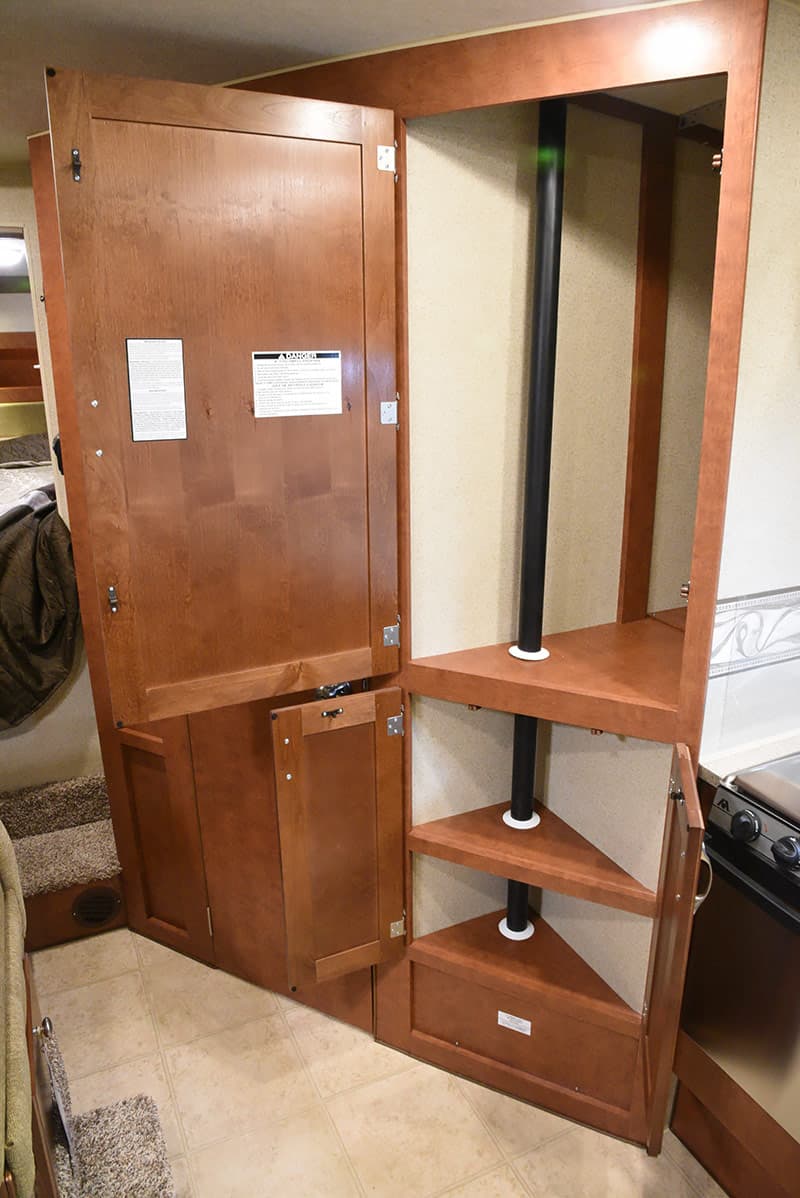 Under the double-door closet is another set of doors that reveal smaller triangle shaped shelves.  This is all welcome storage space, but the black ventilation pipe that runs vertically through this area compromises these smaller shelves more than the hanging closet above.  Still, I can see these shelves being well used for various food and camping items.  Truck camper owners will find a useful way to use the space.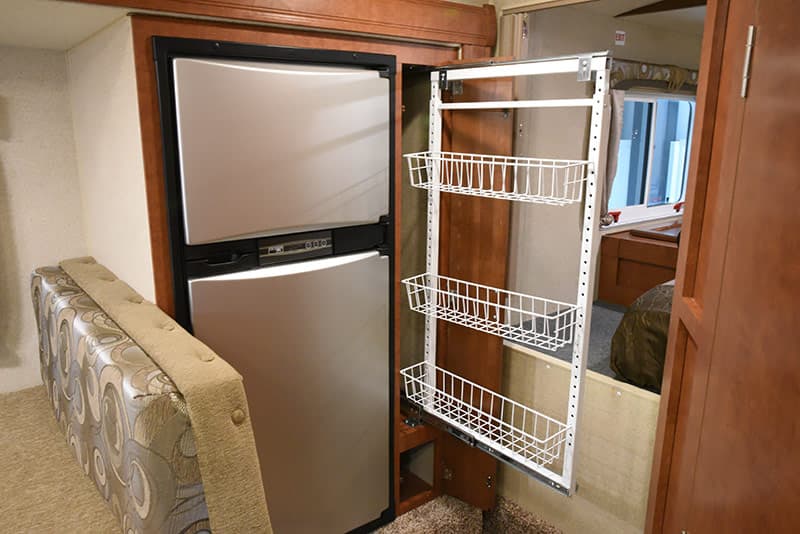 Directly across from the hanging closet is a pull-out pantry for dry food.  If you can't find enough room to store your dry food in this camper, you're not looking hard enough.  This pantry almost seems superfluous, but keeping dry foods in this space would free up other storage areas.  There's even another storage nook under the pantry.  When it comes to storage, this camper is truly top notch.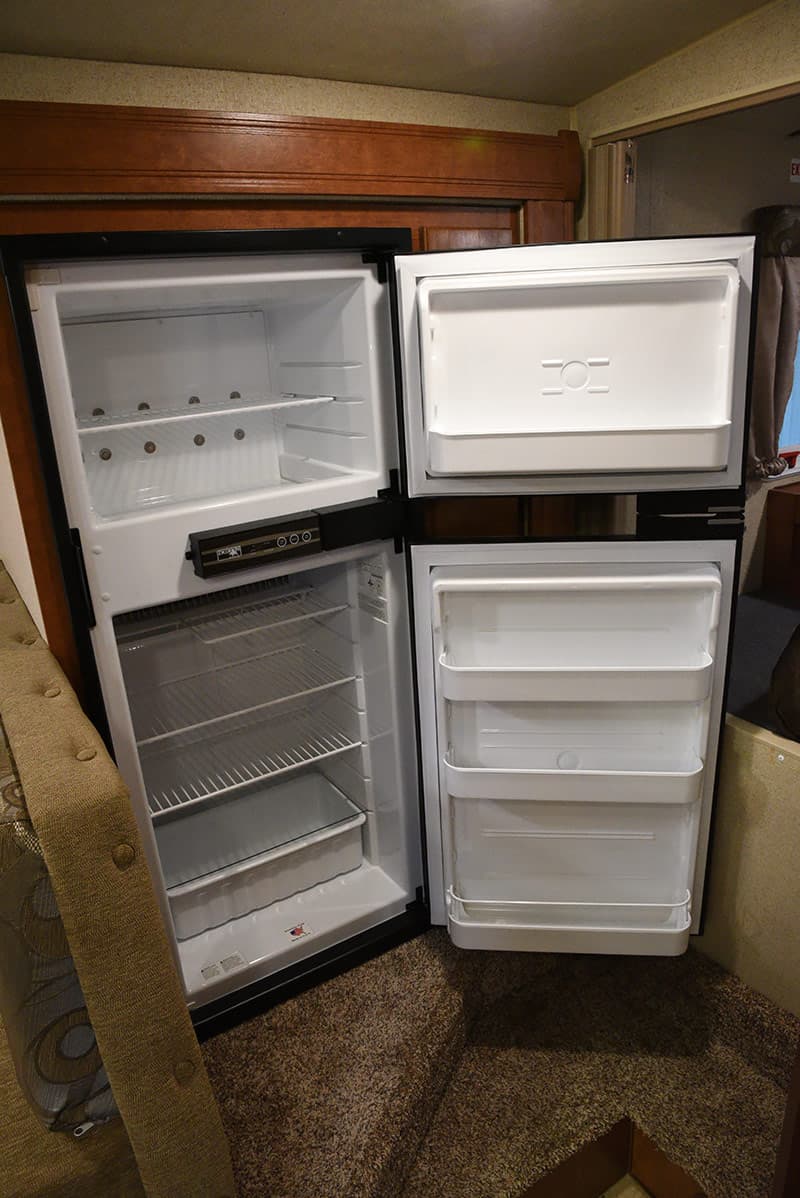 The 6-cubic foot two-way (LP and AC) Norcold refrigerator is a sensible unit for the 992.  From experience, 6-cubic feet is enough cold food storage for two people for about a week.  Our camper has a 6-cubic foot refrigerator and we don't wish for more.
Some might prefer a three-way refrigerator (LP, AC, and DC) but many would argue that having the DC option actually risks your battery bank.  If a three-way refrigerator accidentally switches over to DC and you don't notice, it can drain your house batteries in a matter of hours.
For anyone who doesn't feel comfortable running their refrigerator on LP while driving, turn off your refrigerator prior to heading out and turn it back on when you arrive at your destination.  Unless it's very hot, or your drive is especially long, your food will stay cold and frozen.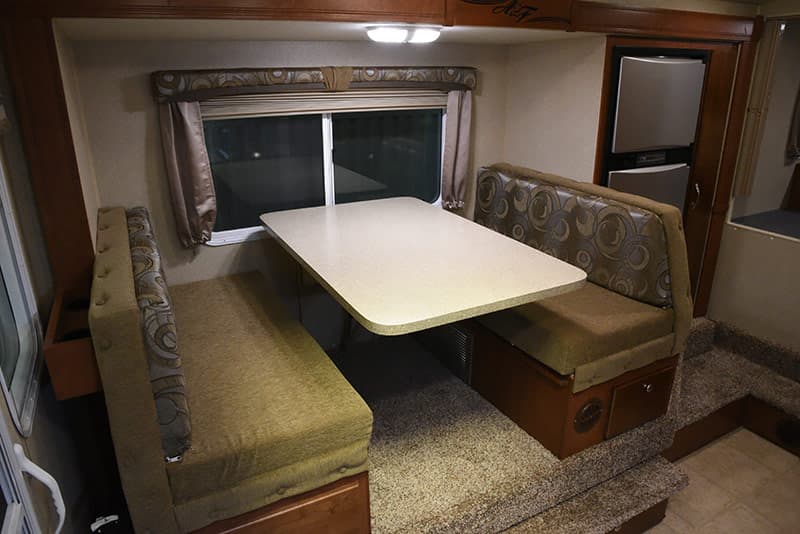 The size and proportions of full-booth dinette in the Arctic Fox 992 are awesome.  The dinette seats offer room for two adults on each side and the big stable table is perfection for breakfast, lunch, dinner, two laptops, big map planning sessions, Texas Hold 'Em, Mexican Train, or old school arm wrestling.  This dinette and table are the business.
In the past, Arctic Fox dinette cushions have been extremely firm.  While some people liked this firmness, others added egg crate foam to soften the seats, or changed the foam material entirely.
The 992 under review had a fairly firm seat, but seemed to be an improvement over the previous cushions.  Fortunately, adding egg crate under the cushions or changing the foam material is a relatively easy mod.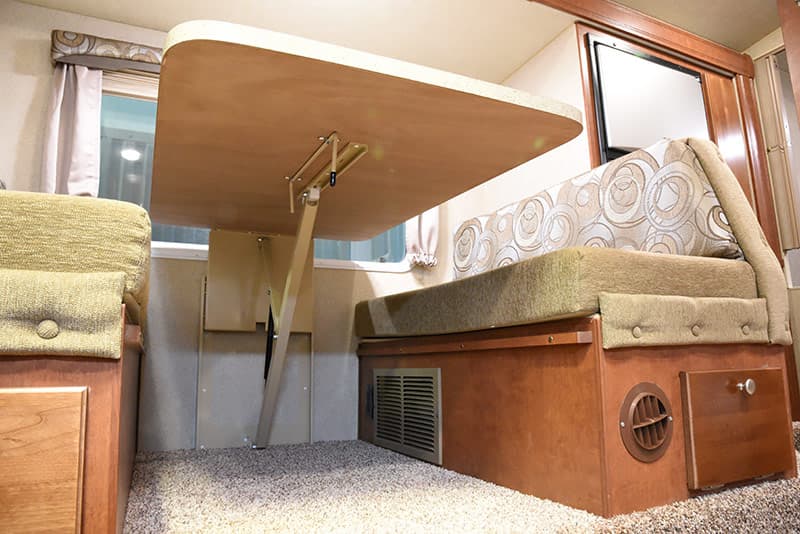 The Dream Dinette system not only eliminates the often annoying table leg, but also makes converting the dinette into a bed quick and easy.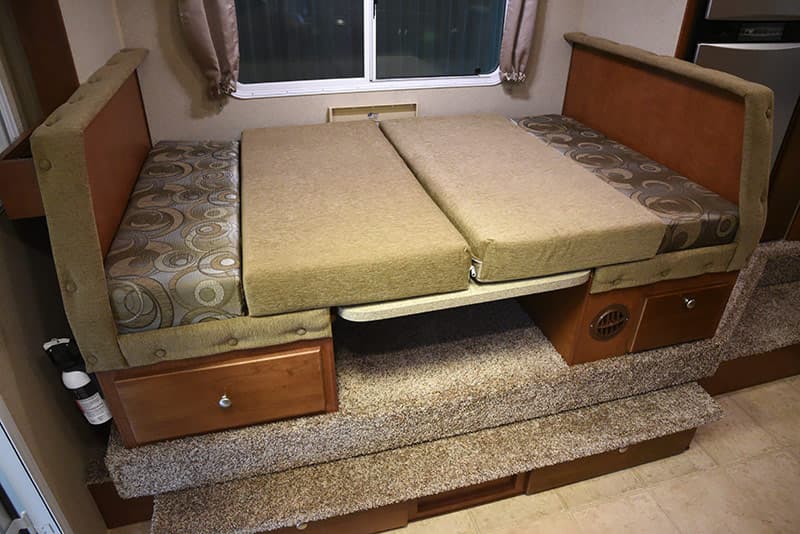 Just release the table top hinge and push it down until it rests on the seat ledges.  Then arrange the four cushions into a bed.  That's it.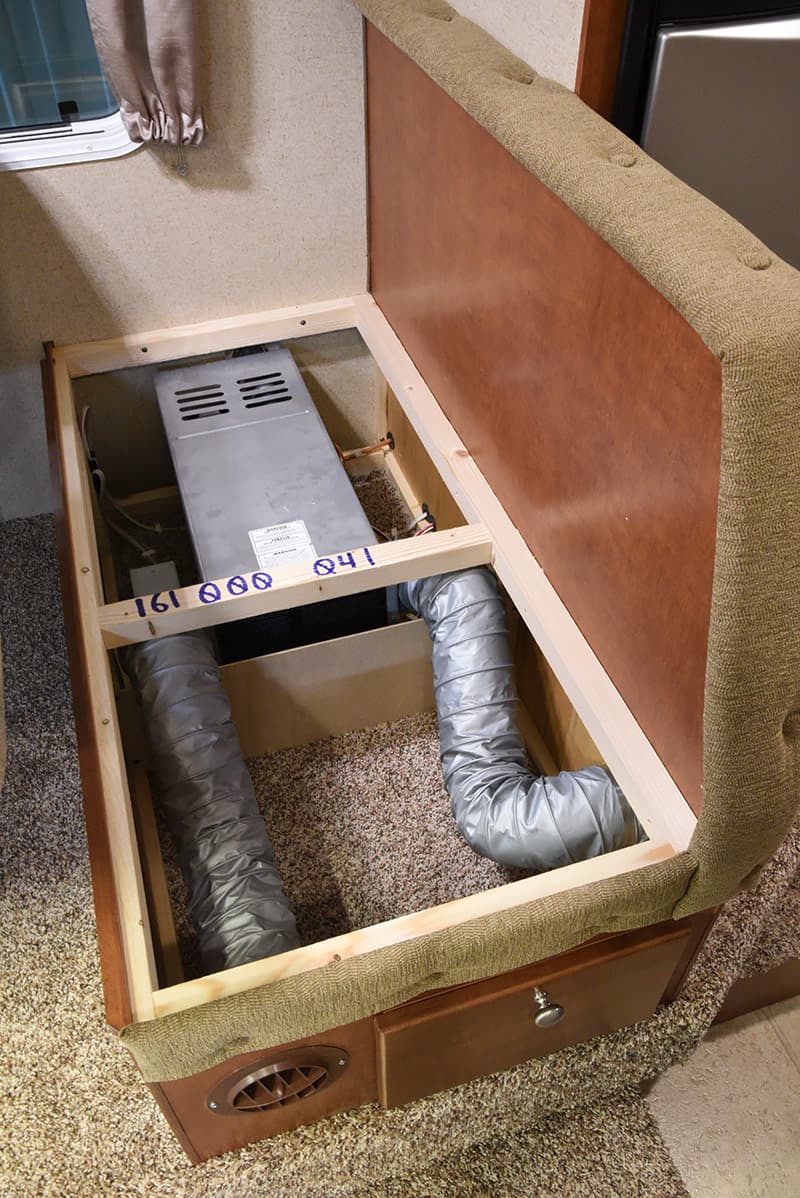 Under dinette seat facing the rear of the camper is where the heating system is located.  Half of this space is still usable as storage, but you'll need to be careful not to store anything that might move around and damage the heating ducts.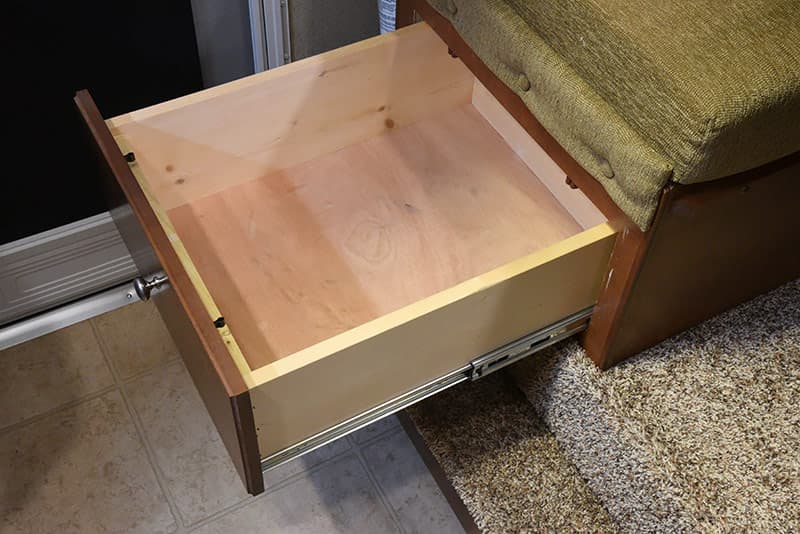 Under the forward-facing dinette seat is a pull-out drawer that really shows the quality and heft of Arctic Fox truck campers build.  The thickness of the wood and the steel roller bearings all say, "This camper is built to last".  The Arctic Fox owners we know really appreciate this aspect of their campers.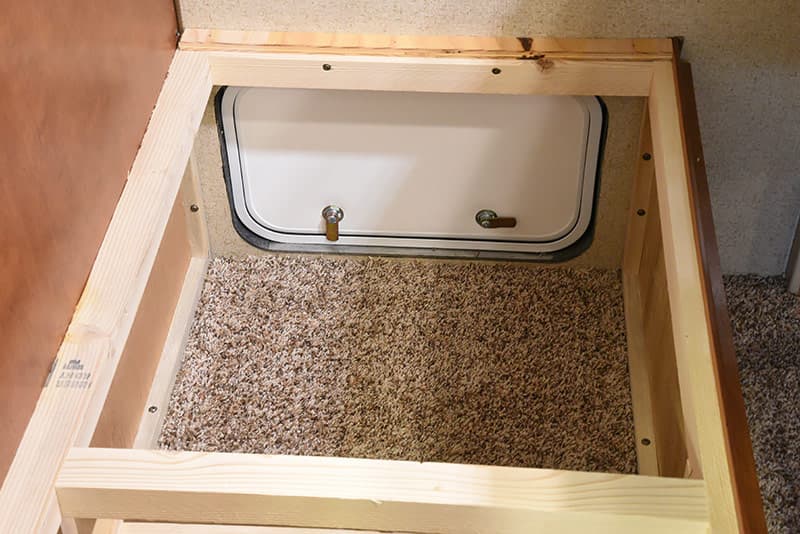 The other half of the forward-facing dinette seat offers access to the exterior storage compartment.  Having access to this exterior storage area from inside the camper is great, but I would be concerned about the carpeting.
There isn't much that's stored in exterior camper compartments that is 100-percent clean.  To prevent damage to the carpeting, I would look keep items in this space contained in plastic bins.  Or the owner could remove the carpet in this compartment and install linoleum.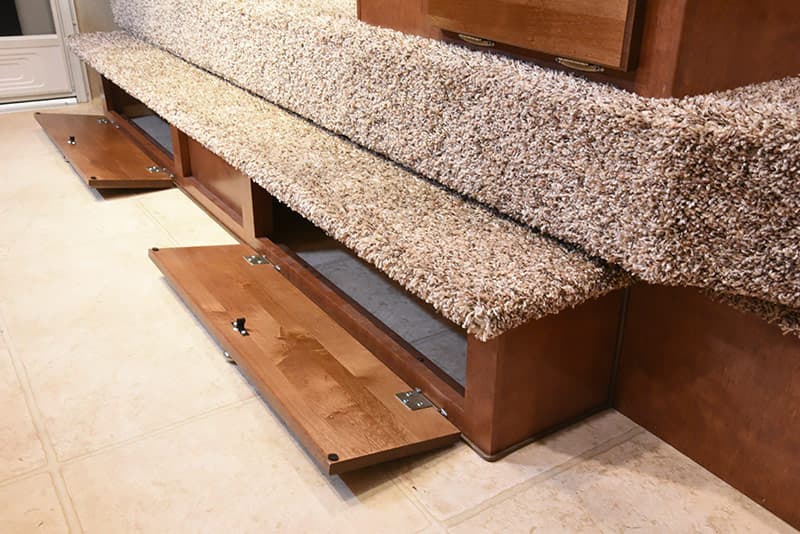 Under the entire dinette slide Northwood has cleverly added two pull-down storage areas.  These could be suitable for shoes, umbrellas, or maybe collapsing fishing poles.  Whatever you use it for, this is another great place to put stuff.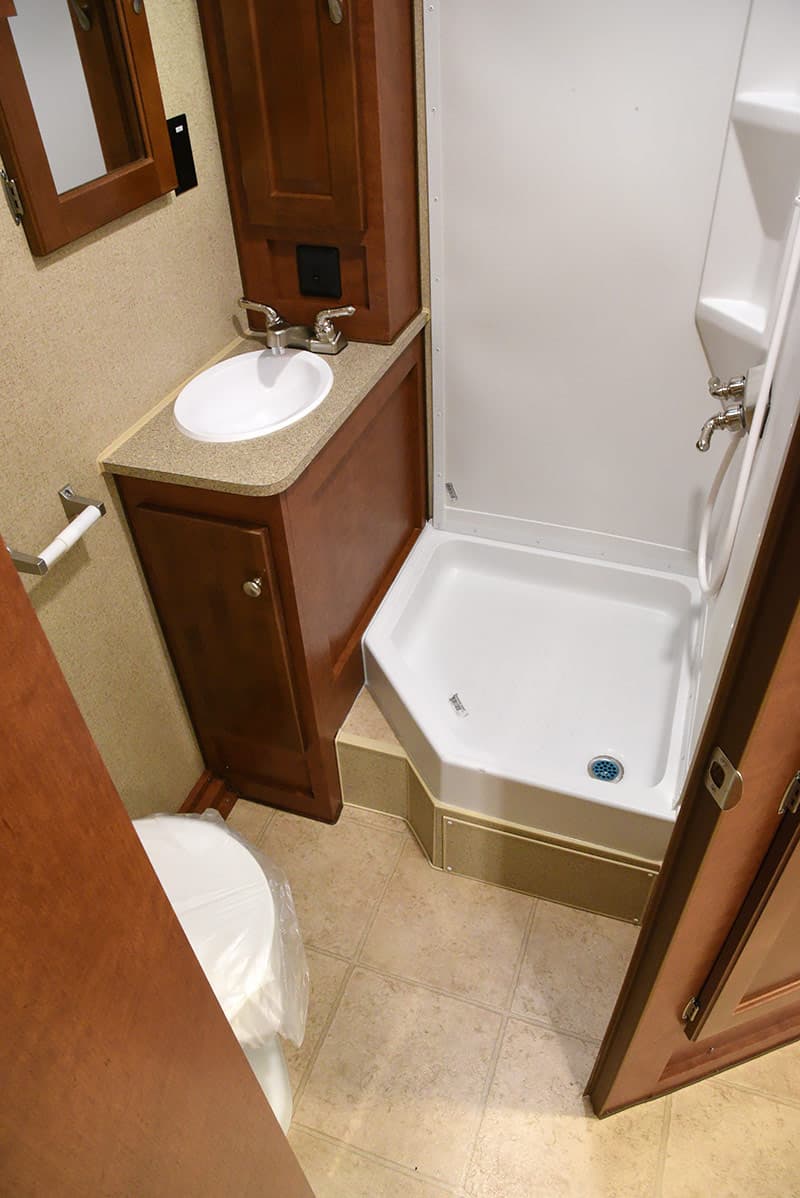 The dry bath in the Arctic Fox 992 is one of the most original dry bath designs we've ever seen.  Where other manufacturers make the entire far wall the shower area, the 992 splits this area into two-thirds shower stall and one-third sink and storage area.  This allows for more bathroom floor space and more leg room around the toilet.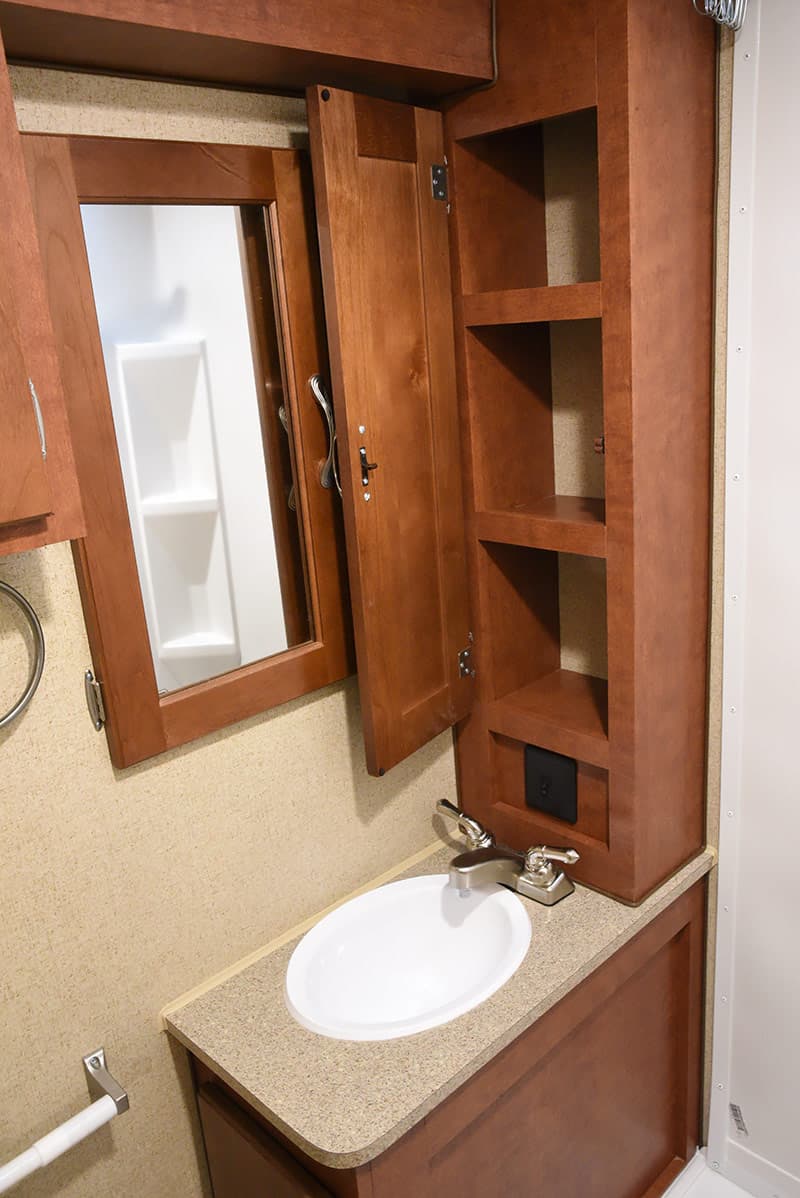 This arrangement also allows for more storage opportunities.  There's cabinetry storage under the sink, behind the sink, and on the wall behind the toilet.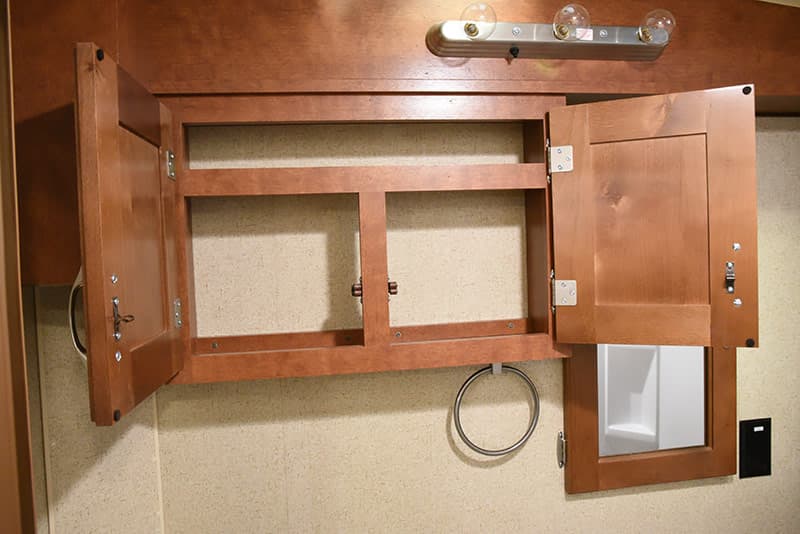 Once again we have to state that the 992 offers an incredible amount of usable storage opportunities.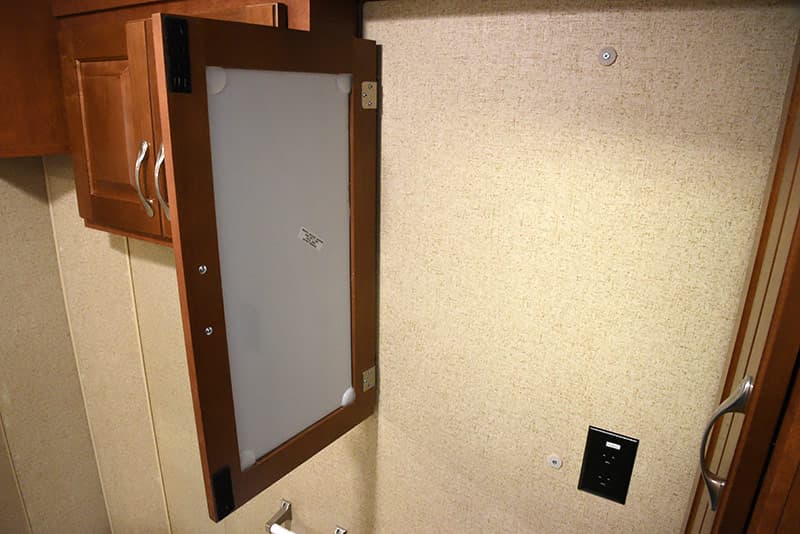 We were surprised to find what looked like a mirrored medicine cabinet was actually just a hinged mirror.  Given the proximity of the other bathroom storage cabinets, this makes total sense.  The hinged mirror also will be very convenient for shaving or applying makeup.  Very clever.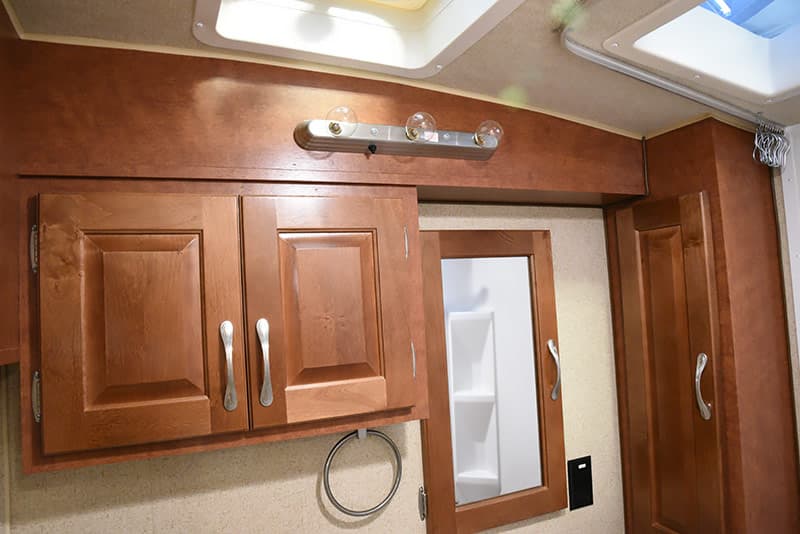 Standing in the shower stall, the cathedral arch ceiling added a bit of headroom making the shower stall feel bigger.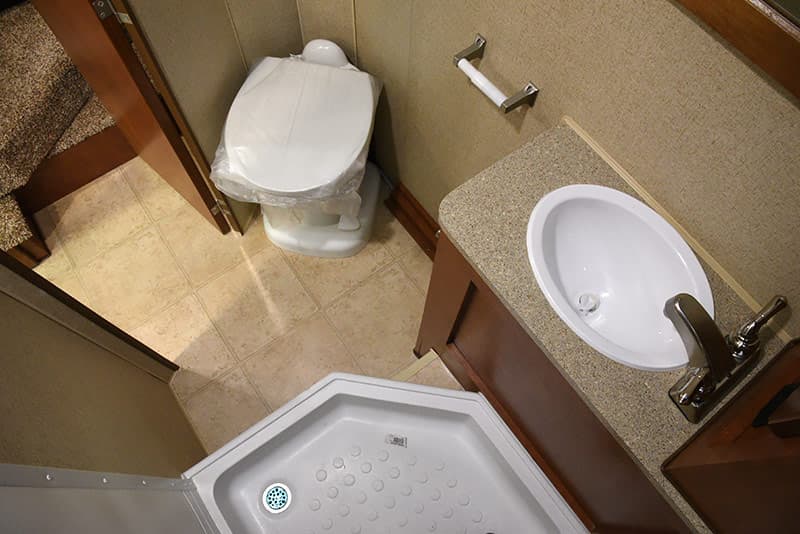 With the curtain closed, the shower was narrow, but had enough room to get the job done.  When you're done showering, you will appreciate the additional floor space to step out, dry off, and get dressed.  All in all, this large and unique dry bath is exceptional.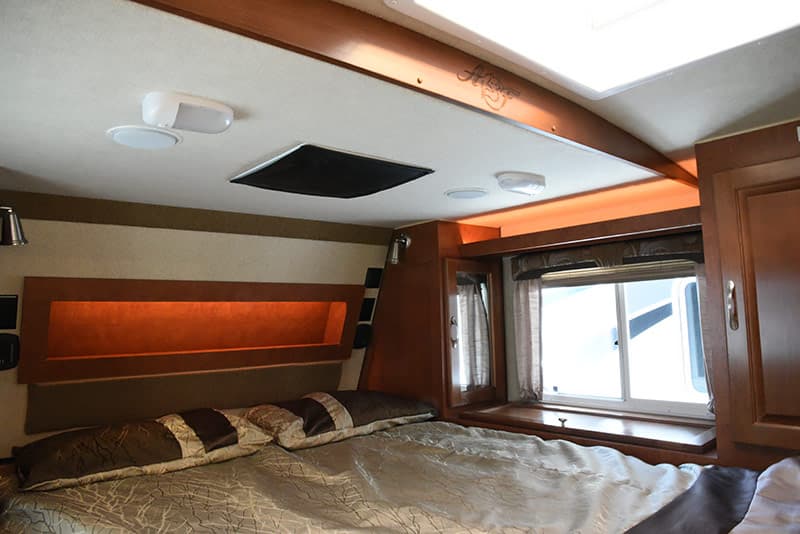 For my money, the cathedral arch ceiling made the most impact in the cabover bedroom.  Combined with the tall contour cabover nose designed introduced in 2013, Arctic Fox now has the most spacious cabovers in the business.
The tall contour cabover nose increased the headroom by 4-inches, and the cathedral arch ceiling feels like it added even more.  While you're not going to stand up in this cabover, you're not going to bang your head either.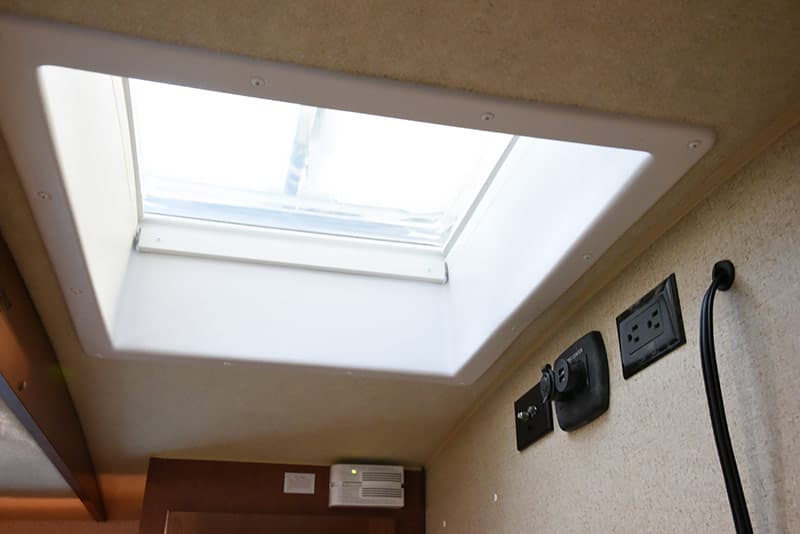 At the front wall, Northwood has added a skylight making the cabover feel even more bright, open, and spacious.
Cabover storage is decidedly traditional with hampers and forward cabinets (aka penguins) on both sides of the bed.  The cabinetry wood work and hardware is all rock solid and built to withstand many, many years of truck camping.  The passenger's side also gets a closet.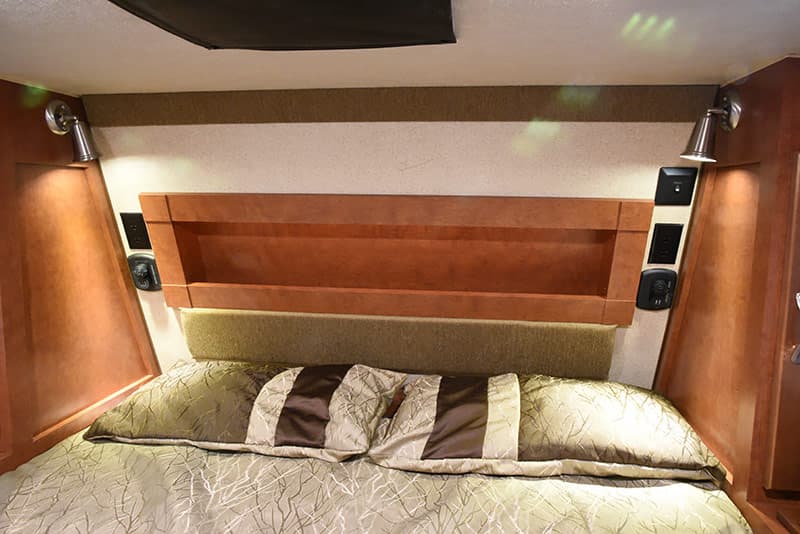 Things in the cabover get exciting in the forward-most headboard area.  Here Northwood has included 110-volt, 12-volt, and USB outlets on both sides of the bed.  With the number of folks who need to charge devices at night, or use a CPAP machine, these outlets are an excellent addition.
Between these outlets Northwood has created a long storage nook with a built-in strip light.  This area is perfect for keeping a magazine or book, Kindle, iPad, or anything else you like to keep next to the bed.  The strip light is great for ambient lighting while watching television.  As a bonus, there's another ambient strip light over the passenger's side window.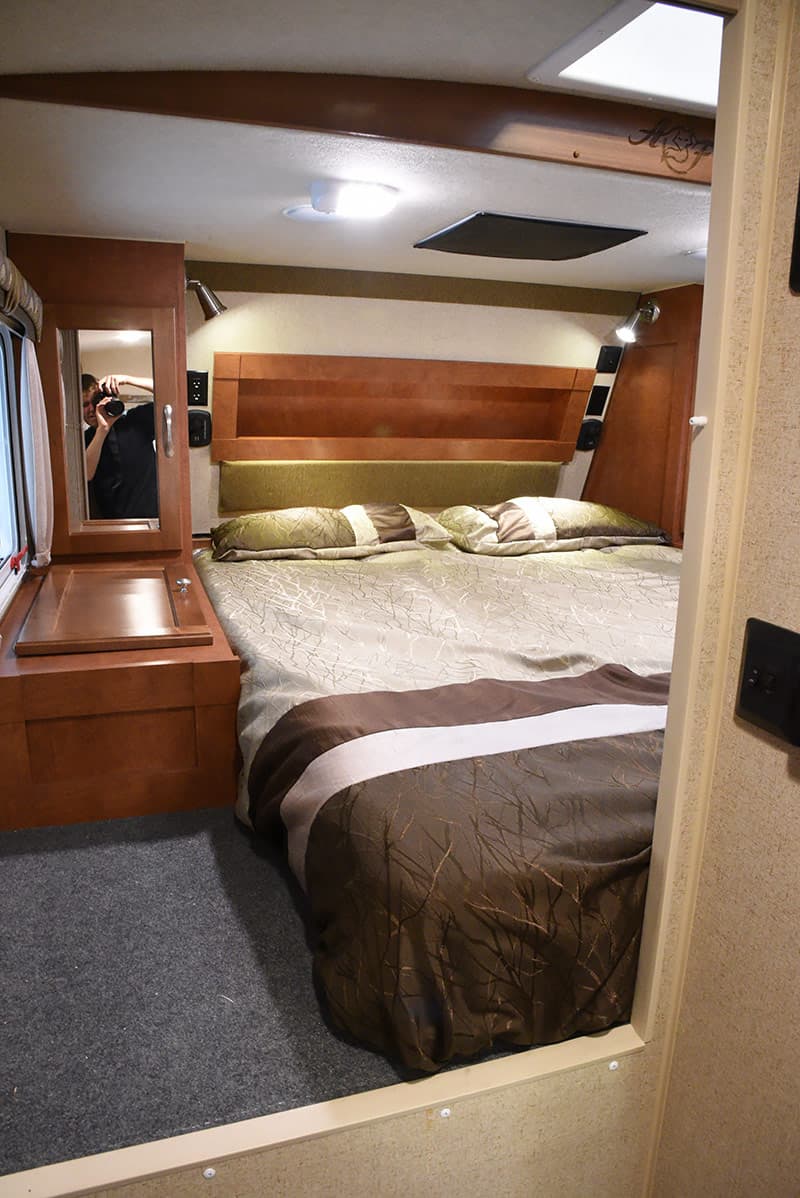 The only real quibble with the cabover is the restricted access to and from the cabover passenger's side.  One of the traditional advantages of a north-south cabover is the ability to enter and exit directly and without disturbing your spouse.
With the 992's enormous dry bath wall in the cabover, there's no way for the person sleeping on the passenger's side to get in or out of bed without crawling over their significant other.  This is the trade-off for having a huge dry bath.
There's a lot going on with this floor plan, especially when you take into account the new cathedral arch ceilings.  As is our job, we found a few nitpicks here and there, but we were consistently impressed with the quality of the construction and the level of detail in this camper.  Now let's dig into the specifications and capacities of this luxury ship.
Specifications
| | |
| --- | --- |
| Specifications | |
| Dry Weight | 3,830 pounds |
| Wet Weight* | 4,897 pounds |
| Floor Length | 10'2″ |
| Overall Length | 17'10" |
| Width | 8'1″ |
| Interior Height | 6'7″ |
| Exterior Height | 9'4″ w/ AC |
| Center of Gravity | 46″ |
| Truck Type | Long Bed |
On their website, Northwood Manufacturing states the dry weight of the 2017 Arctic Fox 992 at 3,235 pounds.  To that total you need to add the weight of the Fox Value Pack, a mandatory options package built into every Arctic Fox truck camper.
According to Northwood Manufacturing, the weight of the Fox Value Pack is 595 pounds.  This brings the base dry weight of the 2017 Arctic Fox to 3,830 pounds.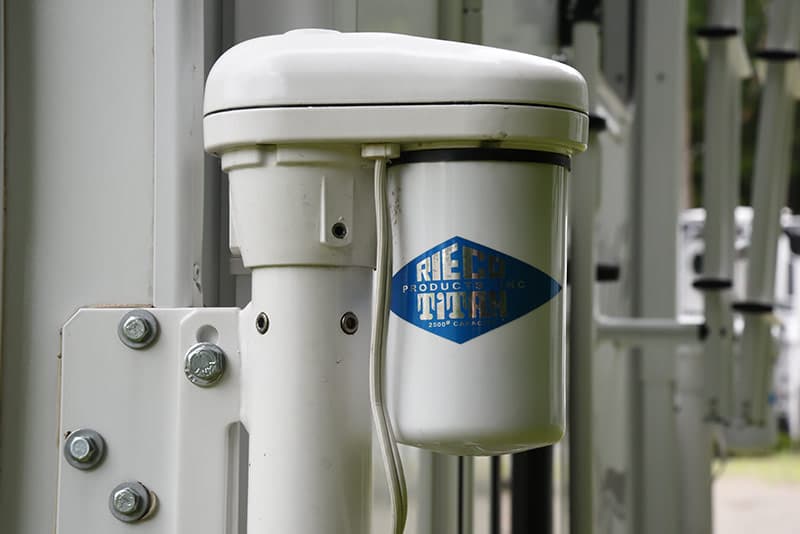 The Fox Value Pack mandatory options package includes 19 items: rear electric awning, sliding battery rack, dual 30-pound propane tanks, roof rack and ladder, Rieco-Titan electric jacks with remote, outside speakers, Joey sliding storage tray, TV antenna, diamond plate knee wall armor, 6 cubic foot two-way refrigerator, deluxe stainless-look refrigerator door panels, 22-inch oven, microwave, pull-out pantry, multi-speed reversible fan vent, hardwood hamper doors, below dinette access door and drawer, front bedroom shelf, and a bedspread.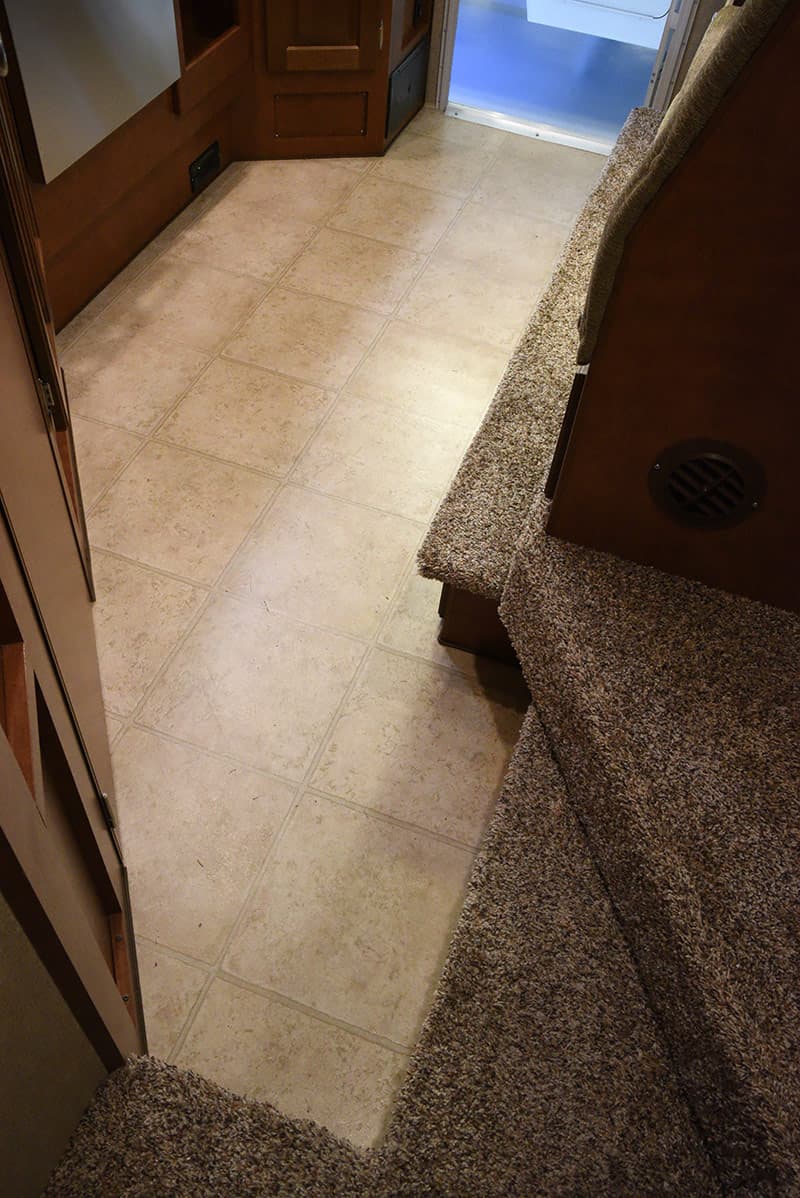 Above: The floor space of the Arctic Fox 992 with the slide-out open
Like all Arctic Fox models, the 992 is 97-inches wide.  This is 5-inches narrower than the US Federally allowed width (102-inches) and in-line with Northwood's competition, plus or minus an inch or two.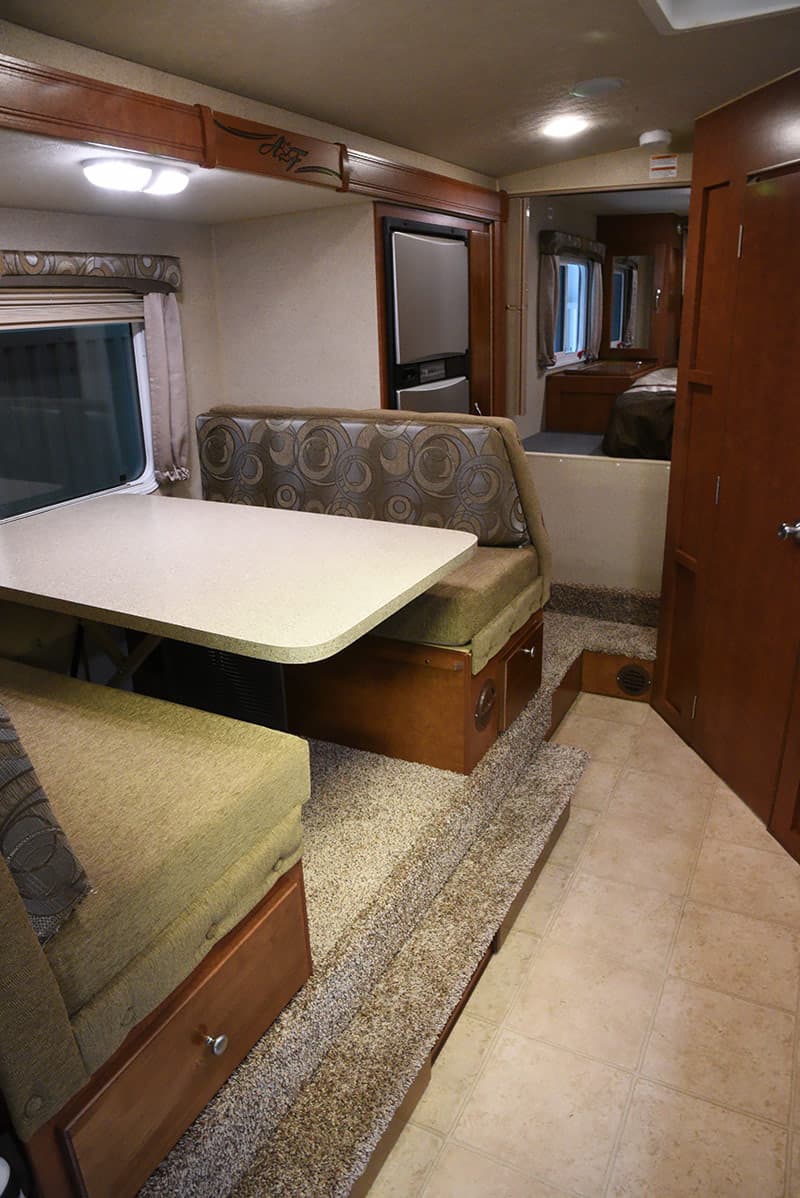 Above: The inside height is 79-inches (6-feet, 7-inches)
Thanks to the new cathedral arch ceiling, the interior height is a remarkable 79-inches (6-feet, 7-inches).  Unless you play professional basketball, or insist on truck camping in stiletto pumps, this is more than enough headroom.  It's been said already, but you really need to experience this new ceiling to fully appreciate it.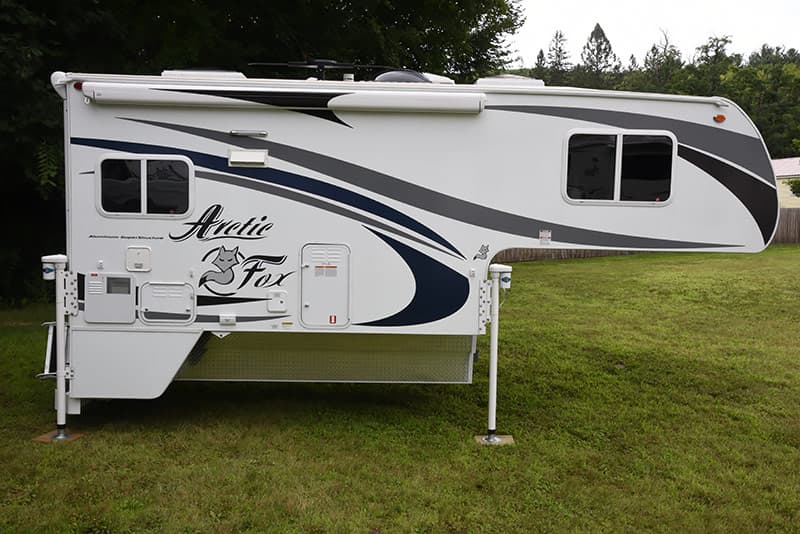 With the new cathedral arch ceiling and an air conditioner, the 992 exterior height is 112-inches tall (9-feet, 4-inches).  Expect the loaded 992 to be between 11.5 and 12.5-feet high depending on your truck, tires, and suspension.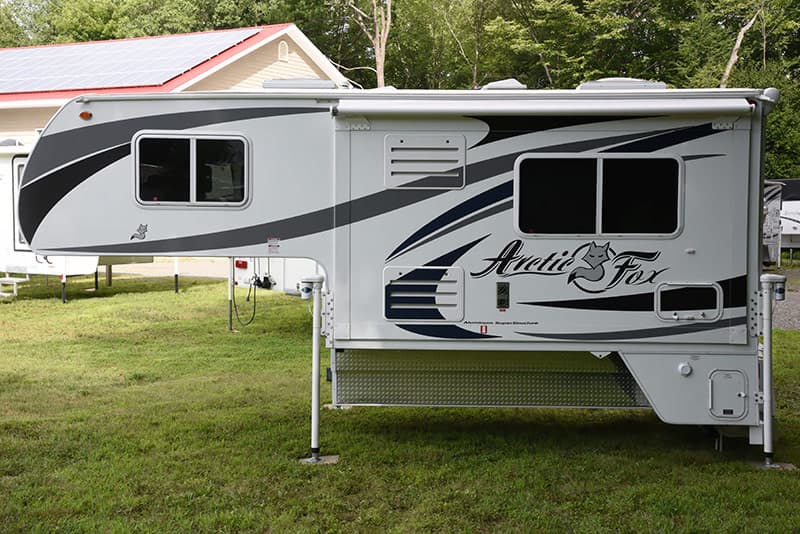 We are always pleased to see a center of gravity sticker on a truck camper.  Clearly marked on both sides of the unit, the center of gravity on the 992 is 46-inches.  Kudos for Northwood for properly marking the center of gravity on their truck campers.
Capacities
| | |
| --- | --- |
| Capacities | |
| Fresh | 46 gallons |
| Grey | 39 gallons |
| Black | 37 gallons |
| Water Heater | 6 gallons |
| Propane Tanks | 2x 30 pounds |
| Batteries | Two Batteries |
The holding tanks in the Arctic Fox 992 offer 46 gallons of fresh, 39 gallons of grey, and 37 gallons of black.  This is a well balanced set of holding tanks.
For two people practicing normal truck camper water conservation techniques (aka navy showers and not letting the water run), these tanks should last at least 7-8 days of off-grid camping.  Shower every other day and these tank capacities could be pushed even further.
Since so many folks will be comparing this camper to the Arctic Fox 990, it's fair to point out that the 990 has more fresh capacity (59 gallons), the same grey (39 gallons), and more black (43 gallons).
From years of truck camping experience, it's almost always the grey tank that fills up first.  And we can't think of a single time when the black tank filled before the grey.
Taking these facts into account, the 990's larger fresh and black tanks wouldn't extend our off-grid capabilities.  If you use your outside shower a lot, then maybe the 13-gallons of additional fresh tank capacity of the 990 will make the difference.  For everyone else, the larger fresh and black tank in the 990 will be a non-issue in practice.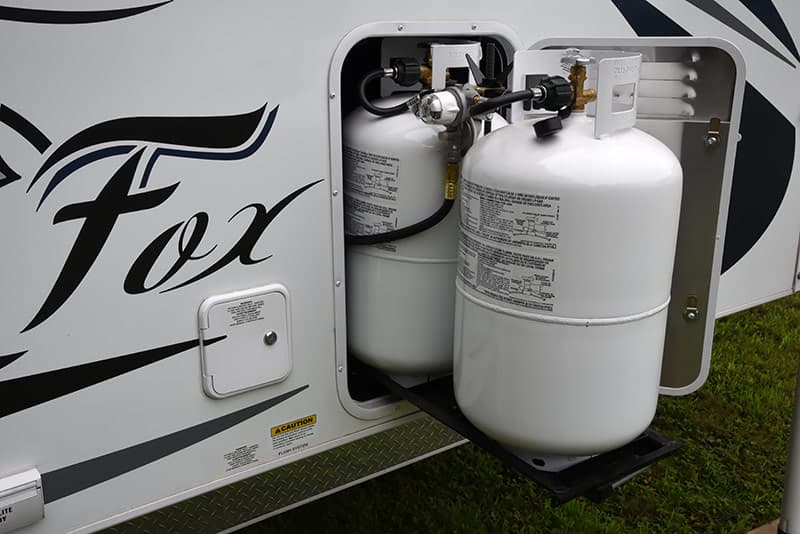 Northwood Manufacturing has opted to put two 30-pound vertical propane tanks into every Arctic Fox model including the 992.  This is an amazing amount of propane capacity for running your refrigerator, range top, oven, heating system, and hot water heater while off-grid.  If you like camping in the dead of winter, or plan to boondock for an extended period of time, this propane reserve is a dream come true.
These tanks are also quite heavy compared to the industry-standard 20-pound vertical propane tanks.  They also can't be exchanged at Home Depot, Lowes, Walmart, gas stations, and thousands of other locations that offer 20-pound propane tank exchanges.  What you gain in capacity with the 30-pound tanks, you lose in weight and convenience.
Fortunately, there's an easy solution should you prefer 20-pound vertical tanks; just switch.  Two 20-pound vertical tanks should fit where the two 30-pounds tanks are now.  You just need to make sure these tanks are properly secured and that the propane regulator and hoses will reach.  Based on what we saw in the 992 propane compartment, slide-out tray, regulator, and hoses, neither of these objectives should be a problem.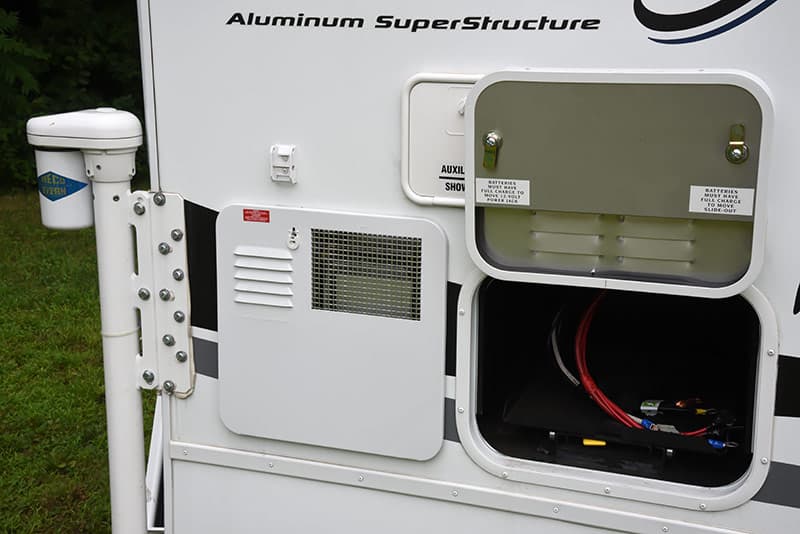 The Arctic Fox 992 has an exterior battery compartment with a slide-out tray for two Group 27 batteries.  With 46-gallons of fresh water, 39-gallons of grey water, two 30-pound propane tanks, two Group 27-batteries, and LED interior lighting, the 992 is ready for serious boondocking.  Add the optional built-in generator and/or solar panel system and take this machine to Alaska or Baja for at least a week of off-grid camping.
Wet Weight Calculation
For the specifications part of this review, I explained that the 2017 Arctic Fox dry weight is 3,830 pounds including the mandatory Fox Value Pack.  This should be considered Northwood Manufacturing's stated base dry weight for the 992.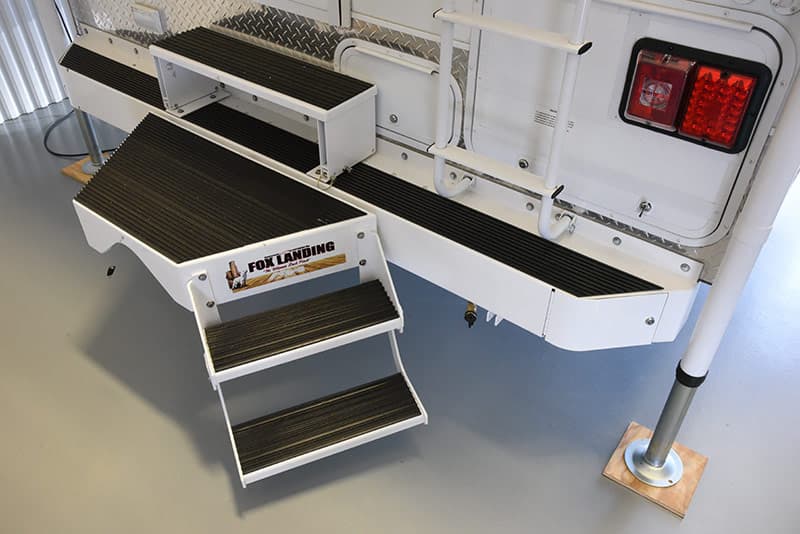 It's very unlikely that you will find a camper that weighs 3,830 pounds unless you order it from the factory as a base camper without options.  Most dealers will order the 992 with a list of popular options including an air conditioner, built-in generator, audio-video system and HDTV, thermal pane windows, solar panel and controller, swing-out brackets, slide-out topper, and the highly versatile Fox Landing bumper step (seen above).
Base Dry Weight – special factory order only
For our first wet weight calculation, we will start with the base 2017 Arctic Fox 992 including the mandatory Fox Value Pack.  Again, this is a factory order only and will not likely be found on dealer lots.
Arctic Fox 992: dry weight, 3,830 pounds + 40 gallons fresh, 333.6 pounds + 6 gallon full hot water heater, 50 pounds + 2x 30-pound full propane tanks, 54 pounds + 2 batteries, 130 pounds + stuff, 500 pounds = 4,897.6 pounds
Option-Loaded Review Unit
Since Northwood Manufacturing does not post inside weight stickers reflecting the weight of the actual unit, we estimated the weight of the options of the review unit.
The review unit had the optional EZ-Open handle, AM/FM/CD/DVD player, 19-inch 110-volt/12-volt LED HDTV, thermal pane windows, Fox Landing bumper and step system, pull-out mid-step, 11K BTU air conditioner, 10-foot side box awning, and a slide-out topper.  We conservatively estimate these options to weigh 425 pounds.
Talking the base dry weight of 3,830 pounds (including the mandatory Fox Value Pack) and adding the 425 pound option weight, we get a base weight with options of 4,255 pounds.  Let's run the wet weight numbers again using this weight.
Arctic Fox 992: dry weight, 4,255 pounds + 40 gallons fresh, 333.6 pounds + 6 gallon full hot water heater, 50 pounds + 2x 30-pound full propane tanks, 54 pounds + 2 batteries, 130 pounds + stuff, 500 pounds = 5,322.6 pounds
Truck Recommendations
The 2017 Arctic Fox 992 under review was born to be mounted on a one ton dually truck.  And not just any one ton dually truck, but a one ton dually truck with at least 5,322.6 pounds of payload capacity.
Fortunately, this isn't a big deal anymore.  For example, our 2014 Ram 3500 HEMI has 5,851 pounds of payload.  Taking things to an extreme, we saw a 2016 Ram 3500 (also a HEMI) at Truck Camper Warehouse with a payload of nearly 7,000 pounds!  Yes, this truck was a single cab dually HEMI with a 4.10 rear axle, but you get the idea.
Ford, GM, and Ram all have fantastic one-ton dually trucks that can handle the weight of this camper.  What you can't do is assume that the truck you have or a truck on a dealer lot has enough payload.  Many times trucks look like they could pull a house down, but don't have the payload capacity necessary for truck camping.
To check a truck's true payload capacity, open the driver's side door and look at the yellow "TIRE AND LOADING INFORMATION" sticker.  At the end of the sentence, "The combined weight of occupants and cargo should never exceed" will be the payload capacity of that truck in kilograms and pounds.
The truck recommendation for the 2017 Arctic Fox is easy.  You need a late model one-ton dually truck with at least 5,400 pounds of payload, or more.  If I were matching this camper to a truck, I would aim for closer to 6,000 pounds to allow for more options and additional cargo.  If you plan to tow with the 992, you especially need to aim for higher capacity.
The best way to achieve this payload capacity is to special order a truck.  Yes, you might be able to find a used truck or a new truck on a dealer lot with enough payload, but don't count in it.  Special ordering a truck allows you to prioritize payload in the build, and get exactly the features you want.  For this reason, we have special ordered two trucks and highly recommend this approach.
The Verdict
As is the nature of reviews, it would be easy to focus on the criticisms and miss the bigger picture.  And the big picture is this; the 2017 Arctic Fox is one heck of a truck camper.  For anyone looking for a single-slide truck camper with a huge dry bath, the 992 model is a must see.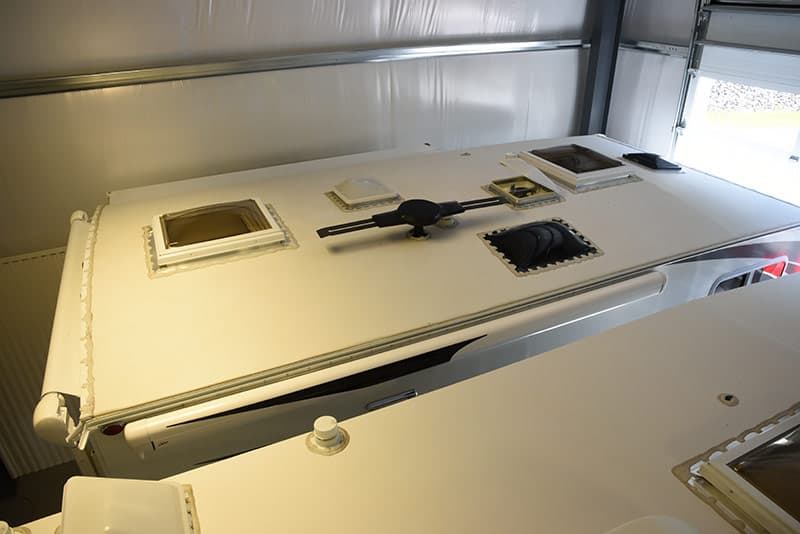 The cathedral arch ceiling (seen here inside the Truck Camper Warehouse building) is an unmitigated success.  Yes, Northwood needs to add a roof handle to help folks climbing onto the roof, but the sense of interior space created by the cathedral arch ceiling throughout the unit is amazing.
Nearly all of our nitpicks of the 992 are simple design choices.  Some of these items are easy to change as an owner; mod makers take note.  None are likely deal breakers, but rather opportunities for Northwood's continuous improvement.  Speaking of continuous improvement…
The one thing we really didn't get to touch on much during the course of this review is quality.  Since launching Truck Camper Magazine back in 2007, dealer after dealer has raved to us about Northwood products arriving at their dealership in ready to show condition.  In that same almost ten year period, customer after customer has reported trouble-free Arctic Fox and Wolf Creek ownership.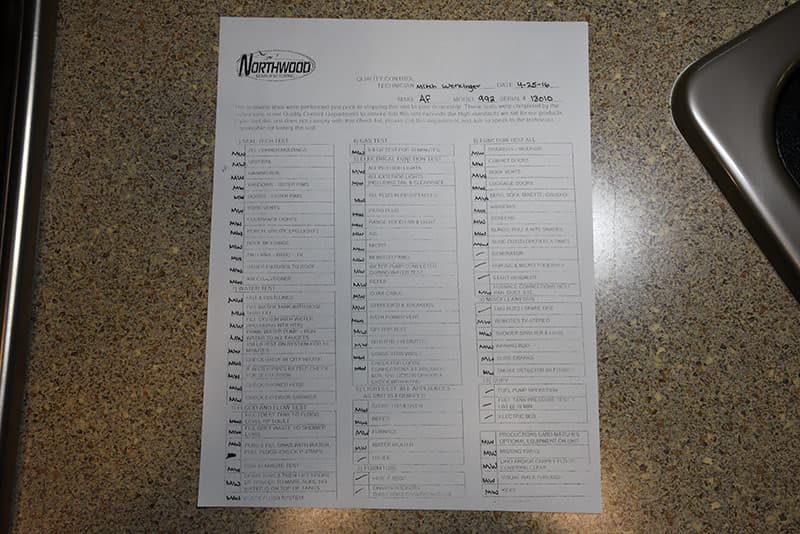 Above: The quality control checklist sheet from the 992 under review
You still have to rigorously maintain seals, properly winterize, and otherwise care for a unit and its systems, but the overall picture is of a manufacturer that has absolutely nailed the art of truck camper quality control.  Having been to Northwood Manufacturing in 2007, 2010, 2011, and 2015, we can tell you that quality is a driving force in Northwood's team culture.
With average street prices ranging from the low to mid-30s, the 2017 Arctic Fox 992 also represents a very competitive value.  Northwood isn't chasing the latest floor plans or following their competition down every appliance or material trend.  Northwood remains focused on quality and value.
Pros
New cathedral arch ceiling makes camper feel open and spacious
Kitchen layout and appointments sure to please traveling cooks
Largest dry bath in Arctic Fox line offers a ton of floor space
Excellent storage opportunities in the right places
Unit was well built with excellent overall quality control
Dual cabover 110-volt, 12-volt, and USB outlets are very useful
Cons
Carpeting in exterior storage compartment could become dirty
Shower stall is tight, but makes room for storage and floor space
Dry bath wall blocks direct cabover entry and exit on passenger's side
Standard 30 pound propane tanks cannot be exchanged
Roof needs a grab handle above the ladder to assist ascent and decent
Fox Value Package could confuse customers on weight and price
Model Information:
2017 Arctic Fox 992
MSRP: $32,658 with Fox Value Package
Warranty: One year limited warranty
Northwood Manufacturing
Phone: 1-800-766-6274
Request an Arctic Fox Brochure
Web: www.northwoodmfg.com
Quality, Customer Service, and Long-Term Reliability
Truck Camper Magazine inspects all reviewed truck campers for design, material, and quality issues and reports what we find.  However, since Truck Camper Magazine reviews only brand new truck campers, our reviews do not address long-term quality, customer service, or reliability.
To learn about a brand's long-term quality, customer service, and reliability, Truck Camper Magazine recommends talking directly with truck camper owners at truck camper rallies and online via truck camper forums and truck camper owners groups.
Please be sure to balance your gathered feedback across multiple sources including direct correspondence with the truck camper manufacturers and your closest truck camper dealers.
If you are new to truck campers, start here.