In a 2015 Arctic Fox 990, TCM explores the wackiest southern Colorado features including Bishop Castle, Colorado Gators, and a never again road in Great Sand Dunes National Park.

Sometimes plans just come together perfectly.  Towards the end of Summer, Angela and I were looking for a long-distance trip to test the real world performance and fuel economy our new 2014 Ram 3500 with a gas 6.4L HEMI.  We were already scheduled to attend Overland Expo East in North Carolina, and were itching to drive out west.  Then Northwood called.
"Hello, Gordon?  Would you be interested in testing a 2015 Arctic Fox in early October?  How about Yellowstone National Park?"
The idea was intriguing, and would scratch the heck out of our increasingly itchy go-west itch.  But the more we thought about it, Yellowstone would be too busy, and the main features set-back too far for the kind of photography I like to do.  A few days later, we counter-offered.
"How about Colorado?  Colorado will yield significantly better and more varied photographs for the article."
Northwood agreed and arranged to send a 2015 Arctic Fox 990 to Colorado.  I asked for a 2015 Arctic Fox 992; a camper that we haven't reviewed and, wet and loaded, would have taken our Ram's 5,851 pound payload capacity right up to its limits.  Unfortunately, a 2015 Arctic Fox 992 would not be available until weeks later.  Only the 990 would be ready in time.
"Okay, send the 990."  We're spoiled.
What we neglected to share with Northwood were all the other reasons we chose Colorado.  First, I was really excited to go to the Rocky Mountain Audio Festival, the largest annual high-end stereo nerd-out event on Earth, and heaven for a music-loving audiophile geek like myself.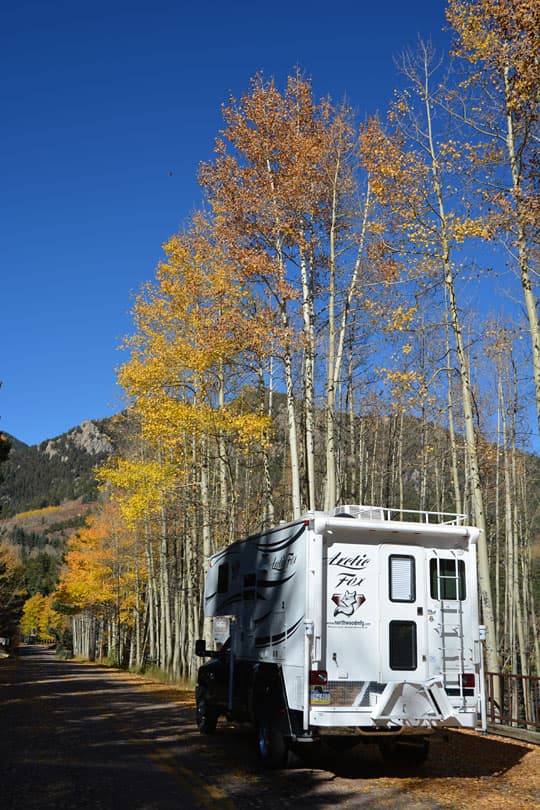 Second, we would have ample opportunities to talk with Colorado's truck camper industry veterans about repairing and refurbishing our new-to-us camper.  And third, it's Colorado!  We love the mountains, Indian ruins, Old West towns, rivers, parks, and amazing people of the Centennial State.
The Way Out West
The 1,456 mile drive out to Colorado took us two and a half days.  When I was driving, Angela was working on the magazine, and vice-versa.  This works especially well with the 110-volt outlet in our Ram, and Verizon providing high-speed internet via our wireless mobile hotspot.  We can work form anywhere, including 62 mph down Interstate 70 in the middle of Kansas.  All the while, we're listening to 16 gigs of music from a SDHC card plugged into the truck stereo, or music on the radio from Sirius satellites a few miles above us.
On the way, we visited 2015 TCM Calendar winner D. Gorton and his wife, Jane, in Illinois for night one, and parked at Walmart in Hays, Kansas for night two.  By the middle of day three, we were pulling into Hallmark RV in Fort Lupton, Colorado.
Bill, Debbie, Matt, and Andy Ward are the some of the most welcoming people you'll ever meet, making Hallmark a must-stop any time we're in Denver.  Besides, we wanted to talk to Bill about our propane system, and get some pointers on caulking and sealing for an upcoming article.
Two days later, as the sun went down, Angela and I set out for the Marriott Denver Tech Center, flying the Jolly Roger and wearing our pirate eye patches.  The plan was to sneak into the parking lot and camp where the vendor vehicles were parked for the weekend event.  The next day the audio fest would begin, and I wanted to be there bright and early for a full day of audio gluttony.
Even with our long bed, dual rear wheel truck, and our eleven-foot hard side camper, we were able to park in a single parking space in the way back.  Of course we backed in, putting the camper's butt-end overhang over the grass.  The truck nose poked out a bit past the lines, but not enough to cause issues.  Arrr!  Pirate parking.  Love it.
Surprising Fox News
On Monday morning we departed for Pueblo West, Northwood's chosen delivery point.