TCM reviews a 2012 Arctic Fox 990, a classic design and a best-selling full-wall slide-out truck camper from Northwood Manufacturing.  Refinements abound.

We hereby declare that Northwood Manufacturing's Arctic Fox 990 is officially a classic truck camper.  Not only is the Arctic Fox 990 one of the most popular truck campers of all-time and a best seller for Northwood Manufacturing, but the Arctic Fox 990 floor plan is often cited as a standard in the truck camper industry.
There are also hundreds, if not thousands of happy truck camper owners for whom the search for the ultimate truck camper stopped when they found this intelligently designed and proven truck camper design.  We have no doubt that five years from now Northwood Manufacturing will be building the 990.  A 2017 Arctic Fox 990?  You bet.  Look for it right here on the colorful electrons of Truck Camper Magazine.
With that in mind, we thought we knew exactly what to expect when we stepped into a 2012 Arctic Fox 990 at Truck Camper Warehouse.  For the most part, we were right, but we kept discovering new refinements and fresh consumer-focused thinking everywhere we looked.
The exterior of the 2012 Arctic Fox 990 bristles with features that make camping better and camper maintenance easier and more effective.  For example, the rear full-length awning will keep the rear entry dry and shady while the rear ladder will allow the owner to access the roof to check seals and remove debris.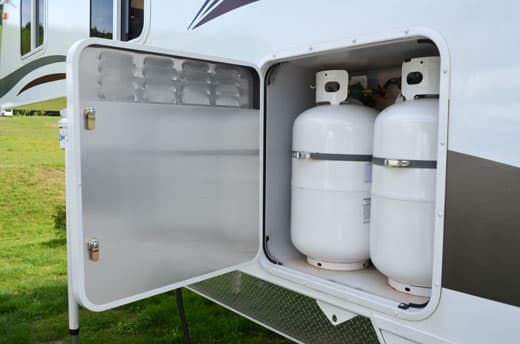 The Arctic Fox 990 comes with two thirty pound propane tanks.  When we had a 2010 Arctic Fox 865, we loved the additional propane capacity and found ourselves not thinking about propane for very long stretches of time.  Then again, the tanks are twenty seven pounds each making them difficult to remove and install on a mounted camper.
The 2012 Arctic Fox 990 comes with a slide-out tray for two batteries and a connection for an exterior shower.  Exterior storage is something too many truck campers forgo and it's great to see an exterior storage compartment on the slide-out.  Ideally the floor of this exterior storage compartment would not be carpeted as it's often necessary to store wet or dirty items in these compartments.  A small plastic or rubber floor mat, like what's placed under the foot pedals on a car or truck, could be a simple yet effective solution to protect the carpet.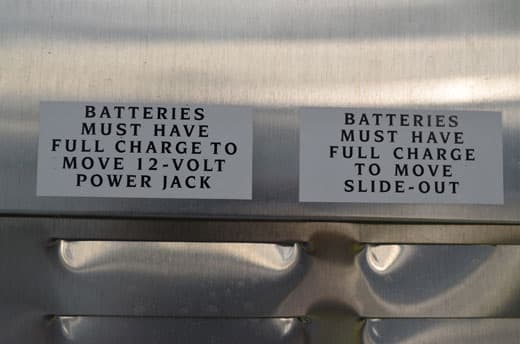 These two stickers, located on the inside battery compartment door, surprised us.  From experience, we know that a Rieco-Titan jacks and Power Gear slide-out mechanisms will most certainly work without full battery charge.  Do they work better, and faster, with a full battery charge?  You bet!  What we believe Northwood is really saying is, "Don't expect your electric jacks and slide-out to work if your batteries are low".
The dump compartment and dump values on the 2012 Arctic Fox 990 are easy to access and straight forward.  We would like to see the dump valves labeled "Black" and "Grey" for true beginners.  Looking around the dump compartment, the wiring and plumbing are neatly finished and it was good to see the direct access to the drain valves for winterizing.
The top left corner of the dump compartment holds the Rieco-Titan jack activation switch that an owner will turn on immediately prior to running the camper jacks up or down.  This is also where the Rieco-Titan red emergency remote connects.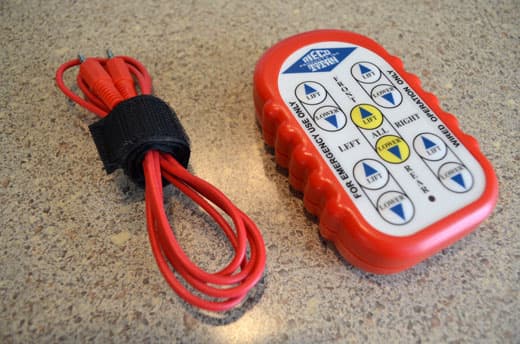 What would happen if you were out camping and you accidentally lost or broke your electric jack remote?  Imagine that you've dismounted your camper and need to get it back on your truck.  Without a remote, what do you do?
The simple answer is that you could manually crank your electric jacks to raise or lower your camper.  Northwood Manufacturing had a better idea and asked Rieco-Titan to develop a red emergency remote control for exactly this type of situation.  The red emergency remote is identical in every respect to the standard black remote except that the red remote does not require a battery and needs to be plugged into the receiver box to work.  The red remote is actually designed to be attached with velcro to the receiver box, ready to go for emergency situations.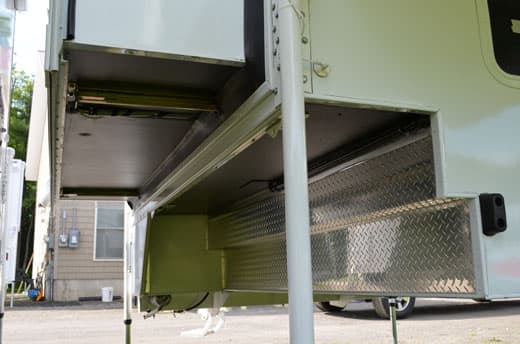 Diamond plate under the Arctic Fox 990 not only looks cool, but gives an added layer of protection while loading and unloading the camper.  I'm sure some of you will profess that you've never bumped your camper while loading, but many of us have.  Of course we always tell the truck camper companies that fast running Pennsylvania hedgehogs bumped into the campers they loaned us.  It certainly wasn't us bumping the camper.  Since the manufacturers don't talk to each other about this subject, or live in Pennsylvania, we get away with this.
Northwood Manufacturing debuted the Fox Landing aluminum bumper step system late last year to tremendous enthusiasm from the truck camper community.  Not only did we immediately receive a ton of excited reader emails celebrating the new bumper step, but we continue to hear positive reviews from consumers at RV shows and rallies.  The Fox Landing is a big hit.
Originally designed as part of a collaboration with Torklift International, the Fox Landing system turns a rear entry Arctic Fox truck camper into a side entry, tow ready camper.  In use, the Fox Landing is very impressive and a must have for anyone who wants to tow with their Arctic Fox truck camper.