TCM reviews a 2012 Arctic Fox 990, a classic design and a best-selling full-wall slide-out truck camper from Northwood Manufacturing.  Refinements abound.

We hereby declare that Northwood Manufacturing's Arctic Fox 990 is officially a classic truck camper.  Not only is the Arctic Fox 990 one of the most popular truck campers of all-time and a best seller for Northwood Manufacturing, but the Arctic Fox 990 floor plan is often cited as a standard in the truck camper industry.
There are also hundreds, if not thousands of happy truck camper owners for whom the search for the ultimate truck camper stopped when they found this intelligently designed and proven truck camper design.  We have no doubt that five years from now Northwood Manufacturing will be building the 990.  A 2017 Arctic Fox 990?  You bet.  Look for it right here on the colorful electrons of Truck Camper Magazine.
With that in mind, we thought we knew exactly what to expect when we stepped into a 2012 Arctic Fox 990 at Truck Camper Warehouse.  For the most part, we were right, but we kept discovering new refinements and fresh consumer-focused thinking everywhere we looked.
The exterior of the 2012 Arctic Fox 990 bristles with features that make camping better and camper maintenance easier and more effective.  For example, the rear full-length awning will keep the rear entry dry and shady while the rear ladder will allow the owner to access the roof to check seals and remove debris.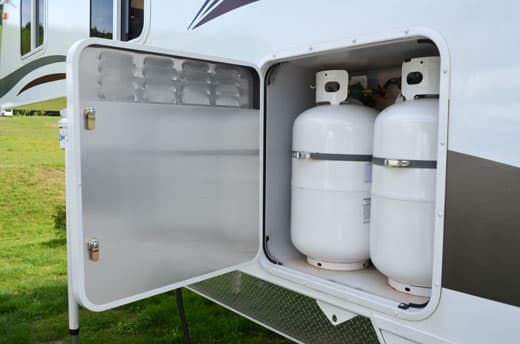 The Arctic Fox 990 comes with two thirty pound propane tanks.  When we had a 2010 Arctic Fox 865, we loved the additional propane capacity and found ourselves not thinking about propane for very long stretches of time.  Then again, the tanks are twenty seven pounds each making them difficult to remove and install on a mounted camper.
The 2012 Arctic Fox 990 comes with a slide-out tray for two batteries and a connection for an exterior shower.  Exterior storage is something too many truck campers forgo and it's great to see an exterior storage compartment on the slide-out.  Ideally the floor of this exterior storage compartment would not be carpeted as it's often necessary to store wet or dirty items in these compartments.  A small plastic or rubber floor mat, like what's placed under the foot pedals on a car or truck, could be a simple yet effective solution to protect the carpet.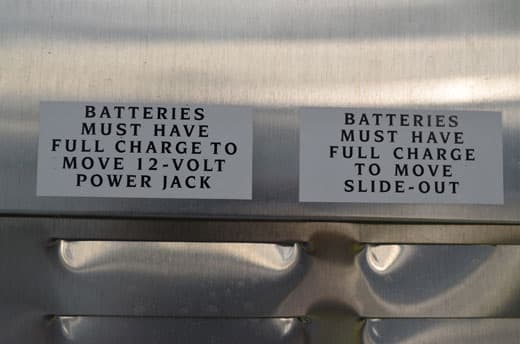 These two stickers, located on the inside battery compartment door, surprised us.  From experience, we know that a Rieco-Titan jacks and Power Gear slide-out mechanisms will most certainly work without full battery charge.  Do they work better, and faster, with a full battery charge?  You bet!  What we believe Northwood is really saying is, "Don't expect your electric jacks and slide-out to work if your batteries are low".
The dump compartment and dump values on the 2012 Arctic Fox 990 are easy to access and straight forward.  We would like to see the dump valves labeled "Black" and "Grey" for true beginners.  Looking around the dump compartment, the wiring and plumbing are neatly finished and it was good to see the direct access to the drain valves for winterizing.
The top left corner of the dump compartment holds the Rieco-Titan jack activation switch that an owner will turn on immediately prior to running the camper jacks up or down.  This is also where the Rieco-Titan red emergency remote connects.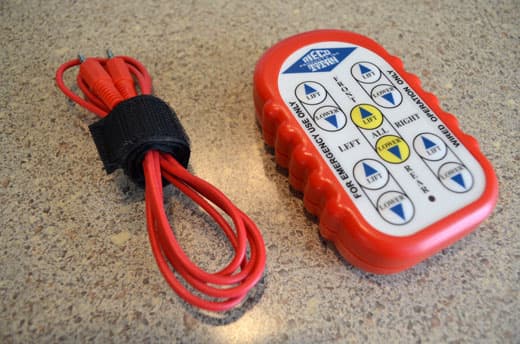 What would happen if you were out camping and you accidentally lost or broke your electric jack remote?  Imagine that you've dismounted your camper and need to get it back on your truck.  Without a remote, what do you do?
The simple answer is that you could manually crank your electric jacks to raise or lower your camper.  Northwood Manufacturing had a better idea and asked Rieco-Titan to develop a red emergency remote control for exactly this type of situation.  The red emergency remote is identical in every respect to the standard black remote except that the red remote does not require a battery and needs to be plugged into the receiver box to work.  The red remote is actually designed to be attached with velcro to the receiver box, ready to go for emergency situations.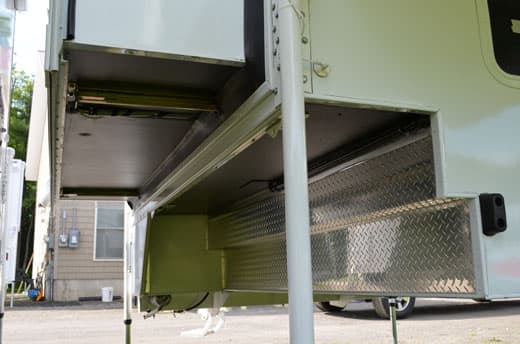 Diamond plate under the Arctic Fox 990 not only looks cool, but gives an added layer of protection while loading and unloading the camper.  I'm sure some of you will profess that you've never bumped your camper while loading, but many of us have.  Of course we always tell the truck camper companies that fast running Pennsylvania hedgehogs bumped into the campers they loaned us.  It certainly wasn't us bumping the camper.  Since the manufacturers don't talk to each other about this subject, or live in Pennsylvania, we get away with this.
Northwood Manufacturing debuted the Fox Landing aluminum bumper step system late last year to tremendous enthusiasm from the truck camper community.  Not only did we immediately receive a ton of excited reader emails celebrating the new bumper step, but we continue to hear positive reviews from consumers at RV shows and rallies.  The Fox Landing is a big hit.
Originally designed as part of a collaboration with Torklift International, the Fox Landing system turns a rear entry Arctic Fox truck camper into a side entry, tow ready camper.  In use, the Fox Landing is very impressive and a must have for anyone who wants to tow with their Arctic Fox truck camper.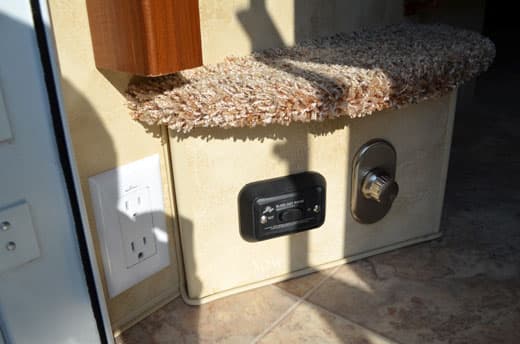 Immediately inside the rear door is an outlet, the slide-out switch, and a light control with dimmer.  Having the slide-out switch right at the back door is very convenient, and being able to turn on the interior lights is a nice touch.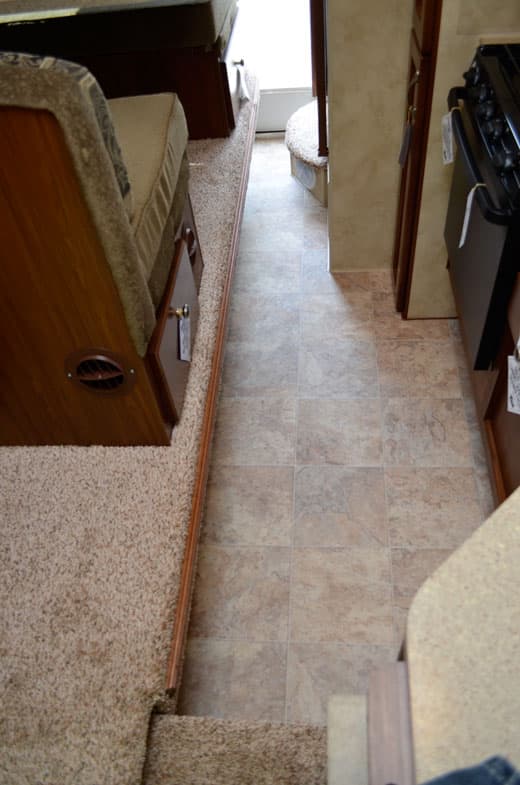 No matter how many times I see it, it's always amazing how much space a slide-out gives to a truck camper.  As someone who tends to prefer non-slide truck campers, this phenomenon always challenges my affinity for slide-less truck camper kind.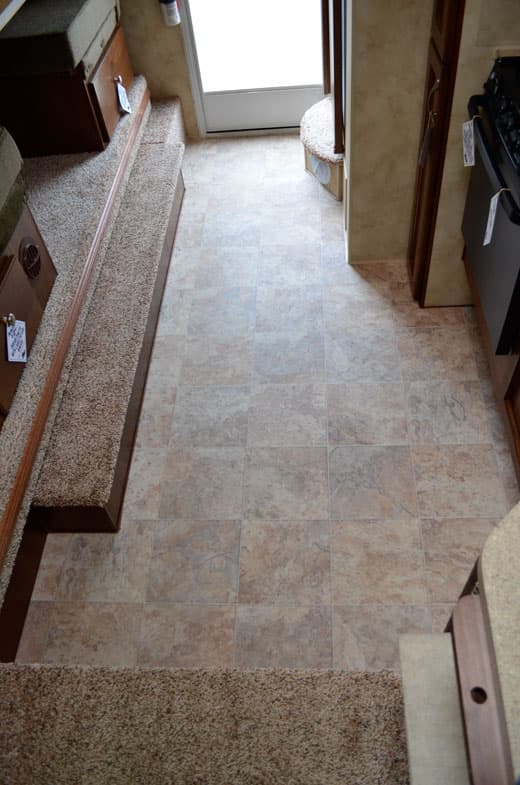 Just look at the floor reveal in the 2012 Arctic Fox 990.  That's some serious real estate!  Northwood uses the tried and true Power Gear slide mechanism.  It's not the lightest slide mechanism on the market by any stretch of the imagination, but it's certainly one of the most reliable.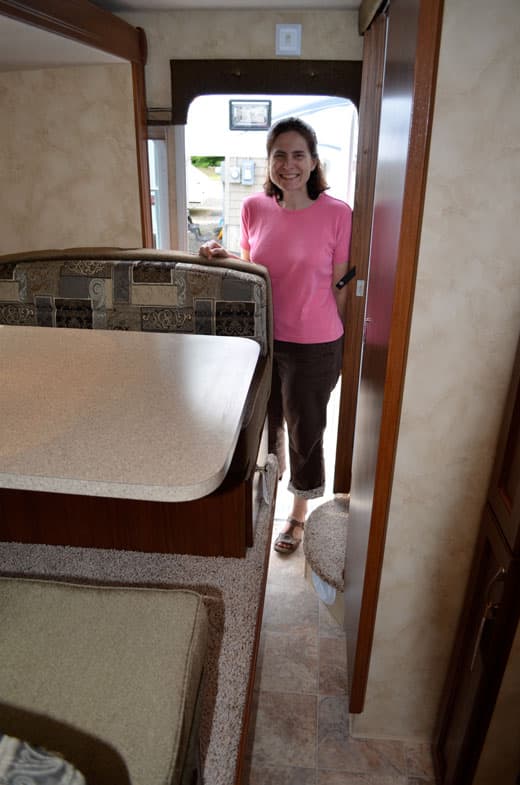 One major complaint about single and multi-slide truck campers is the restricted access to the bathroom with the slide-out(s) in.  In fact, many slide-out truck camper models make bathroom access impossible until the slides are out.  This can be quite annoying when you pull over to use the bathroom.
With the full-wall slide closed, the 2012 Arctic Fox allows for people of less generous size to access the rear wet bath.  If this is a priority to you, make sure to take the "Slide-Out-Wet-Bath-Access-Test" (S.O.W.B.A.T. for short) for yourself at your local Arctic Fox dealer.  If the dealer gives you any trouble, tell them, "TCM told me to take the S.O.W.B.A.T."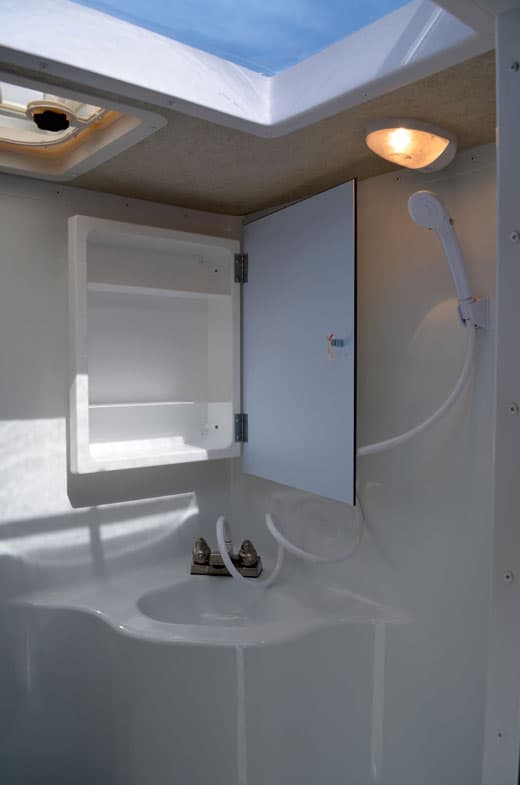 I like big wet baths.  Dry baths are certainly more attractive, but you sacrifice interior camper storage, and wet baths almost always give you more shower room.  Yes, you have to dry a wet bath, but you have to dry the shower area in a dry bath as well unless you want mold and moisture in your camper.  Like I said, I like big wet baths.  And I can not lie.
The 2012 Arctic Fox 990 delivers with a beautiful big wet bath.  For most experienced truck campers, this is exactly what we want.  Give us enough room to shower and use the toilet without hitting the ceiling, a wall, or the door, or getting wrapped up in a clingy wet shower curtain.  Make the molded fiberglass walls smooth, simple, and easy to squeegee and dry with a towel.  Northwood hits all the marks, then gives the choice of a pull-down towel holder and a towel ring to hang the towel!  The 990's wet bath is dreamy.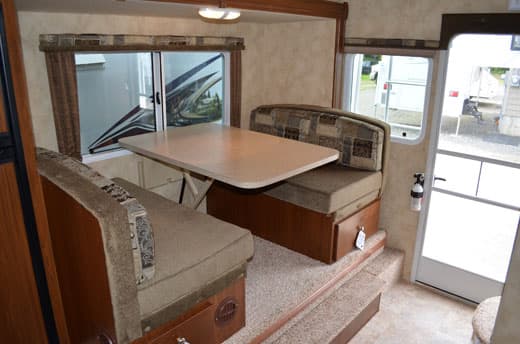 We loved the full-booth dinette in our 2010 Arctic Fox 865 and the full-booth dinette in the 2012 Arctic Fox 990 is at least as lovable.  There's plenty of room for four people, and lunch or dinner.  There's also plenty of table space for two full-sized laptops, a large map, and paperwork.  Been there, done that.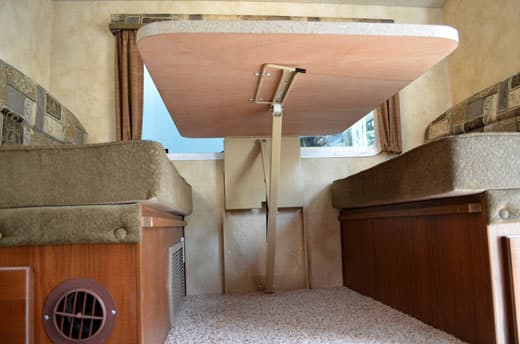 The 2012 Arctic Fox 990 dinette uses the Dream Dinette system that is becoming increasingly popular throughout the truck camper marketplace.  The most obvious advantage of the Dream Dinette is that it doesn't require a table leg allowing for easier dinette entry and exit, as well as more (human) leg room.
The 2012 Arctic Fox 990 dinette easily converts into a bed by pushing the Dream Dinette table system down to become flush with the wood dinette seating and using the seat back cushions to complete a bed.  There's no table leg to unscrew and store and you never feel the weight of the table as it's always held level by the Dream Dinette system.  It's a very slick and smart upgrade for the 990.
The full-booth dinette itself is on a full-wall slide with the six cubic foot refrigerator.  There is a step up to the dinette but it's a very comfortable height, much like a raised dinette booth in a restaurant.  Under each dinette seat is a generous storage area including a roll-out drawer under the seat closer to the door and a top-down cabinet door opposite.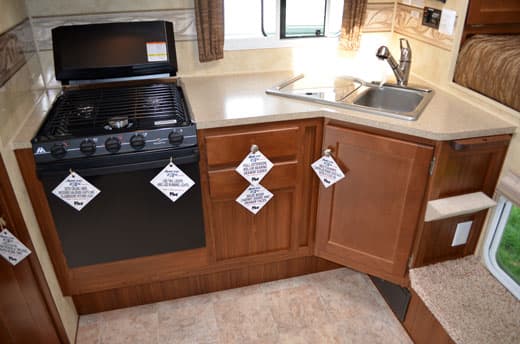 The Arctic Fox 990 kitchen is very well designed with good counter space, a double sink with cutting board, single handle pull-out kitchen faucet, and three-burner range top with oven.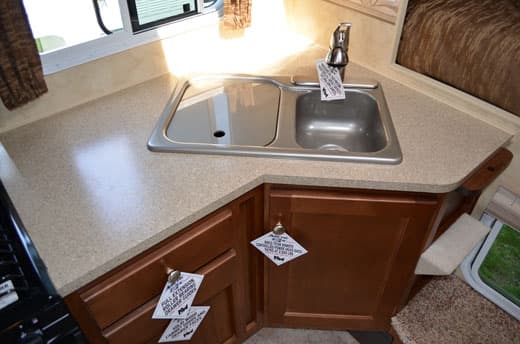 The drawers under the counter top are perfect for silverware and other kitchen items and help to further give the Arctic Fox 990 kitchen a comfortable and domestic feel.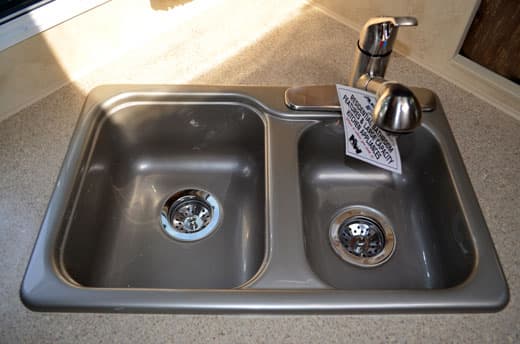 Our 2012 Ultimate Truck Camper Survey results clearly stated a strong preference among our readers for double sinks.  The 2012 Arctic Fox 990 delivers.
Above the countertop is a microwave, range hood, and three cabinets continuing the domestic feel of the Arctic Fox 990.
The team at Northwood has given a lot of time and attention to providing the 990 owner with exactly the type of storage opportunities they want.  One example of this is the pull-out pantry in the kitchen.  The pull-out pantry is an elegant solution to dry food storage leaving the cabinets above the kitchen counter open for plates, cups, and related items.  Under the pull-out pantry is another cupboard for more dry food storage.  Very impressive.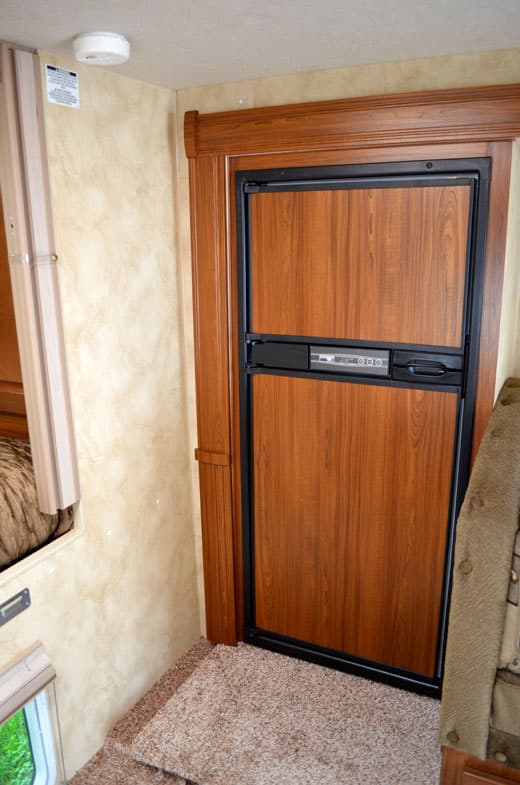 The Arctic Fox 990's Norcold refrigerator looks fabulous with its wood grain door inserts and matching wood frame surround.  As RV refrigerators go, this is a very classy presentation.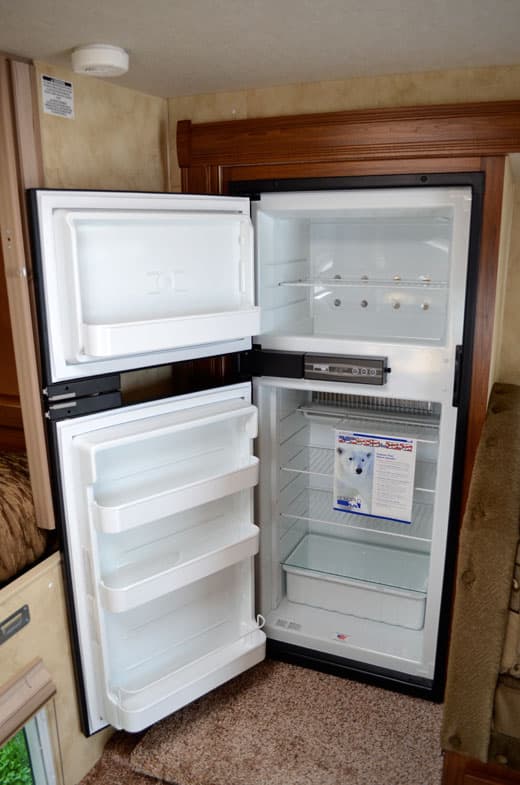 For some reason, there's nothing that says, "Let's go on a truck camping adventure" like a full camper refrigerator.  When this six-cubic foot refrigerator is full, it's time for one heck of an amazing adventure.  Consider it food for fun.
The only concern about having a refrigerator on a slide this close to the overcab bedroom is the potential for noise from the refrigerator's ventilation stack.  We did not have the opportunity to use the 990's refrigerator so this may not be an issue.
We have always been extremely impressed with Northwood's approach to serviceability and the 2012 Arctic Fox 990 is no exception.  Under the sink we were able to quickly identify a battery disconnect switch (labeled Battery Kill Switch), the hot water bypass for easy winterizing, and the Rieco-Titan jack control with clear fuse access door.  Already we have addressed and possibly prevented several situations that could ruin a vacation, or at least make a trip less fun.  The electrical wiring and plumbing is also very clean showing that quality goes more than skin deep at Northwood.
On a related subject, our 2010 Arctic Fox 865 was, by far, the easiest camper we have ever winterized.  It really shows the importance of having at least one person at each manufacturer who regularly uses the product and seeks out solutions to problems he or she encounters during that real-world use.  For Northwood Manufacturing, Doug Karr is that person.  Thank you Doug.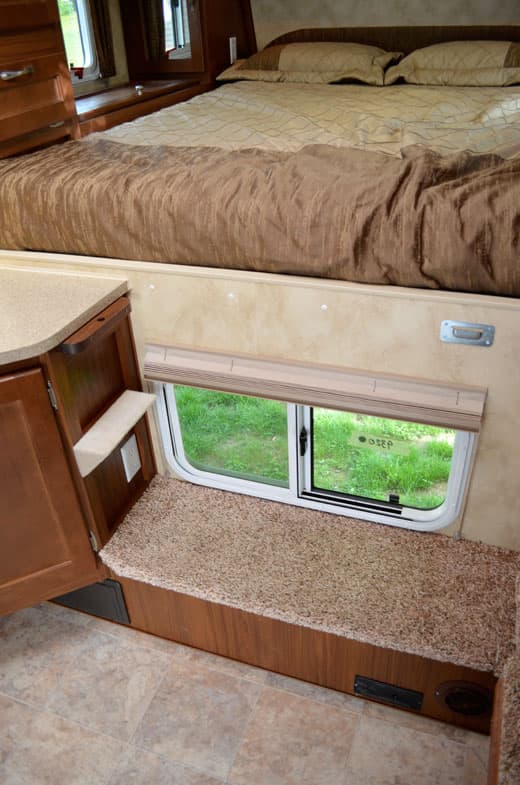 The attention to consumer feedback evident in this picture tells a story, or two.  First, notice the small step mounted on the kitchen cabinetry on the left to act as a second step up and into the overcab bedroom.  Our readership has continually asked for more comfort and convenience accommodations to help them use their camper into their more "refined" years.  This small step may look insignificant, but it's the kind of detail that could allow the owner of this camper to continue camping for one more season, or more.
The second detail you need to notice is the kitchen counter extension receivers, both immediately under the kitchen counter left, and the metal cup receiver under the mattress right.  Unfortunately we failed to get a photograph of the counter extension in place, but you can see that Northwood has answered the consumer call for more counter space, and delivered.
We were also happy to see the pass-through window, an item which is no longer standard on all truck campers and helps with air flow and visibility.  The only downside of this pass-through window is that the screen does not move preventing pets (and very skinny people) from being able to move from truck to camper and back again.  The window shade is a nice touch for privacy.
There's one more detail in this image that needs to be pointed out, but can't be seen.  The carpeted step actually lifts up to reveal a storage bin and access to plumbing.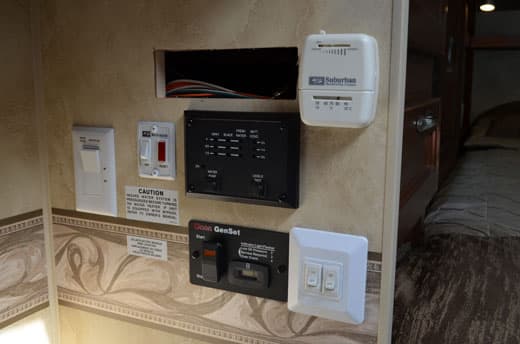 On the driver's side overcab wall is where the tank monitors, water pump switch, battery monitor, thermostat, hot water heater switch, generator switch, and two overcab light switches are located.  The empty space in this photograph is where a stereo will be installed.
The overcab in the 2012 Arctic Fox 990 is another example of why the 990 has become a best selling classic truck camper design.  There's really nothing innovative about the overcab layout, but it gets all the overcab storage requirements right including front nose cabinets, side hampers, and large mid-camper closets.  Most importantly, the 990 overcab has an excellent balance of storage on each side of the camper helping to prevent potential domestic disputes regarding the inequity of storage opportunities, not that we've ever had such a situation.
The attention to detail and quality of Northwood is on full display in the overcab cabinetry.  For starters, look at the carpeting and finished wood grain inside the cabinetry; no unfinished surfaces here.  The gas struts holding up the side hamper doors are another subtle but important plus.  Side hamper doors have a way of closing themselves with a loud clap if they're not held by struts.
Both sides of the camper also benefit from deep front nose closets with ceiling mounted hardware to hang shirts and other items.  Also note the electrical outlets conveniently located for charging devices overnight when shore power is available.
Unfortunately we also need to point out the incandescent reading lights which we found to be too bright and way too hot during use in our 2010 Arctic Fox 865.  Every time we turned them on we thought we should be telling someone exactly where we were on October 18th, 1982.  In line with our 2012 Ultimate Truck Camper Survey, we would like to see Northwood go to all LED lighting, especially in critical areas like the overcab reading lights.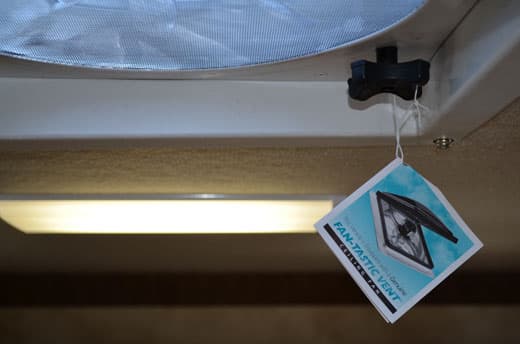 From experience, we can tell you that having a Fan-Tastic Vent over the bed is an excellent option and often preferable to air conditioning, especially when shore power is not available.  On low power, the Fan-Tastic Vent creates a very comfortable breeze for sleeping.  On full power, the Fan-Tastic Vent over the bed practically turns the camper into a wind tunnel.  Hold on, Harley!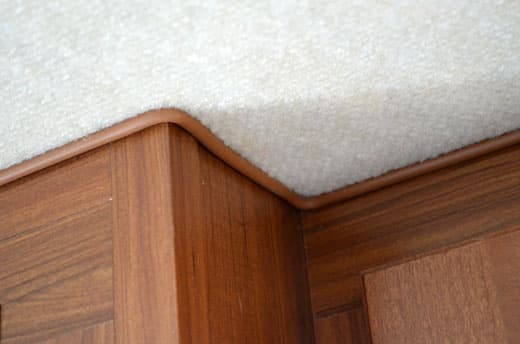 The 2012 Arctic Fox 990 is so refined that it's truly a challenge to criticize.  The only real concerns we have about this classic camper design is the interior use of gimp (our favorite industry-wide nit-pick), and the weight of the camper.  As a magazine, we always encourage the truck camper industry to tighten their interior tolerances and get rid of the gimp.  It's a nit-pick, but one we believe will have a significant impact on the aesthetics and overall quality of truck camper interiors.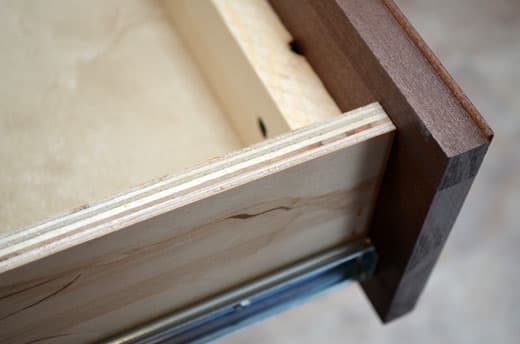 Every time we visit Northwood Manufacturing or talk to their leadership team we praise them for their industry leading quality control and dedication to excellence, and then beg them to address the weight of their campers.  To be blunt, Northwood Manufacturing is focused entirely on the quality and quality control of their campers while hitting a very competitive price point.  The issue of weight is secondary.  One look at the thickness of the wood in the drawers in the 2012 Arctic Fox 990 demonstrates Northwood's quality first, weight second approach.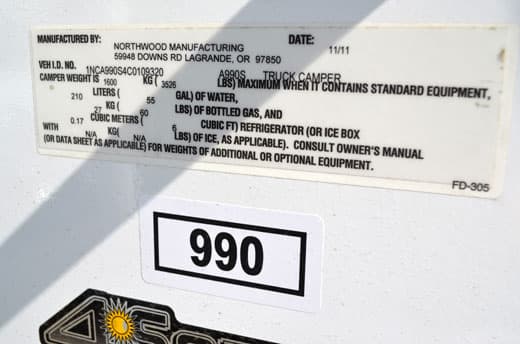 This is actually a non-issue if the consumer properly matches their truck and camper.  For example, the 2012 Arctic Fox 990 comes in at 3,013 pounds dry.  Using Truck Camper Magazine's wet weight formula, that brings the 2012 Arctic Fox 990 to 4,155.7 pounds wet including 500 pounds for you, your stuff, and camper options.  If a consumer purchases a truck with at least 4,155.7 pounds of payload, you have the ingredients for a safe and extremely high-quality truck camper rig.
A Classic Camper to Celebrate
Northwood Manufacturing's Arctic Fox 990 is one of the most refined and proven truck campers ever created.  Properly payload matched with a truck, an Arctic Fox 990 truck camper rig will provide its owners with many years of fun and adventure and is an easy recommendation for anyone who wants a hard side, single-slide, wet bath truck camper.  The Arctic Fox 990 is one truck camper worth taking a serious look at.
Quality, Customer Service, and Long-Term Reliability
Truck Camper Magazine inspects all reviewed truck campers for design, material, and quality issues and reports what we find. However, since Truck Camper Magazine reviews only brand new truck campers, our reviews do not address long-term quality, customer service, or reliability.
To learn about a brand's long-term quality, customer service, and reliability, Truck Camper Magazine recommends talking directly with truck camper owners at truck camper rallies and online via truck camper forums and truck camper owners groups.
Please be sure to balance your gathered feedback across multiple sources including direct correspondence with the truck camper manufacturers and your closest truck camper dealers.
If you are new to truck campers, start here.
Request an Arctic Fox Brochure.