Truck Camper Magazine reviews a 2019 Bigfoot 25C9.4SB, a hard-side, non-slide, wet bath short bed truck camper.  Does putting quality before profit result in a better truck camper design?

Five years ago we interviewed a fellow truck camper who actively searched for Bigfoot – not the camper mind you, but the legendary creature.  In his research materials he had grainy photographs, enormous plaster foot castings, and other suspected artifacts from the infamous "Wildman".  Needless to say, there is no shortage of characters in our midst.  Count me among them.
Speaking of Sasquatch, I have also become something of a Bigfoot hunter.  Now I'm not seeking a hairy ape-man sighting, but rather a close encounter of the clamshell fiberglass kind.
Bigfoot Industries is not a high volume manufacturer.   Management and production is focused on quality, not quantity.  When we toured the Armstrong, British Columbia factory, the Bigfoot team was producing just two units a week.
All this means is if you want to see a Bigfoot you might have to chase one down.  This doesn't require collecting plaster castings or deciphering the Patterson-Gimlin film, it might require driving a considerable distance to the closest Bigfoot dealer.  Or you could go right to the source – like we did.
When we arrived at Bigfoot RV, a 2019 Bigfoot 25C9.4SB was sitting next to the production line ready to be shipped.  Another model was nearly finished but would not be completed in time for our schedule.  In the end, there was no eeny-meeny-miny-moe.  The Bigfoot we reviewed was the one that was done.
2019 Bigfoot 25C9.4SB Review
I photographed this camper after completing a multi-day unrestricted and exhaustive tour throughout the Bigfoot production complex.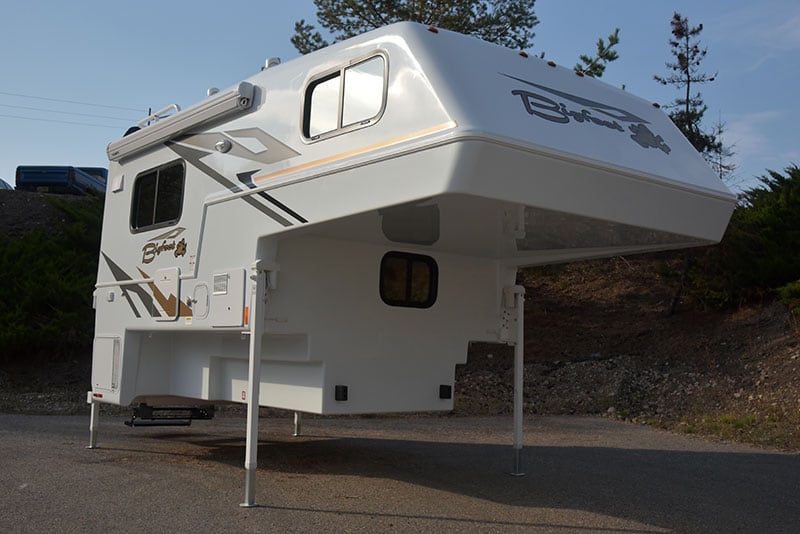 As I wrote for the resulting Bigfoot RV factory tour article, I was very impressed with the Bigfoot team's dedication to quality.  Quality is deeply rooted in the culture at Bigfoot, perhaps in a way we have never really seen before.  Bigfoot RV truly puts quality before profit.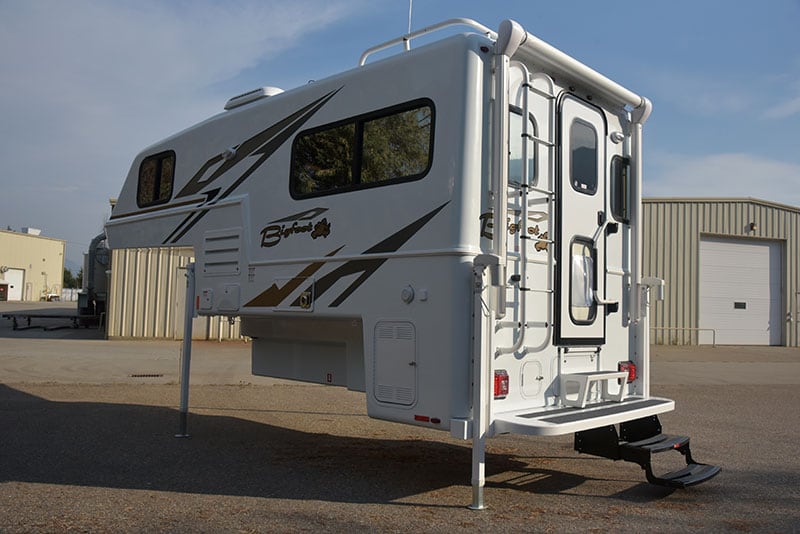 Of course none of that matters if the final product isn't right.  Our Bigfoot factory experience can inform our review, but we must critique the camper before us.  After all, dedication to quality doesn't necessarily make the product perfect.  And with that analytical hat firmly affixed, let's dig in.
Floor Plan Evaluation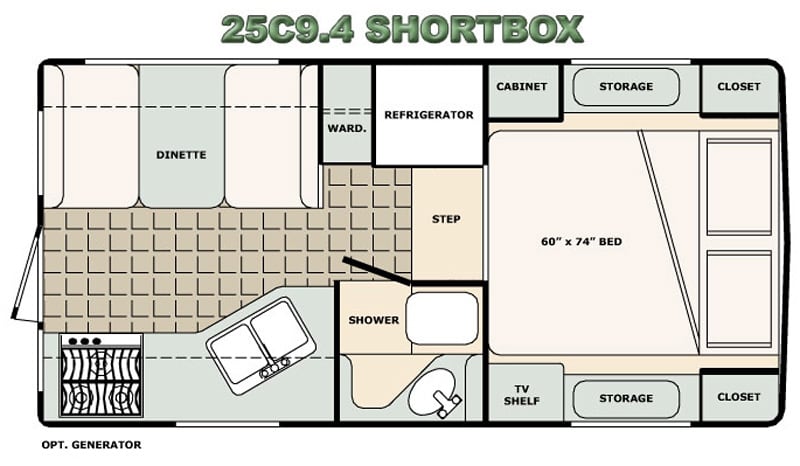 We disconnect our camper's battery whenever we're storing our camper for more than a day or two.  Once disconnected, our solar panels keep the batteries charged up and ready to go on our next adventure.  Simply switch off the battery disconnect, and roll.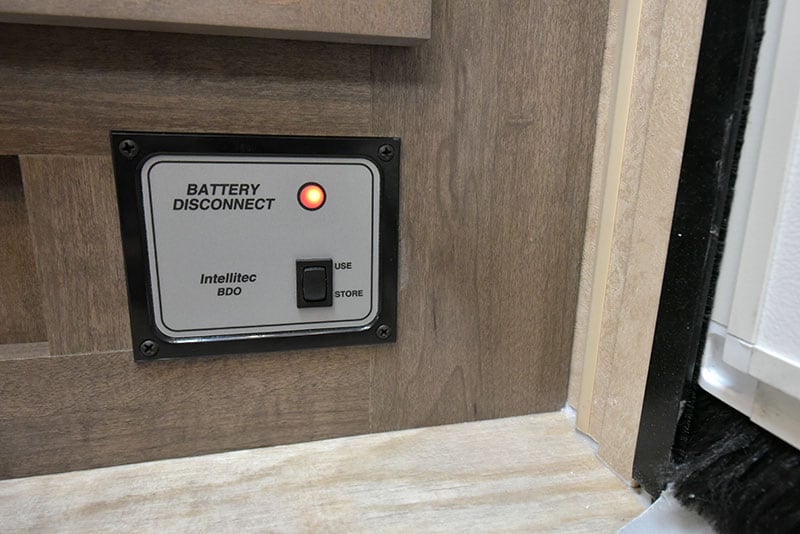 For the 9.4SB, Bigfoot has conveniently located the battery disconnect switch immediately inside the entry door.  Just open the door, reach in a few inches and press the Intellitec battery disconnect to USE (batteries connected) or STORE (batteries disconnected).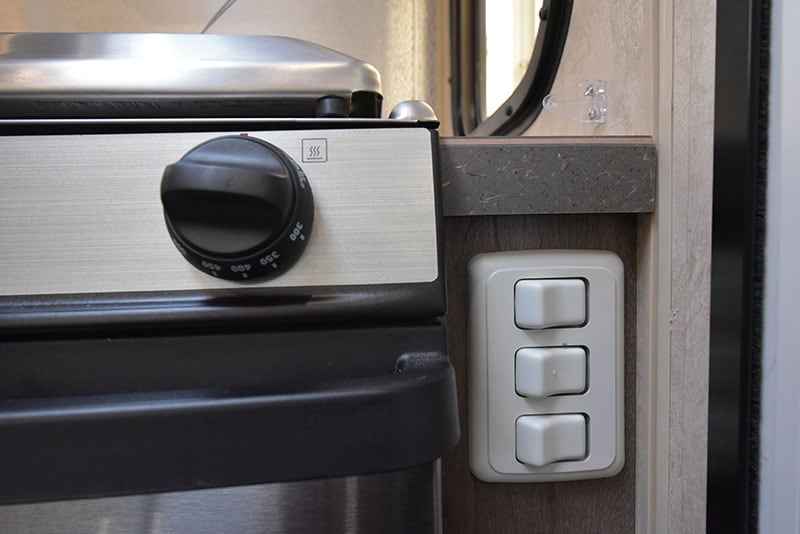 Above the battery disconnect are three white switches that turn on the interior lights.  The location of these light switches is perfect, but we would always prefer to see labeled switches.  Will Bigfoot owners quickly learn what these switches operate?  Of course.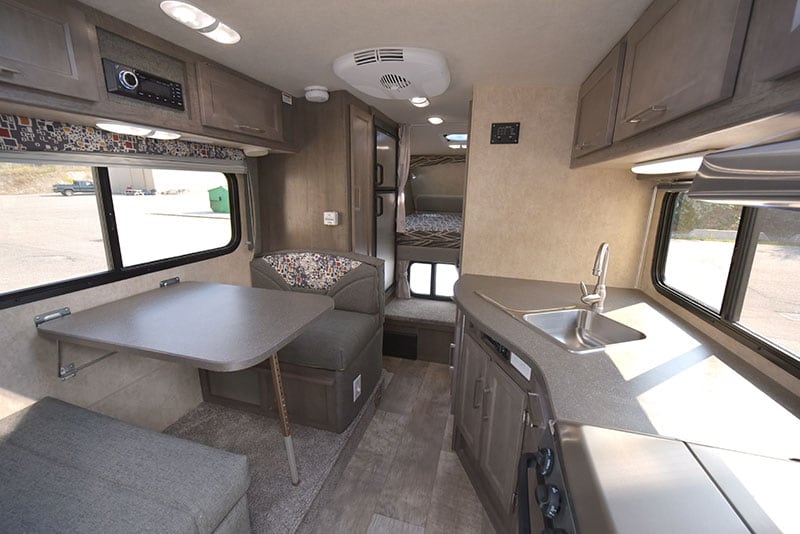 The interior color palette is decidedly neutral and understated reflecting a growing trend in modern RV interiors.  The idea is to appeal to the greatest number of consumers and allow the end consumer to add their own decorative accents.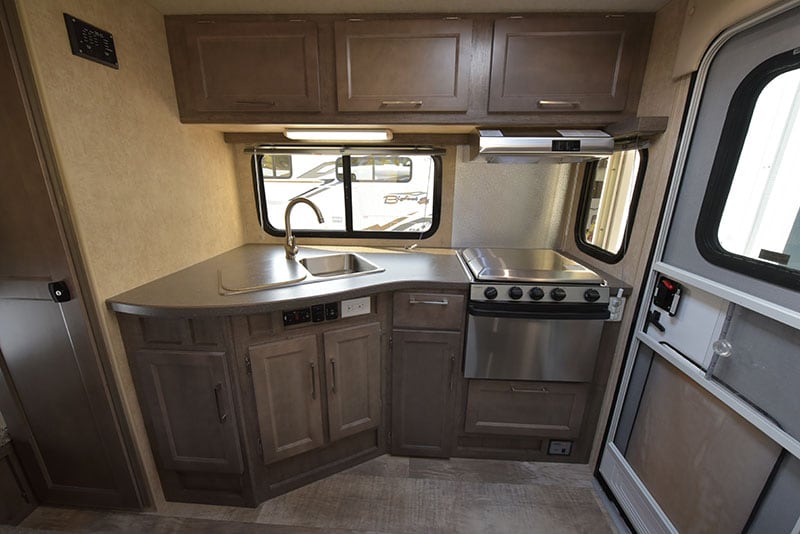 The passenger's side kitchen is loaded with storage, functionality, and a meticulously executed design.  The sumptuously curved countertop is especially attractive and adds a considerable amount of precious meal preparation and dish washing space.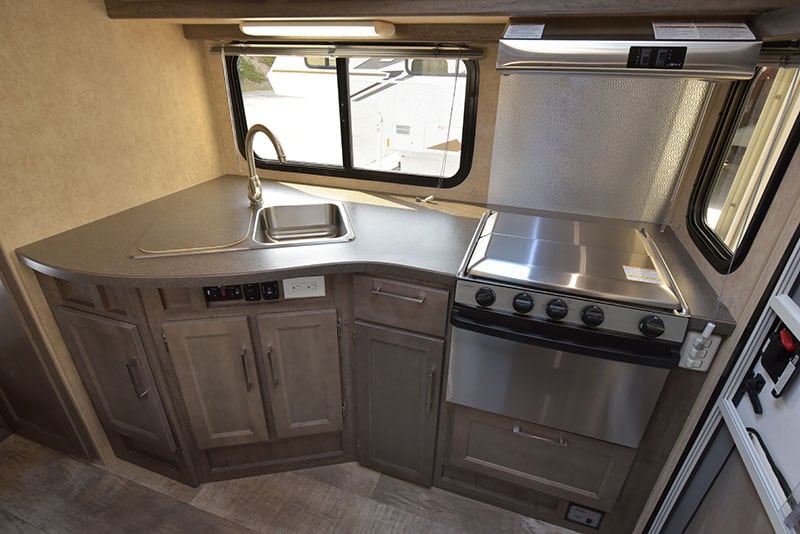 The countertop curve is made possible by Bigfoot's unique steam-bent process.  Steam-bending takes a week to fully cure and results in the highest-quality counter and table top trims we've seen in a truck camper.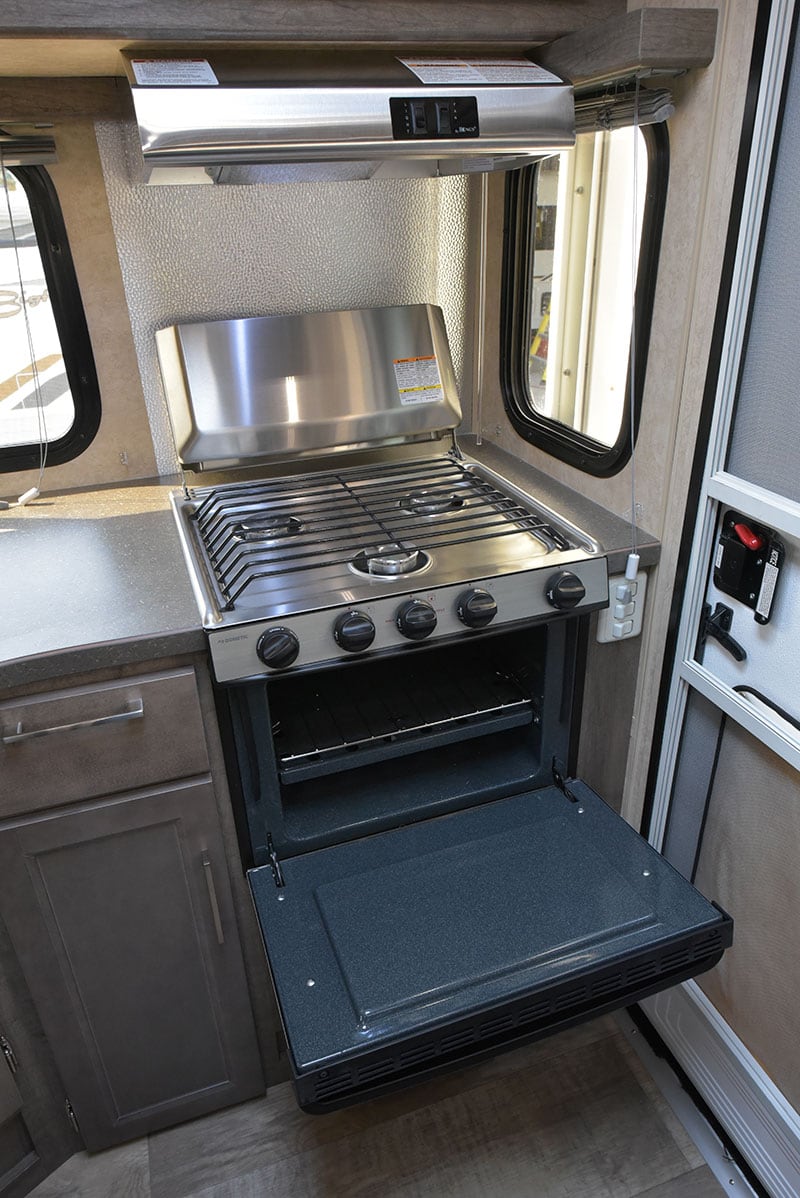 The understated interior palette is accented by a stainless steel range hood, cooktop oven and sink giving the kitchen a decidedly modern look.  The stainless steel also helps to brighten the neutral grey tones.
It's unfortunate that the open oven door comes into the entryway, but it's unlikely that folks will have the oven open and be entering or exiting the unit at the same time.  Besides, if Bigfoot reversed the location of the sink and oven they would likely eliminate the attractive countertop curve.  Have I mentioned the theme of trade-offs in truck campers?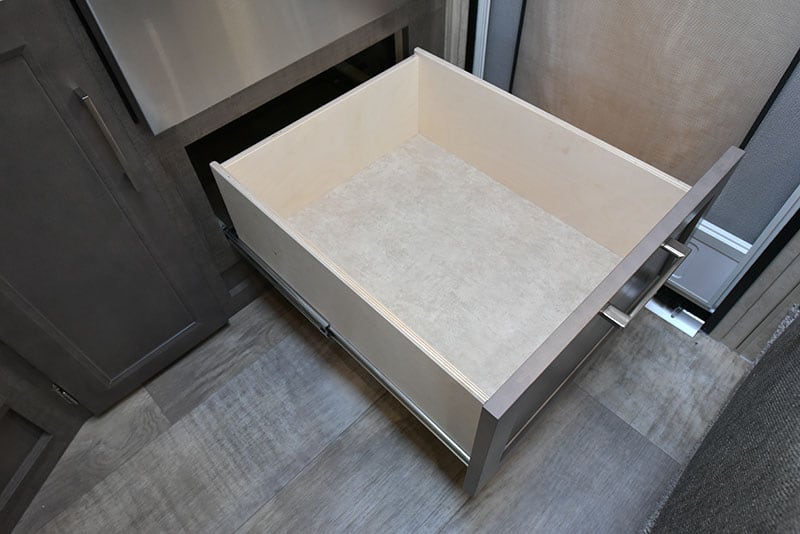 Under the oven is a large pull-out drawer with stainless steel ball bearing drawer guides for smooth operation and long-term reliability.  Also note the light ply drawer sides and back for an excellent balance between strength and low-weight.
The location and size of this drawer points in two usage directions; pots and pans for the range and oven above and/or items needed when outside the unit.  Frying pans and pasta pots or dog leashes and flashlights?  That's your call.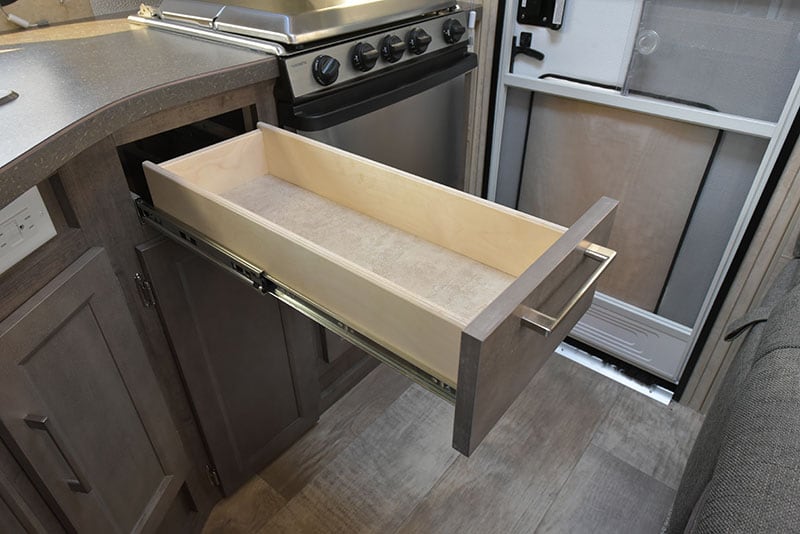 Oh yes!  The coveted pull-out kitchen drawer immediately under the counter top.  This is where we put silverware and utensils.  Isn't it funny that we would all instinctively use this drawer for the same thing?
You're probably thinking, "Yeah, so?"  Well, we were just in a very popular double-slide truck camper and it lacked this simple convenience.  The silverware was awkwardly located in a very low kitchen drawer that jutted into the main hallway.
Given the obvious purpose of this drawer, I would love to see Bigfoot supply a silverware tray that fits the presented dimensions.  Extra credit if it rests on the side rails of the drawer leaving the lower part of the drawer open for larger utensils.  Mod makers, start your saws.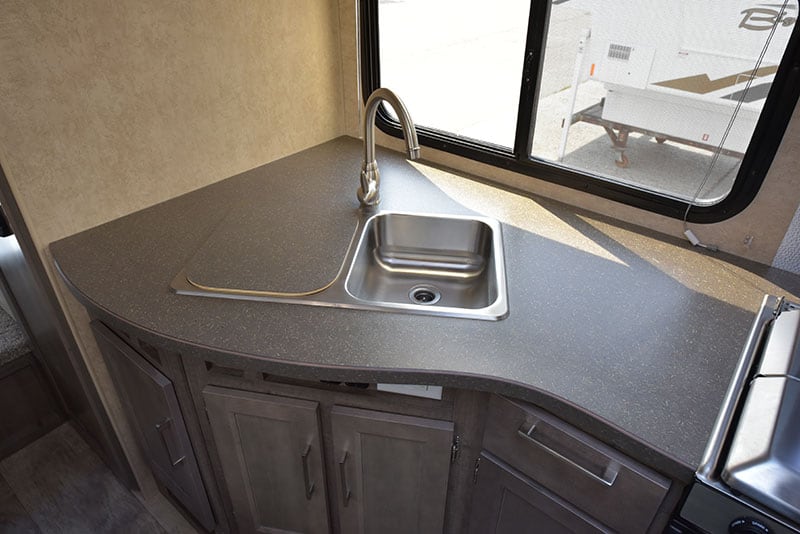 The stainless steel double basin sink and tall faucet is exactly what Truck Camper Magazine readers voted for in the 2018 Ultimate Camper Survey.
This might be the best truck camper kitchen sink and counter we've seen for meal preparation and dish washing.  Look at all that sink and countertop space!  In my 20s I lived in apartments with less sink and counter space than this.  Of course you don't need much for Ramen Noodles, but that's beside the point.
If this were our camper, I would add a protective backsplash on the rear facing wall and under the window.  I'd also watch the seal behind the counter like a hawk.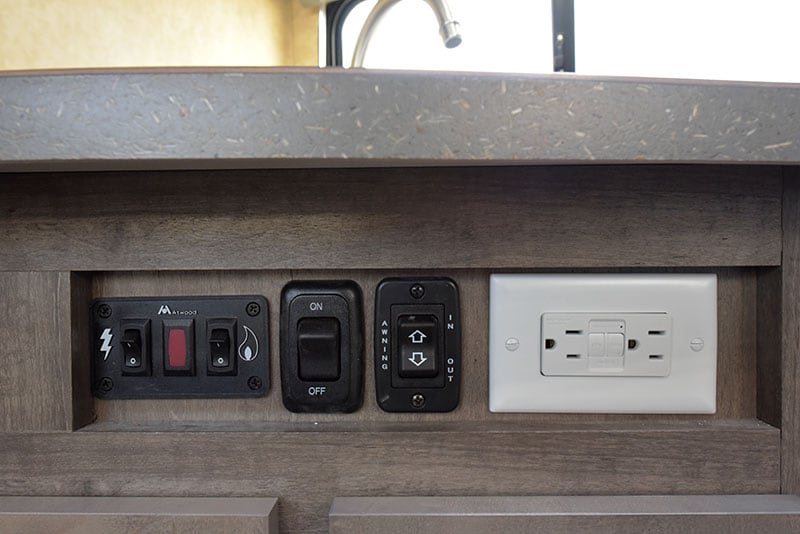 Immediately under the counter top are the switches for the Atwood electric and propane water heater, awning lighting switch, and exterior awning rocker.  There's also a 110-volt GFCI outlet for coffee makers and other kitchen appliances.  I am always wary of outlets located under sinks, but it is protected as a GFCI.
The location of the awning light switch and rocker is curious.  An owner will need to walk into the camper to push out or retract the awning.  It would make more sense for this switch to be just inside the entry door.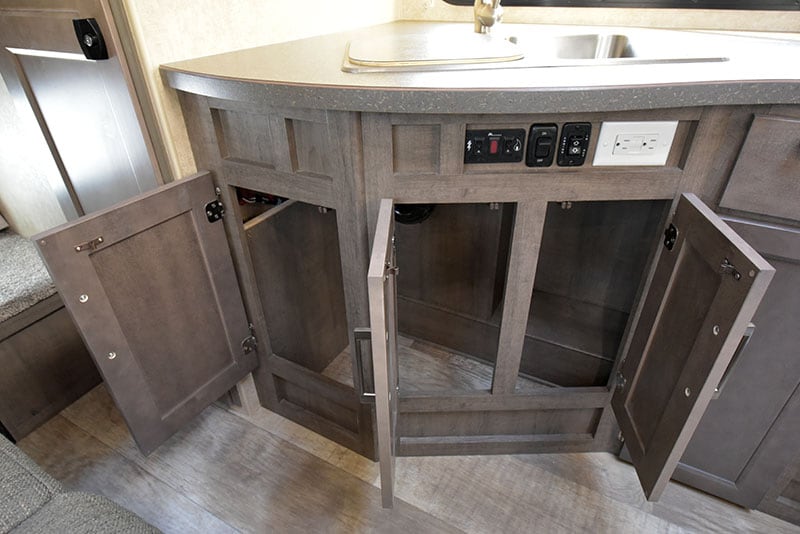 This was a nice surprise!  Three cabinetry doors under the sink open to reveal a huge storage space.  This area is just crying out for a trash can.  Ideally Bigfoot would make, supply or recommend a trash can that fits this area perfectly.
On second look, this area might be hard to maximize.  The forward-most cabinet door might be better with drawers or shelving.  That would add weight and cost to the unit, but would allow this space to be more fully utilized.  This is a great problem to have.
With the three cabinet doors open, we took a peek inside.  The underside of the dual-basin sink and related plumbing was securely installed and well presented.  I also appreciated the finished walls inside the cabinetry.  This is first rate fit and finish folks – inside the cabinets for goodness sake!
Turning toward the front wall we found the Happijac jack wireless jack controller and Intellitec battery disconnect relay.  This premium battery disconnect is activated by the battery disconnect switch inside the entry door.
The wiring to and from the jack controller and disconnect relay are tightly bundled and secured for off-road durability and reliability.  The jack controller wires are also labeled should service be required at a future date.  Again, this is first-rate quality and execution.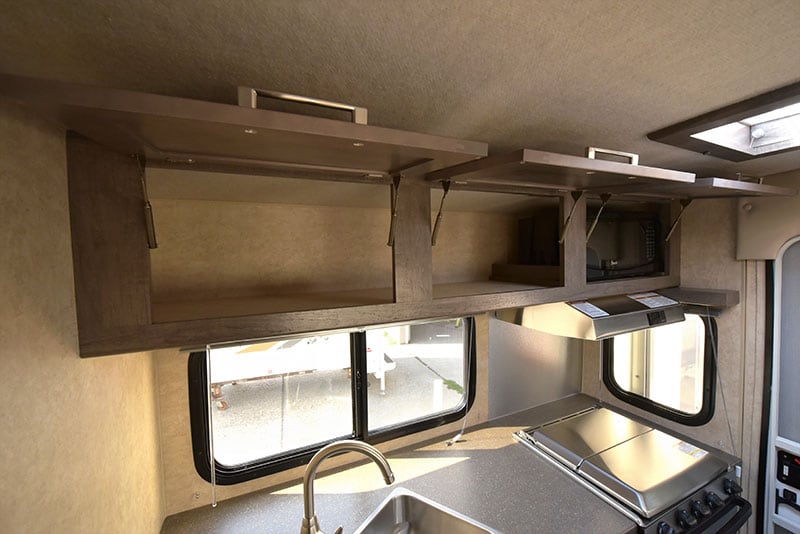 Above the kitchen counters are three pull-open cabinet doors with stainless gas struts to hold the vertical doors firmly open or shut.  This cabinet space is tailor-made for cups, mugs, plates, bowls and dry food storage.
Owners might wish for shelving in one of these cabinets, but that would likely require adding a separation wall – or at least a shelf lip.  I do think the microwave (shown below) needs a divider to prevent items from rolling behind it.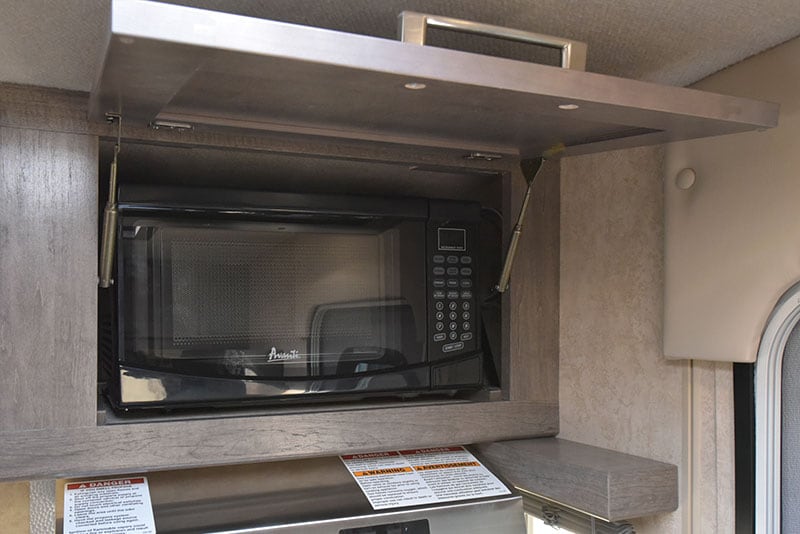 The optional microwave is hidden behind a pull-up cabinet above the range hood.  Having the microwave tucked inside a cabinet gives the kitchen a cleaner presentation.
And here comes the nit pick.  Why doesn't the microwave match the stainless steel look of the range hood, cooktop, oven and hardware?  Even the gas struts that hold the cabinet door up are stainless.
While we're nit picking, why not go for a convection microwave?  Thanks to our readership, Angela recently discovered how awesome convection microwaves can be.  That tip has been paying delicious dividends ever since.  Hey Bigfoot, give us a stainless convection microwave.  Do it for the muffins.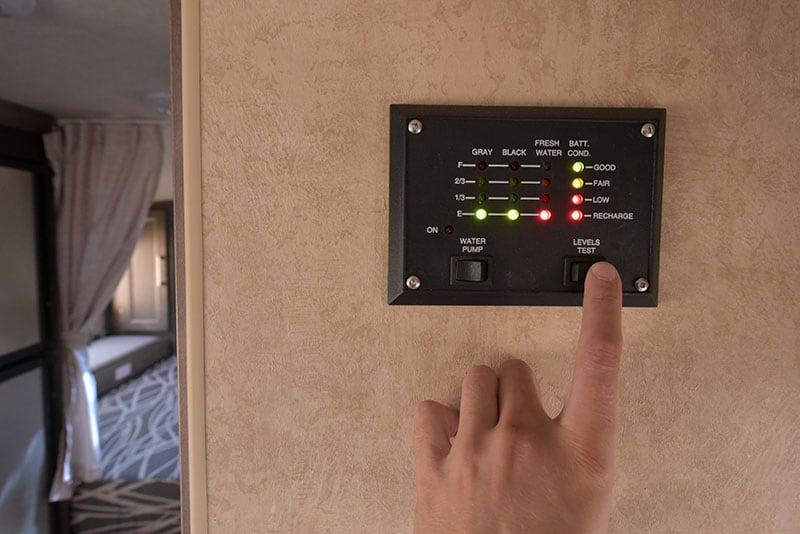 Above: Clearly I need to add hand modeling to my list of many talents.
Right at eye level on the rear facing wall is the tank monitor, battery monitor and water pump switch – all on one simple panel.  This is a convenient location for routine checking.
That said, the tank sensors attached to this panel were state-of-the-art decades ago.  How about a SeeLevel II or an equivalent modern (and much more accurate) system?  Having more accurate tank and battery levels can make a big difference in the field.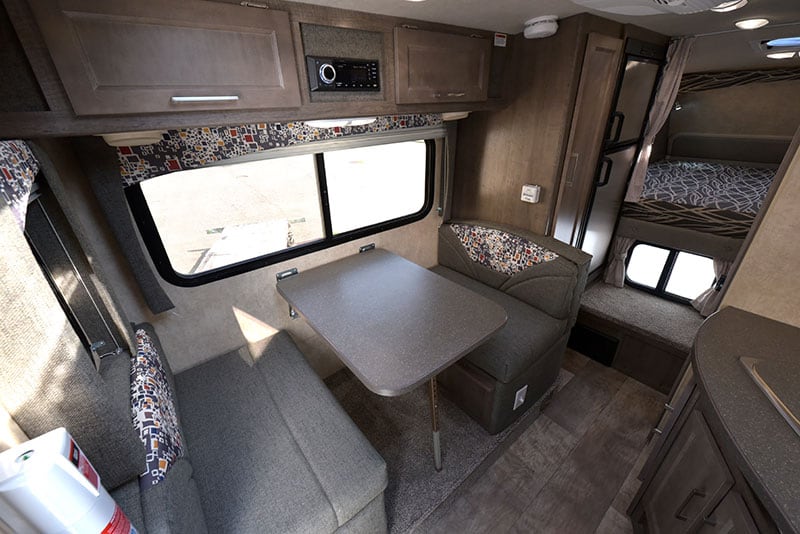 The Bigfoot 25C9.4SB features a full-booth face-to-face dinette with a huge side window.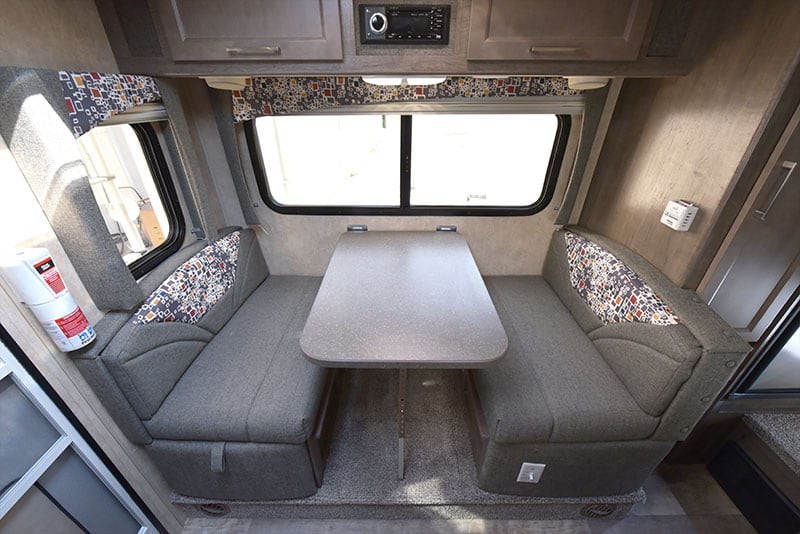 The side and rear window give the dinette tons of natural light during the day, not to mention an excellent view of where you're camping.  Who doesn't love sitting in the dinette and looking outside?
Bigfoot has selected a wall-latch and table leg system for the dinette.  This is in contrast to a push-down Dream Dinette system.  Personally, I prefer the 100-percent locked feel of the wall-latch and table leg, but you have to contend with the table leg.
Otherwise under the table is completely unobstructed allowing four adults to sit at this dinette comfortably for meals, conversation and fiercely competitive rounds of Exploding Kittens.  Sorry Harley.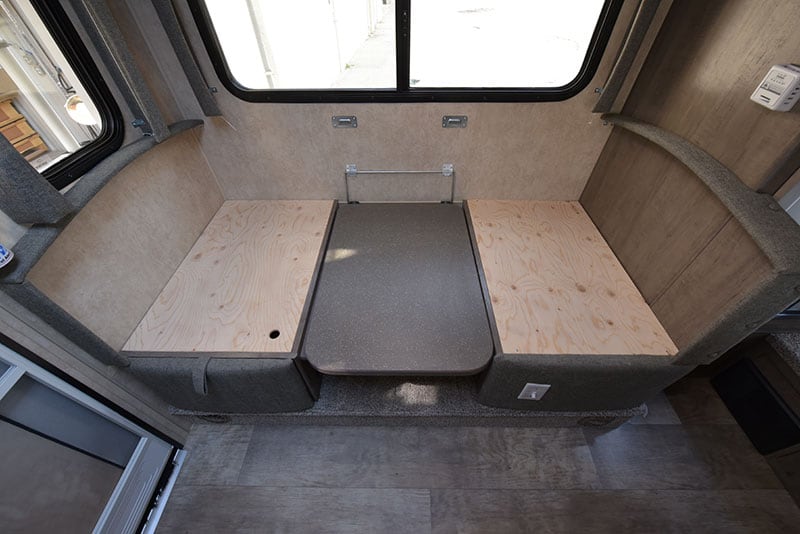 Converting the dinette into a bed is quick and easy.  Remove the cushions, lift the table out from the wall latches, release the table leg pin, put the leg into into position under the table top, and lower the table between the dinette seats.  After the first time you do this it should take less than a minute.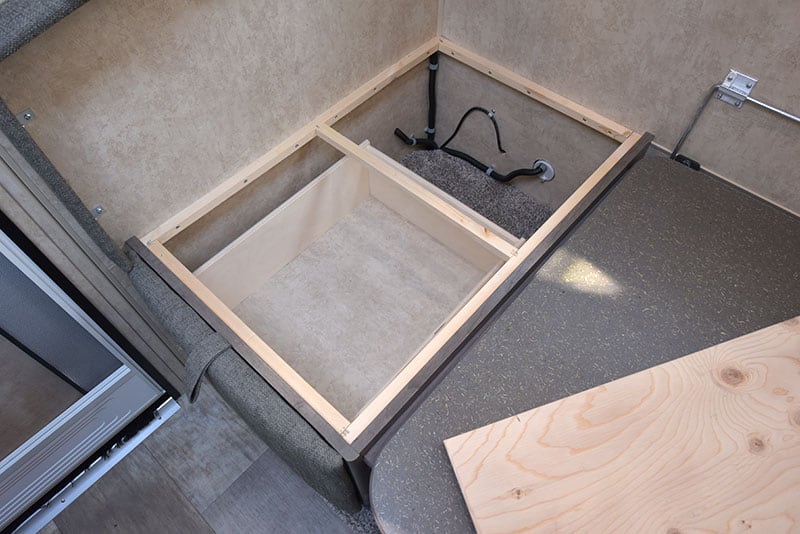 The forward-facing dinette seat platform lifts up to reveal a small storage opportunity behind the dinette seat drawer.  The wires here are well protected and secure, but I still wouldn't store anything here that could roll around and damage these lines.  We might use this space for a bag of extra shoes or winter clothing we don't need often.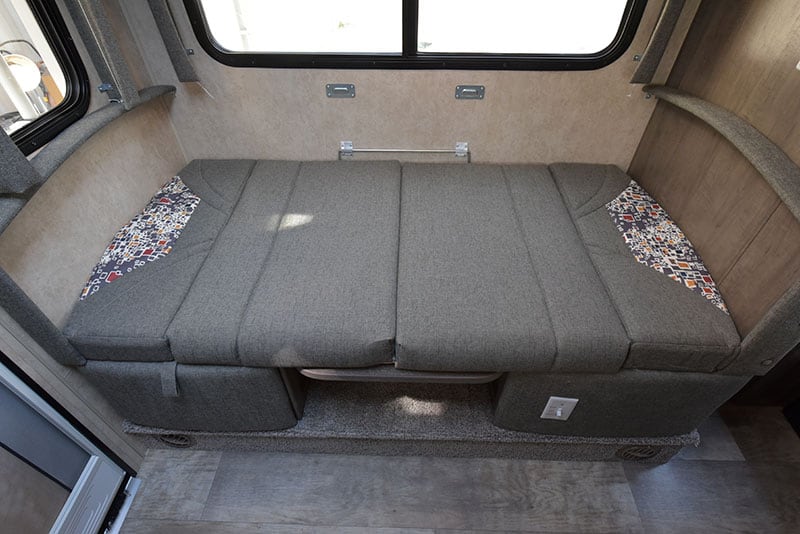 Put the cushions back into the dinette and you have a 34-inch by 70-inch bed.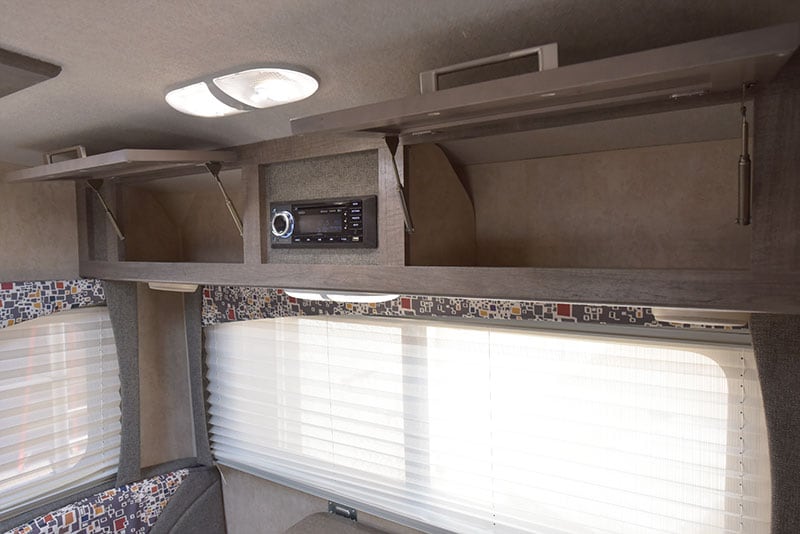 Above the dinette are two cabinets and the stereo system.  The cabinets are relatively narrow for a non-slide design, but that allows for the windows to be larger.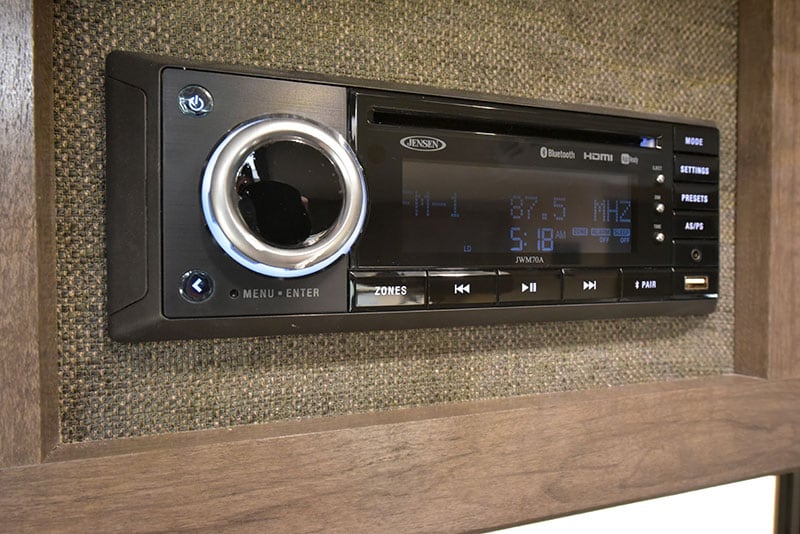 The Jensen JMW70A stereo features Bluetooth connectivity for streaming music from your phone as well as a USB input and charger, CD/DVD player with HDMI out, AM/FM stereo, and 3.5mm auxiliary input.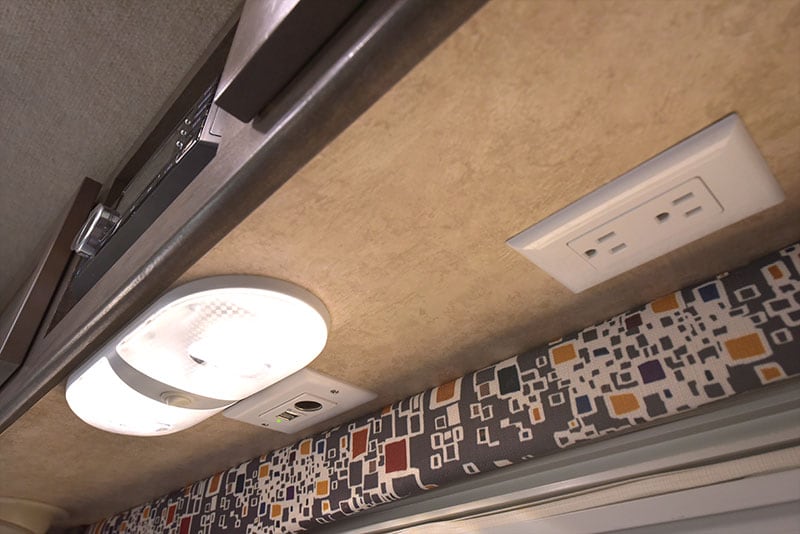 This was another awesome surprise. Above the dinette is every outlet you could need; two USB, one 12-volt, and two 110-volt.
We have always wanted this exact set of outlets in our project camper's dinette area for convenient charging of our phones, laptops, and other devices.  Listen up truck camper industry.  This is how it's done!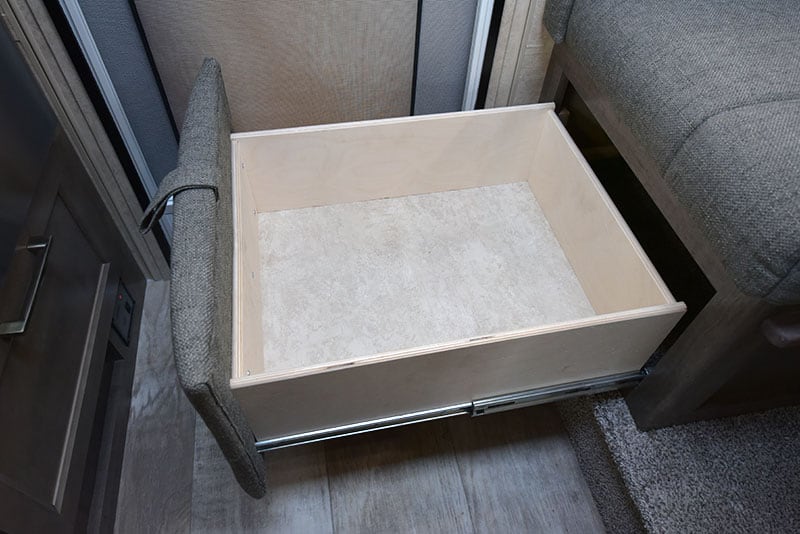 The forward-facing dinette seat has a pull-out drawer.  We would put a plastic container or liner in this drawer and keep our shoes here.  Shoes have to go somewhere – preferably near the entry door.
Given the space we saw behind this drawer, we wonder why Bigfoot didn't make this drawer a few inches deeper.  It certainly has the space to come out further.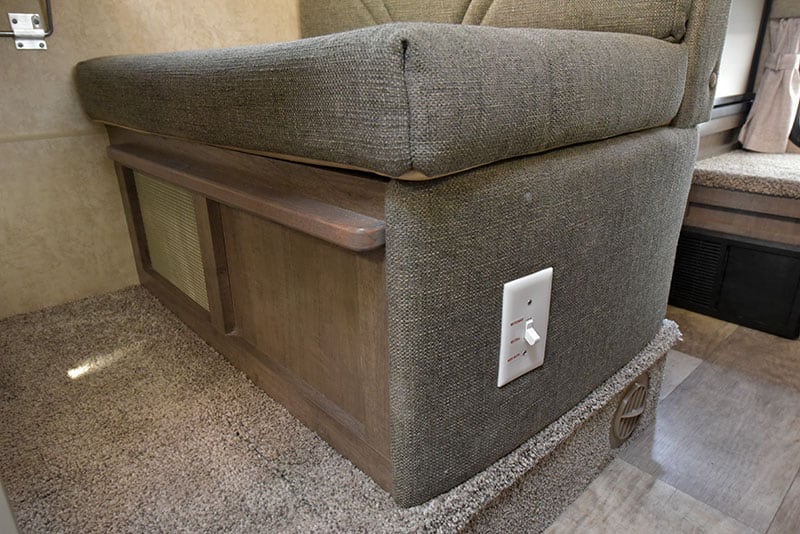 The rear facing dinette has an air intake and a three-stage switch facing the main living area.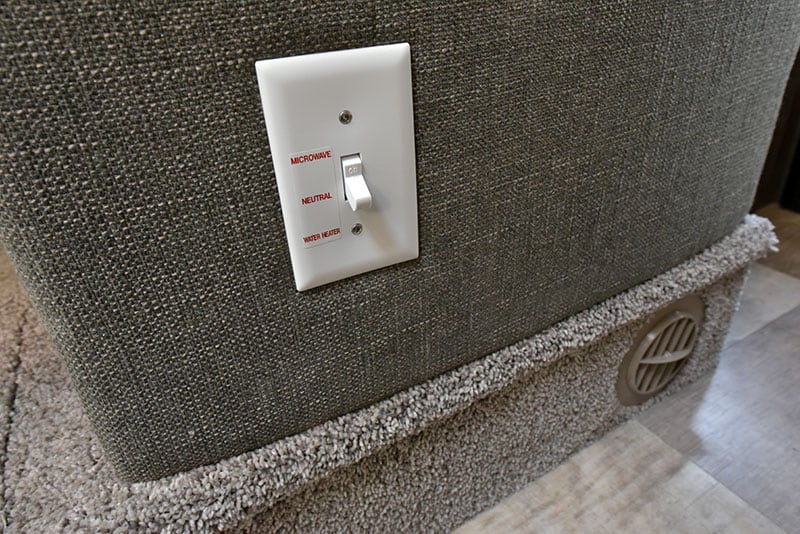 According to Bigfoot, this switch is a safety code requirement for the number of circuits permitted on a 30-amp converter.
The switch allows Bigfoot to have the water heater electric element and microwave on the camper's 30-amp main.  Owners can either use the microwave or the water heater electric element, but not both at the same time.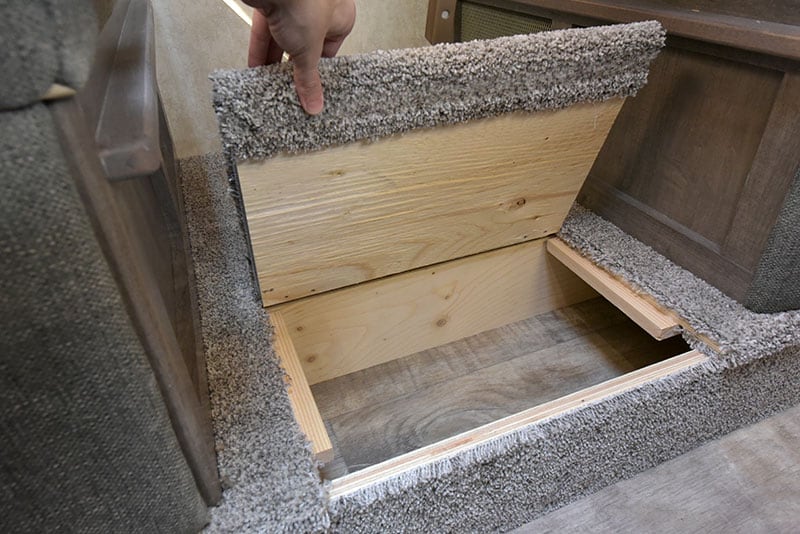 The foot area of the dinette has a hidden pull-up storage nook.  This area is easy to overlook since the carpeting blends it into the floor.
Some truck camper designs have gotten away from having a dinette riser but we find they enhance the overall comfort of the dinette.  I'm not sure exactly why this is true, but we prefer dinette booths on small risers to dinettes that are installed directly on the floor.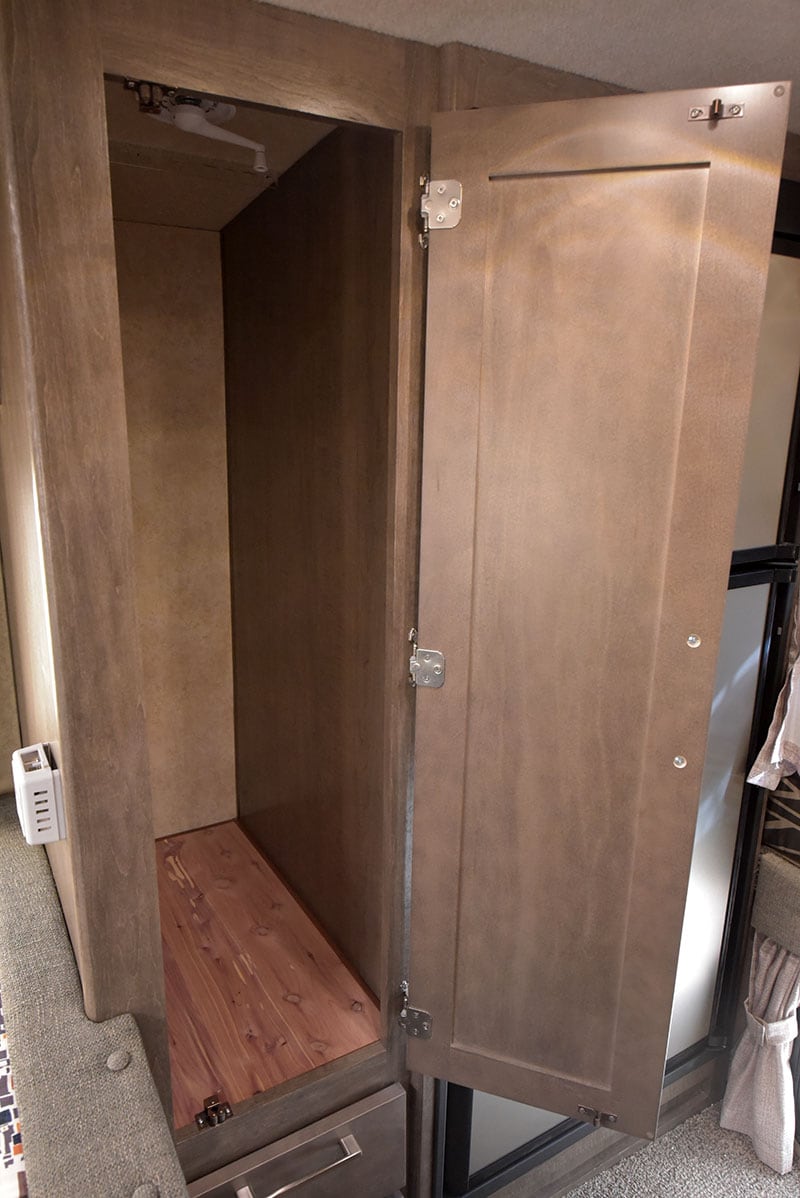 Behind the dinette on the driver's side is tall and narrow hanging closet complete with a red cedar wood floor.  The cedar is a nice touch that reminds owners that Bigfoot is all about the details.  Plus, cedar smells good, deters bugs and helps prevent mold and mildew.  Maybe we should all put cedar in our camper closets.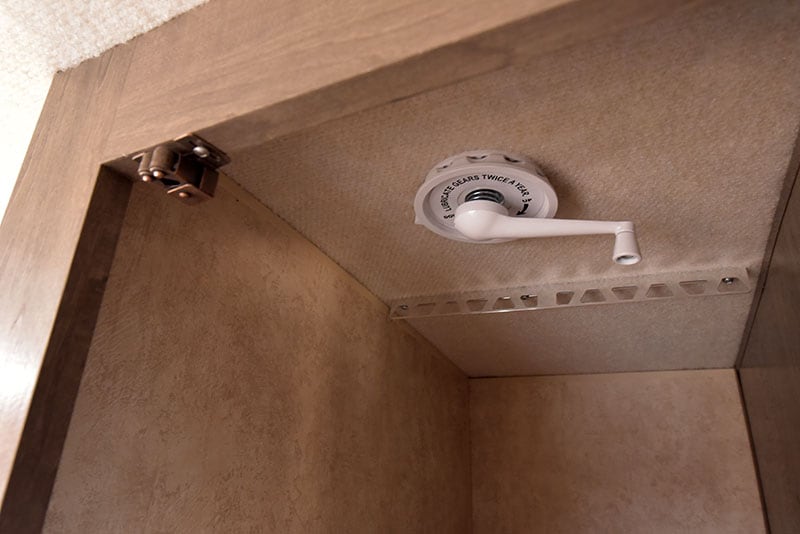 This closet also features the optional HD television antenna crank and direction selector.
In my Bigfoot 25C10.4 Review, I expressed my concerns about the crank-up television antennas Bigfoot installs on its products – and the closet locations for the cranks.  The crank could be hard to access and operate if this closet were full of hanging clothes.  And owners will inevitably forget to crank down the antenna and drive down the road.  Been there.  Done that.  Got the, "Hey bonehead!  You're driving down the road with your antenna up" phone calls.
Bigfoot responded by stating that their experiences show crank-up antennas offer superior television reception.  They said when they find one that's better, they'll switch.  It's hard to argue with that point, even if I'm driving down the highway with my antenna up.  Hopefully a crank-less omni-directional antenna will pass the Bigfoot mustard soon.
Under the clothes closet are three pull-out drawers.  This is a fantastically functional mid-ship storage opportunity.  What will folks keep in these drawers?  Who knows, but I know they'll be used all the time.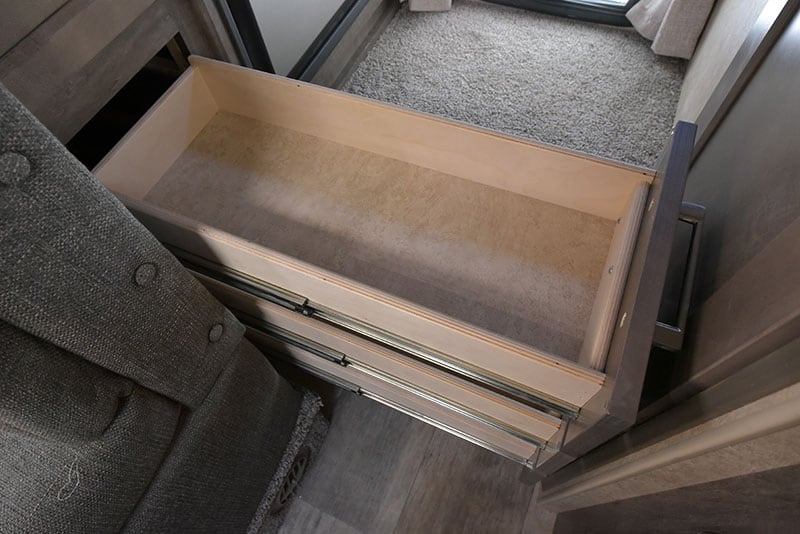 Just be careful not to leave them open when someone is in the bathroom.  They open up all the way to the bathroom door.  This is a phenomenal amount of bonus storage.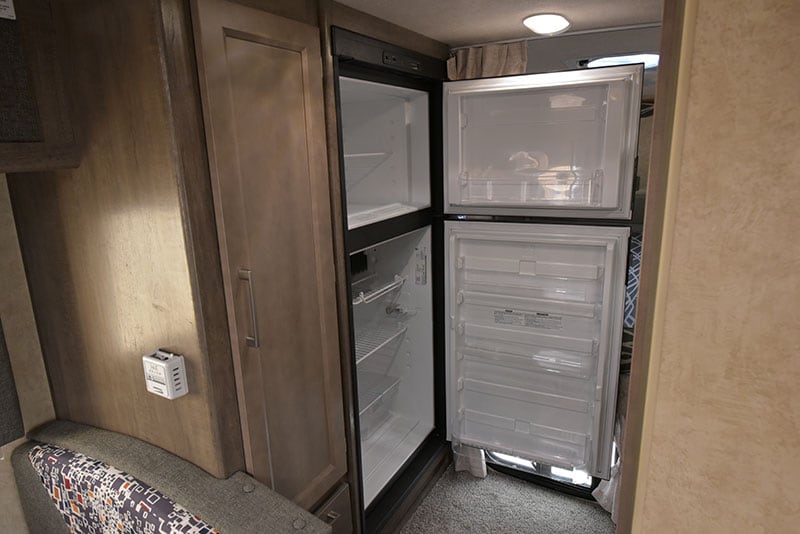 A Dometic six cubic-foot three-way refrigerator flanks the closet.
While the relative distance between everything in a truck camper is never more than a few steps, the refrigerator does seem a bit distant from the kitchen.  From the kitchen area, owners need to cross to the other side of the unit and walk down the hall to reach the refrigerator.
Okay, that's just ridiculous.  Yes, the refrigerator could be closer to the kitchen, but if you can't handle the two or three steps to get to the refrigerator from the kitchen, what the heck are you doing out on the road?  Consider this good exercise, and a moment to reflect on your decision to put A1 sauce on that Twinkie-bacon sandwich.  Seriously.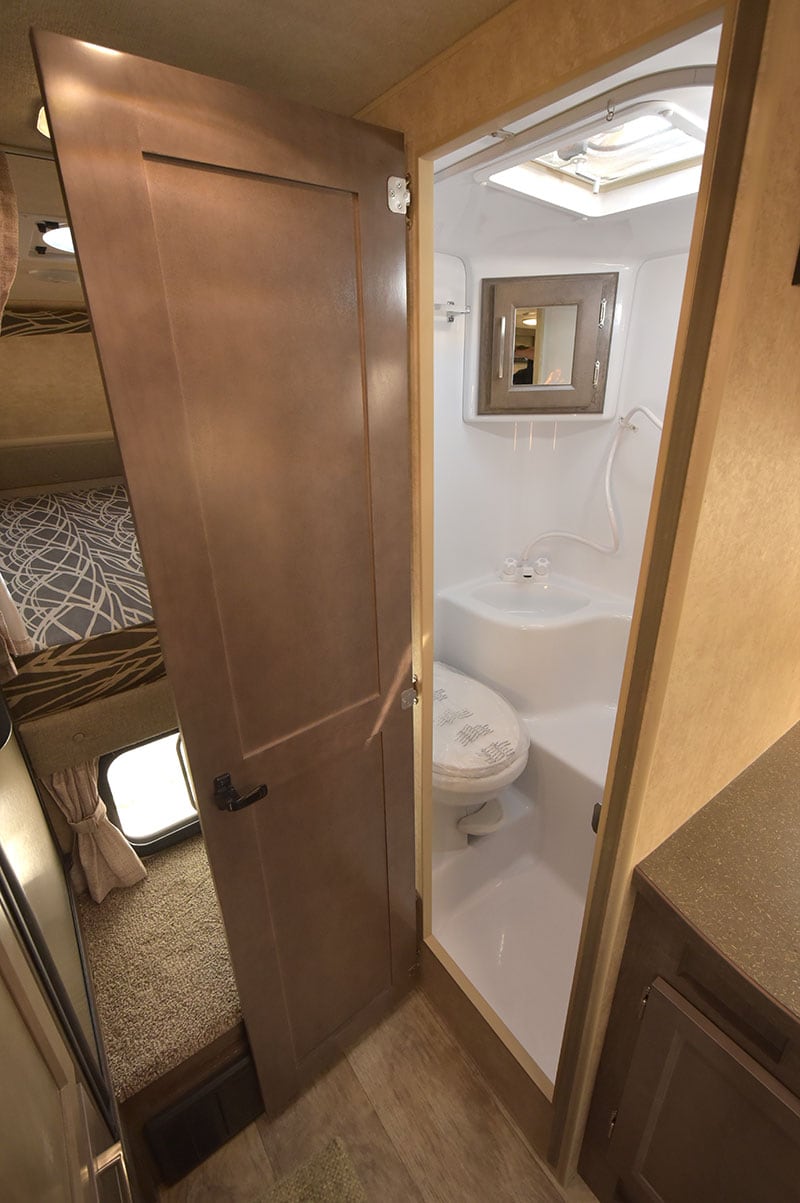 Directly across from the refrigerator is the wet bath.  The mid-ship location of the wet bath physically separates the cabover bedroom from the dinette-kitchen main living area.  It also creates something of a hallway between these two rooms.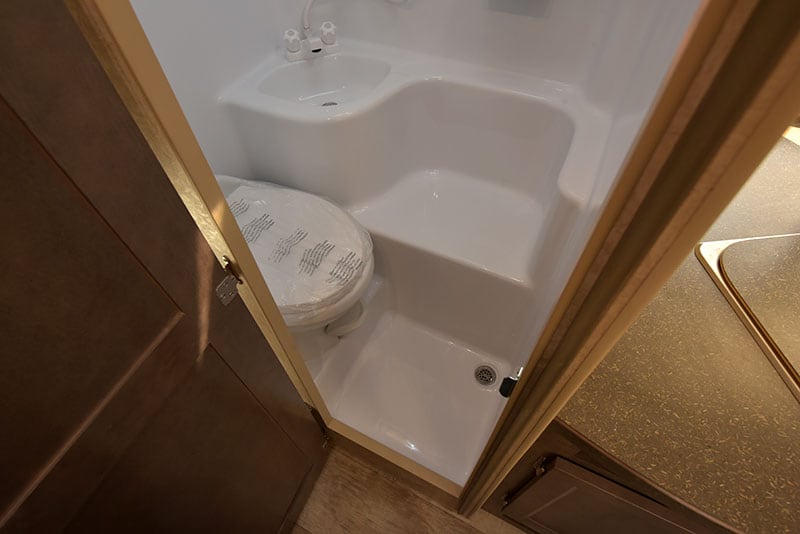 The wet bath features a one-piece fiberglass mold made in-house at Bigfoot.
One-piece fiberglass is the best way to manufacture wet baths.  The fiberglass offers the best strength and durability, as well as the most luxurious presentation.
On balance, one-piece fiberglass is heavier and more time-intensive and expensive to produce than alternative ways to build a wet bath.  There's always a catch.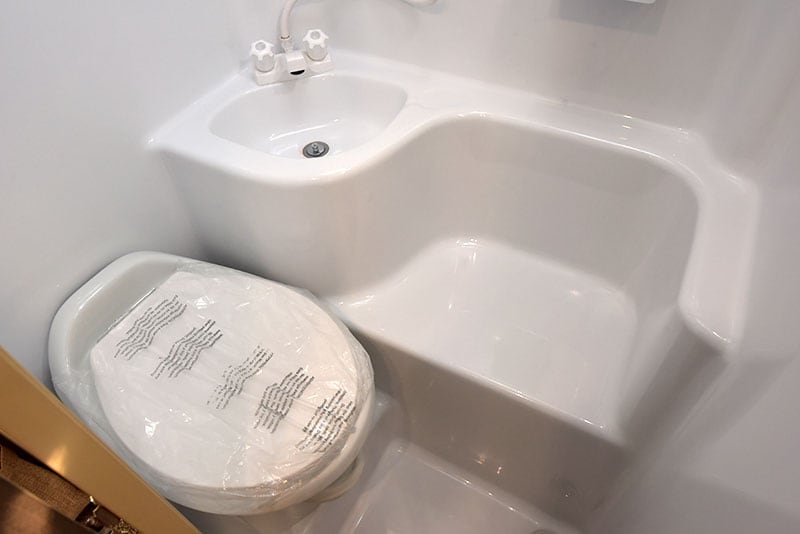 As part of their wet bath mold, Bigfoot has incorporated a sink and a seat.  The molded seat is a brilliant way to add functionality to the wet bath and make this space more inviting.
The location of the sink is a bit inconvenient as one will have to bend around the toilet to brush teeth and wash hands.  That said, if Bigfoot moved the sink to the other side they would lose the seat.  This is probably the best compromise.
The toilet does look a bit tight side-to-side, but I found it comfortable.  As a tall person my legs had plenty of room and standing height wasn't an issue.  Of course I recommend you always sit on the toilet of any camper you're considering.  Then close the door and pretend you are showering.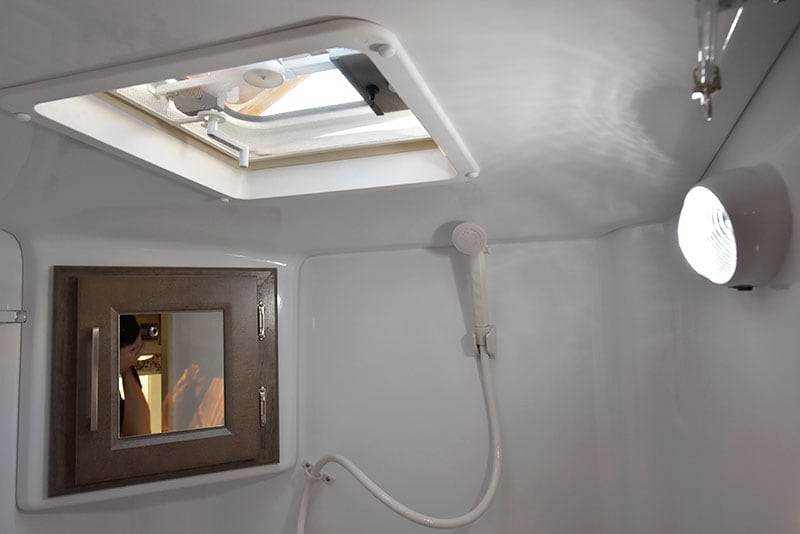 The wet bath has a small vanity and mirror, fan, shower head and LED light.  The mirror is probably too small for most folks, but this would be fine for shaving and cowlick inspections.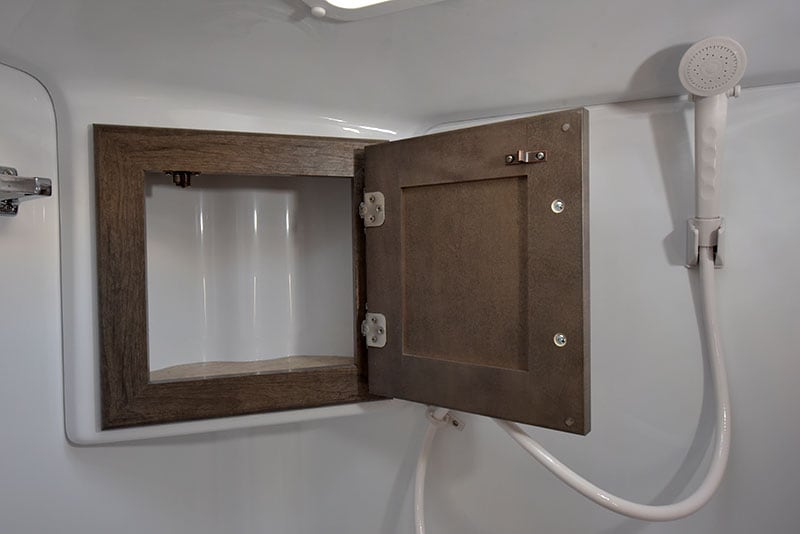 The available storage is minuscule.  It might fit a couple tooth brushes, toothpaste tubes and hair brushes.  A deodorant or two?  Maybe, but I wouldn't get your hopes up.
I do appreciate how this compartment matches the cabinetry throughout the camper.  If I had a suggestion it would be to make the cabinet door and mirror much taller.  It would still open to a small compartment, but the mirror would be a lot more useful.  Maybe on the back of the extended door could be waterproof netting for additional storage.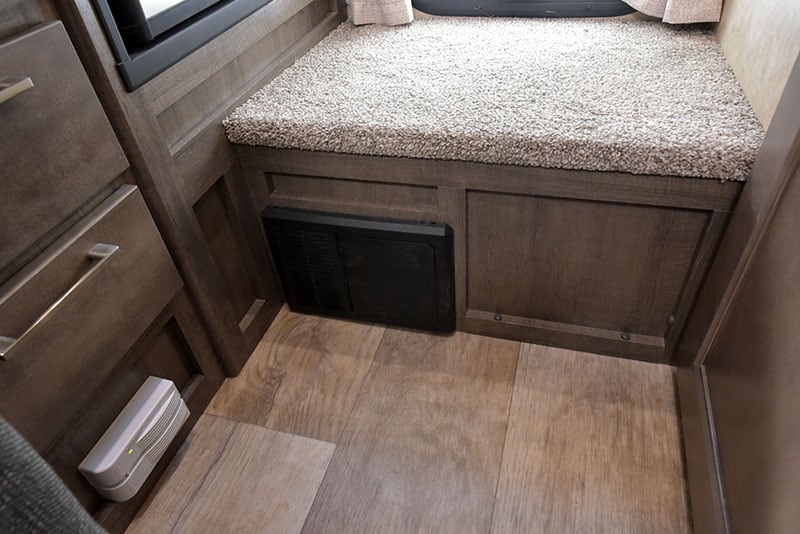 Returning to the hallway, the step-up to the cabover features the converter and fuse panel.  We always start with the fuse panel when we encounter electrical problems in a truck camper and are glad to see the fuse panel in an easy to access position.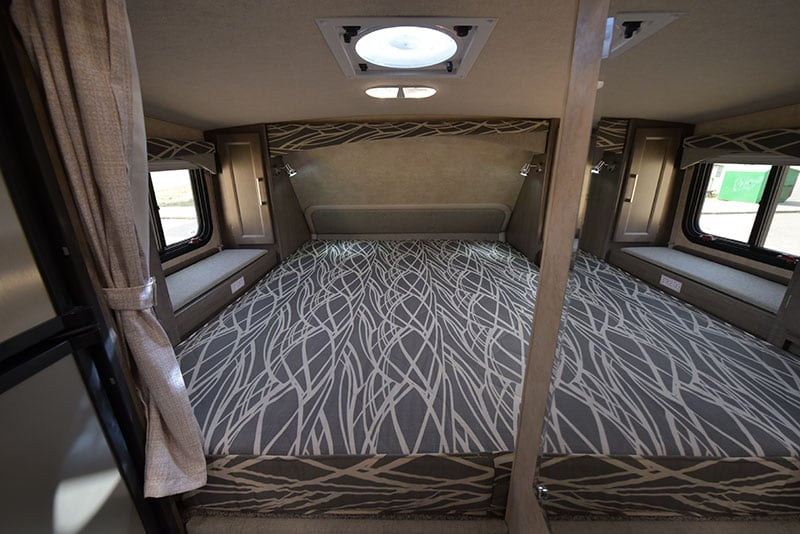 The cabover has a straight-forward layout with nearly identical storage opportunities on both sides of the camper.
Both sides get an old-school pull-up hamper and front nose "penguin" cabinet.  There's a reason why this combination has been the cabover design standard for decades; it works.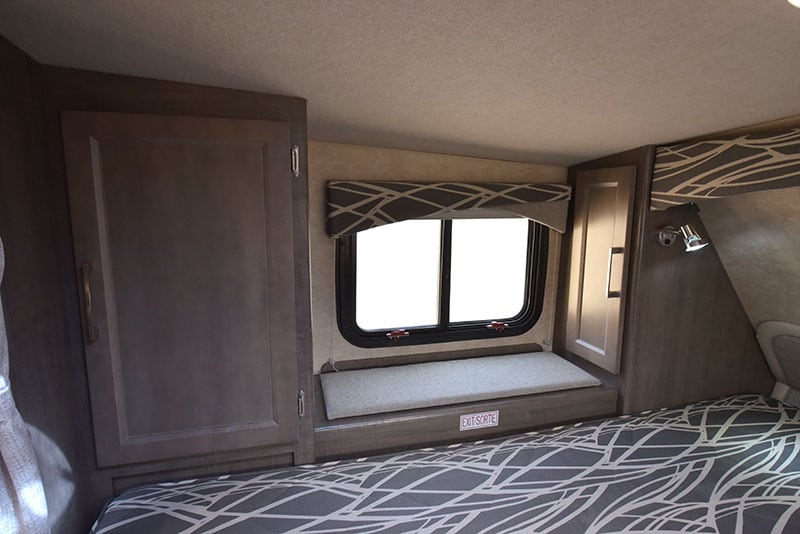 In addition to the hamper and penguin, the driver's side gets a closet.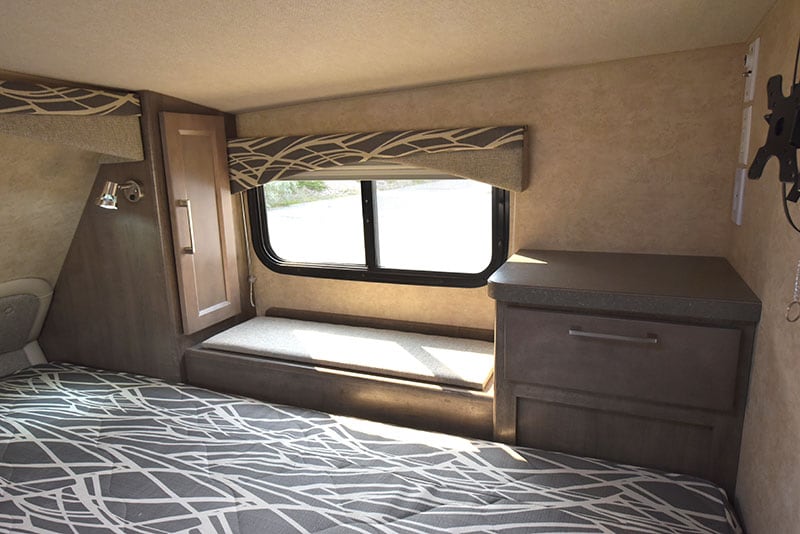 The passenger's side features a nightstand, drawer and the television mount.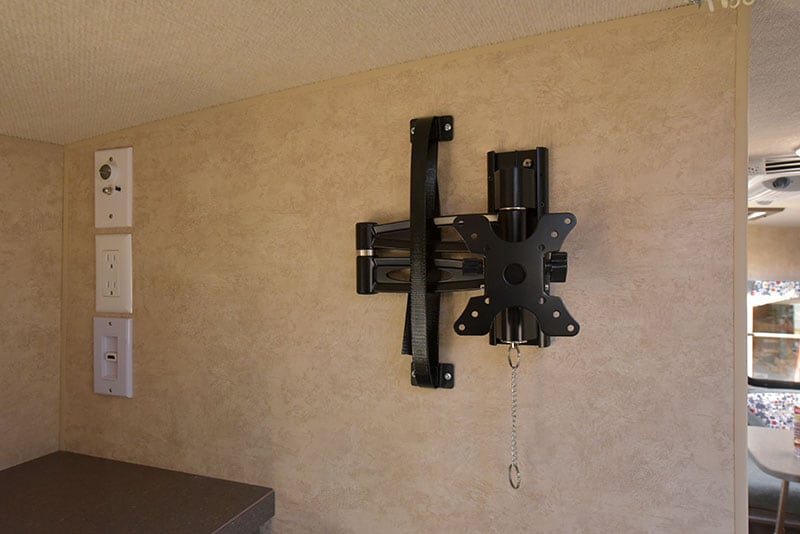 The Bigfoot 25C9.4SB under review did not feature a television but the mount and connections were installed; 12-volt, antenna coax, antenna amplifier and HDMI.  From the available wall space a 19-inch HDTV is a safe bet, but a 24-inch might be possible.
As a side note, we use a 110-volt 24-inch Samsung HD television in our camper.  Although it's 110-volt, it's extremely efficient and runs beautifully off a compact 100-watt 12-volt inverter.  Even better, the picture, channel tuning speed and features of the Samsung puts the typical Jensen HDTV to absolute shame.
Speaking of 110-volt, there are two 110-volt outlets in this same location.  Unfortunately, this is the only 110-volt outlet in the cabover area.  Bigfoot will install 110-outlets for customers who request it, but this feature is currently by request only.
In the future, we would like to see Bigfoot add 110-volt and USB outlets at the front of the cabover as standard.  More and more truck campers use 110-volt CPAP machines and practically all of us need to charge USB-powered phones and tablets at night.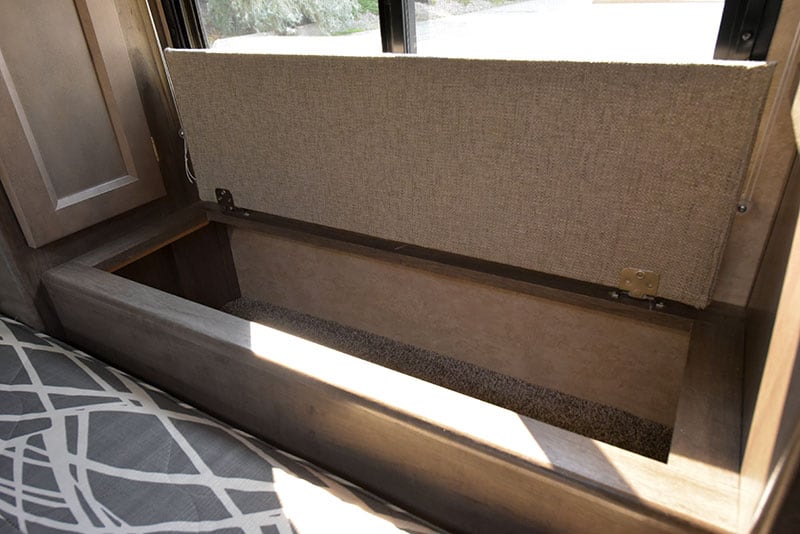 Without a doubt, a cabover hamper is my favorite truck camper storage type.  Not only do I keep socks, underpants, belt and pajamas in my hamper, but also whatever books I'm reading.  Anywhere you keep both your underpants and favorite books has to be special.  Too much information?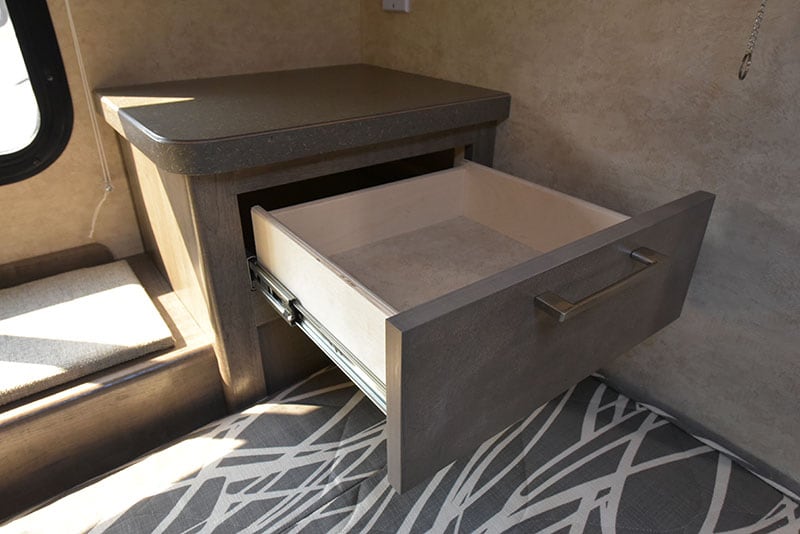 In most truck camper cabovers, the side with the television gets shorted on storage.  Bigfoot makes amends with the pictured nightstand and drawer.  And just when you're about to say, "Yeah, but…" you notice the sumptuous steam-bent countertop.  So pretty!  What were we saying?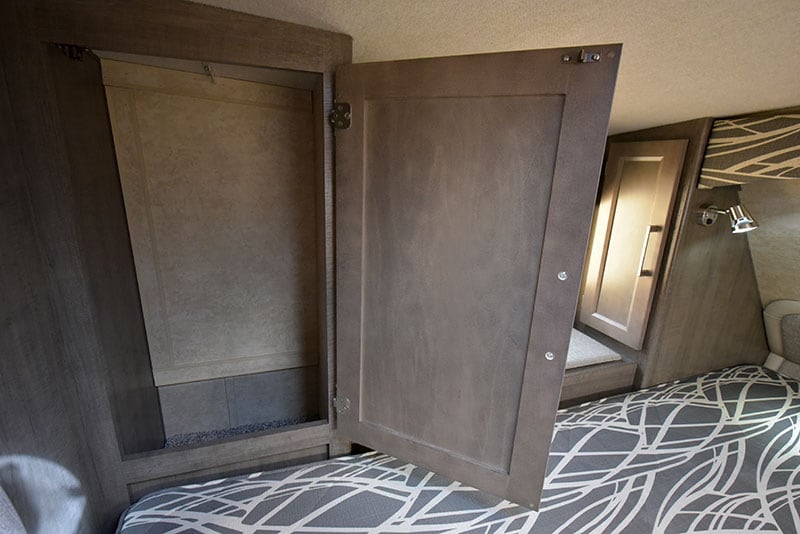 The hanging closet is wide open and huge – for a truck camper cabover.  While some folks will want to hang their clothes, many more would likely prefer shelving for jeans, T-shirts, sweatshirts and other common camping clothing.  There's already a small hanging wardrobe behind the dinette.  This cabinet needs shelving.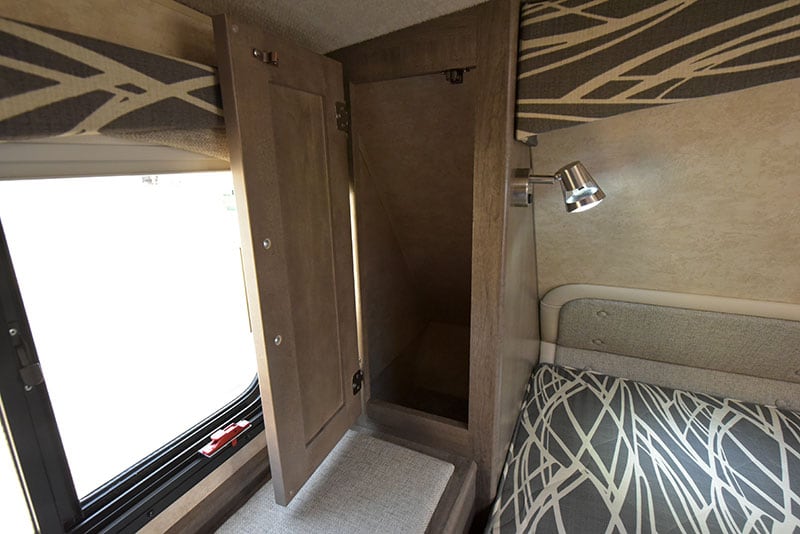 As do the forward penguin cabinets.  A single removable shelf would make this a much more versatile space.  Without a shelf, stuff just gets piled in.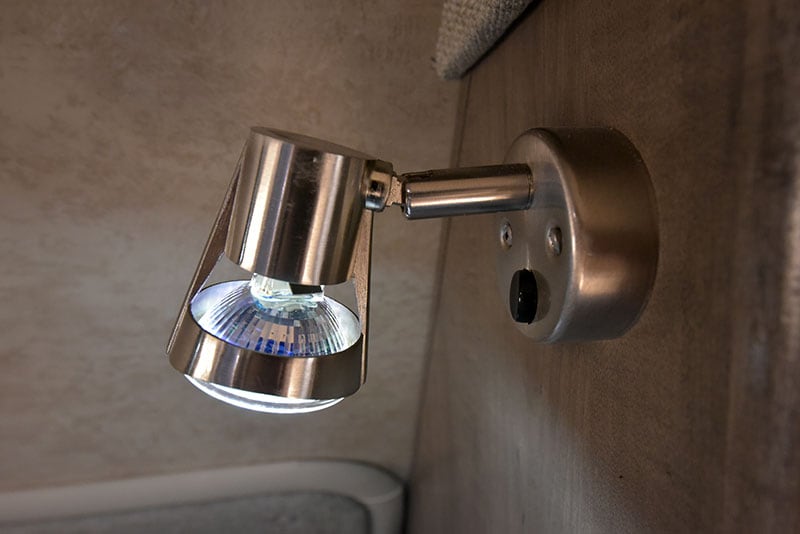 The LED reading lights in the cabover are fantastic.  These attractive lights are adequately bright for reading and offer a natural white light color.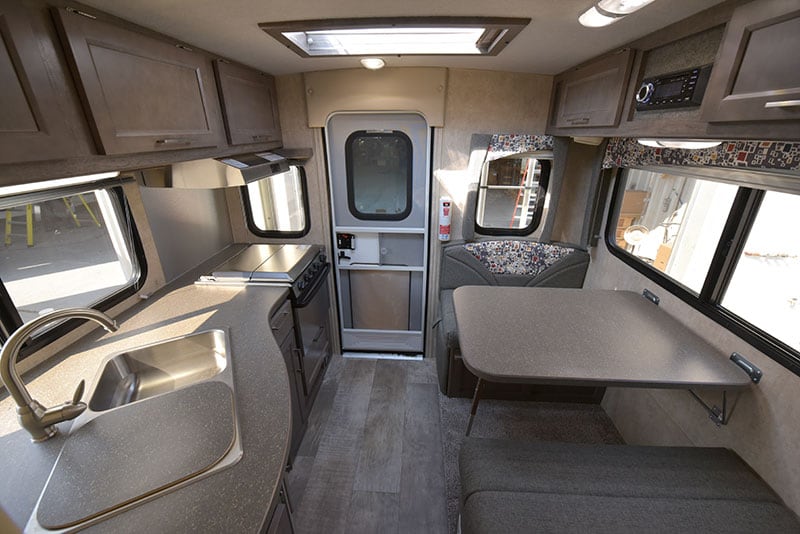 This is the view looking from the bathroom hallway towards the rear door.  The sense of light and space in this camper is awesome.  The bright and airy feeling is further enhanced by a central skylight.  I want to spend time here.
Yes, a dinette slide slide-out would open things even further, but all you would gain is floor space.  Unless you must have the additional floor space, you can avoid the weight, maintenance, battery draw and potential mechanical issues of slides with this floor plan.  Love it.
Specifications
| | |
| --- | --- |
| Specifications | |
| Dry Weight | 2,980 pounds |
| Wet Weight* | 4,017 pounds |
| Floor Length | 9'6″ |
| Overall Length | 16'6″ |
| Width | 7'11" |
| Interior Height | 6'4″ |
| Exterior Height | 8'3″ |
| Center of Gravity | 43″ |
| Truck Type | Short Bed |
While we did not see on-site scales at Bigfoot Industries last summer, the stated 2,980-pound dry-without-options weight of the 25C9.4SB is well within the ballpark for a clamshell fiberglass truck camper of this floor length and standard features.
That stated, we want to urge Bigfoot Industries to acquire on-site scales, weigh every truck camper prior to shipping, and include that exact weight with and on every truck camper.
We recommend an Intercomp SW-500 (wired) or SW650RFX (wireless) system.  If Bigfoot has on-site scales or plans to get scales, they are welcome to submit a Manufacturer's Response.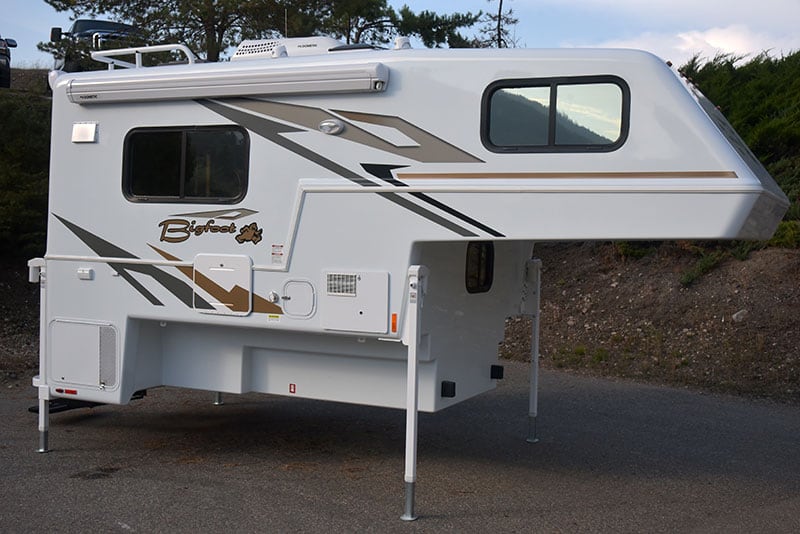 It would be reasonable to expect the 25C9.4SB to have a 9-foot 4-inch floor length, but it actually has a 9-foot 6-inch floor length.  Why isn't this camper actually named the 25C9.6SB?  Because that's already a different Bigfoot model!
The 95-inch (7-foot 11-inch) width of the Bigfoot is 1 to 3 inches narrower than the competition, depending on the model.  That said, I doubt anyone would be aware of this fact when inside the 9.4SB.  The camper certainly did not feel narrow.
Perhaps the sense of space was aided by the Bigfoot's 6-foot 4-inch interior height. As a tall person, the main living area ceiling height, cabover height and shower area height were comfortable.
Capacities
| | |
| --- | --- |
| Capacities | |
| Fresh | 38 gallons |
| Grey | 32 gallons |
| Black | 22 gallons |
| Water Heater | 6 gallons |
| Propane Tanks | 2x 20 pounds |
| Batteries | Two Batteries |
The Bigfoot 25C9.4SB has excellent holding tank capacities for a truck camper this size; 38-gallons fresh, 32-gallons grey and 22-gallons black.  The tank capacity ratio is also excellent.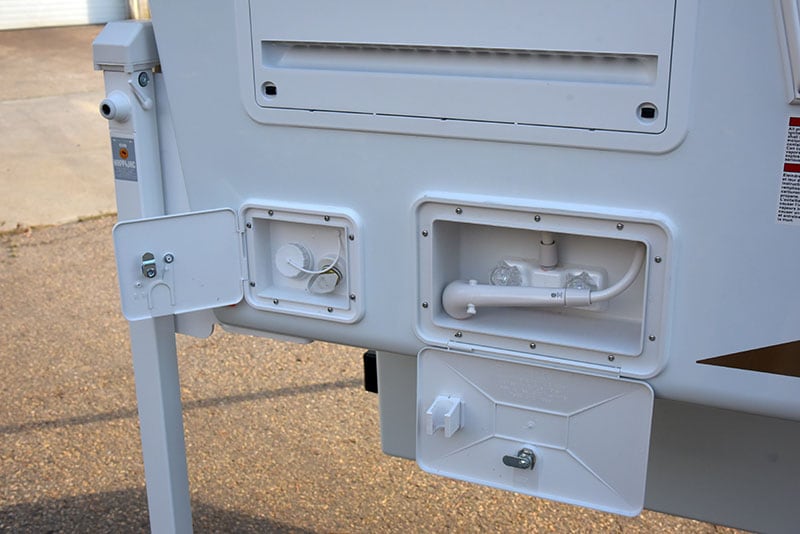 If you practice off-grid water conservation techniques, these tanks should last a least a week of off-grid camping.  We have nearly identical tanks in our project camper and routinely boondock for 7 to 10 days before needing to fill fresh and dump black and grey.
If you require a daily shower or refuse to turn off the water when brushing your teeth and washing dishes, your tank time will suffer.  Learn the ways of water conservation and your ally will be water conservation.  And a powerful ally it is.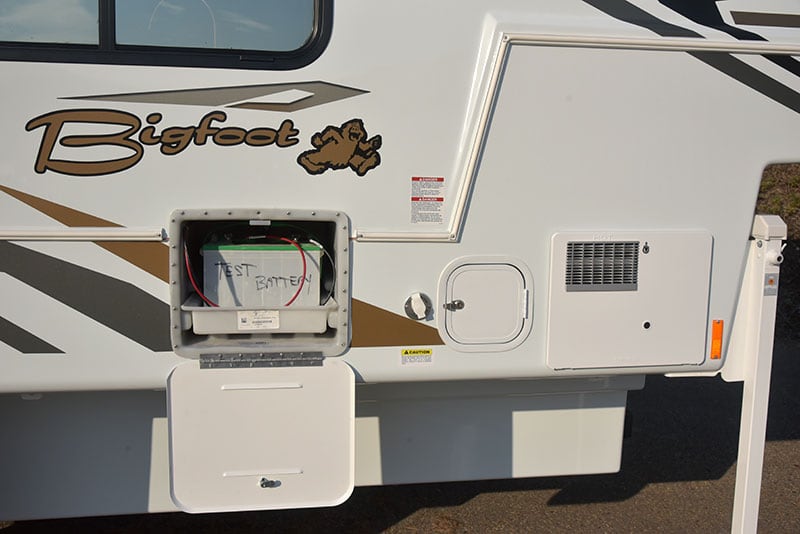 The remainder of the 25C9.4SB capacities also stay on target; 6-gallon water heater, two 20-pound propane tanks and two Group 27 batteries.  These capacities are in-line with the competition and present a seriously capable truck camper.
Wet Weight Calculations
For our wet weight calculations, we will start wit the 2,980-pound dry weight stated by Bigfoot.  Then we will add the option weight to determine the total wet with options weight on the review unit.
Base Dry-Weight – special factory order only
Bigfoot 25C9.4SB: dry weight, 2,980 pounds + 38 gallons fresh, 316.9 pounds + 6 gallon water heater, 50 pounds + 2x 20-pound full propane tanks, 40 pounds + 2 batteries, 130 pounds + stuff, 500 pounds = 4,016.9 pounds
Optioned Review Unit
The unit under review had a number of installed options; 8-foot power side awning, 11,000 BTU air conditioner, crank-up TV antenna with amplifier, optical rear vision door, and stereo with CD/DVD player.  We have conservatively estimated the weight of these options at 150-pounds.
Taking the base dry weight of 2,980-pounds and adding the 150-pound option weight we get a dry-with-options weight of 3,130-pounds for the Bigfoot 25C9.4SB under review.  With this number, let's run the wet weight calculation again.
Bigfoot 25C9.4SB: dry weight, 3,130 pounds + 38 gallons fresh, 316.9 pounds + 6 gallon water heater, 50 pounds + 2x 20-pound full propane tanks, 40 pounds + 2 batteries, 130 pounds + stuff, 500 pounds = 4,166.9 pounds
Truck Recommendations
Any time you have a short bed truck camper surpass 4,000-pounds wet with options and stuff you could have a truck matching challenge.  Simply put, there are very few short bed trucks that offer 4,000-pounds of payload or more.
That doesn't mean there are no short bed trucks that properly match the Bigfoot 25C9.4SB.  For example, a 2019 Ford F-350 XLT single-rear wheel (SRW), Crew Cab, 4×4 short bed offers up to 4,480-pounds of payload capacity (with a 11,300-pound GVWR).
For RAM, a 2018 Ram 3500 single-rear wheel (SRW), Crew Cab, 4×4 short bed offers up to 4,270-pounds of payload capacity (with a 11,000-pound GVWR).
That stated, the majority of 2019 Ford and 2018 Ram one-ton short bed trucks offer payload in the low to mid-3,000 level.  More than likely, this is what you'll find on a Ford or Ram dealer lot.
The offerings from GM don't help much.  Our special ordered 2013 Chevy Silverado 3500 short bed had 4,013-pounds of payload thanks to the careful selection of GM's Vortec 6.0L V8 gas engine, Z71 Off-Road Suspension Package, and the Snow Plow Prep Package.  Due to advances, that same Chevy 3500 truck in a 2019 version might reach the 4,166.9-pound target, but you will need to work with your local GM truck dealer to verify that possibility.
The point is this; to hit 4,166-pounds of payload in a short bed truck, you're going to need to do some homework, and special order a truck.  That could be as simple as going to your local truck dealer and saying, "I need a short bed truck with 4,166.9-pounds of payload" and then placing the order.
Two More Options
Let's say you're set on Bigfoot but don't want one of the payload-maxed trucks described above.  Or maybe you already have a short bed with less payload capacity, but your heart is set on a Bigfoot.
One option is the Bigfoot 15C8.2FR, another short bed Bigfoot model with a wet-without-options weight of 3,048 pounds. That's a full 968.9-pounds lighter than the 25C9.4SB wet-without-options weight.  The short bed truck options for that camper are numerous!
If you don't already have a truck and you really want the 25C9.4 floor plan, get the long bed version; Bigfoot 25C9.4LB.  From there almost any one-ton long bed dually will hit the payload mark.  Or, go to your local Ford, Ram or GM dealer and they should have an assortment of one-ton single rear wheel trucks that will work.
What would we do?  We would buy our 2018 Ram 3500 6.4L HEMI long bed dually again, load the Bigfoot 25C9.4LB (long bed), and hit the road with hundreds of pounds of payload to spare.  Actually, we would get the dry bath Bigfoot 25C10.4, but that's literally another review!
A Few Words On Molded Fiberglass
Before we get to the verdict, we need to mention the benefits of Bigfoot's molded fiberglass construction.
Our 15-year old project camper is aluminum-framed and laminated.  When we took ownership of the unit in 2014, it was de-laminating in two areas.  We immediately re-sealed the entire unit, a time-intensive process to access, clean and repair seemingly endless exterior seals and screws on the roof, sides, and under body.
Unfortunately, we soon learned that here's no good solution to repairing the de-lamination.  Nearly everyone in the industry told us to live with it.  If the seals were good and the de-lamination didn't progress, move on.  And that's exactly what we did – until a car accident forced a major structural rebuild.
My point is this; two-piece molded fiberglass construction eliminates the frame, the great majority of seams and screws, and the entire lamination process.  If I could snap my fingers and turn our project truck camper into a two-piece fiberglass model, I would.  Just imagine all the seal maintenance time I would get back for petting our cat, or looking for LP records.
Yes, molded fiberglass truck campers don't come with slide-outs.  If you need a double or triple-slide truck camper with a sofa, molded-fiberglass isn't an option.  And molded fiberglass truck campers are expensive compared to non-molded fiberglass units – floor length for floor length.  Beyond that, there's no question molded-fiberglass campers offer the longest lasting and most durable construction available.
Add to that Bigfoot's Glass Secret; a proprietary approach to further strengthen their fiberglass shells.  At the expense of adding some weight, Bigfoot reinforces their fiberglass shells in key areas.  You can catch a few clues about this approach in their factory tour, but that's all we can say about that.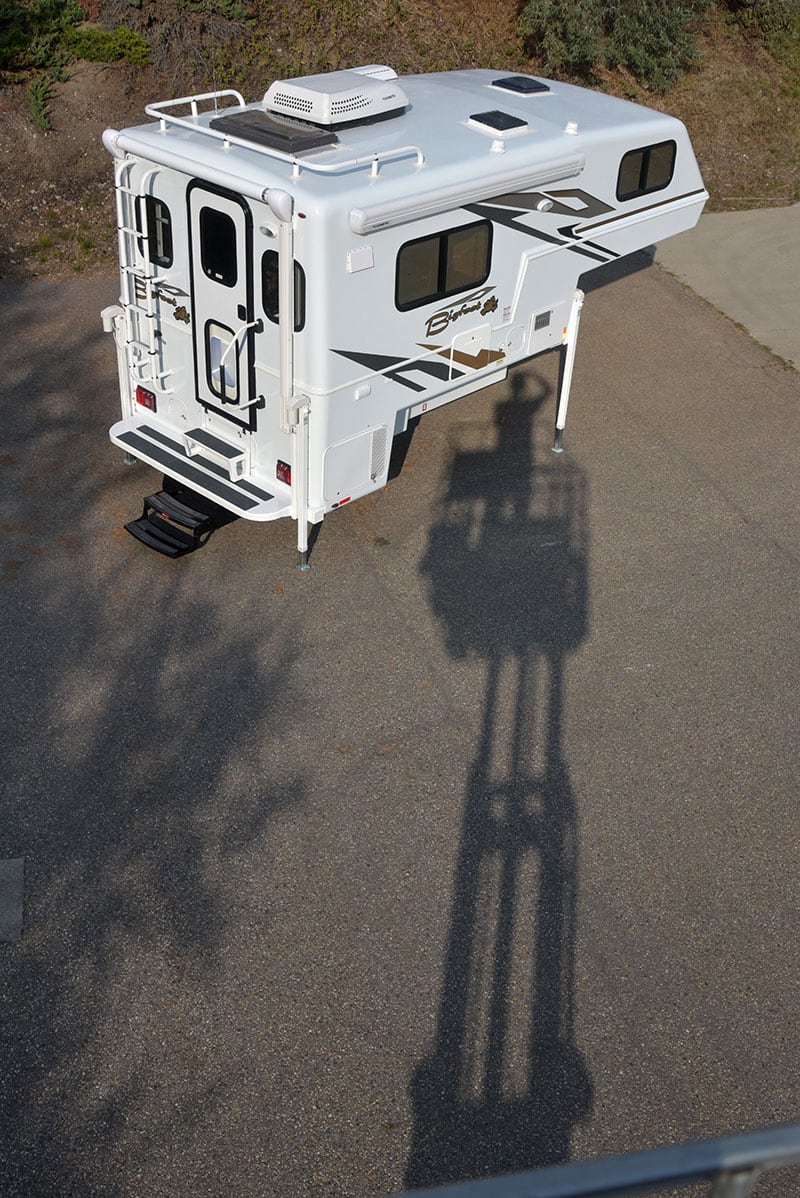 Above: Guess who risked his life to take this picture?  The heights I go…
Bigfoot 25C9.4SB Final Verdict
My biggest concern with the Bigfoot 25C9.4SB is weight.  At 4,166.9-pounds wet and loaded, the optioned review unit would be a challenging match for a one-ton short bed truck.
As described in the Truck Recommendations above, there are specific trucks available to properly match to this camper, but you will need to special order one.  If you're serious about this camper, please read the Truck Recommendations.  Several matching solutions are there.
Beyond the matching question, almost every criticism in this review amounts to a minor nit-pick.  The only real remaining elephant in the room is cost.  $41,475 USD is a big-ticket for non-slide truck camper.
Over a half-dozen competitors offer larger slide-out truck campers for less money.  Whether Bigfoot's molded-fiberglass construction and impeccable quality is worth the premium is a determination only you can make.
After that, everything about this camper is a rave.  The Bigfoot 25C9.4SB represents some of the best quality and quality control we have ever seen.  Even when we looked behind cabinetry or inside service compartments we were amazed at the level of care and detail that went into this camper.
Bigfoot's stunning quality should result in a truck camper that lasts longer with less routine maintenance – a proven recipe for more truck camping fun.  After all, isn't that what this is all about?
Pros
Two-piece molded fiberglass construction offers superior strength
Interior and exterior fit, finish and overall quality is first rate
Excellent storage opportunities throughout unit
Conveniently located 110-volt, USB and 12-volt outlets in dinette
Floor plan feels bright, open and airy for a non-slide design
Two-piece fiberglass construction that's built to last
Cons
$41,475 MSRP is a premium price for a short bed non-slide truck camper
Short bed truck compatibility is possible but requires careful matching
Optional microwave does not match stainless interior design
Electric awning and awning light controls awkwardly located in kitchen
Cabover closet and cabinets need shelving to maximize storage
12-volt, USB and 110-volt should be standard in the forward cabover
Model Information
2019 Bigfoot 25C9.4SB
MSRP: $41,475 USD
Warranty: Three-year structural warranty.  Individual appliances have their own warranties.
Bigfoot Industries (2010) Inc.
Phone: 250-546-2155
Request a Bigfoot Brochure
Web: BigfootRV.com
Quality, Customer Service, and Long-Term Reliability
Truck Camper Magazine inspects all reviewed truck campers for design, material, and quality issues and reports what we find. However, since Truck Camper Magazine reviews only brand new truck campers, our reviews do not address long-term quality, customer service, or reliability.
To learn about a brand's long-term quality, customer service, and reliability, Truck Camper Magazine recommends talking directly with truck camper owners at truck camper rallies and online via truck camper forums and truck camper owners groups.
Please be sure to balance your gathered feedback across multiple sources including direct correspondence with the truck camper manufacturers and your closest truck camper dealers.
If you are new to truck campers, start in the Newbie Corner.