Truck Camper Magazine reviews a 2019 Alaskan 8.5FD hard-side pop-up truck camper for long or short bed trucks.  Can a design founded in the early 1950s still compete today?

Click here to read Alaskan's response to this review.
There is some delicious irony in the fact that one of the most versatile RVs on the planet also happens to be one of the oldest designs on the road.
Alaskan Campers are designed and manufactured much the way they were 65-plus years ago – back when Chevy 3100s and Ford F100s rolled the roads.  And yet Alaskans offer a unique and compelling feature that no other truck camper on earth does; a 100-percent hard-side pop-up.
Want the fuel economy, low center of gravity, and phenomenal off-road capabilities of a pop-up truck camper together with the unbeatable climate and exterior noise seal of a hard side?  You've got one choice; an Alaskan Camper.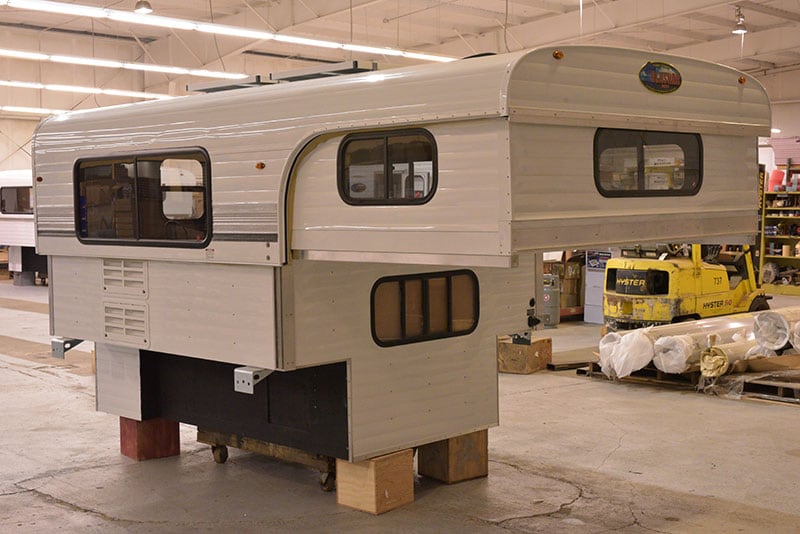 Like most jack-of-all-trade products, the Alaskan does have some important compromises.  As pop-up campers go, they are not the lightest, most aerodynamic, or most cost effective choice.
As hard-side campers go, they lack the holding tank capacity, slide-out opportunities, or bathroom amenities that are so popular in that category.  Oh, you want a sofa camper?  Hold that thought…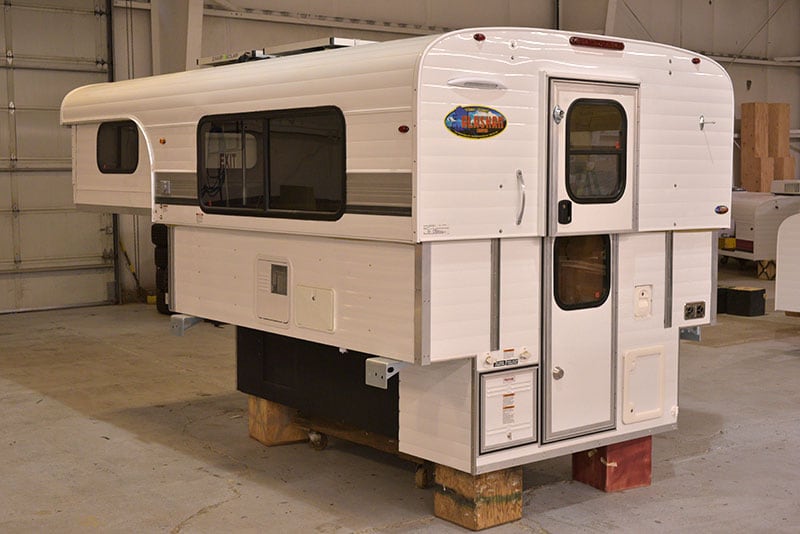 So what makes Alaskan Campers a multi-generational survivor; still holding its lit torch while so many contenders have long since been extinguished?  Did we mention the hard-side pop-up?  That's the ticket, but there are other important features that take Alaskan Campers from, "That's interesting" to, "Where do I send the check?"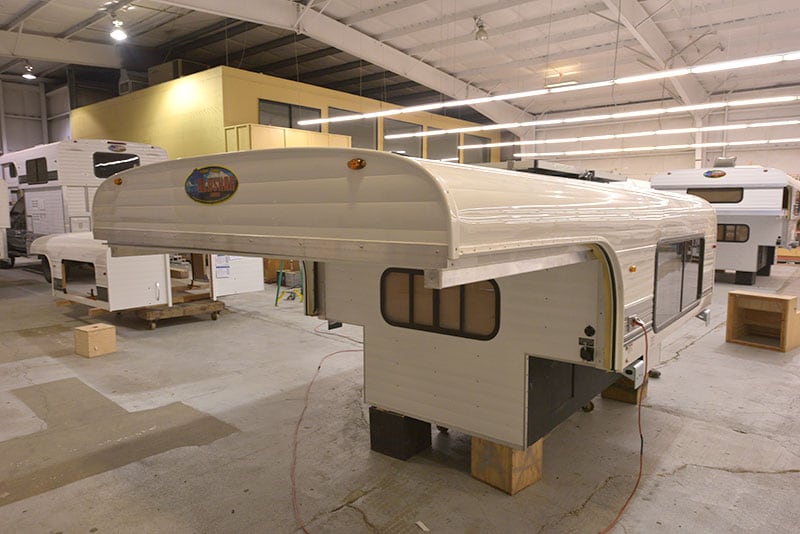 Check That Nostalgia At The Door
This is not a love story or a romantic history lesson.  This is a Truck Camper Magazine review.  The past must inform the present, but that doesn't mean the Alaskan 8.5FD gets a sentimental pass.
Under bright lights and a scrutinizing microscope, is the Alaskan 8.5FD still competitive?  If this camper and concept were introduced in 2019, would it still impress and sell?  Push up your Warby Parkers and dig in your Doc Martins.  Let's find out.
Floor Plan Evaluation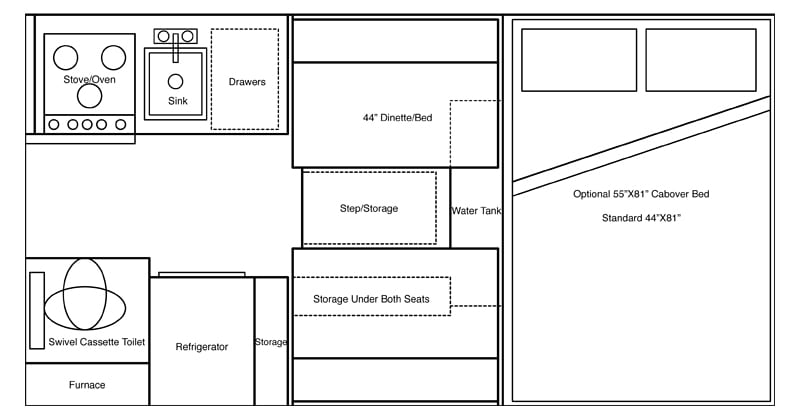 Alaskan Campers are hand-built by a small team of craftsman in Winlock, Washington.  Each team member has a station where they specialize in one facet of Alaskan Camper production.  There's no production line and no on-site CNC equipment.  It's old-school front door to bay door.
One limitation of this approach is capacity.  By choosing quality over quantity, Alaskan Campers limits itself to a production that numbers less than 100 units per year.  These units are 100-percent ordered and delivered factory direct.  If you want to see a brand new Alaskan Camper in person, your Uncle Marvin had better just taken ownership of one, or you're heading to Winlock.
We make this point because it dictates what Alaskan Campers we can review, and when we can review them.  Essentially we review whatever Alaskan might be available at the factory, when we're there.  In this case we found a 2019 Alaskan 8.5FD waiting for customer pickup.  Batter up!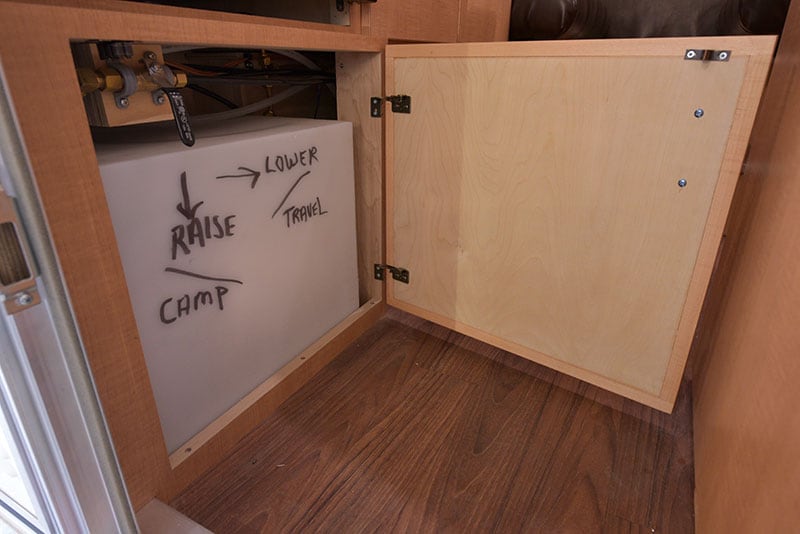 Immediately inside the rear entry door is the technology that makes Alaskan's pop-up hard side possible; a hydraulic pump system that raises and lowers the roof.
We recently interviewed the owner of a restored 1958 Alaskan Camper.  After 60-years, the original 1958 Alaskan hydraulic pump system required nothing more than a cleaning and refilling to be brought back to 100-percent operational condition.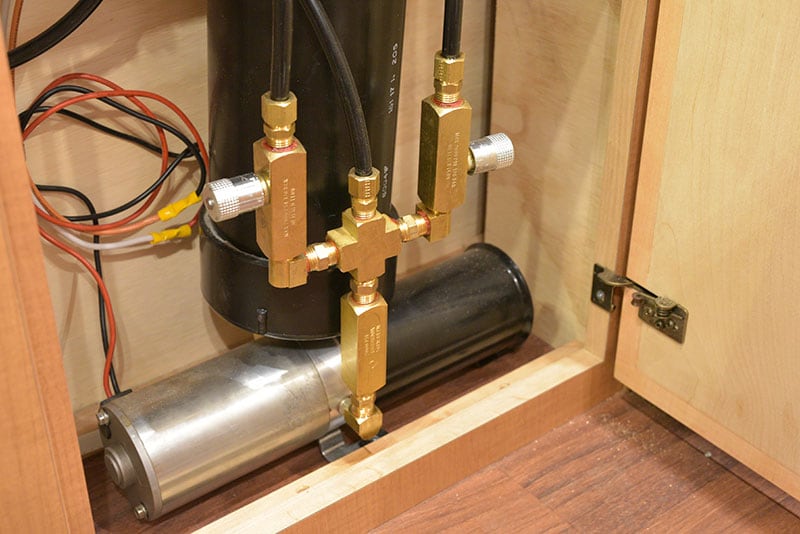 While nearly every facet and material required to build an Alaskan Camper has been evaluated and improved multiple times throughout the decades, the hydraulic lift system and its utility remains essentially the same.  In another 60-years (the year 2079), there's a good chance this system will still be in operation.
By moving the system lever to the "RAISE / CAMP" position, you activate an electric pump that hydraulically raises the roof.  By moving that lever towards to the "LOWER / TRAVEL" position, you release the hydraulic fluid and gently lower the roof.  That's the time tested and proven magic inside every Alaskan, and it still wows.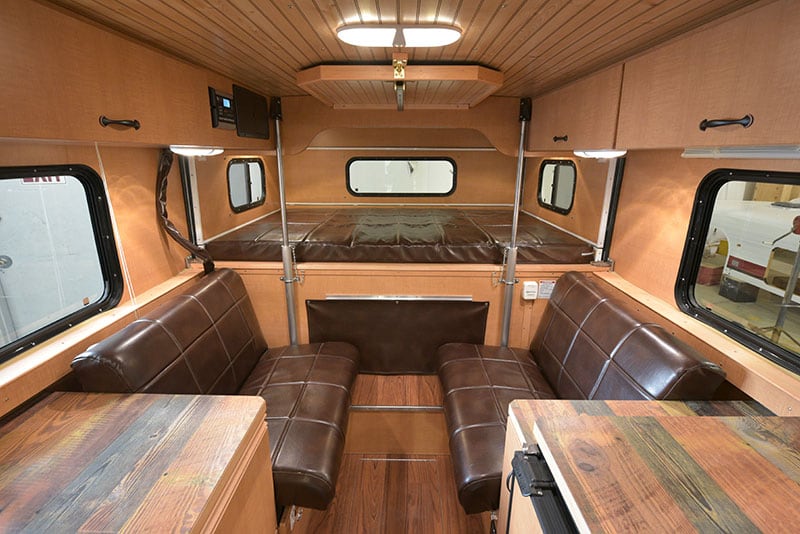 Alaskan's hard-side pop-up feature attracts customer interest, but it's the vintage Chris Craft-style interior that often gets the order signed.
While you're looking at the photograph above, note the two facing sofas.  These are easily some of the most comfortable sitting surfaces we have ever encountered in a truck camper.  Is the Alaskan a sofa camper?  Absolutely!  And doubly so.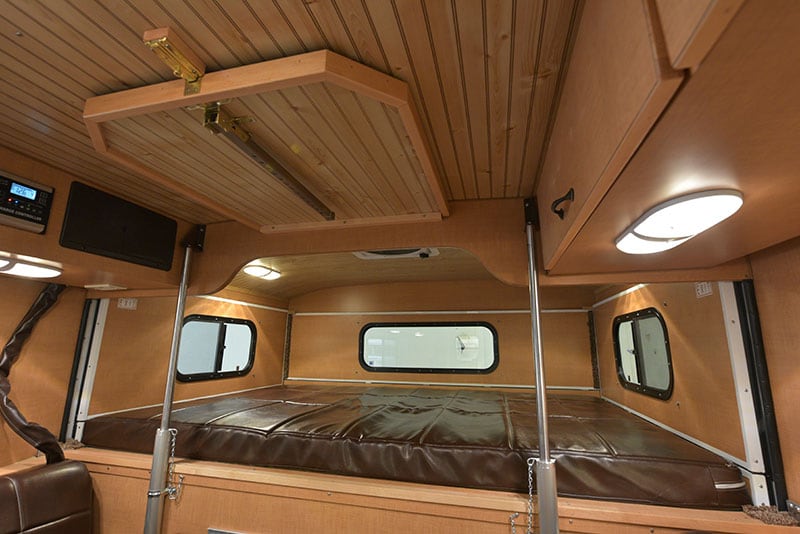 Above the facing sofas is another Alaskan calling card; a ceiling-mounted dinette table.  This table detaches and creates a face-to-face full-booth dinette.  By placing the sofas and table mid-ship, Alaskan is able to offer an impressively large and spacious dinette for a pop-up truck camper.
Naturally, not everyone will love the idea of detaching and setting up the dinette table; much less putting it back up.  However, this inconvenience is a key trade-off that makes this floor plan possible.  Besides, you can always leave the table attached to the ceiling, or at home.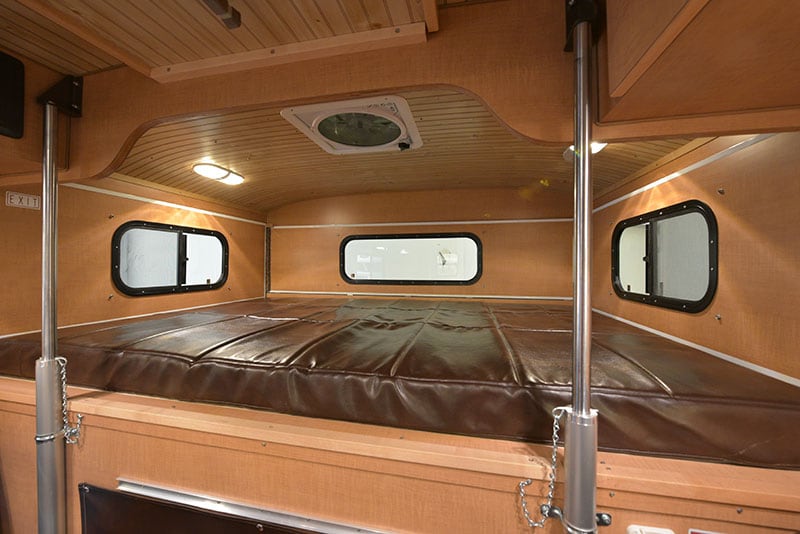 Turning toward the cabover, the first thing you encounter are two hydraulic cylinders. The cylinders partially obstruct the cabover, but there is more than enough space between the two supports to enter and exit.
If the dinette table is set-up, it's right where you need to step in and out of the cabover.  Owners will need to move the table to one side or re-install it on the ceiling before accessing the cabover.  The dinette table and support are stout, but I would not recommend stepping onto the table with the full weight of an adult.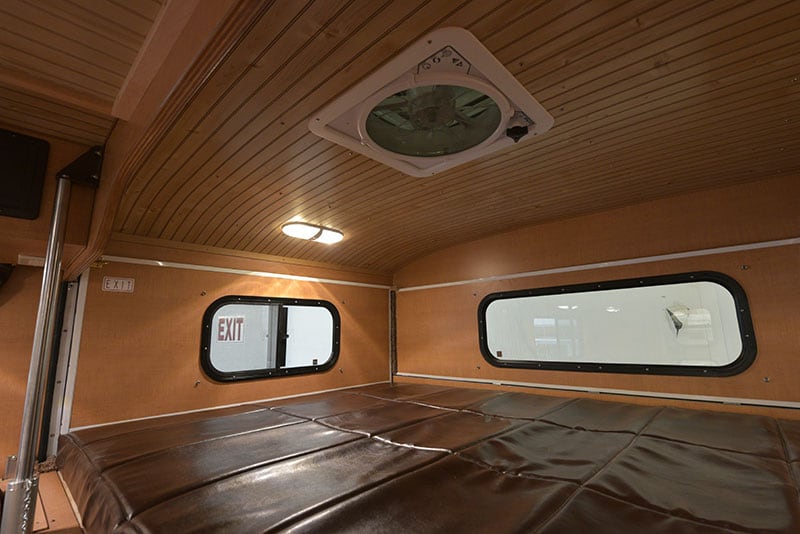 The cabover aesthetic continues Alaskan's gorgeous classic interior vibe. It's also quite spartan with just two LED lights, a Fantastic Fan, and no storage. Owners going out for more than a few days will likely need to pack their clothes in duffle bags.
For taller folks – like yours truly – the cabover height is too low for sitting up. Fortunately, the foam mattress is at least as comfortable as the dueling sofas below.
The flanking slider windows are open for a cross-breeze, aided by the Fantastic Vent above.  The location of the fan is perfect for turning on or off in the middle of the night.  If we designed a camper from scratch, there would be a Fantastic Fan in the cabover – exactly like this.
Since we took the photos for this review Alaskan has started using Maxxair vents.  Two come standard with the 8.5FD.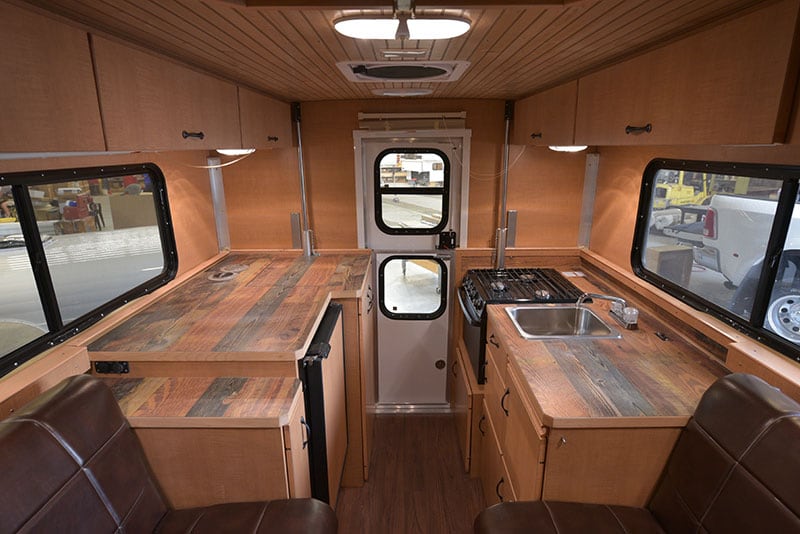 Turning back toward the entry door from the cabover, we get another eyeful of the beautiful Alaskan interior.  Even though this camper was photographed inside the Alaskan factory, the wood tones are positively glowing from the interior and exterior light.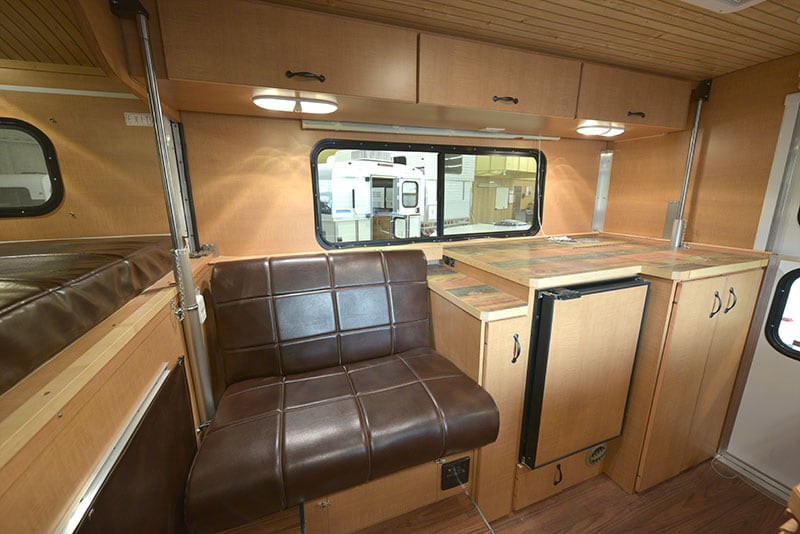 The passenger's side of the camper features a sofa/dinette seat, upper cabinetry, lower pantry, Nova-Cool 12-volt compressor refrigerator, and a very clever cassette toilet compartment.
The passenger's side also features the CO and LP detector (under the dinette seat), 12-volt and USB outlets (to the right of the top sofa cushion), a 110-volt outlet (on the underside of the upper cabinetry), and a vent for the heating system (under the refrigerator).
The location of the heating vent immediately under the refrigerator is questionable.  We invite Alaskan to respond to this review with a Manufacturer's Comment to explain this design decision, and anything else throughout the review.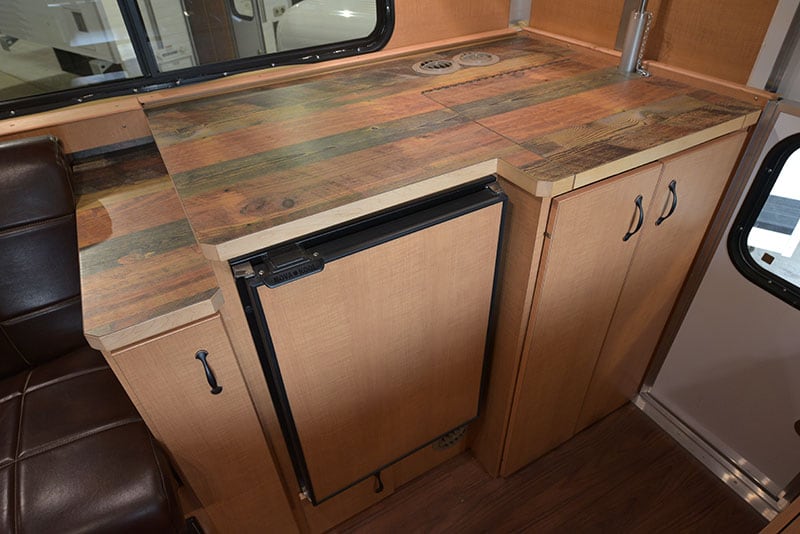 The fit and finish of Alaskan's in-house cabinetry and countertops are stunning.  The counter edges are smooth and refined to the touch.  The cabinetry seams are tight and beautifully finished.
The countertop greens, reds and yellows in this particular Alaskan Camper are from Beetle Kill Pine.  Mountain Pine Beetles have killed millions of acres of pine trees throughout the Western United States and Canada.
Utilizing this wood prevents the trees from fueling forest fires or releasing their carbon through decay.  If you want another look, Alaskan also offers a wide range of Wilson Art countertop laminates.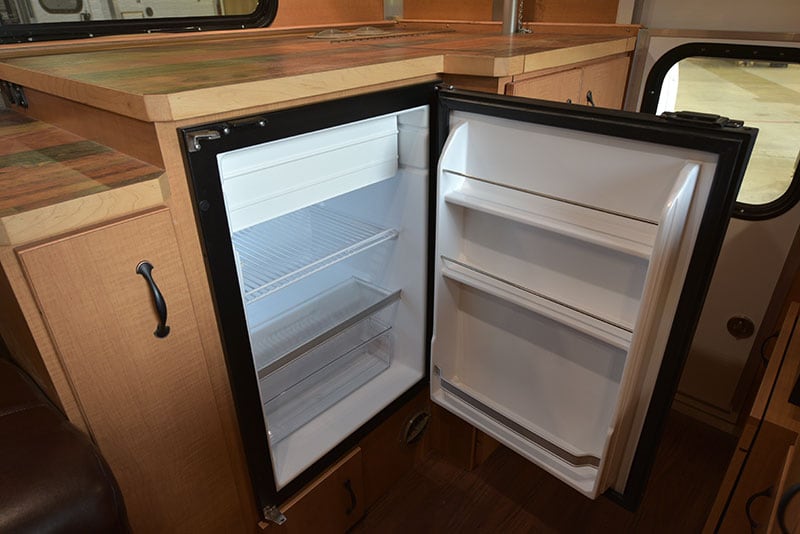 The optional Nova Kool R3803 3.5-cubic foot (100-liter) refrigerator features a 12-volt Dan Foss compressor refrigerator.  This is exactly the same refrigerator we discovered in the 2016 Alaskan 7 we reviewed.
For strength and durability, the Nova Kool R3803 model utilizes stainless fasteners and hinges, a positive latch system and magnetic door gaskets.  It also features low battery protection and can operate on 110-volts.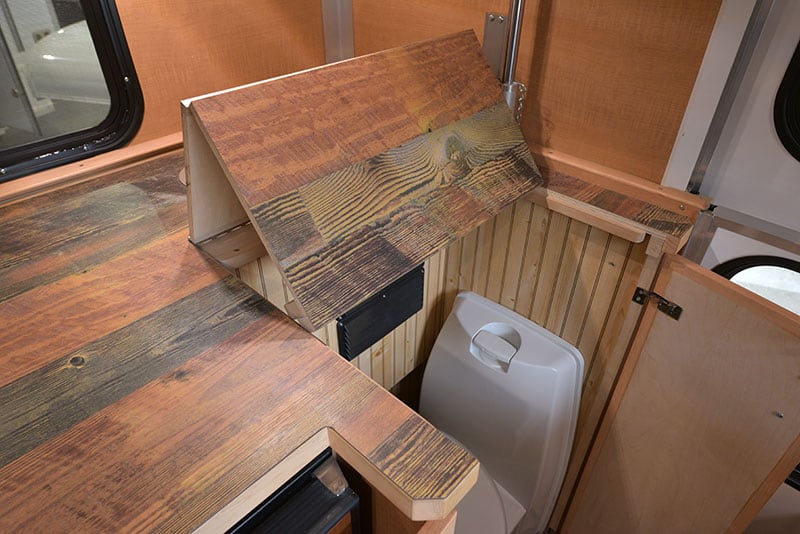 The folding Thetford C220 cassette toilet cabinet is one of the coolest hidden features we have ever seen in a camper.  No more walking to the pit toilet at 2:00am when nature calls.  Just open the folding top and front doors, swivel the toilet bowl forward and go.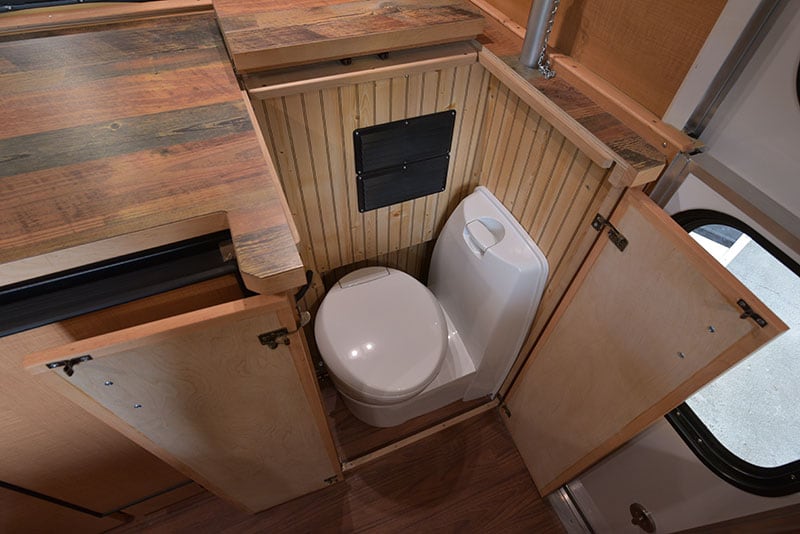 To have a personal bathroom available while traveling is an incredible convenience and a fantastic luxury.  While we know a good number of folks who would just assume use of the bushes, we certainly relate to those who refuse to go truck camping without a potty on board.
We are further impressed with how Alaskan has finished the interior of this compartment.  It shares the same level of quality and detail as the rest of the camper.  Can a fold-away cassette toilet cabinet be beautiful?  If Alaskan Campers builds it, you bet!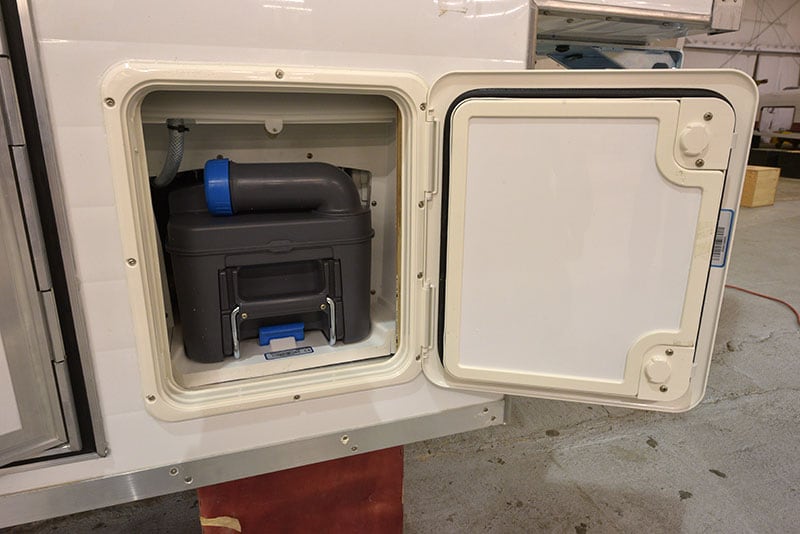 This photograph shows the exterior cassette compartment on the rear passenger's side of the camper.  This 4.7-gallon (18-liter) cassette pulls out to be emptied into a residential toilet.
The important advantages and disadvantages of a cassette toilet system will be discussed in the Capacities section.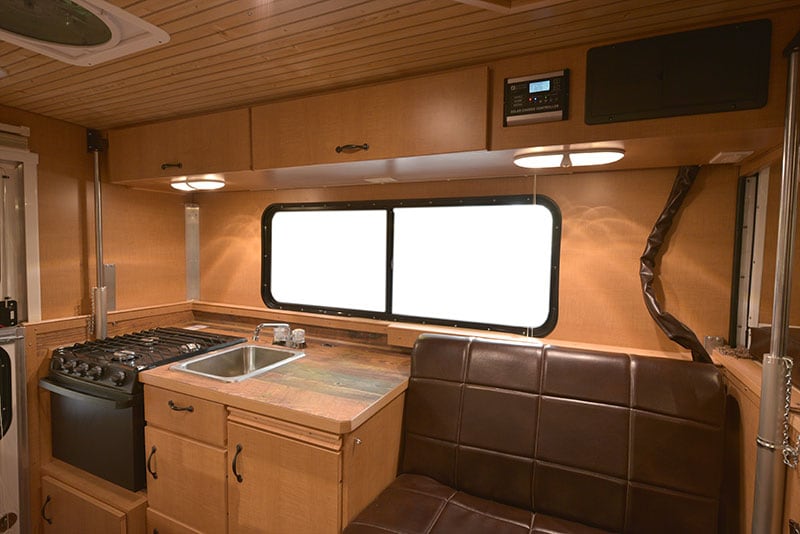 The driver's side presents a three-burner propane cooktop and oven, sink, more upper and lower storage, optional solar controller, fuse panel, and the facing dinette sofa seat.
Other details include two more 110-volt outlets (above the counter and dinette seat) and the water pump switch (behind the sink).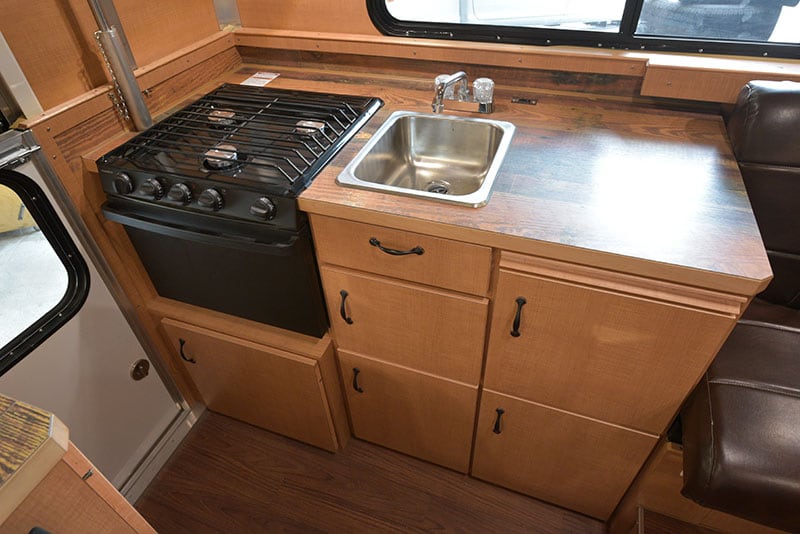 Ideally, the cabinet faces would all represent storage opportunities.  Unfortunately, the rear-most compartment is completely consumed by the hydraulic controls and reservoir for the pop-up roof.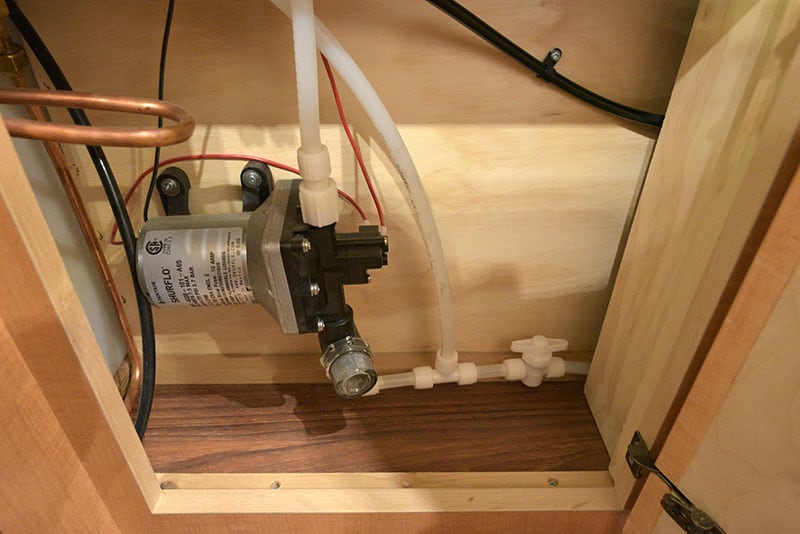 The next lower compartment forward is consumed by the water pump.  The forward-most lower compartment is utilized for the electric pump that operates the hydraulic lift system.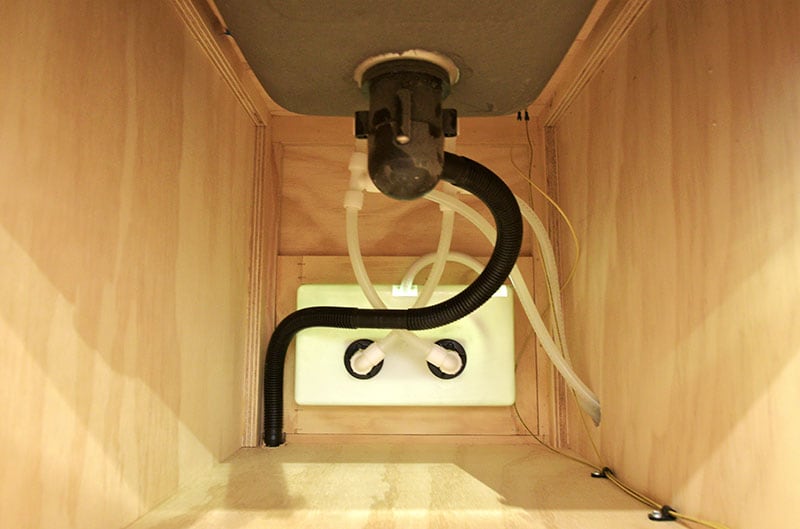 Even the large compartment under the sink is partially used by the sink bowl, sink plumbing, and exterior shower feature and plumbing.  This compartment is still very useful, but it's not 100-percent open and care will be needed to prevent stowed objects from damaging the plumbing lines.
Ideally, Alaskan would have better protection for the plumbing lines with a false wall or similar barrier.  Of course many Alaskan owners will quickly make this adjustment.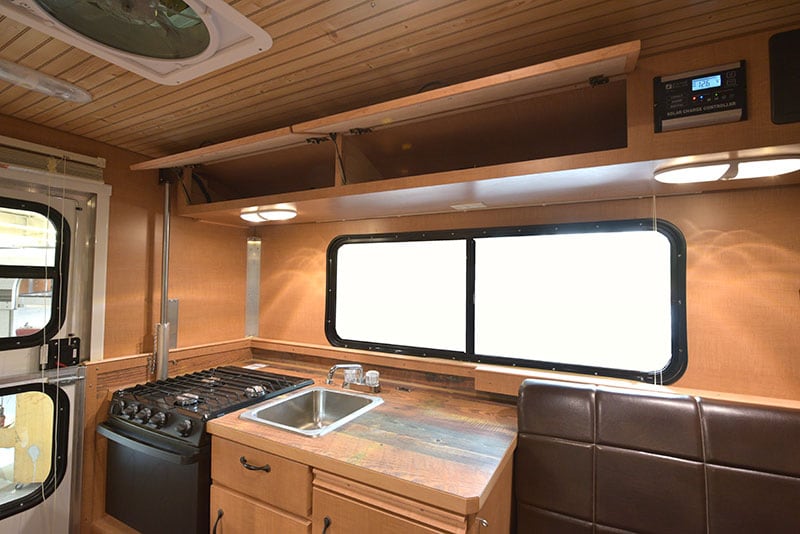 Fortunately, the upper kitchen cabinets are wide open for storage.  Even better, they are held open with gas struts for one-handed opening and closing.  These large upper cabinets are echoed on the passenger's side for additional storage.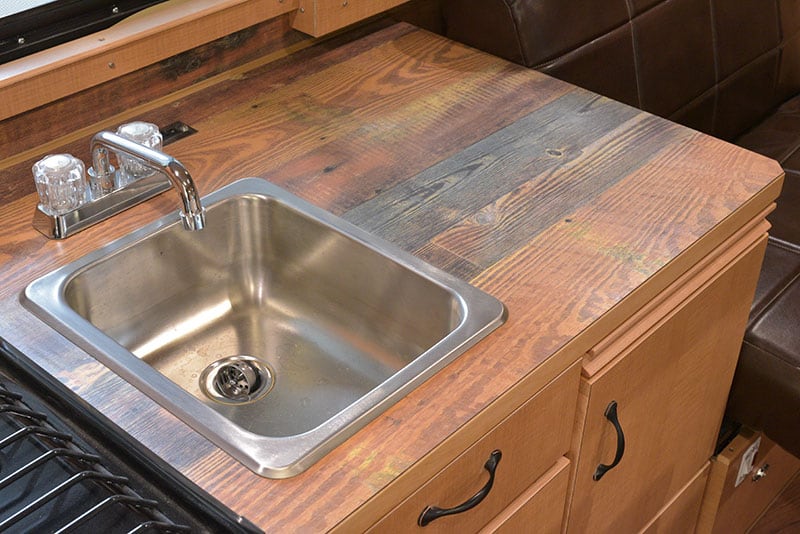 The short kitchen faucet is necessary to avoid impacting the lowered roof.  For washing pots and pans, a low-profile, pull-up nozzle should be possible.  That's the type of request to ask Alaskan about when placing your order.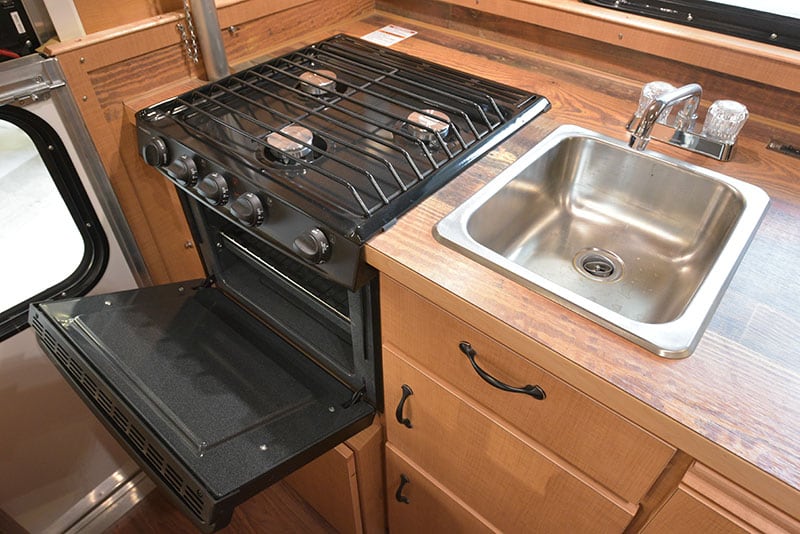 At this moment, the owners of this Alaskan Camper might be baking a delicious lasagna off-road and off-grid in the stunning BLM landscape of Alabama Hills, California.  And why not when you have a propane oven in your pop-up truck camper?
This is the same size propane cook top and oven that's installed in the largest truck campers.  In fact, it's nearly identical to what we have in our 11-foot hard side.  No compromises here.
For folks who don't need the cooking capacity, or want more countertop space, a smaller flush-mount glass top cook top might be preferable.  That would also gain a large open cabinet where the oven is now.
Of course glass top appliances would push the interior towards a more modern presentation.  Be careful not to mess too much with Alaskan's classy mojo.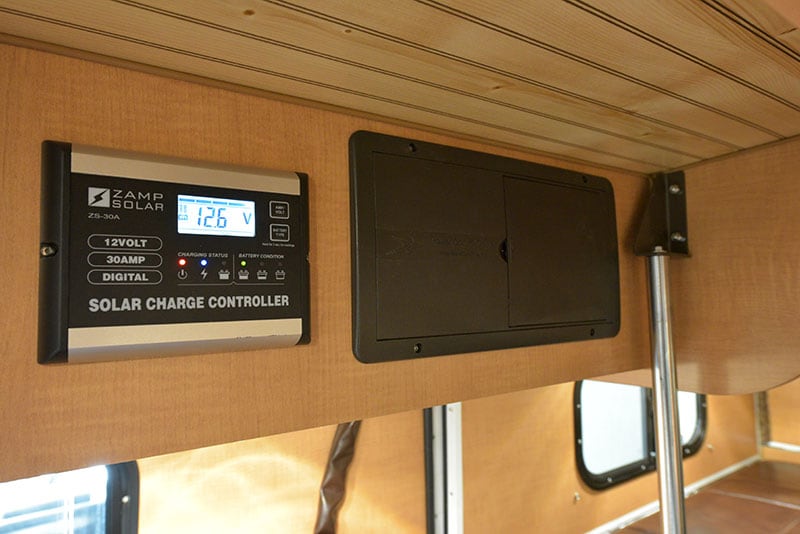 Above the driver's side kitchen and toward the cabover entrance is an optional Zamp Solar charge controller and the fuse box.  This is exactly the same Zamp 30-amp, 5-stage PWM charge controller we have installed in our project camper.  It's fantastic.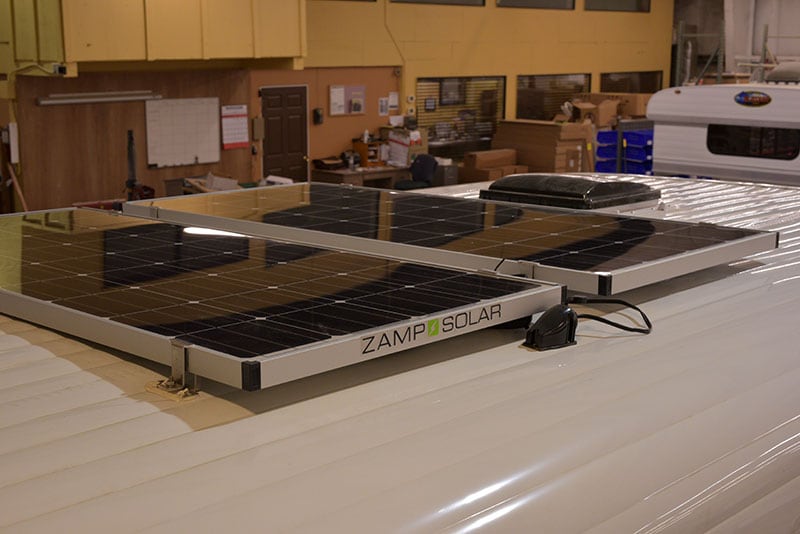 This particular Alaskan was ordered with two 170-watt Zamp solar panels.  That means this 8.5-foot pop-up has more than double the solar panel wattage as our big hard side camper.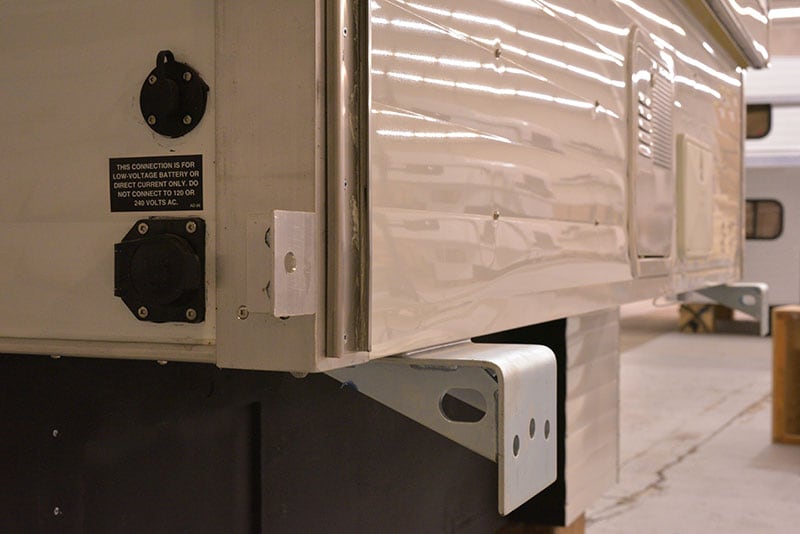 The Alaskan 8.5FD under review featured four protruding jack plate/brackets that – as the name implies – double as both jack brackets and anchor points for turnbuckles.
To mount or demount an Alaskan Camper a set of four three-leg Rieco-Titan HD tripod manual jacks are utilized.  This approach eliminates the additional weight, improves ground clearance, and improves departure angle installed corner jacks would impose.  It also means you cannot demount an Alaskan Camper in the field if you didn't pack the tripod jacks.
Specifications
| | |
| --- | --- |
| Specifications | |
| Dry Weight | 1,600 pounds |
| Wet Weight* | 2,410 pounds |
| Floor Length | 8'5″ |
| Overall Length | 15'1″ |
| Width | 88″ |
| Interior Height | 6'3″ |
| Exterior Height | 77″ raised |
| Center of Gravity | 41″ |
| Truck Type | Long or Short Bed |
We will dive into payload matching the Alaskan 8.5FD in the Truck Recommendation section, but suffice it to say the 1,600 pound base dry weight and 1,824 pound option weight (as reviewed) make it a challenging match for a half-ton truck.
Unless you are prepared to custom order a half-ton truck to maximize payload capacity, the 8.5FD is best suited to three-quarter trucks, or better.
It's rare that the model number of a truck camper actually mirrors the physical floor length of the unit.  Twenty-five years ago model numbers often matched the floor lengths, but not today.
Which is why I had to laugh when I realized that the Alaskan 8.5FD has a 8-foot 5-inch floor length.  Of course it does!  Alaskan is proudly old-school at seemingly every turn.
With an 8.5-foot floor length, the Alaskan 8.5FD is designed for both long and short bed trucks.  In our experience, this usually means the camper works on short bed trucks, but works better on long bed trucks.  Besides, Alaskan offers the very similar 7FD (see Alaskan 7FD Review) and 6.5 for short bed trucks.  Short bed folks – start there.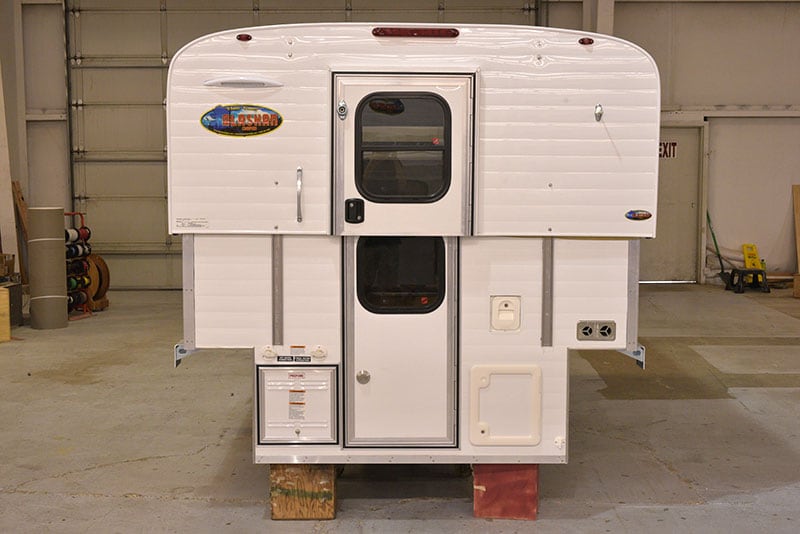 Every Alaskan Camper model is specified with an 88-inch exterior width.  This is about one-foot wider than the narrowest soft-side pop-ups and one-foot narrower than the widest hard-sides.  Once again, Alaskan Campers follows its own drummer.
Although Alaskan Campers are wider than competing soft-wall pop-ups, their width and pop-down capability retains the core benefits of pop-up truck campers; better aerodynamics, overhead clearance, and lower center of gravity than any hard side can offer.
The interior height of the Alaskan 8.5FD is 6'3".  I am precisely this height and somehow found the interior head room comfortable.  The cabover height was a bit tight for me to fully sit up, but the main living area was fine.
The 41-inch center of gravity is likely to be too far back for anything less than 6.5-foot short beds or 8-foot long beds.  Again, we recommend short bed customers go with Alaskan's 7FD or 6.5 short bed models.
Capacities
| | |
| --- | --- |
| Capacities | |
| Fresh | 27 gallons |
| Grey | N/A |
| Black | 4.75 gallon cassette |
| Water Heater | Opt. 4 gallons |
| Propane Tanks | 20 pound |
| Batteries | One Battery |
27-gallons of fresh water is in the upper range of what competitive models offer and represents a good capacity for a pop-up truck camper.
How long this water capacity lasts is purely a function of how you use it.  Washing hands and dishes with military efficiency?  27-gallons of fresh water could last for weeks.  Scare the bears with daily outside showers?  That same capacity could be used in a couple of days.
As is the standard design practice throughout the pop-up camper industry, Alaskan Campers do not have grey tanks.  Grey water is collected in an exterior portable container.  Many pop-up camper owners use a 5-gallon bucket or a purpose-made tote.
The Alaskan 8.5FD is available with an optional 4-gallon water heater.  Unless you're serving Thanksgiving dinner off-grid, it's extremely unlikely that you'll need that kind of capacity for washing dishes.  The only other place that can access this hot water is the outside shower.
Unless you plan on using the outside shower quite often, or just have to have hot water for dishes and hand washing, the water heater might not be necessary.  If you're on the bubble about this feature, I would ask Alaskan Campers about what other customers have done.
The Alaskan 8.5FD has one 20-pound propane tank and one Group-27 AGM (sealed) battery.  In the review unit, the optional Zamp charge controller would allow you to monitor the battery's status.
If we were ordering an Alaskan 8.5FD, we would definitely opt for the Zamp system and at least one 170-watt panel.  We would also look into a second battery option, but we are operating two laptops and a magazine from the road.  Your requirements may vary.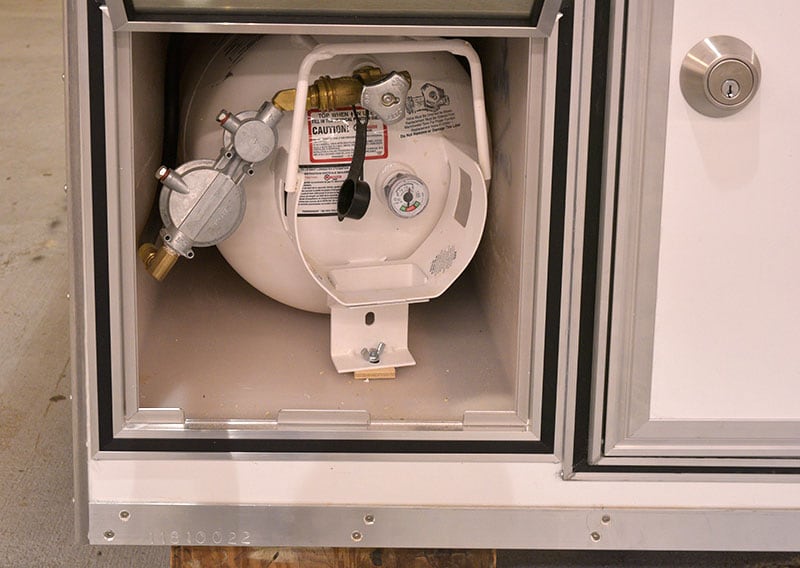 Monitoring the propane level in the horizontal tank is tricky.  The gauges on propane tanks are notoriously unreliable, and exterior monitors like the Truma LevelCheck are designed for vertical tanks.
The best bet is to get in tune with your propane use, and fill when you think you're getting low.  That's part of becoming an experienced truck camper.  Zen in.
Thetford C-220 Cassette: Pros and Cons
The Alaskan Camper 8.5FD features a 4.75-gallon Thetford C-220 cassette toilet.  4.75-gallons of black tank capacity should last a single adult about four to five days.  If you travel as a couple, cut that in half; two to three days tops.  If you are able to access pit toilets and other campground or residential toilets (or bushes) you can obviously extend that time.
The primary advantage of a cassette toilet system is the ability to dump it into any residential toilet.  Cassette toilet owners dump their tanks into porta johns, campground toilets, and at home after short jaunts.  With a little ingenuity and care, we have dumped cassettes into standard dump stations.  As long as you are comfortable with handling a cassette, the convenience is unparalleled.
Handling and dumping a container full of human waste can be both arduous and – for some – objectionable. I always recommend people try dumping a cassette full of fresh water to see how they handle the experience.  Is it too heavy?  Would this be okay if it was a live fire exercise?
Having dumped plenty of full cassettes, we can confirm that it goes fast.  As long as you're not trying to text at the same time, it's also a relatively neat and painless process.  Stinky?  Oh yeah!  But so are RV dump stations.  If you can't handle a little stinky, dumping a cassette or RV sewer tank ain't your bag baby.  As I like to say, "That's fruity!"
Wet Weight Calculation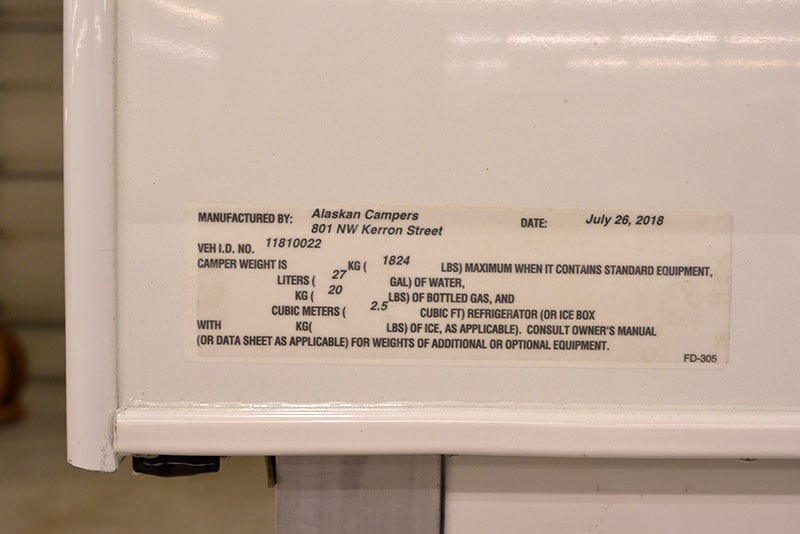 Let's run the wet weight numbers on the Alaskan 8.5FD using Truck Camper Magazine's standardized wet weight calculation.
Base Dry Weight
Alaskan Camper 8.5 FD: dry weight, 1,600 pounds + 27 gallons fresh, 225 pounds + 20-pound full propane tank, 20 pounds + battery, 65 pounds + stuff, 500 pounds = 2,410 pounds
Optioned As Reviewed Weight
Alaskan Camper 8.5 FD: dry weight, 1,824 pounds + 27 gallons fresh, 225 pounds + 20-pound full propane tank, 20 pounds + battery, 65 pounds + stuff, 500 pounds = 2,634 pounds
Truck Recommendations
Truck Camper Magazine's standardized wet weight calculation includes 500-pounds of stuff weight to account for all cargo: food, kitchen supplies, clothing, tools, hoses, cords, RV chemicals, etc.
In 2014, we took stuff weight calculations to the edge for, "The Payload Match Challenge: Part 2".  Want to see what happens when my obsessive mind takes mark on the salt flats of, "What would happen if we weighed everything we take camping?"  Go read.
For a smaller pop-up truck camper like the Alaskan 8.5FD, it makes sense to cut the standard stuff weight in half.  First, there isn't enough storage to bring what a typical hard side would take.  Second, folks who own smaller pop-ups don't typically go out for as long, and don't take (or need) as much stuff.
Taking 250-pounds from both the Base Dry Weight and the Optioned As Reviewed Weight, we come to 2,160 and 2,384 pounds respectfully.
As a short or long bed pop-up truck camper, it would be easy to assume that the Alaskan 8.5FD is designed for half-ton trucks.  In reality, the 2,160 and 2,384 weights put the 8.5FD beyond the majority of half-ton payload capacities.
If we were designing a recommended truck match for the Alaskan 8.5FD, we would immediately opt for a one-ton single rear wheel long bed truck.
What about a short bed?  Short bed trucks have less payload than long beds, but there are one-ton short bed trucks that approach 4,000 pounds of capacity.  Add the weight of a diesel and take a few hundred pounds off that number, but you'd still have plenty for the 8.5FD, even with additional truck options.
What about a half-ton short bed?  It's possible, but you had better be prepared to special order a very specific half-ton truck.  The half-ton in your driveway and the half-tons on local dealer lots are extremely unlikely to have enough payload capacity for an Alaskan.
My favorite serious half-ton for these situations is a 2019 Ford F150 XL 6.5-foot short bed, 4×4, Supercrew, 3.5L EcoBoost V6 with the Heavy Duty Payload Package and 18-inch wheels.  That configuration offers a stunning 2,950 pounds of payload.
Go that route if you need to.  Otherwise, match the 8.5FD to a three-quarter or one-ton, preferably a long bed.  You'll have all the payload capacity you need for the camper, and the option to tow that boat you've been thinking about.  Whenever possible, always get more truck than you need.
The Verdict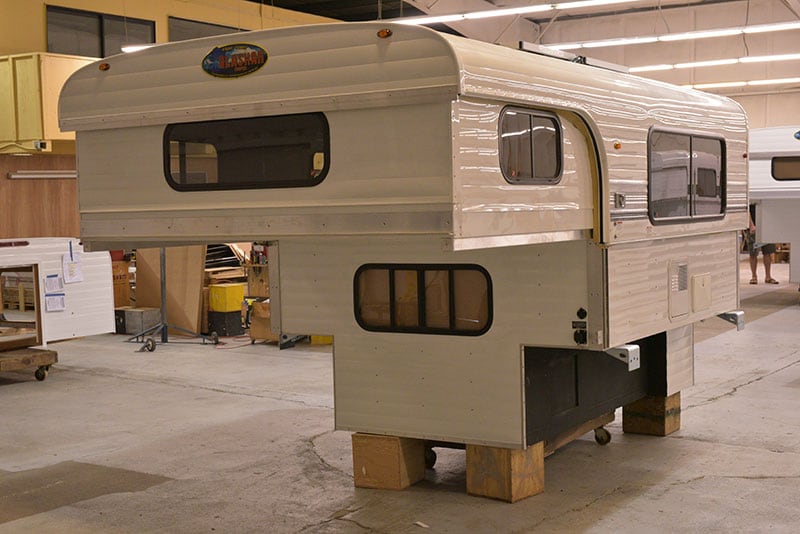 There is a good reason why Alaskans have been in production since Queen Elizabeth II was crowned (1953).  For customers who do their homework on Alaskan Campers and properly match their rigs, it's hard to imagine any after purchase disappointment.
That does not mean Alaskan Campers are perfect or that they are the right truck camper for everyone.  In fact, Alaskan Campers appeals to a very narrow niche within the overall RV market; folks who want a hard side pop-up truck camper and like the classic vibe and smart compromises Alaskan Campers offer.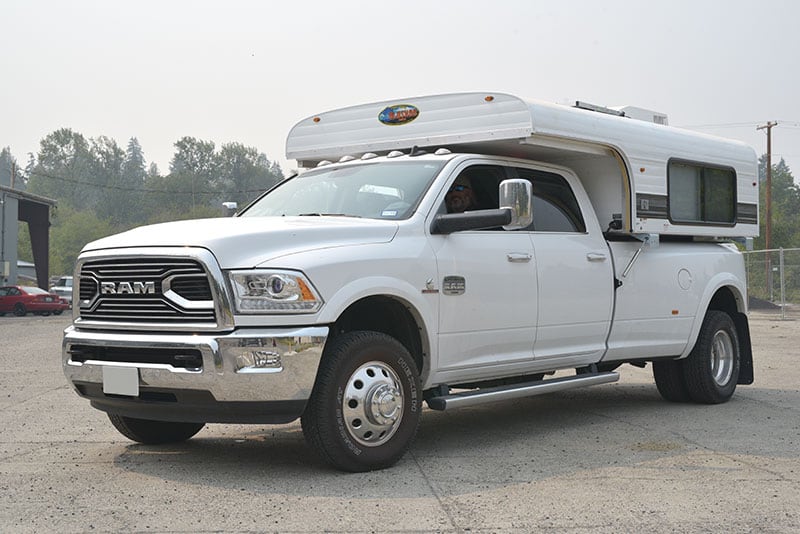 Above: We saw this Alaskan Camper and Ram 3500 leave the factory this past August
From a completely objective point of view, Alaskan Campers are heavy for a pop-up camper, severely lacking in interior and exterior storage, and – by design – almost impossible to demount in the field without the portable tripod manual jacks.
Just one of these negatives would be devastating to another pop-up camper brand, but the unique and powerful benefits of an Alaskan are more than enough to compensate.
For starters, you can't undersell the appeal of the hard side pop-up feature.  For many buyers, it's the first, second, and third reason they purchased an Alaskan.
For others, the hard side pop-up got them to the dance, but the Alaskan build quality, proven design and classy presentation took them home.  Oh my.
If there's a final caveat, it's this; we recommend seeing an Alaskan Camper in person before placing your order.  There are a few ways to accomplish this.
First, contact Alaskan Campers and ask if there's an Alaskan Camper owner near you who is willing to show you their unit.  Second, contact Alaskan Campers and ask if they are displaying campers at any events near you.  And third, visit Alaskan Campers in Winlock, Washington.
This last option is definitely the best.  In Winlock you can meet the team, tour the factory, and explore in-production and recently finished units.  Your experience will undoubtedly settle your decision, and – if you proceed – result in a few important adjustments to your order sheet.  Just be sure to call ahead.
PROS
Unique hard side pop-up design offers benefits of both camper types
Dual dinette sofas are very comfortable, as is the cabover mattress
Classic Chris-Craft-style interior is classy, timeless and inviting
Fold-back cassette toilet cabinet is clever and convenient
Fit and finish is excellent – counters, cabinets, and overall build
Properly cared for, Alaskan Campers are proven to last for decades
CONS
Heavy for a pop-up truck camper; a three-quarter or one-ton truck is recommended
Zero storage in the cabover – pack your duffle bags
Most of the lower kitchen cabinetry is consumed by the lift system and water pump
Roof-mounted dinette table might be inconvenient for some owners
Single battery and propane tank need careful monitoring while camping
Camper is not demountable without portable tripod manual jacks
2019 Alaskan 8.5FD
MSRP: $31,569
Warranty: 1-year limited warranty.  Lifetime warranty on the pump and motor.  Appliances have their own warranties.
Alaskan Camper, LLC
801 NW Kerron Street
P.O. Box 766
Winlock, WA 98596
Phone: 360-748-6494
Request an Alaskan Camper Brochure

Web: alaskancampers.com
Quality, Customer Service, and Long-Term Reliability
Truck Camper Magazine inspects all reviewed truck campers for design, material, and quality issues and reports what we find. However, since Truck Camper Magazine reviews only brand new truck campers, our reviews do not address long-term quality, customer service, or reliability.
To learn about a brand's long-term quality, customer service, and reliability, Truck Camper Magazine recommends talking directly with truck camper owners at truck camper rallies and online via truck camper forums and truck camper owners groups.
Please be sure to balance your gathered feedback across multiple sources including direct correspondence with the truck camper manufacturers and your closest truck camper dealers.
If you are new to truck campers, start in the Newbie Corner.