Truck Camper Magazine reviews a 2016 Alaskan 7 hard side pop-up truck camper designed for short-bed trucks.  Punch the Flux-Capacitor to 1962.  This time machine is ready to roll.

While not a literal transcript, the following phone call to Alaskan Campers has happened many times over the past few years.
"Hello, Bryan?  This is Gordon from Truck Camper Magazine."
"Hey Gordon, what's up?"
"Well, I was wondering if you might have an Alaskan Camper we could review.  We have never reviewed an Alaskan Camper, and I'd really like to."
"I just built one for myself that you could have reviewed, but I sold it this morning."
"Not again!"
"Afraid so.  I'm sure I'll build another one for myself soon."
"Okay.  Thanks Bryan."
Bryan Wheat, President of Alaskan Campers, wasn't trying to avoid us.  In fact, he has contacted us on several occasions about a camper we could review, but our magazine schedule didn't allow for a quick cross-country trip to Washington.  It was almost comical how something as simple as access to an Alaskan Camper for review never worked out.
So imagine how excited were we when we pulled into Alaskan Campers this past June and found a completed Alaskan Camper at the end of the line.  It belonged to a customer who was scheduled to arrive the next day.  In other words, it was available to us to photograph and review.  Camera in hand, we immediately leapt into action.
At long last, we get to dig into an Alaskan.
**Click to enlarge any of the thumbnail photos in this review.  Click here to contact Alaskan with questions or to get a free brochure.

The front, side, and rear profiles of an Alaskan Camper have remained essentially unchanged for the better part of fifty years.  It always amazes us how similar a vintage Alaskan looks compared to a brand new one.  From fifty paces, you might be hard pressed to tell a 1976 from this 2016.
Take forty-five paces towards the 2016 and the differences begin to emerge.  The materials are essentially the same, but the quality of the materials is notably higher.  The amenities are essentially the same, but the appliances are better built, more efficient, and offer more features.  Upon closer study, even more refinements abound; Wilsonart laminates, LED lighting, 12-volt refrigerators, integrated cassette toilet systems, AGM batteries, Coleman Mach air conditioners, and beyond.  Think you'll find these items on that groovy '76?  Think again.
The Alaskan team may approach change with raised eyebrows and crossed arms, but they have made evolutionary material, product, and even floor plan improvements over the years.  They even announced a new model this past March, the 2015 Alaskan 6.5.  Just because they have stuck with tradition doesn't mean they're stuck.

The driver's side exterior front wall features the truck's umbilical connection for the marker lights and charging the camper batteries while driving.  The driver's side also has a 110-volt, 15-amp connection for shore power, an optional outside shower, and a Suburban water heater.
You may also note the jack brackets for four manual Rieco-Titan tripod jacks.  The crew at Alaskan loads their campers with only two, but please don't try that at home, or anywhere else for that matter.
While I certainly understand that most Alaskan Campers certainly don't need anything more than 110-volt 15-amp connections, models optioned with air conditioners, even the efficient Coleman Mach units, would benefit from a modern 30-amp connection.
As I write this, we are keeping cool during a record-setting Northwest heatwave for a few days with a Coleman Mach 8 on 30-amps.  While this situation is unusual, surprise heat waves happen and having 30-amps increases the margin of safety while running a roof top air conditioner for hours on end.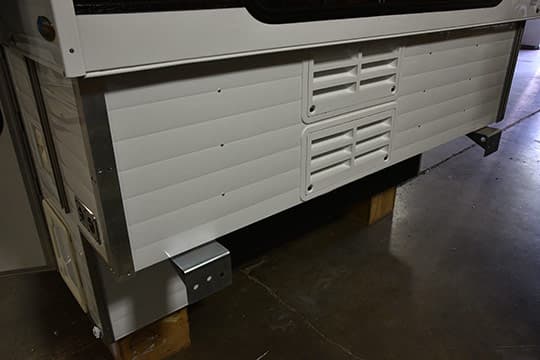 The passenger's side only has two refrigerator vents.  Everything you need to access on this Alaskan is on the driver's side and rear of the camper.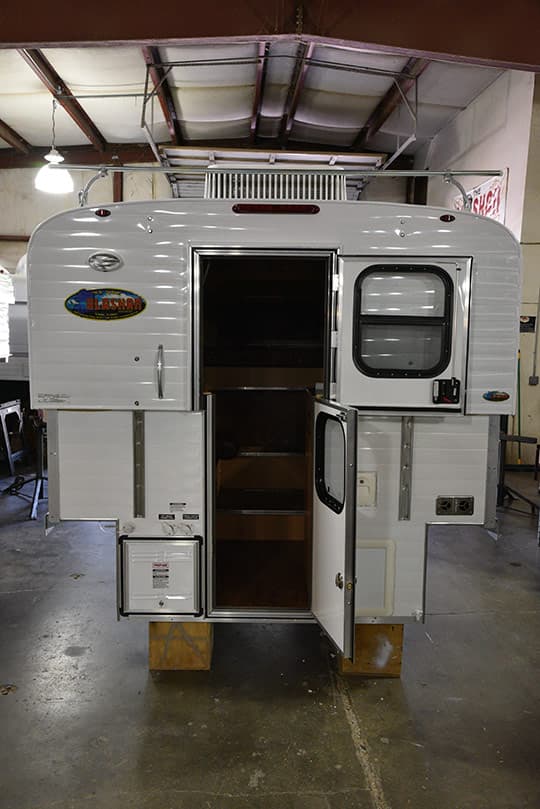 The upper rear of the camper features a porch light (top left) and small entry handle.  The rear entry door is split to accommodate the upper and lower halves of the pop-up design.

The driver's side rear of the Alaskan 7 features the grey water drain, city water connection, fresh water fill, and propane compartment for one 20-pound horizontal tank.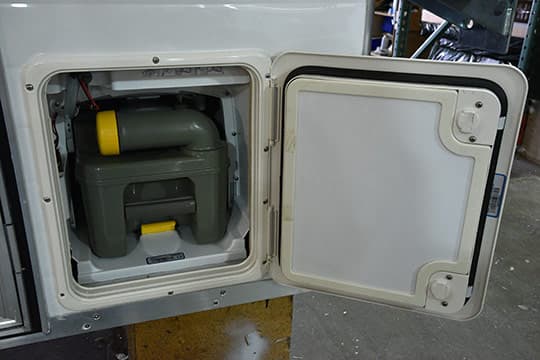 The cassette toilet is accessed on the rear passenger's side.  The cassette in the Alaskan 7 features a 4.5-gallon removable black tank that can literally be emptied into any residential toilet, pit toilet, or potty on the spot.  We have even, very carefully, dumped cassette toilets at RV dump stations.
Weekend campers can dump their cassette at home on Sunday evening.  When the RV dumps are all closed for the winter, cassette toilet owners can dump at a public restroom.  While not everyone's first choice, cassette systems really are the most versatile "Go Anywhere, Camp Anywhere" toilet solution.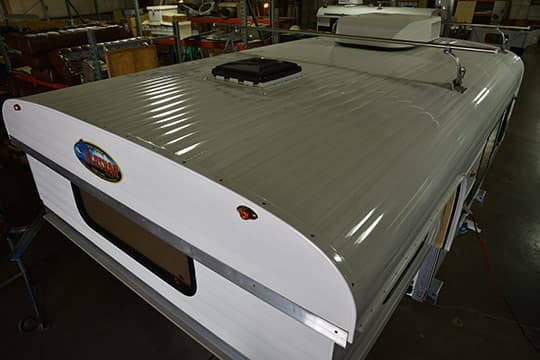 The curved shape of an Alaskan Camper roof is an iconic part of this classic design.  During the manufacturing process, the wood framed roof is injected with urethane foam insulation and skinned with the same aluminum as the rest of the camper.  Making a complete roof takes one dedicated craftsman one full week to build.
The Alaskan 7 under review was ordered with a roof rack system, Coleman Mach air conditioner, and a Maxxfan in the cabover.  If this were my camper, I would add Sikaflex 715 sealant around the roof rack brackets and Maxxfan to protect the screws from the elements.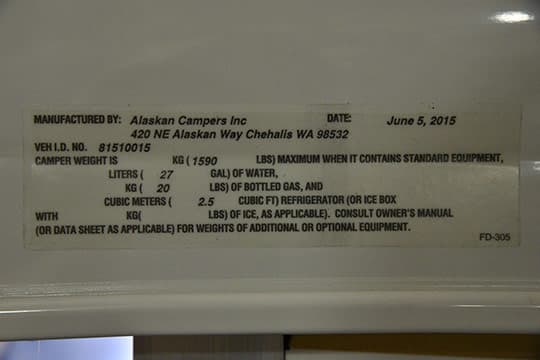 Unless you're uncomfortable with the wood frame construction, or can't stand the idea of a camper that's 100% hand made without SolidWorks or CNC routers, there's really not much to challenge about the quality of an Alaskan Camper.
The main issue I have with Alaskan Campers has nothing to do with the camper itself, but rather the all to common failures of industry weight reporting, and the casual attitude too many truck camper purchasers have towards truck and camper matching.
If you've read any of my truck camper reviews over the past few years, you know not to trust truck camper weight stickers.  That goes for every truck camper brand and every truck camper model, period.  Truck camper owners who have scaled their rigs will tell you; truck camper weight stickers are almost always under reporting the true weight, sometimes significantly.
Matching A Truck To The Alaskan 7 Camper
The Alaskan Camper weight sticker on the model under review reported the weight at 1,590 pounds.  Not having scaled an Alaskan Camper myself, that's certainly possible, but I have no doubt this camper will be well over 2,000 pounds when loaded with options and stuff; food, clothing, supplies, and your infamous dog, Brutus, the rabid ankle-biting Scottish Terrier.
That puts this camper into the three-quarter ton territory, especially if you want a diesel engine, four-wheel drive, and a trim package, or two.  If you're buying a truck for an Alaskan, I would go one step further and get a one ton.  That way you can forget payload concerns, and have enough payload and towing capacity for that 1954 18-foot Chris Craft Riviera you're about to crave.  You'll thank me then.
If you must have a half-ton truck, it is possible to get a half-ton with enough payload for this Alaskan build, but you're going to have to custom order it very carefully to have that kind of capacity.  Personally, I don't see the point in that approach when the cost of a one-ton truck isn't much more, and you get so much more payload.  For the long run, and your personal safety, get the biggest truck you can.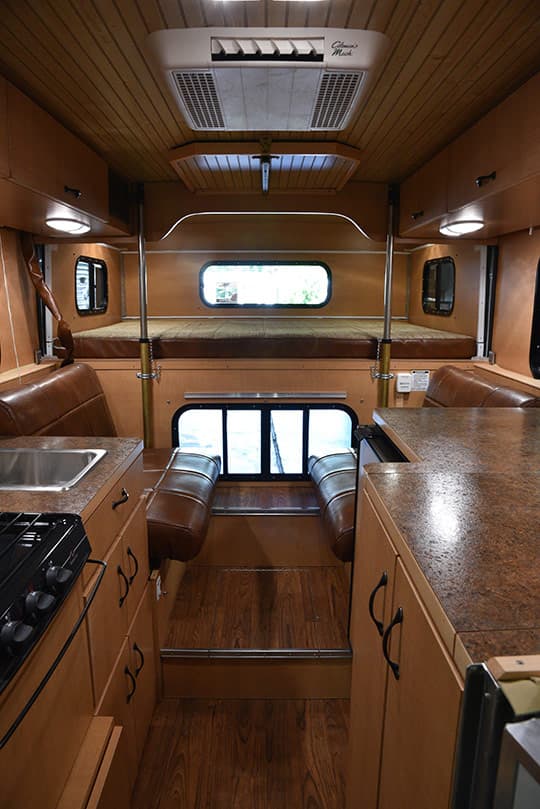 The inside of an Alaskan Camper is immediately reminiscent of a mid-century Chris Craft motorboat or a vintage yacht interior.  Just look at the above photograph and it's not hard to imagine you're peering into the cabin of a classic sailboat.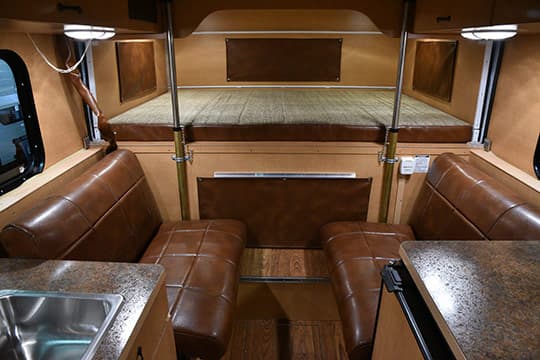 Put another way, Alaskan Camper interiors exude an old-school style and sophistication not seen anywhere else in the truck camper marketplace, perhaps the whole RV marketplace for that matter.
Want to feel like you're back in 1962?  Sit in an Alaskan Camper, read Steinbeck's Travels With Charlie, and sip a whiskey sour.  Put a little Bobby Vinton, Chubby Checker, or Dion on the HIFI stereo, and take five.
Another remarkable experience of stepping into an Alaskan is the almost total absence of clues that you're standing in a pop-up truck camper.  The 360 degrees of hard walls floor to ceiling and real glass windows give absolutely no hint of the pop-up nature of the product.  Only the brass hydraulic cylinders on the back and front walls give up the hard side slight of hand.  If you're pop-up curious, but prefer hard sides, an Alaskan might be your next camper.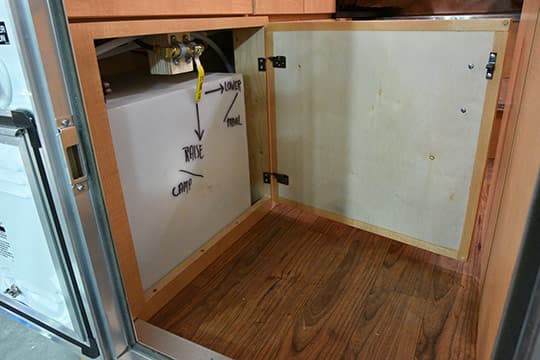 For over sixty years, Alaskan Campers has utilized a proprietary in-house manufactured hydraulic lift system.  Yeah, it might work out for them.  Maybe a few more years of testing to make sure it doesn't fail after seventy years.  You can't be too careful, right?
Alaskan Camper's hydraulic lift system might be the oldest still-in-use technology in the truck camper industry this side of silica glass and the discovery of wood.  It's practically steampunk for you 19th century industrially inclined sci-fi hipsters.  It's so old school the Amish would give it props, but it works, works well, and why would anyone mess with that?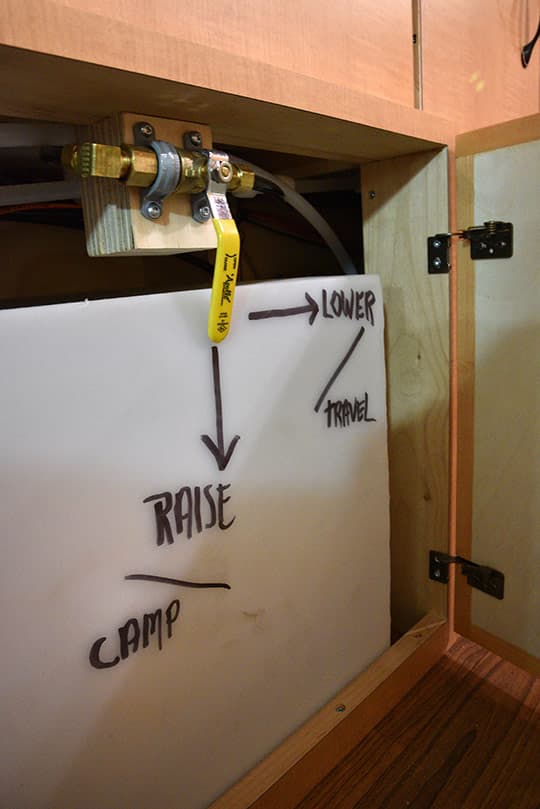 Just inside the rear entry door is where the sophisticated controls to the lift system reside.  Hand written with a black Sharpie are the words, "Raise/Camp" and "Lower/Travel" with arrows indicating where to throw the hydraulic switch.
I love the simplicity of the lift system design, not to mention the clear instructions.  No, you're not going to get a remote control for this lift system.  Then again, you can't lose a remote, find the remote battery is dead, or run over a remote with your truck because you never had a remote in the first place.  How's that for logic?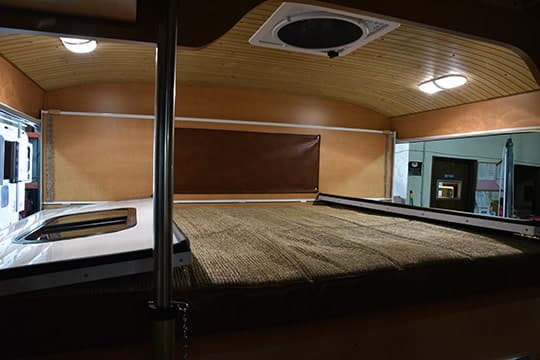 Before putting the top down, the three tilt down hard panels in the front need to be released and lowered onto the bed.  First the two side panels are lowered, and then the front panel is placed on top.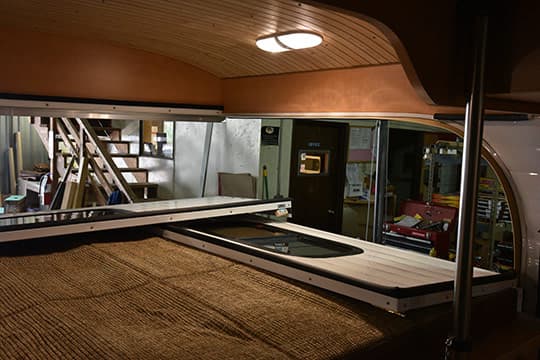 The whole process of raising the front panels or lowering them takes a bit of practice.  There are latches to latch and unlatch and a small piece of articulating wood that helps to ensure things are done in the right order.  All in all, it's a piece of cake.

When you raise the Alaskan roof, the hydraulic system pumps Shell Tellus S2V15 hydraulic fluid into the cylinders and slowly and evenly raises the roof.  Lifting and lowering takes a minute or so, time to admire the beauty of a solution that's been successfully in production for longer than many of us have been alive, including yours truly.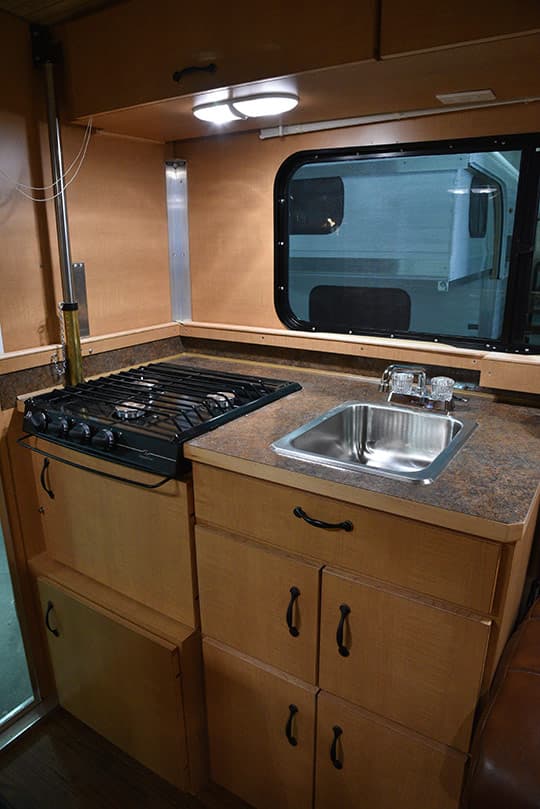 I judge a kitchen by how inviting it is to cook and prepare food there.  Is it logically laid out?  Can I see where I might keep pots and pans, plates, cups, and silverware?  Looking at the Alaskan kitchen in this review, with the additional counter space on the other side, the answer was an immediate yes across the board.  It's small, but highly functional.
What's missing, at least from this build, are an oven, microwave, and possibly a double sink.  Then again, all of these items could fit into this camper, if you gave up storage and counter space.  As I see it, the folks who custom ordered this unit chose wisely and have everything they need.  I wouldn't change a thing.
There were some interesting details to discover in the kitchen including a switch behind the sink that turns on the water pump and a tilt-out plastic sponge caddy under the sink.  I also admired the quality of the Wilsonart laminate countertop, which felt rock solid to the touch, and looked fantastic.
It's been said that I wash dishes much like the Swedish Chef tosses utensils.  During my efforts to maintain my Husband of the Year status in my marriage, I tend to get water on the counter, sometimes in quantities that both impress, confound, and annoy those around me.
For this reason, the location of the water pump switch behind the sink could be a concern.  Now Alaskan might come back and say that switch is sealed or otherwise protected.  Otherwise, I might have to find a way to cover that switch before embarking on one of my celebrated dish washing performances.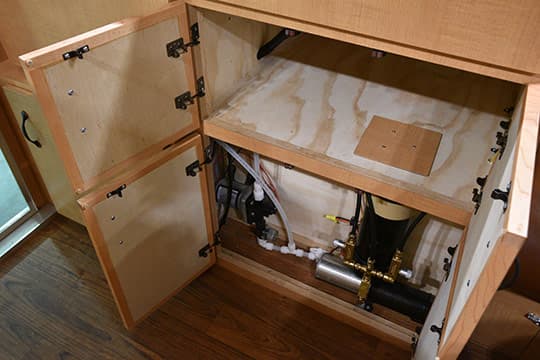 You can learn a lot about the quality control and care a company puts into its campers by looking inside the cabinetry spaces.  Look under the sink.  Pull out drawers and look in.  Is the plumbing well finished?  Are the wire runs tied, secured, and neatly presented?  How about the fit and finish of the wood work?
When we opened the cabinets under the kitchen sink in the Alaskan, we could literally see how much the Alaskan manufacturing team cares about quality and attention to detail.
The PEX plumbing runs were direct, well built, and tight.  The wire runs were properly secured and placed away from where stored items would likely come into contact.  Material choices looked appropriate for a camper designed to last for decades.  This is truly excellent work.

Directly across from the kitchen sink is an optional Nova Kool 3803 3.5 cubic-foot 12-volt refrigerator with a Dan Foss compressor.  The efficiency of this refrigerator should allow the owner to camp off-grid with two fully-charged AGM batteries for several days, or more.
This refrigerator offers plenty of food storage for a few days, more if you're alone, or plan your meals carefully.  No, you're not going to fit a case of beer and food for a week in this refrigerator.  The built-in freezer isn't going to hold more than a few items.  But given that we're talking about a 7-foot pop-up truck camper, I don't think these trade-offs are important.
Here's an idea: Bring ice and a cooler for your beer, and hit the ice cream shop for dessert.  How's that for dietary advice?  And you wondered how I planned on growing our readership.
Let's say you were unfamiliar with Alaskan Campers and walked into the unit under review.  On the rear passenger's side you noticed that the countertop lifted up, hinge folded, and laid back.  As you admired the smooth and purposeful design of this mechanism, you looked down and see – a toilet!  And it's facing the wrong way.  Wait, what?
With the top open, the front doors swing out and there's a cassette toilet.  Just turn the toilet top out and you're good to go.  I even like how the swing-out doors can be put straight out giving just a few more inches of privacy, sort of.
One gripe I have here is that the folding counter lid for the potty room rests on top of what appears to be a ducted heat vent.  All this really means is that you need to put your potty away after every use, something I suspect most folks would do.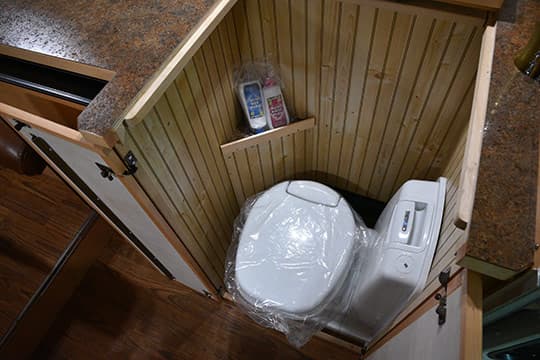 I spent quite a bit of time staring at this tucked-in hide-a-way toilet cubby.  Then I sat on the toilet and thought about the experience of using it.  I apologize if that's too graphic, but we need to cut the poop and talk about this.
First of all, I would much rather have this cassette toilet cubby than a porta-potty or no potty at all.  Second, the toilet was actually quite comfortable with plenty of leg room.  The interior wood paneling looks and feels domestic, and the little corner shelf gave me just enough of a hint of a real bathroom that I… started to relax and… remembered this wasn't my camper, and I still had my pants on!  Yikes, close call.
Okay, all jokes aside (like that's possible) I don't know that I would be comfortable using this toilet if Angela (or any other human) was also in the camper.  We're married, but we don't need to share every shred of the human experience with each other.  Allow me some dignity for goodness sake!  The obvious solution; declare nature's arrival and ask to have the camper alone for a minute.  Then turn on the Maxxfan.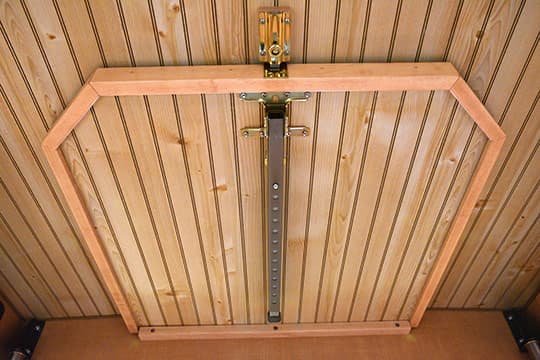 In Europe, popular hard side truck camper floor plans put the dinette East-West across the front wall.  This allows a hard side non-slide truck camper to have a full-size full-booth dinette.
Hard side truck camper manufacturers in the United States have tried introducing this concept on this side of the pond, but they've failed to gain the popularity they have in Europe.  This can likely be attributed to the popularity of slide-outs here, and the almost total absence of slide-out truck campers there.
But what about pop-up truck campers?  In this category, there is no slide-out, unless you count the roof (slide-up?).  For pop-up truck campers, the East-West dinette remains a viable, if not a popular floor plan in America.  A full-size full-booth dinette in a pop-up?  Yes, please!
So what exactly is the dinette table doing on the ceiling?

Excellent question.  Thanks for asking.
In yet one more time-tested, proven, and ridiculously clever design element, Alaskan has secured the dinette table to the ceiling with nothing more than a notch and a latch.  Brilliant!
It took Angela and I a few minutes to figure out how to get the table down and into place (we're perhaps not quite as brilliant), but this would be second nature in no time.  Once in place, we sat across from one-another at the dinette and discussed if this table would be big enough for meals and our laptop-to-laptop Battleship-style of work.
"These seats are really comfortable" said Angela.  And I thought I had shiny object syndrome.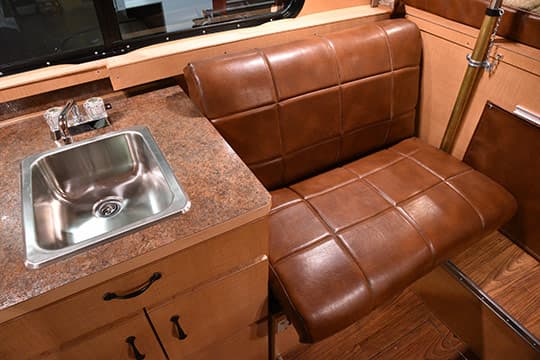 Angela was right.  The leatherette seats in the Alaskan are easily the most comfortable in any truck camper dinette we've ever sat in.  In fact, they're more comfortable than most of the sofas manufacturers are putting into the sofa campers folks crave.
"I want these in our camper," she continued.
I agreed, and repeated the question, "And what about meals and work on this table?"
"Fine for meals, but this would be tight for work".  I agreed again.
Of course how many folks out there are trying to plug away on two face-to-face laptops in their Alaskan Campers for hours at a time?  Probably not too many.  I think we have to give this table a big thumbs up.  For meals, it's perfect.  For one laptop, it's perfect.  For its ability to be put away out-of-the-way on the ceiling, it's both brilliant, and perfect.
Did I mention these seats are really comfortable?  If our hind quarters determined what truck camper we had, we would have an Alaskan.  No butts about it.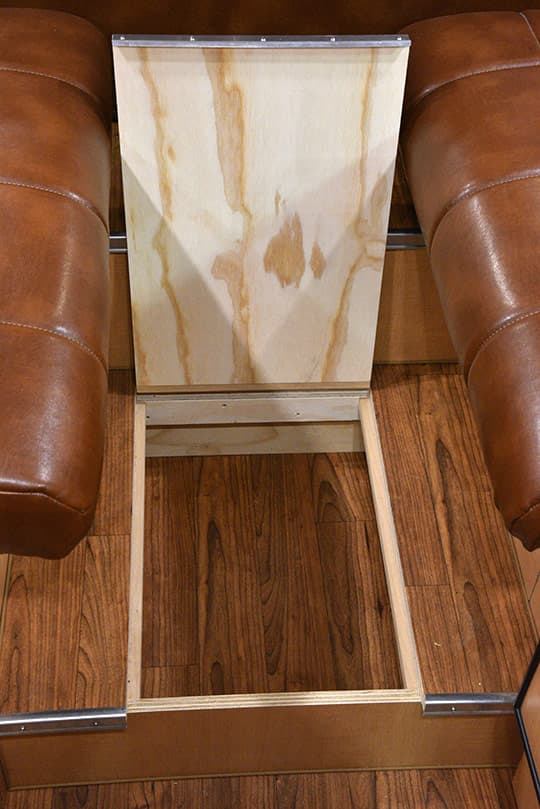 Just stop it.  Really, enough with the cleverness already.  There's a pull-up storage spot between the seats in the dinette?  You're killing me.  That's so cool!  I have no idea what we would keep there (preferably something we never needed when the table was in place), but what a great storage opportunity.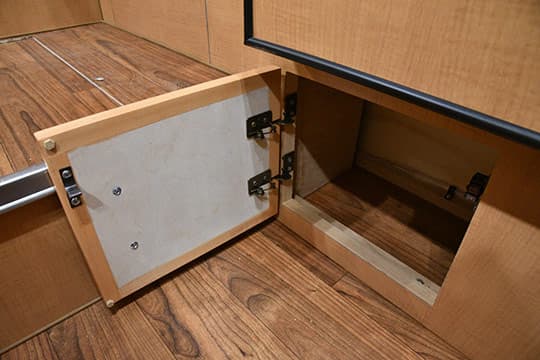 Why does it always seem like the companies with the smallest campers have the best storage ideas?  Most long bed triple-slides waste more storage opportunities than you can shake a Class A motorhome at.  Show me a short bed pop-up and I'll show you a camper full to the brim with smart storage opportunities stem to stern.  This Alaskan is certainly no exception.
Classic.  That's the word that came to mind when I saw the hinges, handles, and other cabinetry details in the Alaskan.  Alaskan Campers have a style that worked in the 1950s, works in 2015, and will earn nods of respect in 2050.  Clean, simple, understated, and elegant.  It may not be everyone's cup of coffee, but no one can deny the timelessness of this approach.

We squeezed two Group 31 AGMs into our camper and I absolutely love them.  I don't mean I take them for romantic walks, or snuggle with them at night, but I might if the chance occurred.
We just don't worry about power anymore.  Unless it's too hot for our cat, Harley, and we need air conditioning, we don't need to plug in.  Next up will be a hard-wired pure sine wave inverter to better charge our laptops when we're off-grid.
Towards the front wall on either side we found two floor-level compartments each with one Group 24 sealed AGM battery.  The main draw on this battery bank is likely going to be the 12-volt refrigerator and the fan in the propane heating system.
If the owner added a 150-watt solar panel, like we did, I think they would have the power needed to boondock almost indefinitely.  Unless they need air conditioning, this Alaskan can be off-road and off-the-grid until the water and beer (I mean food) runs out.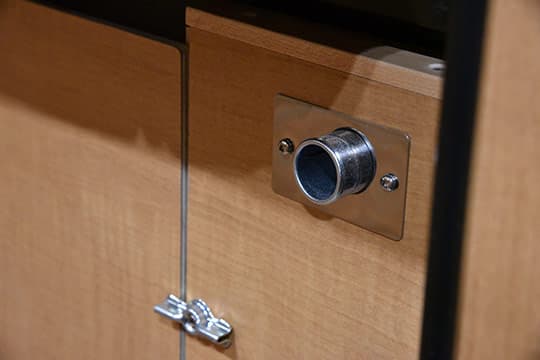 Every Alaskan Camper, including this one, was custom ordered and specified.  In theory, you could get a base Alaskan by choosing a model and telling Bryan, "Give me the standards, hold the options, and make it snappy," but hardly anyone does that.
One must-have option for us would be at least one 12-volt outlet, preferably two.  In fact, I'd like to have a USB outlet too.  It's a sad state of affairs when I have to confess to using a smartphone multiple times a day, even when I'm camping, but that's where we are.  We also use 12-volt outlets to run our television and blu-ray player.  Yup, that's how we roll.

With the window covers snapped in place, the East-West cabover is an open and inviting station to craw in and recharge.  There is no storage cabinetry taking up precious headroom or feet space.  Two-stage LED lights flank both sides allowing you to lay your pillow on whichever side feels more uphill – a nice touch.  A Maxx fan is ready to keep you cool.  It's simple, well thought out, and ready for well-earned zzz's.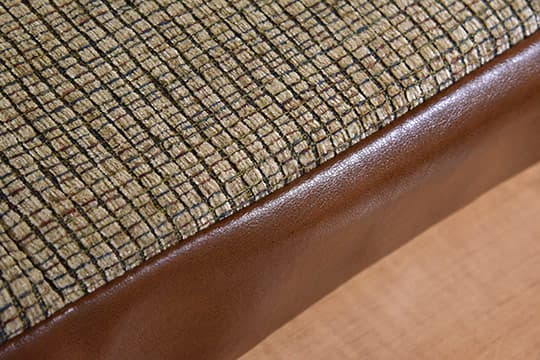 Over the past decade, we've had the opportunity to sleep in all kinds of truck campers on all kinds of mattresses.  One thing is certain; we sleep better in a truck camper – any truck camper – than we ever do at home.  Angela believes this is because we are much more likely to have worn ourselves out that day hiking trails, socializing at a rally, or exploring every nook and cranny of a truck camper factory.  That's probably true, but I suspect there's more to it.
I found the dense foam mattress that comes with Alaskan Campers to be very comfortable.  It's not a two-foot thick pillow top innerspring memory foam deal (whatever happened to when mattresses were just mattresses?), but that's not on the menu for an Alaskan.  For one, you couldn't lower the top if the mattress was much taller.
That said, you could certainly add a short pillow top.  We are currently sleeping on a full-size futon with a pillow top in our camper, and we sleep like the dead.  If you feel peas under mattresses, or couldn't possibly sleep on anything less than two feet thick, tough luck.  For the rest of us (no pun intended), get out there and exert yourself, and then sleep like kittens.
On a side note, there was something oddly comforting about the tan corduroy and dark brown leatherette fabrics of the Alaskan under review.  It looked and felt like "dad's favorite chair".  Am I going off on a weird tangent here?  Sorry, but I think a few of you folks get what I'm saying.  The fabrics in the Alaskan are like the best of Dad's recliner, only without the Cheeto stains, pulled seams, and dog chewed feet.  Damn you, Brutus!
Aw Heck!  Critiquing the Alaskan Camper
How can you review a design that started in the 1950s and has been refined by generations of devoted craftsmen ever since?  And what could we possibly say about Alaskan Campers that hasn't already been said, many times, probably before I was in grade school?
Aw heck, who cares!  Let's judge this camper like Alaskan Campers just started and this is their very first camper.  Let's shake the burdens of history and look at this 2016 Alaskan Camper like we've never seen an Alaskan Camper before.  Now what say ye, Gordo?
First, Alaskan Campers builds the one and only true hard-sided pop-up truck camper.  Many manufacturers have attempted to challenge the Alaskan design and approach over the decades, but none have succeeded.  If you want a hard-side pop-up, you're best and only choice is an Alaskan Camper.  Second, there's something amazing about buying a product that could become a family heirloom, passed down generation to generation, like vintage Airstream trailers often are.
Aw heck!  There I go again.  It's darn near impossible not to get swept into the nostalgia of Alaskan.  Okay, let's try again.  Imagine that Alaskan was a new company and we were judging it on its merits as a brand new product…
If Alaskan were a company that debuted today, they would be challenged on their choice of materials.  For example, aluminum vs wood framing, aluminum vs fiberglass siding, spray-in urethane vs closed cell foam insulation for the roof, and wood vs modern composites like Azdel.
Another potential criticism might be pointed at their design.  For example, why not build a basement model with a grey water tank?  How about considering a lighter one-piece fiberglass roof?  How about building a model with an enclosed bathroom and shower?
And what's with the 1960's vibe?  It's nostalgic, but maybe also offer a more modern interior to attract folks born after 1970.
Okay, that was under the belt.  I can't quite explain why, but it's unseemly to critique this classic product in a modern context.  Then again, that's how products get stuck in time.  Allegiance to the past turns a blind eye to the present, and the future.
In this case, I couldn't be happier that Alaskan has stayed true to the original vision, refining the product very conservatively, over time.  The aforementioned Airstream lost some of its mojo when the original owners sold, and a more production-focused mindset took over.  While Alaskan Campers has been bought and sold over the years, the product and its culture are virtually undiminished.  If you ever see a 1962 Alaskan next to a 2016, you'll know what I mean, instantly.
Wrap It Up
There is no denying the appeal of a hard side pop-up.  The fuel savings, lower center of gravity, and enhanced off-road possibilities of a pop-up are 100% in-tact with Alaskan's design.  The weather and sound insulation advantages of a hard-side are also 100% in tact with Alaskan's design.  It's essentially the best of both worlds.
No, you don't get a basement with big holding tanks, slide-outs, or an enclosed bathroom.  Those items are not on the menu.  What you do get is the best – and only – hard side pop-up truck camper on the planet.
Of course my mother-in-law often says I'm her favorite son-in-law.  I'm fairly sure she thinks I'm a fantastic husband for her lovely daughter, but there's no real way to be sure.  I am, after all, her only son-in-law.  In the case of Alaskan, I think they'll be the best made hard side pop-up truck camper for many decades to come, competition or no competition.  As for my mother-in-law, so far, so good.
I am extremely pleased that we were finally able to review an Alaskan.  Next we need to take one out for a real Alaskan Camper experience.  Perhaps only then will we truly understand the product and appeal that's lasted for sixty years.
"Hello Bryan?  I was wondering if you have an Alaskan we could borrow…"
Quality, Customer Service, and Long-Term Reliability
Truck Camper Magazine inspects all reviewed truck campers for design, material, and quality issues and reports what we find.  However, since Truck Camper Magazine reviews only brand new truck campers, our reviews do not address long-term quality, customer service, or reliability.
To learn about a brand's long-term quality, customer service, and reliability, Truck Camper Magazine recommends talking directly with truck camper owners at truck camper rallies and online via truck camper forums and truck camper owners groups.
Please be sure to balance your gathered feedback across multiple sources including direct correspondence with the truck camper manufacturers and your closest truck camper dealers.
If you are new to truck campers, read our Newbie Articles.
Request An Alaskan Camper Brochure.  To learn more about Alaskan Campers, visit their website at www.alaskancampers.com.