Truck Camper Magazine reviews a 2017 Northstar 12STC, a 12-foot, hard side, non-slide, non-basement, dry bath, side-entry truck camper.  Can a 12-foot luxury flagship truck camper succeed without a slide-out?

Be sure to also check out Northstar's response to this 12STC review.
When the Northstar 12STC debuted in Truck Camper Magazine in February of 2015, the very description of the model challenged almost everything the truck camper industry was doing.  A 12-foot, side-entry, non-slide, dry bath truck camper with no basement?  Ask nearly anyone in the truck camper industry and they would tell you that no camper over 10-feet in floor length sells without a slide-out anymore.  What was Northstar thinking?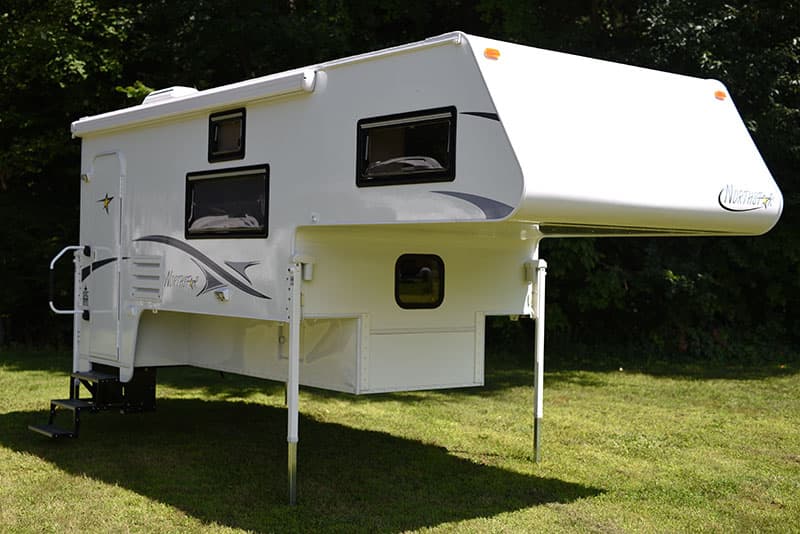 "The truck camper industry has gotten away from its no-basement, no slide-out, roots.  With the 2016 Northstar 12STC, we're getting back to those roots, with a refreshed and modern approach," stated Rex Willett, President of Northstar Campers.
Rex also named Bill Penney, Owner of Truck Camper Warehouse in New Hampshire, as being something of a persistent nudge for this floor plan.  "He's been telling me for a few years that there's a need for a longer, side entry, non-slide truck camper; especially for the beach campers in the Northeast.  For example, you can't take a slide-out truck camper on the beach in Montauk, New York.  These folks want a big camper with big capacities, but they can't have a slide."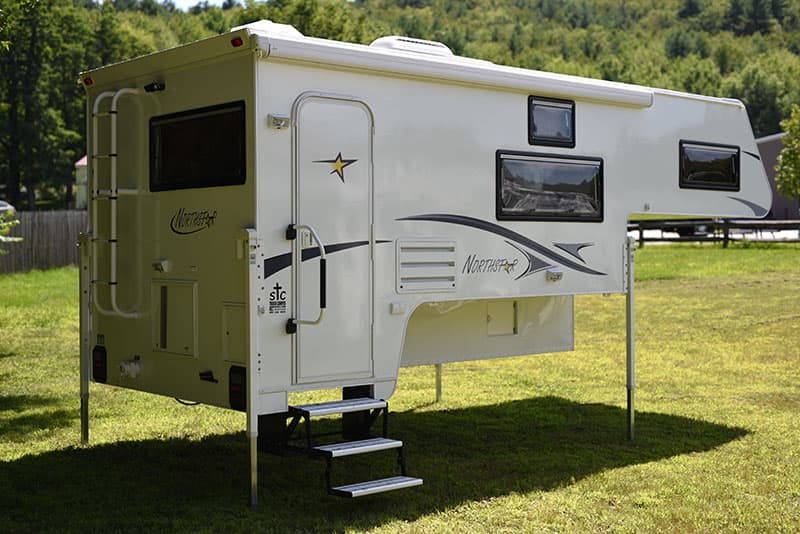 During the design and development of the 12STC, Rex and his team studied truck campers from the 1980s, consulted with veteran truck camper designers including Bill Durkee, and talked with Northstar's dealer network and select customers.
Through extensive physical prototyping, the 12STC's floor length ended up being 12-feet to accommodate the desired dry bath dimensions.  With an optional air conditioner, awning, and two installed AGM batteries, the 12STC dry weight came to 3,486 pounds.  For a 12-foot hard side, these were some impressive numbers.
"If you don't want the extra weight of slide-outs, the high side-walls of slide-outs, or the top-heavy center of gravity of slide-outs, the 12STC is a new option.  The dry bath 12STC gives you a big coach with lots of room and lots of storage at a significantly lower weight and height," explained Rex, but he wasn't done.
"Some customers also want to avoid the potential structural and mechanical problems of slide-outs.  By not having slide-outs, you completely avoid slide-out problems.  Non-slides are also warmer because there's no seepage around the slide-out openings."
With the 12STC, Rex believed he had an opportunity other manufacturers were blind to.  The question is, was he right?  Can a 12-foot luxury luxury truck camper succeed without a slide?  Let's find out.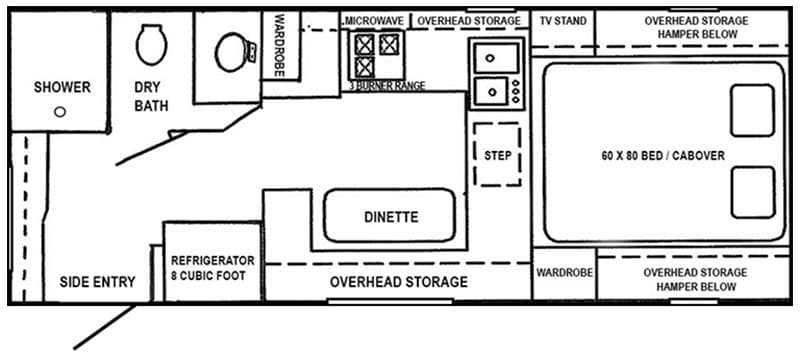 Floor Plan Evaluation
Immediately inside the 12STC, the entry way design and cabinetry is a total knockout.  In an area that is typically under-designed and under-utilized, Northstar has provided upper and lower storage cabinetry, useful countertop area, a window that almost fills the available wall space, and a fully equipped charging station.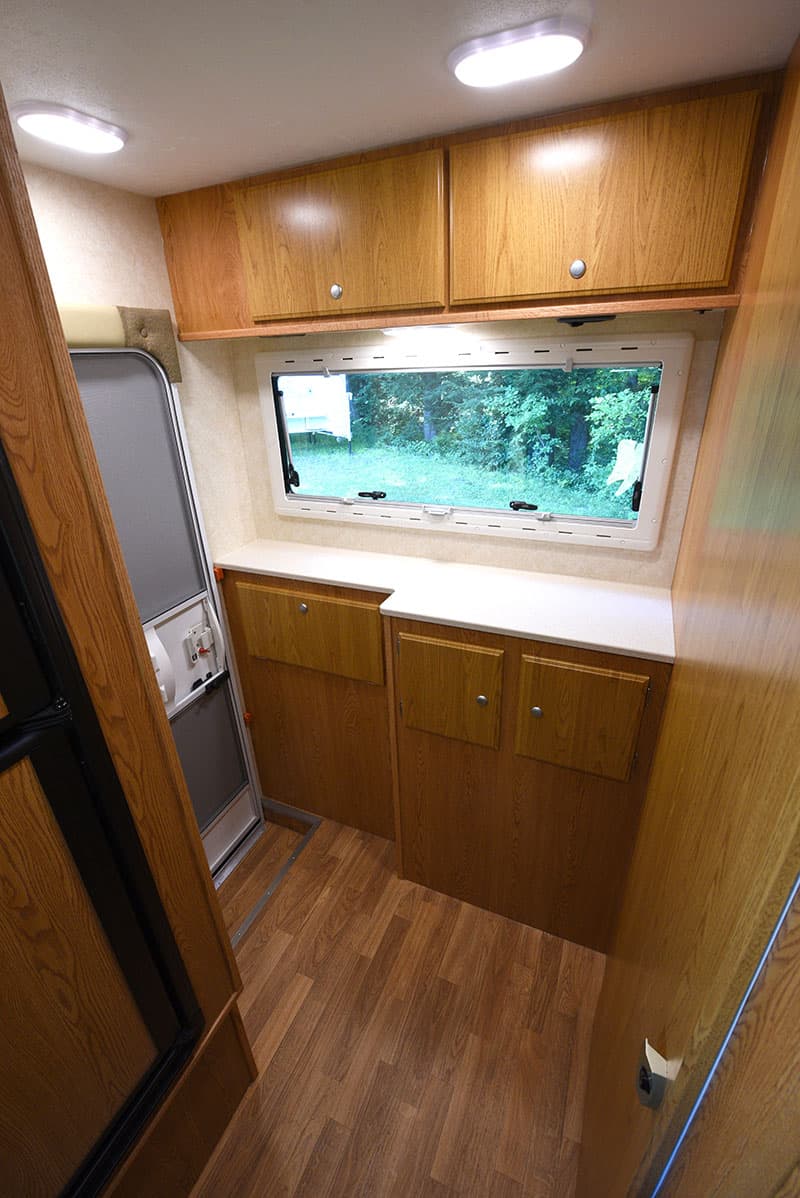 I kept returning to this area envisioning how it could be so much more than just an entry way.  Imagine an open laptop, a tall folding desk chair, a fresh cup of joe, and a long awaited book manuscript finally in progress.  You might see a small workshop, a crafting and scrapbooking area, and/or a sewing room.
Ideally the countertop desk area would extend and retract, and a folding chair would affix to the facing wall.  There are so many possibilities here.  Quite the auspicious beginning!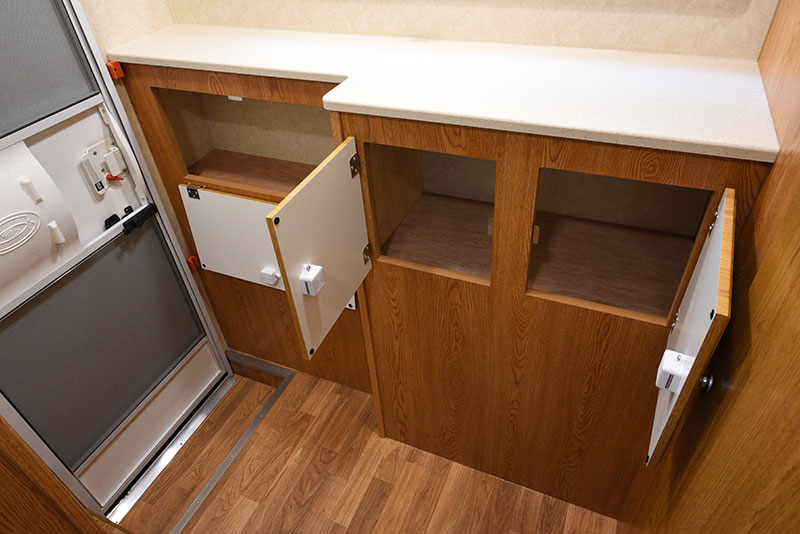 The cabinetry in the entry way has the depth and dimension to be truly useful.  For example, we would use the drop-down cabinet closest to the door for the camper's jack remote, flashlight, and 30-amp adapter.  Others might store dog leashes, binoculars, or a first aid kit in this convenient space.
The other cabinets in this area are much larger and greatly expand the versatility of this entry way room.  For center of gravity considerations I am not encouraging you to keep too much weight this far back in your rig, but all things in moderation.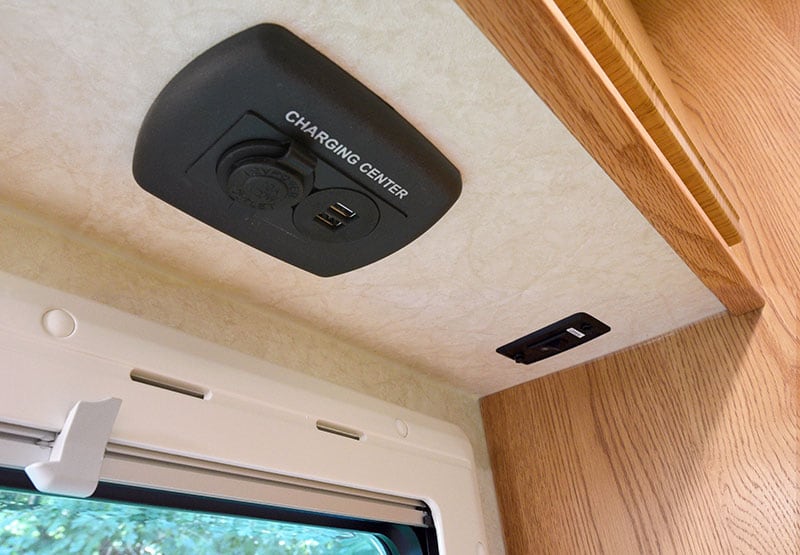 The charging center includes a 110-volt outlet (not shown) as well as a combination 12-volt and USB charging center.  Northstar essentially designed the perfect smartphone and tablet charging area, and then built a truck camper around it.
The port in the inside corner is labeled "Camera".  This likely corresponds to the rear view camera system installed on this camper, but I don't know why that system would have a port here.  Perhaps Northstar can tell us about in a Manufacturer's Comment.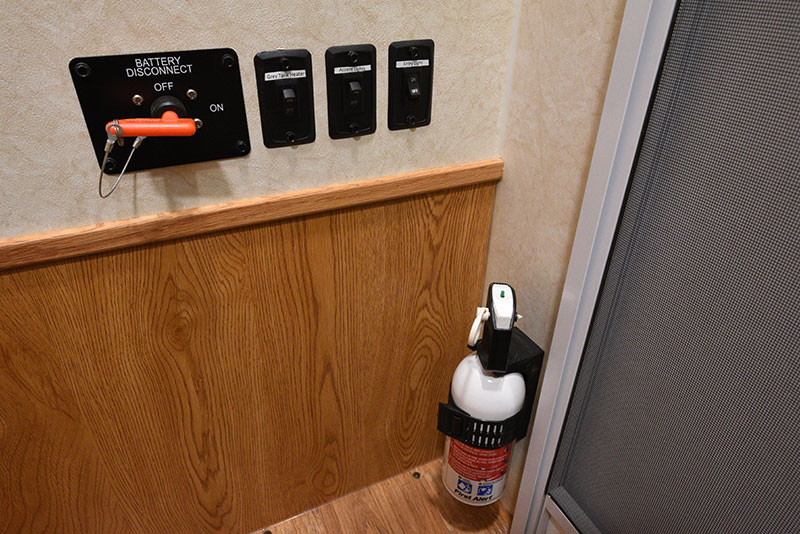 Located immediately inside the entry door, the battery disconnect is easy to access and use.  Simple and obvious as this may be, it's a thing of beauty to the experienced truck camping eye.
About seven years ago, Angela and I killed a nearly brand new set of camper batteries because we (a) could not locate the battery disconnect in a borrowed camper and (b) improperly assumed the solar panel would keep the batteries charged through the winter.
The incessant cold, cloud cover, and inevitable parasitic draw of a truck camper in winter storage cost us about $500 in batteries that spring.  The memo is this: Always, always, always engage your battery disconnect when storing your truck camper.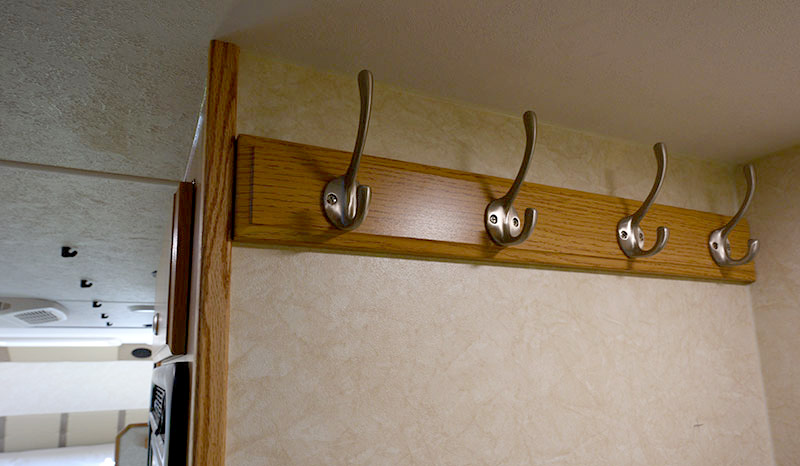 On the same rear-facing wall that features the battery disconnect, Northstar has installed a set of four coat hooks.  At first blush the hooks seem a logical choice, but I don't see most 12STC owners keeping coats here day-to-day.  First, most of us primarily camp in warmer coat-free weather.  And second, the coats would crowd an otherwise extremely attractive and functional area.
Fortunately, you're not limited to just hanging bulky coats here.  How about hanging a full-size umbrella, key lanyards, scarves, belts, or a purse?  Get creative.
If this were our camper, I would consider installing a full-length mirror under these hooks.  The mirror would not only provide a place to check my pretty self at the door, but would also protect the wall from potentially damp coats and umbrellas.
Now that we're inside the 12STC, let's turn toward the front and have a look at this 12-foot truck camper.  This photograph was taken with my wide-angle lens but fails to capture the refrigerator on the right and the dry bath on the left.  This is one seriously large and fully-featured truck camper.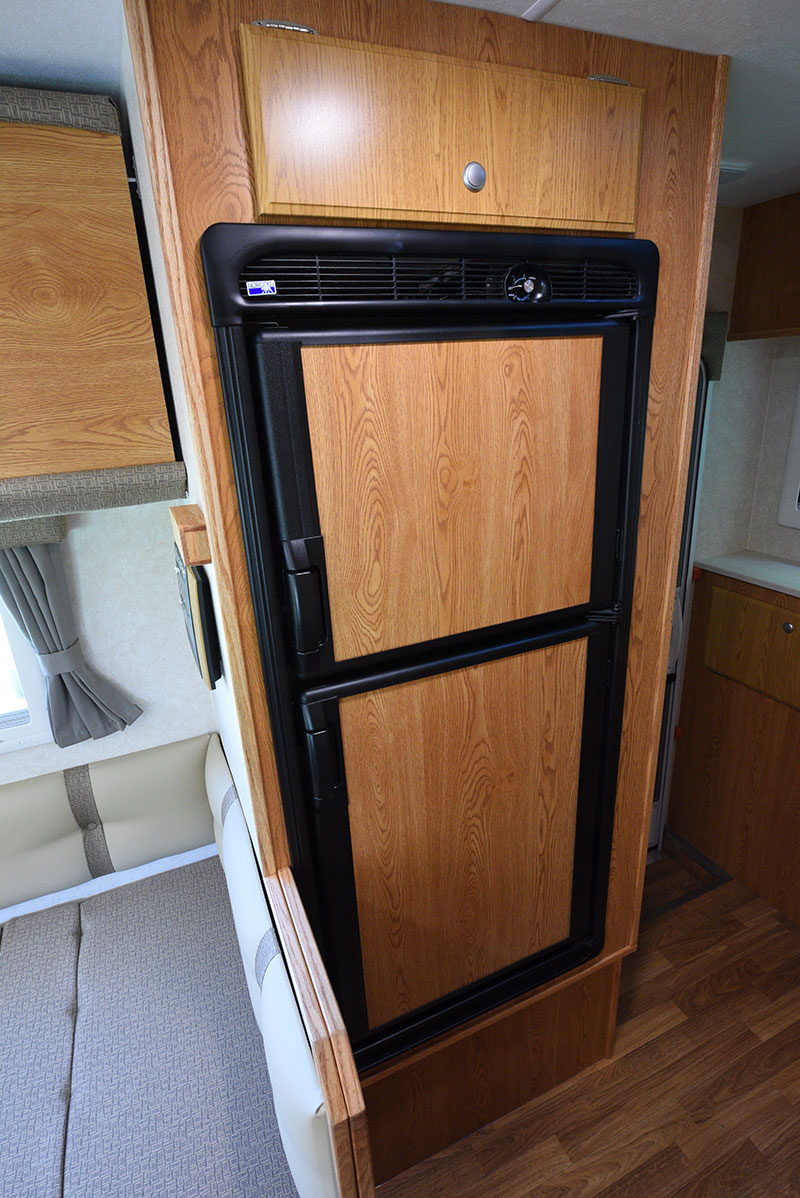 Turning back to the passenger's side entry doorway is an optional Norcold 7-cubic foot 12-volt compressor refrigerator.  The 12STC comes standard with a Dometic 8-cubic foot double-door refrigerator.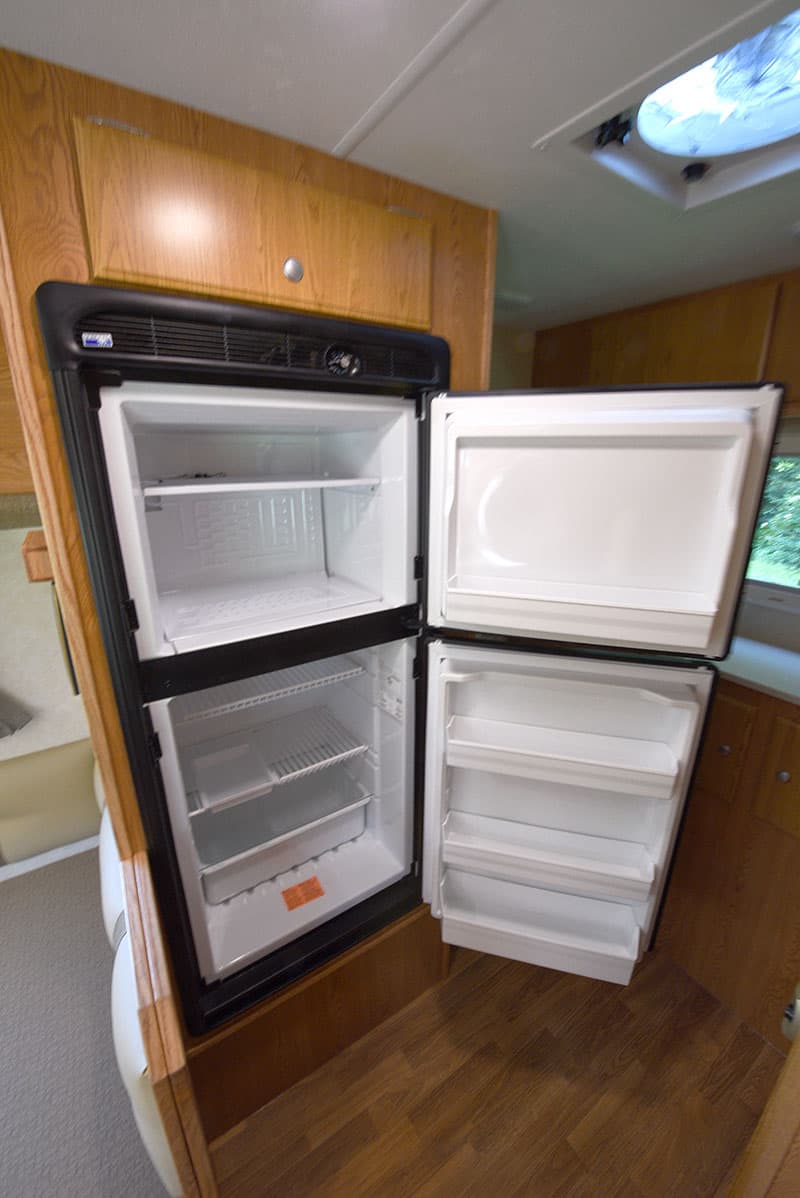 Twelve-volt compressor refrigerators are quieter, significantly more efficient, and less sensitive to being level than their propane absorption competition.  Compressor refrigerators also come at a much higher cost, and you lose the proven versatility of propane operation.  For most folks, the standard Dometic is the smart choice.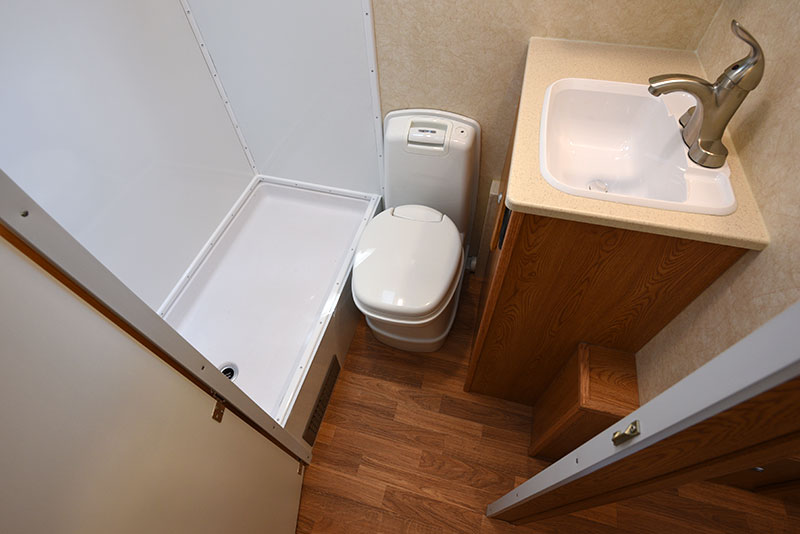 The 12STC is the one and only Northstar model to feature a dry bath, bathroom sink, and an optional standard flush toilet.  Every other Northstar bathroom is a wet bath with no sink and a cassette toilet.
According to Truck Camper Magazine's 2018 Ultimate Camper Survey, 45.5-percent of hard side truck camper customers want a dry bath, 78-percent want a flush toilet and black tank, and 76.5-percent want a sink in the bathroom.  With these results in mind, the dry bath, flush toilet, and bathroom sink in the 12STC should put Northstar on the map for folks who may not have previously considered the brand.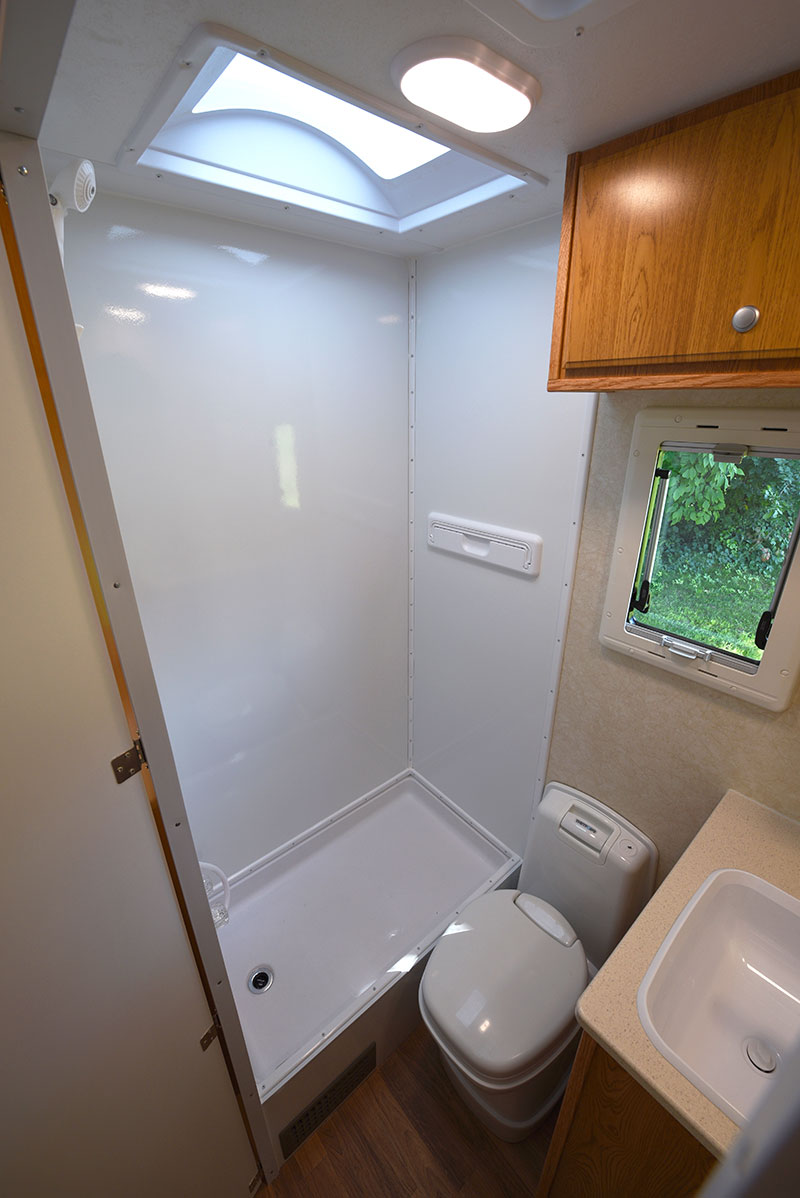 As someone who has covered Northstar for over a decade, the 12STC dry bath is nothing less than shocking in its wild departure from company design norms.  Even more exciting, it's a huge success.
Standing at 6'3", I was very comfortable standing in the shower stall with its built-in skylight.  The shower stall length and width are equally impressive with ample room for even the most enthusiastic bathing routines (ahem).  If a big shower stall is your thing, the 12STC is your huckleberry.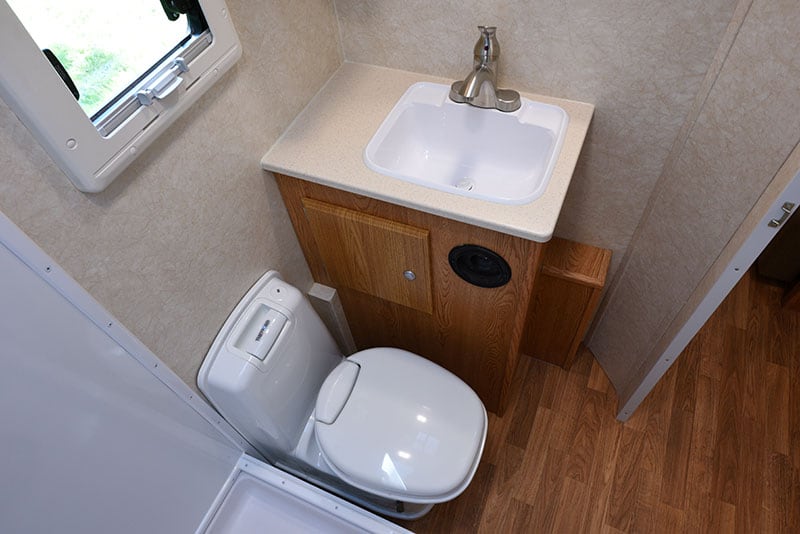 The Northstar 12STC is available with either a traditional RV flush toilet and black tank, or a cassette toilet system.  The 12STC under review had a Thetford C200 cassette toilet system installed.
The C200 model has recently been superseded by the new Thetford C220 cassette with a 4.75 gallon cassette.  Unless Northstar has stockpiled the C200, forthcoming 12STCs will likely feature the C220.
The traditional RV flush toilet option includes a flush pedal toilet and a 13-gallon black tank.  While 13-gallons is not exactly a large black tank capacity, it's 173-percent larger than a 4.75-gallon cassette.  Of course the flush toilet system requires a dump station and the cassette can be dumped in any residential toilet.
If you're deciding between a traditional RV flush toilet and a cassette toilet for the 12STC, I strongly suggest you read, "Picking The Perfect Truck Camper".  Towards the end of the article is an extensive section covering the pros and cons of both toilet options.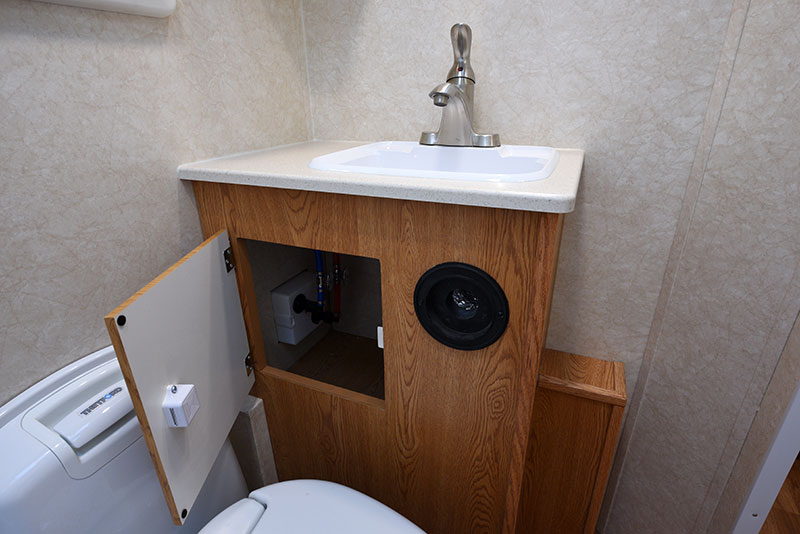 The storage under the sink would be perfect for tank chemicals, toilet paper, and additional toiletries.  Speaking of toilet paper, there didn't appear to be a toilet paper holder.  It may have been tucked inside the sink cabinet – I honestly didn't look there.  Again, Northstar is welcome to set the record straight in a Manufacturer's Comment.
The black round shape on the sink cabinet is a heating duct.  Having heat in a bathroom is always welcome, but this duct is directly aimed at whomever occupies the throne.  Now I would be the last one to poke fun at circulating wind in a bathroom, but perhaps this duct could be moved to a less intimate position.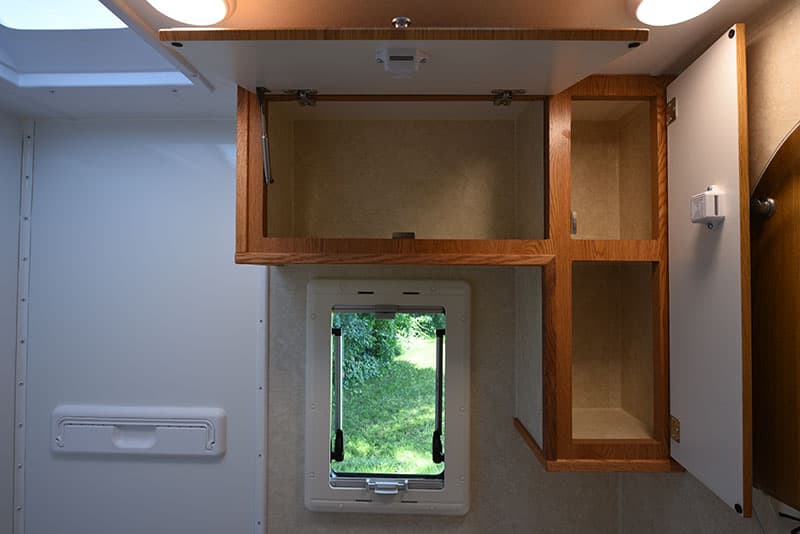 The dry bath layout is so alluring that I almost forgot to look up and notice the bathroom window and upper cabinetry.  It's exceedingly rare in 2018 to see a window in a truck camper's bathroom, much less an insulated one that opens with an adjustable bug screen and blackout shade.  This window does wonders for ventilation, natural light, and the visual appeal of the 12STC's dry bath.
The upper cabinetry is also impressive.  The larger cabinet seems tailor-made for towels while the two smaller vertical cabinets are ideal for his and hers toiletries.  On the facing wall is an oval Northstar branded mirror.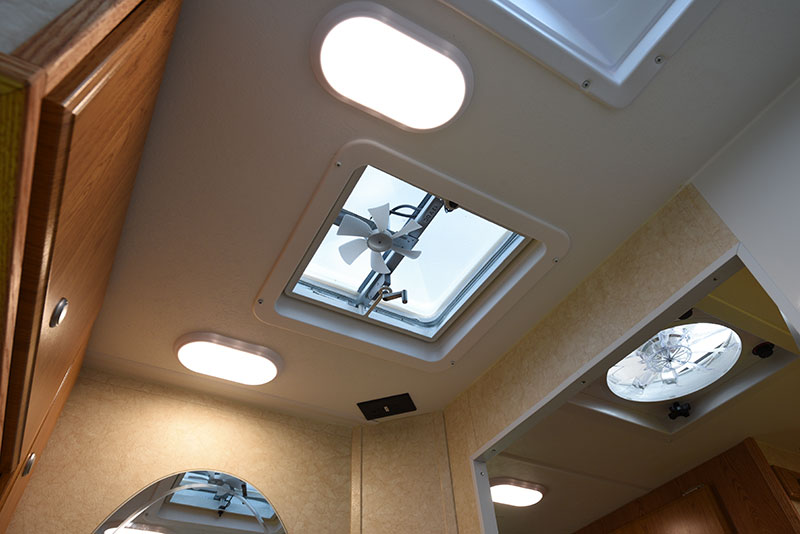 Continuing our upward gaze, the dry bath ceiling features two LED lights, a 110-volt outlet, and – it can't be – a noisy bathroom fan!  Ever since my Northstar 8.5 Arrow U review in 2013, I have been wishing for noisy fans in Northstar bathrooms.  In the tight quarters of a truck camper, noisy bathroom fans play a key role.  Thank you, Northstar!
You may have also noticed the black ceiling-mounted 110-volt outlet.  While I'm happy to see a 110-outlet in the bathroom, I'm not wild about this location.  For some folks it might be difficult to reach, or reach with the necessary angle and force.  Maybe this location could be reconsidered along with the heating vent.
Nit picks aside, the overall design, presentation, and functionality of this dry bath are a home run.  Best.  Northstar.  Bathroom.  Ever.  With a noisy fan!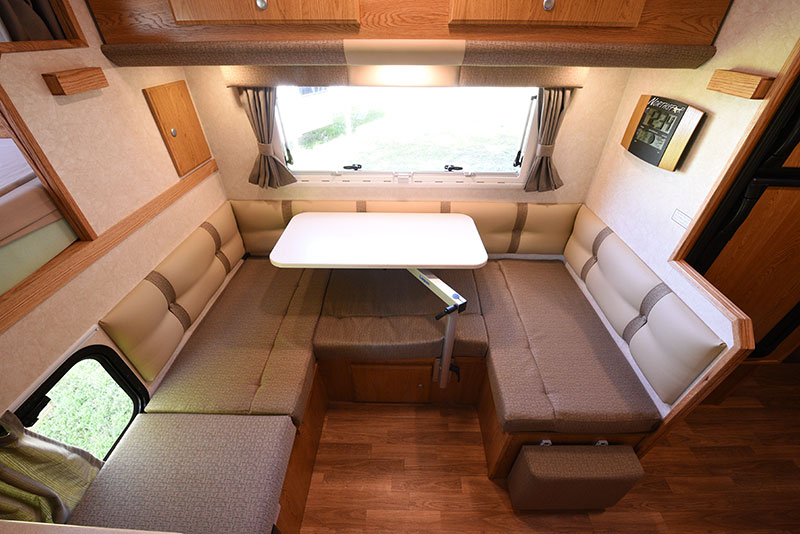 Mid-ship on the passenger's side of the camper is a large U-shape dinette featuring a position-adjustable Lagun table leg system, a huge insulated window, and more storage.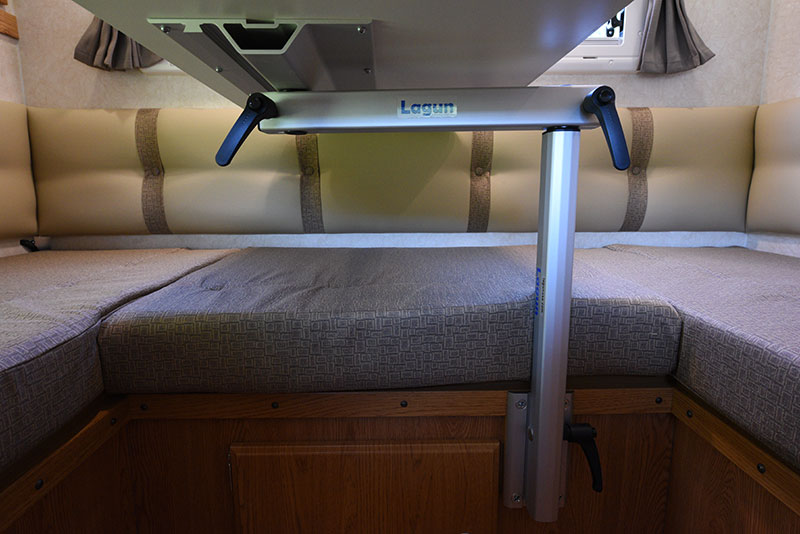 The Lagun table leg system allows the table to be quickly positioned out into the camper, close to the sidewall, and in just about any position in between.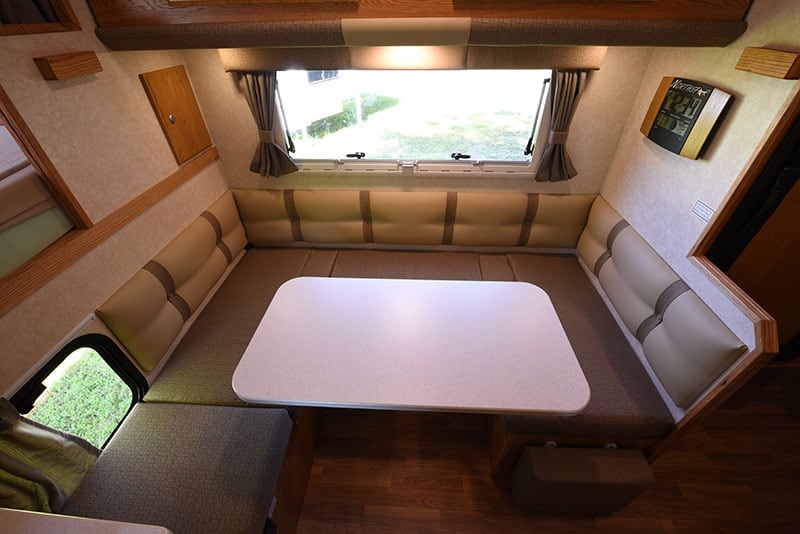 Here you see the dinette table pulled out into the camper for maximum dinette seating.  Once you become accustomed to the Lagun adjustment mechanisms, moving the table and tightening it down takes seconds.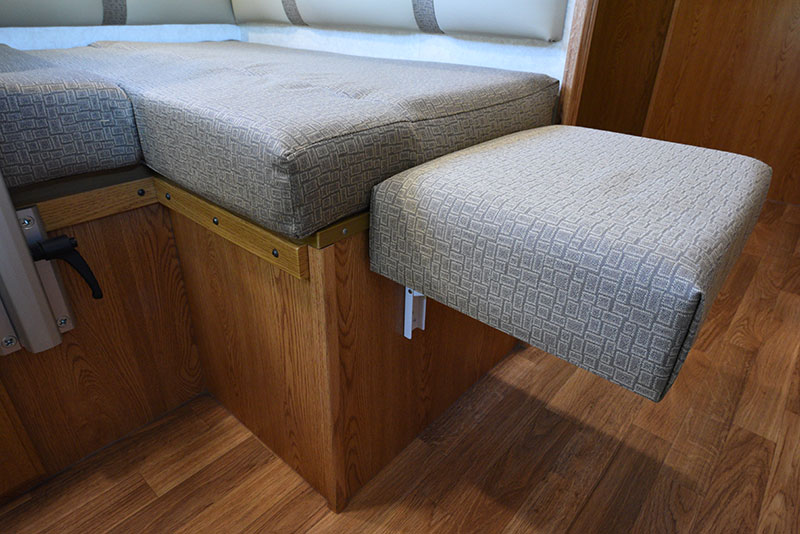 The forward facing dinette seat features a pop-up extension.  Presumably this is more of a foot rest than additional seating as it did not appear to have enough support to hold the weight of a sitting adult.  In all fairness, I did not test the capacity of this extension.  As a foot rest, it's certainly a nice addition.
If I had one burning piece of advice for the 12STC, it would be to change the dinette seating.  As it is, the U-shape seating misses the luxury-flagship mark on long-term sitting comfort, and the table is simply too small to be truly functional for meals, laptops, and map sessions.
With a short platform, it might be possible to build a legs-to-the-wall full-booth dinette and table.  Even more interesting would be a residential-style sofa recliner – at least as an option.  One or the other would be a huge improvement, and make the Northstar 12STC a true slide-out destroyer.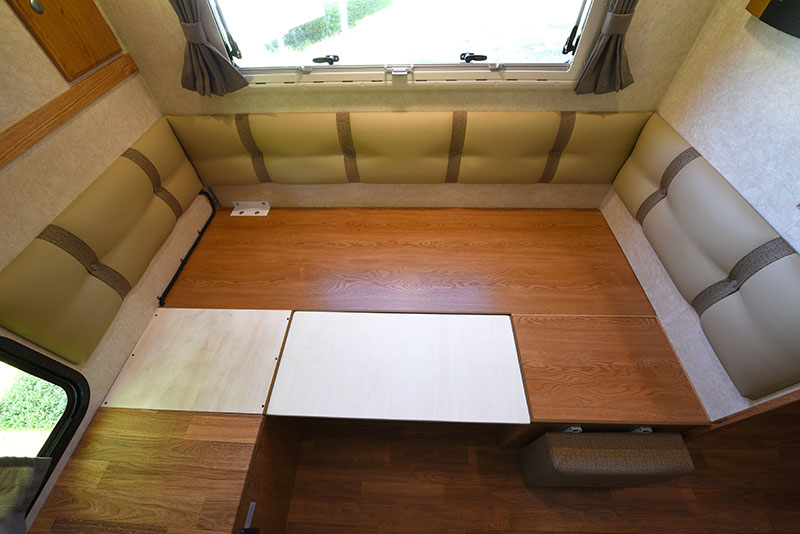 Seating cushions removed, the dinette area quickly makes into a bed platform.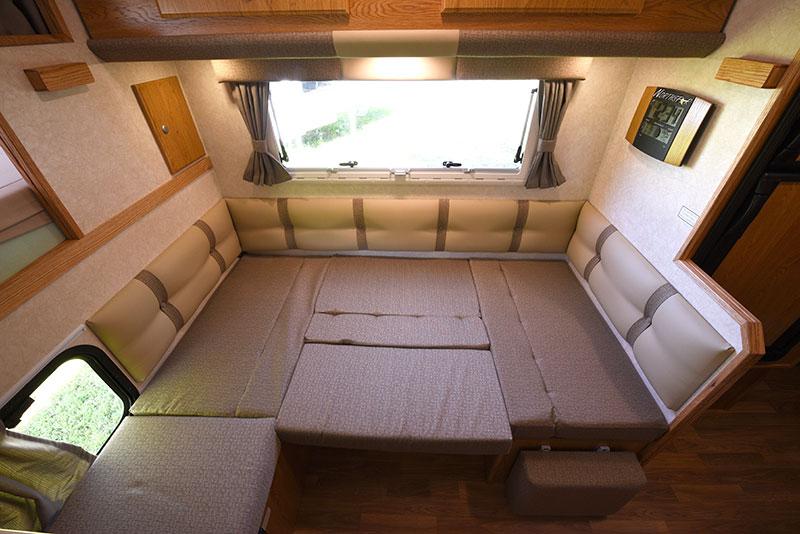 The seating cushions then reassemble into a 71-inch by 37-inch bed.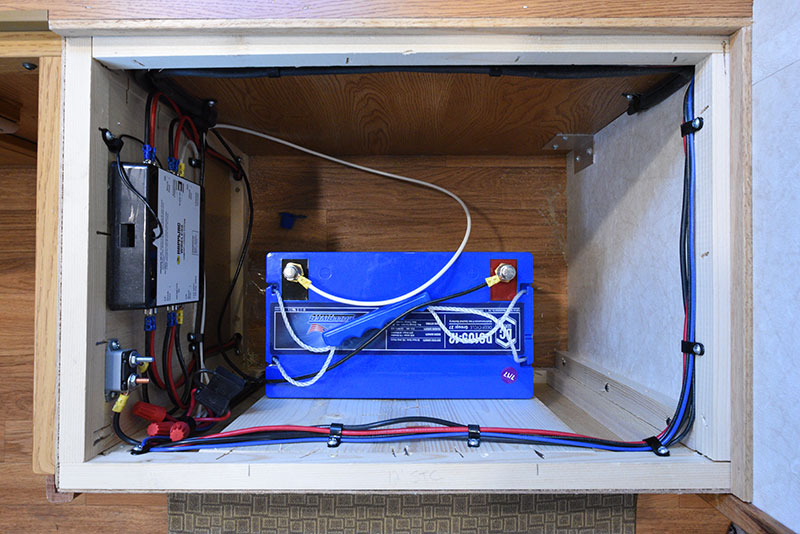 Before putting the dinette back together, I lifted the dinette platform from the forward-facing seat and found the interior battery compartment.  This non-ventilated battery compartment is designed strictly for sealed AGM batteries and should never be used with anything but fully sealed AGM batteries (no wet cells).
The battery in the photograph is a Group 27 AGM.  As you can see, there is ample room for another Group 27 AGM battery, or two Group 31 AGMs.  We have two Group 31 AGMs in our camper and love the amp-hour capacity they deliver.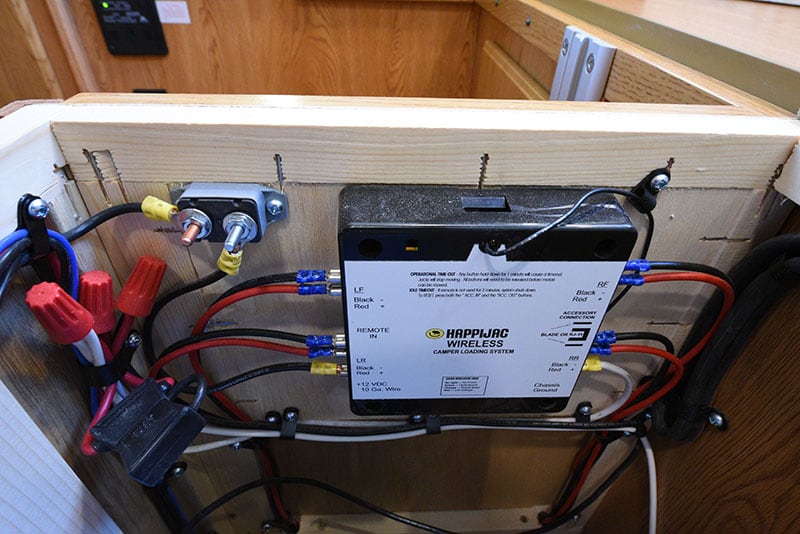 The Happijac wireless control receiver box is also under the forward-facing dinette seat.  The wiring installation is clean, properly tied-off and secured.  It's also accessible and easy to follow for any required future maintenance.  This is very impressive work by Northstar's electrical team.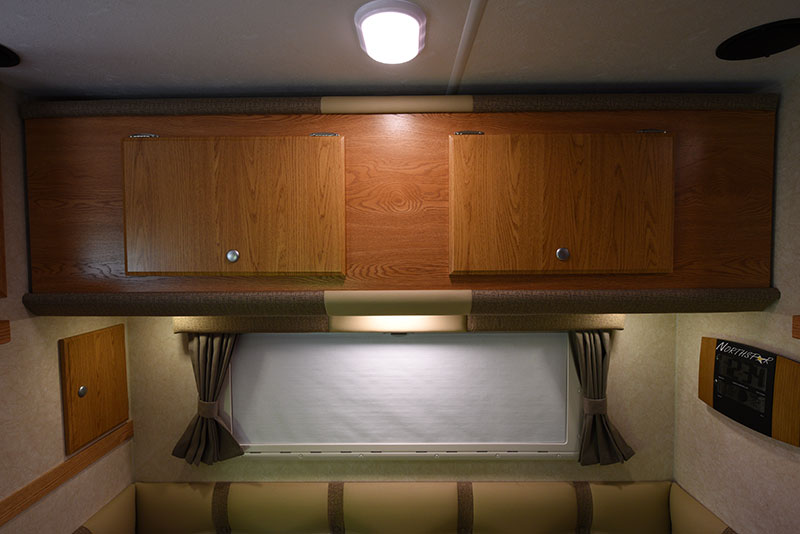 Above the dinette is yet another highly versatile storage area.  As shown you have one large storage compartment with two pull-up compartment doors.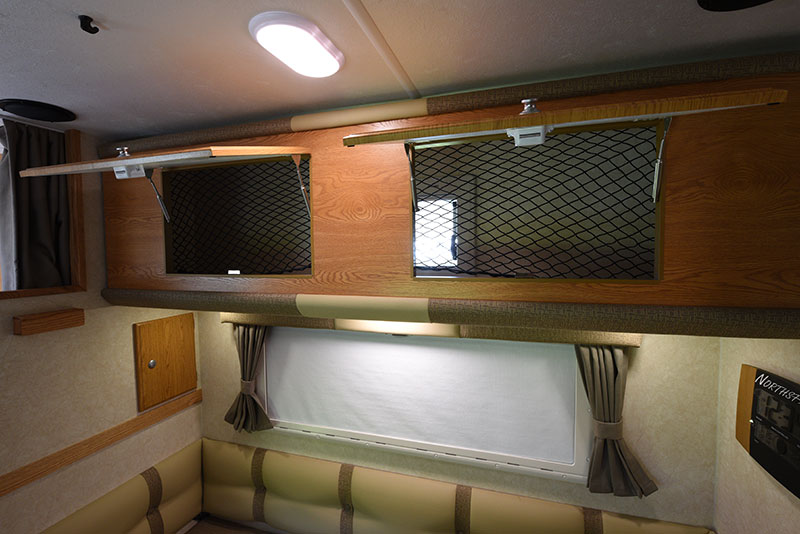 These doors are firmly held open with two gas struts per door.  But what's that netting and window about?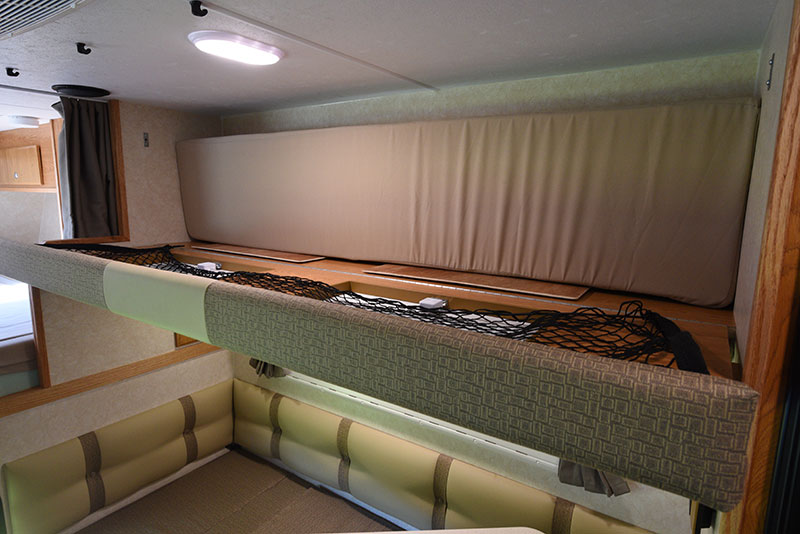 Closing the cabinet doors, you can then release the entire front of the cabinet and lay it flat.  This reveals a set of cushions to form a child sleeping bunk.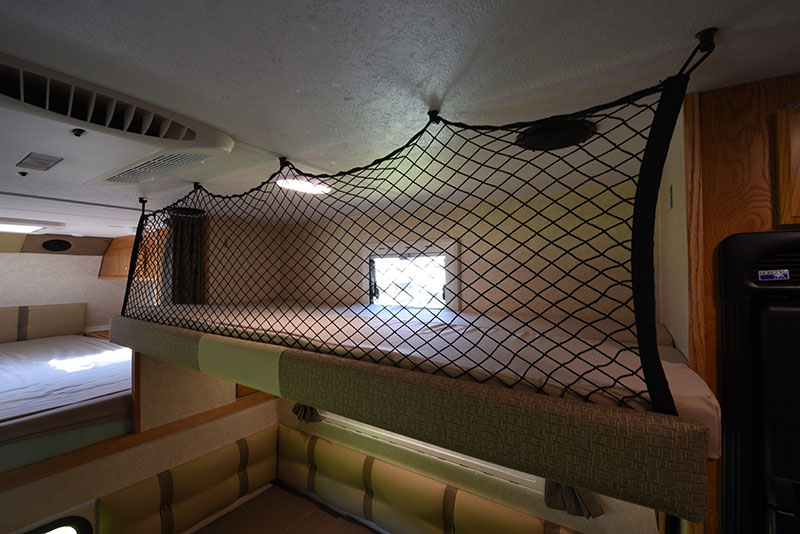 The cushions open and fit tightly into the bunk.  Then a provided netting system ensures that Junior doesn't roll out and onto the floor.  And look, he or she gets their very own insulated window.  Kids have it too good these days.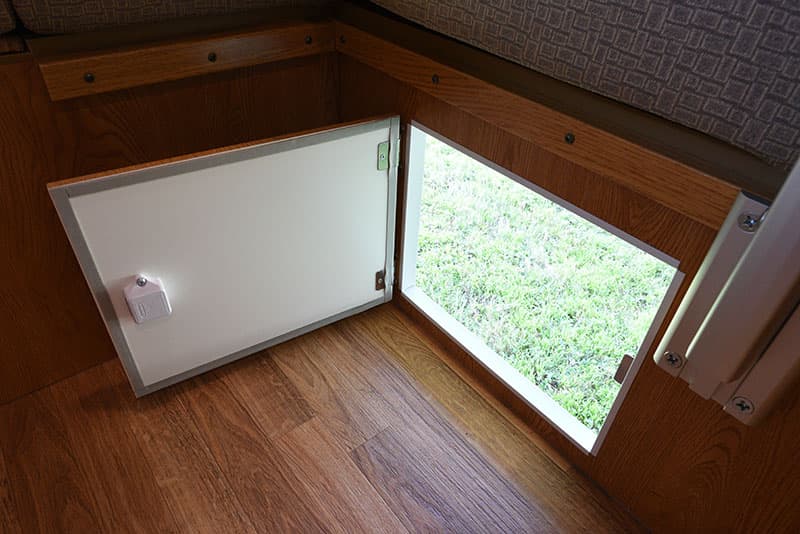 Under the dinette seating area is an access door.  When loaded onto a truck, this would lead to the truck's bed providing more storage.  This is possible because the Northstar 12STC is a non-basement design.
On the non-basement model truck campers we have used in the past – including two Northstars – we used this space to store gallon water jugs in the truck's bed.  We know beach campers who modify these openings by installing bug screens for evening ventilation.
Others have stored dirty laundry using these access doors, but this practice can have disastrous consequences while driving down the highway.  Unless you like to catch fellow drivers unaware with your flying underwear, don't do this!
Directly across from the dinette on the driver's side is one heck of an impressive kitchen.  With tons of storage, a full compliment of stainless steel appliances, a double sink, and a good amount of counter space, the 12STC's kitchen is set on stunning.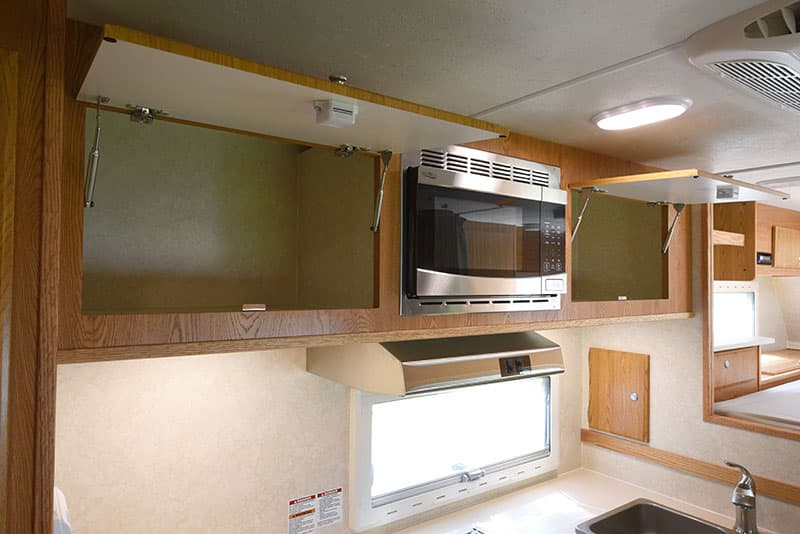 The upper kitchen cabinetry features the same pull-up gas strut doors used throughout the unit.  When you experience a 12STC in person, open these doors and you will literally feel the impressive quality of the materials, hardware, and build.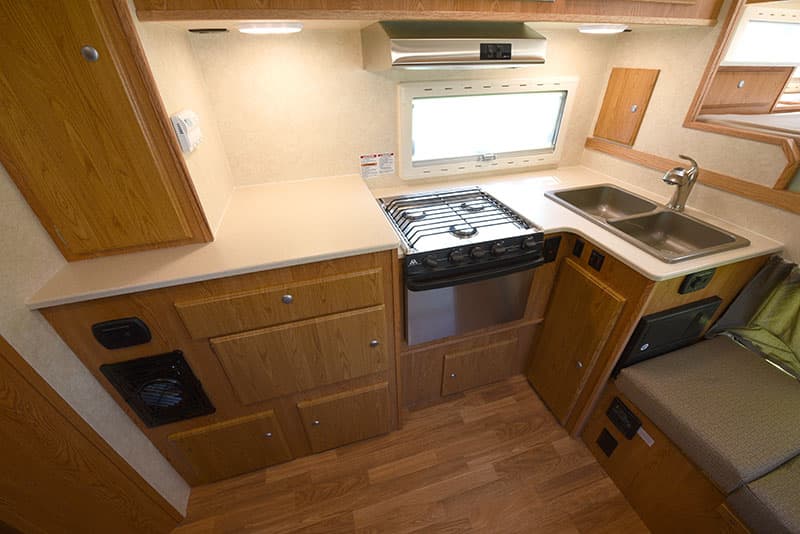 Perhaps more than any other truck camper, the kitchen countertop is downright sprawling.  We have lived with kitchen counters half the size of what the 12STC has on tap.  This is one huge kitchen counter and it is sure to be inviting to the passionate gourmet cooks among us.
I would like to see the countertop all on one level, but there is likely an important reason for the two-tiered design.  For example, the propane tanks are located under the raised section on the left.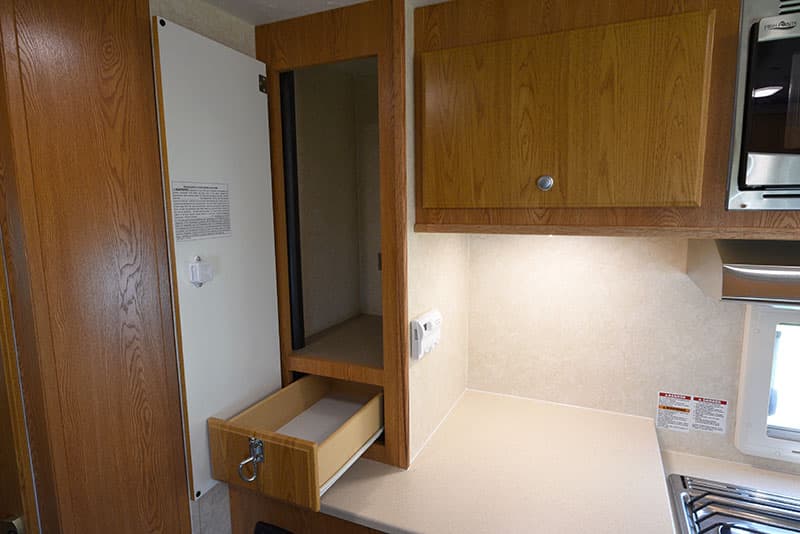 If anyone doubts that Northstar isn't obsessed with providing a wide variety of storage (and plenty of it), let them see this.  Inside a vertical kitchen cabinet there's a latched drawer.  That's right; a drawer inside a cabinet.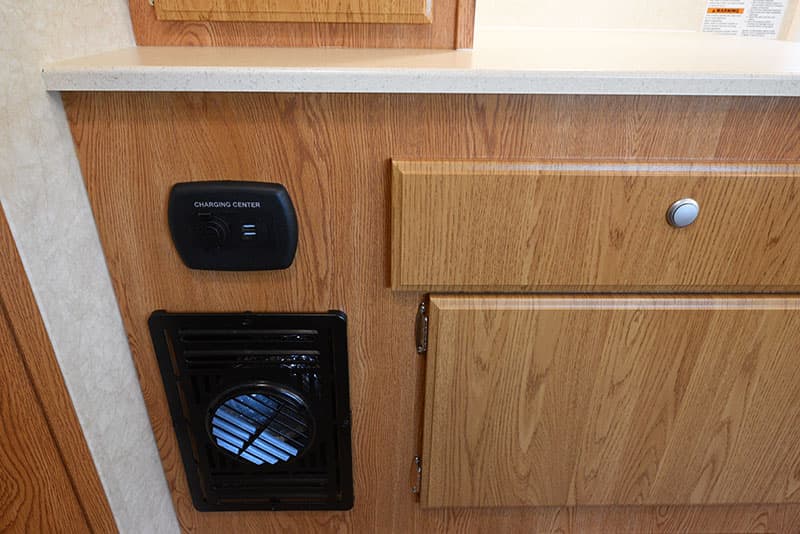 Directly under the vertical cabinet and drawer is another 12-volt and USB charging station.  The black grill under the charging station is the main heat duct.  When using the heating system, owners will need to be careful to tuck their USB cables onto the countertop and not let them dip down in front of the heating duct.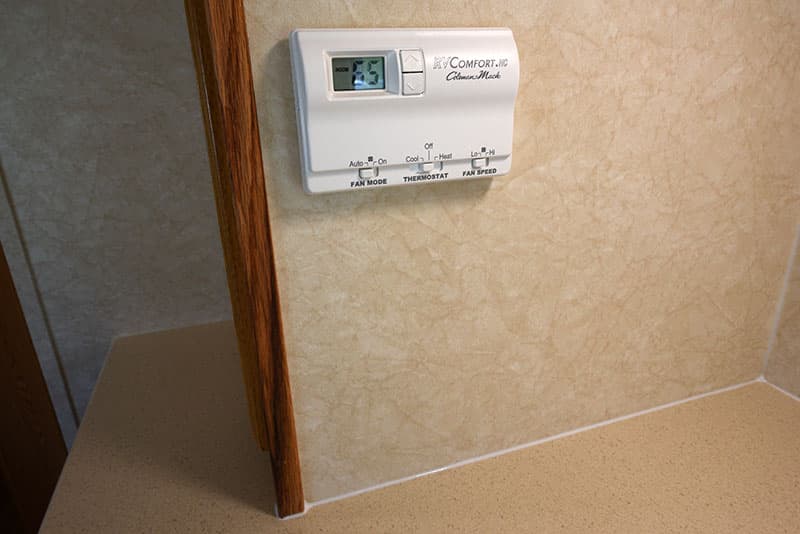 For the record, Northstar truck campers are the warmest truck campers we have ever camped in, and we have camped in a lot of truck campers.  Between the wood framing, closed cell foam insulation, insulated windows, (mostly) non-ducted heat, and over five decades of design experience, Northstar knows how to build a well-insulated camper.  In our experience, nothing beats a Northstar for staying warm.
That said, I am a bit concerned about the location of the thermostat directly above the main heat vent.  It's possible this will not be a factor, but having the thermostat this close to the vent might turn the heat off before the cabover is fully warm.  It would be preferable for the thermostat to be either further back or forward from the main central heating vent.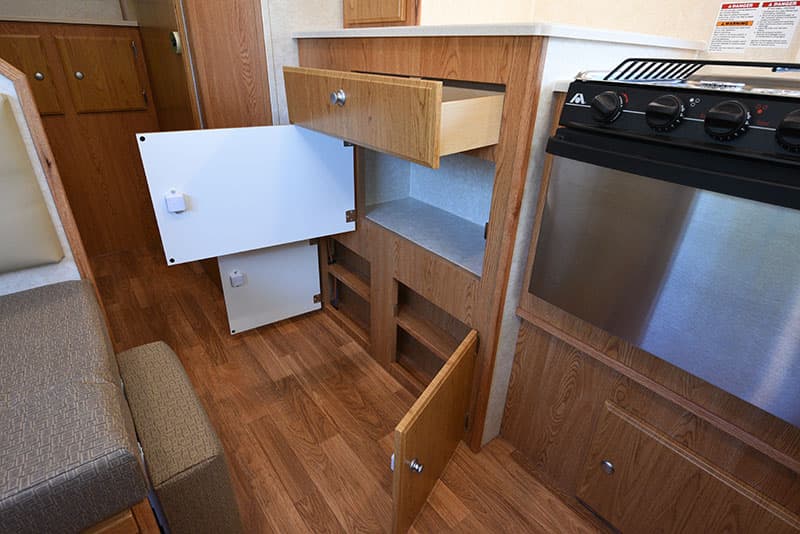 The drawer under the countertop seems perfect for silverware and/or utensils.  The shallow compartment beneath this drawer is just asking for dry foods or dishes.  And the very shallow four shelf cabinet under that is begging for canned food and spices.  If you can't find the perfect storage opportunity for something in this camper, it's probably your fault.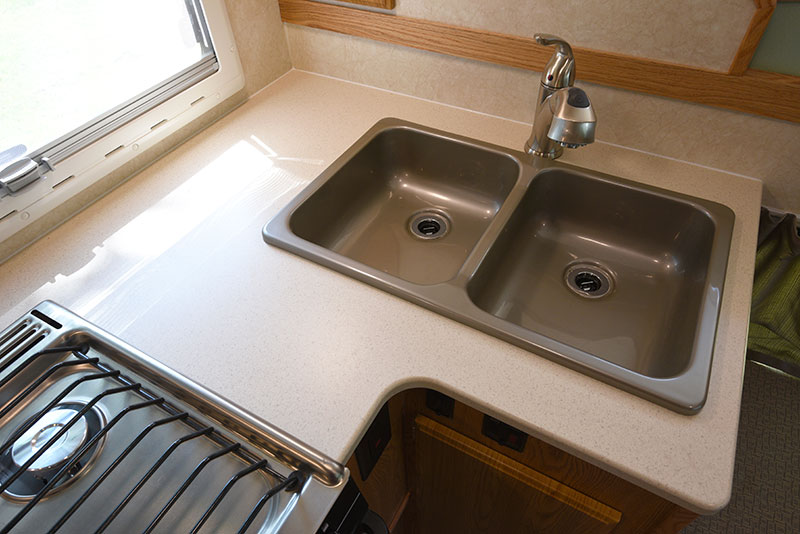 The more I looked at the dark grey double bowl sink in the 12STC, the more I liked it.  Some might prefer stainless steel, but stainless steel sinks have a habit of pitting and staining over time.  This composite sink will not rust, and has an attractive modern color, design and finish.  The dark grey also goes well with the residential-style stainless pull-out faucet.
The water pump switch, water heater switch, and a 110-volt outlet are located under the countertop.  This is a convenient location for the water pump and heater switch, but care will be needed to make sure water does not spill into this area from the sink above.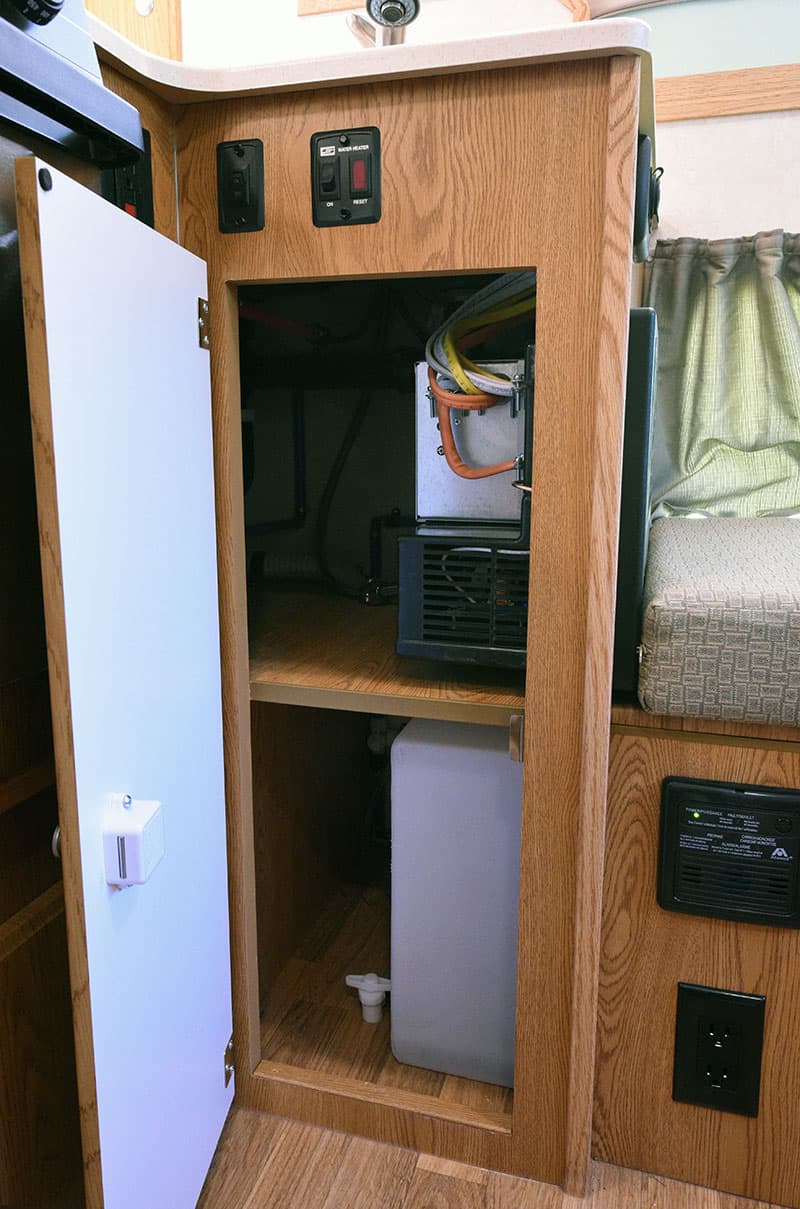 The cabinet door under the sink opens to reveal the location of the 41-gallon fresh water tank and the back side of the fuse panel and converter.
Northstar does not install a tank monitor panel as standard on the 12STC (or any of its campers), but all you have to do is open this door to see the fresh tank's water level.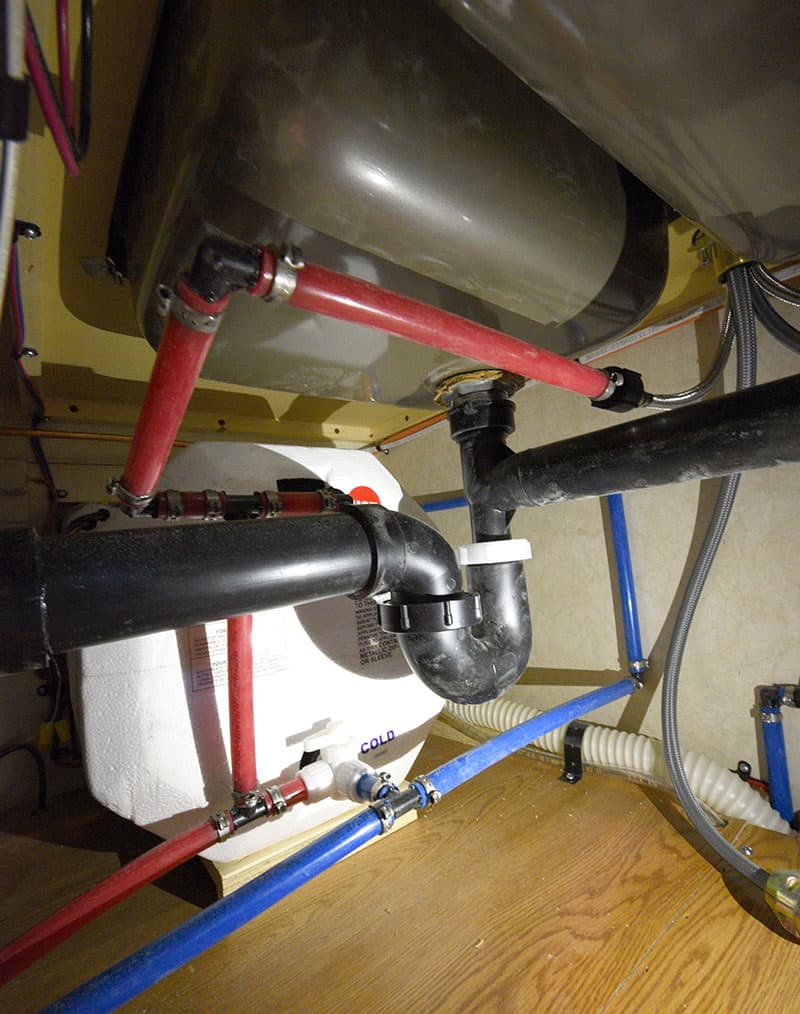 If there's anything we've learned by owning a now 13 year old camper, it's to appreciate (1) well designed plumbing, wiring, and appliance access and (2) a clean factory installation for plumbing, wiring, and appliances.
Fortunately, the Northstar team cares about their plumbing, wiring, and appliance installations.  They think about future maintenance and build accessibility and design-clarity into their campers.
The above photograph was taken inside the top shelf area from the cabinet shown above.  The plumbing and connections were all tight and well dressed with red PEX for hot water lines and blue PEX for cold water lines.  Nice work Northstar plumbing team.
I would avoid using this shelf to store anything that could possibly impact the plumbing lines or the back side of the fuse panel and converter.  The best option is to leave this shelf open and empty.  With the abundance of storage opportunities throughout the 12STC, this isn't much of a compromise.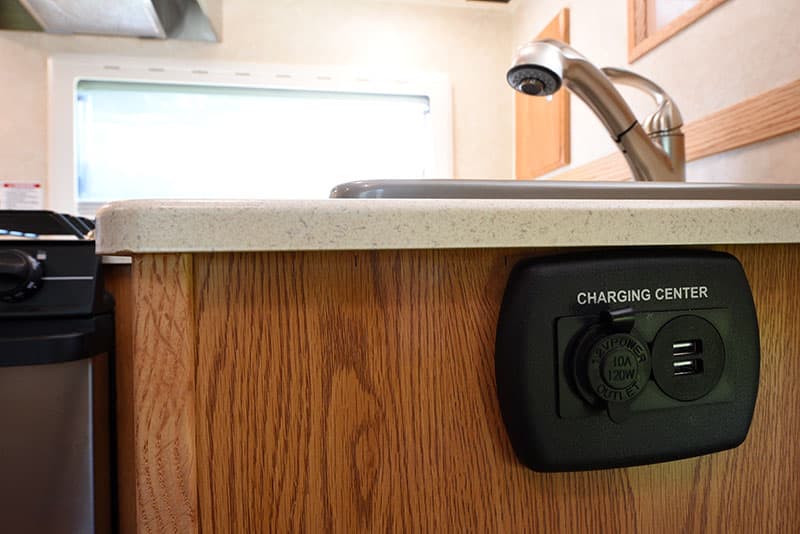 What?  Another 12-volt and USB charging center?  This might be a record.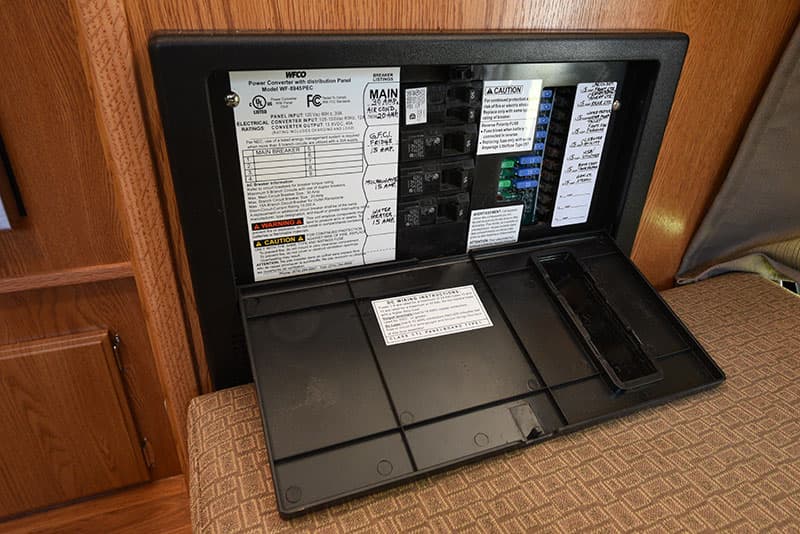 The fuse box is located under the counter and just above the step up to the cabover.  The circuit breakers and fuses are all well labeled.  This is very important as most of the appliance and electrical issues encountered in a truck camper start and end with a tripped circuit or blown fuse.
On more than one occasion we have checked or even replaced something in our camper only to find it was a breaker or fuse that caused an issue.  When something electrical goes wrong, always check the fuse box first.  It also pays to have full set of 10, 15, 20, and 30-amp fuses on hand and ready to go.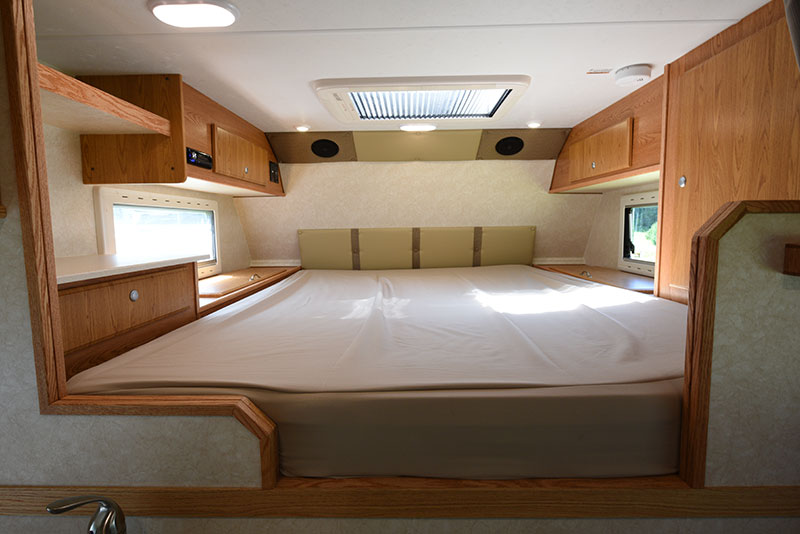 With a Heki skylight, windows on the driver's and passenger's sides, light wood cabinetry, and ample LED lighting, the cabover in the 12STC is bright, open and inviting.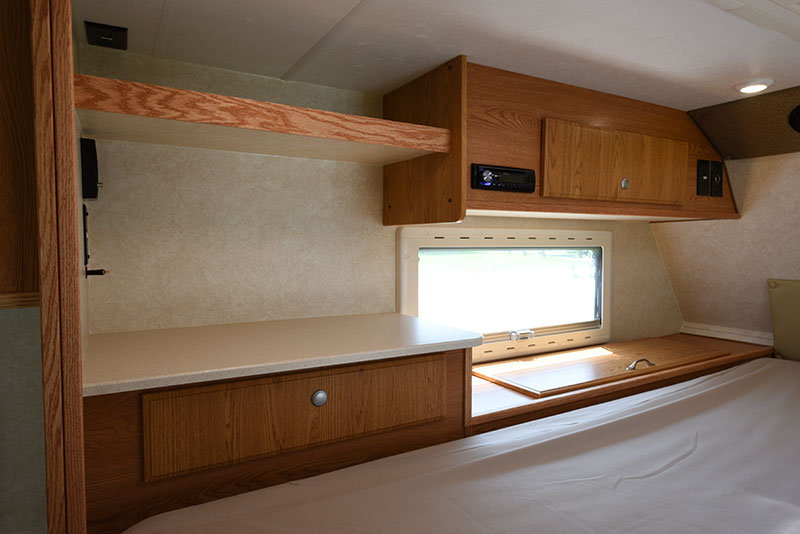 Continuing the theme found in the rest of the camper, the driver's side has a wide variety of storage opportunities including a drawer, hamper, pull-up cabinet, top shelf, and a countertop surface.
Ready for too much information?  Good!  I would put my socks, underwear and night clothes in the hamper, long and short sleeve T-shirts in the cabinet above, and jeans, shorts, and sweatshirts on the top shelf.  The drawer would be a bonus space for belts, books, chargers, and more.
Also note that the passenger's side has the connections for a HD television panel and swing-out arm.  This is a good location for a HDTV and should accommodate a 19-inch or larger television.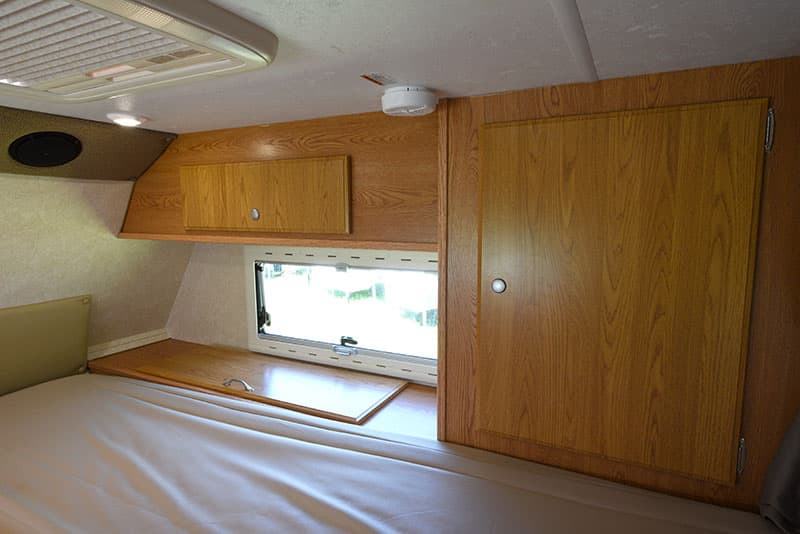 The passenger's side does not have the variety of storage options, but makes up for it in capacity.
The lower hamper and upper pull-up cabinet mirror what's on the driver's side, and a closet adds space for hanging shirts.  This is where I would stash my vinyl record finds.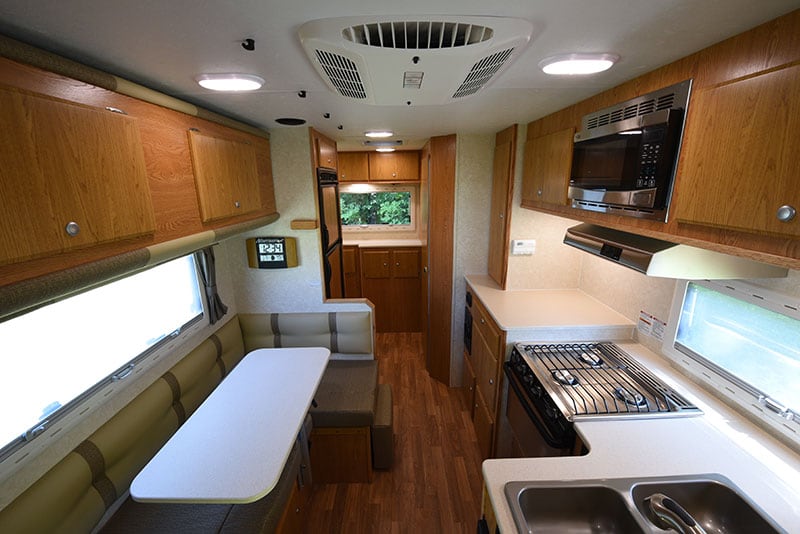 The last picture I tend to take during a photoshoot is a wide shot from the cabover towards the rear of the camper.  This is what you'll see every morning when you wake up and leave the bedroom area.
Note how bright and open this camper looks and feels.  I also love the sense of depth created by the 12-foot floor length.  My commute to the "office" in the back would be about seven steps, with a quick stop in the kitchen for coffee and breakfast.  I think Angela and I could live here.
Specifications
| | |
| --- | --- |
| Specifications | |
| Dry Weight | 3,176 pounds |
| Wet Weight* | 4,221 pounds |
| Floor Length | 12'0″ |
| Overall Length | 19'4″ |
| Width | 7'9″ |
| Interior Height | 6'8″ |
| Exterior Height | 10'0″ |
| Center of Gravity | 54″ front to rear |
| Truck Type | Long Bed |
We have been to the Northstar factory in Cedar Falls, Iowa many times over the years.  While I don't know when Northstar originally got their scale system, I can tell you it was in place and daily use when we first toured the factory in 2007.
I can also confirm that Northstar weighs every camper that they manufacture before it leaves the building.  The scale is literally installed at the exit door.  Having witnessed this practice, we are very comfortable with the accuracy of Northstar's reported camper weights.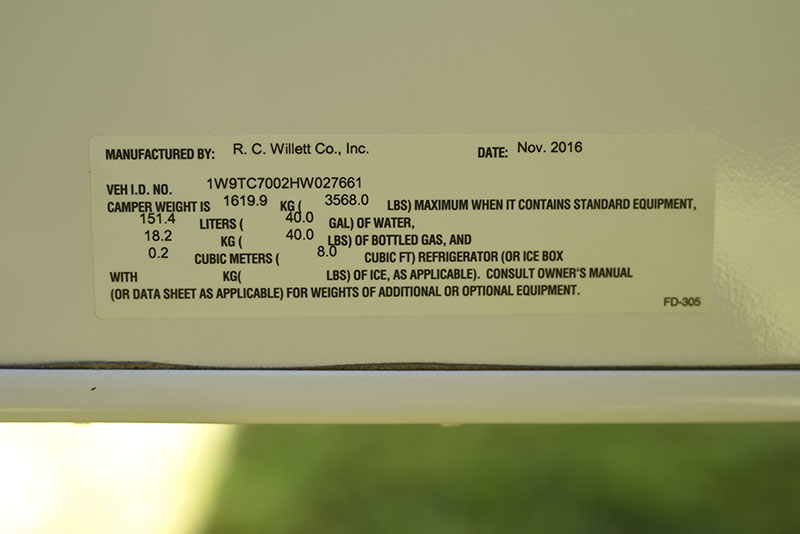 For the 12STC introduction, Northstar reported the dry weight without options at 3,176 pounds.  The exterior weight sticker on the 12STC under review reported 3,568 pounds with 40 gallons or water (333.6 pounds).
Subtracting the water weight from the total weight we get 3,152 pounds.  That's just 24 pounds off the originally published 3,176 dry weight.  The difference could be easily accounted for by manufacturing variations since the 12STC announcement, and differences in material weight.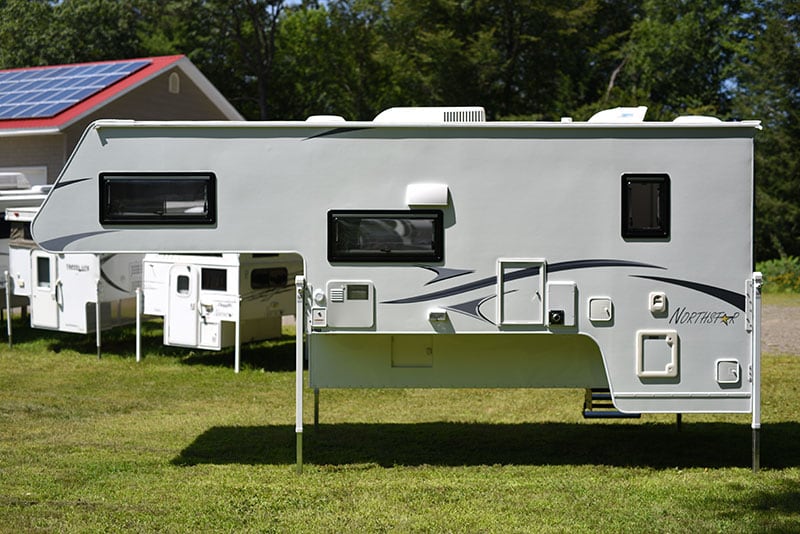 With a 12-foot floor length, the 12STC is the longest production truck camper on Earth.  Other manufacturers build flagship multi-slides at 11'11", but only Northstar goes the extra inch.
From conversations with the industry over the years, there seems to be a stigma against going to 12-feet.  In my book, as long as the camper's weight and center of gravity matches your truck, there's nothing wrong with a 12-foot floor length.  It's all about the proper truck and camper match, not the floor length.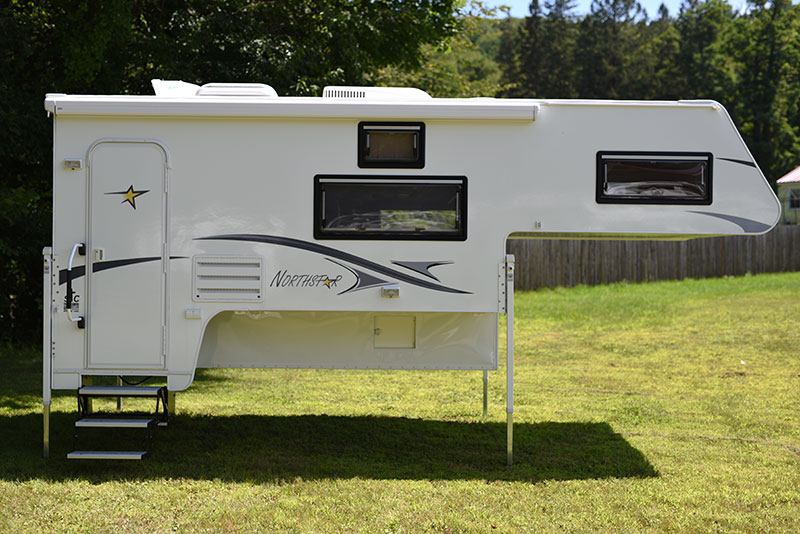 While the 12STC floor length sets a record, the exterior width moves in the opposite direction.  Where the flagship competition pushes 96-inches (8-feet), the 12STC is just 93-inches (7'9").  This is in-line with the rest of Northstar's hard side line.  As Rex has explained to us, narrower campers are lighter, fit trucks better, and allow for better side mirror visibility.  They're also easier to ship and containerize.
Tall people are going to love the 6'8" interior of the Northstar 12STC.  I stand 6'3" tall and really enjoyed the abundance of headroom throughout the camper.  Even if you're height challenged, you will appreciate the sense of space, not to mention the upper cabinetry storage the 6'8" height creates.  And because the 12STC is a non-basement design, the loaded camper will actually be lower than a basement camper.  Taller inside, lower outside.
Even with the 12-foot floor plan, Northstar managed to keep the center of gravity at 54-inches from the front wall back.  That's several inches better than many of the 11'11" multi-slide flagships.  This means the 12STC is not only a lot lighter in weight, but keeps that weight further forward.
Capacities
Capacities
Fresh
41 gallons
Grey
20 gallons
Black
13 gallons
or 4.5 gallon cassette
Water Heater
4 gallon auto ignition
Propane Tanks
2x 20 pounds
Batteries
​Room for two Group 31s​ (Optional)
The 41-gallon fresh tank in the 12STC is spot-on perfect; exactly the right balance of capacity and water weight for a camper this size.  The fresh water is used in the 12STC by the kitchen sink, bathroom sink, inside shower, outside shower, and flushing either the cassette toilet or standard flush toilet.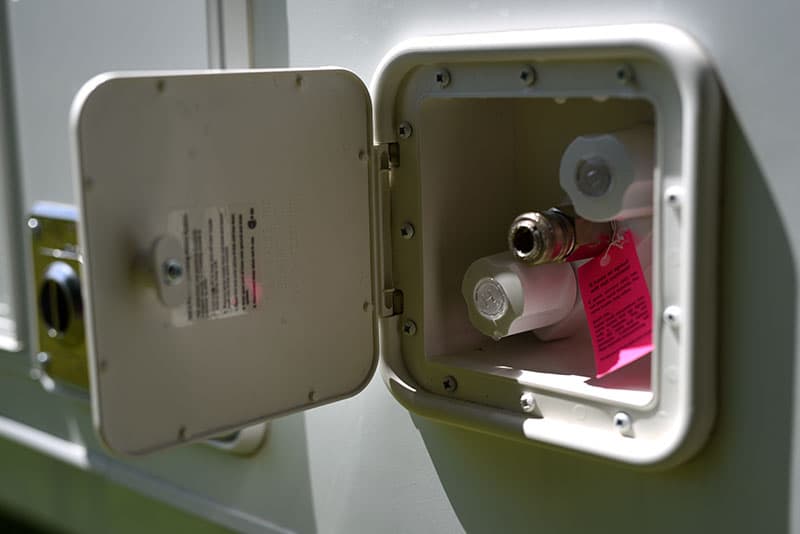 The grey tank in the 12STC is 20-gallons.  Only the outside shower and flushing the toilets avoids collection in the grey tank.  This means that it's very likely that you will fill the 20-gallon grey tank long before you empty the 41-gallon fresh tank.  From experience, a 20-gallon grey tank would last the two of us about 4 days of normal use (dishes, showers, hand washing, etc.).
When selecting a 12STC, customers need to choose between a cassette toilet with a 4.75-gallon black tank (C220), or standard flush toilet with a 13-gallon black tank.  Let's run the numbers for both toilet options.
We have camped with a cassette toilet system on multiple occasions.  If the two of us exclusively use a cassette toilet system full-time (no access to other toilet facilities), a 4.5-gallon cassette (C200) lasts about two days before needing to be dumped into a residential toilet.
Doing the math, that's about 2.25 gallons of black a day, or 1.125 gallons of black per person per day (now there's something I never thought I needed to know).  Using that same data (2.25 gallons of black per day), the optional 13-gallon black tank would last us almost six days.
I'm always interested in which tank capacity is ultimately the limiting factor for a specific camper.  In the case of the 12STC with the cassette toilet, we would need to dump the cassette every two days.  In the case of the 12STC with a standard flush toilet, we would need to dump the grey tank every four days.
In an ideal world, the grey tank capacity would be increased to about 35 gallons to better match the 41-gallon fresh and 4-gallon water heater capacities.  Also increasing the optional black tank to 16 gallons (2.25 gallons x 7) would give the 12STC with a flush toilet a full week of off-grid tank capacity.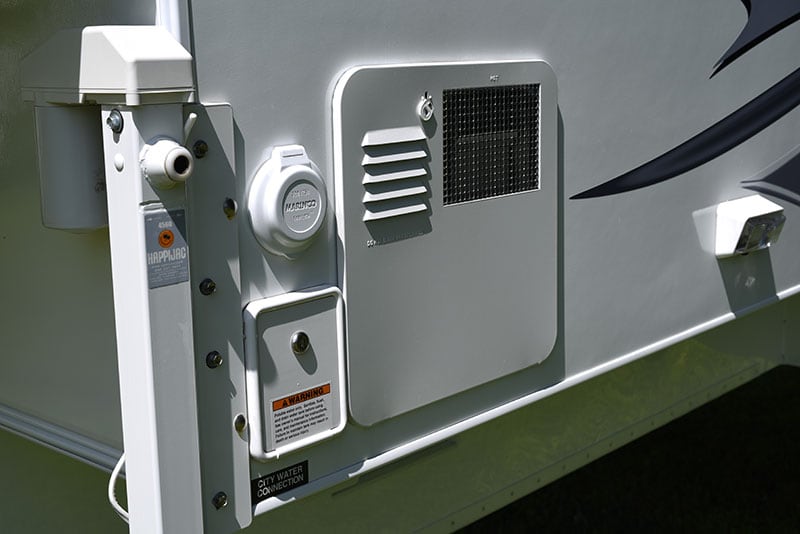 The water heater in the 12STC is a 4-gallon model.  Almost the entire truck camper industry utilizes a 6-gallon water heater, but perhaps that's something we should examine.  With the importance of weight and water conservation, it makes sense to employ smaller capacity water heaters.
Nearly all of the truck campers we have camped in have had 6-gallon water heaters.  Never once in all the years we have camped off-grid or with full hookups have we run out of hot water.  Even when we have full hookups and take longer showers, we still haven't run out of hot water.  If our experience is any guide, the industry should all move to the 4-gallon water heaters to save the weight.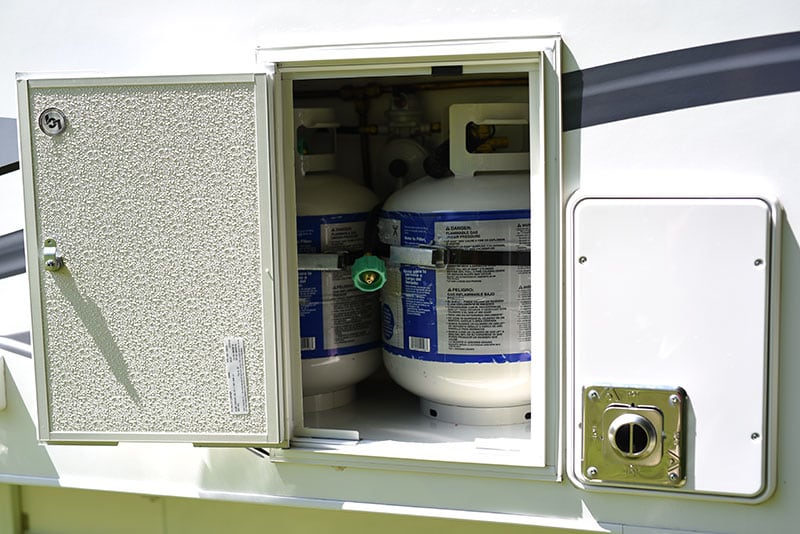 The Northstar 12STC has two 20-pound vertical propane tanks.  These are the exact tanks that can be exchanged at thousands of hardware stores, grocery stores, and gas stations from coast-to-coast.  They're also much easier to lift and maneuver than 30-pound tanks.  Perfection.
The non-ventilated inside battery compartment in the 12STC requires the use of sealed AGM batteries.  With room for two Group 31 AGMs, we would immediately go for the larger battery option.  Again, perfection.
Wet Weight Calculation
Using the standardized Truck Camper Magazine wet weight calculation, it's time to run the numbers on the Northstar 12STC.
Base Dry Weight – special factory order only
Northstar 12STC: dry weight, 3,176 pounds + 41 gallons fresh, 341.9 pounds + 4 gallon full hot water heater, 33.4 pounds + 2x 20-pound full propane tanks, 40 pounds + 2x battery, 130 pounds + stuff, 500 pounds = 4,221.3 pounds
Fully Optioned Weight – Reviewed Unit
For the Northstar 12STC debut in 2015, Northstar reported the weight of a 12STC with standard equipment and the optional air conditioner, 13-foot side awning, and two Group 31 batteries at 3,486 pounds.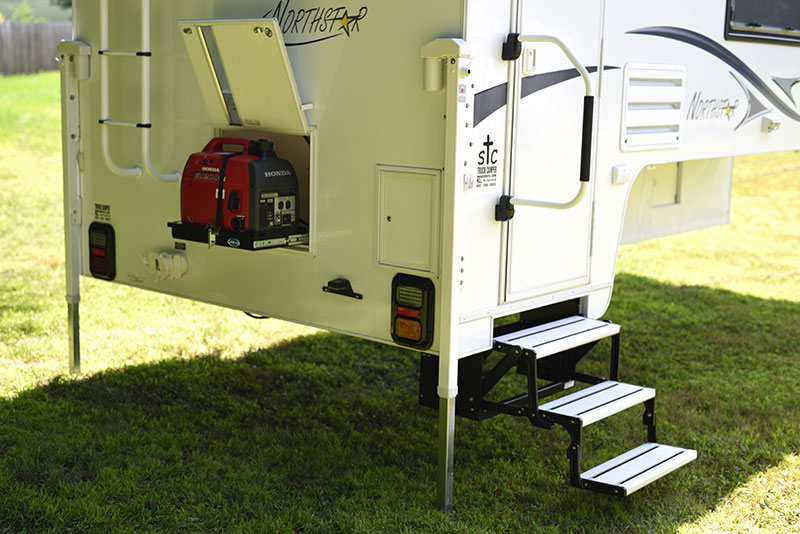 The review unit also had a portable Honda EU2000i generator and backup camera.  Amazingly, the Honda EU2000i weighs just 46 pounds.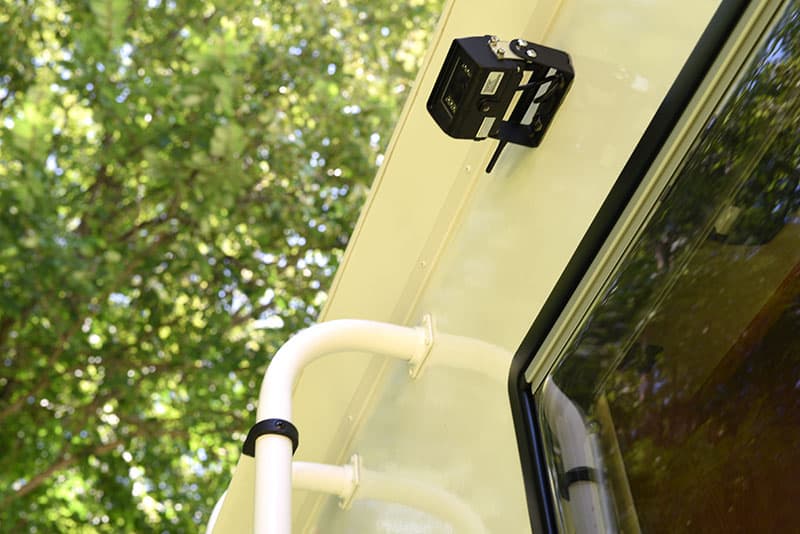 With fuel and wiring, we are going to add another 60 pounds for these two options for a total of 3,546 pound dry with option weight.  Let's put this number into our wet weight calculation, and re-calculate.
Northstar 12STC: dry weight, 3,546 pounds + 41 gallons fresh, 341.9 pounds + 4 gallon full hot water heater, 33.4 pounds + 2x 20-pound full propane tanks, 40 pounds + 2x battery, 130 pounds + stuff, 500 pounds = 4,591.3 pounds
Truck Recommendations
This is an easy one.  First, you need a one ton truck for the 12STC.  Three-quarter tons simply don't have the payload capacity.
Second, almost any late model one-ton dually truck will have the 4,591.3 pound payload capacity the fully-optioned 12STC requires.  You still need to check the "Tire and Loading Information" sticker on the truck before purchase, but it's doubtful you're going to have any issues with a dually.
The challenge will be if you're looking to put the 12STC on a single rear wheel one-ton.  While it's possible to get a one-ton single rear wheel truck with the payload capacity the 12STC requires, not every one-ton single-rear wheel has the required payload.  The reality is that 4,591.3 pounds of payload is pushing the very limits of what's currently possible in a one-ton single rear wheel.
On Ford's website we were able to build a 2018 Ford F350 XLT 4×4 Super Cab Long Bed single rear-wheel with 4,710 pounds of payload.  The build requires the 11,500 pound GVWR, and some careful package and option selection.  For example, I had to select a Super Cab as the most available payload for a Crew Cab is 4,400 pounds.  Choose your packages and options carefully.
If you do not currently have a truck, or are otherwise agnostic about what truck to get, I would strongly recommend a one-ton dually for the 12STC.  Not only will a dually provide the safest and strongest platform for the camper, but it will also give you the most options should you decide to change campers or tow something in the future.  If you already tow something, definitely go for a dually.
The Verdict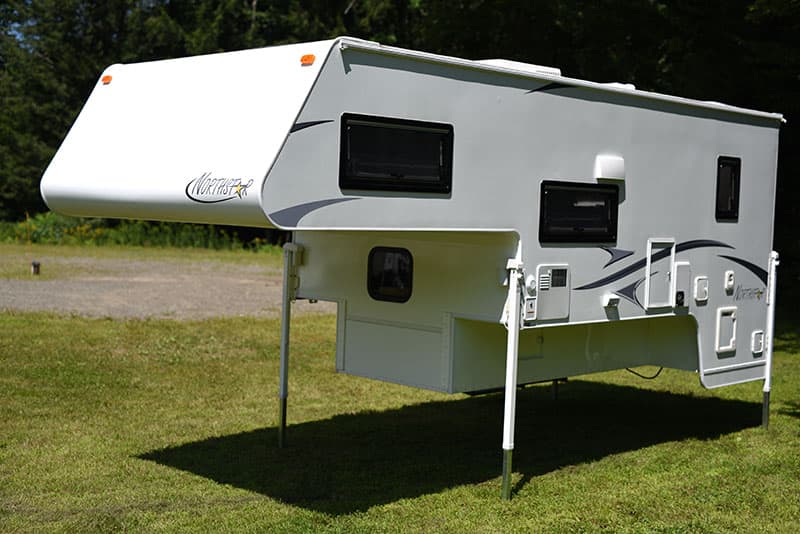 So much of what makes the Northstar 12STC an important camper is wrapped up in two nons; non-slide and non-basement.  As a non-slide, the 12STC is never going to have slide-out related weight, maintenance, or issues.  No slide out issues?  That alone will have a few slide-frazzed folks sign-up.
As a non-basement design, the 12STC doesn't have basement weight or height, helping to keep more rigs within payload, and under 11-feet tall.  That means you can worry less about truck maintenance and low tree limbs and bridges.  No slides.  No basement.  Less worries.
With a side entry, the 12STC is also a natural for anyone who likes to tow boats, trailers, and toys.  This ability is further aided by the relatively low weight of the 12STC, especially for a luxury flagship truck camper.  The three-foot overhang will require a long receiver extension, but that's what Torklift's SuperTruss Extension system was designed for.
Northstar also hit the ball out of the park with their new dry bath.  For the first time in years, Northstar customers have the option of a traditional flush toilet and black tank – or a cassette toilet system.  For some, the dry bath and flush toilet option will put Northstar back on their list of possibilities.  The dry bath is a knockout.
Most of my criticisms of the 12STC are nit picks that could – at least in theory – be easily changed.  For example, the heating vent and 110-volt outlet in the dry bath should be moved for improved comfort and ergonomics.  The thermostat should be moved further away from the main heating duct to reduce the possibility of hot and cold spots.  And the holding tank sizes could be better matched.
As a luxury flagship truck camper designed to compete with other luxury flagship campers, I would like to see more options for the 12STC's dinette seating area.  A full-booth dinette with a full-size table and more comfortable seating would be huge.  With a sofa recliner option, the 12STC would blow-up the notion that you need slide-outs to have a sofa recliner and dry bath.  A 12-foot camper with a dry bath and sofa recliner without the headaches associated with slide-outs?  Look out slide-out manufacturers!
The fit, finish, and overall material and build quality throughout the Northstar 12STC is truly excellent.  Northstar has always built a high quality product, but this was the best we've ever seen from the family-owned Iowa manufacturer.  Can a 12-foot luxury flagship truck camper succeed without a slide?  In the quality-focused and highly-experienced hands of Northstar Campers, absolutely.
Pros
Non-slide design avoids slide-out weight, maintenance, and potential issues
Non-basement design keeps the overall weight, height, and center of gravity down
Dry bath design is a total knock out – with an optional flush toilet, and a fan!
Huge kitchen area and sprawling kitchen counter sure to impress the chefs
Incredible amount of storage throughout the camper
Excellent fit, finish, and materials throughout the unit.  Excellent overall quality.
Cons
41-gallon fresh and 20-gallon grey tanks are mismatched
Thermostat is too close to the main heating vent – possibly creating hot and cold spots
Dinette seating could be more comfortable and the dinette table may be too small for some
Heating duct in the bathroom blows directly over the throne
110-volt outlet in the dry bath is mounted on the ceiling and could be a challenging reach
Toilet paper holder is possibly missing
Model Information
2017 Northstar 12STC
MSRP: $38,730
Warranty: Two-year structural warranty.  Individual appliances have their own warranties.
R.C. Willett Company, Inc.
Phone: 319-233-3461
Request A Northstar 12STC Brochure
Web: northstarcampers.com
Quality, Customer Service, and Long-Term Reliability
Truck Camper Magazine inspects all reviewed truck campers for design, material, and quality issues and reports what we find.  However, since Truck Camper Magazine reviews only brand new truck campers, our reviews do not address long-term quality, customer service, or reliability.
To learn about a brand's long-term quality, customer service, and reliability, Truck Camper Magazine recommends talking directly with truck camper owners at truck camper rallies and online via truck camper forums and truck camper owners groups.
Please be sure to balance your gathered feedback across multiple sources including direct correspondence with the truck camper manufacturers and your closest truck camper dealers.
If you are new to truck campers, start in the Newbie Corner.