Rex Willett, President of Northstar Campers, announces the Northstar 12STC, a 12-foot, non-slide, non-basement, side-entry, dry bath truck camper.  Here's how large truck camper design gets back to its roots.

Before everyone had computers in their pants, humans designed and manufactured some of the highest quality, best thought out, and most complex products and machines mankind has ever conceived.
No one needed an iPad to design a Chris Craft powerboat in the 1930s.  No one required a desktop PC to design the 1955 Mercedes-Benx 300SL Gullwing, or the 1962 Ferrari 250 GTO.  NASA didn't have SolidWorks when it designed the Mercury space capsule or the Saturn V rocket system.  These were products designed by the best and the brightest, working together with the tools they had or invented, and plenty of determination, blood, sweat, and tears.  No MacBook Pro necessary.
As designers, is it possible that we have become too enamored with the capabilities offered by the metal and glass objects in our pockets, on our laps, or staring back at us at on our desks?  Put another way, might some products – including truck campers – work better, offer more functionality, and give us more overall satisfaction if they were designed and developed the old fashioned way; teamwork, physical mock-ups, and real-world trial and error?
Rex Willett, President of Northstar Campers, sure thinks so.  Rex also believes the industry has moved too far from the time-tested and proven pre-slide-out truck camper designs of the late 1980s and 1990s.  In response, Northstar has developed the 12STC, a 12-foot, non-slide, side-entry, dry bath model set to put the entire truck camper industry on its ear.  If this camper sells, it will call into question much of what the industry has been pushing towards for the past fifteen years; basements, slide-outs, floor plans, and beyond.
To get the back story on this unique truck camper, we talked to Rex.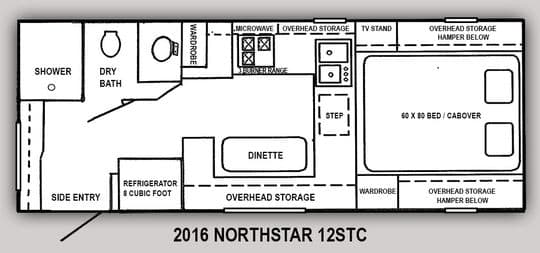 Above: Floorplan of the Northstar 12STC – click to enlarge
2016 Northstar 12STC Specifications:
The 2016 Northstar 12STC is a hard side, non-slide, dry bath camper made for long bed trucks.  The interior floor length of the Northstar 12STC is 12'0" and the interior height is 6'8″.  The Northstar 12STC has a 41 gallon fresh tank, 6 gallon hot water heater, 20 gallon grey tank, 13 gallon black tank or 4.5 gallon cassette tank with its own reservoir.  It can accommodate two group 31 batteries and has two twenty-pound exchangeable propane tanks.  The base weight of the Northstar 12STC is 3,176 pounds and the MSRP is $37,745.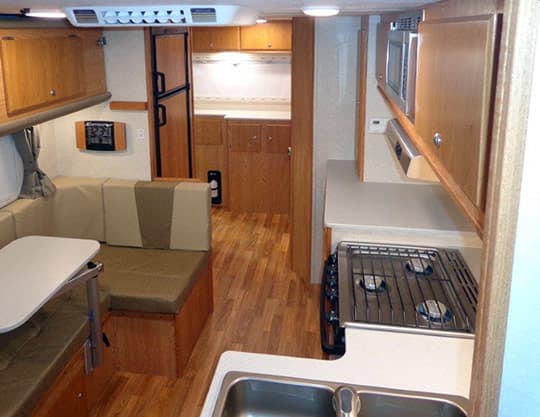 Above: The interior of the Northstar 12STC from the cabover back
TCM: The prevailing wisdom within the truck camper industry is that truck campers beyond 10-feet in floor length don't sell without a slide.  We have heard this from dozens of truck camper manufacturers and dealers over the years.  That said, how is it that Northstar Campers is announcing a 12-foot non-slide truck camper?
Rex: Bill Penney, Owner of Truck Camper Warehouse, has been the main driver of this camper.  He's been telling me for a few years that there's a need for a longer, side entry, non-slide truck camper; especially for the beach campers in the Northeast.  For example, you can't take a slide-out truck camper on the beach in Montauk, New York.  These folks want a big camper with big capacities, but they can't have a slide.
During design and development, I also sought out input from industry veterans who were active in the marketplace before slide-outs were introduced.  Bill Durkee was especially helpful with his experience and feedback.
I keep a library of old truck camper brochures and remembered a 12-foot side-door Real Lite truck camper from the 1980s.  At that time, the 12-foot non-slide Real Lite was the premier truck camper in the country.  That floor plan and others from that time period were referenced while designing the 12STC.
The truck camper industry has gotten away from its no-basement, no slide-out, roots.  With the 2016 Northstar 12STC, we're getting back to those roots, with a refreshed and modern approach.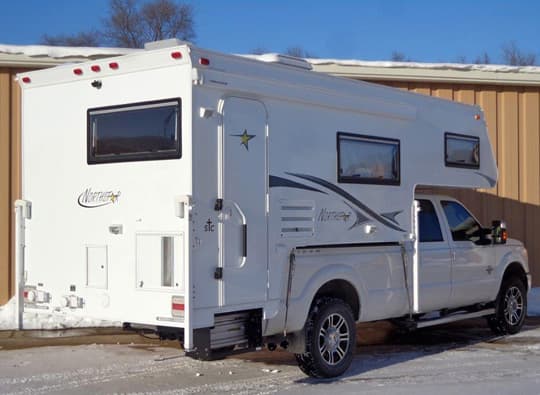 Above: The 12-foot floor length was needed for the side-entry and rear dry bath