Truck Camper Magazine reviews a 2017 Lance 975, a 10'4" hard side, full-wall slide-out, dry bath truck camper for one-ton dually trucks.  How does the 975 stack up in this highly competitive niche?  Let's find out.

Lance Campers debuted the Lance 975 in Truck Camper Magazine on March 30th, 2015.  For the debut article, Gary Conley, National Sales Manager for Lance Campers, stated that the 975 was designed to take on competitors with similar floor plans, but at a much lower weight.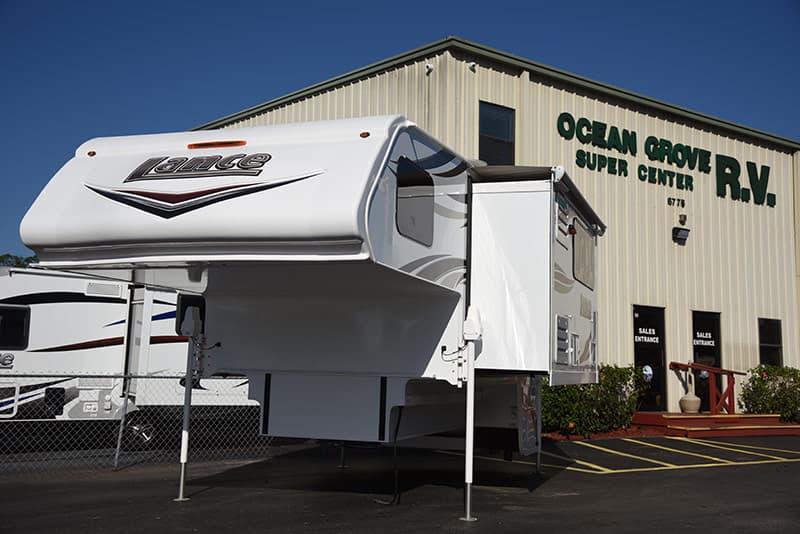 Above: We checked out the 2017 Lance 975 at Ocean Grove RV in St. Augustine, Florida
"The 975 will be competing with 5,000 pound truck campers in the truck camper marketplace.  The difference is, the Lance 975 weighs in at 3,330 pounds dry," explained Gary.  "That's the niche the 975 is targeting; dry bath, full-wall slide-out, and reasonable weight."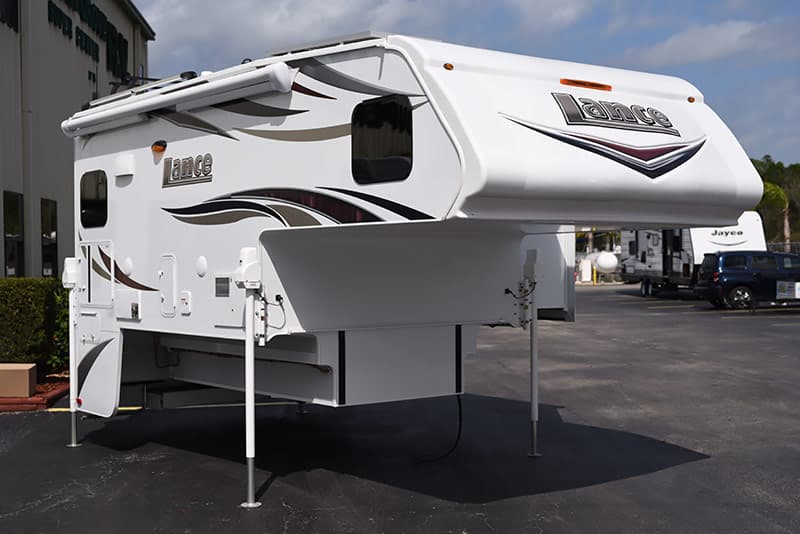 When asked about the weight of the 975 with standard build features, Gary added, "With standard build features, the weight is about 3,930 pounds.  That includes an optional generator, two power awnings, air conditioner, television, microwave, Fantastic Fan, battery separator, four-season insulation, and the Ultra Deck Plus bumper.  It also includes our standard thermal pane windows."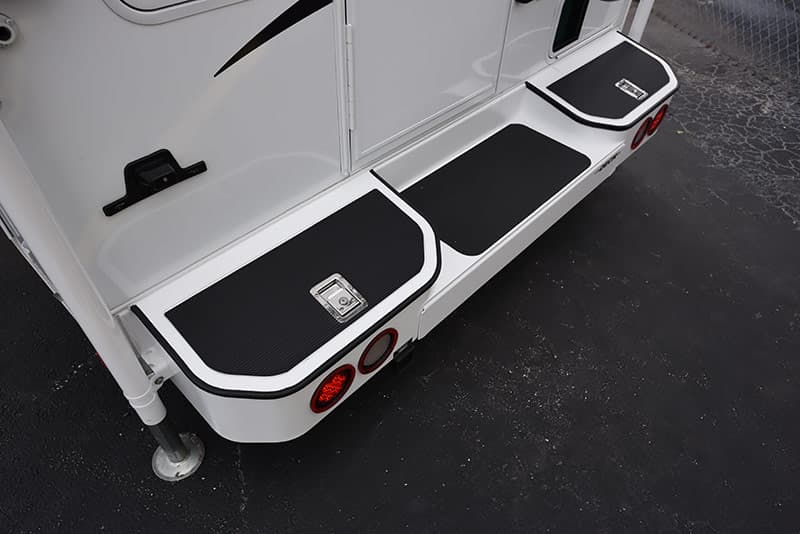 Above: The Torklift International Ultra Deck Plus bumper on the 2017 Lance 975 under review
As the debut interview unfolded, Lance's thinking behind the 975 became more clear.  In a nutshell, Lance was targeting a very competitive truck camper segment and bringing their full SolidWorks design, CNC construction, lightweight material technology, and 50+ years of truck camper manufacturing experience to the marketplace battlefield.
In doing so, Lance incorporated some of their greatest hits for the 975.  For example, Lance utilized the exact same dry bath found in their flagship 1172 double-slide, and essentially the same full-wall slide-out room design of 1172.  The 975 kitchen design came straight out of the Lance 855-S, Lance's flagship short bed truck camper.
Putting the dry bath mid-ship allowed Lance to employ another flagship design detail, an insulated rear skirt service center compartment with low water drains, battery disconnect, dump valves, and exterior shower.  "Forward bath designs, like the 1172 and 975, make service compartments possible," explained Gary.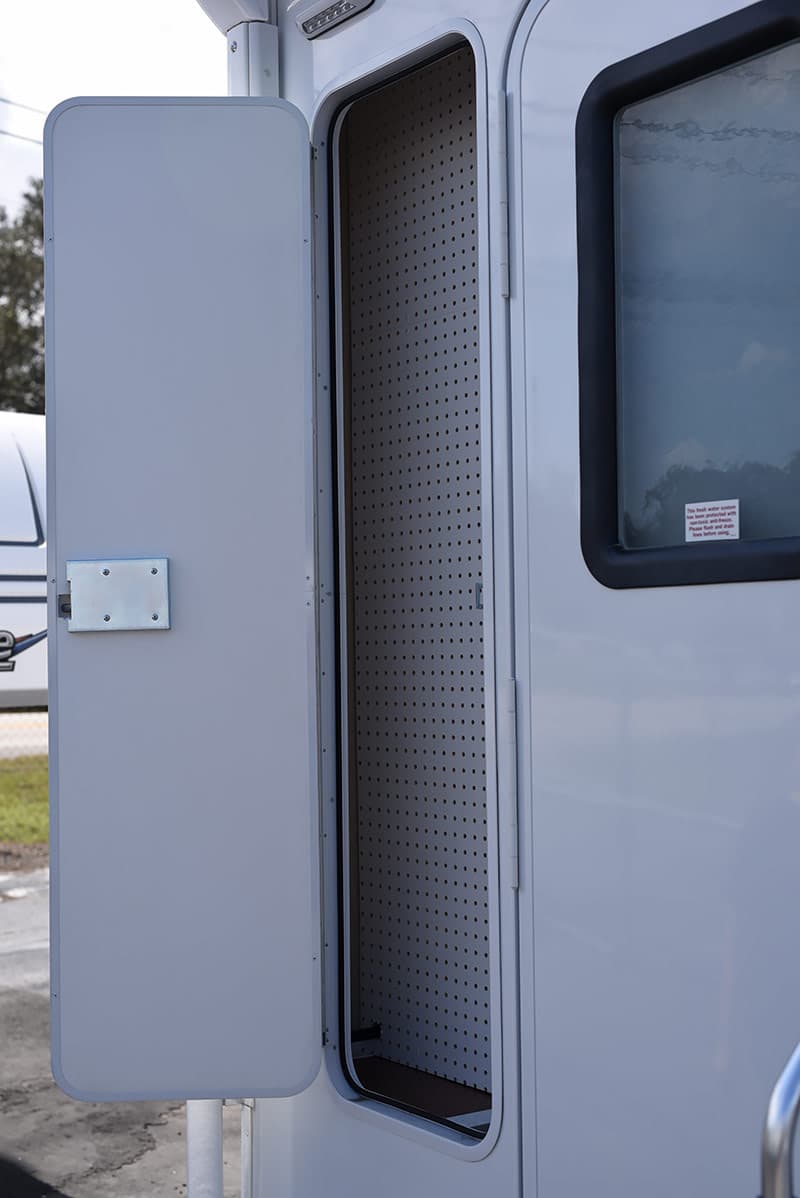 Above: The Lance 975's unique Lance Locker exterior storage area
Beyond the chart toppers, Lance added a number of clever details to the 975.  Stand outs include the Lance Locker exterior storage area, a rear window in the slide-out, and the hide-a-way trash can in the entry door area.  Other Lance details abound including a one-piece TPO front nose, 80-inch tall entry door, and a heated exterior winterization compartment.
One feature that was omitted from the 975 design was the dinette bunk.  Gary explained, "Most of our customers use the dinette bunks for storage, not a place for children to sleep.  In the 975, we added a significant amount of exterior and interior storage to off-set the removed bunk.  For the trade-off, the 975 gains the rear slide window and a feeling of openness customers will recognize immediately."
After two years of steady production and sales, it's clear that the 975 is no one-hit wonder, but how does it stand up to serious scrutiny in 2017?
Lance Versus Lance
Perhaps the most interesting direct competition to the Lance 975 comes from another Lance, the Lance 995.  Both are hard-side, full-wall slide truck campers with only five floor length inches separating the two models (the 975 is 5-inches longer).
The 975 and 995 also share nearly exactly the same capacities; 45 fresh, 30 grey, 28 black (26 on the 975), two 20-pound propane tanks, and two batteries.  Lance even reports the base dry weights of the two campers are only 40 pounds different (the 995 being lighter).
Oh, did I mention the 975 and 995 have exactly the same base MSRP; $35,119?  It's Lance versus Lance – just as Lance Campers wants it.
Once you get past the identical (or nearly identical) MSRP, capacities, and floor length, the similarities between these two Lance Campers ends in three simple but significant ways.
First, where the 975 slide is located on the driver's side, the 995 slide is located on the passenger's side.  Second, where the 975 has a mid-dry bath, the 995 is a rear-wet bath.  And third, the 975 has a smaller rear-kitchen and the 995 has a larger mid-kitchen.
The result of reversing the slide's sides, reversing the bathroom locations, and changing from a wet bath to a dry bath is immediately evident when entering these campers.  It's very likely that you will instantly prefer one or the other for its layout and feature locations.  And that will be that.
The main point here is to consider the 995 if you're looking at the 975.  On paper they're more similar than different.  In person, one will probably be more right for you than the other.
Floor Plan Evaluation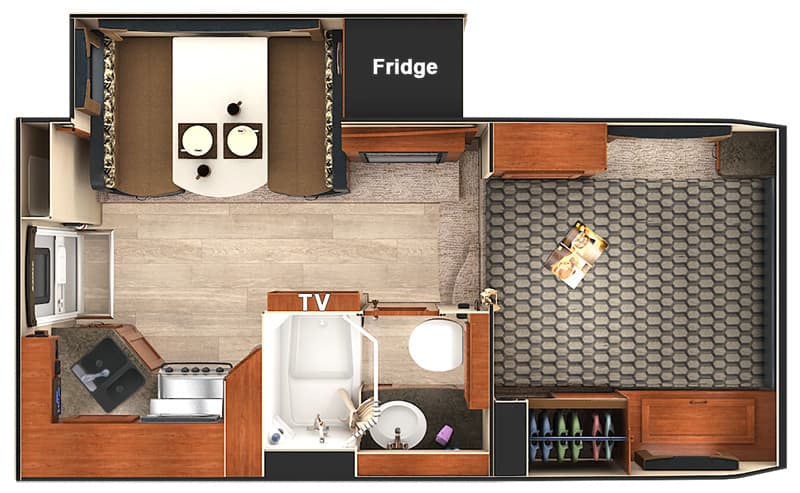 The first thing we noticed when we walked into the 975 was the hide-a-way trash can in the entry door area.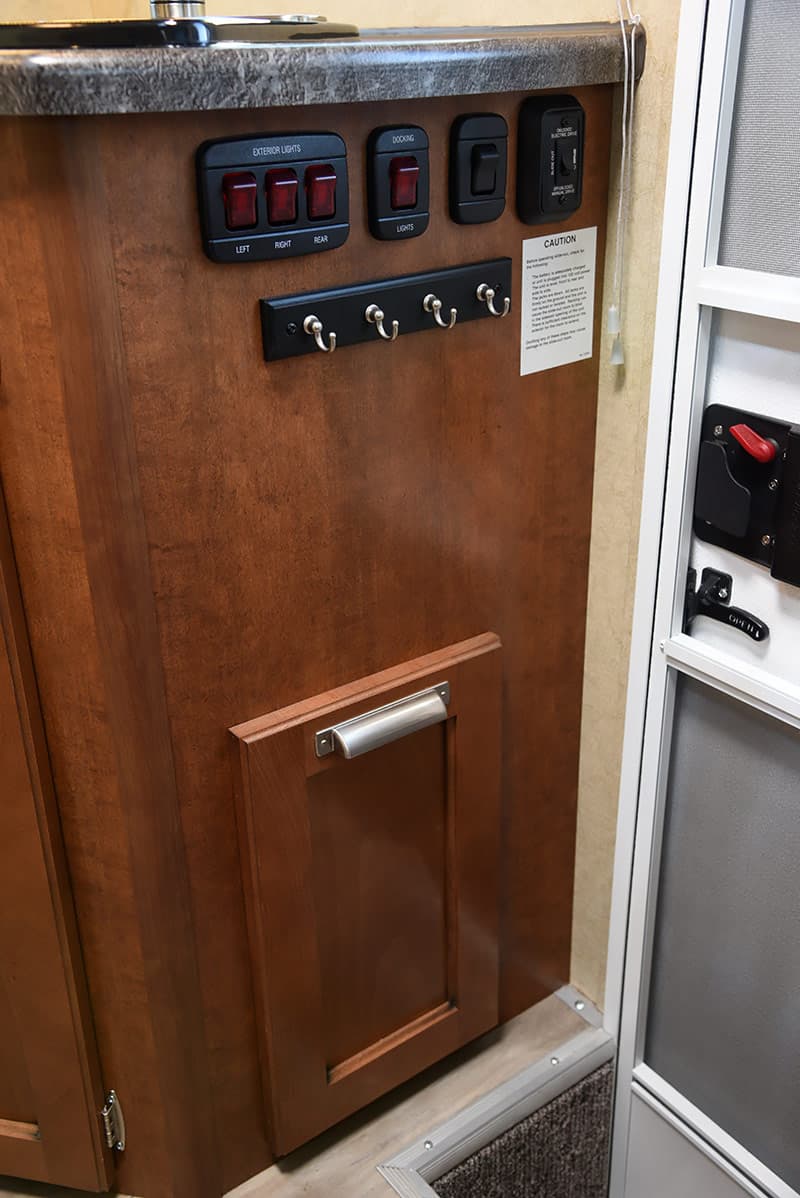 When Lance initially announced their trash can cabinet in the 2015 Lance 995, it struck us as a funny feature for Lance to be promoting.  A dedicated trash can cabinet was supposed to be exciting?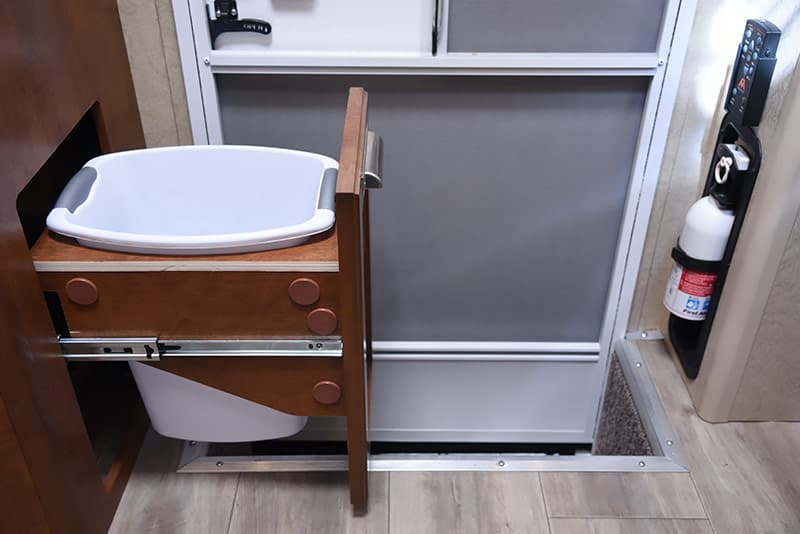 But the more we thought about it, the more it made sense.  In our current camper, we have a place for a similarly-sized trash can under our kitchen sink.  Having an honest to goodness trash can located in a dedicated cabinet area has been fantastic.  It sure beats what we did in the past; tie a plastic grocery store bag to the oven door handle.  That worked, but having a trash can inside a cabinet is much, much better.
Having the Lance Can (my name for it) located immediately inside the entry door also allows for Husband of the Year contenders – like myself – to quickly access the trash from inside or outside the unit for easy disposal.  Just make sure your wife sees you do this, or it doesn't count.
The Lance Can in the 975 is fully inset into the existing lower kitchen cabinetry.  This space might have otherwise been wasted, but now it's being used for, wait for it… waste!  This is the kind of clever storage area discovery we normally see in our monthly mod contest.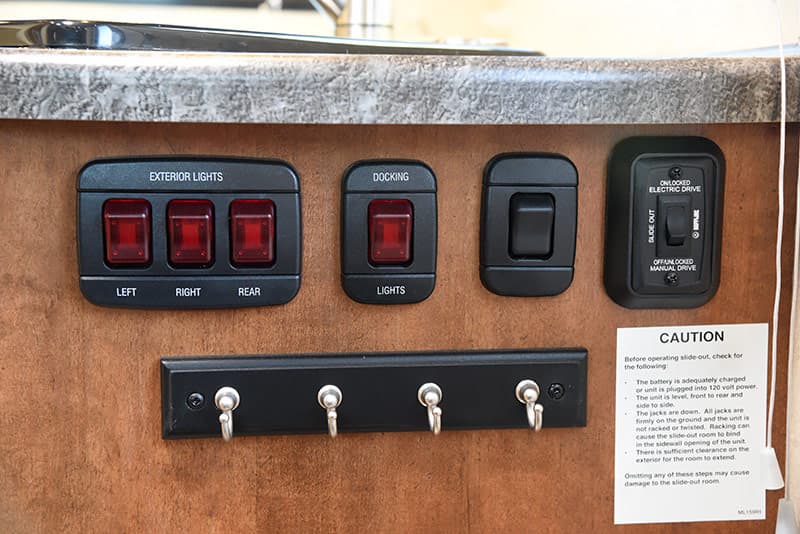 Lance Camper also placed key hooks, light switches, a fire extinguisher, and a jack remote pouch within quick reach of the rear entry door.  All of these items seem appropriately placed for convenience and simplicity.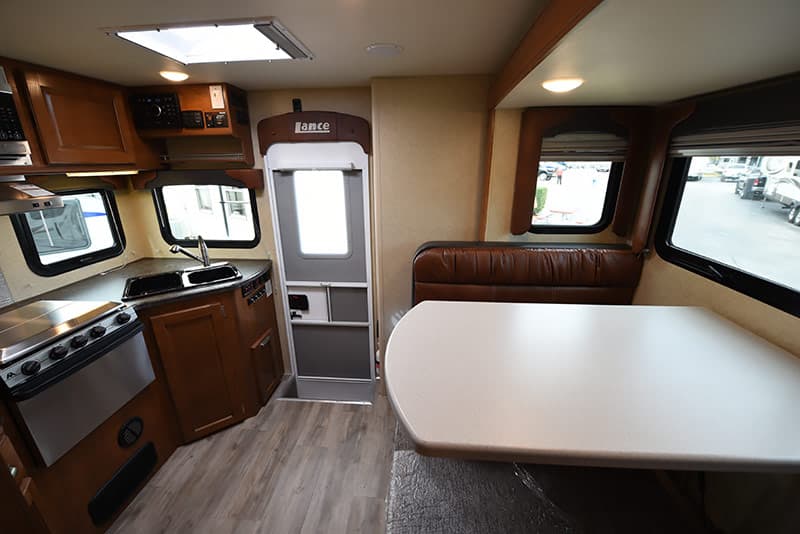 Standing at the mid-bath and looking towards the rear of the camper, the windows in the 975 present an almost panoramic view of the outside.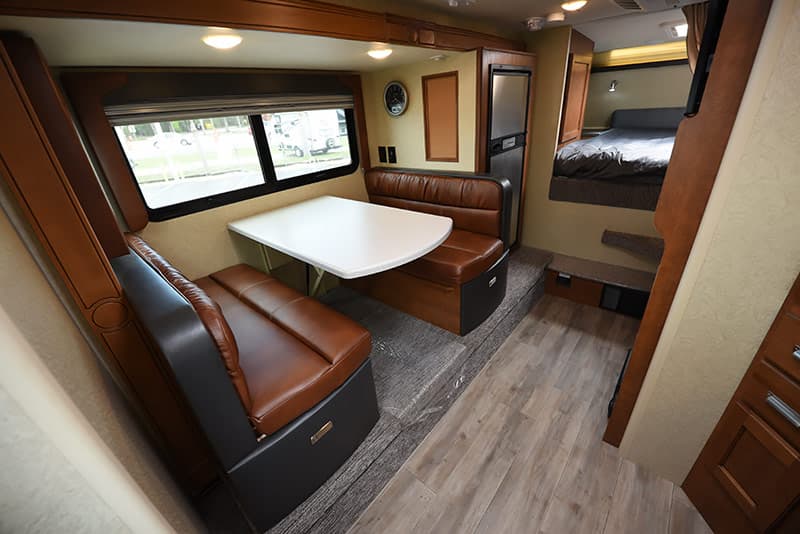 With the slide-out fully-extended, the main living area feels open and spacious with plenty of passing room for two adults.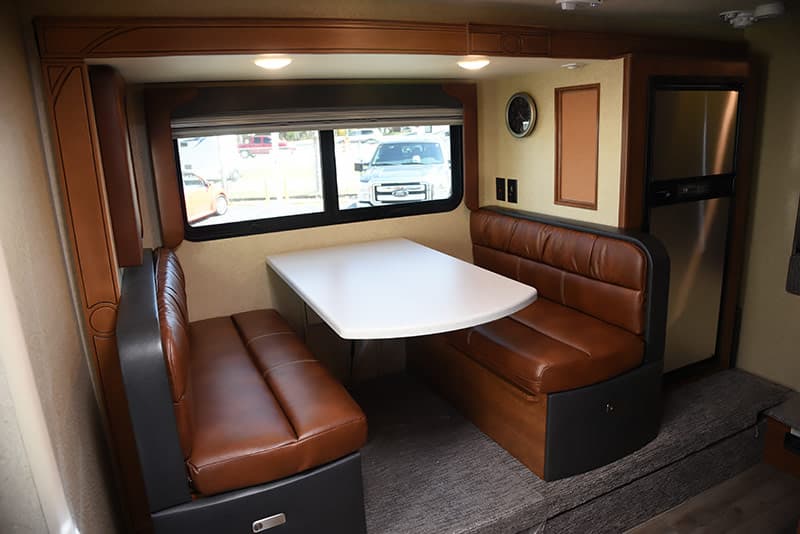 The dinette and table also feel full-sized to accommodate four adults for dinner, map discussions, or a fiercely competitive domino game of Chicken Foot or Mexican Train.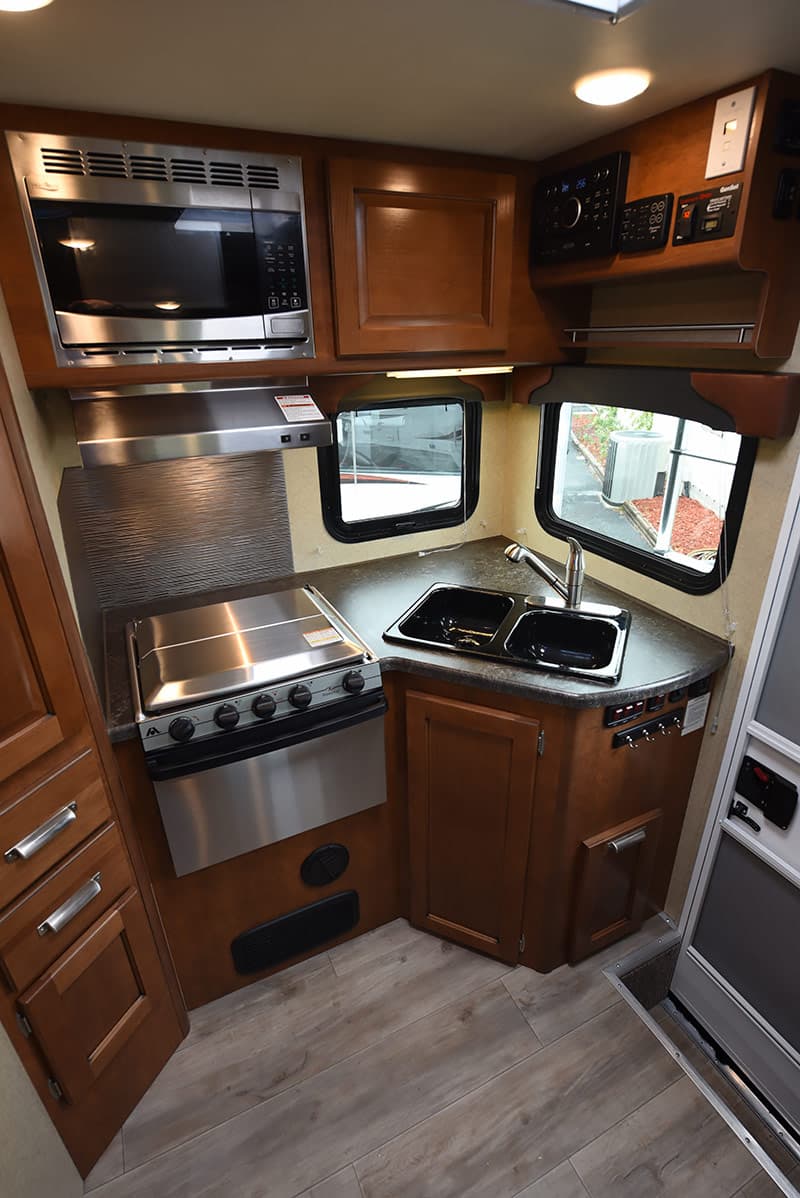 With two windows, a skylight, and plenty of ceiling and under cabinet LED lighting on tap, the kitchen in the 975 is bright, warm, and inviting.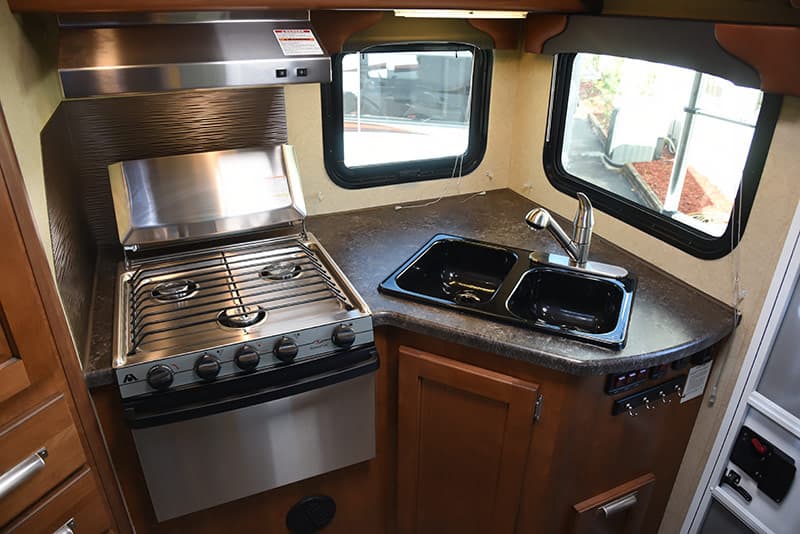 When we debuted the Lance 975, we had feedback from readers who were disappointed with the limited kitchen counter space.  As stated in the introduction, Lance Campers confirmed that the counter top in the 975 is identical to the counter top in the short bed Lance 855-S, a camper we auditioned for the better part of a year.
At first blush, it seems odd that a 10'4" long bed truck camper would have the same amount of counter space as a 8'11" short bed truck camper.  Then again, the 975 offers a dry bath, a lot more storage, a larger dinette, and more of just about everything.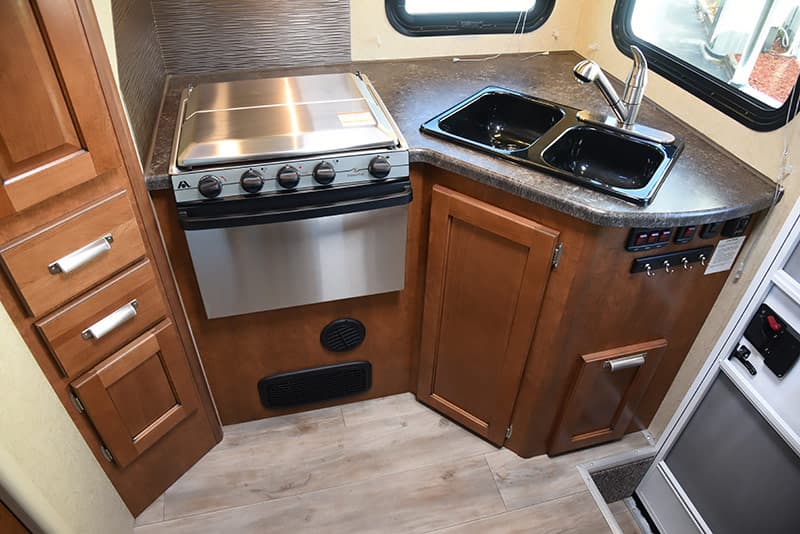 Had Lance made the 975 camper an 11-foot floor plan (or longer), it could have had a larger kitchen counter.  It would also have weighed more, cost more, and required a longer tow extension.  Gary Conley, National Sales Manager for Lance Campers, is famous for saying, "Everything in a truck camper is a trade off".
We were fine with the available counter space in the 855-S, but we're not gourmet cooks at home, or on the road.  If you're considering the 975 or the 855-S and you need more space to prepare meals, you could utilize the close by full-booth dinette table.  If the dinette table is too far from the kitchen, put the slide in.
If that's doesn't work for you, look elsewhere.  For about the same length and weight, Lance offers the 995 with a significantly larger kitchen counter, but you lose the dry bath (cue Gary).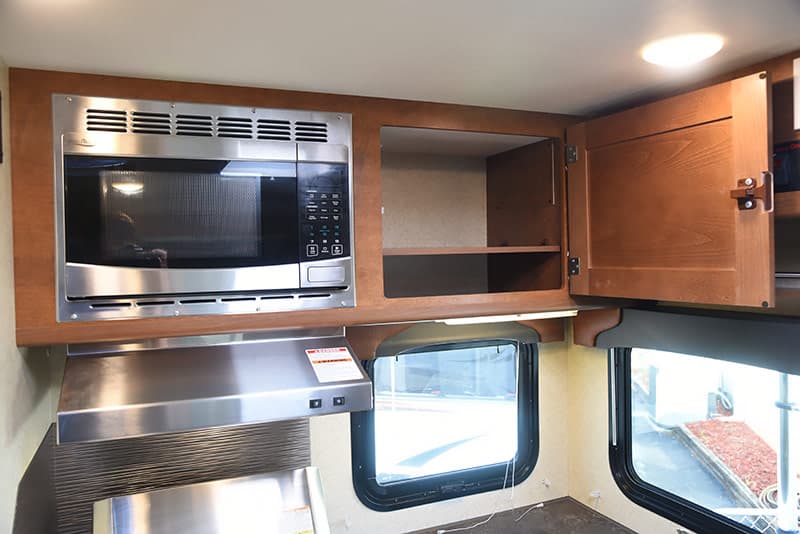 As on the Lance 855-S, the optional microwave takes up half the possible upper cabinet space.  Put another way, if you don't opt for the microwave, you get a second upper cabinet for dry food, dishes, and other kitchen items.
Some folks can't live without a microwave on the road while others end up using their microwave more for storage than as a food heating device.  We haven't had a microwave in our camper for over two years, and don't miss it.  It's a great option either way.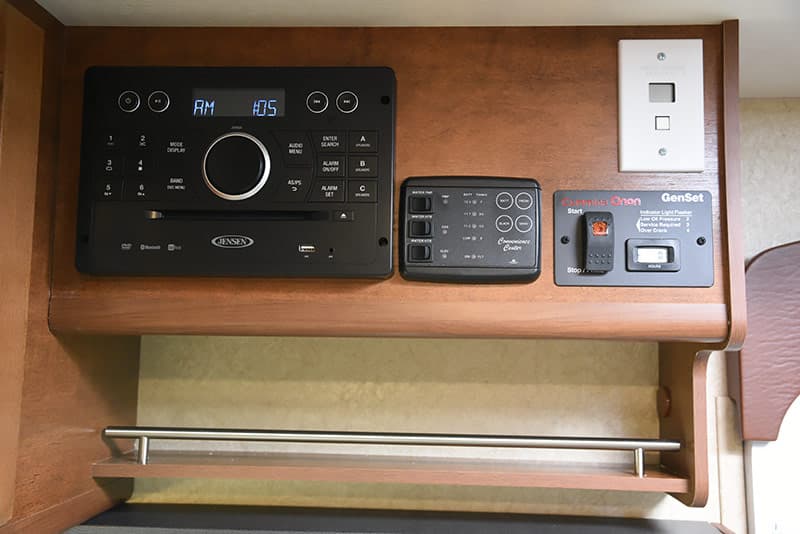 Lance has collected a number of critical electronics on the passenger's side rear wall of the camper.  Left to right there's the Jensen audio-video system, tank monitors, optional built-in generator control, and optional Winegard DM-4000 automatic satellite antenna sensor.
This is the perfect location for the tank monitor and generator control.  When you're in the kitchen, dinette, or just the main living area of the camper, you can quickly check the tank and battery levels, and control the generator.
What I'm not sure about is the location of the Jensen audio-video system and satellite antenna sensor being several feet away from the mid-ship television location.  Ideally these items would be close together, but that might not have been possible with this floor plan.  Lance is welcome chime in on why the audio-video and television items are not located together.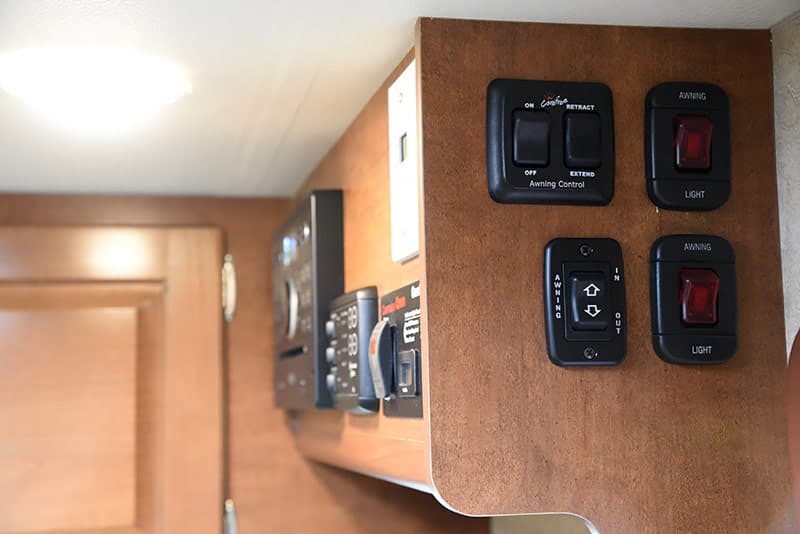 Just around the corner on the same cabinet Lance has placed the extend and retract switches and lighting for the optional 12-foot side and 7-foot rear power awnings.  The location of these switches by the entry door is perfect.
At the push of a rocker switch, the optional rear and passenger's side power awnings automatically stretch and roll out.  These power awnings go out impressively far and fast.  Owners will need to pay attention to avoid accidentally knocking into a nearby camper or tree.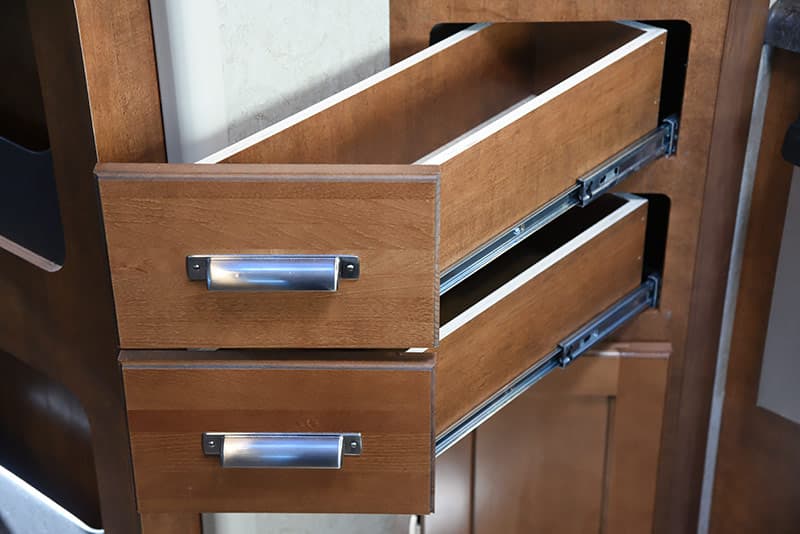 When the 975 debuted, I wondered about the practicality of the sharply angled drawers in the kitchen area.  While I greatly admire the ingenuity that went into designing and building these unique drawers, I am still unsure as to how useful they would be.
The drawers appear to be too narrow for a standard silverware container, an obvious application for one of these drawers.  On balance, I would always prefer storage opportunities to non-storage opportunities.  Oddly shaped drawers beat no drawers any day.  It's also very possible that these drawers could be more useful and adaptable than they appear.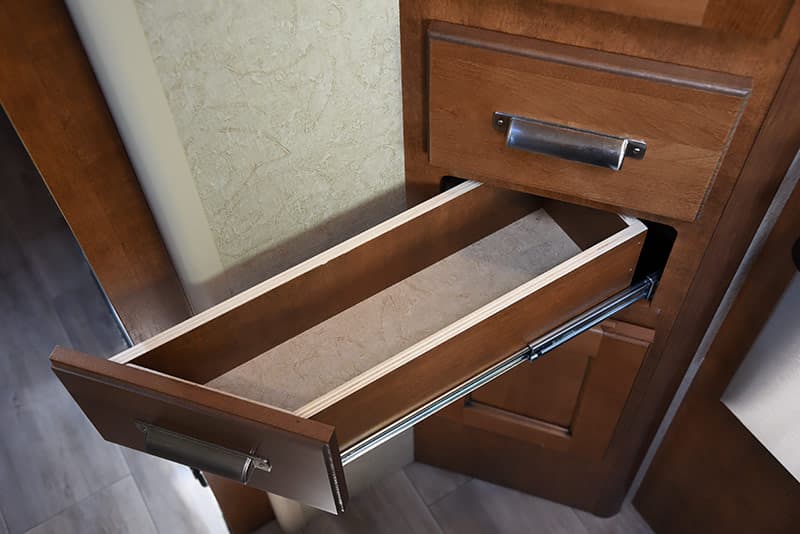 To Lance I issue the following challenge; photograph these drawers with common silverware, utensils, and other kitchen area tools and show us how you envision using these drawers.  We will promptly publish the photos, link to them from this review, and eat our electron words.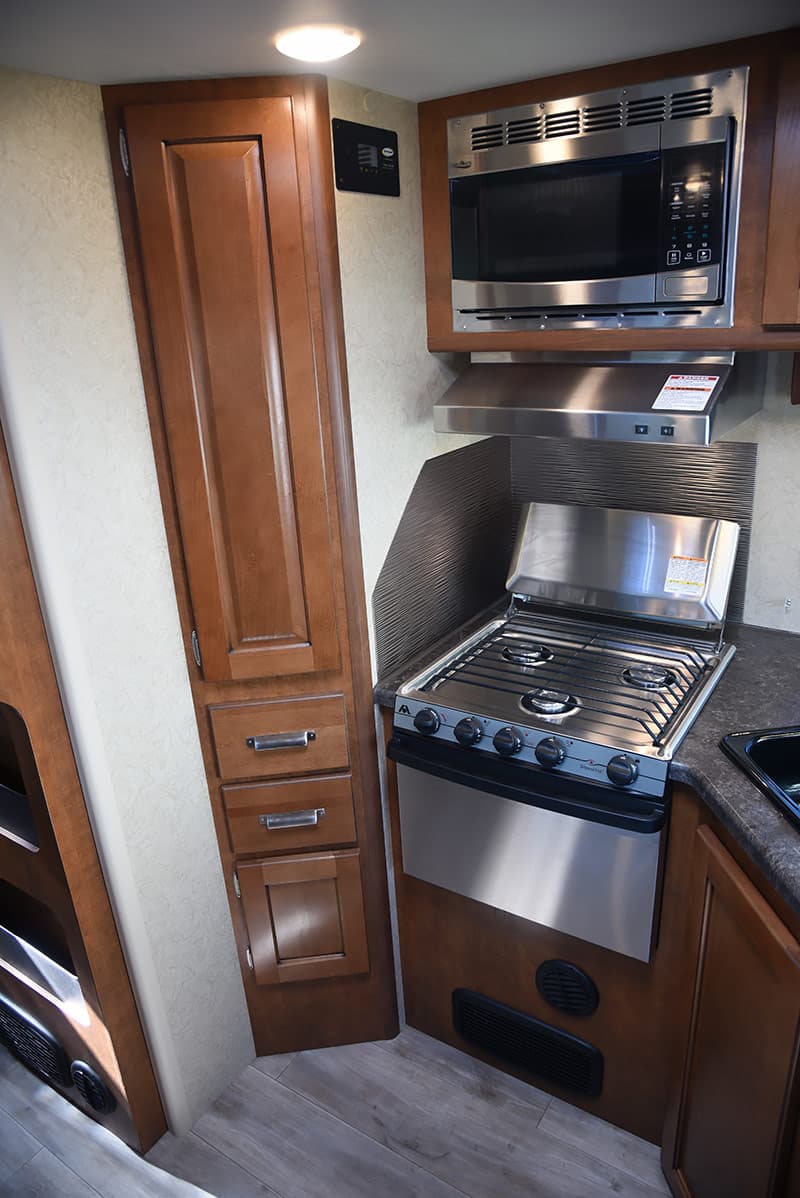 On a more positive note, there are cabinets both above and below the angled drawers.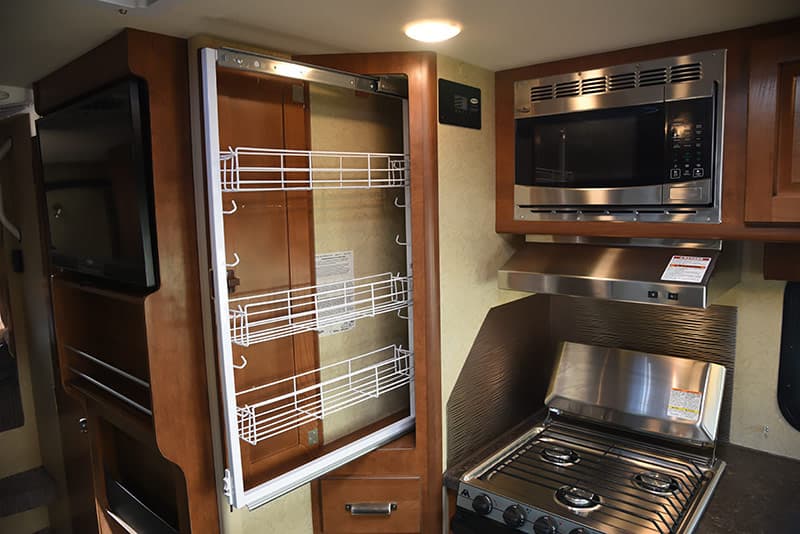 The top cabinet contains a pull-out pantry which is practically the epitome of usable space.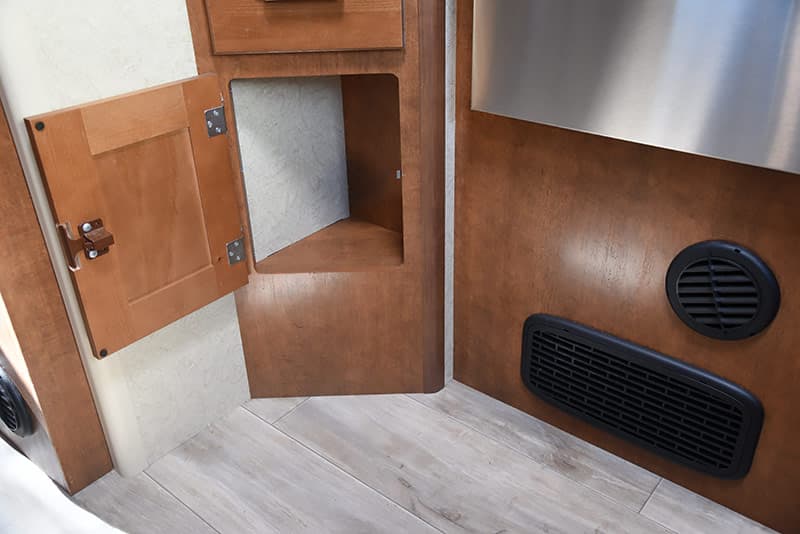 The lower cabinet is a small, but welcome, storage nook.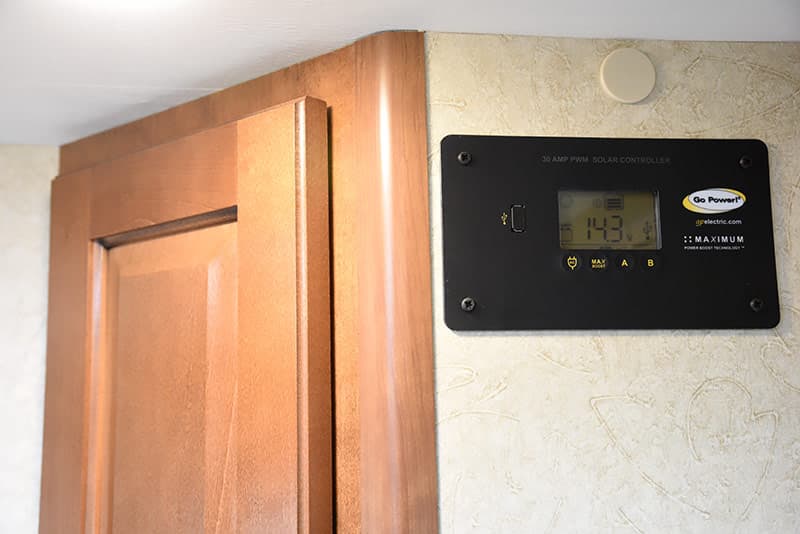 Having lived with solar power on various truck campers over the past five years, I can't imagine going back.  Lance's optional 95-watt Go Power should be considered mandatory as it not only gives more off-grid camping options, but also keeps your house batteries fresh during storage.  In fact, we would want a second 95-watt panel.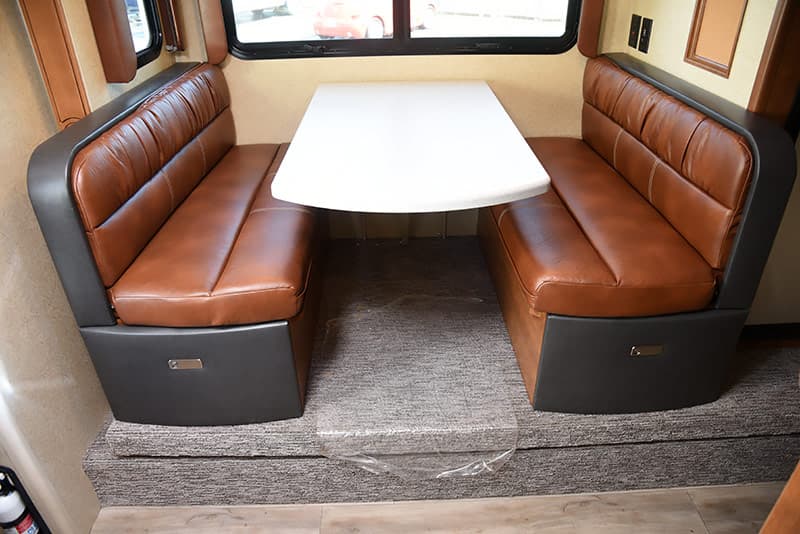 Angela and I vividly remember the first time we saw a Lance 1181 in February of 2005 at a RV show in Chantilly, Virginia.  That was the first year of Lance's "Max" series and the full-wall slide, jaw-dropping floor space, full-booth dinette, and enormous dry bath knocked us (and everyone else who saw it at that show) totally and completely out.
With nearly the same floor plan, the full booth dinette in the 975 brings back some of that awe.  With 12 years of refinement into every facet, the dinette is inviting, comfortable, and functional.  I bet this layout is still knocking people out at RV shows to this day.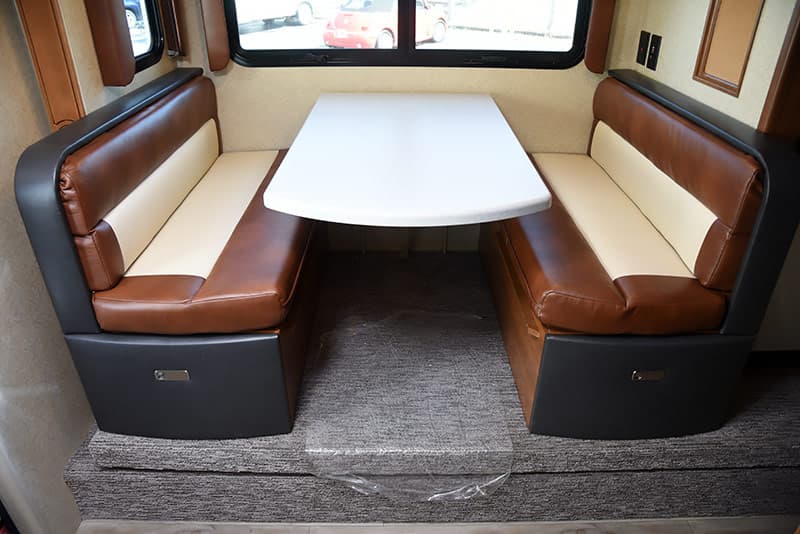 For 2015, Lance introduced reversible cushions for its dinette seating.  This allows the owner to literally flip the upper and lower cushions to select between two different fabric and color combinations.  As you can see in the photos above, the two choices make a big change to the interior look.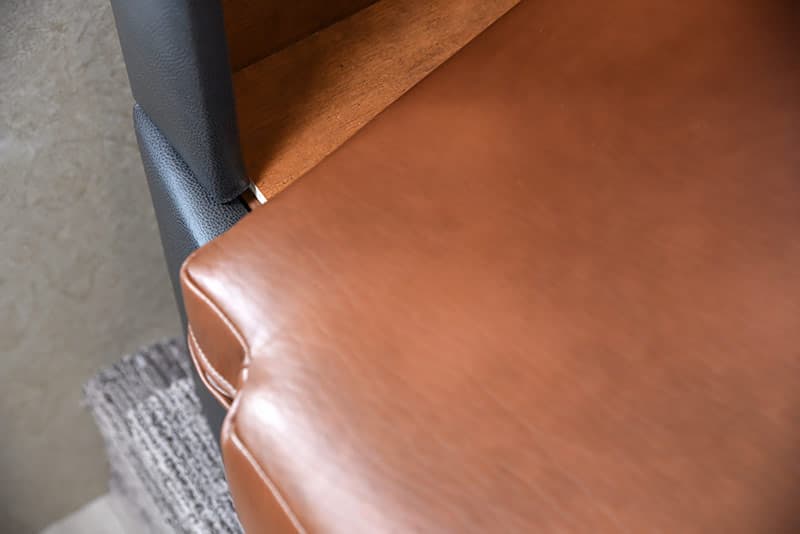 The quality of the fabric and stitching is the same on both sides, and appeared to be much stronger and more durable than the cushions we had in a 2008 Lance 1055 that pulled apart at the seams after a few months of regular use.  At this point, Lance has one of the most comfortable and attractive full-booth dinettes in the truck camper market; both in cushions and in ergonomic design.
When we converted the 975 dinette into a bed, we admired the tight fit the cushions had to the structure of the dinette.  In the photo above you can see the notch Lance has designed into the lower seat cushion to keep the cushion firmly in place.  The upper cushion also fits tight into the dinette seat back.  We literally had to whack the cushions into position.  No more wandering seat cushions here.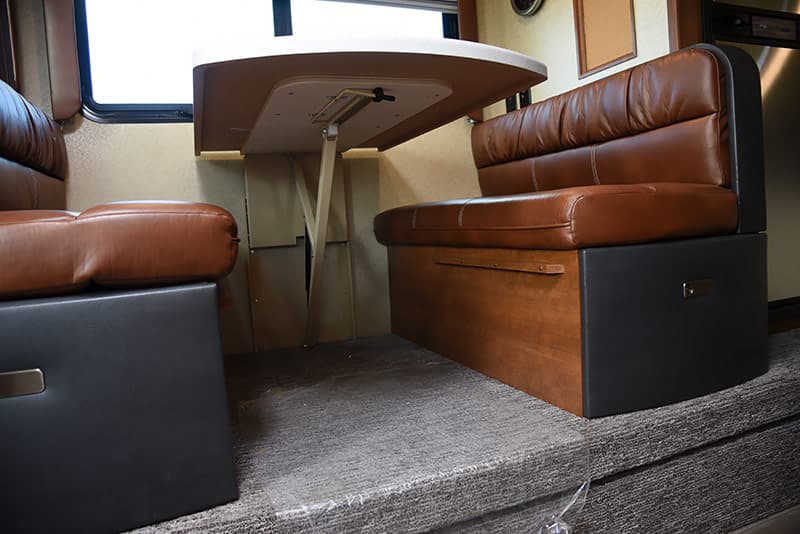 The Dream Dinette table makes quick work of converting the dinette into a full-size bed for an adult, or two.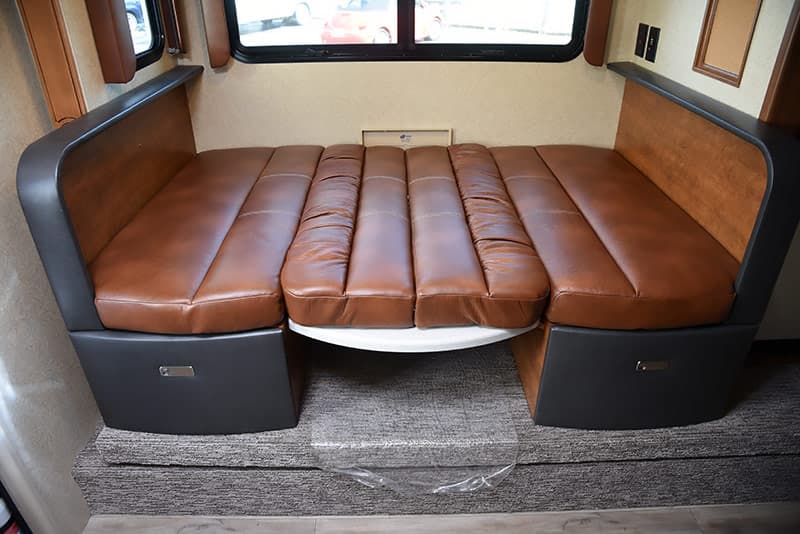 Honestly, I don't know what Lance could do better here.  Some folks might prefer a U-shape dinette, or two recliner chairs, or a sofa, but this full-booth dinette and its quick bed conversion should more than satisfy most consumers.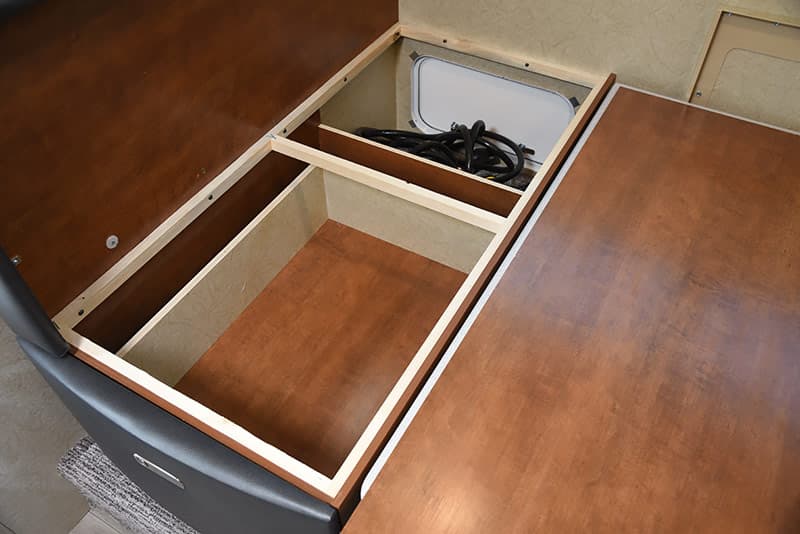 While photographing the dinette, we noticed the hardwood seat panels had finger holes.  Upon lifting the panels we discovered access to the interior dinette storage drawers and exterior storage compartment area.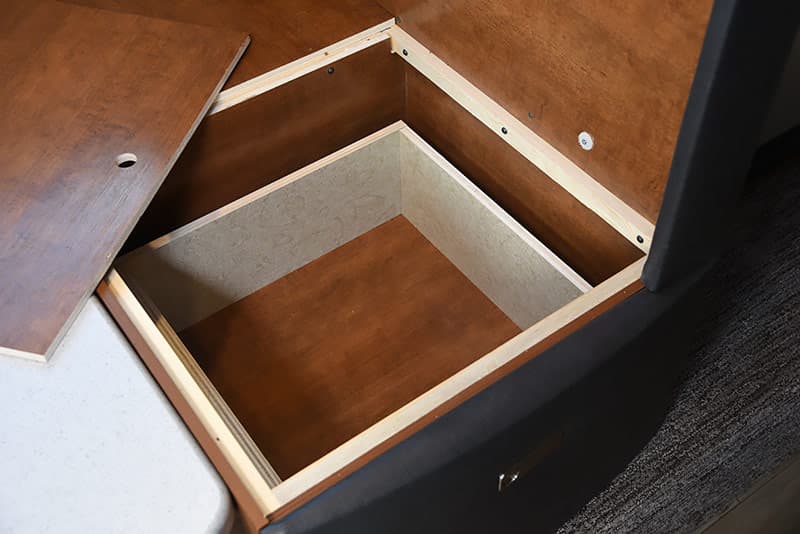 All of this under-butt access is extremely welcome.  Maybe you need to get something from your exterior compartment while inside the camper?  Perhaps something fell out and behind a dinette drawer?  Lift a panel, get it, and move on.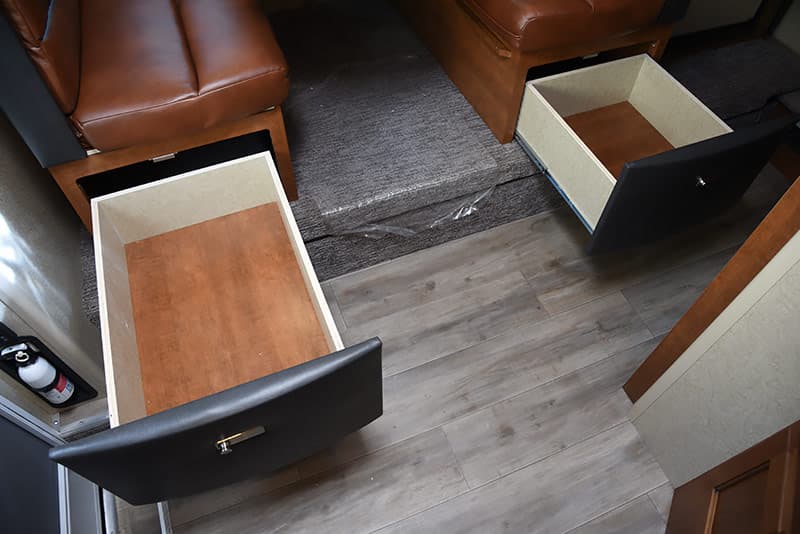 A few items around the dinette require mentioning.  First, the drawers (shown above fully extended) have button latches that click to lock and unlock for transport.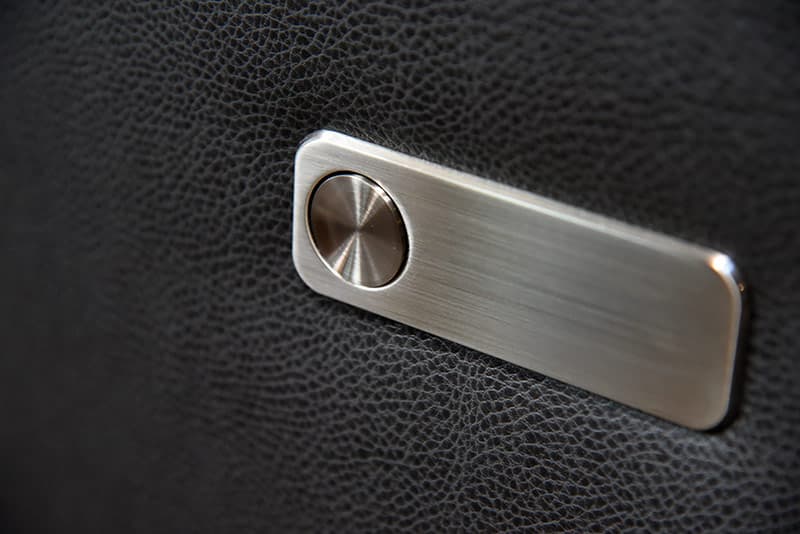 Here the button latch is clicked into locked position.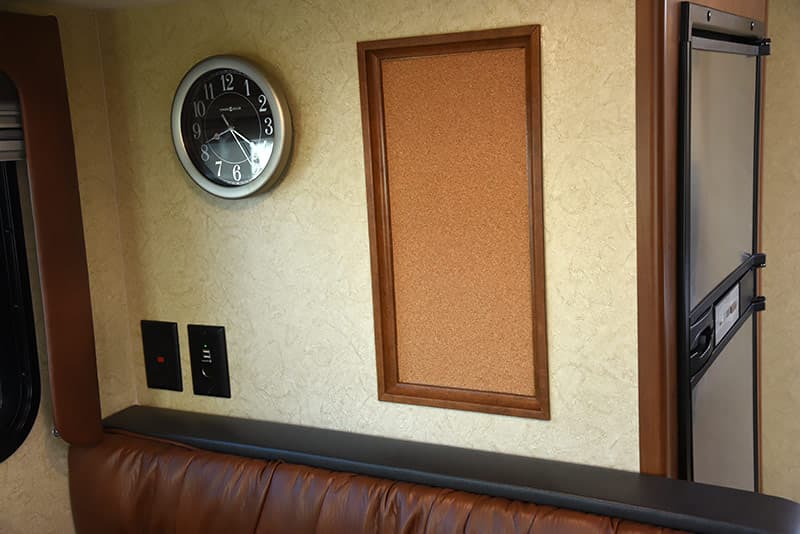 Second, Lance Campers has put a 110-volt, 12-volt, and USB outlets right where they should be; immediately behind a dinette seat.  Very few of us are far from a smartphone, tablet, computer, or camera that needs to be charged making these outlets a highly appreciated feature.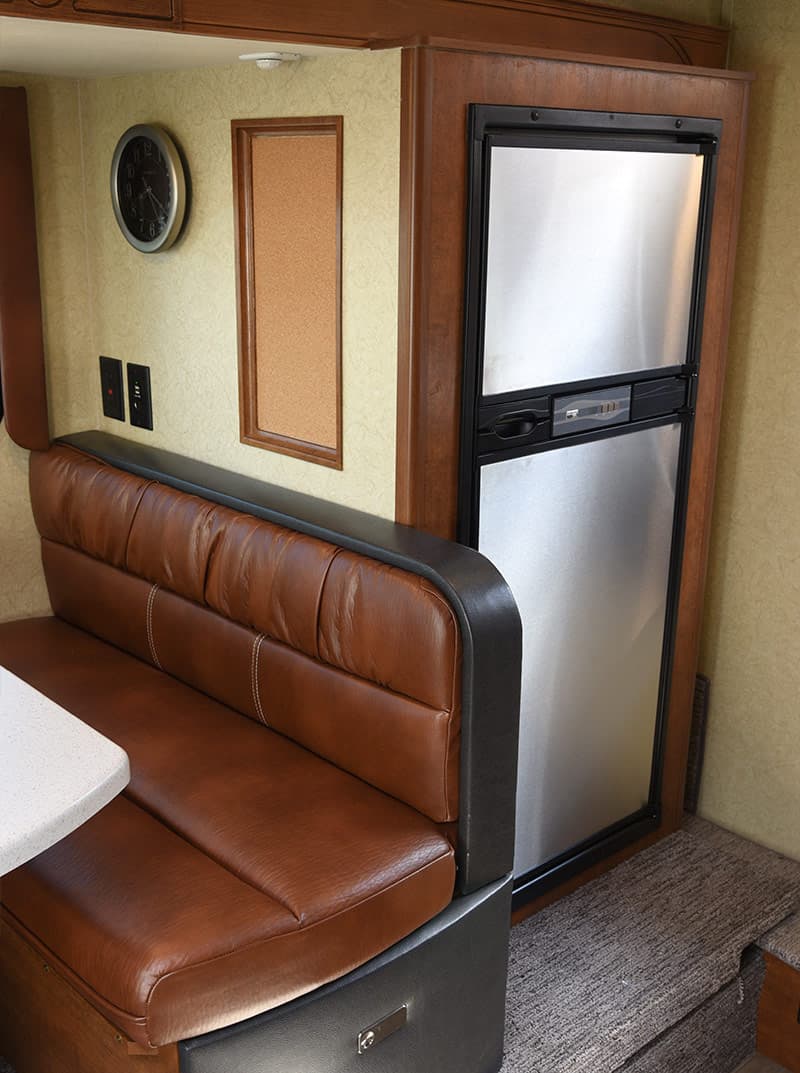 Above these outlets is an analog clock (how retro) and an inset cork board.  We have a clock in our camper dinette and it's a useful glance several times a day.  The cork board is neat, and the perfect place for a Truck Camper Magazine calendar, but I wonder how it will look a few years from now.  At a minimum, it will have a constellation of tack holes.
Ideally, this board would have reversible options like the dinette seating; perhaps cork board on one side, picture frame on the other.  And maybe a magnetic white board would be more useful and longer lasting than a cork board.  I love the idea of using wall space that was previously blank, but give us options.
I can see our white board now, "Angela, I've gone to the flea market to look for LP records.  If I don't return, just wait longer.  Love, Gordon"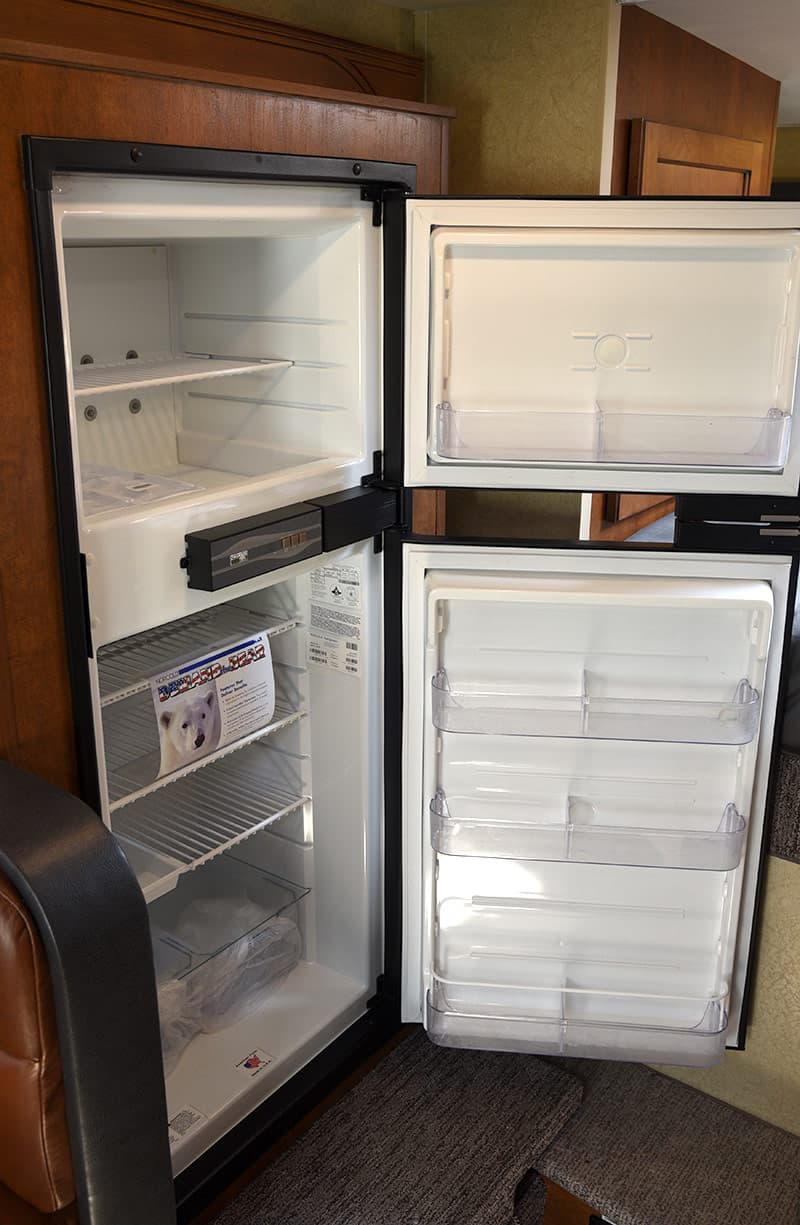 The 2017 Lance 975 comes standard with a 6-cubic foot three-way Norcold refrigerator.  Having used 6-cubic foot refrigerators while on the road for months at a time, this is plenty of cold food (and beer) storage for a week, or more.
While I love the floor space opened up by putting the refrigerator on the slide, installing RV refrigerators on slides requires the use of side ventilation and fans (as opposed to roof ventilation and no fans).  To be fair, not everyone would hear it, or care.  However, if you are a light sleeper, fan noise is something to be aware of with any slide-mounted refrigerator.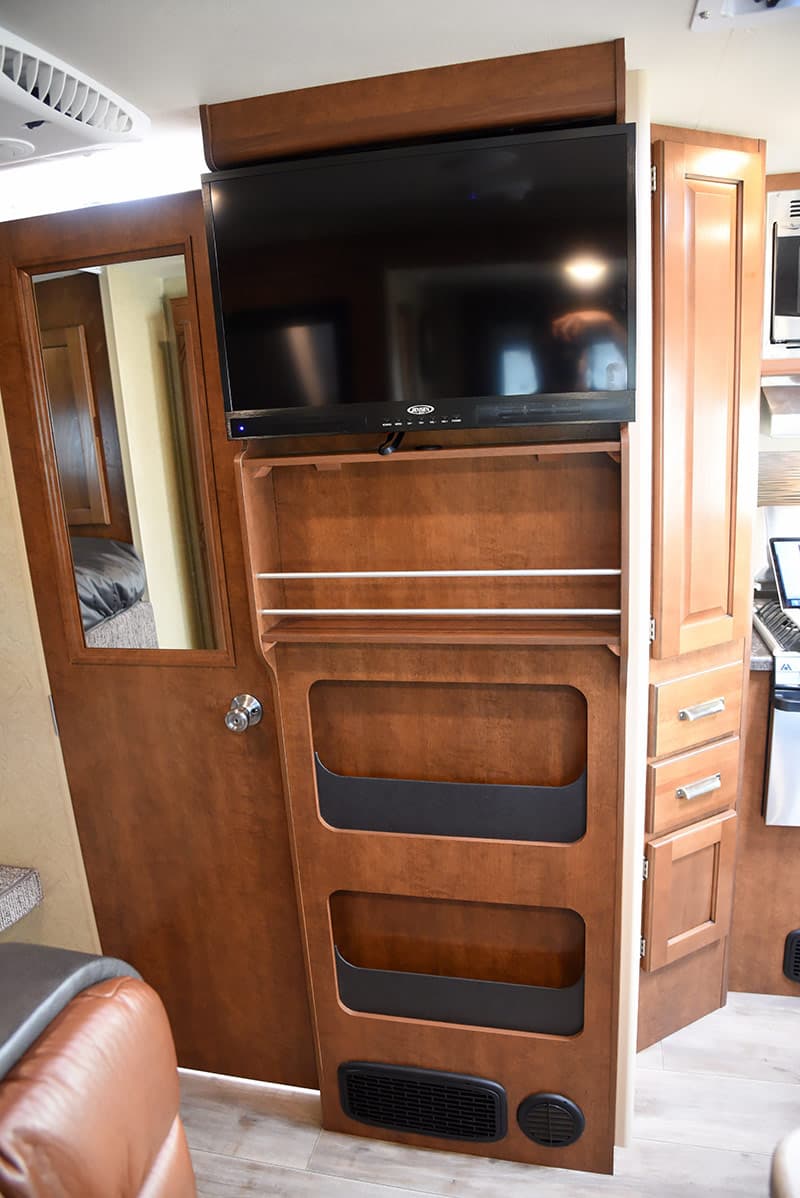 Lance Campers has been using computer aided design for well over a decade.  With a half-dozen or more staffed SolidWorks stations, the Lance team is getting deeper and deeper into the possibilities of computer aided design (CAD) and CNC routers.  Evidence of this approach is simply everywhere on a Lance Camper; inside, outside, and behind every exterior compartment and interior cabinet door.
On what was once a blank wall section for the bathroom, Lance has unleashed its SolidWorks and CNC powers to create a beautiful six-foot tall television and multi-level storage solution.  And look, it incorporates a heat vent and intake at its base.  The Lance design team clearly put some serious time into this concept, and worried through every curve and detail.
And this is no useless art work.  I can see a Road Atlas finding a home.  I can see Angela's never-ending collection of travel brochures making a hopefully short-lived stop.  We might keep our DVD movie binders here.  In other words, this space would get used, and used often.  The convenient proximity to the dinette would also be a big plus and help keep the dinette uncluttered.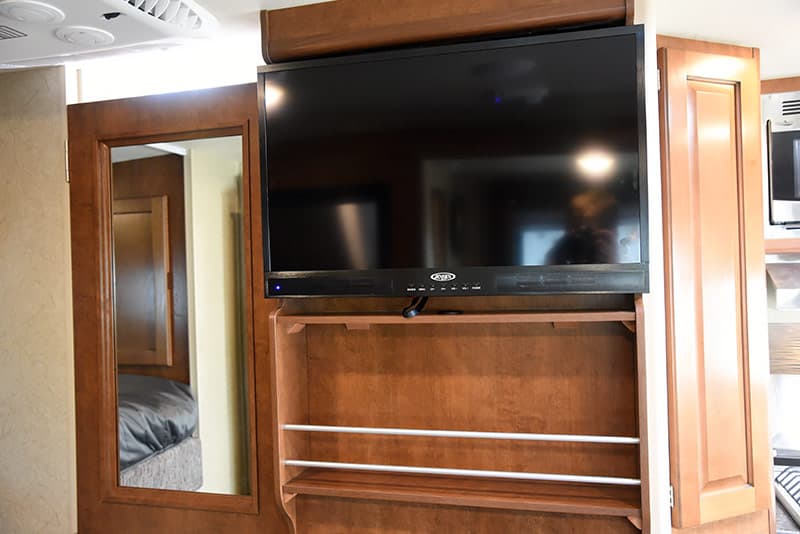 From its dedicated inset cabinet, the 28-inch Jensen HDTV can swing out to be visible from just about anywhere in the camper; dinette, cabover, and kitchen.
I didn't try it, but it might be possible to swing that panel around for visibility from the throne room.  I triple-dog dare the marketing team at Lance Camper to confirm this.
Another benefit of having the television panel standing eye-level and dead center in the camper is you're unlikely to forget to secure it for travel.  We made that mistake once and the poor HDTV banged around for who knows how many miles.  Miraculously, it survived without a scratch.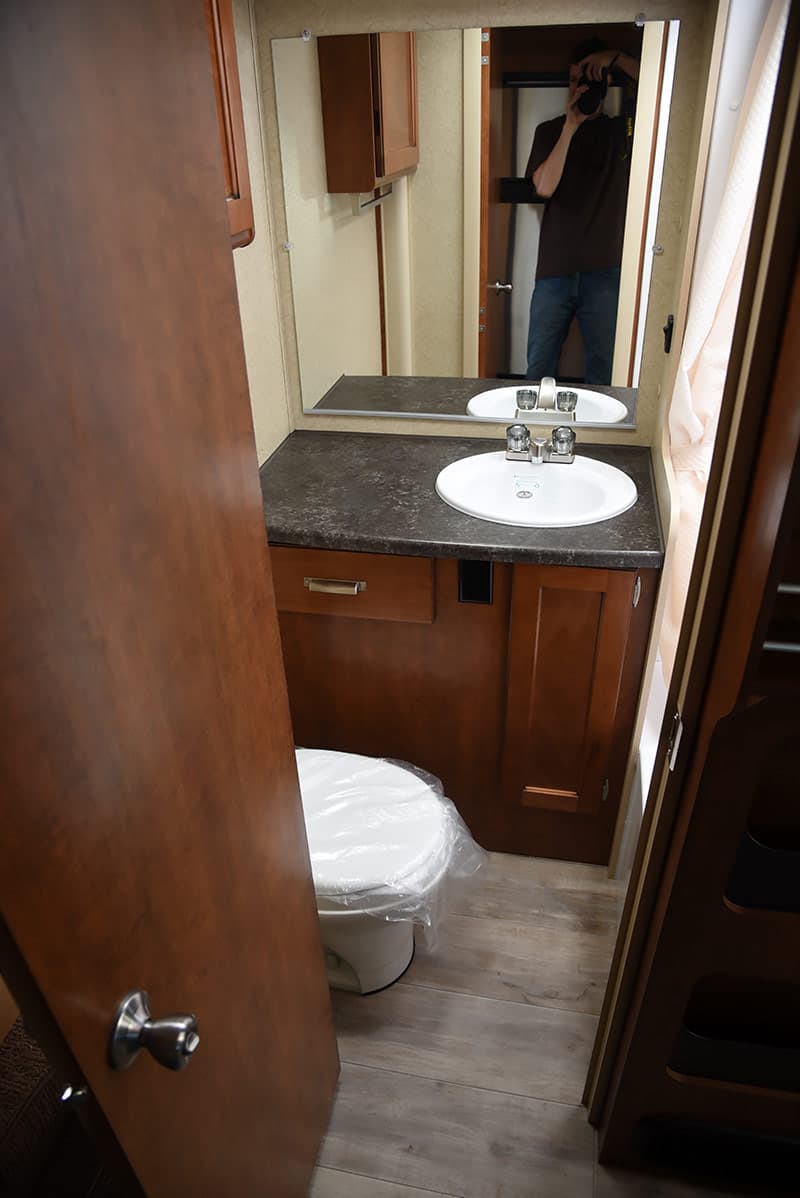 Here's Lance's state-of-the-art in truck camper dry bath design.  This is the same dry bath from Lance's 1172 flagship, and is the only other Lance to feature this large dry bath design.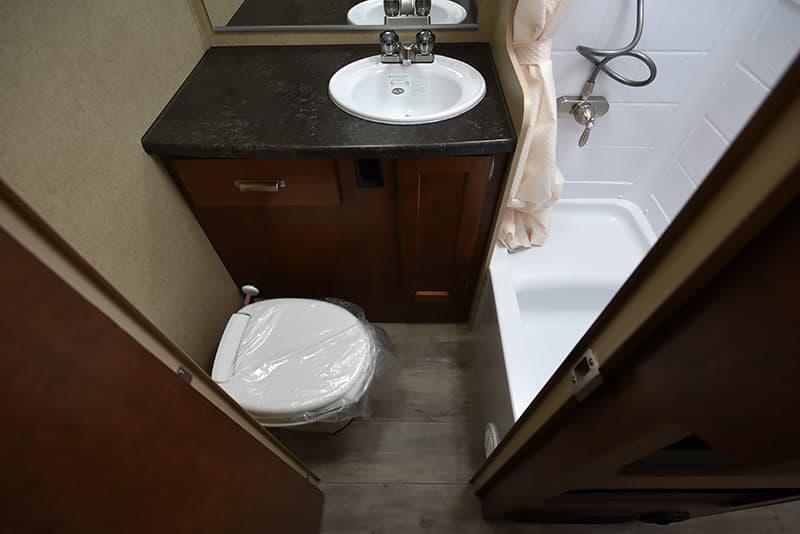 The Lance 1062 also has a dry bath, but it's not as big as this dry bath beauty.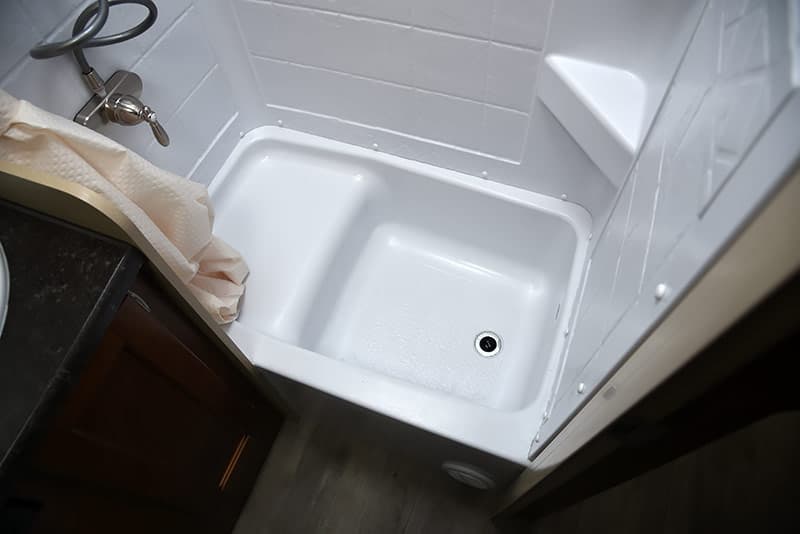 The shower stall itself is made from TPO, essentially the same material Lance uses for its front nose caps.  A TPO stall isn't nearly as durable as a molded fiberglass stall, but is much lighter in weight and allows for more design flexibility.
The 975 shower features separate shower controls and a small tub.  This small tub would be useful for soaking feet and washing cats.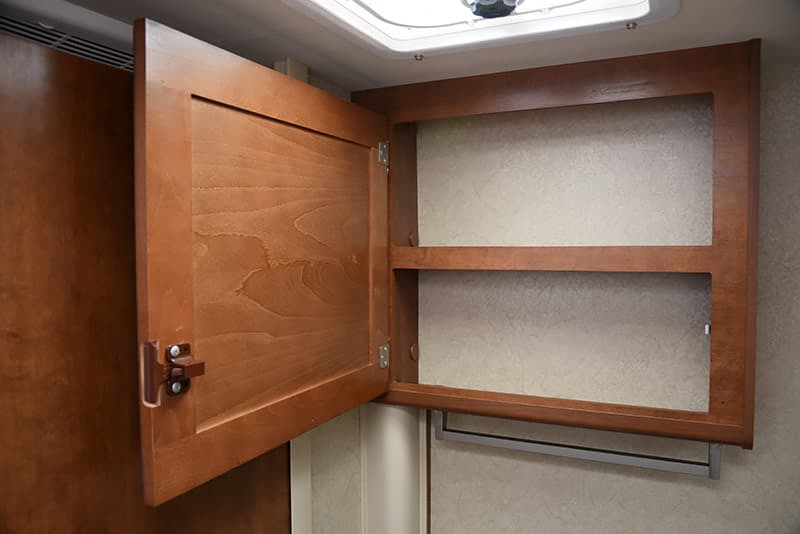 The storage in the 975 bathroom is truly excellent.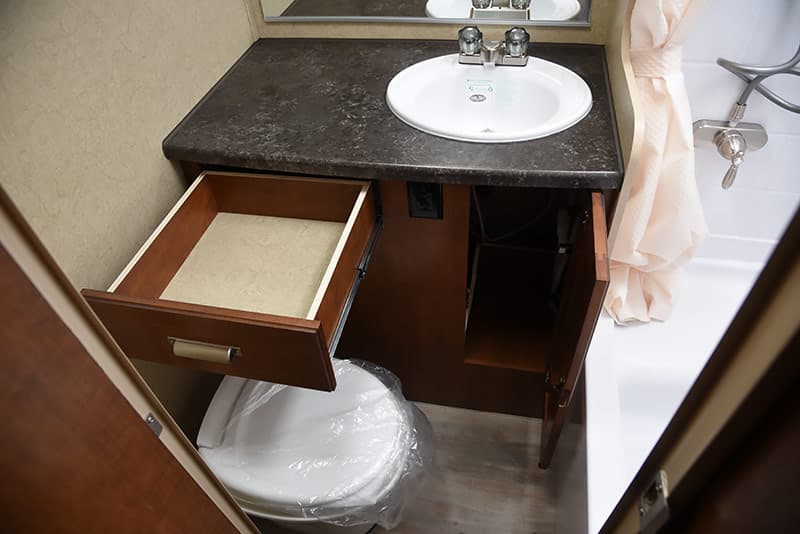 The pull-out drawer and medicine cabinet will help keep the ample counter space open.  The under sink space is perfect for extra toilet paper and sealed black tank chemicals.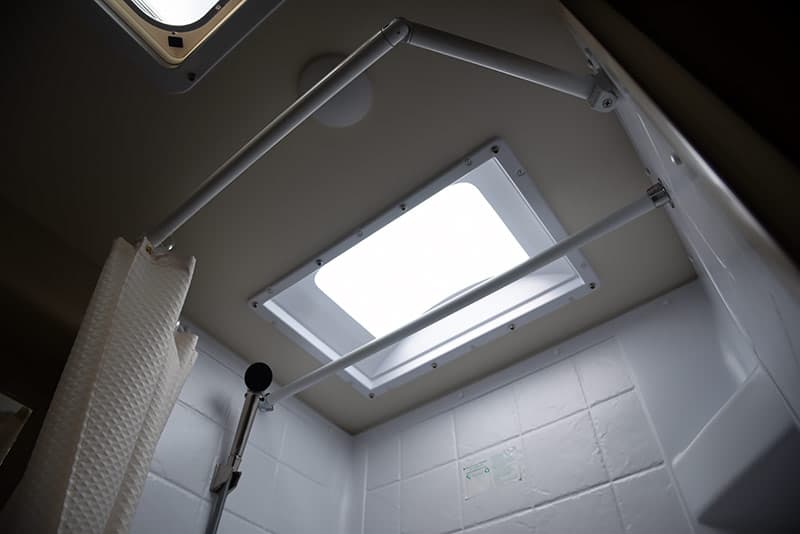 Further increasing the efficient use of space, the standard extend-a-shower rod pushes the shower curtain into the shower area when you're not showering, and pushes it out for more shower room when you are.  We like this idea so much that I think we might try an extend-a-shower rod in our own camper.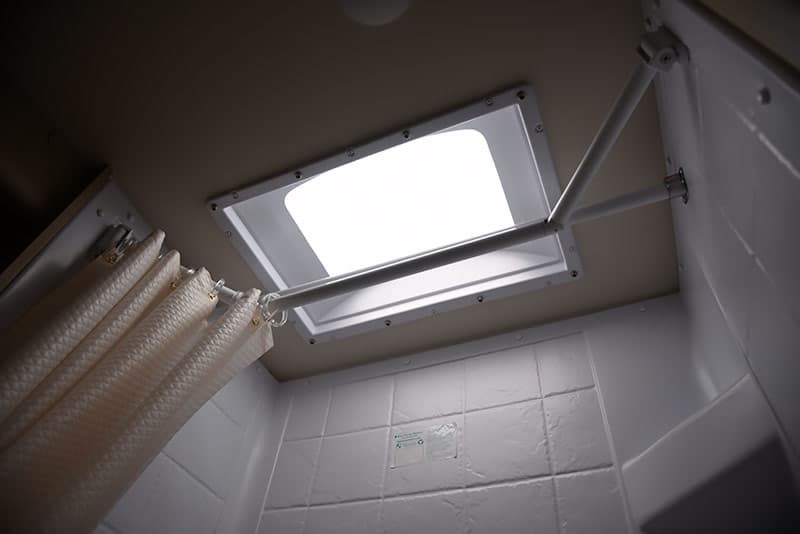 When someone asks about our readership, there are two facts that always stand out.  First, Truck Camper Magazine's readership grows between twenty and thirty percent every year.
The second statistic is more challenging.  The overwhelming majority of our readership is between fifty and sixty years old, and getting older.  I don't mean that our readers are individually getting older (which we are, of course), but rather that our readership's average age is getting higher in years, year after year.
This reality could pose significant challenges to the truck camper and greater RV industry in the years to come, especially if we fail to peel younger demographics from their smartphones, tablets, and televisions to enjoy adventure travel.  To be fair, we know a good number of younger truck camper owners, just not nearly as many in their 50s, 60s, and better.
In the meantime, the industry needs to accommodate consumers who may not be as nimble as they were in their 20s and 30s.  Hey, I'm 44 and notice my agility isn't 100-percent of what it was.  It's part of our shared human experience of getting older, and it sure beats the alternative.
Difficulties associated with getting in and out of a cabover bedroom is a leading reason we hear folks giving up their truck camper keys.  Usually one spouse develops a chronic knee or hip issue, and that's it.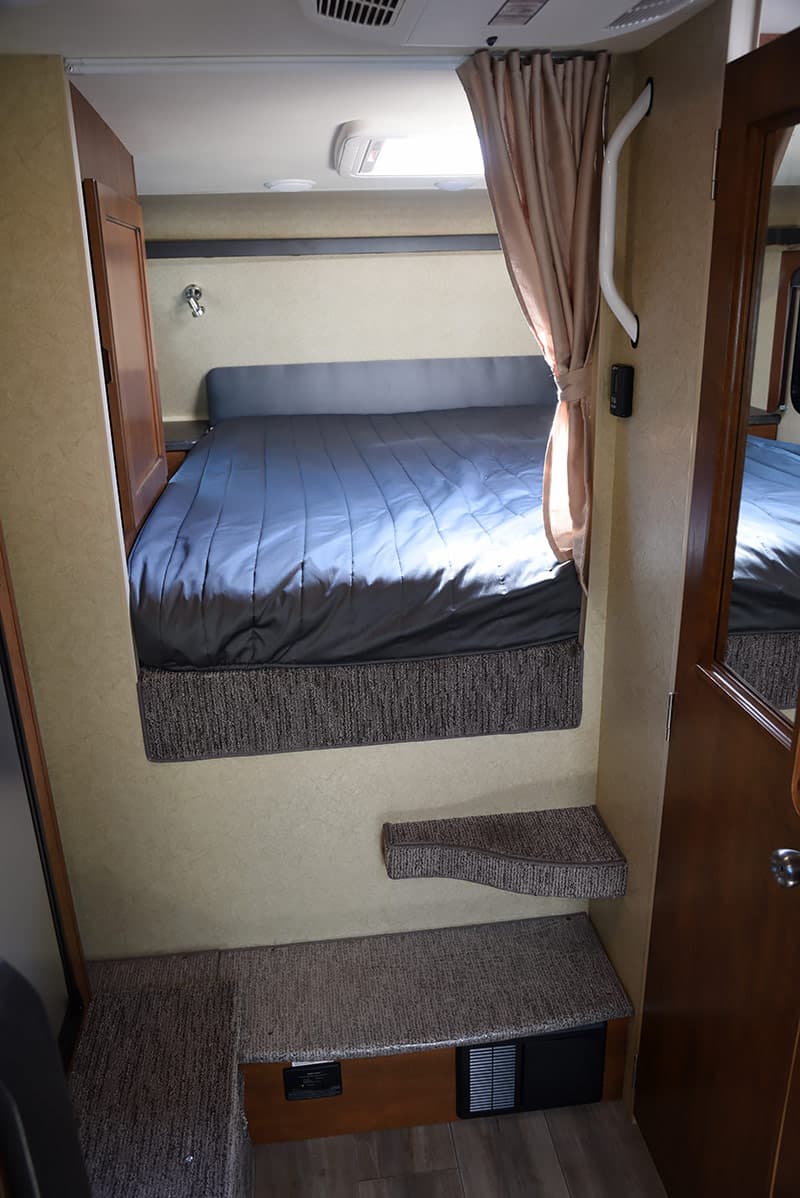 Thankfully, Lance Campers is doing more than listening to this feedback.  In the 2017 Lance 975, they not only have a large carpeted step into the cabover, but an intelligently placed assist handle.
For any the industry representatives scoffing at how simple this is, stop scoffing and go put these in your campers.  This is exactly what we need to be doing for our loyal truck camping community, along with encouraging them to bring their kids and grandkids camping.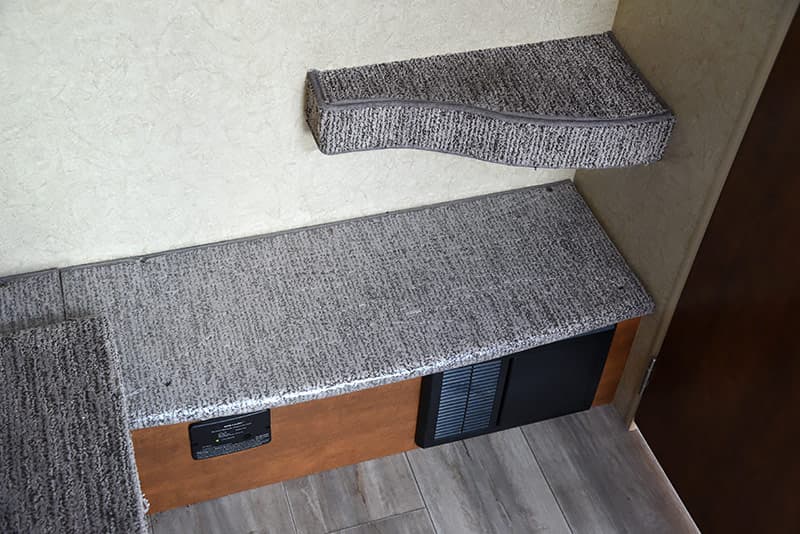 Having the detector and fuse box under the step up to the cabover may not be the most ergonomically comfortable place for checking the health of the detector and fuses, but it's a readily accessible spot and well positioned for the purpose of the detectors.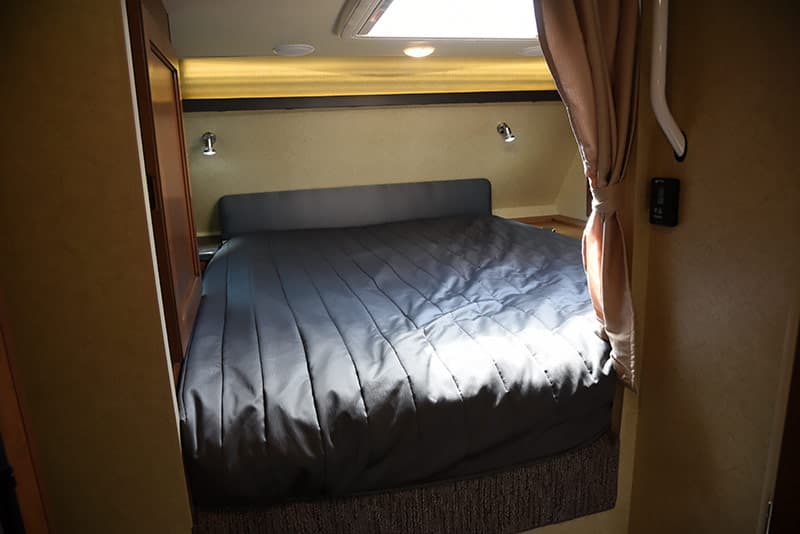 The cabover in the Lance 975 features asymmetrical storage opportunities.  In other words, the two cabover sides have different cabinetry.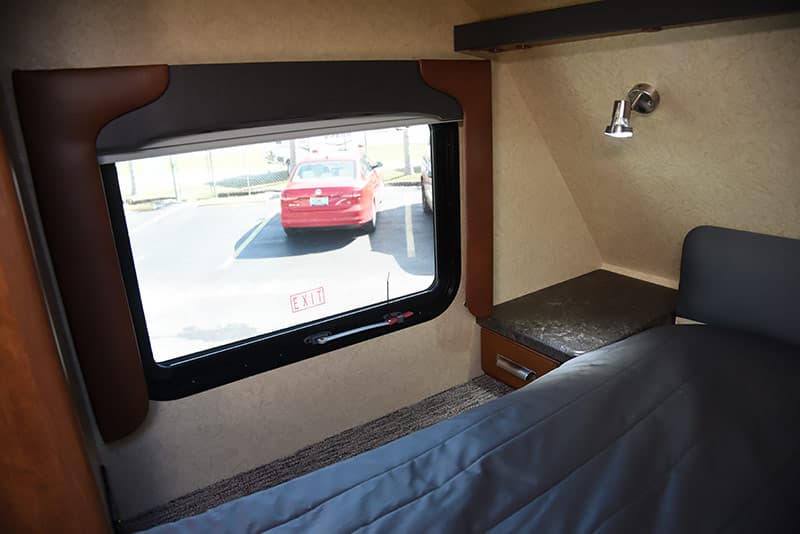 The driver's side gets a night stand with pull-out drawer, floor space in front of the escape window, and a tall and shallow cabinet with two shelves.
The night stand is very domestic in nature, and a natural place for a smartphone, tablet, or one of those ancient bound paper things full of printed words.  The pull-out drawer looks great, but probably isn't enough room for more than a few days worth of socks and/or underpants.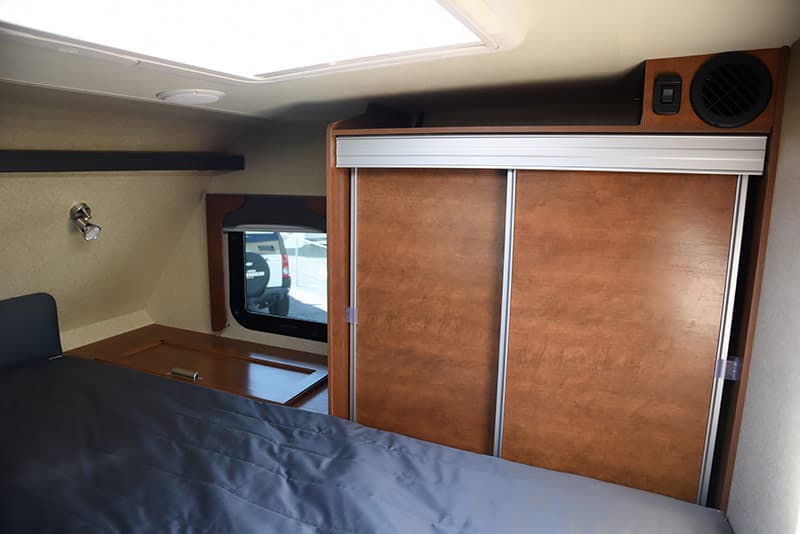 The hamper on the passenger's side is awesome.  That's where many of us would put our underpants, socks, folded T-shirts, and nightwear.  I use a similar hamper every day when we're out camping.  There's almost nothing better for underpants, socks, and folded T-shirts than a good old fashioned cabover hamper.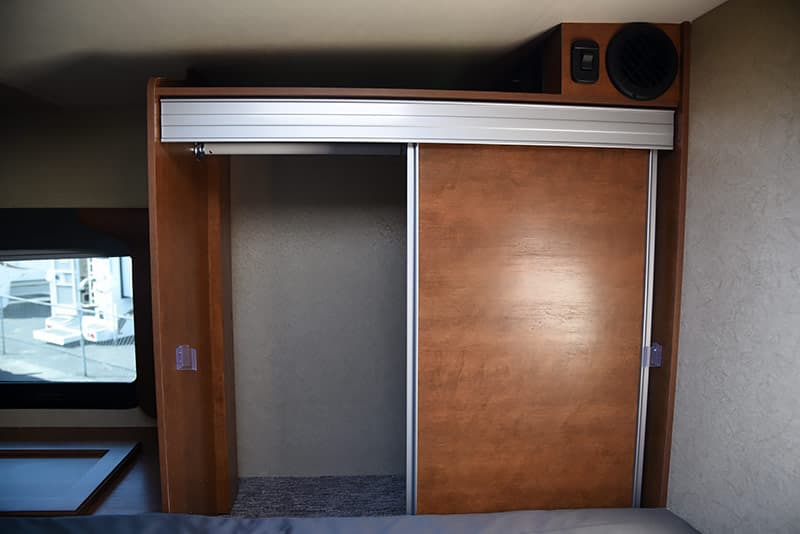 The passenger's side closet presents a very large storage area and will be well utilized by folks who hang their shirts and pants when they go camping.  For the rest of us, this space needs shelving for folded clothing; shorts, blue jeans, sweatshirts, etc.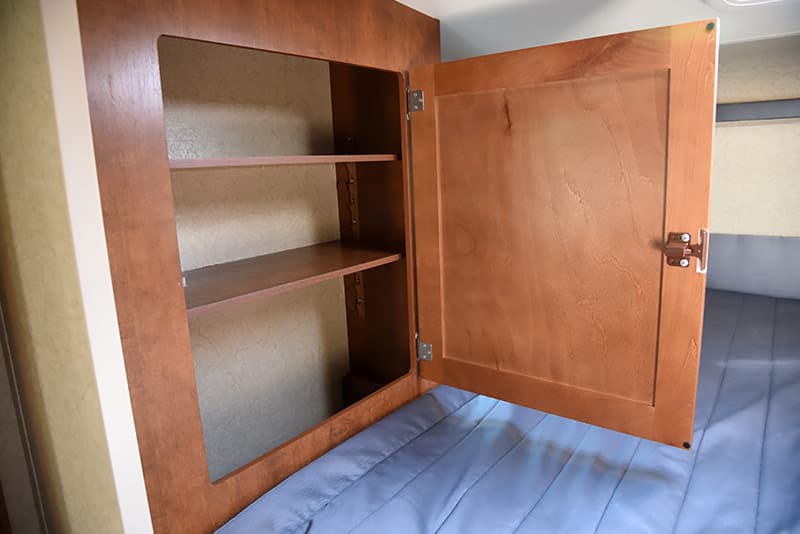 That leaves the tall cabinet for almost all of the driver's side clothing storage.  The depth of this cabinet is probably perfect for shirts and pants that are folded, and then folded in half once more.  That works.
In a way, I just presented a real-world solution to how this cabover storage will work.  But I'm still a little troubled by the asymmetrical storage opportunities.  Couples are forced to either share cabinetry on both sides, or make do with whatever is on the side they normally sleep on.
This is a perfect set up for, "So you get the big hamper?  All I have is this tiny drawer and some floor space."  For a camper that does not feature a sofa, this is the kind of marital discord that needs to be avoided.
Every truck camper manufacturer should have a half-dozen local married couples to come in with ten days of clothing (at least two large and full suitcases per couple).  Have these couples go into your camper cabovers, with no previous instructions, and put their clothing away to their satisfaction.  Stand back, watch, and listen.  My bet is you'll be designing more symmetrical cabover storage from that point forward, or more sofa campers.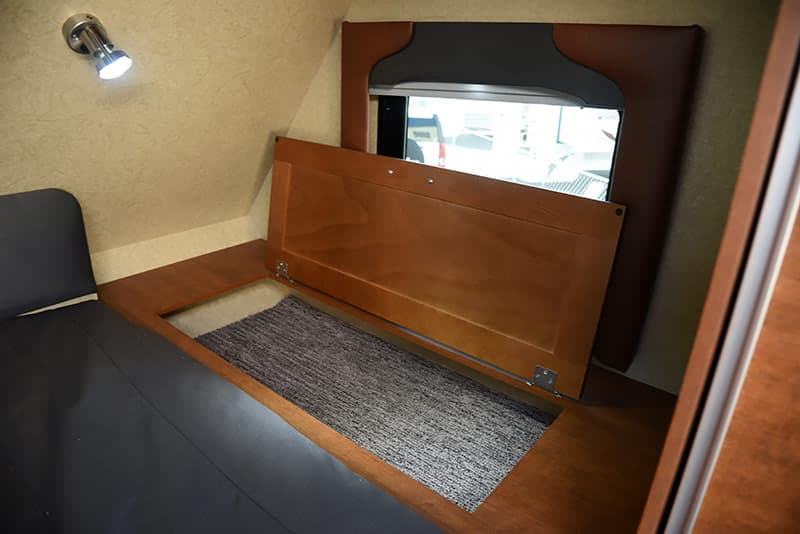 The LED reading lights in the 975 are fantastic.  I love the natural white light color, how they stay cool, and that they are easy to move to bring light to a book or nearby storage area.  For this photograph, I turned the LED reading light to the passenger's side hamper.  I can see turning the light like this every day, and back again at night for reading.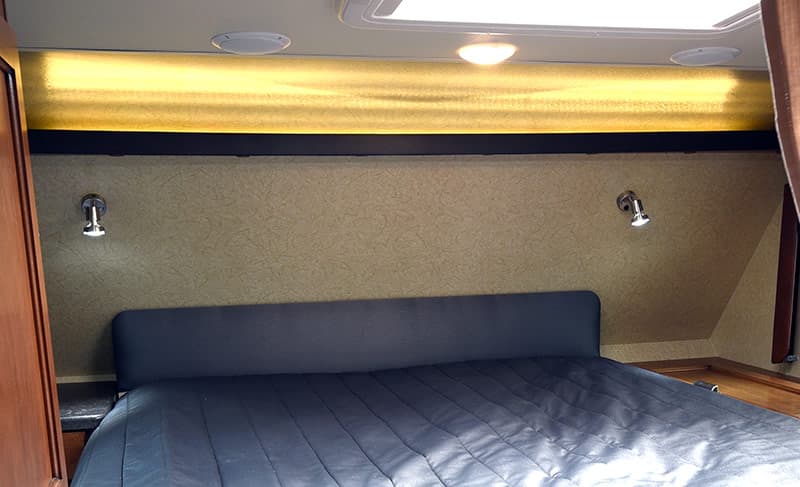 There's a fast-emerging trend within the truck camper marketplace towards incorporating ambient LED lighting, especially in the cabovers.  We have been so impressed with this feature that we're now trying to figure out how to put ambient LED lighting in our camper.  When we watch television at night, ambient lighting would be fantastic.  It also looks great.  Love it.
With the black out window shades pulled down, the warm ambient lighting on, and LED reading lights pointed down, the 975 cabover has a relaxed and elegant atmosphere.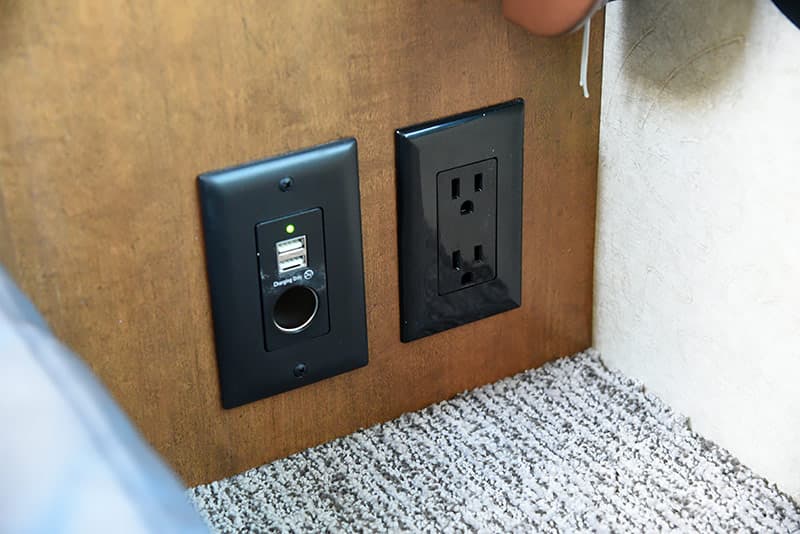 Ten years ago we were happy to have a single 12-volt outlet and one 110-volt outlet somewhere in the cabover.  This was used to power the television, and maybe change a cell phone or iPod.
In 2017, nearly everyone has at least one device (typically a smartphone) while many of us have an additional tablet and/or camera, laptop, etc.  As a society, we are loaded with handheld devices that require regular charging.
Add to that the proliferation of CPAP machines and you have an ever increasing need for a variety of outlets in the cabover.  Lance has heard this loud and clear and responded with multiple USB, 12-volt, and 110-volt outlets in the cabover.  Well done, Lance.
If you compare the 975 design for design, material for material, and feature for feature, you'll discover that the Lance has created a very competitive truck camper.  This is to be expected from a manufacturer that's been a dominant force in the truck camper marketplace for over half a century.
Now it's time to take a close look at the specifications, capacities, and weight of the 975 and see how it stacks up.
Specifications
| | |
| --- | --- |
| Specifications | |
| Dry Weight | 3,330 pounds |
| Wet Weight* | 4,425 pounds |
| Floor Length | 10'4″ |
| Overall Length | 19'5″ |
| Width | 96″ |
| Interior Height | 79″ |
| Exterior Height | 9'0″ |
| Center of Gravity | 49″ |
| Truck Type | Long Bed |
It pains me to use this particular cliche, but I'm going to continue to be a broken record on the subject of exterior weight stickers.  In two words, ignore them.  In seven words, ignore them because they're almost always wrong.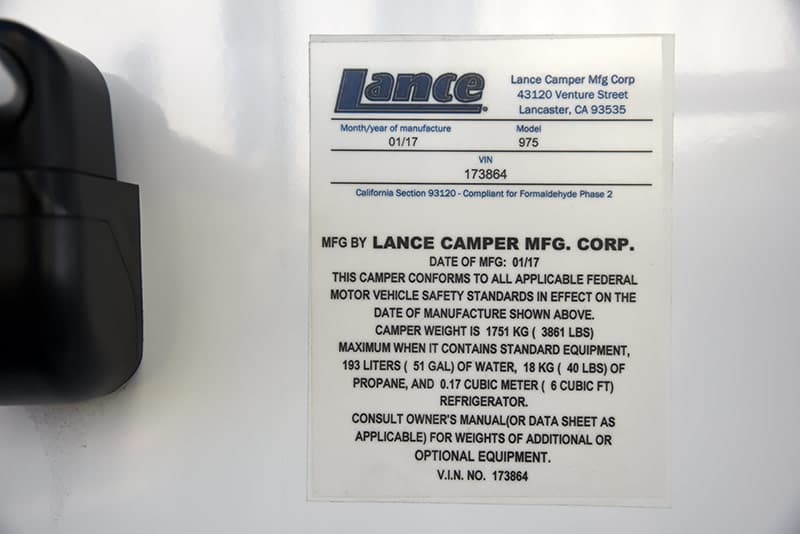 When it comes to determining the stated weight on exterior weight stickers, all too often the industry plays their own version of payload limbo chanting, "How low can we go?"  For starters, the stated weight is almost always a base dry weight without options.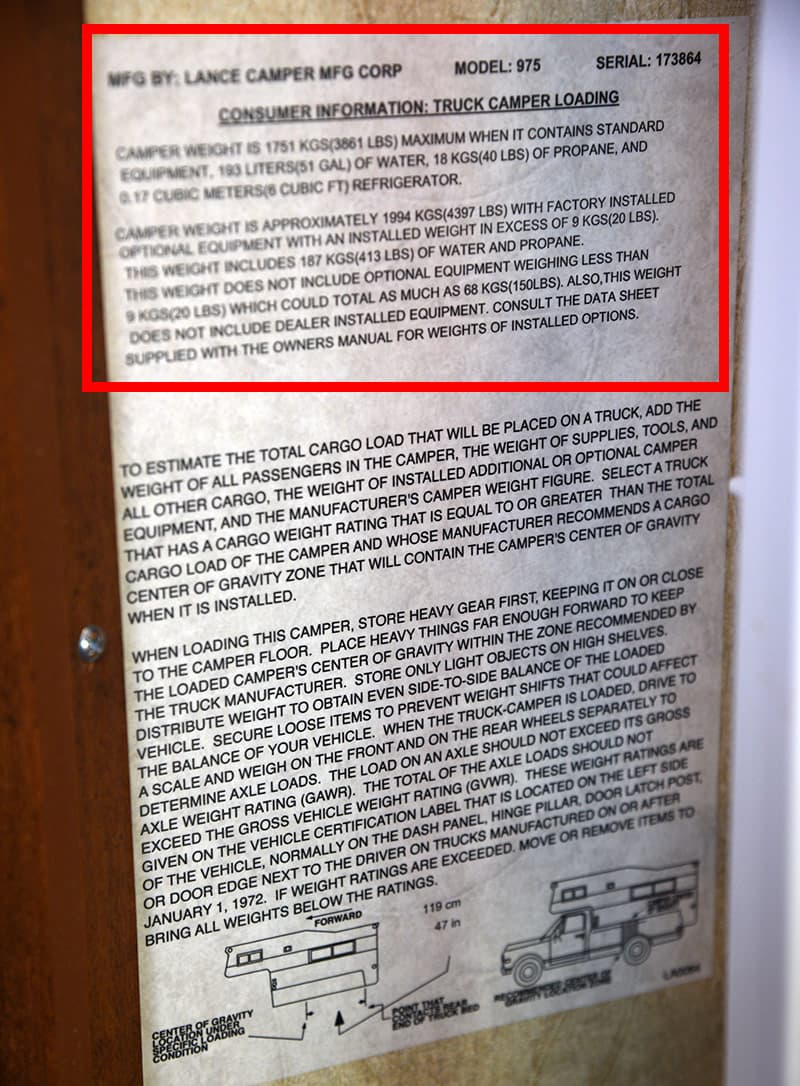 Above: Yes, this photograph is a bit out of focus – but you can still make out the payload data in the red box area.  The second paragraph has the important weight data.
Thankfully, Lance Campers doesn't play payload limbo like that.  Yes, they put a base dry weight without options on their exterior stickers (3,861 pounds), but then they mostly redeem themselves with a second weight sticker posted inside the unit.
On this second sticker, found in an interior cabinet, the base weight is given, "with factory installed optional equipment in excess of 9 KGS (20 LBS)".  I'm not entirely sure why they're not including optional items under 20 pounds, but at least they're up front about it.  They also include full water and propane for something that approaches a real wet weight  – 4,397 pounds.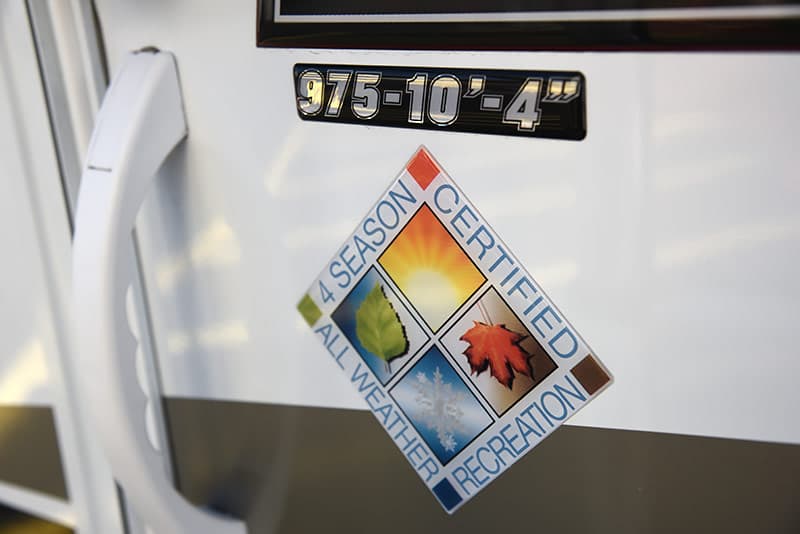 Does anyone else find it funny that the 975 has a 10'4" floor length?  Shouldn't this camper be called the Lance 1040?  Oh wait, they had a 1040.
Here we go again… Please ignore the model number of every truck camper as it no longer necessarily means anything about the floor length of the camper.  The 975 is not 9-feet 7.5-inches long as its model number might imply.  As the model decal shows on the exterior of the unit, the 975 is a 10-4, over and out.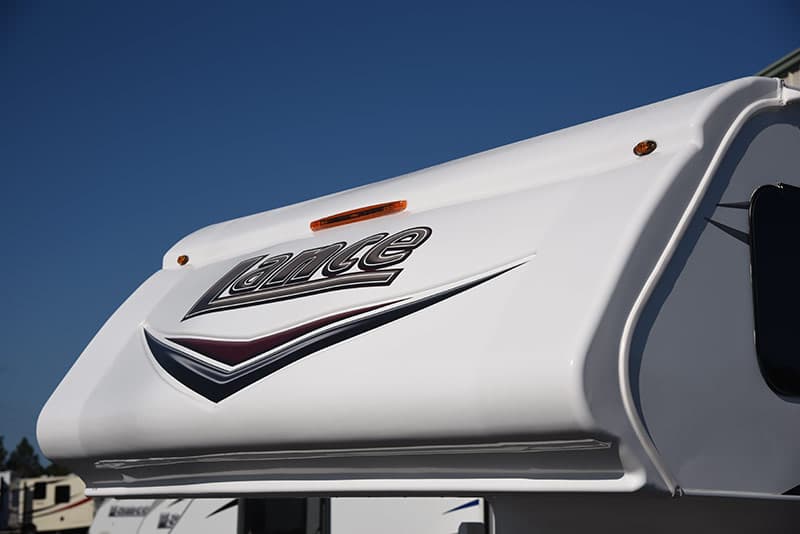 With the exception of the Lance 865, 825 and 650, all Lance truck campers are 96-inches wide.  This allows six truck camper models to share the same TPO front nose cap.  The 96-inch width is also on par with other makes and models in this niche.
At 79-inches (6'5") the interior height is about the same as Lance's larger units.  At 6'3", I never gave the interior height a second thought.
On their website and in their brochure, Lance gives the 975 center of gravity at 49-inches from the front wall.  Unfortunately, Lance Campers does not mark center of gravity on their units.
Lance's position is that center of gravity moves depending on what's loaded; options, water, holding tank levels, food, gear, etc.  While that's 100-percent accurate, we still believe a base dry weight center of gravity sticker is an important indication for the consumer and urge Lance to reconsider their position.
Capacities
| | |
| --- | --- |
| Capacities | |
| Fresh | 45 gallons |
| Grey | 30 gallons |
| Black | 26 gallons |
| Water Heater | 6 gallons |
| Propane Tanks | 2x 20 pounds |
| Batteries | Two Batteries |
The holding tanks on the Lance 975 are 45 fresh, 30 grey, and 26 black.  For a 10'4" camper, 45 gallons of fresh water is outstanding.  It's also 376 pounds of water, so folks who are near or over payload should consider traveling with an empty or only partially full water tank.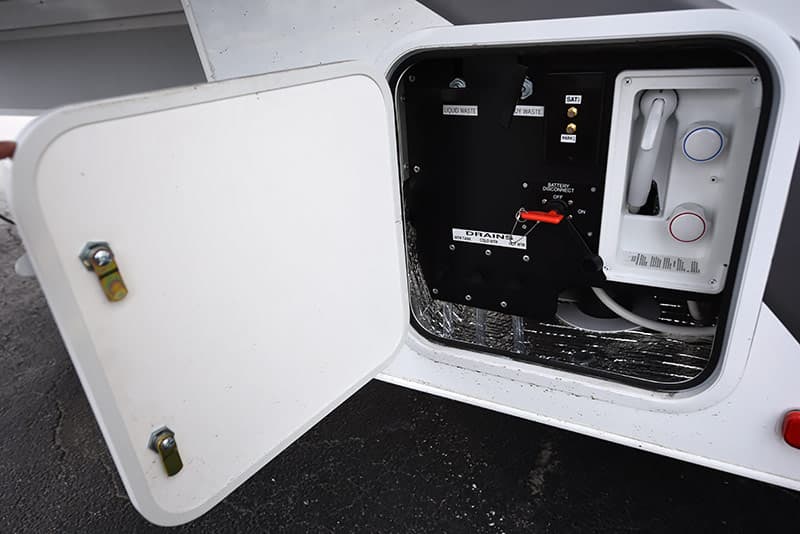 Ideally, I would want to see the 30 gallon grey tank capacity be more in line with the 45 gallon capacity of the fresh tank.  Where is that additional 15 gallons of fresh supposed to go?  In fairness, some fresh will be used for flushing the toilet, and some might be used for the outside shower.  That fresh will go into the black tank and onto the ground, respectively.
In our experience, the 975 holding tank capacities should last about 6-7 days for two people who practice standard water conservation; navy showers, not leaving the water running, etc.  The grey tank will likely fill first with fresh and black capacity to spare.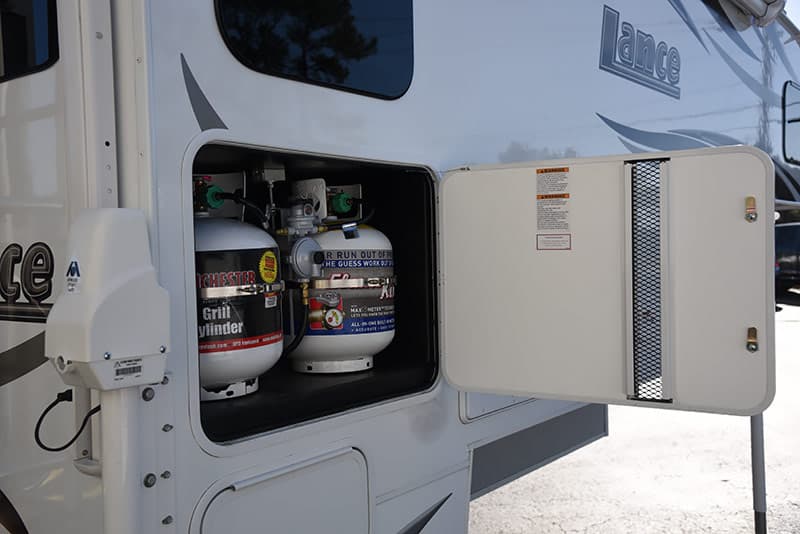 Two vertical 20-pound propane tanks are the way to go for most truck camper applications.  Not only are 20-pound vertical tanks easy to exchange or refill almost anywhere, but they're also relatively easy to lift and maneuver when full.
We switched our 30-pound tanks to 20-pound tanks so that Angela can lift them if she needs to, and to shed a few unnecessary pounds from our overall payload.  Besides, two 20-pound tanks lasts us weeks if not months in all but the coldest weather.  Unless you're into extreme winter truck camping, two 20-pound vertical propane tanks are perfect.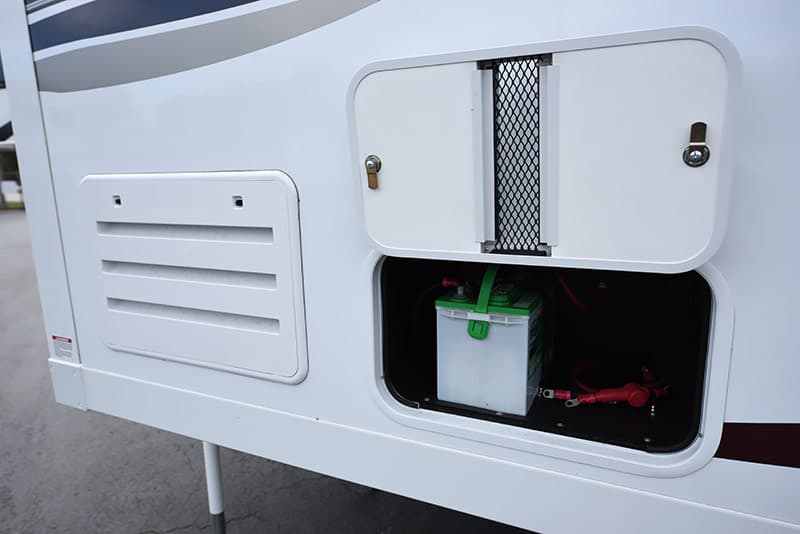 The slide-out room features an exterior storage compartment and a battery compartment for two Group 27 batteries.  I strongly prefer exterior battery compartments to check for secure connections, look for dirt and corrosion, check water levels (wet cell batteries), run battery health checks with a multi-meter, and possibly remove the batteries during winterization.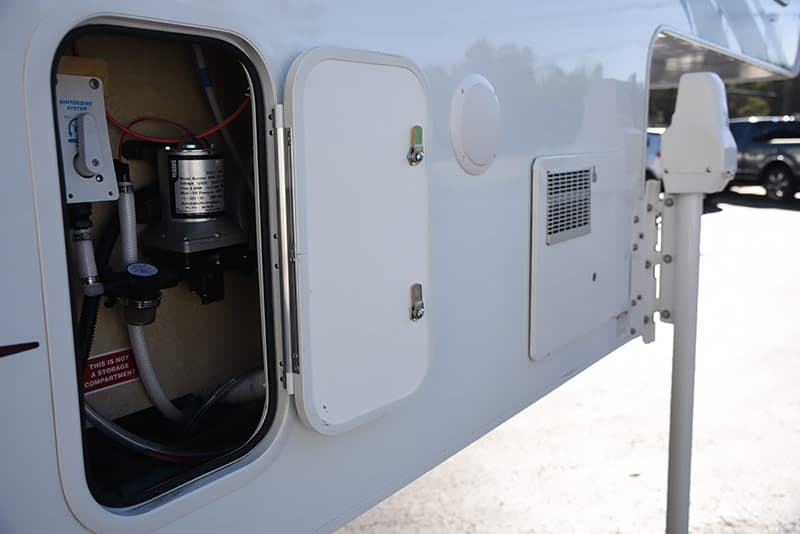 Winterizing the 975 is convenient with the water heater bypass in an easy to access area on the exterior of the camper.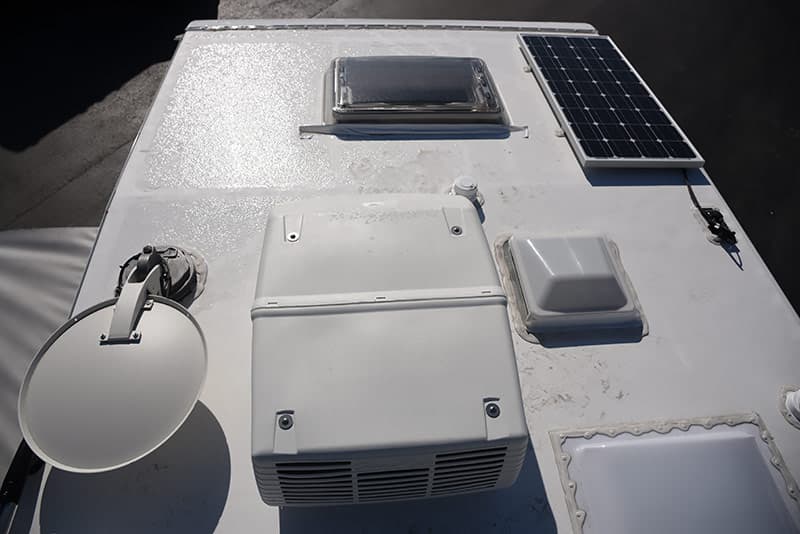 Overall, the capacities of the 2017 Lance 975 are beyond reproach.  With 45-gallons of fresh, 30-gallons of grey, 26-gallons of black, two 20-pound vertical propane tanks, two Group 27 batteries, and all LED lighting, you have everything you need for a week off-the-grid.  With the addition of the optional generator and solar panel system, the 975 becomes a full-blooded boondocking machine.
Wet Weight Calculation
Using the standardized Truck Camper Magazine wet weight calculation, we ran the numbers on the 2017 Lance 975.
Base Dry Weight – special factory order only
Lance 975: dry weight, 3,330 pounds + 45 gallons fresh, 375.3 pounds + 6 gallon full hot water heater, 50 pounds + 2x 20-pound full propane tanks, 40 pounds + 2 batteries, 130 pounds + stuff, 500 pounds = 4,425.3 pounds
Fully Optioned Weight
Now let's run the numbers on the 975 under review.  We will use Lance's inside sticker number, back out the water and propane weight, and put it through the standard Truck Camper Magazine wet weight formula.
Lance 975: dry weight, 3,984 pounds + 45 gallons fresh, 375.3 pounds + 6 gallon full hot water heater, 50 pounds + 2x 20-pound full propane tanks, 40 pounds + 2 batteries, 130 pounds + stuff, 500 pounds = 5,079.3 pounds
Truck Recommendations
With the impressive amount of storage available on the 975, and the fudge factor of Lance not including options under 20-pounds, let's round the above optioned, wet, and loaded camper number to an even 5,200 pounds.
That's definitely one-ton dual rear wheel territory.  Technically, you might be able special order a brand new one-ton single rear wheel truck (gas, single-cab, base work truck) that could approach this payload capacity, but then you have a basic truck that's maxed out from the start, or worse.
The obvious choice is a dually with at least 5,200 pounds of payload.  This is easy peasy for current Ford, GM, and Ram one-ton dual rear wheel trucks.
That doesn't mean you can match the 975 with any one ton dually.  An older diesel dually loaded with luxury options is very likely to offer less than 5,200 pounds of payload.  For example, our previous 1998 Ram Cummins dually had just over 3,000 pounds of payload.  Even brand new trucks with too many heavy options and packages can miss this important target.
Fortunately, all you need to do is tell your truck dealer that you need at least 5,200 pounds of payload, preferably more.  They will help you find or order a one ton dually that will meet or exceed that number.  Within this highly attainable payload range, it's not rocket science.
We did just that when we special ordered our our current 2014 Ram 3500 SLT 6.4L HEMI dually long bed.  When we opened the driver's side door, the sticker read 5,851 pounds of payload.  That would give us 651 pounds to spare with a well optioned, fully loaded and wet 975.  Simple as that.
The Verdict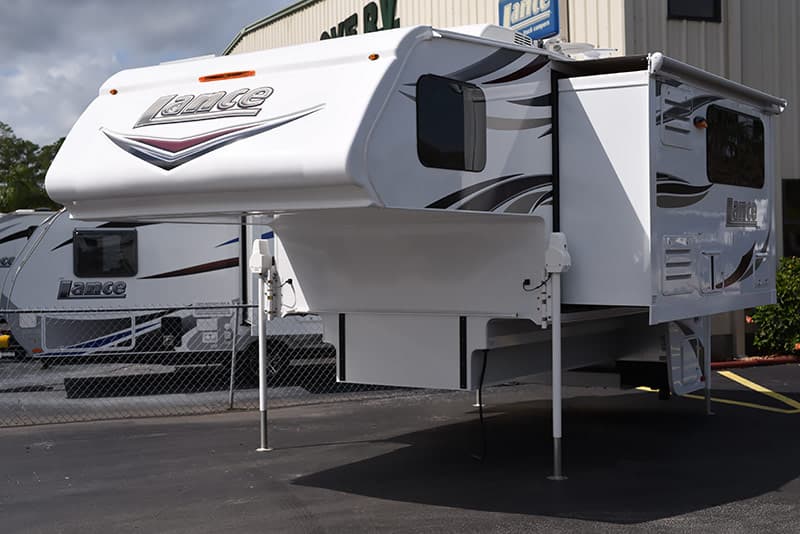 For the 975, Lance Campers started with a time-tested and proven floor plan (inspired by the now discontinued 971 and 1181), borrowed major design elements from their flagship models, and went to town with their latest SolidWorks design, CNC capabilities, and lightweight composite materials.  Given these facts, plus Lance's five decades of experience building truck campers, it should be no surprise that the Lance 975 is a successful unit.
Unfortunately, no camper is perfect and there are a number of elements of the 975 that need to be considered prior to purchase.  First, the 975's enormous dry bath (taken directly from Lance's flagship 1172 double-slide) took up a lot of potential kitchen space.
To make lemonade from those lemons, Lance brought in the kitchen from their flagship short bed, the 855-S.  Many will consider that a fantastic trade-off, but those who are more interested in culinary activities than bath time may not.  That's why Lance offers the nearly equally specified and equally priced 995 with a larger kitchen – and a wet bath!  Choose your trade offs.
We also struggled with the angled kitchen drawers.  To support this concern, we have heard from 975 owners who had to work at adapting these irregular drawers for the best utility.  It's my hope that Lance reveals how these drawers can be properly used for current and future 975 owners.
There are a few other minor nit picks pointed out during the course of the review but, there's really not much that doesn't deserve praise.  With its high-gloss white Lamilux 4000 fiberglass, aerodynamically-contoured TPO front nose cap, and 2017 graphics package, there's no mistaking that this is a next generation Lance Camper.  Well done, Lance!
Pros
Very competitive weight in its class and floor plan
Excellent winterization access; bypass, antifreeze intake, water pump, etc.
Huge dry bath directly from the flagship 1172 double-slide
Multi-level HDTV cabinet and storage rack is awesome
Cabover step and assist handle are mobility friendly
USB, 12-volt, and 110-volt cabover outlets for devices and CPAP
Cons
Relatively small kitchen for a 10-foot camper
Angled kitchen drawers may be awkward in use
Optional microwave uses half upper kitchen cabinets
Refrigerator on a slide will produce fan noise
Uneven cabover storage opportunities need consideration
30 gallon grey tank is small for the 45 gallon fresh capacity
Model Information
2017 Lance 975
MSRP: $35,119
Warranty: 1 year limited warranty, 2 year structural warranty, appliances have their own warranties
Lance Camper Manufacturing
43120 Venture Street
Lancaster, CA 93535
Phone: 661-949-3322
Request a Lance 975 Brochure
Web: www.lancecamper.com
Quality, Customer Service, and Long-Term Reliability
Truck Camper Magazine inspects all reviewed truck campers for design, material, and quality issues and reports what we find.  However, since Truck Camper Magazine reviews only brand new truck campers, our reviews do not address long-term quality, customer service, or reliability.
To learn about a brand's long-term quality, customer service, and reliability, Truck Camper Magazine recommends talking directly with truck camper owners at truck camper rallies and online via truck camper forums and truck camper owners groups.
Please be sure to balance your gathered feedback across multiple sources including direct correspondence with the truck camper manufacturers and your closest truck camper dealers.
If you are new to truck campers, visit our Truck Camper Newbie Corner.