Lance Campers debuts the Lance 975, a ten-foot, four-inch truck camper with a full-wall slide out and a dry bath.  Lance also teases a new short-bed half-ton camper.

Many truck enthusiasts have long wished for the ultimate truck; a Ford truck body, Ram Cummins diesel engine, and a GM Allison transmission.  This imagined Franken-truck would incorporate what some believe are the best elements from the big three truck manufacturers.
Many truck camper enthusiasts have had similar thoughts about the ultimate truck camper; this model's dry bath, that model's dinette, and yet another model's kitchen and cabover layout.  In the future, perhaps we'll be able to pull up to a drive through and place an order.
"Uh, hello?  I'd like a long bed, single-slide, with the #3 dry bath, #7 dinette, and the #12 kitchen and cabover.  Can I supersize that?"
"Yes, you can.  Please drive around and the camper will be loaded on your truck."
"Thank you!"
A few moments of large-scale 3D printing later, and you're camping.  It could happen.
In real life, the truck camper manufacturers sit around a table and dream up the next camper.  They talk about what's selling in the marketplace, what works best on their production line, and what is getting the best customer response in the field.  Together with dealer feedback and internal experience and intuition, they design, develop, and deploy a new truck camper.
When Lance Campers sent us the floor plan for the 975, we could literally see the result of this process right before our eyes.  There are obvious elements from previous and current Lance Camper designs, elements of what's selling well in the overall marketplace, and elements that are new – all in one "new" Lance Camper.
To get the full story behind the 2016 Lance 975, we talked to Jack Cole, President, Gary Conley, National Sales Manager, and Randy Hunter, Product Development for Lance Campers.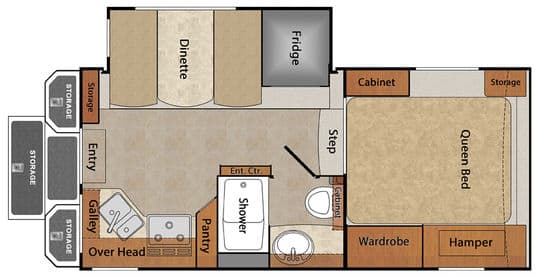 Above: The Lance 975 floor plan – click to enlarge
2016 Lance 975 Specifications:
The 2016 Lance 975 is a hard-side, dry bath, single-slide truck camper for long bed trucks.  The interior floor length of the Lance 975 is 10'4" and the interior height is 79".  Lance is reporting the dry weight of the Lance 975 at 3,330 pounds without options and 3,930 pounds with standard build features including the Ultra Deck Plus bumper, air conditioner, generator, electric side and rear awnings, convenience package, four season package, back up camera, 24" LCD television, solar panel, and roof rack.
The tanks in the 2015 Lance 975 are 45 gallons fresh, 30 gallons grey, and 26 gallons black.  The camper accommodates two batteries and two twenty-pound propane tanks.  The MSRP for a standard build Lance 975 is $33,422.

Above: The Lance 975 on a 2015 Ford F-450 – click to enlarge
TCM: Does the new 2015 Lance 975 replace any older models in the Lance line?  At first blush, it looks very similar to the recently discontinued Lance 1181.
Gary: It's actually more similar to our 971 model from 2008 and 2009.  The 975 takes the 971 floor plan, adds five inches of floor length, and increases the available storage significantly.  The 975 delivers a full-compliment dry bath camper with less weight and more truck compatibility than the 971 or 1181 could offer.
The 975 will be competing with 5,000 pound truck campers in the truck camper marketplace.  The difference is, the Lance 975 weighs in at 3,330 pounds dry.  People want a dry bath in a truck camper at a reasonable weight.  That's the niche the 975 is targeting; dry bath, full-wall slide-out, and reasonable weight.