Truck Camper Magazine evaluates a 2017 Cirrus 820, a short bed, hard side, non-slide, wet bath truck camper.  Do state-of-the-art appliances, cutting-edge materials, and industry-leading modern design add up to a practical truck camper ready for the real world?

Be sure to also check out nuCamp RV's response to this 820 review.
For the June, 2015 Cirrus brand announcement article in Truck Camper Magazine, Scott Hubble, CEO for NuCamp, made a daring declaration.
"From the beginning, we have approached the Cirrus truck camper line as a high-end product.  Everything about this camper from the materials, to the appliances, to the fit and finish is top of the line.  We did not cut corners."
"We will bring a unique flair, design, and a level of quality that's not currently available in the truck camper market," he added.
These were incredibly bold statements from a completely unknown entity in the truck camper market.  We would have paid little attention to these claims if it weren't for their truly audacious truck camper design, material choices, and cutting-edge appliance choices.
"The Cirrus truck camper is wood-free, except for the interior cabinetry.  The floor, walls, and roof are all aluminum framed.  The wall laminations are Azdel composite, closed cell foam insulation, and Lamilux fiberglass," stated Scott, but he didn't stop there.
"The roof is a seamless aluminum roof.  We believe aluminum is a superior material choice for roofs and gives the best possible appearance and quality."
Then came the big news, the ground-breaking use of a hydronic central heat and hot water system by Alde International Systems of Sweden.  Scott explained, "The Alde system replaces both a traditional RV furnace and hot water heater, and works better, with significantly better efficiency, than those appliances."
Daring and bold statements had just gone downright jaw dropping, but Scott wasn't done throwing down the gauntlet.  The Cirrus 800 featured a keyless entry system, a standard back-up camera, thermal plastic insulated windows, and solid core lite ply cabinetry and counter tops imported from Italy.
When he went on to describe a huge front window that opens, we asked if the NuCamp team was completely nuts.  "We are a little bit crazy," admitted Scott.  "It takes a little crazy to take the next step forward."
When the Cirrus 800 shipped a few weeks later, all of the daring, bold, audacious (and possibly crazy) ideas finally met reality.  As the units arrived on dealer lots, Cirrus received a flood of dealer and customer feedback.
"As we expected with an all-new product, the initial reaction to the Cirrus 800 was not mixed.  People either loved the Cirrus 800, or didn't," said Scott.  "Overall, we are happy with the way Cirrus launched and are excited about the resulting feedback and changes."
The feedback and changes Scott was referring to resulted in the Cirrus 820, a new for 2017 model that shared the floor plan with the 800, but featured major updates to the cabinetry, Alde system configuration, dinette design, battery, propane, holding tank capacities, and much more.  "We are confident that we have squashed the objections (to the 800) and made the 2017 Cirrus 820 a much stronger competitor," stated Scott.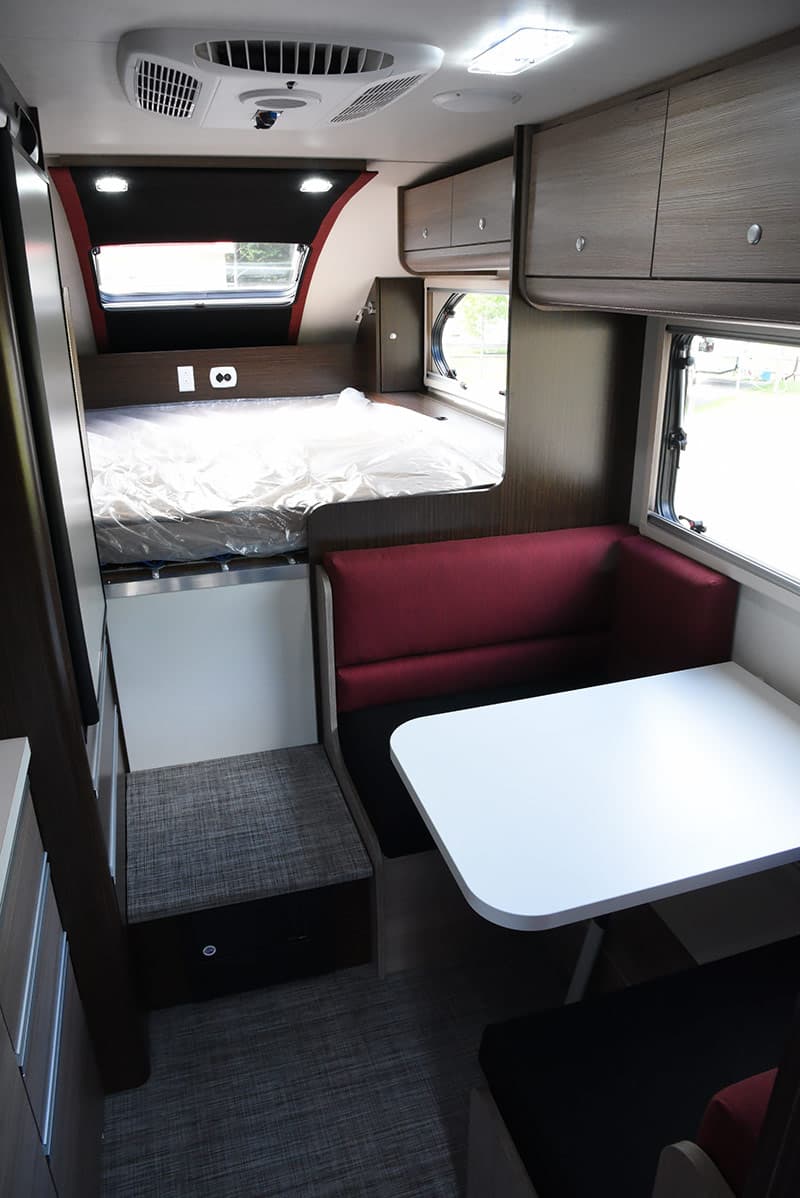 Above: Inside the 2017 Cirrus 820 under review
As a magazine, we're all for feedback and refinement, but a camper has to perform in the field – literally – to gain our respect.  While the updates certainly make the 820 a more functional and capable truck camper on paper, only a thorough evaluation will reveal if this overhauled Cirrus is worthy of consumer consideration.  Enough with the prologue.  Let's get serious about this Cirrus.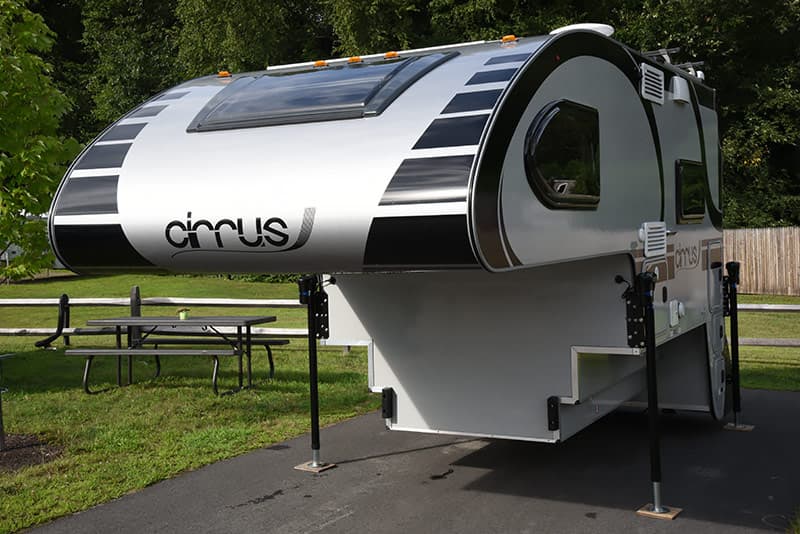 We got our hands on a factory fresh 2017 Cirrus 820 at Truck Camper Warehouse.
Floor Plan Evaluation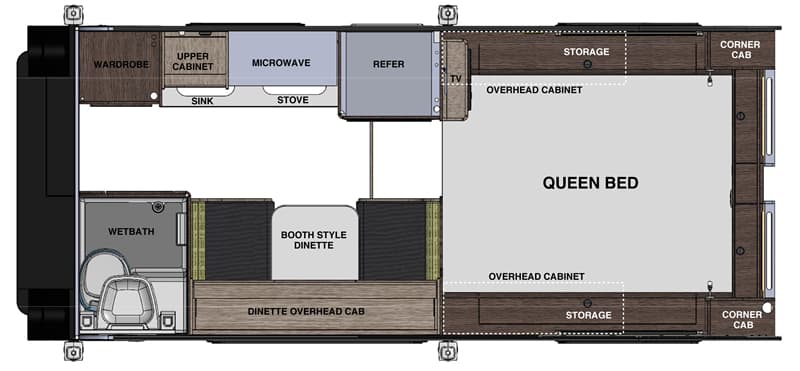 One area that Cirrus did not make a bold statement was their choice in floor plans.  The floor plan utilized for the 820 has been in steady production by multiple manufacturers for decades.  Even today, there are at least four truck camper manufacturers building nearly identical layouts.  With so many forward-looking elements of the Cirrus 820, it's probably a good thing that the 820 started with a proven floor plan.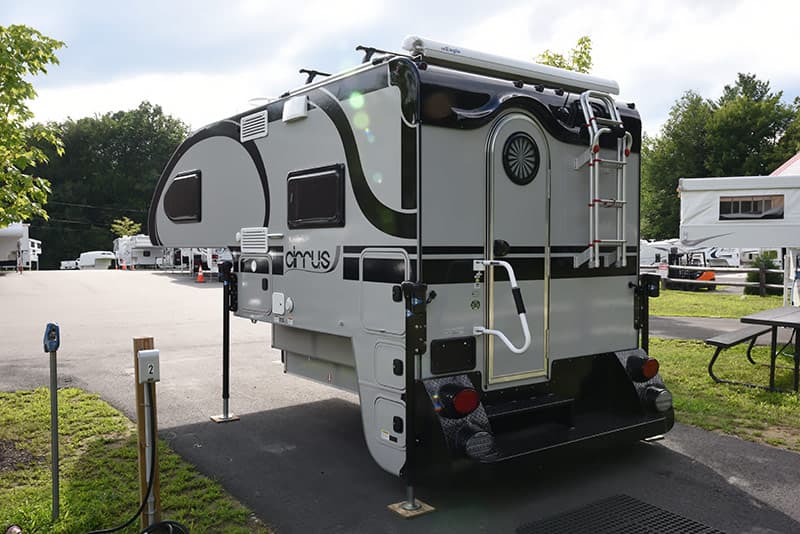 The rounded-top of the entry door and its circular window and pull-across screen are all unique in the truck camper marketplace.  The standard keyless entry is not unique, but certainly impressive as a standard feature.  The less-visible pull-across screen could give fast-running pet owners pause, but will allow for excellent open door air flow and rear view.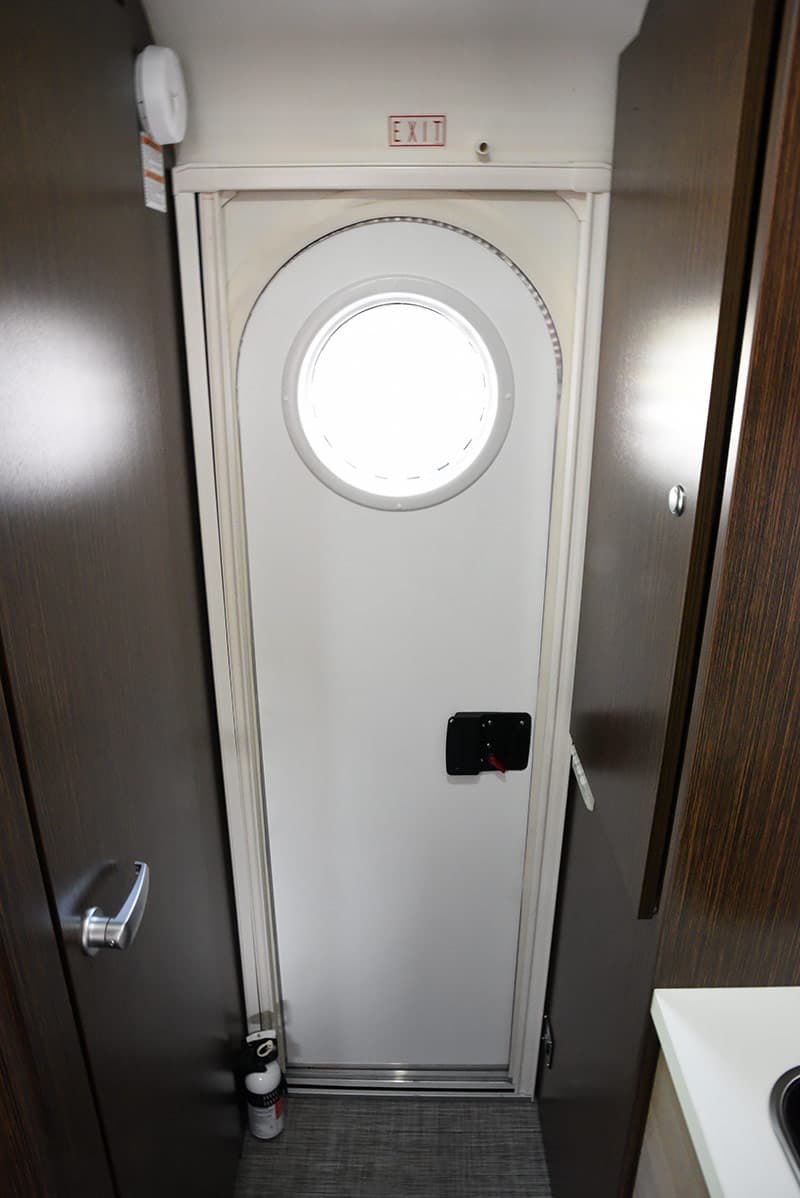 Unfortunately, the entry door on the Cirrus 820 had one issue that cannot be ignored.  When closing the door from the inside of the camper, the door need to be slammed to catch.
Bill Penney, Owner of Truck Camper Warehouse, has solved this problem for his Cirrus customers by installing a pull to transfer the force away from the door handle and door material (not shown).  This works beautifully, but should not be necessary.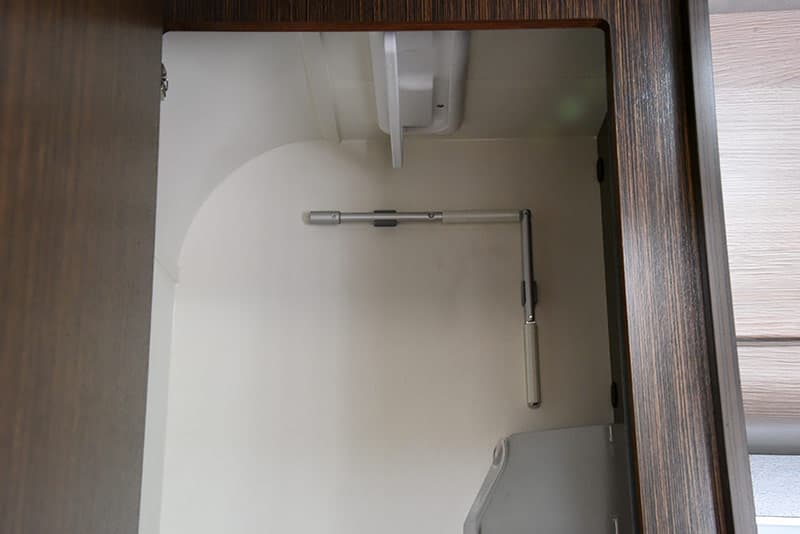 Just inside the entry door area on the driver's side is hanging closet.  Rather than provide a formal clothes rod, Cirrus has installed a pull-out towel rack that doubles as a place to hang jackets and shirts.
Behind the pull-out rack is the crank tool for the standard exterior Fiamma power awning.  This tool is only necessary if the awning's power motor fails.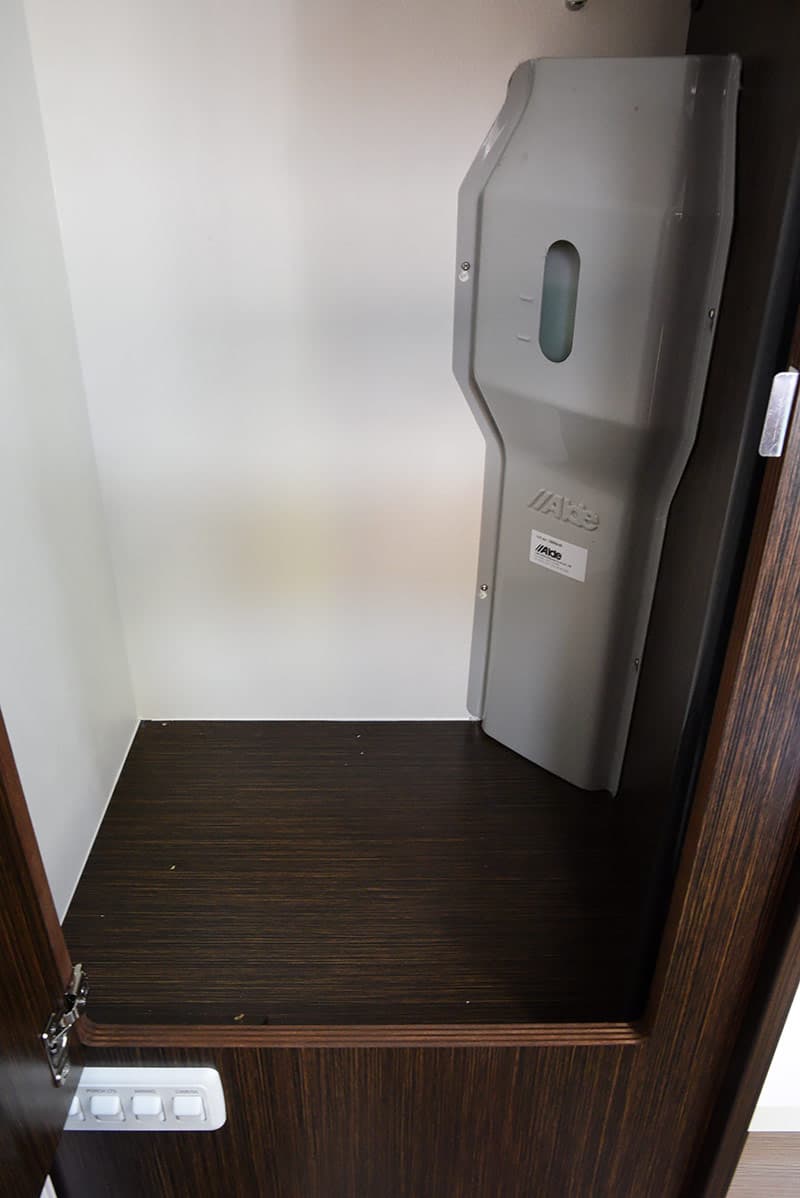 Below this tool is the Alde reservoir for glycol, a common anti-freeze.  The Alde system heats a mixture of glycol and water and circulates that mixture through convectors throughout the camper to warm the unit evenly.  According to Cirrus, the glycol level will only need to be checked once or twice a year.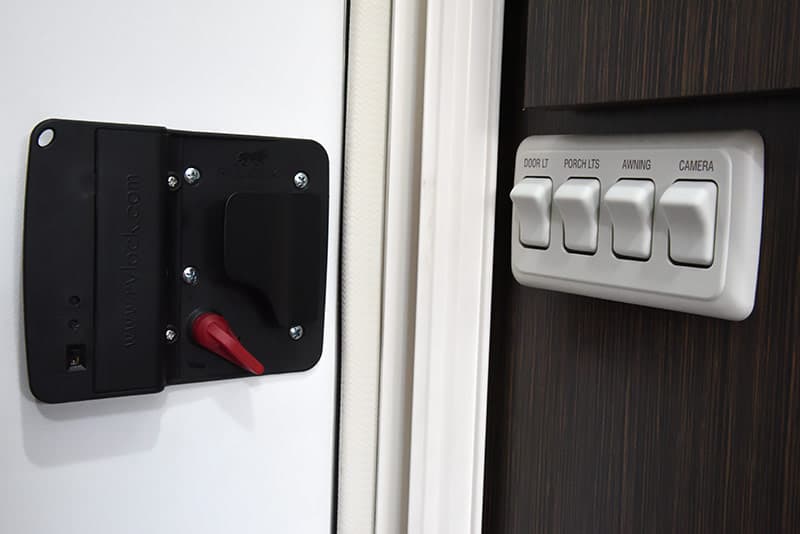 Under the closet door is a row of clearly labeled switches for the porch lights, power awning, and standard rear view camera system.  Like the previously mentioned standard keyless entry system, it's fantastic to see the normally optional power awning and rear view camera system as standard.  The Cirrus 820 comes seriously equipped!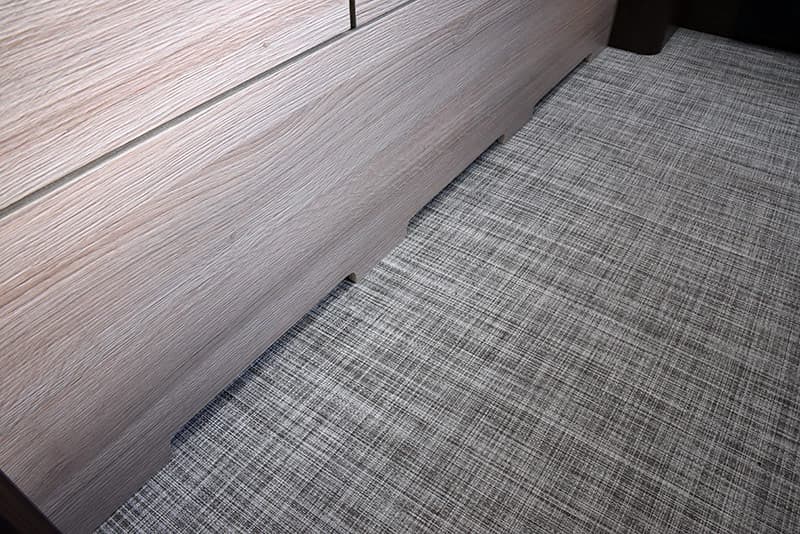 The flooring in the Cirrus is reassuringly rugged, but also remarkably comfortable underfoot.  There's just a touch of padding under the floor material.  If you audition an 820, take your shoes off and bask in what has to be the most comfortable floor in the history of truck campers.  If a dealer balks at your socks, tell them I sent you, and that TCM readers feet don't stink.
Making the floor exercises even more hedonistic, the Alde hydronic heating system heats the floors.  Between the padded floor, and the silent (no furnace fans required) radiant heating, cold weather camping in the Cirrus 820 will be a barefoot paradise.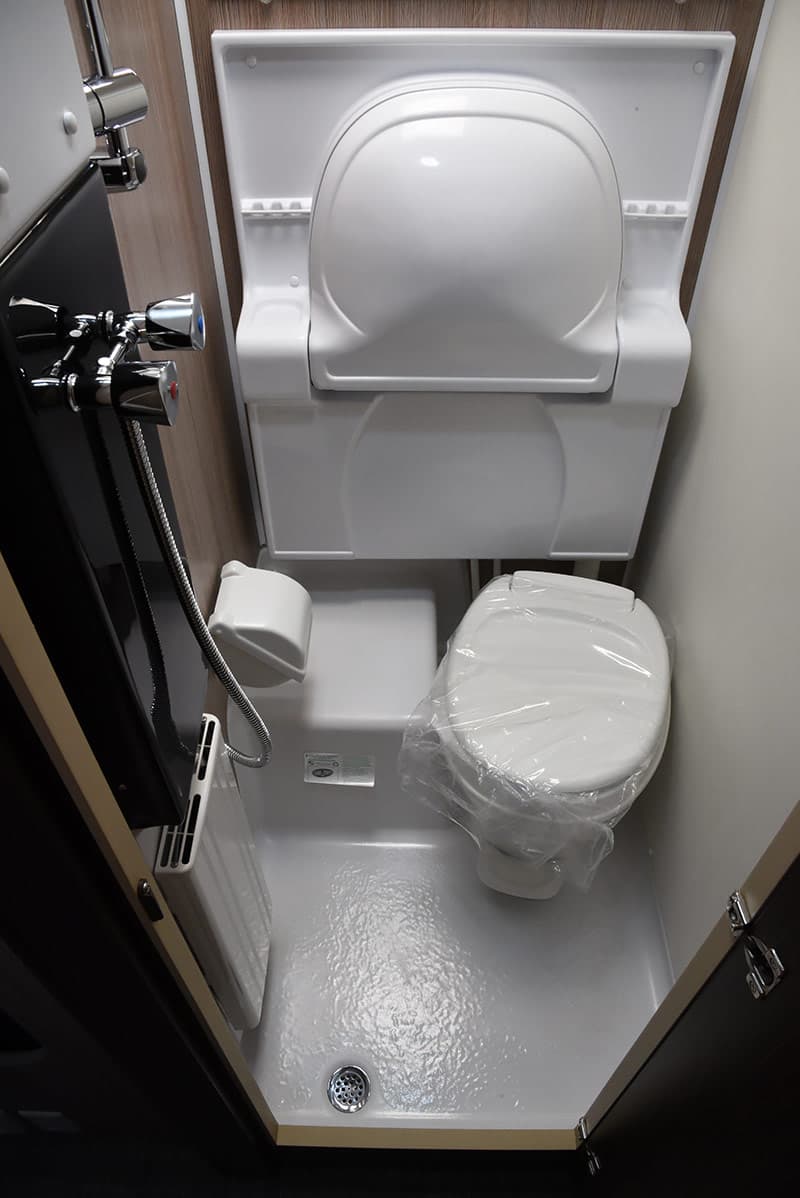 If there was a doubt about the Cirrus being a unique vision within the truck camper marketplace, one glance at the passenger's side wet bath will put that doubt asunder.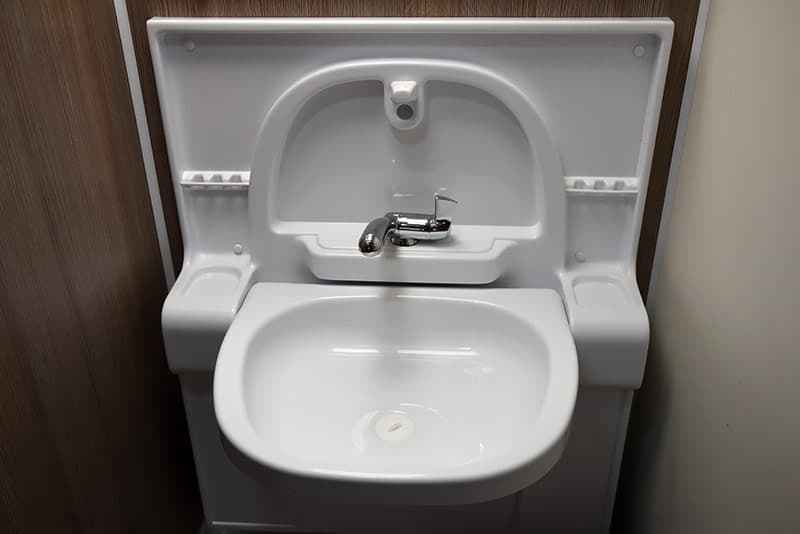 When the original 800 launched, it was the fold-down bathroom sink that stole the show.  At least in concept, the fold-down sink was something wet bath owners had wanted for years and were very excited to see finally realized.
In person, the fold-down sink had a well designed, yet distinctly lightweight plastic feel.  This may surprise folks initially expecting something more physically substantial, but the light weight is essential for the fold-up function, and saves precious truck payload.
The size of the sink basin is another surprise.  Without reservation, this is the largest sink basin in the entire truck camper marketplace.  Heck, most camper kitchen sinks aren't this generous.  While I like big basins (and I cannot lie), I wonder if this fold-down sink would be more practical with less bowl, and more counter space.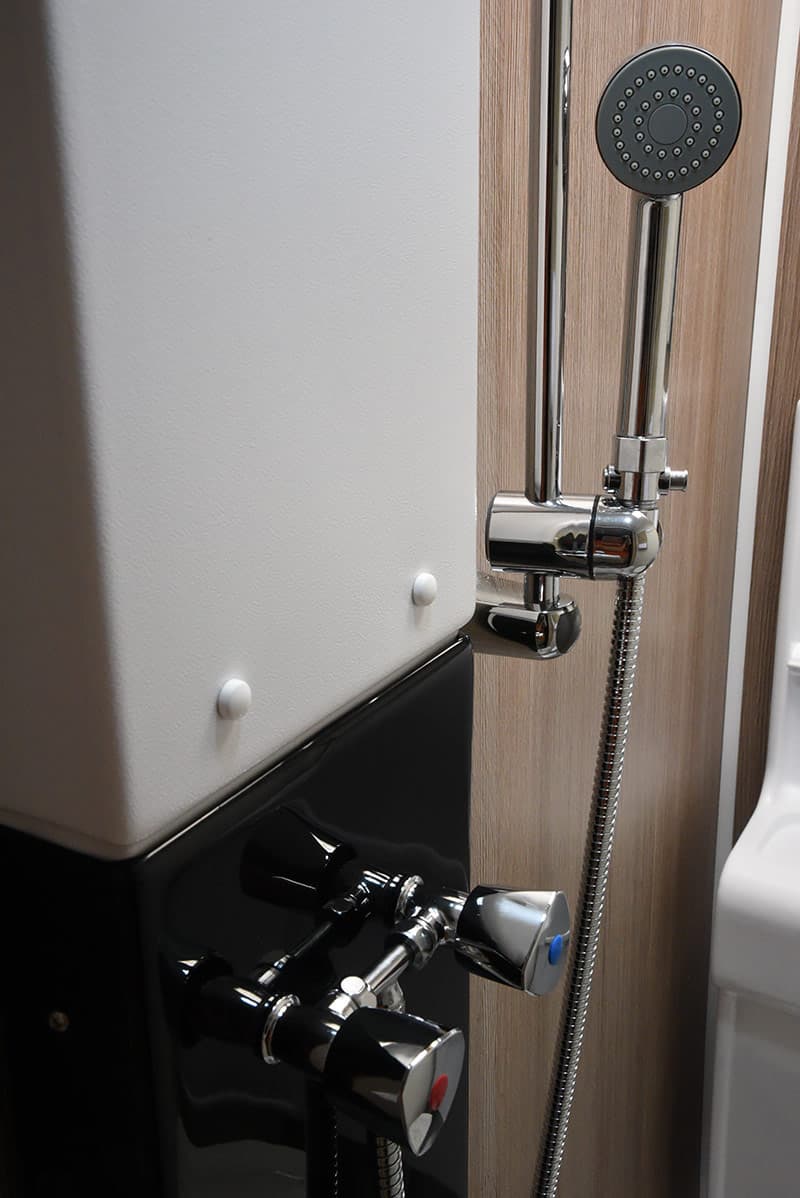 As impressive as the fold-down sink is, it was the modern shower nozzle and knobs that totally knocked me out.  Looking like something out of Dwell Magazine, the elegant fixtures give the Cirrus wet bath a distinctly high-end aesthetic.  Every other truck camper wet bath looks down right pedestrian compared to this presentation.  Simply stunning.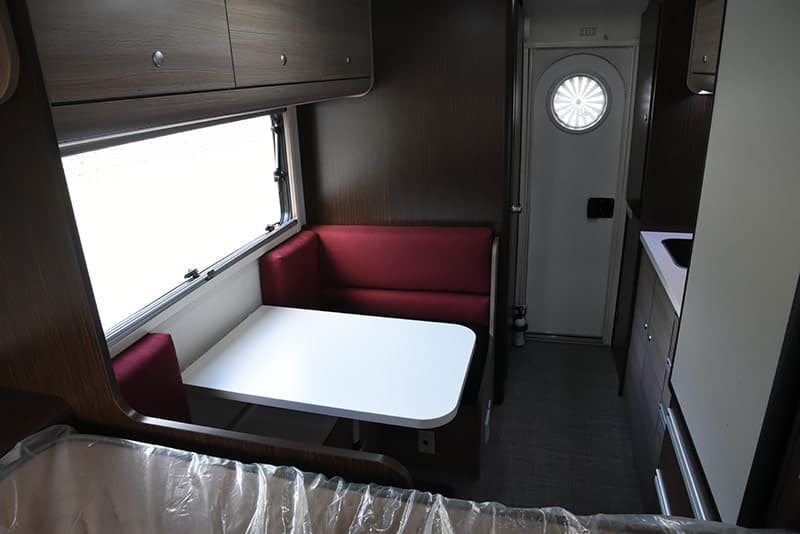 Part of what makes truck camping travel so fun is parking in amazing places and having breakfast, lunch, and dinner with an amazing vista out the window.  Cirrus has made these experiences even better with an enormous dual-pane thermal insulated window that stretches from rear seat back to rear seat back – the full length of the dinette.  Now this is a dinette window!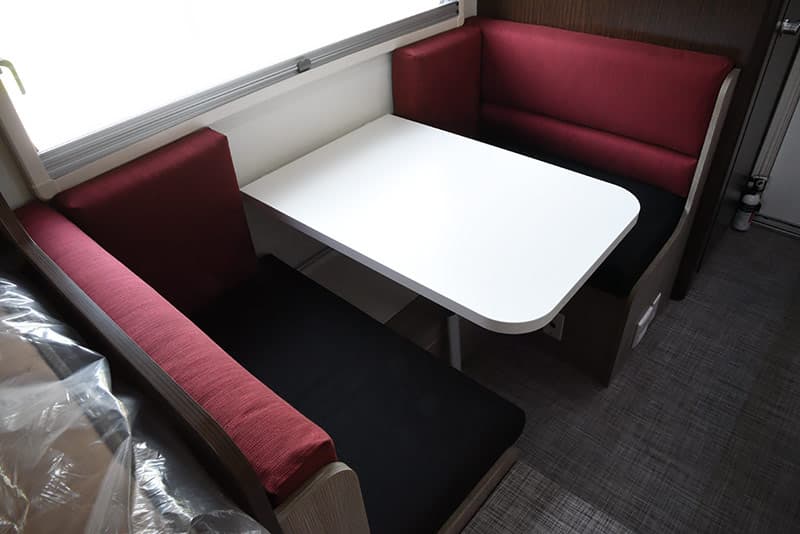 From standing height, the face-to-face dinette appears to be a full-booth dinette.  The seating width is perfect for at least two, and the table is nicely portioned for meals, maps, or laptop work.
Unfortunately, there's only 20-inches inches of width for your legs and feet under the dinette before a tall box protrudes into the leg space.  This box effectively means only two people can sit at the dinette, and they will be sitting at the inside half of the table.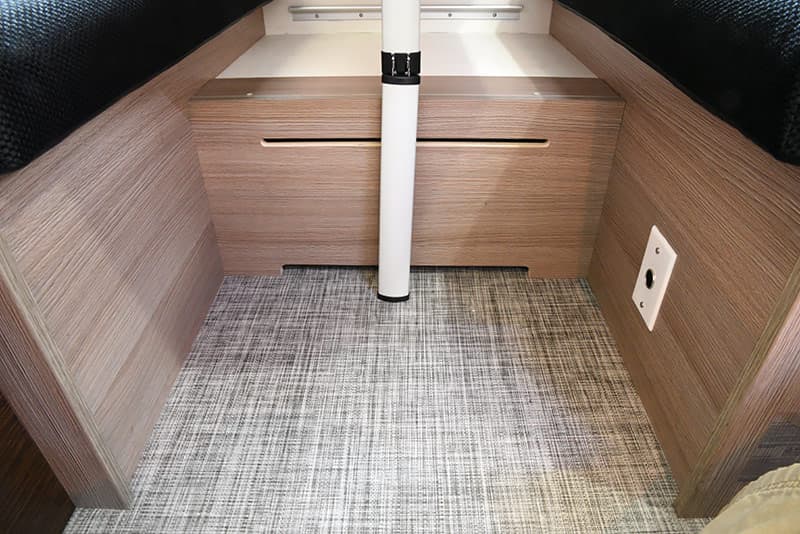 The Cirrus dinette starts on the camper floor, and felt a bit low to us.   Most truck campers have taller seating, and/or a floor riser that raises the height of the dinette seating and table.
While Cirrus sews and stabs their first Gordon voodoo doll, let's take another look at this dinette and put things into perspective.  First, the dinette and table height might be a perfect match for you.  This is, after all, a subjective observation.
Second, the narrower than ideal leg space may be all you need if it's just two of you.  Or, you may be perfectly comfortable folding and extending your legs around the box.  I often sit with one leg folded on the seat and find this perfectly comfortable.  Sit directly across from one another, or Origami yourself, and move on.
Did I mention that I love the side cushions for sitting length wise in the dinette?  I sit this way all the time in our truck camper and love that Cirrus accommodated this sitting option.  Loungers rejoice!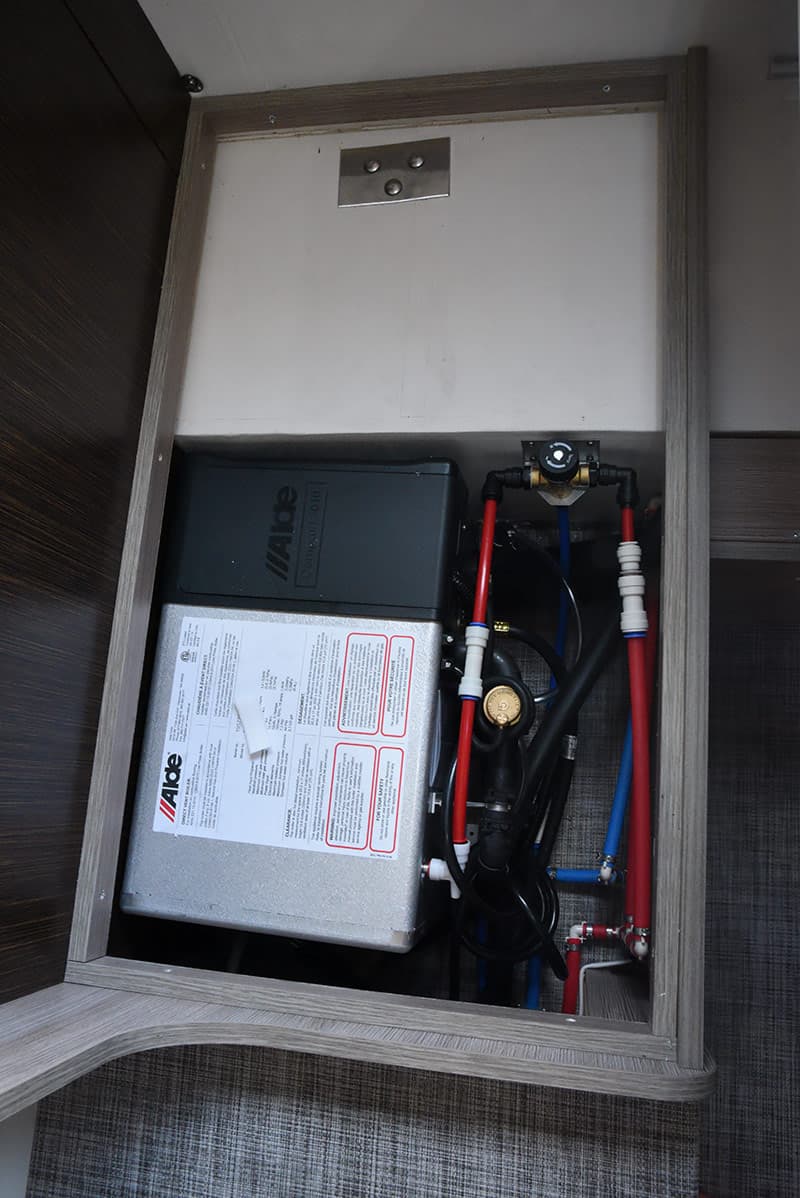 Under the forward most dinette seat is the new location of the main Alde Compact 3010 component.  In the 800, this relatively large appliance was located under the kitchen sink where it consumed darn near all of the available kitchen storage.  Now under the dinette seat, it's out of the way.
Under the facing dinette seat is an area well suited to storage, as long as you're careful not to place anything in here that could damage the Alde plumbing.  We also wonder if this might be an alternative location for the batteries than the outside compartment.  The batteries would either need to be vented, or AGMs, but this location seems perfect for two Group 27 AGMs, or better.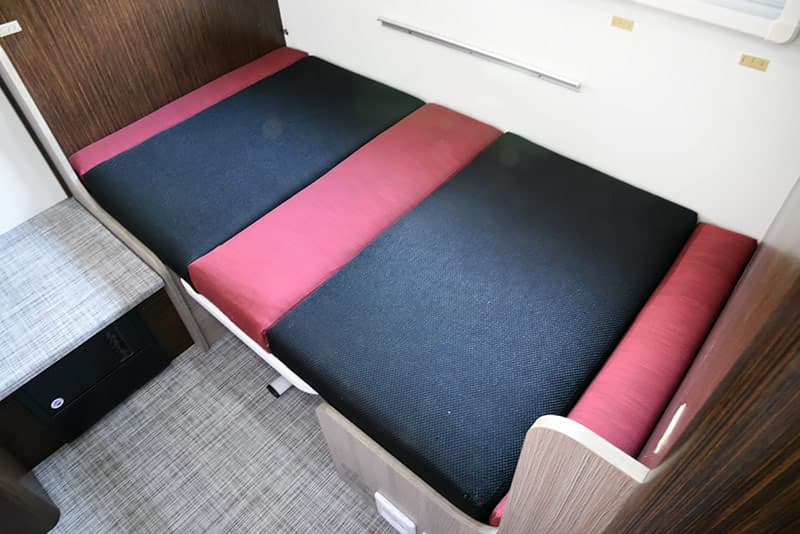 Once I figured out how the table leg folded, the dinette made into a 68.5-inch bed.  That's 5.7-feet, so beware tall people who sleep stretched out.  I curl up like a kitten, so this suits me fine.
Immediately above the dinette is a uniquely designed overhead bunk and storage cabinet.
To release the drop& down cabinet facia, the owner pulls a pin and opens a clasp on both sides of the inside cabinet.  Once released, the cabinet is lowered until level, and held by the two straps.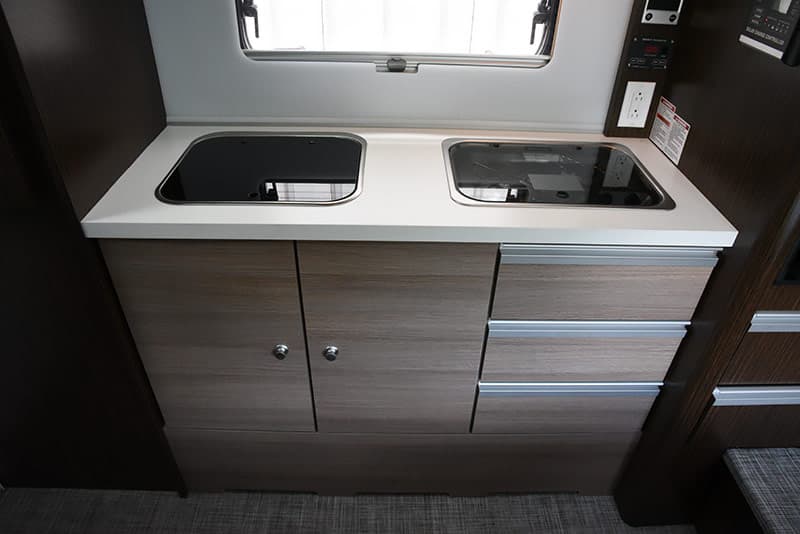 The modern vibe picks up again with the simplicity and elegance of the Cirrus kitchen.  The lines and materials showcase a design level rarely seen in the greater RV marketplace.  To put it mildly, somebody at Cirrus cared deeply about the form and function of the 820 kitchen.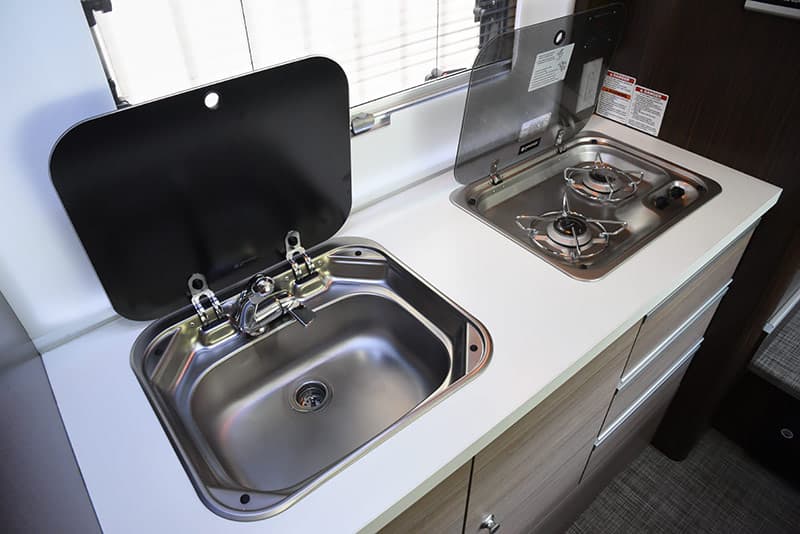 Set against the white laminate countertops, the glass top sink and cooktop offer a lot of versatility.  One can imagine the range top being down to allow for extra dish drying space, or the sink top being down to allow for more cooking space.  Even with both glass tops up, there's enough counter space for dish washing and/or simple meal preparations.
The single basin stainless sink itself is just big enough to comfortably handle routine dish washing, but may be tight for those who insist on residential-size pots and pans.  If in doubt, bring your biggest must-have pot or pan with you to a Cirrus dealership.  If nothing else, the sight of a large pan in your hands will encourage the dealer to lower their asking price.
I have no idea why folks need more than two gas burners for truck camper cooking.  Nine times out of ten, we only cook or heat water with one burner.  I don't think we've ever had our third burner lit, except for testing.
The obvious weight savings, counter and cabinet space savings, and ease of cleaning with a stainless steel and glass top cooktop makes tremendous sense in a truck camper.  While we would miss our gas oven for the occasional boondock cake baking, 99-percent of the time a two-burner cooktop would be all we needed.  Perfect choice, Cirrus!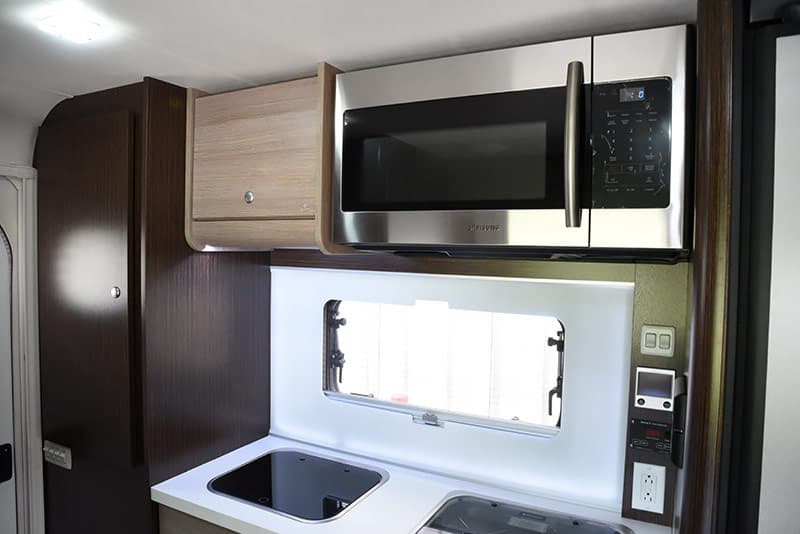 Above the counter is by far the largest convection microwave we have ever seen in a truck camper.  With its integrated hood light and fan, this Samsung is bigger than the over-the-range microwave we have in our home.  It's a beast!
At first glance, I was impressed with the clearly residential style, size, and quality of this convection microwave.  But then I thought, "Why on Earth does anyone want a microwave this big in a truck camper?"  Then I started thinking about the lost storage potential, the weight, the power requirement, and the eventual need to replace an appliance that may no longer be available.
On balance, we have always used microwaves in truck campers to store light weight items like chip bags and paper towels, so it's not totally lost storage space.  And some folks might put this monster convection microwave to good use.  It's also possible that this size of microwave is a common standard making its potential replacement a non issue.  In the future, I hope Cirrus makes this Samsung goliath an option, and makes more storage the standard.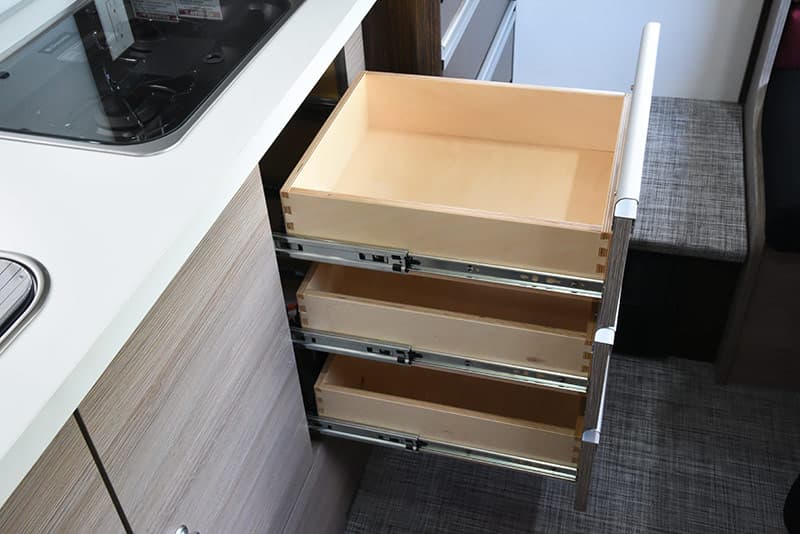 Making their stainless steel roller-bearing debut in the Cirrus 820 are three under counter kitchen drawers.  The build quality, materials, and overall feel of these drawers is truly top-notch.  Even better, these three drawers are exactly the right storage solution in exactly the right place.  I love when that happens!
Here are my drawer predictions for Cirrus 820 owners: the top drawer will hold your silverware, the middle drawer will feature your cooking utensils, and the bottom drawer will be a junk drawer; stuff that needs a home, but defies whole-drawer classification.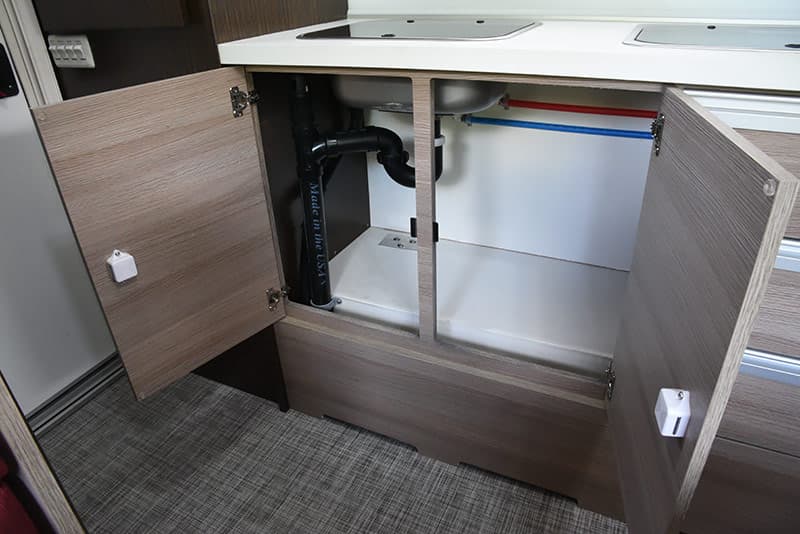 The double door cabinet under the sink is one of those "Woo hoo!" and, "Well, hmmm…" moments that makes my job both easy and confounding.  First, I was thrilled to see the large storage space vacated by the moved Alde system from the original 800 design.  Then I wished that a floor had been installed inside the cabinet to prevent items from falling into the gap just behind the cabinet face.
Naturally, owners can install a floor into this area, but I believe Cirrus should make this simple change a priority.  With the floor installed, this large cabinet could hold a fairly large trash can and other kitchen supplies.
Other important details abound in the kitchen.  The locking cabinetry knobs, struts, hinges and other hardware are all rock solid and fantastic.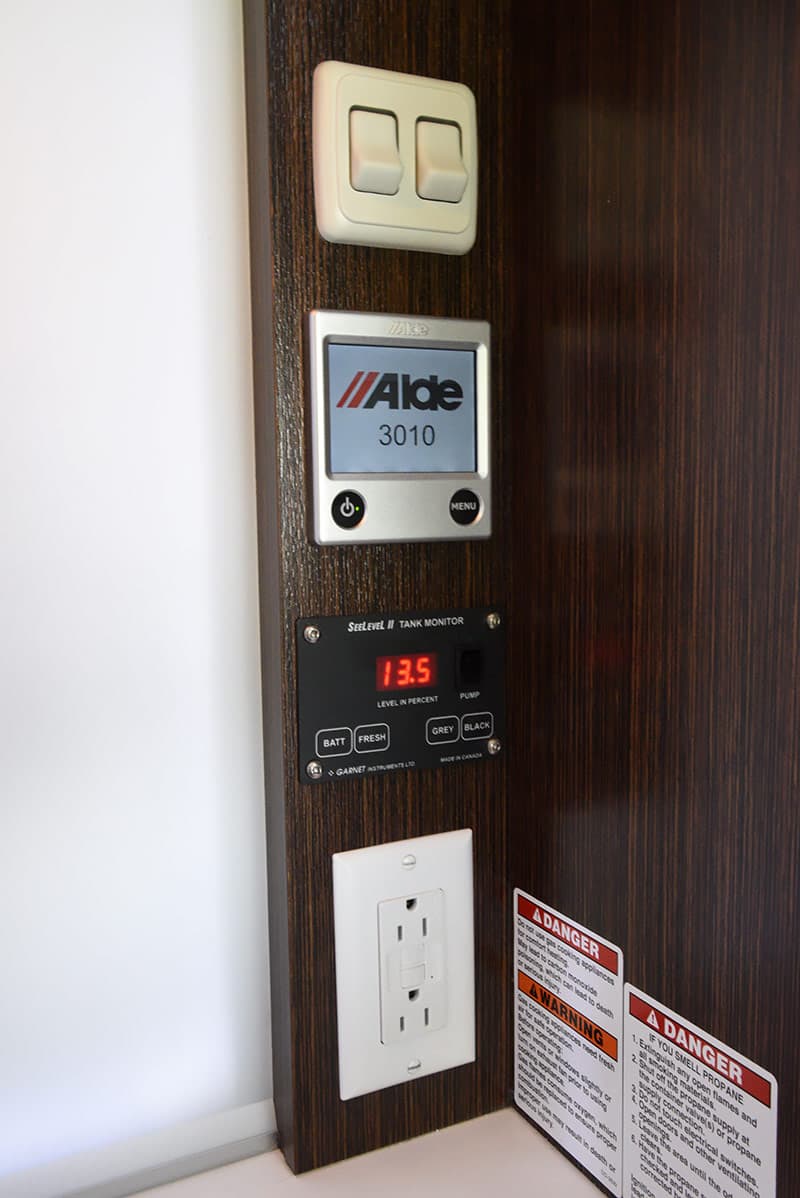 The Alde Compact 3010 heating system controller, SeeLevel II holding tank monitor system, and Zamp Solar charge controller are all neatly mounted in the forward kitchen.  The technology utilized and the presentation of these features is truly top-notch.
Adding yet another unique flourish are the two rockers above the Alde controller that activate the LED lighting under the upper cabinet, and inside the opaque kitchen window wall.  Along with the hood light built into the microwave, these lighting options give the Cirrus kitchen area ample ambient lighting choices.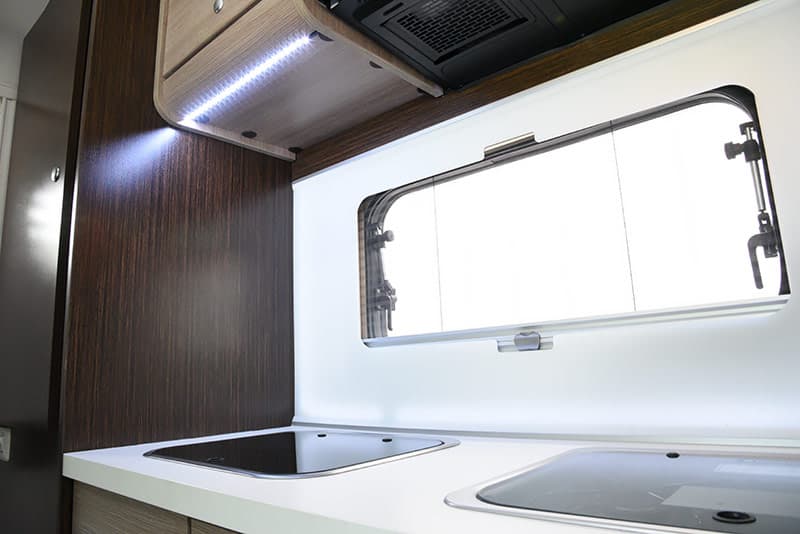 When I photographed the 820, I was not impressed with the quality or quantity of the light from the under cabinet LED strip.  After re-reading our own interviews with Cirrus, I remembered that the LED strip light has three brightness levels, the lowest of which is a blue light.  The two brighter white light settings that I missed should perform better.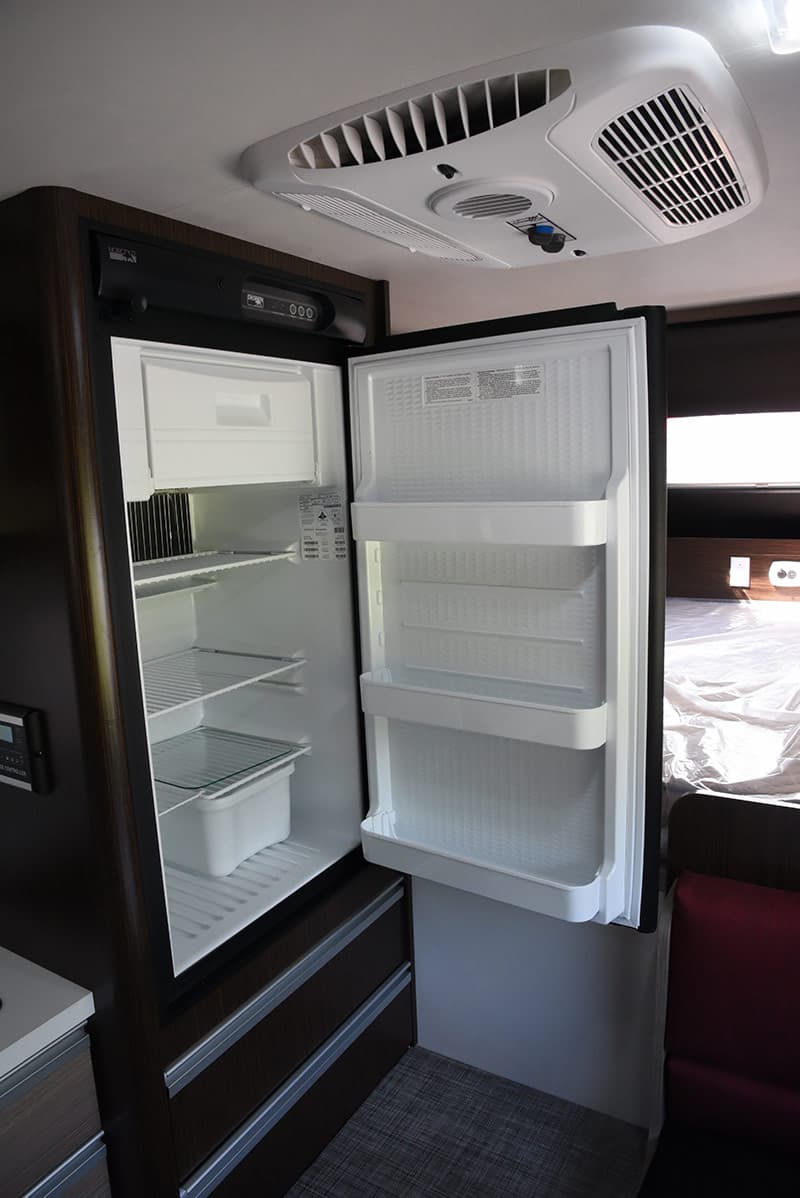 The refrigerator in the Cirrus 820 is a 5 cubic-foot, 3-way (AC/LP/DC) Norcold model.  Like the sink and two-burner cook top, we believe this is the right size refrigerator for this truck camper; not too big, and not too small for a short bed non-slide.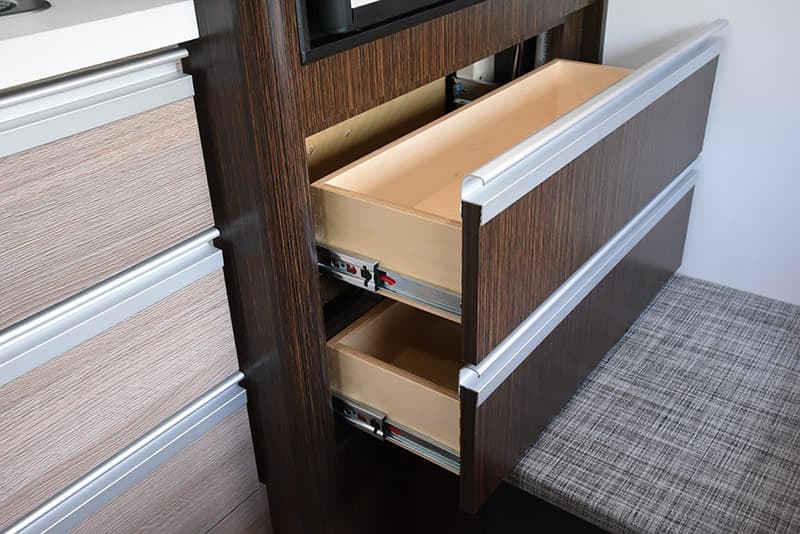 Had Cirrus gone with a larger refrigerator, they would have lost the space for the two pull-out drawers under the refrigerator.  These drawers are wide and shallow; excellent for dry food items.  Dealer and customer feedback may nudge Cirrus in the larger refrigerator direction, but the trade-off of losing these drawers would be considerable.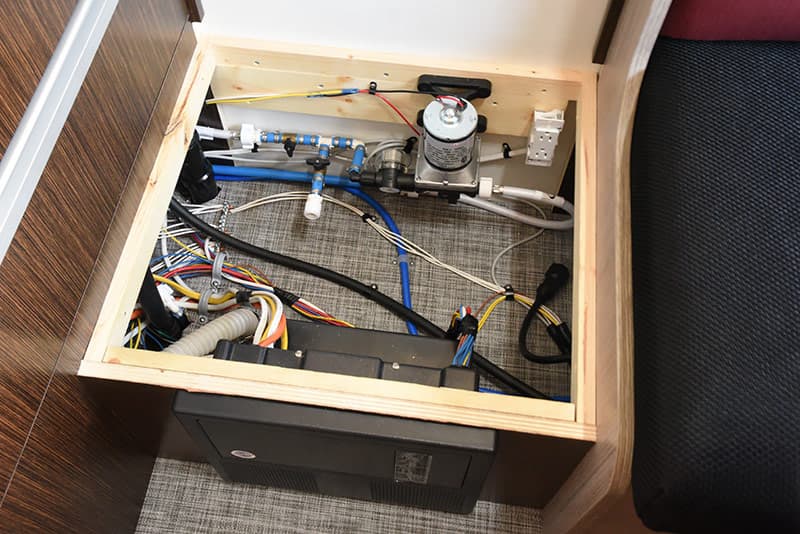 The step up to the cabover lifts up to access the water pump and fuse box.  Having easy and comfortable access to the water pump is just awesome.  Ask anyone who has had to replace a water pump located under a shower tub (our camper) or some other stupid location, and you'll realize just how phenomenal this is.  Well done, Cirrus team!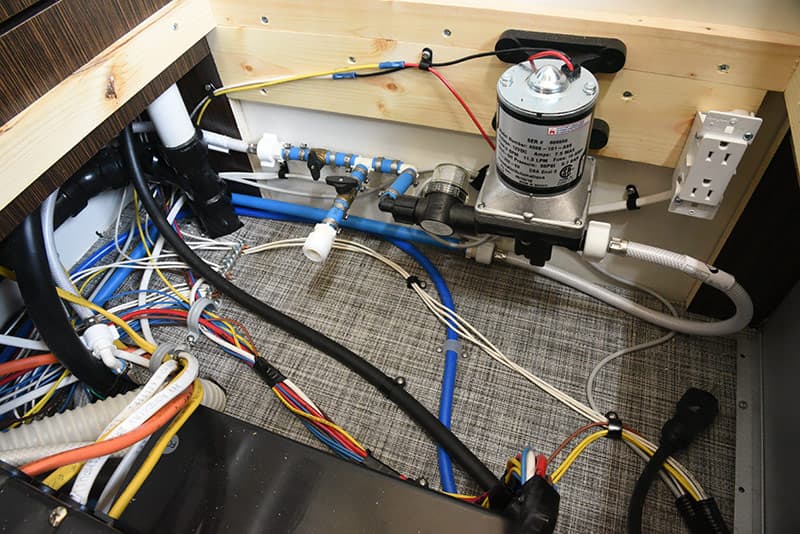 A great addition or mod for this spot would be a in-set storage container that would rest on the outer lip of the box and lift out of the way for access and maintenance.  This would be a great "hidden" storage location, and a good place to keep items you don't need every day.
The 19-inch HDTV and audio-video system in the Cirrus 820 is quite striking.  First, the integrated unit swings out from the cabover to face the dinette and/or kitchen-area via a piano-style hinge and locks in place with a tightening screw underneath the unit.  Second, the unit features a full-width Jensen CD/DVD/Bluetooth enabled stereo that we haven't seen in any other truck camper.
I liked the presentation of the integrated system, but found that the tightening screw needed to be very tight to get the television to stay put.  Like the microwave, I am also concerned about when a customer wants or needs to replace either the television or the audio-video system.  If owning our own 12-year old truck camper has taught us anything, it's to always think about possible maintenance, repairs, and upgrades.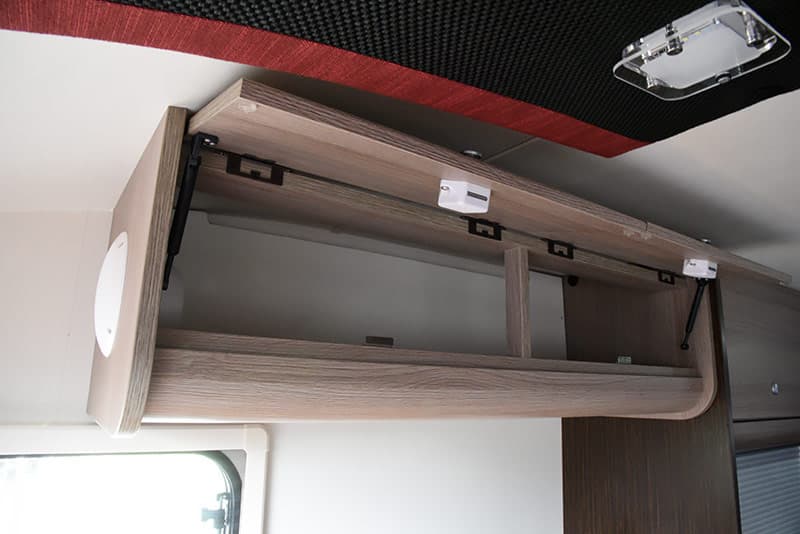 Above: Storage cabinets on the passenger's side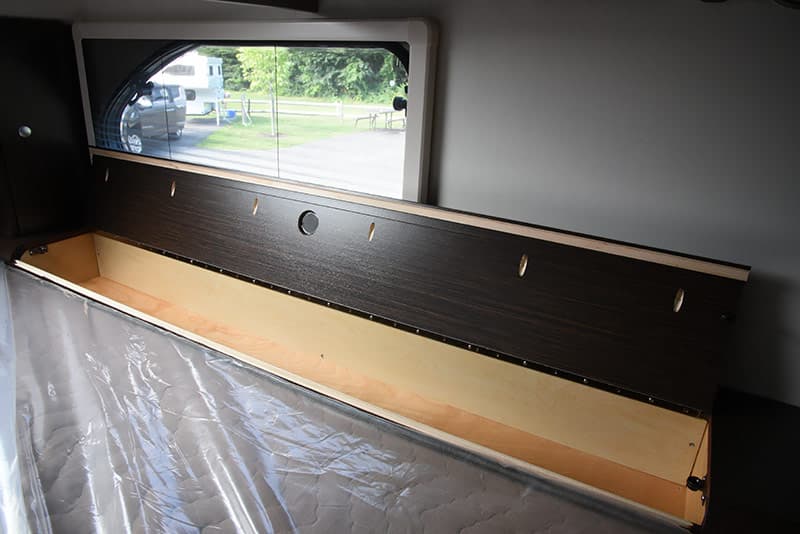 Above: Storage hamper on the passenger's side
The cabover cabinetry in the 820 is a world better than what we saw in the first-generation 800.  There are now lower storage hampers, upper storage cabinets, and forward cabinets (aka penguins) on both sides of the bed.
Having essentially equal and ample storage opportunities on both sides will ensure marital harmony.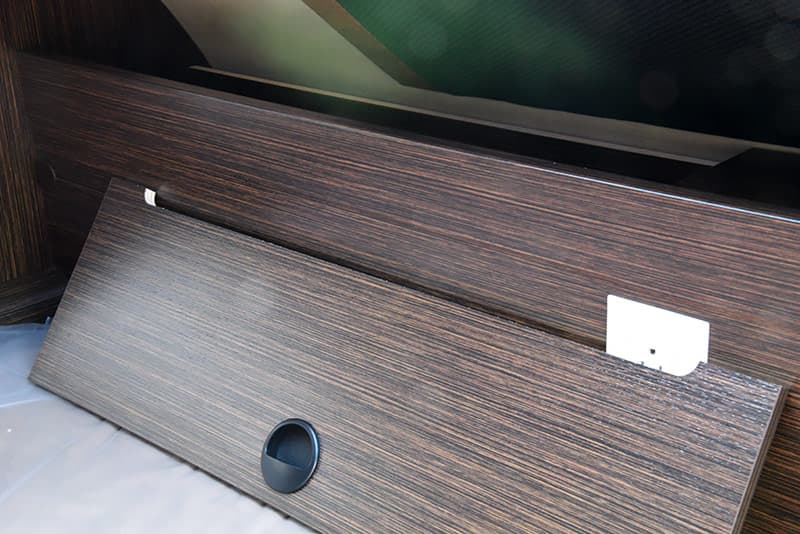 There's even a bonus lift-up storage bin behind the headboard.  This is how cabover bedroom storage is done folks.  Perfection.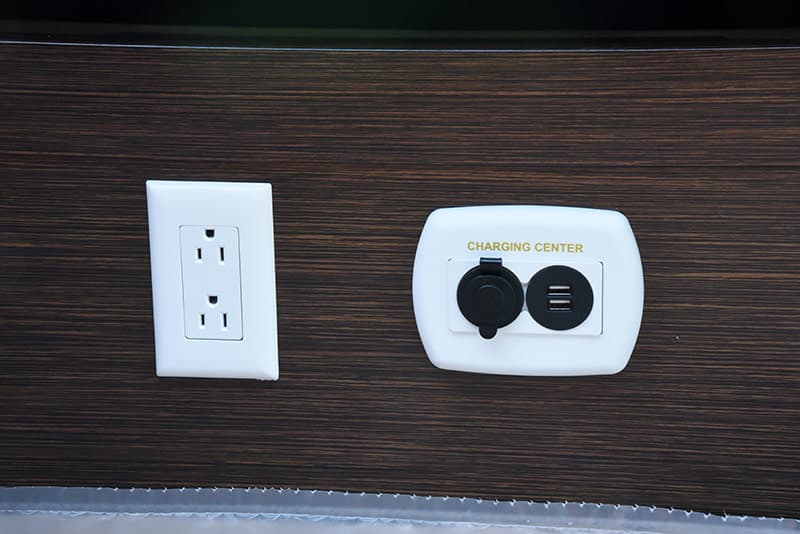 Kicking things up a notch, the Cirrus has 110-volt, 12-volt, and USB outlets dead center on the headboard.  While I'm excited to have these outlets available in the cabover for charging devices, running C-PAP machines, and powering electric mattress heaters (a must for us), I'm not entirely wild about the location.  It would be better to have these electrical outlets on either side, and out of the way.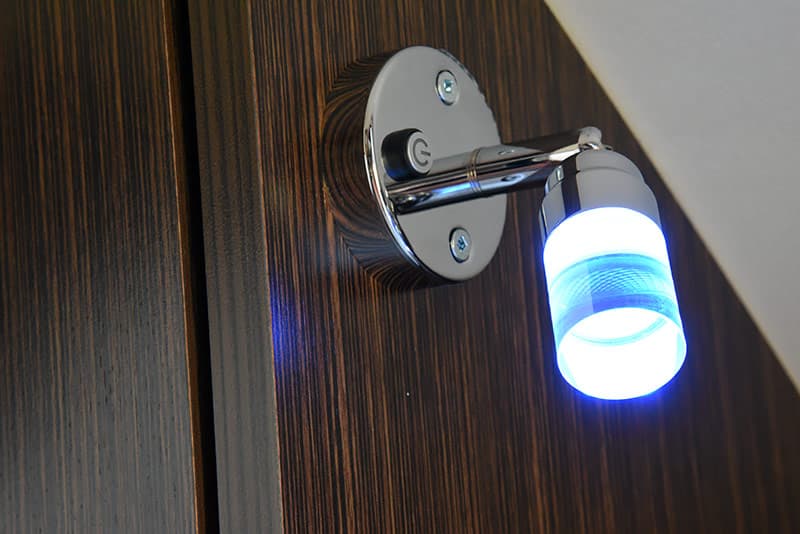 Now this next nit pick might be user error, but all I could get out of the reading lights was one level of blue lighting.  To be fair, I was trying these lights in broad daylight, but they didn't seem very bright, and the blue color wasn't very pleasing.  This is where I remind the Cirrus team that they are able to write a manufacturer's comment and say, "Gordon, you knucklehead!" and tell me where I went wrong.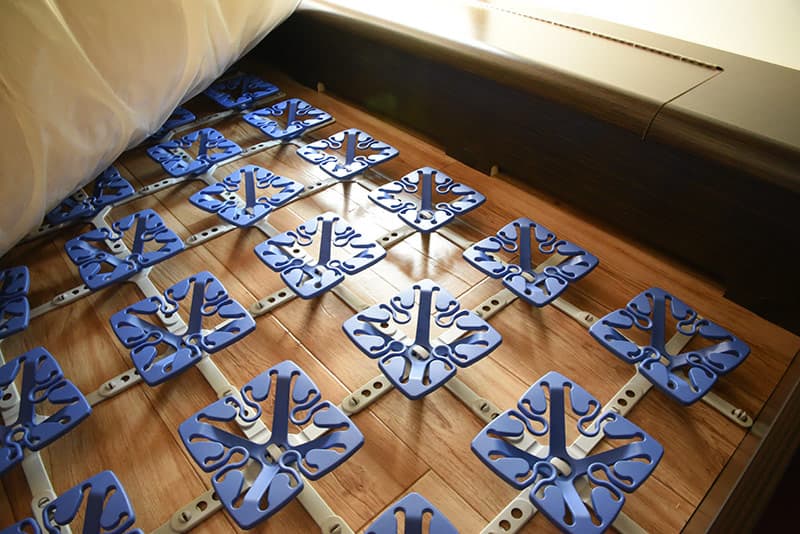 One of the many hidden innovations in the Cirrus 820 is the Froli bedding system under the mattress.  The purple flower shaped objects seen above are actually springs that hold the mattress much the way a box spring might at home.  The Froli system also elevates the mattress to allow airflow under the mattress.  This airflow prevents condensation and allows the Alde radiant heating system to work its fan-free magic.
While the mattress and Froli system were comfortable, we will need to test out this system in real camping situations before we can declare it a winner.  For now, it certainly makes sense on paper, and the design is impressive in person.  Maybe Cirrus will outfit our camper with a Froli system and we'll have a definitive answer in the morning.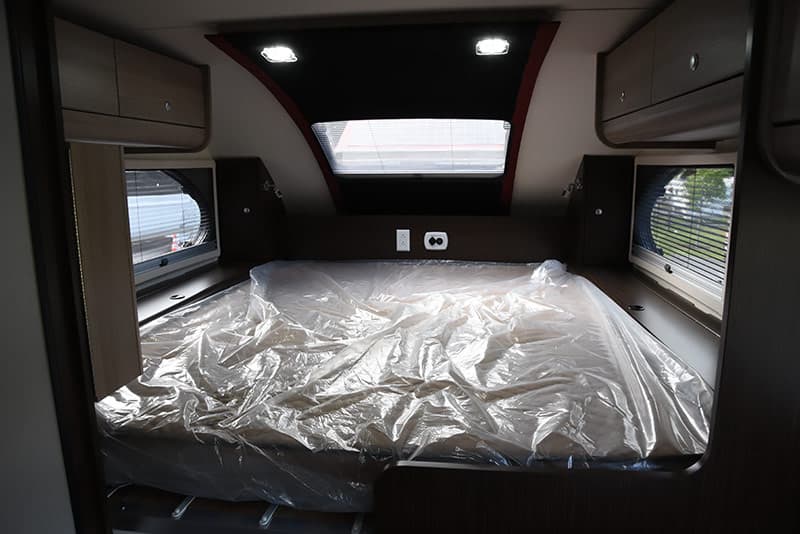 Finally we get to the large dual-pane thermal-insulated cabover nose window – that opens.  This window obviously helps to brighten the cabover, and makes the entire Cirrus 820 feel more open and spacious.
The ability to open this front window offers an unparalleled opportunity for airflow in the cabover.  It's also fantastic to have such clear visibility out of the front of the camper when parked for the night.  There's even a built-in screen and black-out shade, similar to what's on all Cirrus windows.
On the flip side, owners will need to be careful to always latch this window before travel as it would likely tear itself open at highway speed.  There's also the question of possible leaks with a front window, but Cirrus described using the same rubber seal system they've used on their teardrop trailers for years without incident.
Specifications
| | |
| --- | --- |
| Specifications | |
| Dry Weight | 2,540 pounds |
| Wet Weight* | 3,535 pounds |
| Floor Length | 8'3″ |
| Overall Length | 17'0″ |
| Width | 86.25″ |
| Interior Height | 6'5″ |
| Exterior Height | 91″ |
| Center of Gravity | 36″ |
| Truck Type | Short Bed |
For now we are taking Cirrus at their word about the 2,540 pounds dry weight of the 820.  Given the Cirrus 820's floor length and features, that weight sounds about right.
At this point in a review, we always point out that manufacturer posted dry weights represent the lowest possible weight of a unit, without options.  With the Cirrus 820, most of the popular options are standard, which should mean their dry weight is an accurate representation of the units found on dealer lots.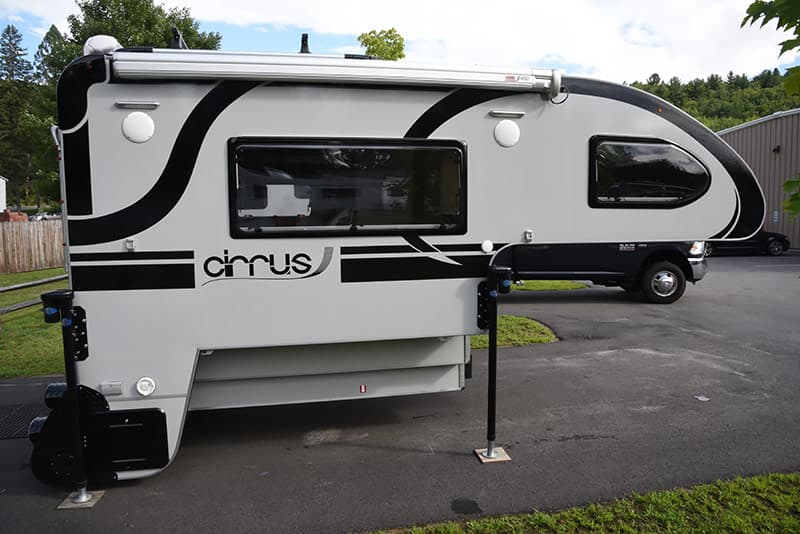 Since Cirrus only makes one model of truck camper, we compared its specifications to competitor models utilizing essentially the same floor plan.  In this direct comparison, the 8'3" floor length is shorter than the competing models, although only by a few inches.
The 86-inch width is in the range of the other models, with one exception.  The 6.5" interior height and 36-inch center of gravity are also within the range of the competitors.  If you were comparing these floor plan sharing campers based entirely on dimensions, there would not be a lot of differentiation.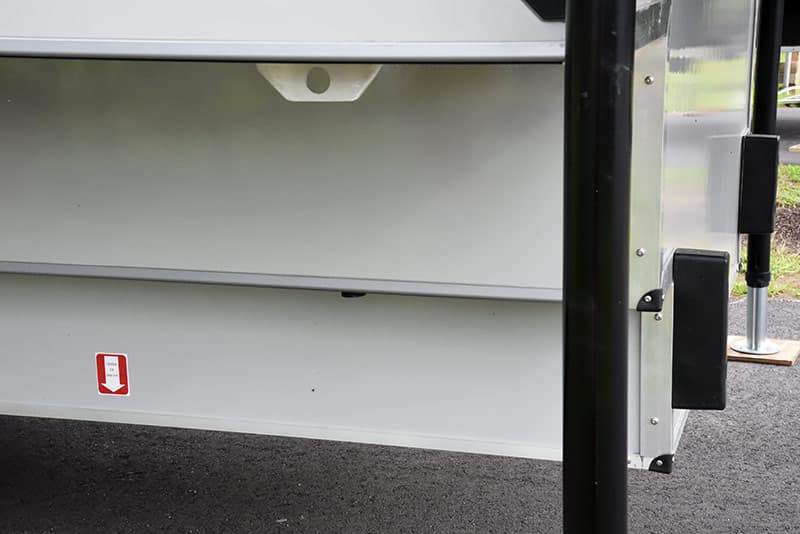 Above: The center of gravity is at 36-inches (correction: the center of gravity is 32-inches) from the front wall of the camper.
One specification that does differentiate the Cirrus from some of its competitors is the requirement of a short bed truck.  Where others will fit both long and short bed trucks, the Cirrus is optimized only for short bed trucks.  We actually prefer this approach as it encourages the designer to keep the weight and center of gravity in check for short bed trucks.
Capacities
| | |
| --- | --- |
| Tank Sizes | |
| Fresh | 38 gallons |
| Grey | 32 gallons |
| Black | 18 gallons |
| Water Heater | 1 gallon |
| Propane Tanks | 2x 20 pounds |
| Batteries | Two Batteries |
Where the Cirrus really pulls ahead of the floor plan sharing competition is in the holding tank department.  With 38 gallons fresh, 32 gallons grey, and 18 gallons black, the Cirrus 820 has larger grey and black tanks than its competitors, and a one gallon smaller fresh tank than the largest in this category.  Overall, the Cirrus comes out on top for tanks.
Above: The Cirrus 820's service compartment includes battery disconnect, water bypass, exterior shower, and grey and black tank pulls
From experience, the Cirrus 820 tanks should last for 5-6 days of off-grid camping.  If you practice common sense conservation, and/or camp by yourself, these tanks could be stretched to 9 days – possibly more.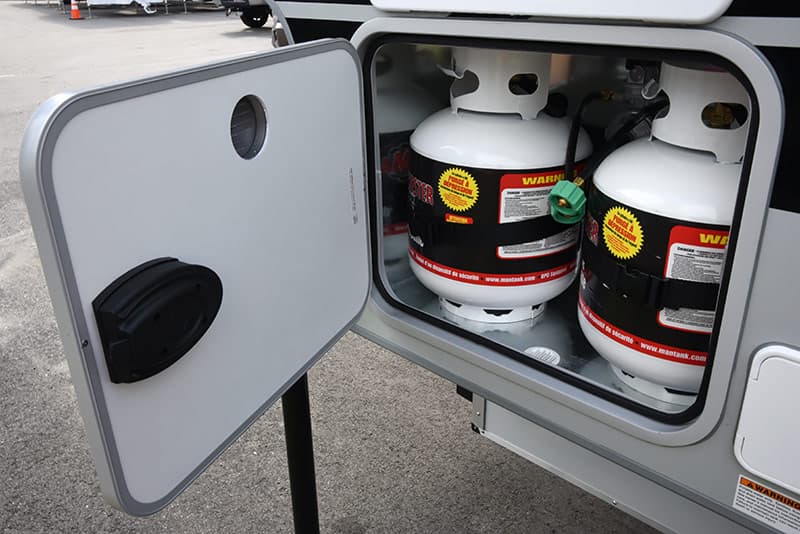 The Cirrus shines again with two 20-gallon vertical propane tanks and room for two Group 27 batteries, matching the capacities of the capacity-leading competition with this floor plan.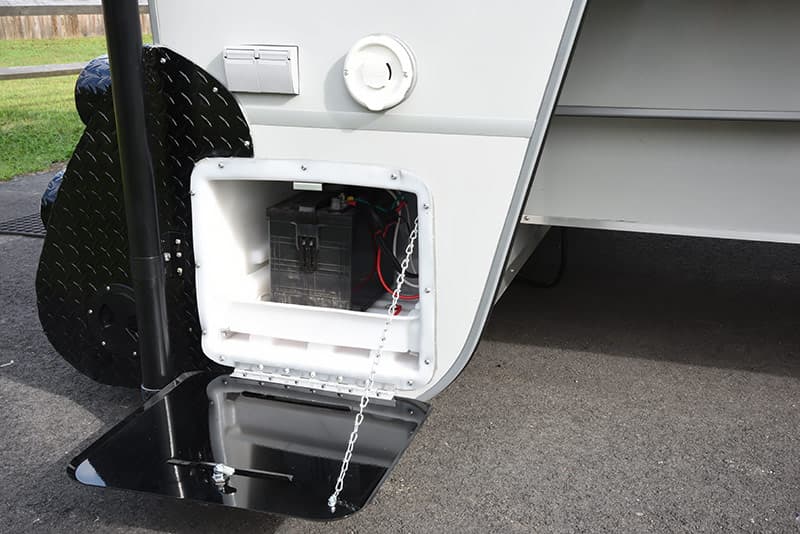 With two exchangeable vertical 20-pound propane tanks, two Group 27 batteries, and all-LED lighting, the Cirrus 820 has exactly right ingredients for long distance travel, and long-term dry camping.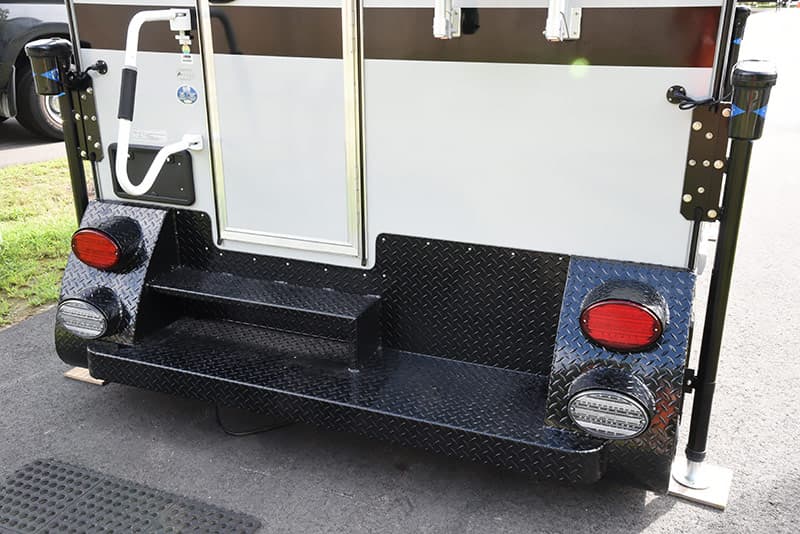 The aluminum rear bumper step is another Cirrus original.  While the bumper offers no exterior storage (other than the side sewer hose tube), the near residential step height was very comfortable in use.
Under the bumper are pull-out steps (not shown in photo) that add a two additional entry steps.  For taller rigs, Cirrus dealers install the Torklift International Glow Step system.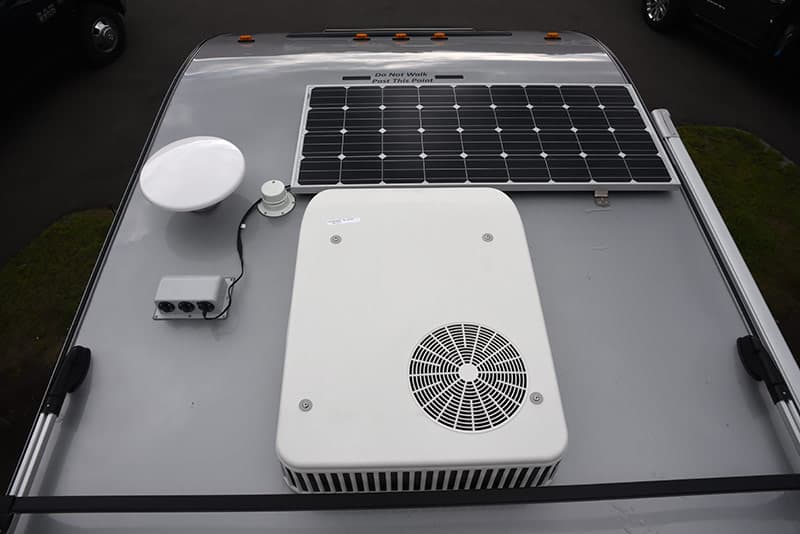 On the roof, a Coleman Mach 8 air conditioner and Fantastic Fan comes standard.  Our only addition to what comes standard on the 2017 Cirrus 820 would be the optional solar panel system.  As it is, the Cirrus 820 comes pre-wired for solar.
With the 820 updates, Cirrus got the capacities spot on.  Anything more would have been adding unnecessary weight.  Anything less might have compromised the camper's capabilities.  As it is, the 820 is ready to go cross-country for couple months or off-road and off-the-grid for a week.
Wet Weight Calculation
It doesn't matter what size truck you have, or what size camper you're thinking about – always calculate what that camper should weigh wet and loaded with your stuff prior to purchase.  Avoiding this step sets yourself up for a potential shock when you load the camper, and drive it down the road.
Practicing what we preach, we ran the numbers on the Cirrus 820.
Note that the Cirrus 820 comes standard with features that are normally optional in the truck camper marketplace.  The 820 standards include an 8-foot power awning, insulated windows, Fantastic Fan, back-up camera (correction: the back-up camera is not standard), Coleman Mach 8 air conditioner, keyless entry, convection microwave, 19-inch HDTV and CD/DVD/bluetooth audio-video system, and more.
Base Dry Weight – option-loaded as standard
Cirrus 820: dry weight, 2,540 pounds + 38 gallons fresh, 316.9 pounds + 1 gallon full hot water heater (Alde system), 8.3 pounds + 2x 20-pound full propane tank, 40 pounds + 2 batteries, 130 pounds + stuff, 500 pounds = 3,535.2 pounds
Truck Recommendations
With 4,013 pounds of payload, our previous 2013 Chevy 3500 crew cab, short bed, four-wheel drive, single rear wheel truck would have been a perfect match for the Cirrus 820.  With that truck, you would have over 477 pounds to spare for towing, or a fantastic margin of safety.
Unfortunately, half-tons are ruled out at this weight class.  Late model three-quarter tons may be possible, but only if they are special ordered to maximize payload.  Even then, you'll likely be limited to a fairly minimal gas truck.
Diesel guys and heavy towers are going to need a one-ton.  To ensure you have enough payload, you will likely need to special order the truck.  With one-ton short beds, you may find a diesel truck with the required 3,535 pounds of payload on a lot, but you will need to check the truck's payload sticker before pulling the trigger.
The Cirrus 820 is a high-end short bed truck camper loaded with standard features and exceptional capacities.  These high-end features require a capable truck with payload capacity at the upper end of what's possible in a short bed truck.
If at all possible, the best advice is to study the truck build from our 2013 Chevy 3500, and special order a similarly-specified truck from Chevy, GMC, Ram, or Ford.  If that's not possible, aim for a three-quarter or one-ton truck with at least 3,535.2 pounds of payload.
The Verdict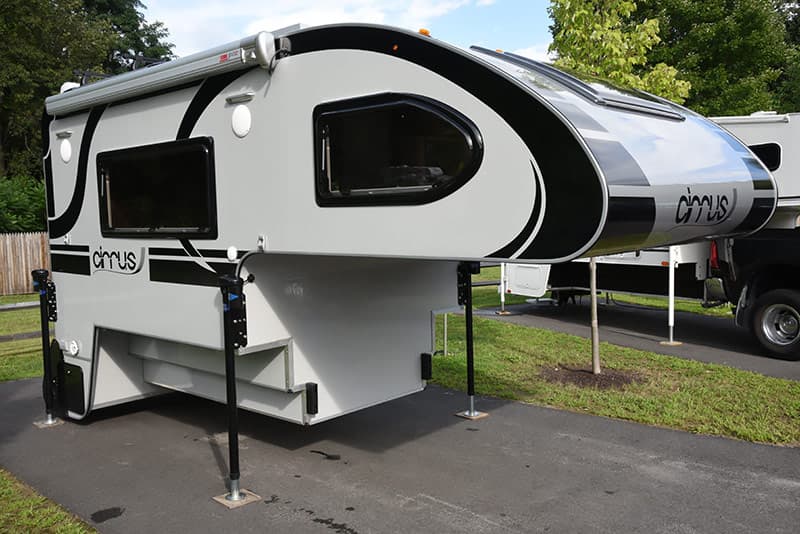 The Cirrus 820 is a tough product to wrap your arms around.  Once you get past the old school floor plan, just about everything about the camper is unique, or executed in a way that sets it apart from the competition.
Put another way, Scott Hubble's bold declarations stated in the introduction of this review are fully warranted.  The Cirrus 820 truly is a high-end truck camper, utilizing state-of-the-art materials, components, and forward thinking design ideas.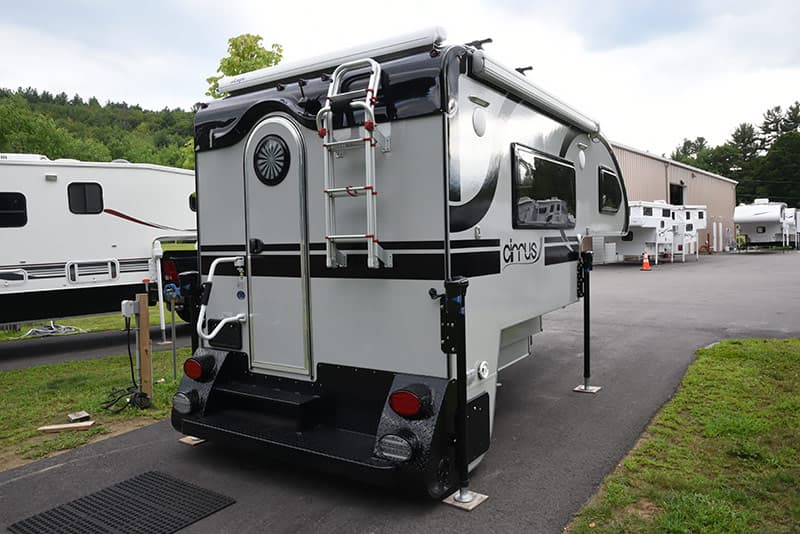 The 820 updates to the 800 turned an impressive concept into a truck camper with the configuration, storage and capacities required for real world use.  These changes reflect a company that has listened to its dealers and customers, and has moved Heaven and Earth to meet their requests.  Perhaps more than any other feature of Cirrus, this is the most impressive, and promising.
If you skipped the full review to read the verdict, you missed the real story behind the Cirrus 820.  This camper is too multi-faceted to fit into a short verdict or a few pros and cons.  To get a handle on this groundbreaking unit, read the full review, and then go experience a Cirrus 820 for yourself.
PROS
Wood-free, aluminum and composite laminated floors, walls, and roof
State-of-the-art technology: Alde hydronic, SeeLevel gauges, Froli system, etc.
Awesome storage quantity and quality throughout the unit
Near perfect holding tank, propane, and battery capacities
Interior fit and finish are exceptional with a stunning modern design
Incredible amount of standard features – see review
CONS
Entry door handle and latch needs to be improved
Dinette leg room is compromised, and the table is about an inch too low
Convection microwave is way too big for a truck camper
The under counter sink cabinet needs a full floor
Integrated audio-video system hinge lock needs improvement, or reconsideration
Front window could blow open during travel if not properly secured
Model Information:
2017 Cirrus 820
MSRP: $33,952
Warranty: One Year Warranty
NuCamp Recreational Vehicles
Phone: 330-852-4811
Request a Cirrus 820 Brochure
Web: cirrus.nucamprv.com
Quality, Customer Service, and Long-Term Reliability
Truck Camper Magazine inspects all reviewed truck campers for design, material, and quality issues and reports what we find.  However, since Truck Camper Magazine reviews only brand new truck campers, our reviews do not address long-term quality, customer service, or reliability.
To learn about a brand's long-term quality, customer service, and reliability, Truck Camper Magazine recommends talking directly with truck camper owners at truck camper rallies and online via truck camper forums and truck camper owners groups.
Please be sure to balance your gathered feedback across multiple sources including direct correspondence with the truck camper manufacturers and your closest truck camper dealers.
If you are new to truck campers, start in our Newbie Corner.