Truck Camper Magazine evaluates a 2017 Cirrus 820, a short bed, hard side, non-slide, wet bath truck camper.  Do state-of-the-art appliances, cutting-edge materials, and industry-leading modern design add up to a practical truck camper ready for the real world?

Be sure to also check out nuCamp RV's response to this 820 review.
For the June, 2015 Cirrus brand announcement article in Truck Camper Magazine, Scott Hubble, CEO for NuCamp, made a daring declaration.
"From the beginning, we have approached the Cirrus truck camper line as a high-end product.  Everything about this camper from the materials, to the appliances, to the fit and finish is top of the line.  We did not cut corners."
"We will bring a unique flair, design, and a level of quality that's not currently available in the truck camper market," he added.
These were incredibly bold statements from a completely unknown entity in the truck camper market.  We would have paid little attention to these claims if it weren't for their truly audacious truck camper design, material choices, and cutting-edge appliance choices.
"The Cirrus truck camper is wood-free, except for the interior cabinetry.  The floor, walls, and roof are all aluminum framed.  The wall laminations are Azdel composite, closed cell foam insulation, and Lamilux fiberglass," stated Scott, but he didn't stop there.
"The roof is a seamless aluminum roof.  We believe aluminum is a superior material choice for roofs and gives the best possible appearance and quality."
Then came the big news, the ground-breaking use of a hydronic central heat and hot water system by Alde International Systems of Sweden.  Scott explained, "The Alde system replaces both a traditional RV furnace and hot water heater, and works better, with significantly better efficiency, than those appliances."
Daring and bold statements had just gone downright jaw dropping, but Scott wasn't done throwing down the gauntlet.  The Cirrus 800 featured a keyless entry system, a standard back-up camera, thermal plastic insulated windows, and solid core lite ply cabinetry and counter tops imported from Italy.
When he went on to describe a huge front window that opens, we asked if the NuCamp team was completely nuts.  "We are a little bit crazy," admitted Scott.  "It takes a little crazy to take the next step forward."
When the Cirrus 800 shipped a few weeks later, all of the daring, bold, audacious (and possibly crazy) ideas finally met reality.  As the units arrived on dealer lots, Cirrus received a flood of dealer and customer feedback.
"As we expected with an all-new product, the initial reaction to the Cirrus 800 was not mixed.  People either loved the Cirrus 800, or didn't," said Scott.  "Overall, we are happy with the way Cirrus launched and are excited about the resulting feedback and changes."
The feedback and changes Scott was referring to resulted in the Cirrus 820, a new for 2017 model that shared the floor plan with the 800, but featured major updates to the cabinetry, Alde system configuration, dinette design, battery, propane, holding tank capacities, and much more.  "We are confident that we have squashed the objections (to the 800) and made the 2017 Cirrus 820 a much stronger competitor," stated Scott.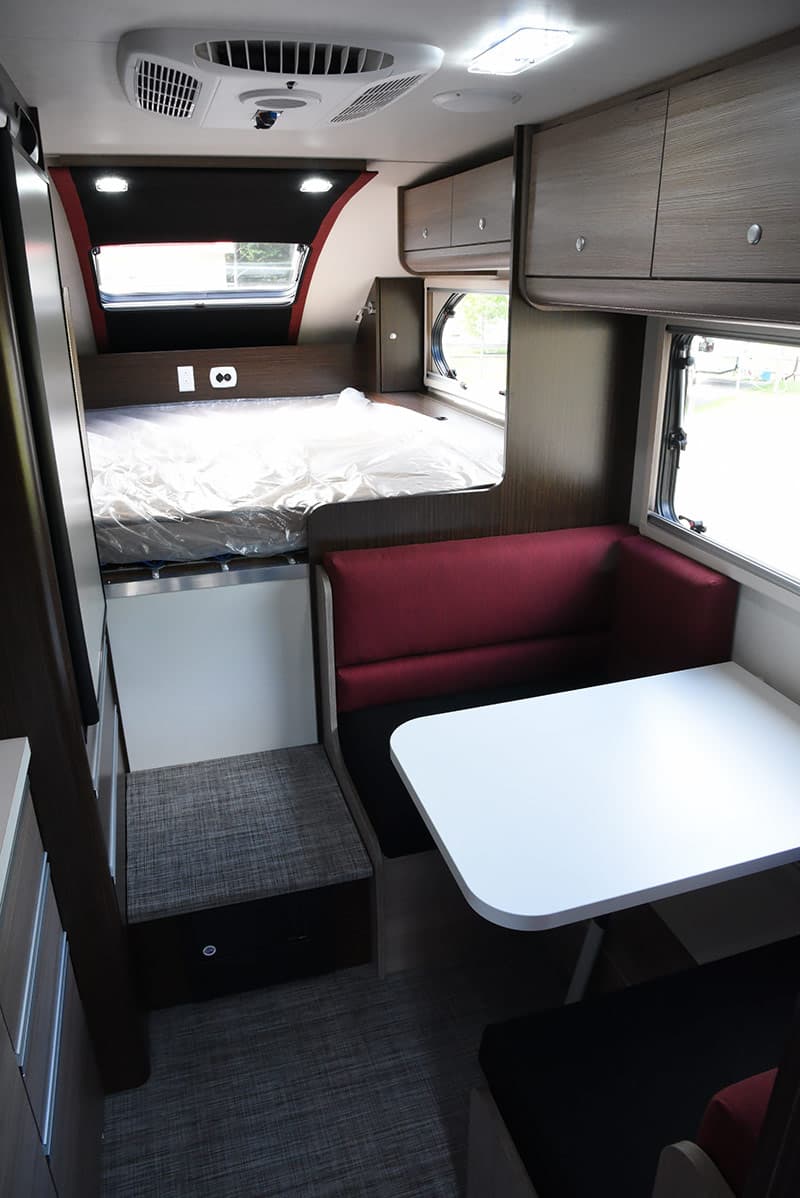 Above: Inside the 2017 Cirrus 820 under review
As a magazine, we're all for feedback and refinement, but a camper has to perform in the field – literally – to gain our respect.  While the updates certainly make the 820 a more functional and capable truck camper on paper, only a thorough evaluation will reveal if this overhauled Cirrus is worthy of consumer consideration.  Enough with the prologue.  Let's get serious about this Cirrus.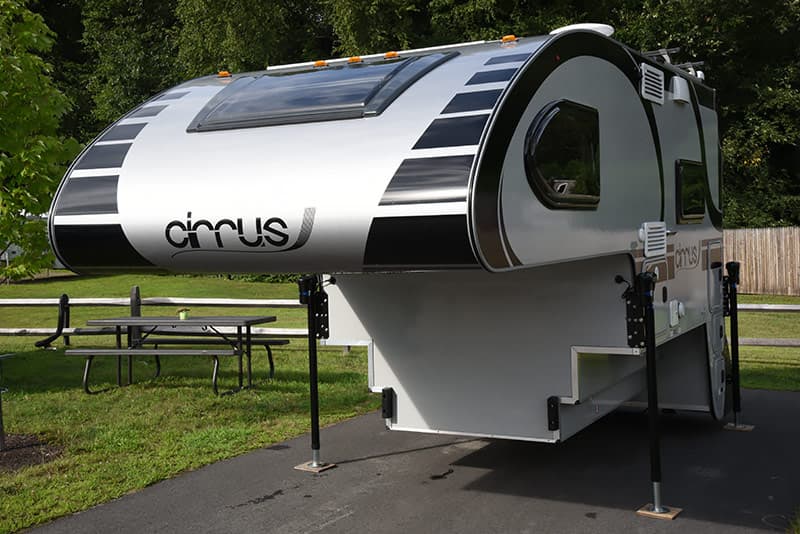 We got our hands on a factory fresh 2017 Cirrus 820 at Truck Camper Warehouse.