From Hi-Lift jacks to shovels to axes to Rotopax for extra fuel and water, readers share how they've attached exterior mounts to bring more external recovery gear. Attach and adventure.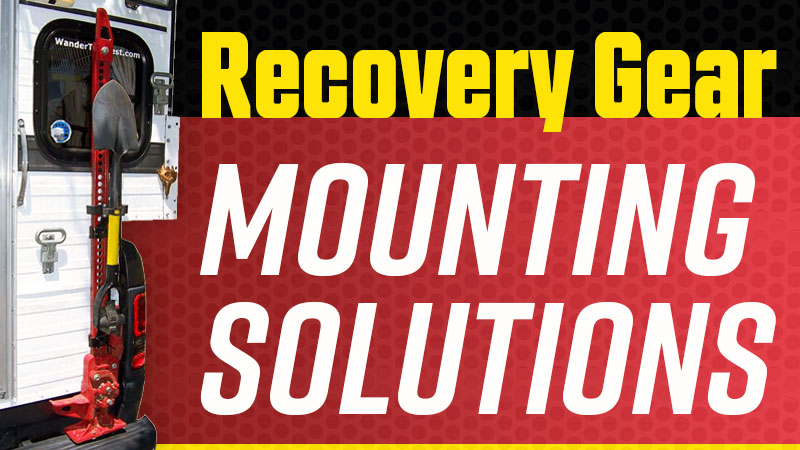 Nothing says 'overland' more than a lifted rig with aggressive tires adorned with orange Maxtrax recovery boards, red Rotopax, a shovel, and an axe. Of course, none of this gear actually prepares you for off-road travel. That's what joining an active overland club or community and learning directly from fellow overland enthusiasts is all about. Skip this crucial step, and you might as well just pack a satellite beacon and beer.
What follows are some very specific examples of how fellow truck campers have attached external recovery gear to their set-ups. The best part of these examples is how versatile they are. From one example could be many solutions to meet your particular off-road needs.
1. Hi-Lift Jack Mount On Camper
Submitted by: Richard Hoppe, 2002 Dodge 2500, 2006 Four Wheel Camper Grandby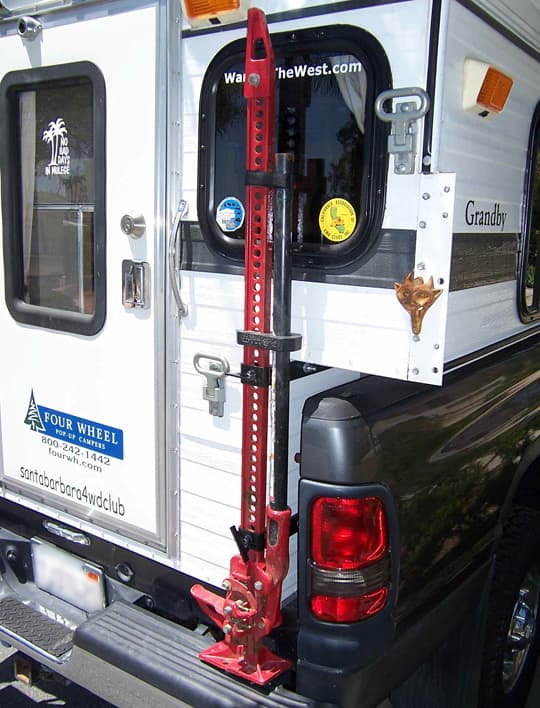 I was looking for a way to carry my Hi-Lift jack. My requirements were that the jack had to be easy to get to, did not require tools to mount or remove, and did not attach to the aluminum rear camper wall.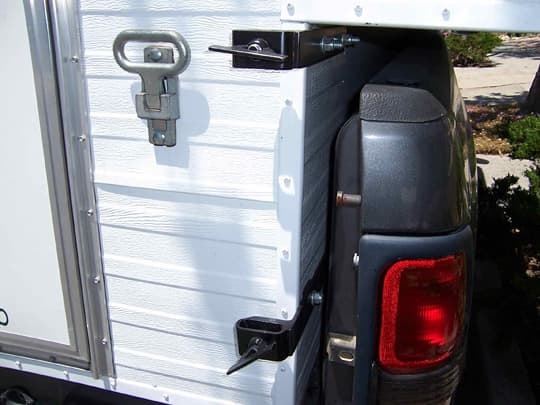 I designed and built brackets that bolt to the solid plywood camper floor pack. They use modified wing nuts to secure the jack with hand tightening. They have survived Baja and the Mojave Desert without loosening.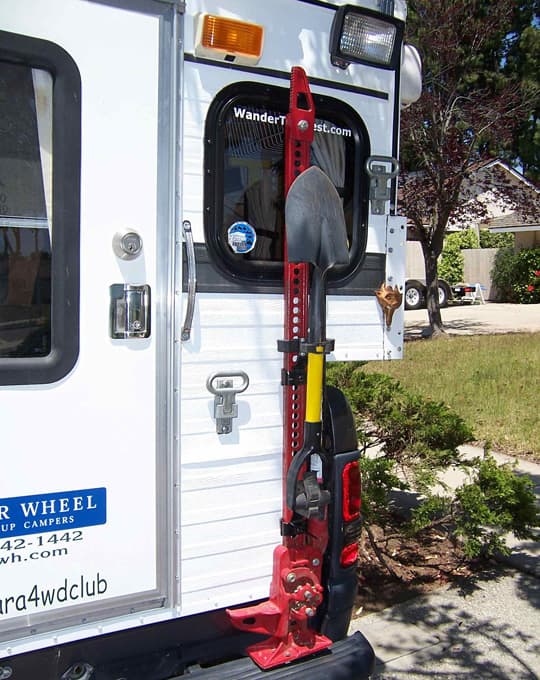 I have also added a locking device and a set of Quick Fists to hold a shovel.
2. Long Handed Shovel Mount Under Camper's Wing Walls
Submitted by: Jim and Anne Beach, 2009 GMC Sierra 3500 HD, 2013 Arctic Fox 865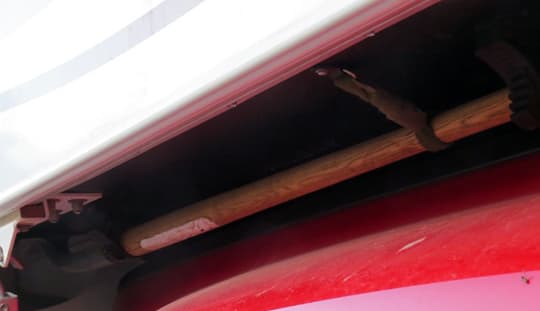 Many places we travel in northwest Canada and the United States require us to carry water and a shovel if we go off-road in forested areas. You will always have water in your camper, but maybe not a shovel. I like to use a long-handled #2 shovel when possible, as it makes for less strain on the back. Where do we carry such a beast on the truck camper?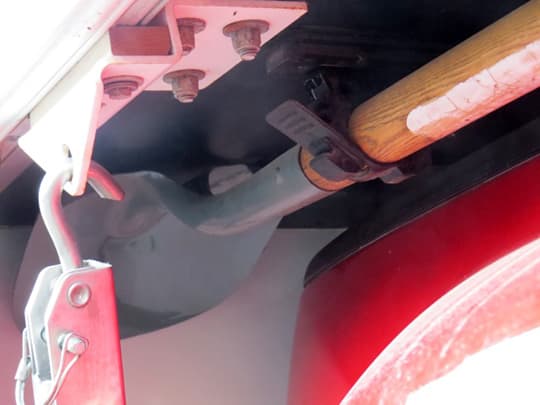 There is a lot of unused real estate on the underside of the truck camper overhangs. It is an ideal place for a long-handled shovel. I used two one-inch to two-and-a-quarter-inch Quick Fist rubber clamps on the underside of the truck camper overhang and three-quarter-inch plywood blocks were needed as packers to get the right clearance for the shovel. I also installed a Velcro strap as insurance. The Quick Fists are available on Amazon for about $11 a pair.  They are made in the USA and are very durable and strong.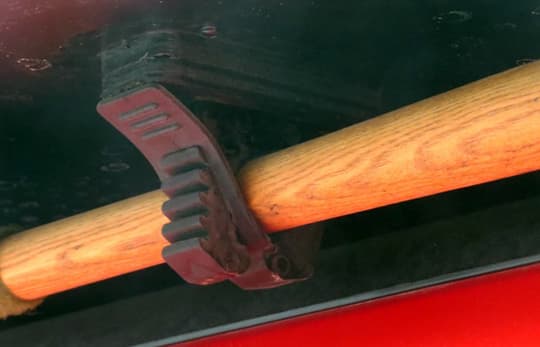 Now we comply with rules and filling those gold pans got a lot easier with a long-handled #2.
3. Mounting Rotopax On A Four Wheel Camper
Submitted by: Pete Weigman, 2012 Toyota Tundra, 2013 Four Wheel Silver Spur Hawk
I have a Four Wheel Camper Hawk pop-up and find myself off the beaten path quite often. Many times I'm way out in the desert of eastern Oregon or northern Nevada. Gas stations are few and far between out there, so it's peace of mind to have five extra gallons of gas for the pickup.
First, for this mod, I cut the main power to the camper and shut off the gas. I bled the gas out of the lines by lighting the stove and letting it burn off. I confirmed that I was not plugged into any power source. If you are and spark something while handling the gas, a big boom may happen!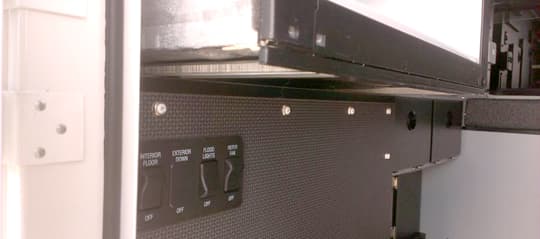 I removed the fascia control panel from the top of my Dometic three-way refrigerator and then removed the door from the unit. Next, I removed the little rubber plugs exposing the refrigerator mounting screws and unscrewed them completely. My unit had only four mounting screws there, which made the installation very solid into the cabinet.
I then used an Exacto knife and removed the silicone seal from the rear of the refrigerator. If you have a silicone seal, it acts like glue surrounding the refrigerator.
I opened up the maintenance panel on the outside. I recommend wiring the access panel up to keep it out of your way. Then I removed the two 12-volt wires going to the control panel noting exactly where they were hooked up. I simply snapped a photo of them with my phone; a picture is worth a thousand words!
After the removal of the wires, I could unhook the gas line, being careful not to twist any of the brass tubing or manifolds. I unhooked the moisture drain hose and removed the windscreen covering the burner (if installed).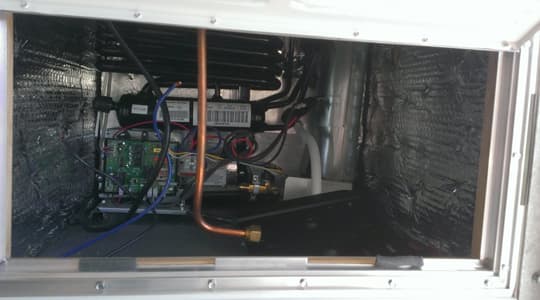 With somebody inside (recommended) I could now push the unit out a bit making sure I had enough 110v cord pulled through the cabinet to allow the refrigerator to slide about twelve inches forward. The camper's back wall is exposed where the nuts are.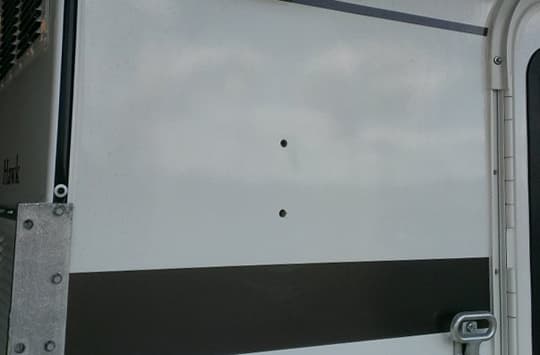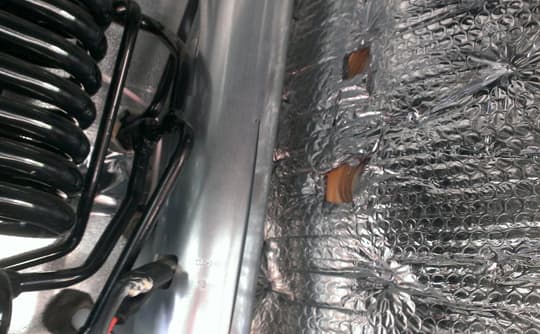 I felt with my fingers by pushing the insulation and seeing where the holes were. When I had them, I just cut away the insulation. Later I used some metal ducting tape to re-cover those holes back up.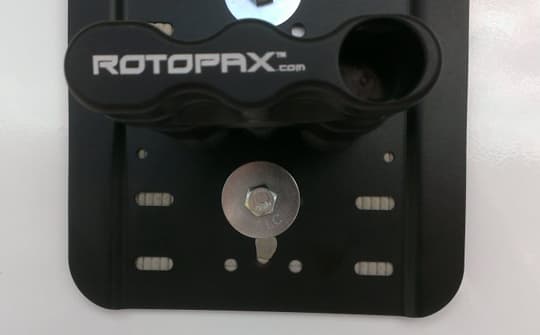 With that completed, I removed the factory option rear wall step from behind the refrigerator, caulked the Rotopax mount and bolts a bit, and installed the Rotopax mount.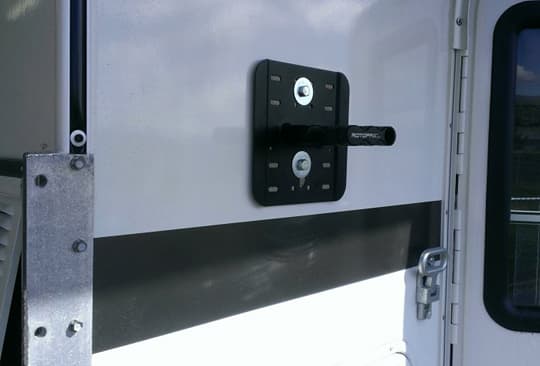 When doing this, I was being careful to seal off any areas where water or dust could migrate into the camper.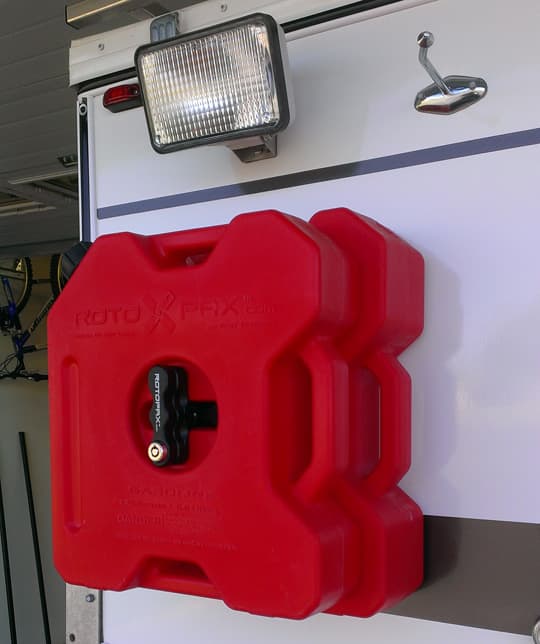 I made sure not to over-tighten the nuts/bolts and used Nylock nuts so they don't vibrate loose. I taped up the holes with metal ducting tape and re-installed everything. Then, I tested the refrigerator to make sure all worked well!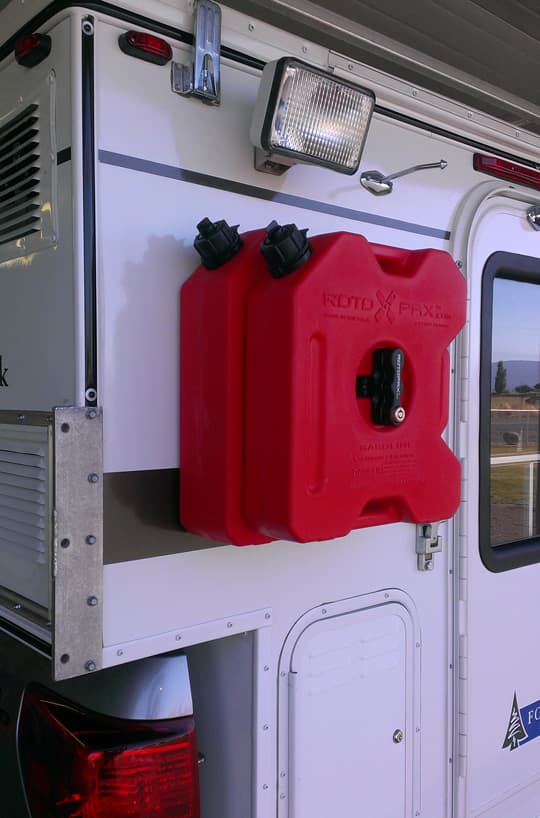 You can mount your Rotopax cans in any configuration you wish and enjoy the results.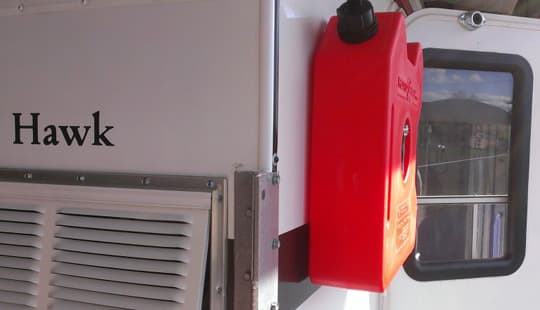 A camper with this mod could easily carry up to seven gallons as I plan on doing (in various configurations). If the steps can hold a 225-pound guy like me on them without even flexing, they should consistently be able to hold about forty-five gallons of gas while bouncing down the trail.
4. Thule Rack System For Recovery Gear
Submitted by: Pete Horneck, 2006 Dodge Ram 2500, 2010 Hallmark Milner LX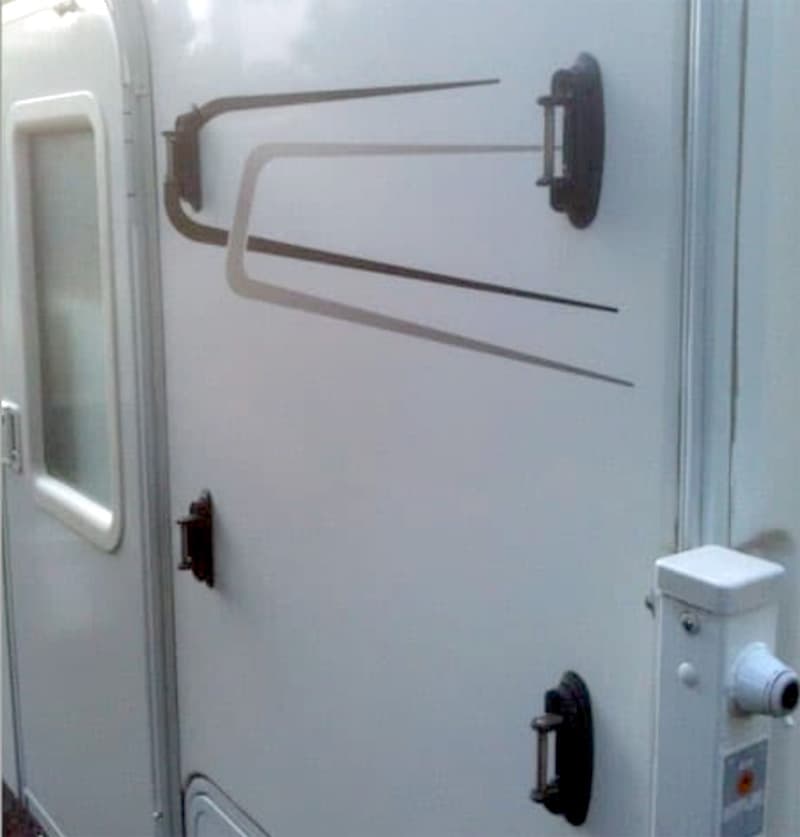 We like to bike and ski.  We have a pop-up truck camper and didn't want the weight and inconvenience of our gear on the roof.  We also tow trailers so we didn't want a rack in the hitch receiver.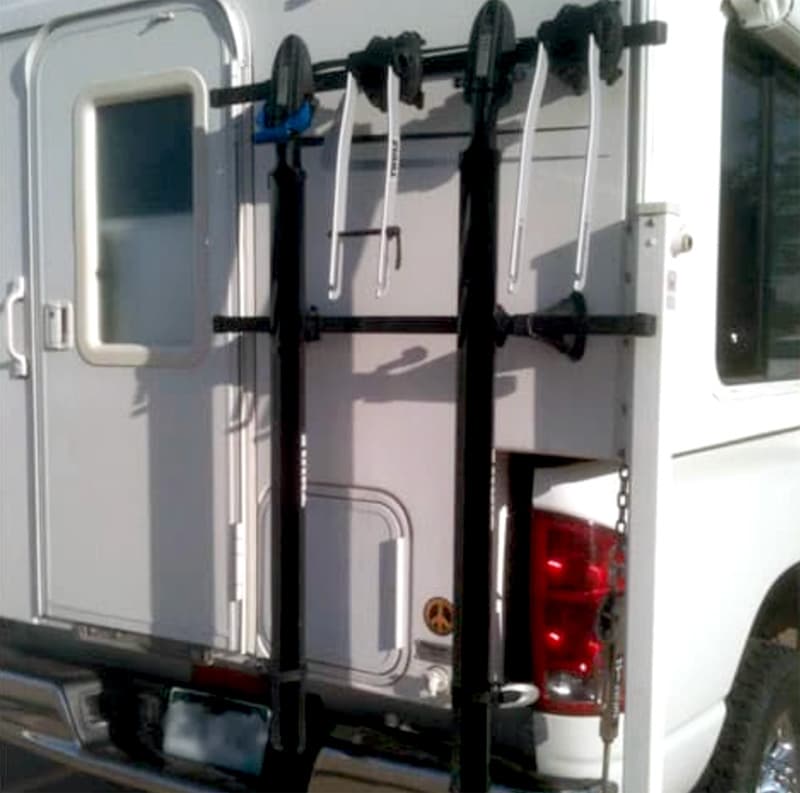 My solution was to mount a Thule rack system on the back wall.  It's versatile and handles bike trays, snowboards, and skis.  And whatever else we strap to it, like a shovel.  It's also a makeshift ladder if you lock yourself out on the roof!  It's easily removable when you don't need it, leaving only the mounting pads.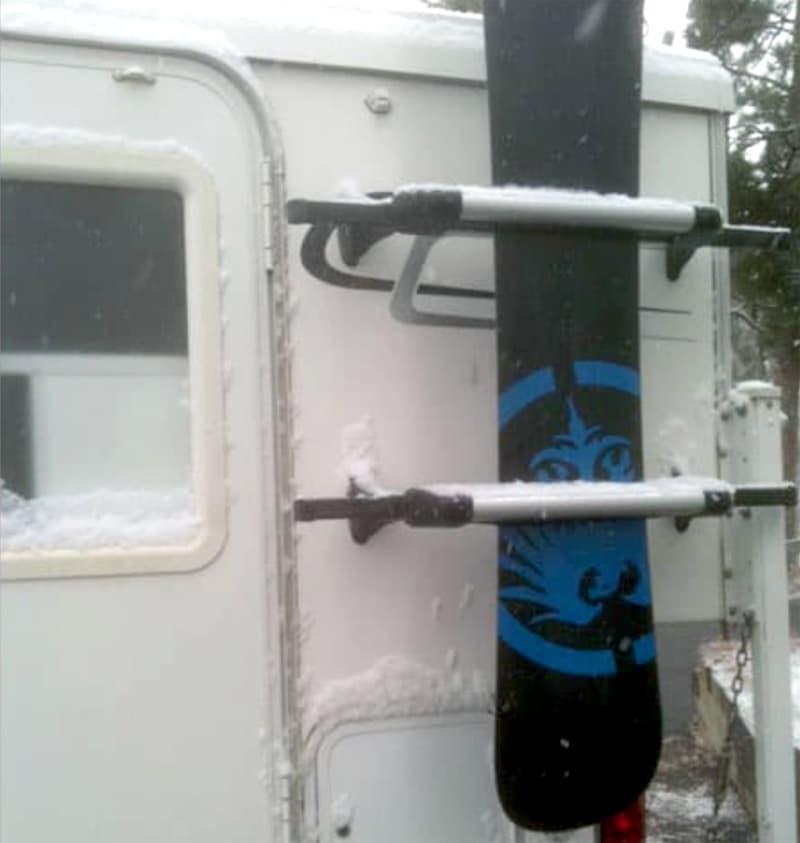 I'm really happy with this mod!
There are even more articles in TCM that focus on recovery gear.  Be sure to check out Essential Off-Road Recovery Gear For Campers, Camper Ladder Mount For Rotopax Containers, No Drill Rotopax Mount, Emergency Equipment Storage,  How To Build A World Ready Rig Part 1 and Part 2.
Disclaimer: The modifications above are submitted by Truck Camper Magazine readers. It is your responsibility to make sure that any do-it-yourself modification project you undertake is safe, effective, and legal for your situation.