Truck Camper Magazine readers reveal their off-road recovery gear.  These are required tools you need to get unstuck when you're off-road, off-grid, and beyond cell range.
There are a select number of recovery tools that the majority of responders reported having; an air compressor, axe, bottle jack, duct tape, front-mounted winch, Hi-Lift jack, jumper cables, shovel, snatch strap, tire repair kit, tool kit, tow strap, and traction mats (MaxTrax).  If you're looking to assemble your own recovery gear kit, consider starting with these items.
The most important recovery tool is knowledge and experience.  If you're a newbie, we recommend leaving pavement with an experienced friend, and taking some of the excellent off-road classes offered at the Overland Expo (East and West).  The Expo classes are not only helpful, but loads of fun.
There are also several companies that specialize in off-road driving classes including Overland Experts in Connecticut and Bill Burke's 4-Wheeling America in Colorado. There is no substitute for knowledge and experience in a real off-road recovery situation.
This week's Question of the Week was, "What off-road recovery equipment do you carry, and why?" Thank you to Jason Haymore for suggesting this excellent Question of the Week.  By the way, your brother, Neal, answered the question.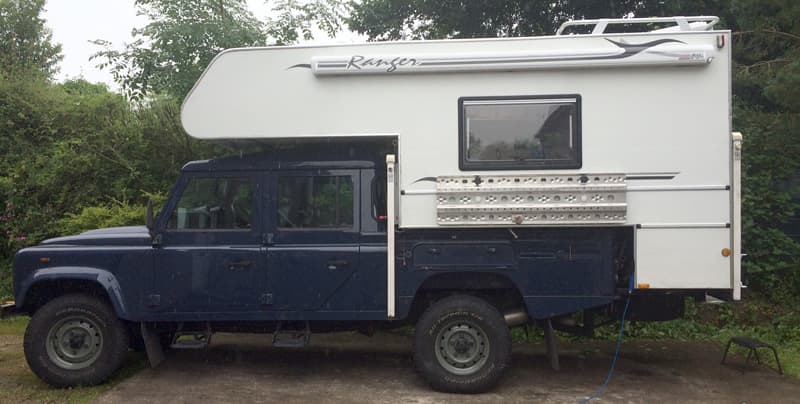 "I have sand plates and a shovel for the beaches in Donegal.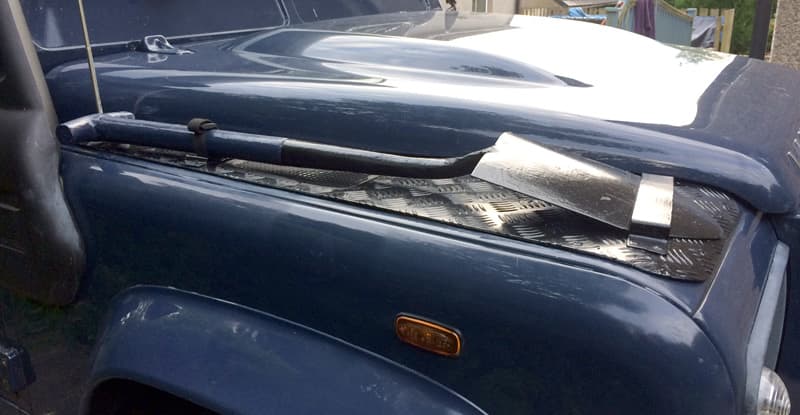 I also have a Hi-Lift jack and five ton winch up front." – Paul Kellagher, 2008 Landrover Defender, 2009 Ranger Camper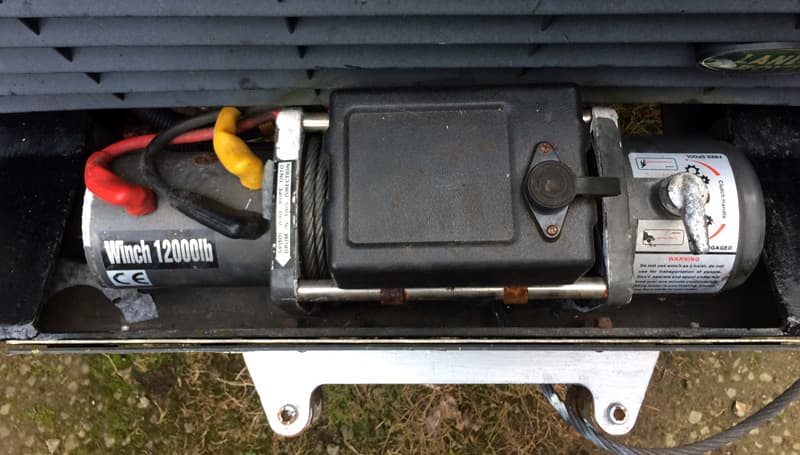 "I don't do any serious off-road travel, but I do travel to semi-remote areas and carry some basic rescue/repair gear. I have a very strong tow/recovery strap, high capacity bottle jack, ropes, ample tool kit, tire plug kit, portable air compressor, pressure gauge, 120 volt impact wrench with sockets for the truck and trailer lugs, and a portable house (truck camper) in case I have to spend a night or two." – Allen Jedlicki, 2012 GMC 2500HD, 2014 Wolf Creek 850SB
"I always have some things with me, even when the camper is off the truck. I always have the winch; it's kinda permanent. I also carry a tow strap, tree saver, snatch block, a clevis or two, and a tool called a TNT tool designed for fire rescue. It's a combo axe, sledge, pry bar and has a hook on one end. I have used this tool at work and it's amazing as a multi-purpose tool.
I also have a tow hook mounted on the rear receiver. In the winter, (I live where it snows, sometimes a lot) or when I have the camper on and am going off road, I add a shovel, tire chains, traction mats aka Max Traxs, a Hi-Lift jack, and a length of chain.
Some of this might be overkill, but I've used each item at one time or another either for myself or helping another driver on a trail or in the ditch off a snow covered road." – Jim Plesko, 2006 Chevy, Northstar 650SC
"We have a four-wheel drive truck with very heavy front and rear bumpers, a Warn 16,000 pound winch (to pull our truck and fully-loaded camper) with straps and a block. We also have a shovel and axe mounted on our Hallmark camper.
We travel to remote locations and have never used our equipment for ourselves. We have used it to help fellow truck campers and off-roaders out of sticky situations. I've also used my winch on my small farm to pull shrubs or hold fencing while I make repairs." – Rick Guffey, 2012 Ram 2500, 2013 Hallmark Everest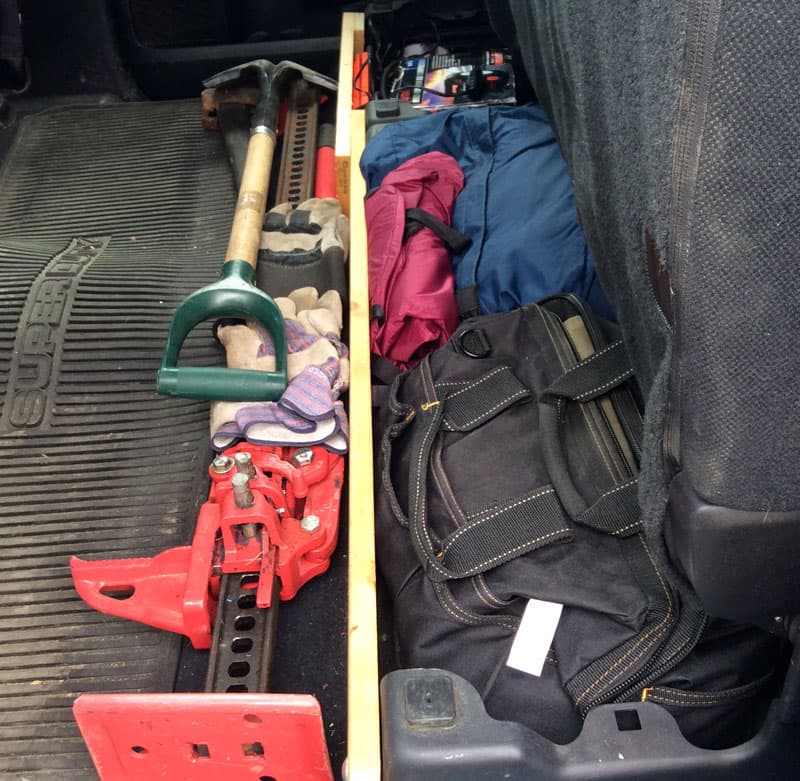 "I have a real jack, shovel, and some tools in the cab of the truck. I have many tow ropes, tow hooks, and more tools in the basement of the camper.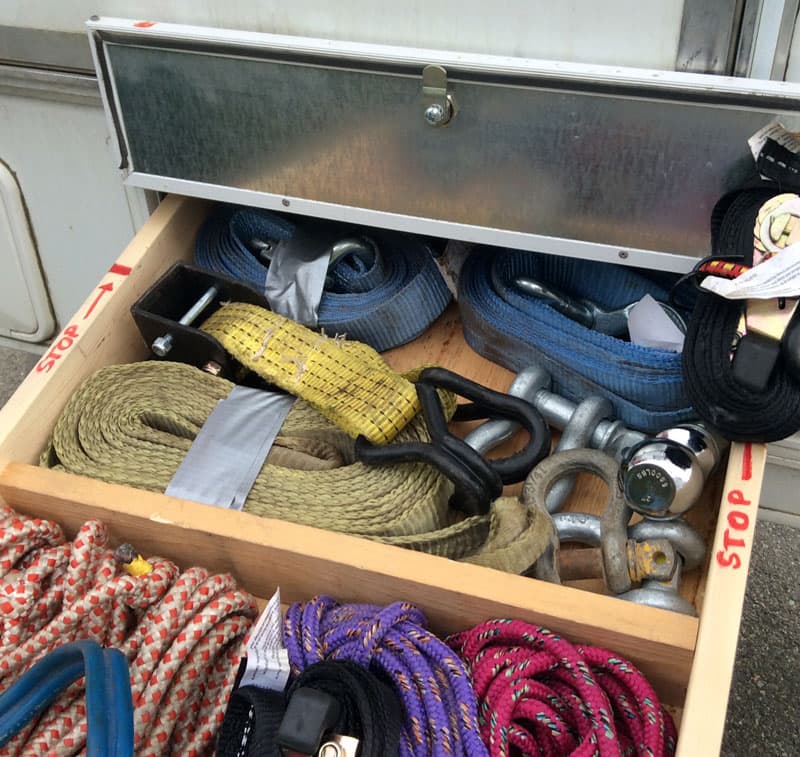 I have a pair of recovery ramps (TRED) stored and locked to the ladder outside the camper.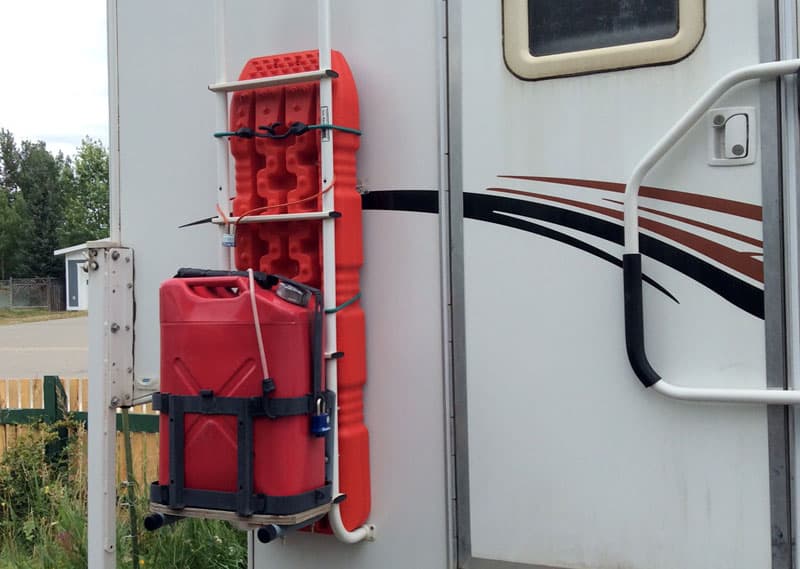 Why all this stuff? Well, you never know. It's like having a First Aid kit; you don't want to use it, but if you have to, you have it. I might use it to help another truck camper in a bad situation. It has happened a few times.
When I have an opportunity, I like to explore the wilderness; the backcountry where I use a lot of mining or lumber roads. Also, I hunt big game in the fall and winter where I live. I have experienced bad roads and I was pretty happy to get myself out of trouble with my recovery equipment.
My advice is to make sure you know how your equipment and gear works. It could be dangerous or even fatal if you don't know how to install a tow rope properly or using a farmer jack." – Roch Nadon, 2007 Toyota Tundra, 2007 Okanagan 89WS
"I have a 9,000-pound winch, three 30-foot 4-inch straps, shackles, deflators and compressor, shovel, axe, mattock, and hydraulic jack. I have several jack boards drilled so the boards can be roped for a corduroy road or for leveling.
I also have a 3/4-inch poly rope, cheney boat anchor for beach winching, small sledge hammer, fence mens tool, a complete mechanics tool set in metric, and jumper cables." – John T, 2006 Chevy 2500, 2015 Northstar 650SC
"I have nothing specific for my truck and camper. Off-road for me is basically a USFS (United States Forest Service) road.
However, I do take recovery equipment for my toad, a 1998 Chevy Tracker. I have a 2-inch lift, winch, snatch block, extra 50-foot winch rope, tow straps, handy jack, shovel, extra fuel, water, 12-volt air, wife, and a dog; just the basic survival stuff." – Bob Nelson, 2015 GMC 3500, 2013 Arctic Fox 1140
"The only things I carry are a shovel, jack, and tow strap. I am getting old enough not to get in any trouble by getting in trouble. So far, it has worked." – Charlie Young, 2013 Chevy 2500HD, Palomino SS-1200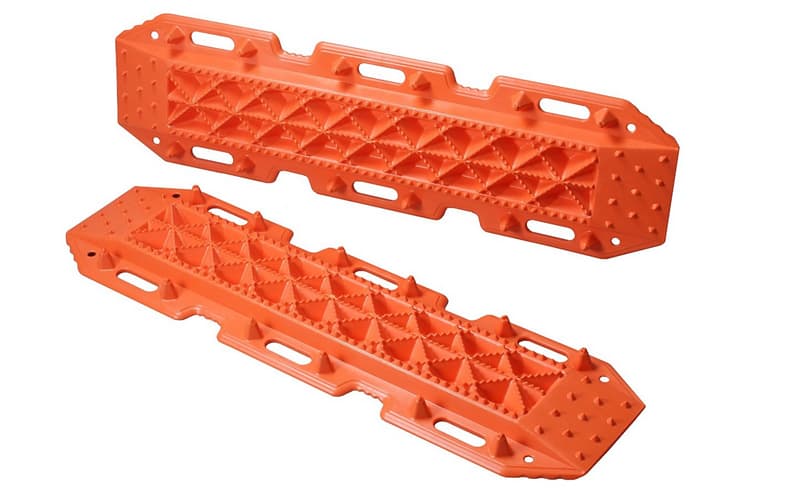 "I carry an assortment of tools and recovery gear. It all fits nicely under the couch on of my Four Wheel Camper Grandby seat.
I always try and go with my brothers so that I have someone to help get me out of a sticky situation. When we give gifts to each other, often times it's for camping or recovery gear. After all, if I'm almost always with them and give them a nice set of traction mats, I'm just as likely to use them as they are.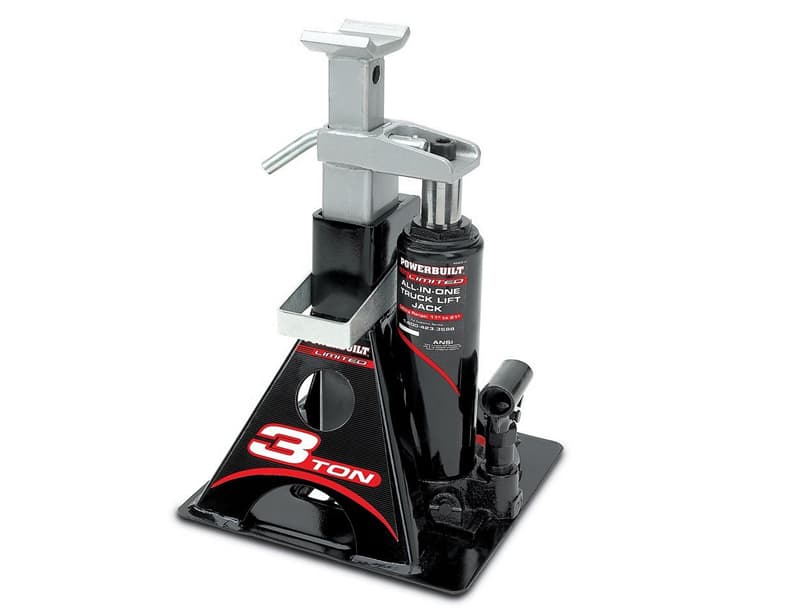 I have a Hi-Lift bottle jack with stabilizer pad and an ARB 715 4-1/3″ x 30′ recovery strap with 33000 pounds of capacity.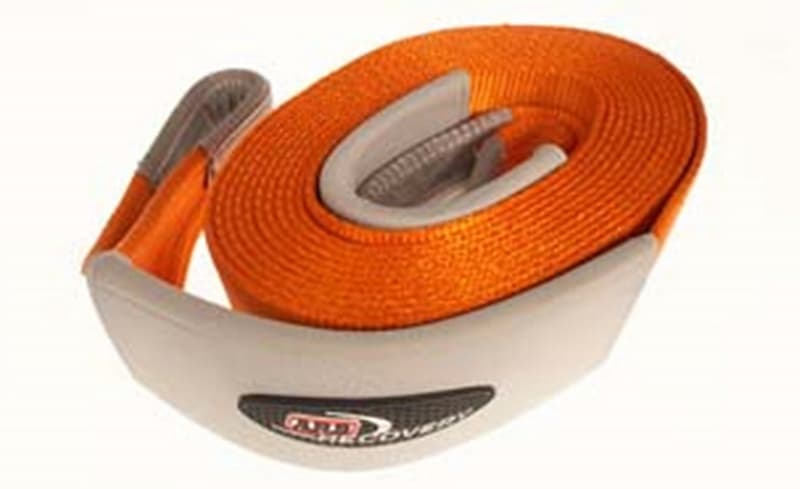 I have an ARB tool kit with a Hi-Lift tool combo that includes an axe, shovel, sledge hammer, and pick axe.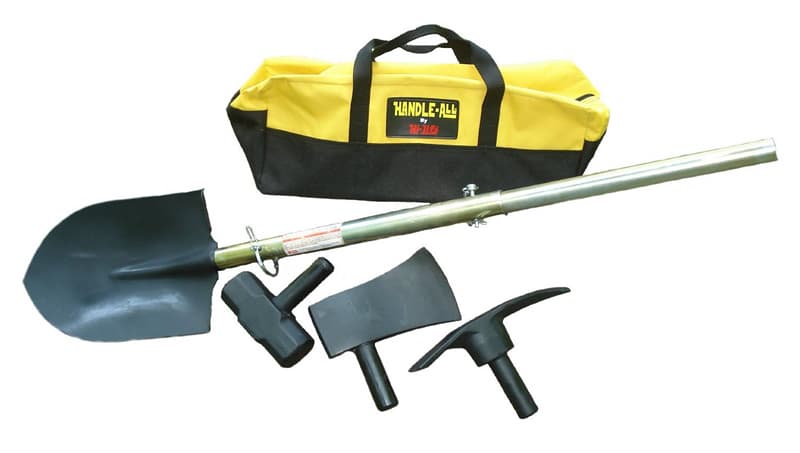 I have a full-size round mouth shovel, metal pipe (for a cheater bar and all kinds of other uses in a two-foot section of pipe). I have two D-rings and rigging gear to make sure the recovery straps stay connected." – Neal Haymore, 1990 Ford F250, 1997 FWC Grandby
"We love to use our off-road camper to get way out into the boonies. We carry a tow strap, shovel, bottle jack, axe, saw, and portable jump starter with an air compressor.
I also have a device to aid in airing down tires, a larger air compressor to re-inflate tires, and a good tire repair kit. We also have jumper cables and a tool kit.
Ram has good factory front tow attachment points. We have a receiver mounted D-ring to give us a good rear attachment point. We always have extra water and food with us in case something happens.
We have cell phones through two different carriers so that we have a better chance of being in cell zone. Also, we have a SPOT satellite transponder.
I figure that it's much better to have equipment and not need it, than need it and not have it." – Loro Paterson, 2014 Ram, 2014 Four Wheel Camper Hawk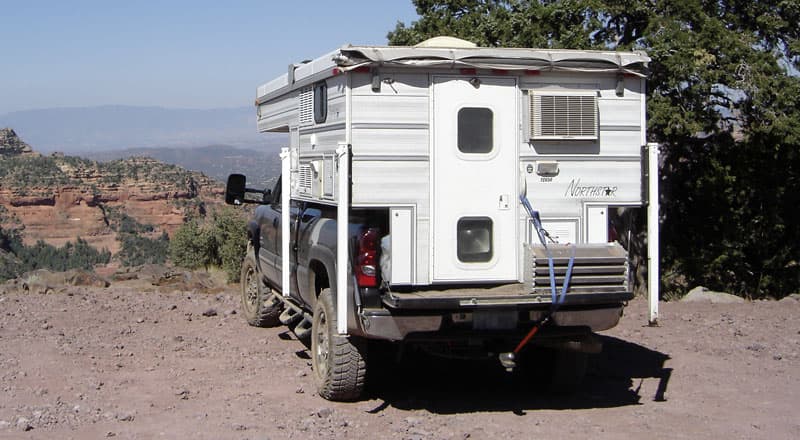 "Base gear always with me is a shovel, Hi-lift jack, snatch strap, tree saver strap, standard tow strap, two snatch blocks, cable 15′ for snatch blocks, and four shackles, a socket and wrench set, and my trusty hatchet.  For some trips I use my winch, which is a receiver mount for the front or rear." – Tim Ray-Tahtinen, 2007, Chevy 2500 HD
"I have a 12,000 pound winch, tow strap, shovel, Hi-Lift jack, two pieces of carpet for traction in sand, water, flares, signal mirror, and cell phone (satellite phone preferable)." – Mike Ashworth, 2011 Ram, 1989 Jayco pop-up
"Since I use my truck and camper at the Outer Banks in North Carolina, I carry a lot of emergency equipment. I have a shovel, snatch strap, and two pieces of chain link fence for getting out of the sand.
The chain link folds up and I store it under the camper. It's five feet by 18-inches wide. It works great every time.
Also, I carry LED flashlights and four pieces of treated boards that are 10-inches by 24-inches. They are for the wheels just in case the tide is high." – Jim Roberson, 1989 Chevrolet k2500, 1988 Sunliner
"I beach camp at Cape Cod, Provincetown, Sandy Neck, and Nauset beaches, which require pretty much the same equipment.
I carry the following: 15-foot tow strap, shovel, fire extinguisher, axe, full-size spare, jack, 12-inch by 18-inch board for jack, tool kit, four-wheel drive vehicle, fishing rod for everyone over 12 years old (Nauset), a 16 year old or older to walk in front of camper watching for Pipping Plovers (Nauset), and jumper cables.
Provincetown and Nauset require you to watch an eight minute video on driving off-road before issuing a sticker" – George Lake, 2012 GMC Sierra HD, 2014 Hallmark Ute
"We're still working on it, but we have a good start on our off-road rig. Years ago, I was involved in the early days of off-road racing in Baja. It wasn't a good feeling when, in the middle of the Baja desert, I got that second flat tire in my one-spare-tire Jeep.
Fortunately, I had a 1/4-inch bolt to plug the hole with, and limped back to Ensenada. Since then, I have made it a point to be prepared off-road.
My wife and I like to explore remote areas of the west. When we go camping, we usually tow our 2005 modified Jeep on its designated off-road workshop trailer.
The Jeep is equipped with an on-board, engine driven air compressor, an auxiliary Optima battery, LED light bar, side and rear flood lights, a 9,500 pound winch, shovel, axe, Hi-lift jack, sand anchor, sand ladders, cordless drill, sawzall, work light, 12-volt charger, tire repair kit, wrenches, screwdrivers, air tools, pliers, socket sets, tow straps, vise (fits into hitch receiver), electrical repair kit, tire inflator kit, gas cans, jumper cables, 12-volt refrigerator (all that work makes you thirsty), and more.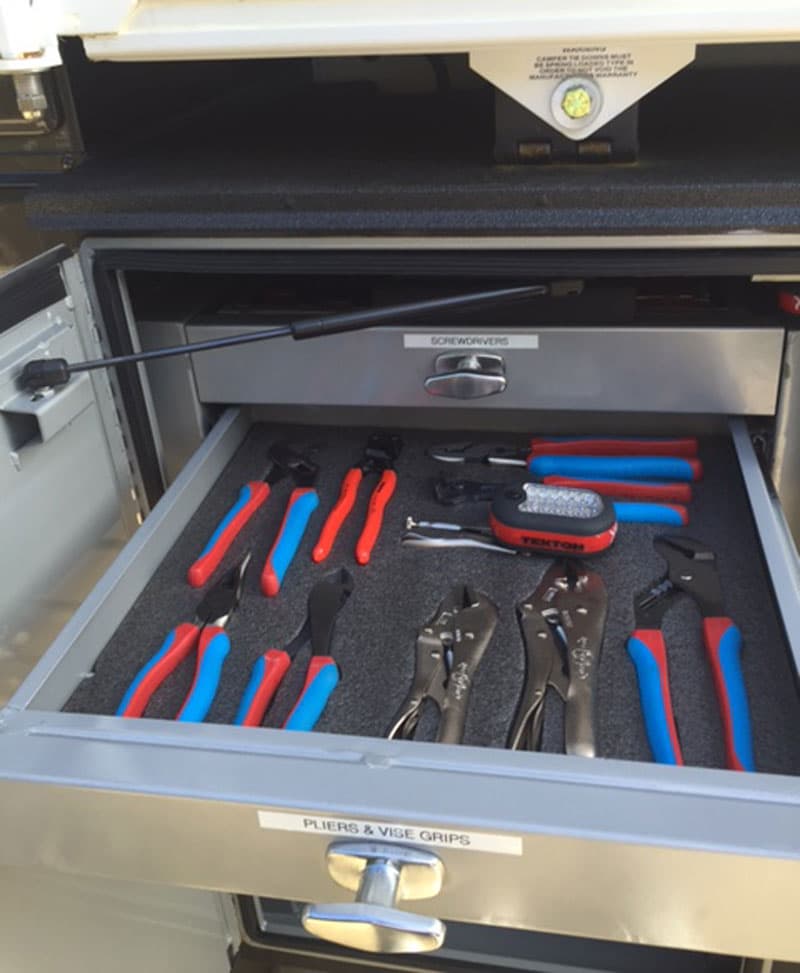 The truck utility bed contains another on-board air compressor, air tools, hand tools, spare parts, soldering gun, propane torch, various chemicals (WD-40, silicone, gasket sealer, loctite, etc.), recovery straps, tie-downs of various sizes, PEX repair tools/parts for camper plumbing issues, battery charger, jumper cables, specialty tools, oil, grease, grease gun, tool box drawers (built in), tap and die set, thread chasers, nuts, bolts, and more miscellaneous stuff.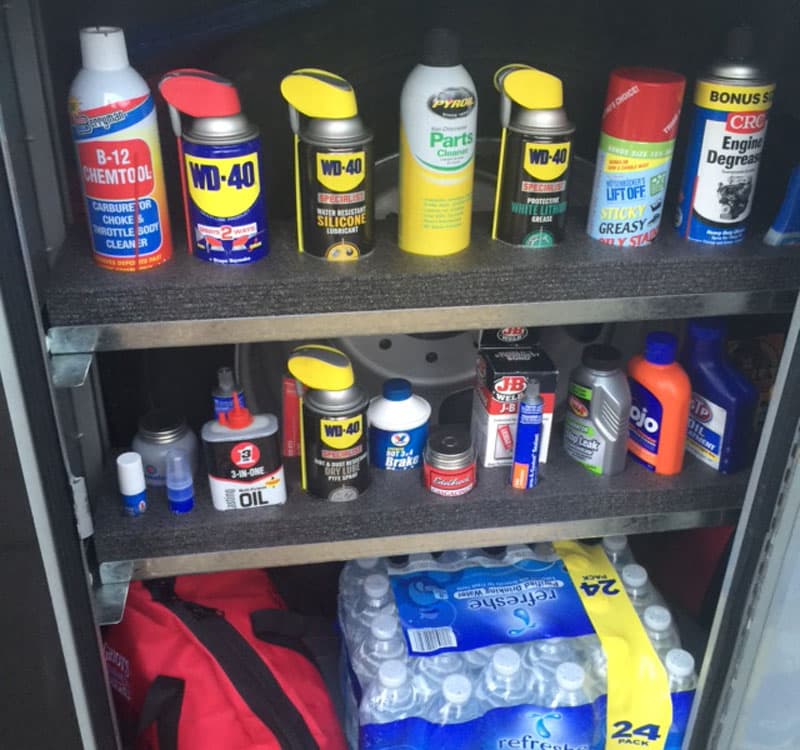 The Jeep trailer has a small workshop protected by a roll-up door. It houses the 960 watt solar system with 12 AGM six-volt batteries (we plug the solar-generated power into the truck camper when in the boondocks), a 7,500 watt generator, 12,000 pound winch, MIG welder, plasma cutter (on an off-road cart), chain saw, and a large storage box.
An aluminum workbench is being built, and LED flood lights all around are in the works. The trailer is equipped with two 12,000 pound hydraulic jacks up front, two 7,000 pound torsion axles, electric/hydraulic disc brakes and 33-inch BFG All-Terrain KO2 tires with two spares. It also has an 8-foot by 8-foot observation deck at the rear, with a Warn Pullzall to hoist stuff up to it." – Gene and Linda Yale, 2016 Dodge Ram 5500, 2015 Host Mammoth
"I only carry a 12,500 pound tow strap and the requisite hardware in case somebody else gets stuck. I've had to use it once when a family sedan got stuck on a four-wheel drive only road. They didn't believe the warning sign.
I think a shovel is a good idea and possibly a couple of traction mats. I might add those." – Joe Sesto, 2015 Silverado 3500, 2015 Bigfoot 2500 10.6e
"I have a big Puma air compressor hard mounted and wired and auto deflators set to 25 psi. This keeps me out of most trouble.
I have two traction boards from TREDS, a T-Max winch and snatch block when I get stuck. I keep the tire pressure at 25 so that I can air down even farther for short periods if I get stuck.
We once got a forty passenger diesel bus unstuck just outside of Mike's Sky Ranch by airing down, using TREDS, pulling with a Bronco, and pushing with 15 Mexican students." – Trevor S., Ford E350 extended body van
"We always have a very heavy tow strap (15-ton rated) in the truck. It gets more use pulling people out of ditches on snowy days than during other times of the year.
We also keep an axe and shovel in the camper. We did have a set of traction tracks but the first time we used them, they broke." – John Desjardins, 2007.5 Sierra 2500HD, 2002 Globetrotter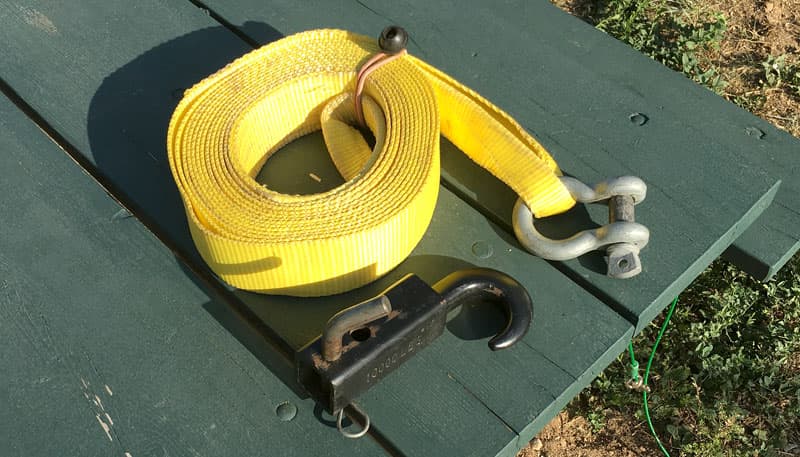 "We carry in our truck at all times, a basic recovery strap, and items that will assist with a recovery function.  The strap is a 3 inch, 30 foot, 30,000 pound web type.  Also to attach the strap is a 3/4 inch shackle, and a 2 inch receiver hook.  The combination of these items will allow us to utilize the strap in many ways.  Our four wheel drive Ford F-250 has a pair of tow hooks on the front and a 2″receiver on our Ranch Hand bumper.
Fortunately, we have never utilized this equipment for our use, but we have on an occasion assisted others." – Warne Todd, 2000 Ford F250, 2005 Lance 981
"My truck is four-wheel drive with a 9,000 pound front winch. We also carry tree and snatch straps, shovels, jacks, and wood blocks. This is all for just in case. I have seen campers and other RVs sunk to the axles in a campground after a heavy rain." – Jon Hancock, 2015 Ram 3500, 2016 Northern Lite 10-2 EX CDSE
"Winch – (tree saver and rated shackles) for those situations when you are on your own climbing rock steps or dragging you out of the mud.
Snatch Strap – A must for all truck campers (recovery points and shackles). One of these can get you out of 95% of bog situations where a second vehicle is available.
Shovel – Multi-use to dig out of bogs, build roads, camp-fire pits, toilet pit.
Tire repair kit and pump – Repairs on the go (two flats in the outback can kill you).
3-foot fencing wire – Super useful for many uses and repairs. Some cable ties as well for minor jobs.
Duct Tape – Multi-purpose fix all.
Folding Bush Saw – Clear pathways and overhanging branches, making tools for suspension repairs, etc.
Max Trax or similar – Optional alternative for bogs.
Tools – Assorted tools to suit your vehicle as well as a wrecking bar (very useful) and a lump hammer.
Fluid hoses and filters (for remote travel) – A full set of these (used hoses will do in an emergency as spares). Don't forget the oils for engine and transmission – diff – bearing grease and spare wheel bearings. Even if you don't have the skill to fix these yourself someone else might, and without the parts you're in trouble.
Knowledge – Know about your vehicle and how to perform as many emergency repairs as possible.
Most of these items can be stored in side panels and unused cavities and left there. Hopefully you will never use them but, in remote areas, one of them may save your butt.
Happy Camping From Australia!" – Kim Nolan, 2016 Ford Ranger, Palomino SS-1200
"I've been working in the back country of the United States in a truck camper or boat for 30-plus years. Two important items are needed; good duct tape, and a quick setting JB weld. With those you can repair most everything that breaks ." – Jim Kauffman, 2015 Ram 5500, Eagle Cap 1160
"Although my truck is only rear-wheel drive, I keep recovery gear in my truck along with a 12,000 pound electric winch that fits into my front receiver. I also have a heavy duty tree saver strap, D-ring, snatch block, and a shovel and chain in a bag to help with any self-recovery.
So far, I have never had to use these items, but at least I can try to get out of a bad situation if I find myself in one.
I am limited in the amount of off-road driving that I can do with my heavy camper and two wheel drive, but my limited-slip differential and dual rear wheels have kept me moving along in some pretty bad terrain.
We like to camp away from other people and often that means going off-road to find remote spots. Having the gear available to at least attempt a self-recovery provides me with another option before I have to call a tow truck." – Hugh Redmon, 1997 Ford F350, 1998 Lance 990
"We currently always carry a 30,000 pound tow strap and shackles. If we are going to an area where the likelihood of being stuck is higher than normal, I'll also bring a shovel and a pair of Max Trax. So far, I haven't needed it yet!" – Eddie Fort, 2006, Ford F350, 2016 Hallmark Everest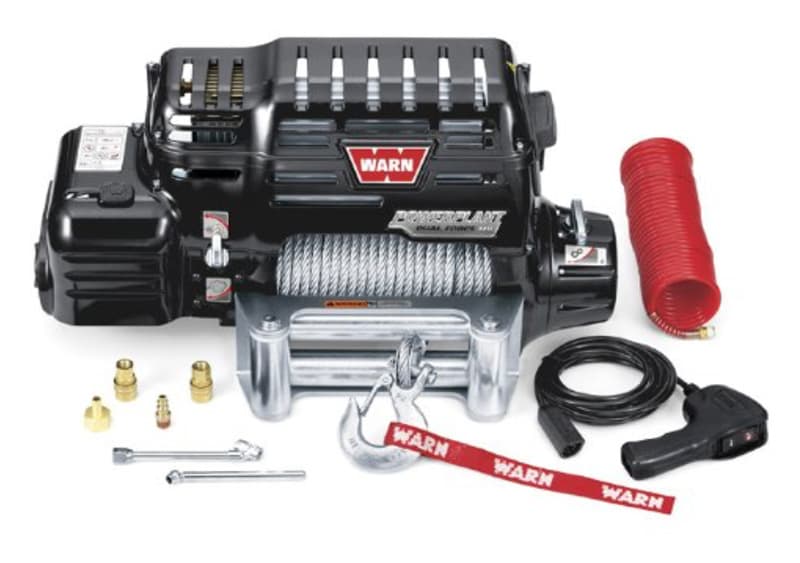 "I have a Warn Power Plant 1200 winch, a compressor mounted up front, and heavy duty tow straps." – Todd Syska, 2014 Ram 3500, Arctic Fox 1140
"I have Good Sam's Emergency Road Service Number." – Kenneth Wright, 2011 Travel Lite 890
"I normally carry a 30,000 pound recovery strap, a round mouth shovel, an axe, and mechanical tools, which has worked very well for many years." – Eric Devolin, 2007 GMC 3500, 2006 Adventurer 106 DBS
"I carry a 30,000 pound 50-foot tow strap, sledge hammer, hand saw, military folding shovel, and axe. I also have solar panels and glass mat batteries so I can survive off the grid for several days." – Bill Gahafer, 2008 Ford F450, 2013 Lance 1181
"I have a Warn Zeon 10-S winch that can be mounted front or back, a Hi-Lift jack with all accessories, various tow straps, chains, tree savers, a six-ton bottle jack kit with various jacking accessories, a heavy duty air compressor for airing up tires, a Hi-lift accessory kit with shovel pick sledge hammer, and more. I also carry a military style entrenching tool, a very well equipped tire repair kit, an adventure medical first aid kit, and an extensive tool kit.
My camper has an 85-watt solar panel and a 1,000-watt inverter. As backup, I have a a 2,000-watt Yamaha generator.
I don't carry all of this stuff all of the time due to weight considerations, but I like to get into places where there's usually no outside help available and I can only rely on myself for rescue.
Soon I'm going to get another solar panel (a portable piggy back style) and a set of Max Trax. Oh, and I have a locker on my front differential for when three-wheel traction just won't cut it." – Steve Timmings, 2003 Ford F350 SD, 2013 Four Wheel Camper Hawk SC
"I always carry a shovel, saw, and axe, which is more for splitting kindling and making sure my campfire is out. If need be, it could be used to help get unstuck.
I have an ARB recovery strap which I've only used to help others out. The same goes for my jumper cables. I would always prefer to never need recovery and the best way to do that is a well maintained four-wheel drive truck with good tires and a cautious driver." – Scott Roberts, 2015 Ram 3500, 1995 Hallmark Cuchara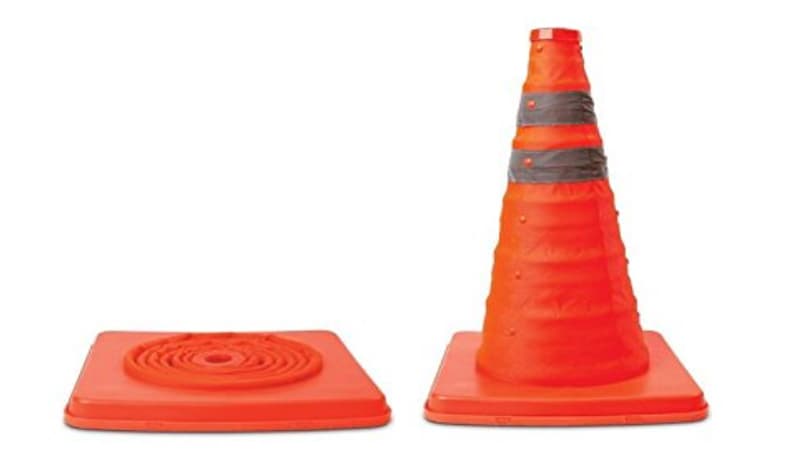 "I have a tow strap, hydraulic jack, rope, mechanic tool kit, shovel, machete, 12,000 pound winch on the front of truck, and winch blocks for extra pulling power.
In addition I carry collapsible traffic cones, triangle reflectors, DC tire pump, a tire repair kit, battery operated impact wrench, jumper cables, and miscellaneous stuff. All of that is wedged into the truck. Also, there is a container of aspirin for headaches and a first aid kit in case I have to use any of the above." – Steve Cilenti, 1999 Ford F350, 2012 Arctic Fox
"I have a thirty foot 3/8-inch chain, 100-feet of 1/2-inch steel braid cable with swagged cable loops, a thirty foot 4-inch snatch strap, a twenty foot 2-inch snatch strap, shovel, Hi-Lift jack, tool kit, three ton come along, tire chains for all four wheels, a one hundred foot 3/8 nylon rope, fire extinguisher, first aid kit, five ton bottle jack, and a 44 to put it out of its misery.  I also have a ten meter radio and walkie talkies.  I have used everything at one time or another except for the 44 and 4-inch snatch." – Mike Johnson, 1986 Chevy K30, 1987 Four Wheel 10-foot Keystone
"I have a Warn 15,000 pound capable winch attached to the front of my truck that's built into the extra strong brush guard bumper system.  I wanted to make certain that I don't get stuck on a side gravel fire road.
For visibility while I get unstuck I have two Warn fog lamps and two Rigid Industries extra high power lights attached to the truck's uplift switches that are mounted to the dash.
I have a trailer hitch assembly that extends past the back of the camper for cable attachment.  I carry a collapsible shovel, bolt cutters, a Hatchet bladed heavy knife, and a handsaw to cut limbs.  The bolt cutters are in case I am camped on a fire road and someone comes along and locks a gate.
I am prepared for minor extraction as my camper and truck are not designed for real off-road travel set aside for four wheelers." – Donald Fox, 2015 Ford F450, 2016 Lance 1172
"I don't have a truck camper, yet!  But I am actively looking for one that fits my truck's payload capacity and fits my wants and needs.  For the time being I have an old truck cap with an elevated sleeping platform so I have storage under the bed.
With that said, it doesn't matter where I am going or what I am doing.  If I am on any kind of road trip at all, I always have my tools; a tow strap, a couple shackles, and my folding shovel.  If there is a significant chance I will venture off road, I would also bring my Hi-Lift jack.  Those opportunities are few and far between, so the Hi-Lift normally resides in the garage.
When you are hours or even days away from home, you never know what kind of surprises may pop up.  On my longer journeys, I will even bring my big come-a-long.  I consider my shovel and tow straps just as important as my lug wrench and spare tire.
Once I end up with a true truck camper, I can't foresee this changing.  If anything, I will add more recovery gear because I will have more permanent storage solutions that can stay in the camper even when it's not on the truck." – Mark Peterson, 2011 Ford F150, just an ole truck cap, for now
"I carry a few items, mostly because I bring a Kawasaki Teryx UTV.  I carry a shovel, mini air compressor, tow strap, Slime flat repair, tire plug kit, off-road jack, EMT first aid kit, Ham radio, fire extinguisher, etc." – Winston Gotte, 2000 GMC Sierra 1500HD, 2016 Four Wheel Camper
"Although I do occasionally traverse desert access byways or the remote fire road, for off-road recovery, let's just say I depend on the kindness of strangers." – Mark Obert, 1999 Ford F250SD, 1999 Lance 920
"We have a crew cab, so we keep our equipment under the seat.  We have a 20-foot tow strap, a 10-foot chain, axe, shovel, extra heavy work gloves, and a small toolbox with hand tools.  We also have other emergency gear such as flares and a reflector highway breakdown kit.  This stays in the truck whether we are in a full service campground or boondocking.  Better safe than sorry." – Mike Kolinski, 2012 GMC 2500, 2012 Four Wheel Camper Hawk
"I have a Hi-Lift jack, ARB inflatable exhaust bag, 12,000 pound Warn winch (mounted front or rear), compressor, 50-foot tow rope, one set studded every two-link chains, tools, land anchor for winch racks, shovel, and pry bar.  I also rent a satellite cellular phone.  I seldom use any of it, thank God.  I prepare for the worst and hope for the best.  Keep up the good work." – George O'Connell, 2011 Ram, Alaskan 10-foot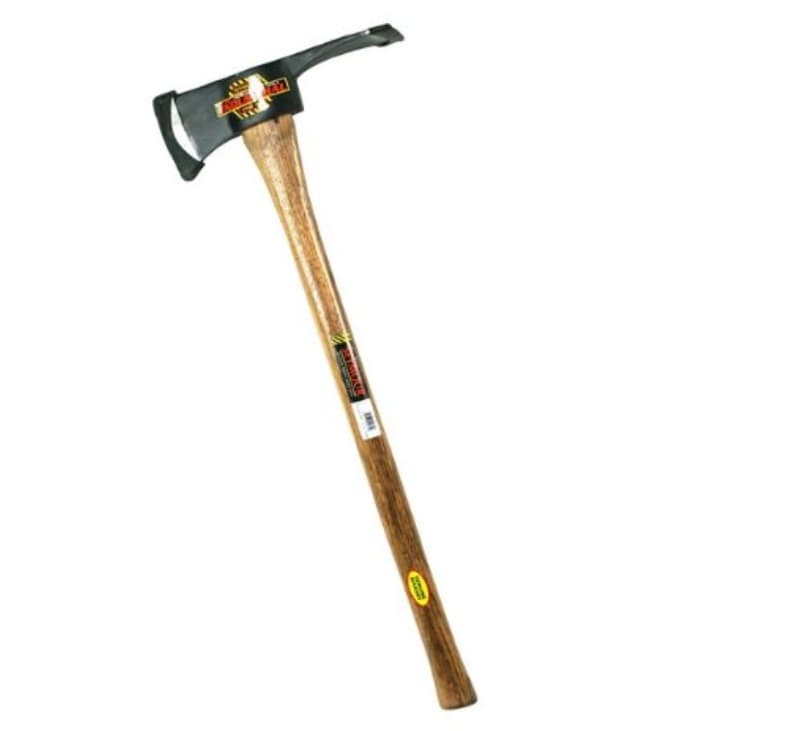 "I bring a shovel, pulaski, tow strap, and a tool kit that includes metric and SAE wrenches/sockets, and often a 024 Stihl chain saw. I have fire extinguishers in the cab and camper and an eight-ton hydraulic jack.
In the West, it is often required to carry water, a shovel, and axe, but I carry a pulaski instead of an axe as it is a more useful tool. Even though my pickup camper does see a lot of gravel/dirt roads, I do not take it where it is likely to get stuck all that often. I do carry a higher lifting capacity jack. The OEM jack will not lift the pickup with the camper on it." – Les Brush, 2002 Dodge Ram 2500, 2007 S&S Montana Ponderosa 8.5FBSC
"I have a 10,000 pound Warn winch, portable for either the front or back.  Stored inside, I have a clevis, tree strap, tow strap, Handyman jack, shovel, axe, extra spare tire, on board air compressor, tire patch kit plus tool kit, and miscellaneous small stuff.  Everything is stored inside truck or flatbed boxes.
Just as important as the gear is the knowledge of how to use all of the equipment.  It seems the better prepared one is, the less likely the equipment will be used.  And if all else fails, I have a mobile HF Ham radio unit to call for help.  But at $4-7/mile for towing on the remote roads, the equipment is cheap insurance.
I have completed the Trans-Labador, the Dalton, and the Dempster highways in the last two years and needed none of the above equipment; knock on wood.  I'm leaving for the James Bay Road and Trans-Taiga roads in Quebec next week and could need it all!" – Ron Niemann, 2014 Ford F350 SD, 1973 Alaskan NCO, modified for flatbed
"I carry two tow straps, a rope, and shovel, along with a general tool kit.  If I plan on doing anything serious, or if it is the rainy season, I will toss in my 12-volt winch.  I'm not sure how useful these would be, as I once saw a 4×4 with winches and mud tires, down a hill in the bushes along the Macgruder Corridor in Idaho.  These are probably more useful for my sense of security than they would be for getting me unstuck!" – Bill Peters, 2013 Chevy Silverado 1500, 2013 Four Wheel Camper Hawk
"Having been stuck many times in my 50 years of RVing in the United States, Canada, Mexico, and many countries in Europe, I have had many great learning experiences in what off-road recovery equipment I need.  Plus, I have great friends with how-to advice.
It seems that for each off-road recovery event, I did not have the right tool(s) and as soon as I recovered from the event, I bought another tool based on the event.
Here is my list of equipment; 20,000 pound winch with 100 feet of cable mounted on the front of my truck, trenching shovel, collapsible tree saw, farm jack (used to jack RV up and throw it out of the hole, mud, etc. to more solid surface), hatchet, 8-ton bottle jack, heavy duty come-along, all wheel drive on truck, CB Radio, cell phone, tow rope, chain, and 5,000 pound tow line with snatch block.
Great friends throughout the nation have either come to help or were called and provided great recommendations.  When all else failed I have called USAA towing insurance within the United States." – Cliff Cizan, 2010 Dodge Ram 3500, 2013 Arctic Fox 1150
"I pack a HD thirty foot tow strap, long axe, short shovel, tire chains, jumper cables, and a basic tool kit." – Walter George, 2015 Ford F-350, 2015 Lance 1052