The Haymore family meets off-road every year and competes for who's got the best rig.  If there's a family that has more truck campers or is more passionate about truck camping, we haven't found them.

In the near-decade that we have been publishing Truck Camper Magazine, we can count on one hand the number of families with more than one truck camper.  We know a few father and son truck camper owners, but never had we heard of father, son, son, and son – and a couple uncles – all having truck campers.  That is, until now.
Bruce Haymore raised his four sons on regular hunting, fishing, and traveling trips in a 1968 Siesta hard-side pop-up truck camper he bought in 1980.  These truck camping adventures created some of the best memories the family had during those formative years.
It would be an understatement to say that the Haymore sons followed in their father's tire tracks to become truck campers.  Jeremy, Jason, and Neal Haymore not only own truck campers, but have upgraded, modded, and remodeled their rigs in ways their dad probably could not have imagined thirty-six years ago.  Jason has even remodeled the 1968 Siesta ensuring its status as a Haymore family heirloom.
To get the complete picture of this extraordinary truck camping family, we asked each of the Haymores to submit their side of the story.  You're about to find out how this all got started, how it led to the biggest truck camping family on Earth, and which brother thinks he's dad's favorite.
Bruce Haymore, 2002 Alaskan Camper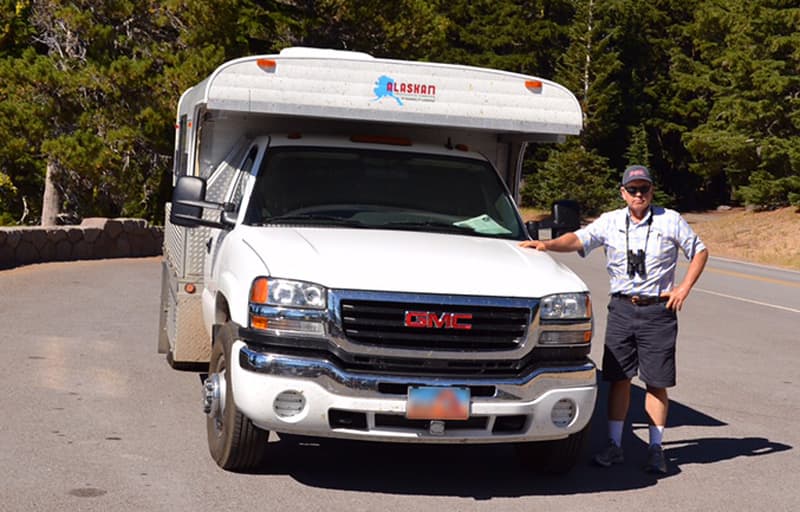 Above: Bruce Haymore with his Alaskan Camper and GMC truck
I was born in 1952.  In 1956, my Dad bought a 1956 Ford pickup truck.  He built a camper for the truck and off we went hunting, fishing, and traveling.  Then, in 1963, he bought a 1963 Ford truck and built a new camper.  I was old enough to help with the construction.
I purchased a 1968 Siesta camper in 1980.  This camper was on a 1972 Ford and then later a 1987 Ford.  My four boys grew up camping with the Siesta.  I gave the truck and camper to my son Jason in 2001.  That camper has been in our family for 36 years.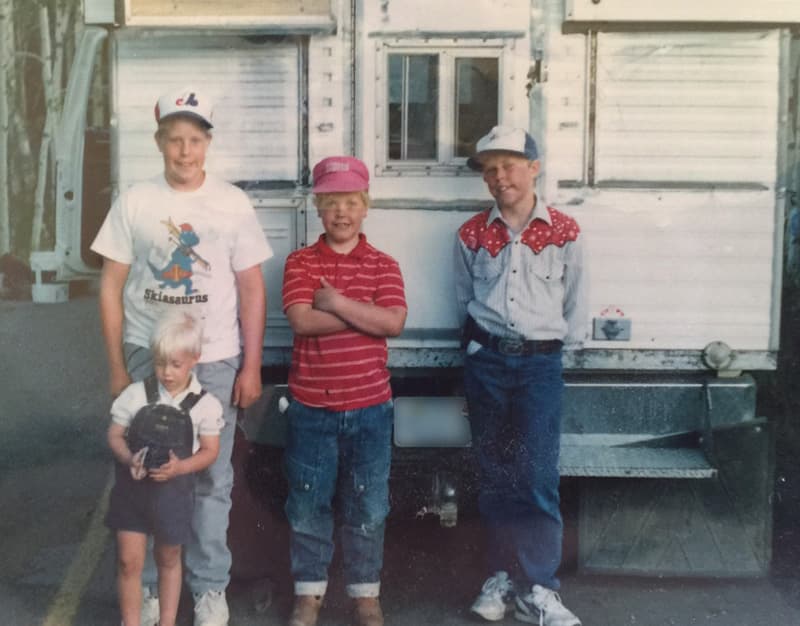 Above from left to right: Jeremy (tallest), Nathan (in overalls), Neal (in red shirt), Jason (cowboy shirt)
Some of our happiest days are camping, so I am not surprised that my boys are also into truck campers.  The boys plan most of the trips now.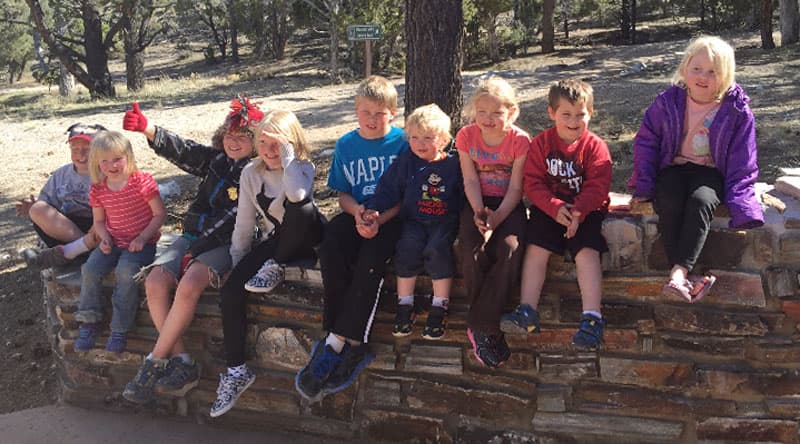 I enjoy meeting up with them.  I also get to see all my grandkids!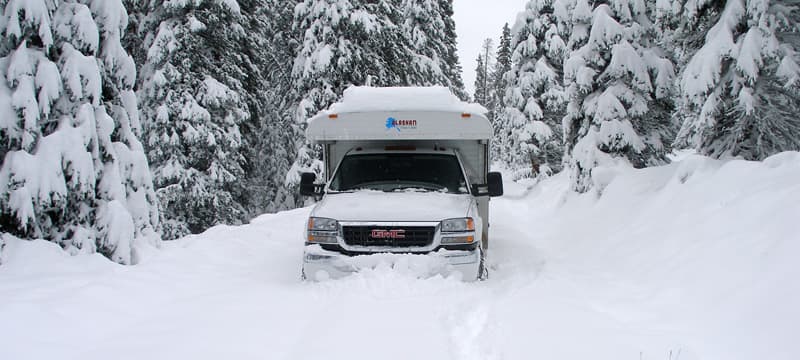 I chose the Alaskan for the quality of their construction and their willingness to build what I wanted.  I had the aluminum bed built to match the camper and truck.  I wanted the aluminum storage bed for space and a maintenance free life.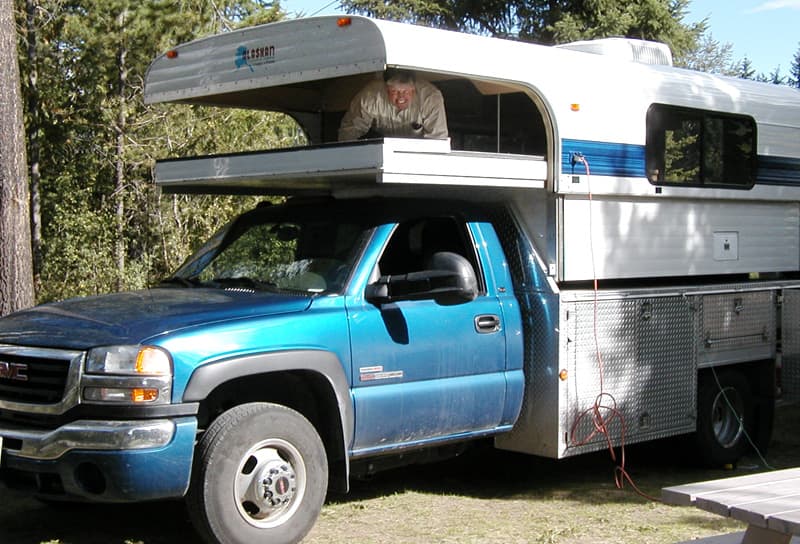 The Alaskan was originally on a 2000 GMC, and then a 2007 GMC.  When the 2007 GMC wears out, I will mount the Alaskan on a new truck.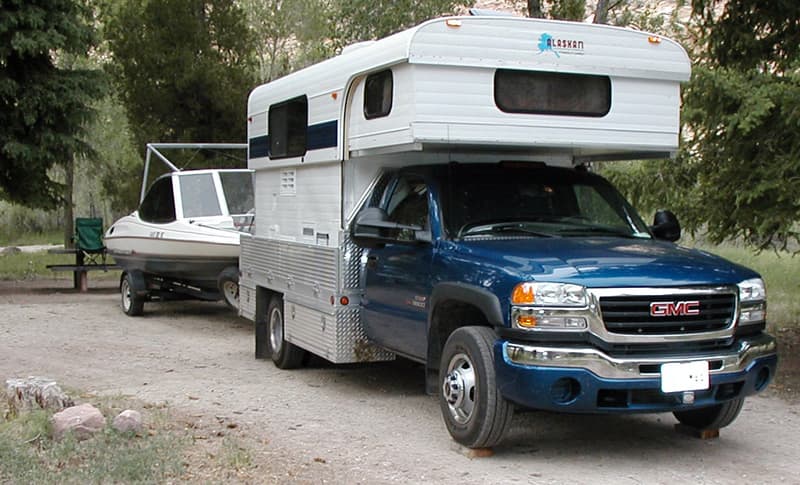 I enjoy time with my family, relaxing, and seeing America.
Bruce's Rig Information
Truck: 2007 GMC Sierra 3500, Regular Cab, 4×4, Diesel, Dual Rear Wheel
Camper: 2002 Alaskan 10-foot cabover
Gear: Cab and chassis truck with a custom aluminum bed
Jason Haymore, 1968 Siesta Camper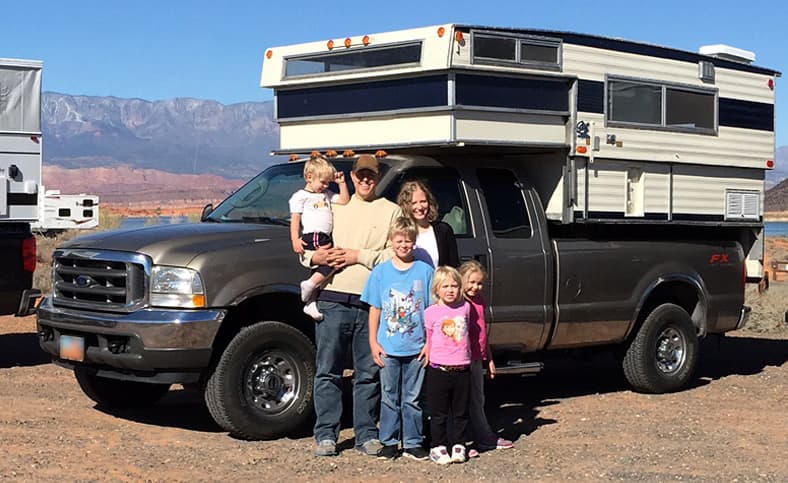 After I returned home from a mission for the Church of Jesus Christ of Latter-day Saints, my dad gave me his 1987 Ford F250 and the family 1968 Siesta telescopic camper (I think because he likes me more than my brothers).  I was 21 at the time.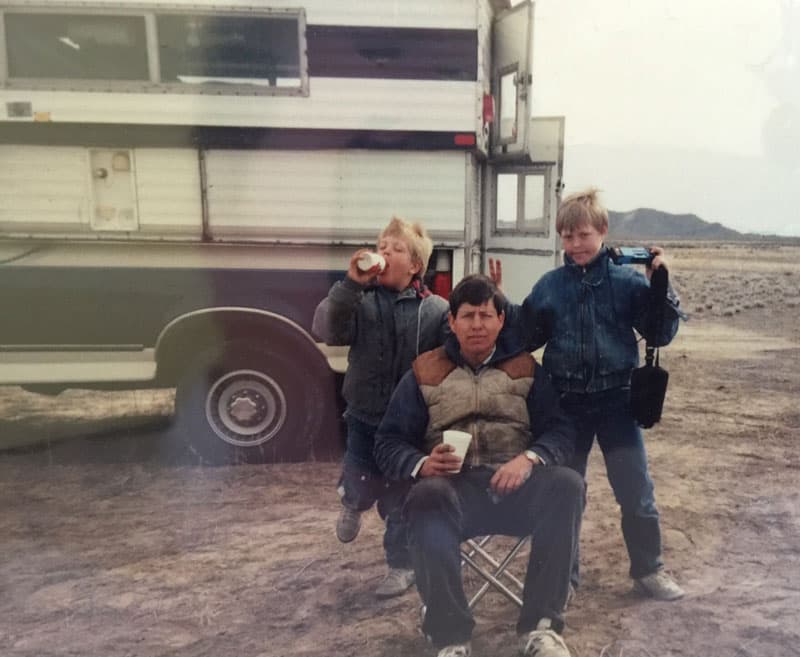 Above from left to right: Neal (taking a drink), Bruce (sitting in the chair), and Jason (with camera in hand)
The Siesta is a hard side pop-up camper that we had all camped in as kids.  There was a time in my dad's life when his construction company was slow.  During that time, he bought old damaged campers, repaired them, and sold them for a profit.  The Siesta was one of those campers, only it was so unique he decided to keep it.
After my wife and I first got married, we drove our truck and camper all over the place and had tons of fun trips.  We were both in school and just jumped in the camper and took off every chance we got.  It was much easier to do then, having no kids.
After college, I was accepted to law school in Indiana.  I took the camper with me and stored it in a wooded area behind my house.  One day I went out to look it over and found mice and mildew inside.  My heart sank and I decided then and there to do a complete rebuild.
Both my Dad and my wife cautioned me about spending more time and money on such an old camper.  I sheepishly admit that I looked around at buying a newer camper, but I couldn't find anything that matched what I liked about the one I already had.  A hard side telescoping camper with a U-shaped dinette and oven just doesn't exist anymore.  Even outside of the family connection, I determined I had a gem and would never let it go.
Above: Jason restored the 1968 Siesta, pictures above of the new interior
I worked late nights and weekends restoring the camper.  I tore off all the old contact paper on the walls and repainted.  I put in a new floor, new lights, new screens, new countertops, new cabinet doors, built drawers, put a bunk bed over the dinette, added an electric water pump, fresh water tank monitor, fixed all the dings I could on the aluminum siding, and painted the exterior to match the truck.  In all, it took me about six months.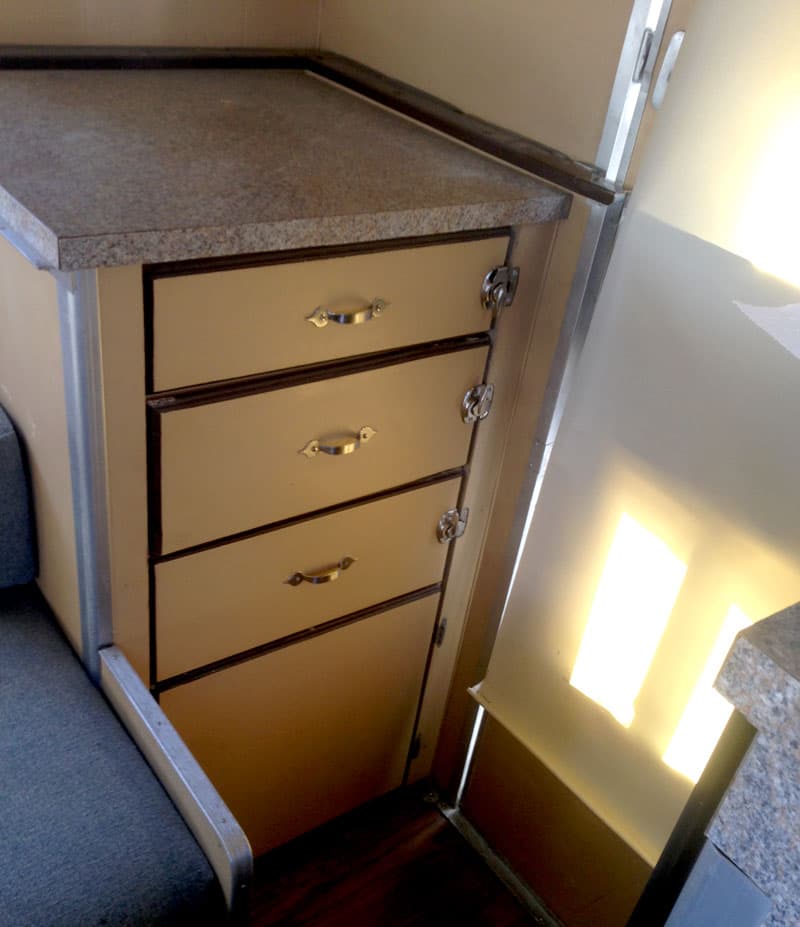 After restoring the camper inside and out, my dad and his wife, Michele, drove his Alaskan rig all the way from Utah to Indiana to see my handiwork and go on a weekend trip with my family.  He was proud of the work I had done and that gave me a great sense of satisfaction.  He is a master craftsman and getting his approval on the project was a big deal.
That particular trip was one of the most memorable trips of my life.  I couldn't believe they would drive that far just to camp with us for the weekend.  We drove up to Michigan and saw the Great Lakes.  While we were there we chartered a boat and caught more salmon than we could eat the following year.
After law school, I moved my little family back to Utah to start a law practice.  I have very vivid memories of driving with my son across the country in February and staying in the camper along the way.
When I originally started the rebuild, I convinced my wife (and myself) that I would rebuild the camper and we would be all set for another thirty years.  But after finishing the rebuild, I've spent countless hours on new projects and repairs.
Above: Jason's kids enjoying camping in the Siesta
At this point I'm sure I could have won Truck Camper Magazine's mod contests more than a dozen times and my beautiful wife is no longer foolish enough to believe that I am really going to just do one more project.  But in my defense, most of the updates have come because of a trade-up in trucks.
After being back in Utah a couple of years, my wife convinced me to sell the 1987 Ford F250 and get something a little newer with an extended cab to better fit our family.  Selling the old family truck was like selling an old family friend.  I was just as attached to it as I was the camper.  And I had painted the camper to match that truck!  But the truck was twenty-five years old, becoming a maintenance problem, and obviously didn't accommodate my family of six.  My kids and I still salute and place our hands over our hearts (mostly in jest) when we pass the dealership that took it as a trade-in.  My wife is glad the gas-guzzling maintenance hog is gone.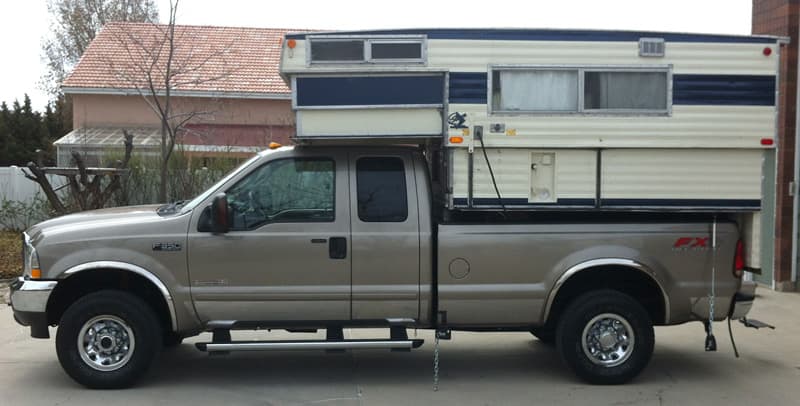 Above: Jason's new Ford F350 with the Siesta camper
The most important aspect of selecting the new truck was finding one that would fit my camper.  Before making the final purchase, I made dozens of measurements and I was sure I had it all figured out.  But the first time I went to put the camper on my newer Ford F350, I was crushed when it didn't fit.  I knew I had to add about five inches to the bottom of the camper so that the cab overhang portion of the camper would clear the taller new Ford cabs.  I built a five-inch plywood platform for that purpose, but I was shocked when the last two feet of the camper were too wide to slide between the tailgate posts.
I worked straight through that night and rebuilt the backend of the camper to make it three inches narrower.  I got it to fit on the truck with one-half inch to spare just in time to get us on the road the following day to meet my brothers for our annual St. George winter trip.
The next project started when my older brother, Jeremy, took a three-way refrigerator out of his camper and installed a compressor fridge.  He kindly gave me the old three-way refrigerator and I installed it into the Siesta.  That project required rebuilding some of the cabinets, installing a new countertop, some rewiring, and some tricky engineering to get the refrigerator to vent whether the camper is in the up or down position.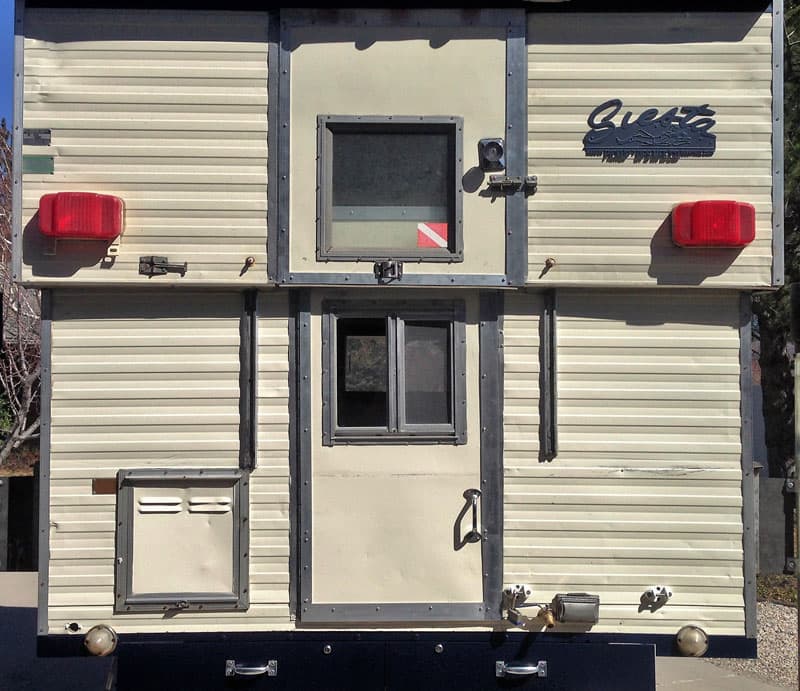 Then, I was forced to rebuild the lift system last fall when I was loading for a trip to Sand Hollow State Park to meet my brothers.  When I attempted to pop up the camper, one of the cables that raise and lower the roof broke and the front portion of the camper came crashing down.
Determined not to humiliate myself by camping in a tent in front of my brothers (or worse, by showing up towing my wife's fifth wheel), I again started working around the clock to get the camper ready in time for the trip.  I replaced all the cables and replaced and reinforced all the pulleys.  But, to my dismay, the jack that ran the whole mechanism was so badly worn that it could barely lift the top.  I got the Siesta to Sand Hollow, but my brothers and my Dad had to help me pop it up by pushing on the upper portion for lift.  They still haven't let me hear the end of that.
I am happy to report that, after a trip to a machine shop with my brother-in-law (an expert machinist), I have a completely rebuilt jack and the camper slides up and down like it was coated in greased butter!  I was pleased to demonstrate my handiwork to my family on our last winter St. George trip where no help was needed to set-up.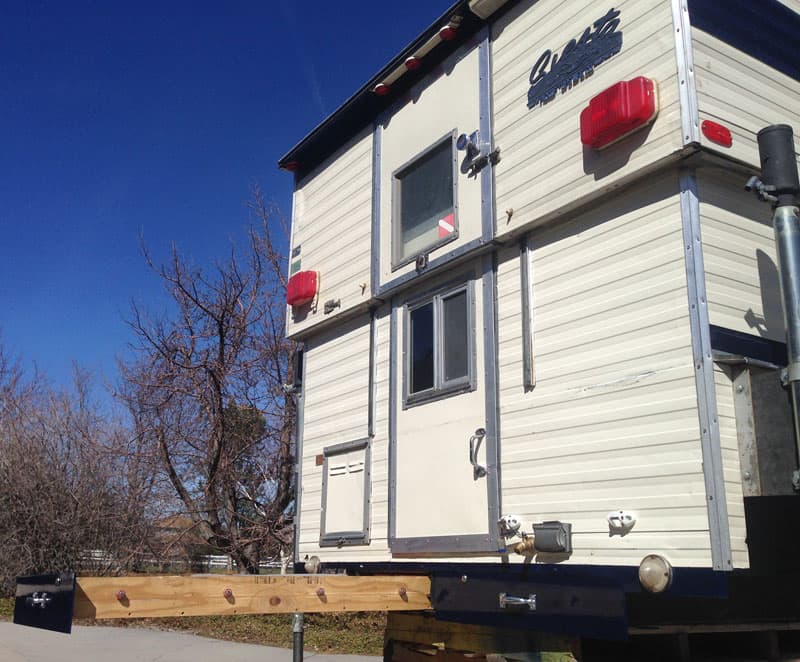 Recently I replaced the wooden platform that I was using as a spacer between the bed of the truck and camper with a steel frame complete with sliding drawers that run the length of the bed.  The steel frame is permanently bolted to the bottom of the camper.
Above: Jason designed sliding drawers that run the length of the truck's bed for storage
I also got an idea from the Truck Camper Magazine mod contest to relocate the battery to the space between the bottom portion of the camper and the truck bed to save cabinet space inside.  My next project will be to build some extra storage compartments that will fit between the bed rails of the truck and the camper.  Then, I'll truly be done with my mods, even though my wife doesn't believe me.
Each time I work on this camper or take it out for a trip I feel like I'm caring for a sacred piece of family history.  When our youngest brother, Nathan, unexpectedly died in a car accident, all of us became aware of what our relationships really mean to each other.  One of the most important parts of life is the relationships we build.  And this camper has facilitated a whole lot of that for us.
Jason's Rig Information
Truck: 2004 Ford F350, diesel, extended cab, long bed, 4X4, single rear wheel
Camper: 1968 Siesta Telescopic Camper
Tie-Downs and Turnbuckles: Custom Made
Suspension: N/A
Gear: Honda eu2000 generator, Small window mount Frigidair air conditioner unit
Jeremy Haymore, 2015 Four Wheel Camper Grandby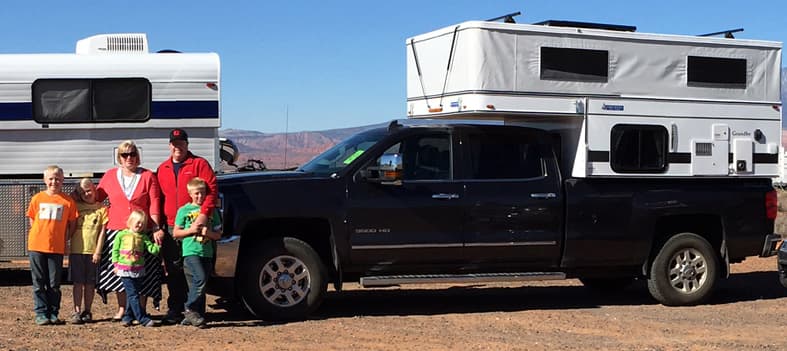 I learned truck camping from my father, Bruce Haymore, who bought a 1968 Siesta hard sided pop-up camper when I was a kid.  I am the oldest of four boys and we camped in the Siesta truck camper for as far back as I can remember.  It was a source of many happy memories including hunting, camping, and fishing with my dad and brothers.
The Siesta camper was then given to my brother, Jason, who remodeled it.  He had to make it fit newer truck styles, and updated the interior.  I still think about how hard it was to crank the Siesta hard top up and down.  The original pulley system is still working for his family thirty years later.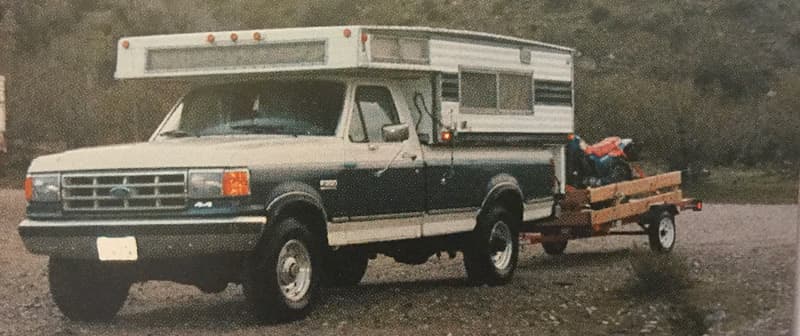 Now, as adults, all of my brothers and dad own truck campers.  Jason owns the original Siesta.  Neal owns a Four Wheel Camper Grandby and had a Four Wheel Camper used by four family members before that.  I bought a 2013 Four Wheel Camper Hawk, and just upgraded to a 2015 Four Wheel Camper Grandby.  My father's custom Alaskan setup is probably the nicest of them all.  I also have two uncles who have Four Wheel Camper Hawks.
When I recently visited Four Wheel Campers in Woodland, California, they were actually building a camper for my uncle right then.  They first thought I was him and had arrived too early.
My most memorable experience in the original Siesta was camping around St. George, Utah.  As a family, we have been fortunate enough to camp at the same location for over thirty years.  My grandfather originally camped there.  He then took my dad who started taking me.  Now I take my kids there.  Four generations have camped in the same location.
We do meet at other camping areas during the year, but the St. George campsite has been a favorite for a very long time.  We have been so grateful to the property owners who have allowed us to continue camping in this spot as it has changed hands over the many years we have been there.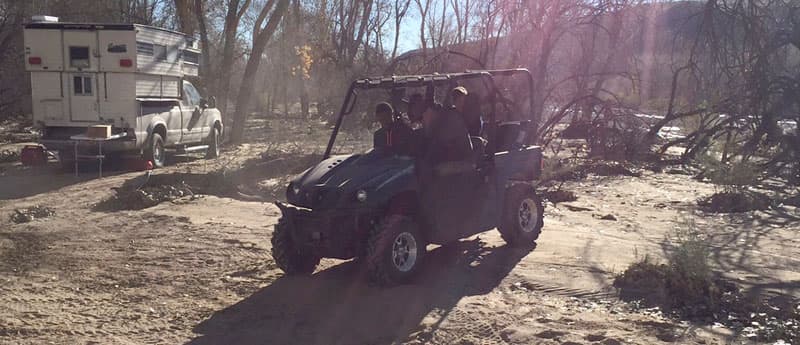 Above: ATVing is a fun part of their family get togethers
The family reunions are a week of riding horses, ATVs, hunting, hiking and spending time together.  There is always a look at everyone's new camper updates and the unspoken contest of which camper performs the best.  Many trucks and campers have been sold over the years after they did not match up with the competition.
My two brothers and I are small business owners.  This has made it easier to get time away from work.  To minimize travel time, we try to pick places that are equidistant from all of us.   However, over the years it has taken monumental efforts to get some of us out of college or professional school to attend the reunions.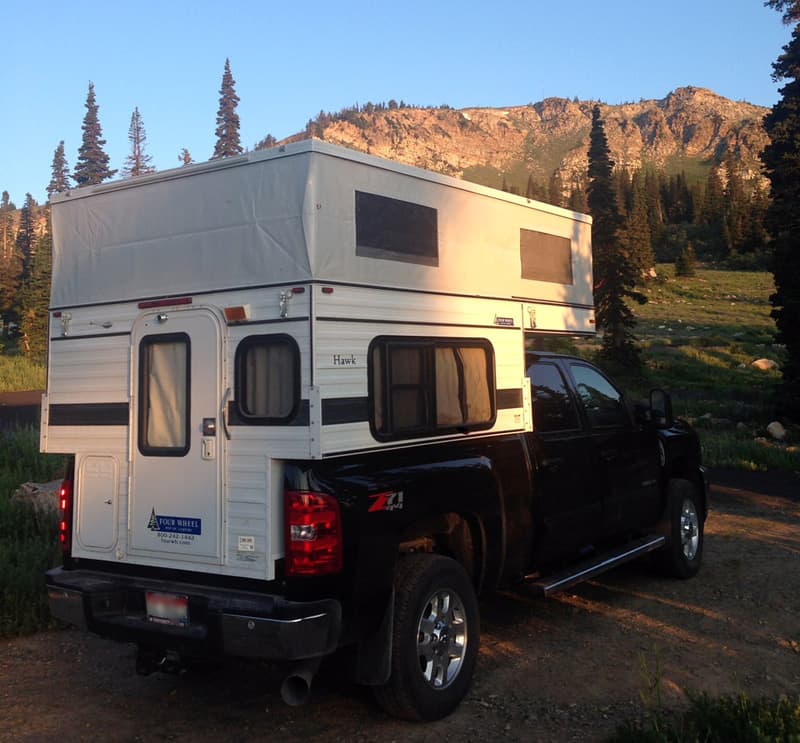 Above: Jeremy's Four Wheel Hawk, now upgraded to a Four Wheel Grandby
I often go camping with my four kids and my wife.  I frequently meet up with my dad and two brothers in our travels.  I camp nearly every month, even during the winter.  Additionally, we have several one or two week camping trips each year beyond our weekend trips.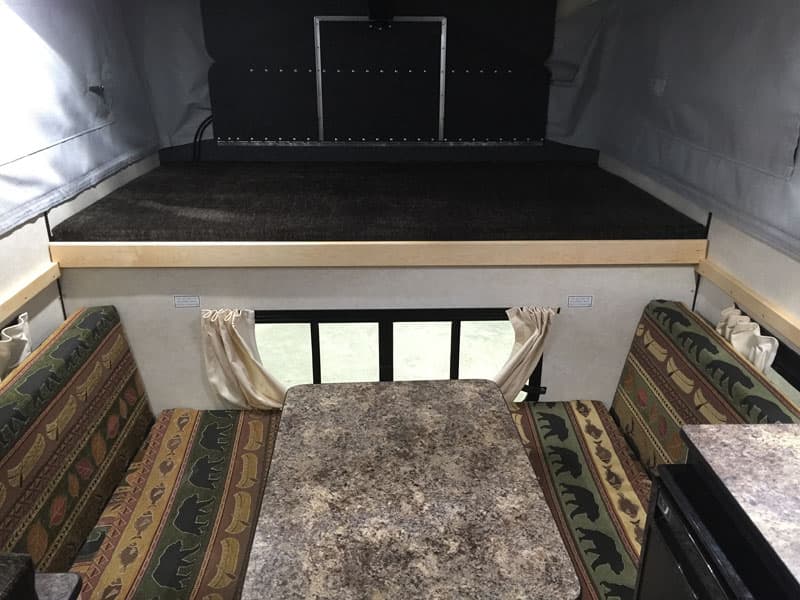 Above: The Four Wheel Camper Grandby with a front dinette allows for four kids and two adults to sleep
One of the main reasons we switched from a Four Wheel Camper Hawk (rollover couch) to a Four Wheel Camper Grandby (front dinette) was to find places for everyone to sleep.  In the Grandby, we sleep four kids on the overhead king sized bed, and my wife and I on the fold out dinette bed.  It works out really great.  We also have a travel trailer that we customized for one to two week off-the-grid locations if we want more space.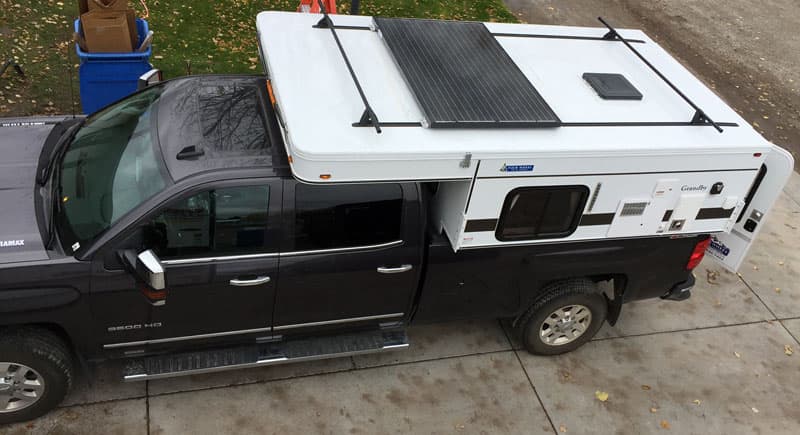 Above: Two 6-volt AGM batteries, 250 watts solar on the roof and 135 watts on a portable solar panel keep Jeremy and his family dry camping for a long time
We almost always dry camp in Idaho, Utah, or Nevada.  We are starting to look at places in Oregon, Montana, and California to visit next.   My dream is to take a summer and visit Alaska.  I also want to tour around the United States and Canada.
We tow a cargo trailer mainly for ATVs and motorcycles.  I also load it with Boy Scout equipment for campouts.  I've been the Scoutmaster in my local area for seven years.  The Four Wheel Camper Hawk has been very helpful in our Boy Scout adventures.  We go on a camp-out nearly ever month and a week of scout camp in the summer.
Above: The storage, compressor fridge, and kitchen area in Jeremy's Four Wheel Camper Grandby
The camper stores a lot of our food and water, gives us light at night, stores gear, and helps out with many of our needs.  With my solar setup, I can run my upright compressor fridge and ARB fridge/freezer for an entire week at scout camp.  We have cold food all week without any ice.  It works great!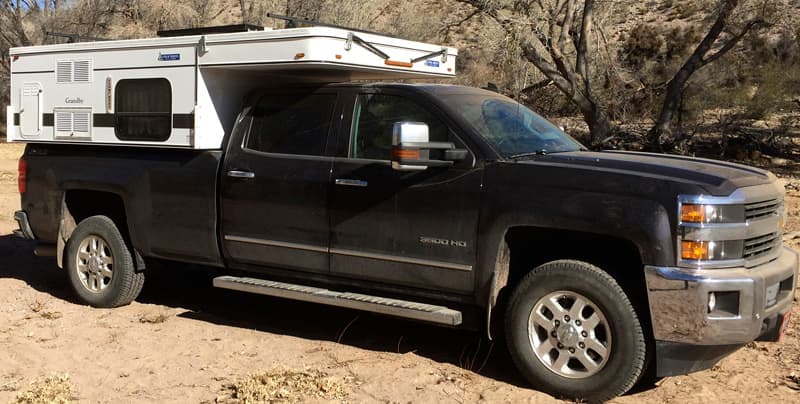 Above: The Grandby at the St. George, Utah camp-out
Just being in the forest or desert and traveling is a big stress reliever for me.  I have a stressful job as an Emergency Room physician and this helps me relax.  I also love any chance to camp with my children and get them away from the television and electronics.
My real plans are to raise my kids and teach them about camping and nature the same way it has been passed down to me.
Jeremy's Rig Information
Truck: 2015 Chevy Silverado 3500 Z71, Crew Cab, Long Bed, SRW, 4×4, Diesel
Camper: 2015 Four Wheel Camper Grandby with front dinette
Tie Downs: Four Wheel Camper Internal tie-downs with aftermarket turnbuckles
Gear: 250 watts solar on the roof, 135 watts portable solar panel, 2 6-volt AGM batteries, trimetric monitor, updated roof lift struts, pull-out faucet
The factory-installed Four Wheel Camper options include a front dinette, king slide, exterior lighting package, Yakima roof rack, LED floodlights, compressor fridge, hot water heater, front dinette seating, and fiberglass exterior.
Neal Haymore, 1997 Four Wheel Camper Grandby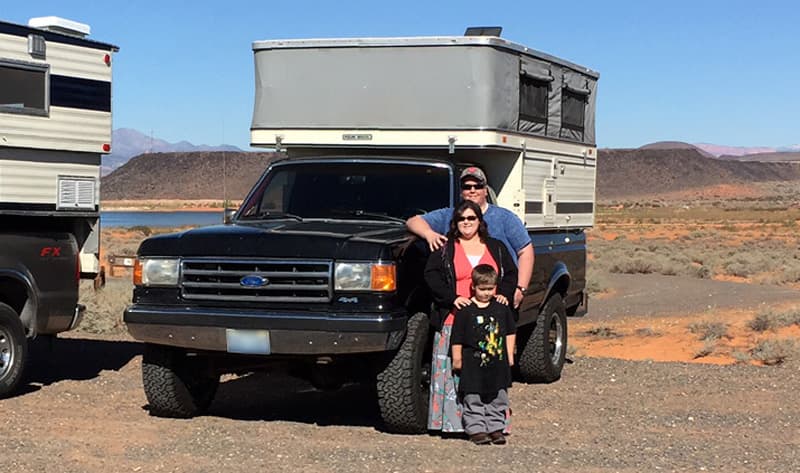 My father is one of thirteen kids and is very competitive with his brothers.  They grew up camping and hunting and still go to this day.  They would always try and one-up the other with trucks and campers.  One would buy a new and more powerful truck and pass them going up a hill.  Once the loser returned home, a new rig would be in the works.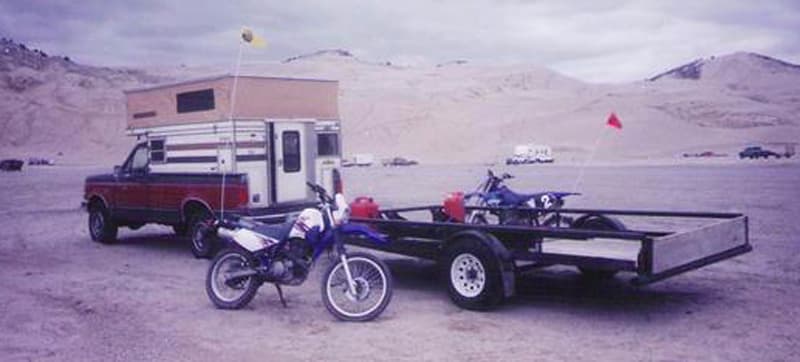 Above: The 1990 Ford F250 and Four Wheel Camper Grandby
At the age of 14, I told my uncle to call me if he ever wanted to sell his truck and camper.  Four years later, he was getting a new truck and camper and offered to sell me his at well below market price.  He sold me his 1990 Ford F250 and Four Wheel Camper Grandby for a package deal of $5,000.  I was up there the next weekend – after having sold my current truck – and emptied out my savings account.  I had that rig for fifteen years.
I was a senior in high school when I first got my truck camper rig.  Showing up for dates and driving a truck camper rig to school and back was not a great option as you can imagine.  For the first six months I had it, I would take the camper on and off when I wanted to use it; about once a month.  Eventually, I got tired of loading and unloading the camper and talked my dad into giving me his old pick-up bed trailer.
The old pick-up bed trailer was the same width as the truck and had great ground clearance to use as a make-shift camper trailer.  It had 6,000-pound axles and the same lug pattern as the truck.  The spare tires fit both rigs.
Anywhere the truck would go, the trailer would follow.  If the truck could get up the side of the mountain, the trailer and Four Wheel Camper would make it as well.  It was an overland trailer before I even really knew what that was.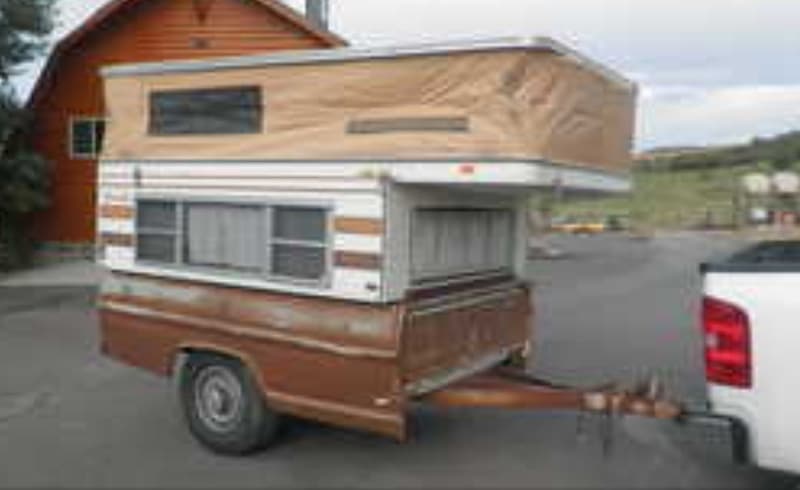 Above: Neal towed the Four Wheel Camper and put his dirt bikes in the back of his truck
I only brought dirt bikes, which I loaded in the bed of my truck.  This is a little backward from how most people use truck campers, but it worked well for me for about ten years.  Then I started to restore the old Ford and turn it back into a full-time camping rig, just like it was used twenty-six years ago by my uncle.
That Grandby was owned by four different members of my family since it was bought new.  I purchased it from my uncle in 1999, and traded it to my brother for a deer rifle in 2005.  He then traded to my dad, and I found out it was listed for sale on a local online forum and bought it back from him three years ago.  Just recently, I sold it.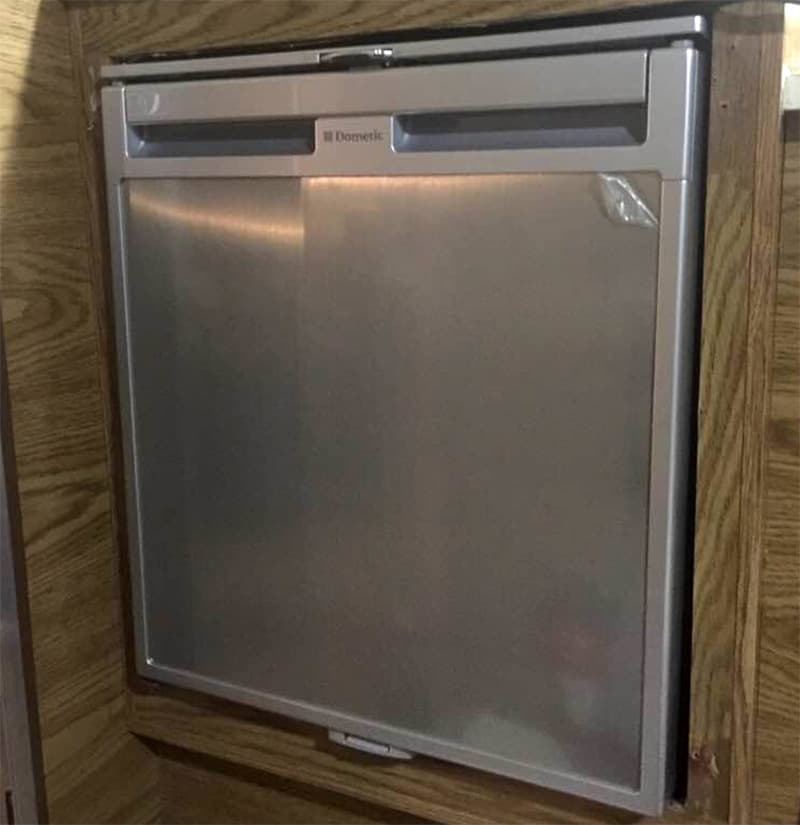 Above: Neal's new compressor refrigerator
I just bought a new Four Wheel Camper Grandby because I ended up finding a very good deal on a much newer one.  I enjoyed the old one, but it was time for an upgrade.  In the month or so I've owned the new Granby, I have added two 100 amp hour batteries, a charge converter, LED lights, and compressor refrigerator.  I have an oven and few other items that I will be putting in the new camper as well.

The picture above is from the trip I took to pick up my new camper.  My older brother, Jeremy, who lives in Idaho, saw this Grandby on Wander the West.  I purchased it after looking at the photos on the internet, sight unseen.
The person I bought it from lived about 90 miles away from my brother Jeremy.  The seller delivered it to his house where it stayed until I could make the trip from Las Vegas to pick it up.  I had sold my old Grandby in Salt Lake City, Utah, so I towed up the old camper (seen in the photo) on the trailer and dropped it off at my other brother, Jason's house.  It ended up being about a 1,400-mile road trip to get the campers swapped around.
I want a camping rig that I can get further up the mountains than the next guy and get some peace and quiet outside of cell reception.  Having to pay for a campsite means I didn't look hard enough to find a remote location.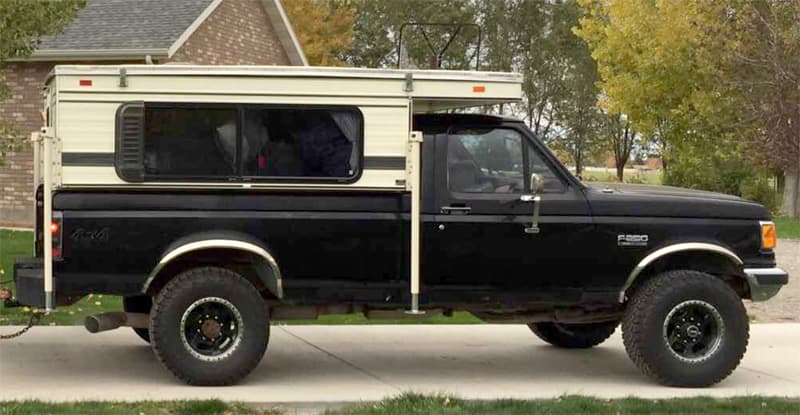 We camp at least once a year for a week in Utah, Arizona, and Nevada.  The spot we camp is down about ten miles of dirt road.  There are a few streams there that are normally only a foot deep and about ten to twenty feet across.
I have purchased a few off-road guide books that cover Nevada, Utah, and northern Arizona.  They have given us some great insights on where to camp.  Most of the time I try and look for places within two to four hours of my house.  It depends on the time of year and the direction we try and take.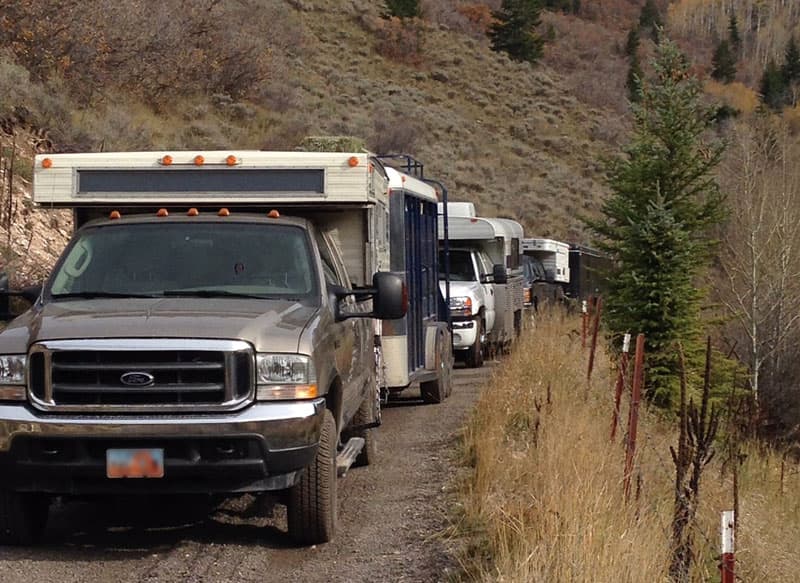 Almost all of our camping involves meeting up with my brothers and dad.  Of course, all the kids come along as well.  The wives camp about half the time with us.  On the last trip, we had almost twenty people plus three horses, three four wheelers, three motorcycles, and a UTV to keep us busy for the week.
Neal's Rig Information
Truck: 1990 Ford F250, Regular Cab, Long Bed, Single Rear Wheel, 4×4, Gas
Camper: 1997 Four Wheel Camper Grandby
Tie-Downs and Turnbuckles: Eye bolts and turnbuckles directly to the bed
Suspension: Camper package directly from Ford that includes sway bar and added leaf spring.  I also added an additional leaf spring in the front end to level it out and to fit 33 x12.50 inch tires.
Gear: All LED lights, catalytic heater, new Dometic 65l compressor fridge, SHURflo Everpure water purification system with 12 volt pump,  2 Group 31 100 amp hour Sears Platinum batteries, Progressive Dynamics 60 amp power converter with charge wizard, off-road step bumper with rear LED flood lights, Garmin 760 RV GPS with back-up camera