Welcome to Entry Six of Bracket Two for March Micro Mod Madness.  The Micro Mod that wins each bracket will advance to the Final Four.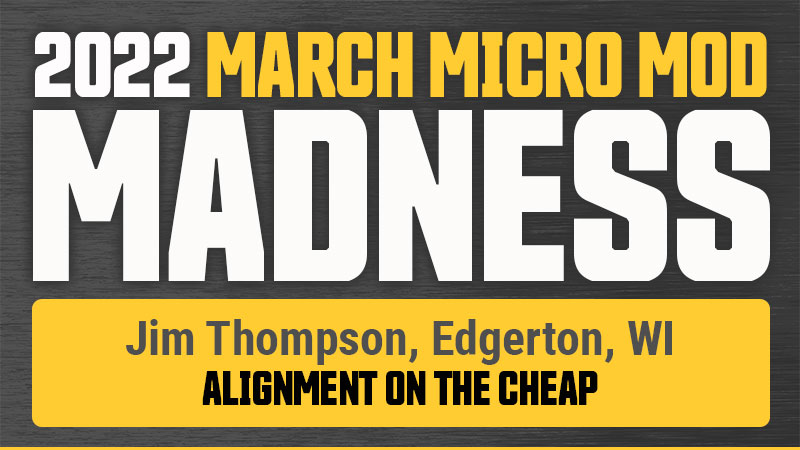 Click to see the other Micro Mods in Bracket Two, and vote.
Jim Thompson, Edgerton, Wisconsin
Alignment on the Cheap
2011 GMC 3500HD
2013 Lance 1191
We now own a 2011 GMC 3500HD dually and a 2013 Lance 1191 with an office addition.  That story has already been told in TCM and was a Mod Winner in 2018.
When we loaded the camper for the first time I found that I was having a much more difficult time than I did 45-years ago when I owned a 10-foot Del Ray camper and a 1966 GMC three-quarter ton.  It only took me a few minutes to load up back then.
Could the addition of 45-years to my eyesight and creaky bones have made loading the 1191 so much harder?
I couldn't figure it out until I learned that GM (and maybe other companies) in their wisdom had designed the truck beds to be wider in the front than in the back.  I couldn't see the back opening clearance from my rear view or the exterior mirrors, nor could I turn my head enough to look over my shoulder.
There was nothing on the truck that was square with the world to use as a guide.  I was having a devil of a time getting things lined up and set down centered in the bed.  I hated the whole idea of unloading the camper because it took way too much time to re-load.  It was not good for my disposition.
For a few years, I've studied TCM's mod pages for an easy, cheap, way to get the camper on straight and not have it scraping in the minimal clearance tailgate opening.  Nothing I had seen was simple enough nor as cheap as I thought it should be.
While camping at West Shore State Park on Flathead Lake in western Montana, I decided to take the camper off so we didn't have to haul it around during our lengthy stay near Kalispell.  As I pondered the misery of re-loading I noticed the pins that hold the tailgate sticking out of the truck body.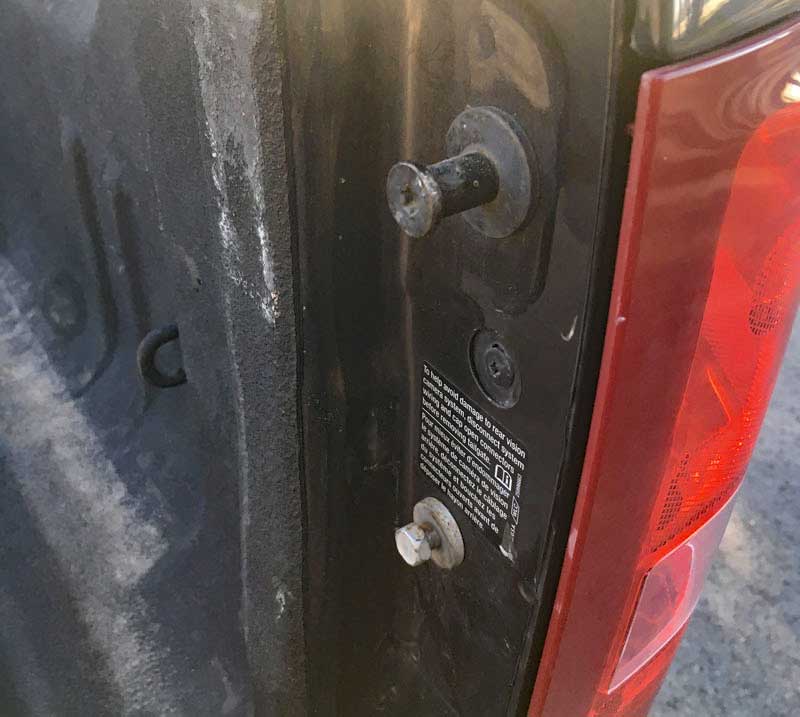 I thought maybe if I took the pins out I could bolt in a spacer to center the camper and keep it from hammering the side posts of the truck bed.  I would have to wait until we got back home to make the spacers.
When I got home I realized that I could make this fantastic, cheap, alignment fixture work without even removing the tailgate latch pins.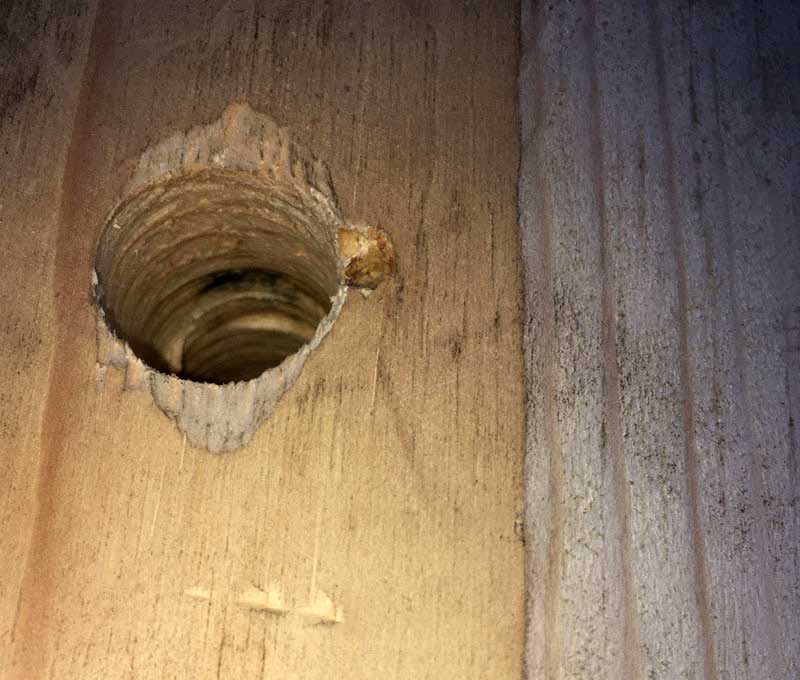 I took two pieces of 2×4 scrap, cut them to an appropriate length, and beveled the rear edge to guide the camper into the centered position.  The holes were bored in the exact location to hold the pieces in place.
When the 2x4s were placed over the tailgate pins, I tapped them down onto the flanged pin with a hammer to make a matching impression inside the hole that keeps them from falling off.  I made the final centering adjustments by adding a 1/4-inch piece of trim to make the two by fours 1 3/4-inch thick.  This resulted in a 1/2-inch total clearance for the camper.  The pictures are worth a thousand words!
Before I couldn't see the bed opening to get a clear view of the clearance between the camper and the vertical sides resulting in a damaged truck bed.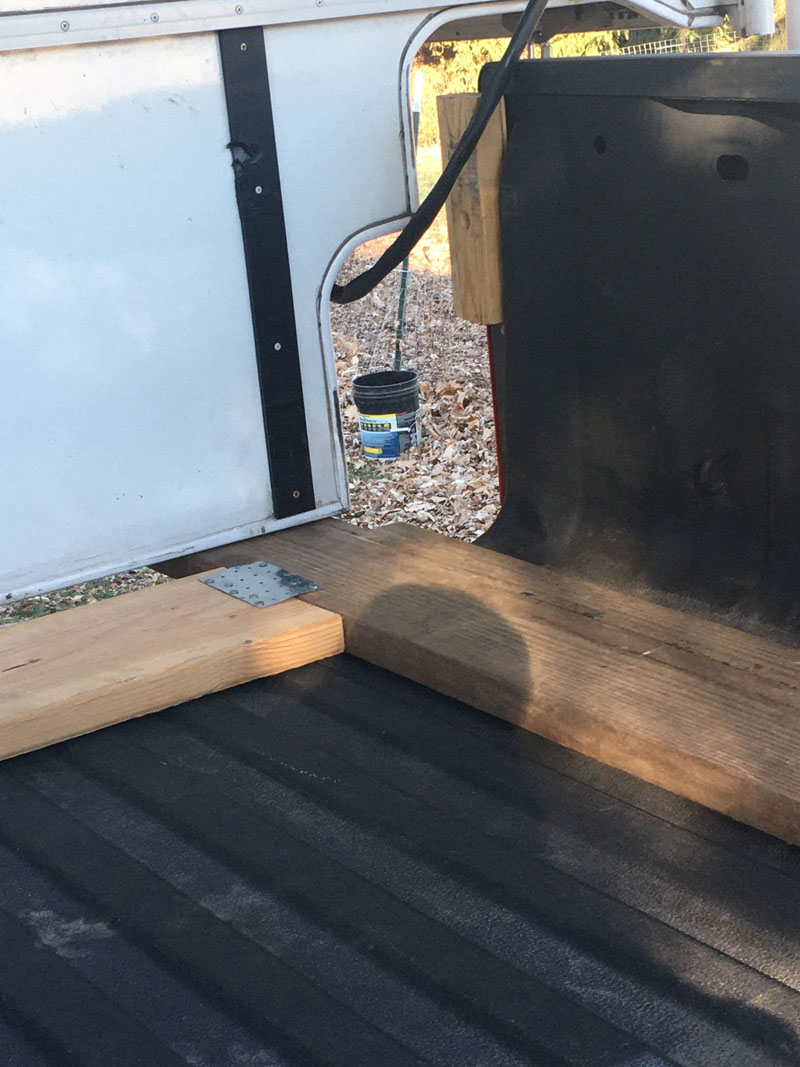 With these highly engineered guides in place, in spite of my age (and general disposition), I can now actually see what is happening back there in the rear-view mirror.  When I gave this design the maiden voyage I had the camper loaded and locked down in ten minutes – solo!
All that is needed is a scrap pine 2×4 and a scrap piece of wood trim.
It took me time to think and then about two hours to complete this modification.  In my opinion, the skill level of this modification is medium.
Click to see the other Micro Mods in Bracket Two, and vote.
Disclaimer: The modifications above are submitted by Truck Camper Magazine readers. It is your responsibility to make sure that any do-it-yourself modification project you undertake is safe, effective, and legal for your situation.
Enter Your Mods Now!
Click here for information about the 2022 Mod Contest.  If you'd like to enter a modification you've done on your truck camper, click here. You can enter as many mods as you want, at any time.  Good luck mod makers!