With 53% of the vote, Jim Thompson from Edgerton, Wisconsin has won the second bracket of our March's Micro Mod contest with his tailgate spacer guides for an alignment.  Congrats, Jim!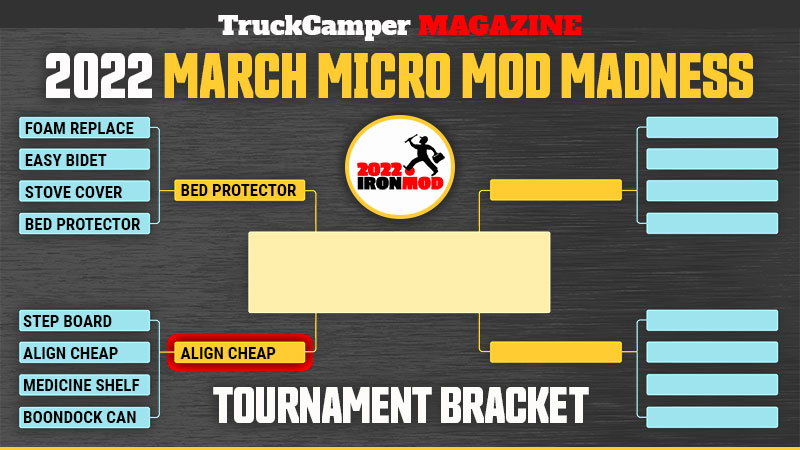 As the winner of the second bracket, he advances to the final four vote at the end of the month.  The winner of the final four will be eligible for the December finals.
Scroll down below to see Jim's winning modification (#2 below).
Enter your mods now! Click here to enter TCM's Mod contest.
1. Step Board For Cabover Entry and Exit
Greg Gabert from Seminole, Florida shares a step board for cabover entry and exit for his 2019 Ram 3500 and 2017 Palomino SS-1200 Backpack Edition rig.
2. Alignment on the Cheap – Tailgate Spacer Guides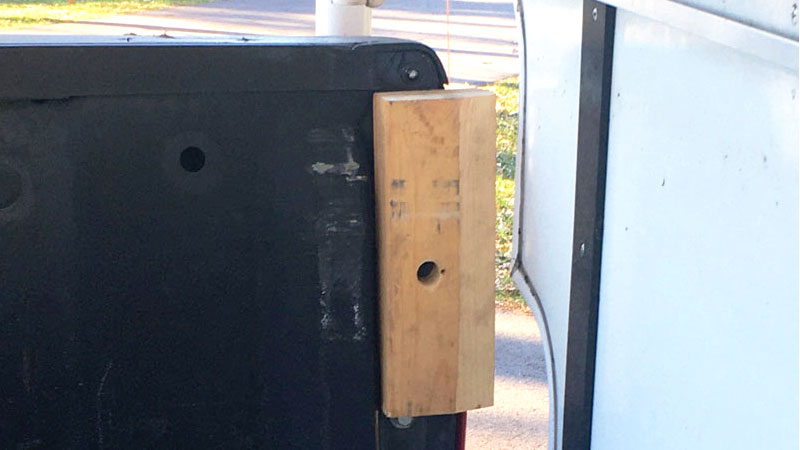 Jim Thompson from Edgerton, Wisconsin shared how he made tailgate spacer guides for an alignment on the cheap mod for his 2011 GMC 3500HD and 2013 Lance 1191 rig.
3. Medicine Cabinet Shelf
Joseph Colasanto from Florissant, Colorado made a shelf under his bathroom's medicine cabinet in his 2015 Chevrolet Silverado 3500 and 2019 Eagle Cap 1165 rig.
4. Boondocking Trash Can with a Walmart Bag
Charles Coushaine from Punta Gorda, Florida made a boondocking trash can that can fit a Walmart bag for his 2001 Ford F-350 and 2012 Chalet DS116-RB rig.