Why go to one honeymoon destination for a week when you can go anywhere and camp anywhere for the rest of your life?  It's time to renew our vows.  "I take thee, truck and camper, to off-road and off-grid, from this day forward…"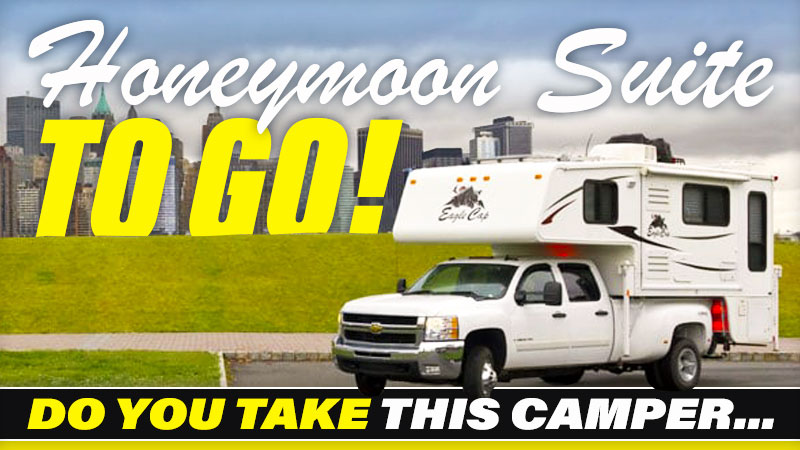 Most of us get married and then drive or fly to a honeymoon destination for a week or so.  From the wedding to the honeymoon, it's often a whirlwind experience that goes by in a flash.
But what if the American continent was your honeymoon destination and a truck camper was your honeymoon suite?  Your honeymoon destination would always be available and your honeymoon suite always ready to go.
Now that's how you start a successful marriage!  Meet the Johnsons.
How did you get into truck camping?
A couple of friends, Mike and Becky Guffey, got us into truck camping after they bought a truck camper.  We could clearly see the benefits of bringing your house with you.  A year or so later, we bought our first truck camper.
Tell us about that first truck camper.  What year did you get it?

It was late February in 2007.  I bought a new 2001 Lance 921.  It was a dealer leftover that I got a great deal on.  I never found anything wrong with it, and never understood why it was leftover.
The first night we stayed in the Lance it was sixteen degrees out and we were comfortable.  We had the Lance 921 for two years and really liked it.  We use our camper more in the winter than in the summer so insulation is important.
And you went on your honeymoon in the Lance?
Yes.  After getting married in Cades Cove, Tennessee, we went on a three-week honeymoon across Louisana, southern Texas, and New Mexico.
That's fantastic.  How was the trip?
Mike and Becky traveled with us to Louisiana and Texas to go bird watching.  During our trip, we went through areas that had been devastated by Hurricanes Katrina and Rita.  Since this was in the spring we saw thousands of birds that had just made the migration flight across the Gulf of Mexico.  It is amazing how such small creatures can fly over water for more than 500 miles.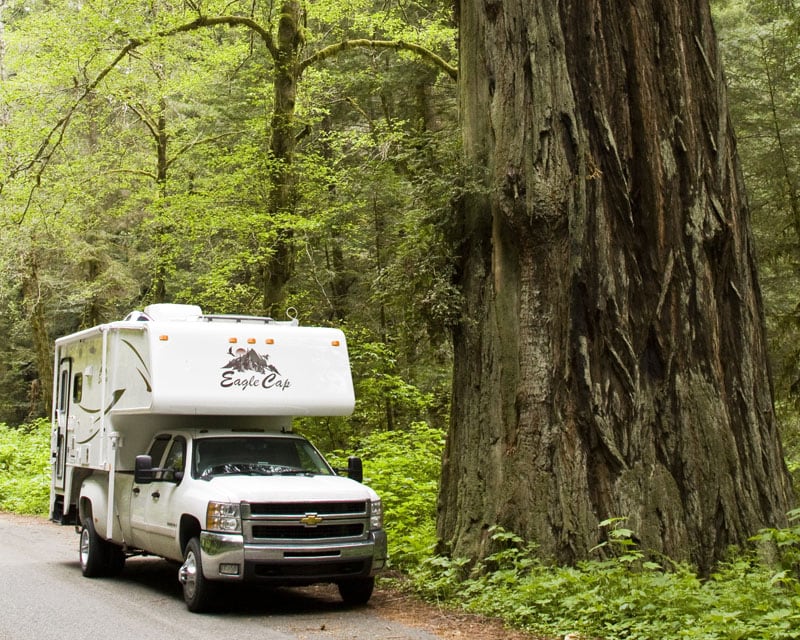 Above: Redwood National Park, California
We also went along the Rio Grande in south Texas to see some of the birds that only come into the edge of the United States.  Mike and Becky left South Padre after ten days with us, and my wife and I continued on for two more weeks.  We really began to enjoy the truck camping lifestyle in those three weeks.
I know exactly what you mean.  What does your wife think of truck camping?

It was a collective decision to get the camper.  We both love the outdoors and like to watch birds and wildlife.  My wife loves the camper as much as she loves the house.  A truck camper gives us all the comforts of home and we can stay anywhere.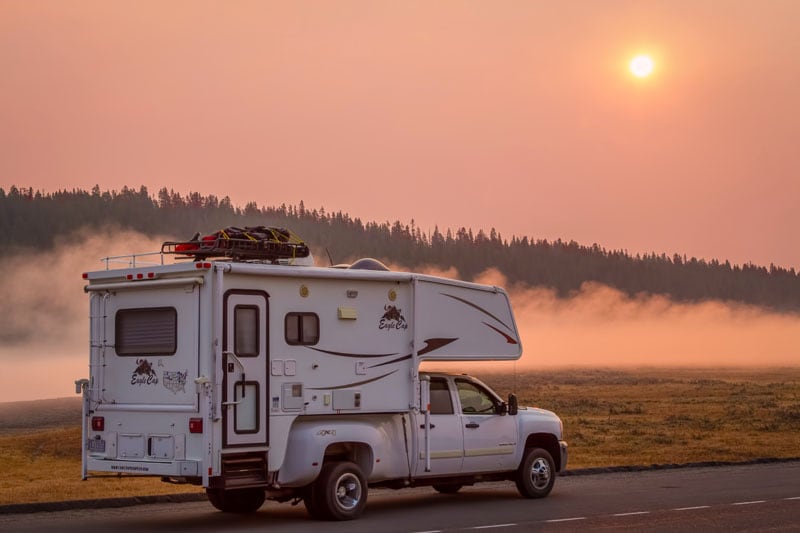 What led you to get your Eagle Cap?
We wanted a couch, larger water tanks, and a bigger camper.  In 2009, we started looking at campers again and put our Lance up for sale.  A guy called on a Thursday and came and picked it up on a Saturday.  It was a very easy sell.  The difference between what I bought the camper for and what I sold it for was only $1,500.  For two years of camper use, it only cost me $1,500.
The Eagle Cap really takes truck camper comfort to a new level.  With two slides it has lots of room and the couch makes it feel like being at home.  Since we boondock almost entirely the sixty-gallon water tank allows us to stay out longer and not worry about water consumption.  We keep it seventy degrees inside even in the winter.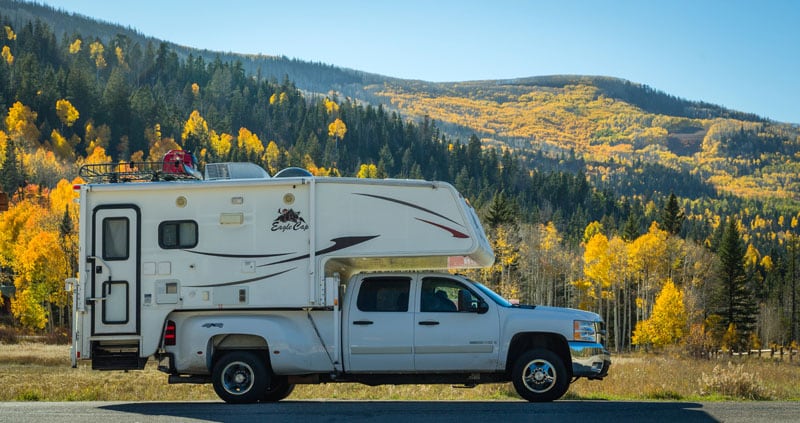 Above: South of Cedar Breaks National Monument, Utah
We had a very similar experience when we sold our first camper, a 2004 Lance 1030.  If you properly maintain and care for your camper, they can really hold their value.  So when did you find your Eagle Cap?
An Eagle Cap 1160 in Oregon came up on a Google search and it was a fantastic deal!  We made the cross-country trip in three days to pick it up.  On the way, we remembered one reason we like truck campers so much; no more motel rooms!  Then we took two and a half weeks to drive back across the country in our new, to us, camper.

You told us that you took your camper to the Eagle Cap factory.  What was that experience like?
We went to the Eagle Cap factory to discuss installing a Yakima rack for our kayak and bikes.
The amount of work that goes into building a truck camper is unbelievable.  To see all of the steps and campers in various stages of the building process was special.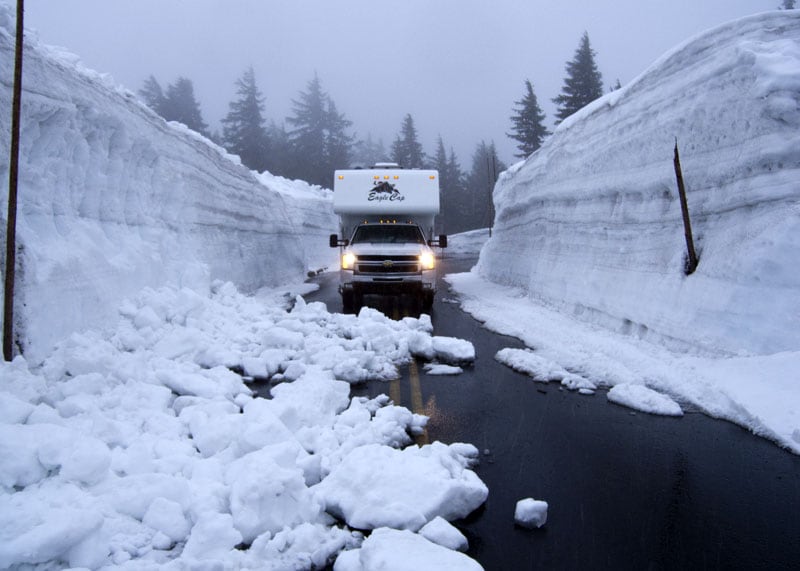 Tell us about some of the winning photos in the calendar contest.

In the 2009 winning photo, we were going to Crater Lake National Park to see the deep blue water.  As we got close to Crater Lake it started snowing harder and harder.  It's close to 10,000 feet in elevation there, so it is much colder and the area gets over 500 inches of snow per year.  The snow piles were higher than the truck and the snow was coming down hard.
We took the calendar photo and got off the mountain while we still could.  Unfortunately, we didn't get to see the lake because the snow was coming down too hard.  An interesting side note of that day is that earlier in the day we drove through a tsunami zone and then we went through an avalanche zone at Crater Lake.  That makes for some diverse scenery!
In the 2007 photo, we had been in Gila National Forest in New Mexico.  We headed off on a road that had warning signs for a low bridge in twenty-six miles.  We decided to take a chance on it because the scenery was beautiful.  As advertised, we came to the low bridge.  I rode on the ladder surveying the top as my wife drove slowly across the steel girder bridge.  Fortunately, we made it.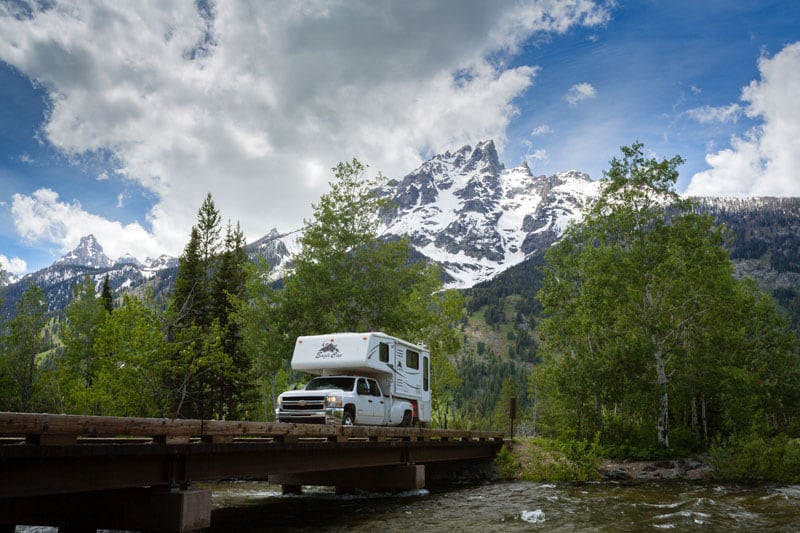 In the 2017 photo, we were leaving out of one of our favorite campgrounds, Gros Ventre.  We headed out looking for bears in the Tetons.  We found Blondie (grizzly bear) and her new cubs and took a few photos.  Talking with a ranger we learned of more good places to look for wildlife.
The winning photo was taken near Jenny Lake after looking on the side of the Tetons for wildlife.  It's impossible to see in this photo, but there was a mom and her cubs on the side of the mountain.  While looking at the bears a group of college-age hikers came by.  We shared views through the scope, binoculars, and had a great time.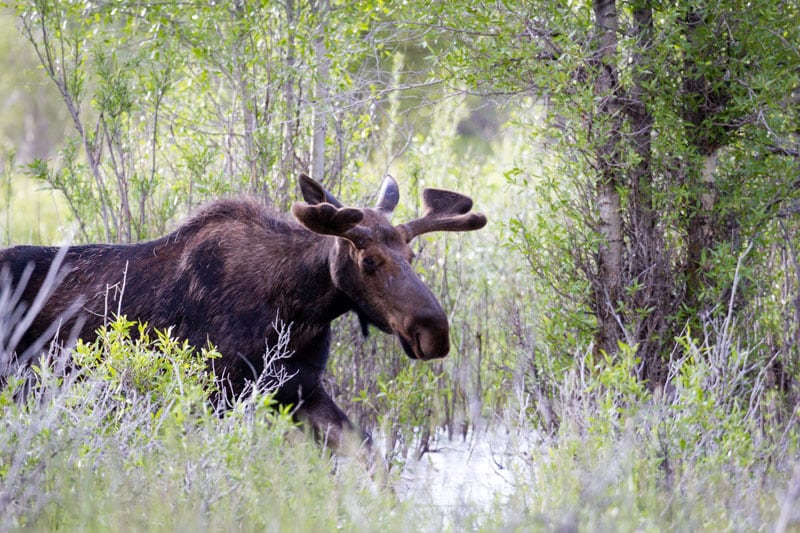 Above: Moose feeding in Gros Ventre campground, Grand Teton National Park
Photography is something I am very passionate about.  I take thousands of pictures mostly of birds, but I take a lot of scenery photos as well.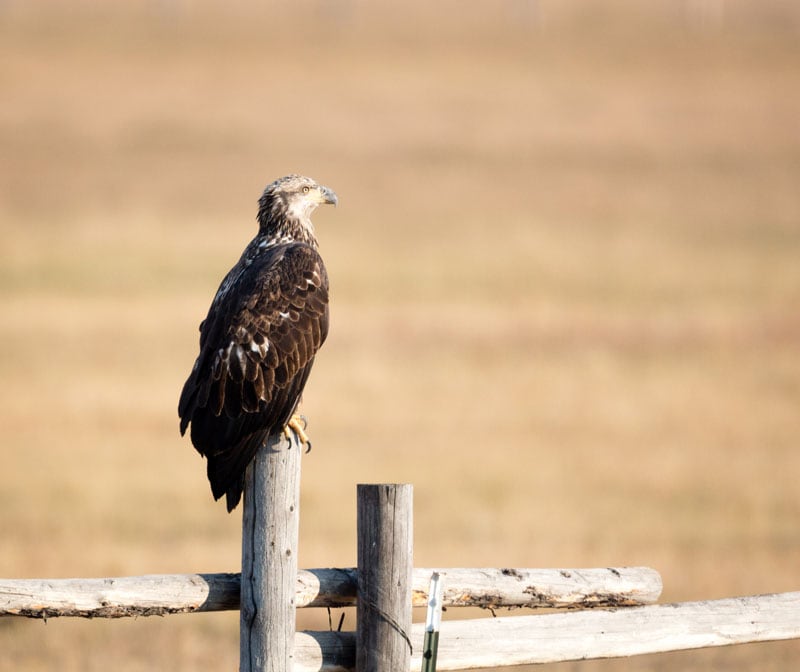 Above: A Golden Eagle near Oxbow Bend, Wyoming
When I go bird watching, I typically take over 900 photos a day.   Unfortunately, I never have the time to go through them all.
"Getting off the highways and onto the lesser-traveled roads makes it easier to find unique places.  You can't see anything at seventy miles per hour."
That's a lot of pictures.  How do you find places that you want to take your truck camper?
I read and study books and spend a lot of time on the Internet, but I also look at places like RoadsideAmerica.com.  It has a group of oddball attractions.  That's where I found the Enchanted Highway.  A guy apparently quit his job and moved back to his hometown to build these giant sculptures to make the Enchanted Highway.  We even met the creator, Gary Greff, there that day.  You can see more of it at www.enchantedhighway.net.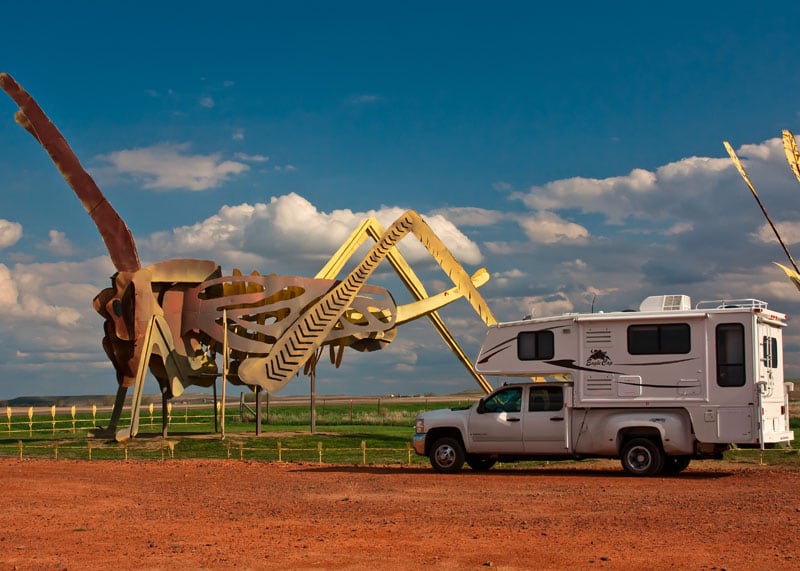 Above: One of the structures of The Enchanted Highway in North Dakota
Some of our best travel information comes from wrong turns and from local people who want to share their area.  From a guy gumming a hot dog in the Sawtooth Mountains to wealthy oil families, everyone has a story to tell.  Also, getting off the highways and onto the lesser-traveled roads makes it easier to find unique places.  You can't see anything at seventy miles per hour.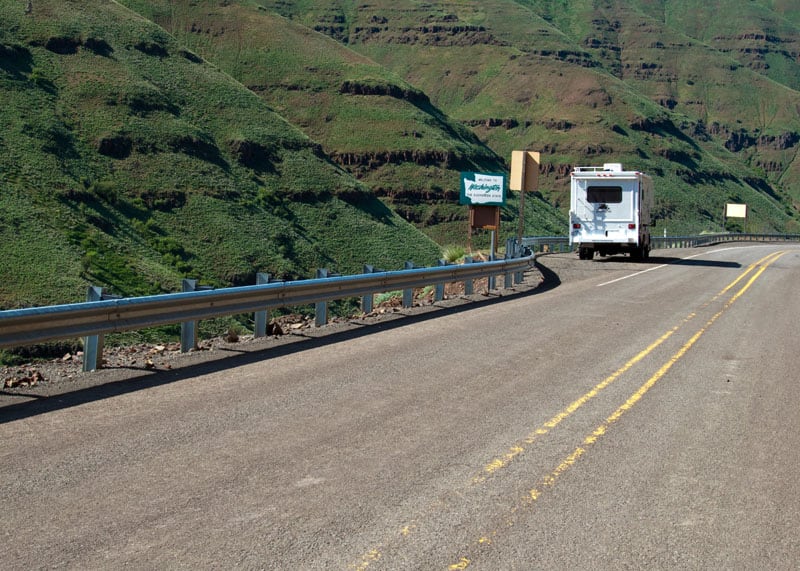 Above: Pulled over at the Oregon and Washington border
There are also applications for the iPod and iPhone that have attractions and historic places on them.  I use an app that has truck stops, RV parks, and Walmarts.  You can get some great apps for the iPod and iPhone for truck camping.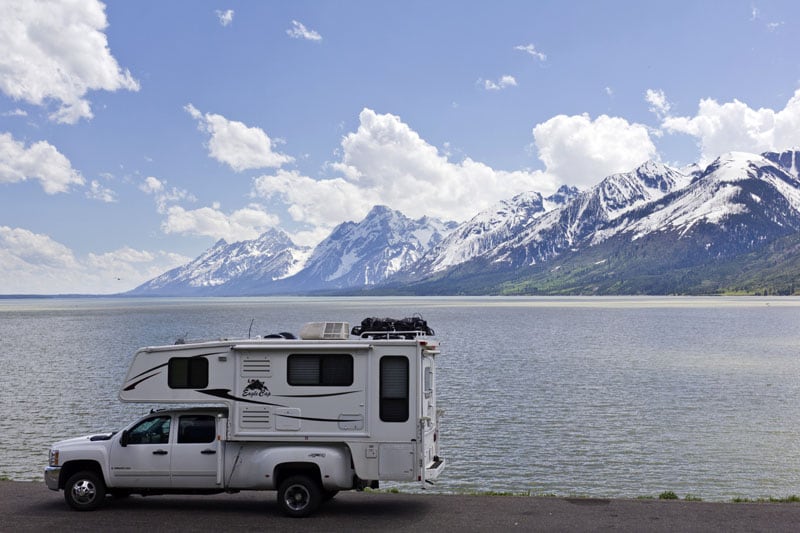 Above: Their Eagle Cap 1160 in Yellowstone National Park
Do you have a favorite place to go?

Yellowstone blew me away!  We typically like to be away from people, but Yellowstone is so beautiful.  Within fifteen minutes of entering the park, we saw a bison calf being born.  That just set us up to have a fantastic time.
I was also completely amazed by Idaho.  We loved the wilderness around Ketchum.  Hemingway spent much of his time in Ketchum and is buried there.  There's a route that leaves Wallowa Lake in Oregon into Washington state and then back into Idaho towards Boise.  It's amazing!  Be sure your vehicle is ready for the mountain climbing and descending, along Routes 3, 129, and 55.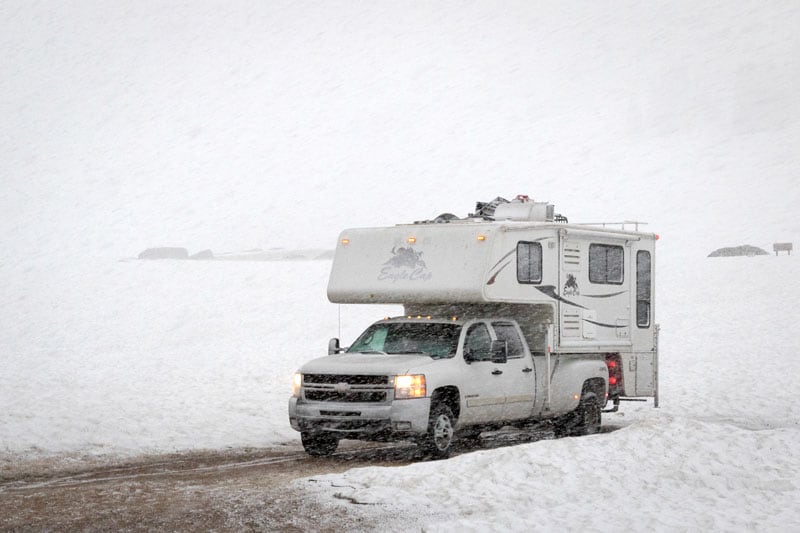 The trip over the top of the Beartooth Highway is perhaps the most awesome drive in the United States.  We knew there were clouds and the possibility of snow even in June.  As we made our way up the Beartooth Highway the temperature dropped and the sky looked more and more ominous.  Near the top of the drive, it was easy to see we were going to encounter snow.  Awesome!
As we started the descent down the other side snow started falling at an ever-increasing rate.  Not realizing how much snow was left in the mountains we had hoped to camp somewhere along one of the side roads.  The photo above was taken at the entrance to one of the roads I had picked out on a map.   We came further down the mountain and found a good spot to camp for the evening.  Out of all the trips we have made over the Beartooth, this was certainly the best!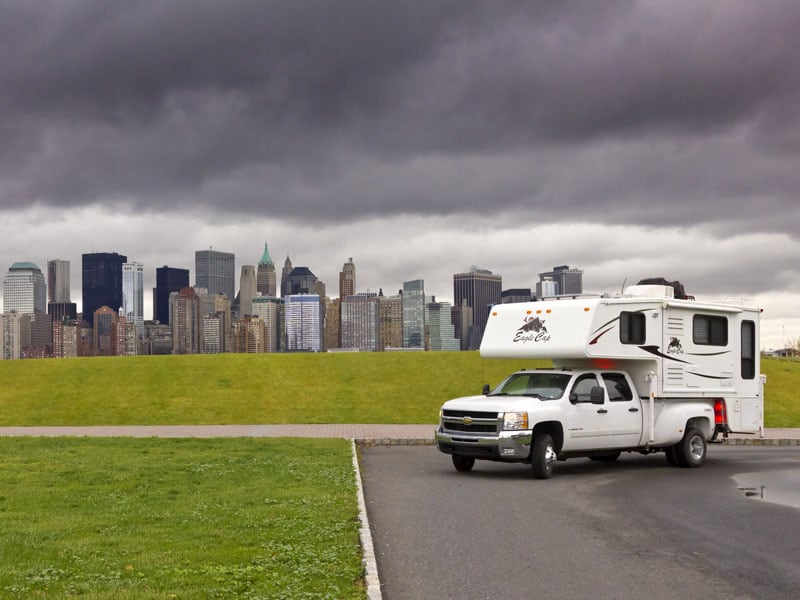 Above: New York City is in the background
I think we've found that there are neat places to see no matter where you are.
"Some of our best travel information comes from wrong turns and from local people who want to share their area.  From a guy gumming a hot dog in the Sawtooth Mountains to wealthy oil families, everyone has a story to tell."
How did you find out about Wallowa Lake?
We were in Walmart in La Grande, buying groceries.  My wife was talking to the cashier and the cashier told us to go to Wallowa Lake.  Then the woman behind us in line said, "You must go there!  It's the United States Alps."  It's a glacier-fed lake right at the bottom of the Eagle Cap wilderness and it was breathtakingly beautiful there.
We always ask locals where we should go.  That's often the best way to find places.  You also enjoy taking your camper on the beach.  Where do you go beach camping?

We love staying on the beach in Texas around Sabine.  We love to go to Texas because you can go on the beach for free and nobody grumbles about it.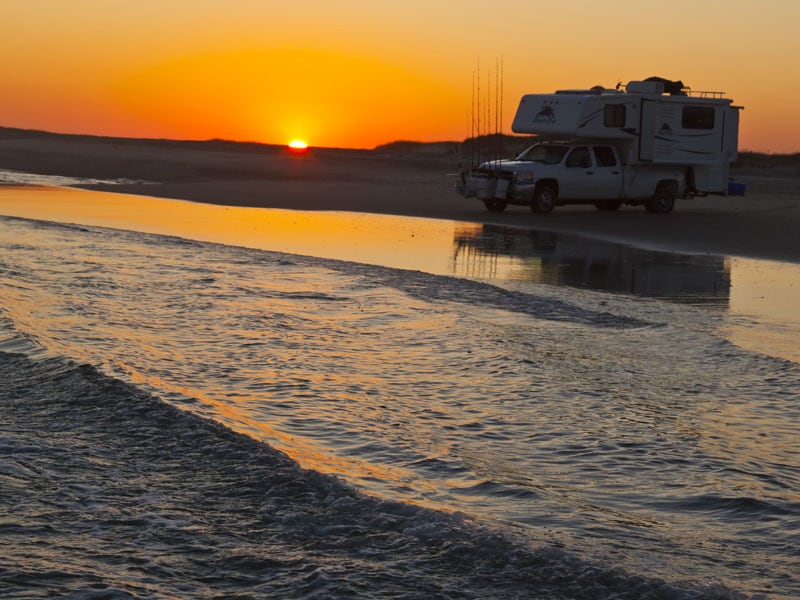 Above: Beach camping on Portsmouth Island, North Carolina
Do you have problems on the beach with your dual rear wheels?
The dually does not go on the sand as well as the single rear wheel, but it does go.  I did get my truck stuck in North Carolina in soft sand.  I also got stuck in a mud pit with my single rear wheel.  I probably shouldn't have tried that one.  I always carry a shovel and a jack.  I entered the picture above in 2008 for the calendar contest and received an honorable mention.
You mentioned you went on a birding trip for your honeymoon.  Do you often go birding?
Yes, we love to watch birds. The variety of birds in the various areas of the country is fascinating.  On our honeymoon, one area we watched birds was around the Mexico border in south Texas.  There are a number of birds that come into the United States via south Texas.
Big Bend National Park is really neat.  A lot of the birding places are out-of-the-way places.  They are on wildlife refugees that are typically not near towns or near motels.  If we didn't have a truck camper to stay in, it would be a long drive.  Being able to travel without a motel schedule is nice.  We can move on and not worry about getting back to a hotel or a campground.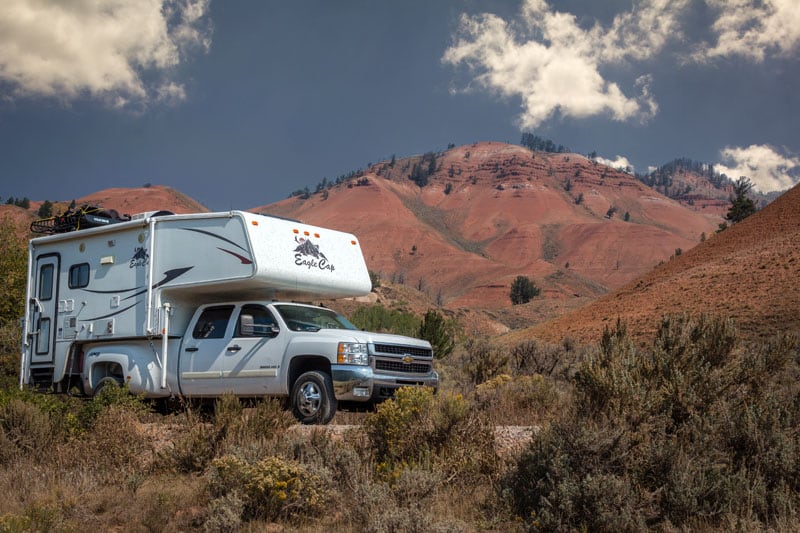 Above: Gros Ventre Wilderness, Wyoming
What else do you enjoy doing while you're out on the road?
Fishing, birding, photography, seeing the country, and now we have two Weimaraners.  They must be the most energetic dogs in the world.  They sleep in the bed with us and weigh seventy-five pounds each.  The dogs will sleep on your pillow or on top of you.  They were bred to be in touch with their owners.
Thank you for the interview, Mike.  And please keep sending in those calendar photo entries.

You're welcome.  And I sure will.
Mike Johnson's Rig
Truck: 2008 Chevrolet 3500 HD, crew cab, dually, long bed, 4×2, diesel
Camper: 2008 Eagle Cap 1160
Tie-downs and Turnbuckles: Torklift
Suspension: Rancho 9000 shocks, Hellwig sway bar, air bags