Two event organizers have reached out to announce the Northwest Truck Camper Rally in Idaho and the Camp Nation Expo in California. Here are the details and reservation links.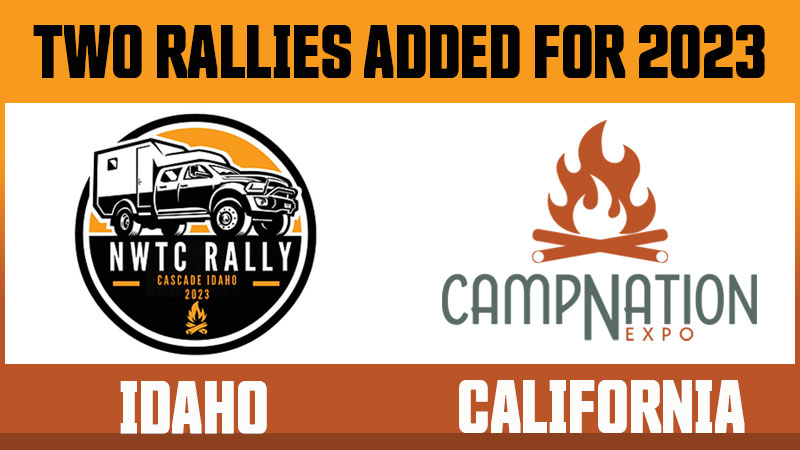 We are always excited to hear about new events and rallies that cater to the truck camper marketplace and community. Today we are announcing two additional events for 2023.
Here are the details and links for reservations.
Northwest Truck Camper Rally
Jesse Collinsworth of Rugged Mountain Custom RV has been working with Jared Sund of Stable Camper to put together a truck camper rally on June 7-11, 2023 in Cascade, Idaho.
As if we need more name-dropping, Tom and Caitlin Morton of Mortons on the Move will be showcasing their feature film, "Go North" based on their truck camping adventures in Alaska. The screening will be at the Roxy theater for goodness sakes! It's practically a truck camping film festival. Okay, maybe not, but it sounds fantastic.
The rally includes socials, group breakfasts (hosted by Liquid Spring, NATCOA, and Edge Water RV Park), group dinners, campfires, and a band. That's right, a band! Bring your dancing boots.
Click here for more information about the Northwest Truck Camper Rally.
Camp Nation Expo
Paul Lacitinola of Vintage Camper Trailers Magazine has reached out to us to invite vintage and late model truck campers owners to the CampNation Expo this August 10-13, 2023 in Hollister, California.
The event includes guest speakers, Q&A panels, demonstrations, an expo with camping gear, parts, and service vendors, and a Boot Camp Workshop for those of us who have campers that occasionally have issues (ahem!) or want to make continuous improvements (ahem again!).
To be clear, the CampNation is not just for vintage truck campers, but all RV types; new and not-so-new. Paul did say if he gets enough truck campers he will create a separate area dedicated to us slide-ins; a truck camper gathering within the greater Expo. Now that sounds like fun.
You may recall Paul's amazing Golden Airstream restoration story in TCM, and the silver Capri Camper rig he used to tow it. Paul was also the source for our Travel Queen Time Capsule story and continues to feed us vintage truck camper fodder now and then. Thank you, Paul! We love vintage campers.
Click here for more information about the CampNation Expo.
Click here for a complete list of all 2023 truck camper rallies and shows.