Vintage Camper Trailers Magazine showcases an exquisite 1965 Chevrolet C20 truck and Travel Queen truck camper.  Hop into the bucket seats, tune the radio to "My Girl", and take this gorgeous vintage rig across America on Route 66.  Yes, please!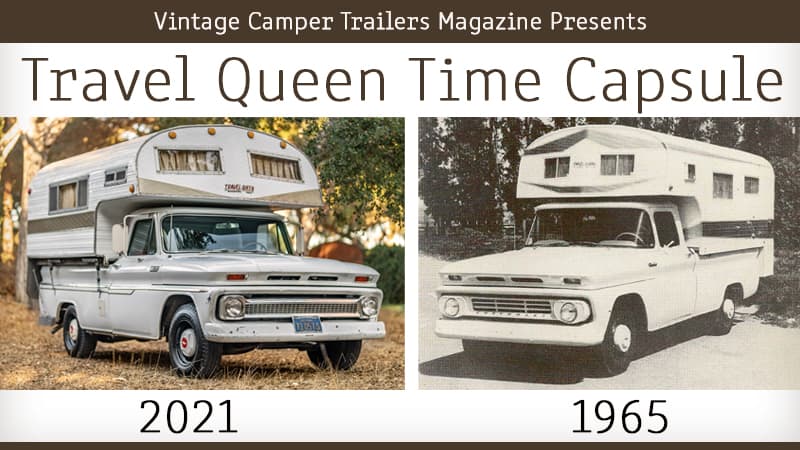 Paul Lacitinola, Publisher of Vintage Camper Trailers Magazine, has sent us another 1960's treat; a stunningly preserved 1965 Chevrolet C20 truck and Travel Queen truck camper.
You might remember Paul from the exceedingly rare 1961 Golden Airstream he hauled behind a Capri truck camper in 2019.  The resulting article, "Silver Capri Tows the Golden Airstream" is a fascinating Airstream history lesson, restoration saga, and truck camping adventure, all in one.
As we explored the photos Paul submitted, we were amazed at how simultaneously familiar and foreign this rig is.  More than half a century since their debut, the pairing offers the majority of the basic utility and function of a modern truck and camper.
Trucks have obviously come a long way, but most of us could hop into the front bench seats of this C20, turn the ignition key (remember those?), fire-up the radio, find some '65 hits (Wolly Bully, Help!), tug on the column-mounted shifter and cruise.
The most jaded among us might be confounded by the lack of screens or Bluetooth, but the rest would be right as rain driving this classic.  In fact, I bet a number of you would be smiling ear to ear.
You're actually picturing it in your mind, right now.
The radio: "You've lost that lovin' feeling…"
You: "Oh yes I have. And she's right here."
Okay, stop that.  Wax nostalgic on your own time.
The camper is also impressively current with its list of standard design features.  The straight kitchen has a propane cooktop, oven, refrigerator, sink, counter space, and storage.  The U-shape dinette has a huge table, cushions for comfort, more storage, and an analog (how hip) wall clock.  There's no image of the cabover's bedroom, but suffice it to say it has a bed and storage – just like most of our campers today.
What's missing from the modern list is a bathroom.  And yet, we're currently seeing a resurgence of hard-sides campers without bathrooms in an effort to simplify and save weight.  What's old is new.  Even some of the mid-60s styling choices are highly sought after for their vintage vibe.
Thank you for sending the Travel Queen Time Capsule, Paul!  We're head over cabovers in love with it, and I bet we're not alone.
Travel Queen Time Capsule
by Paul Lacitinola
Who doesn't dream of the day they are the ones to stumble on a well-preserved barn find?  A glimpse of history that has been kept and cared for to be in much the same condition it was decades ago.  For some of us, the hunt is most of the fun.
Unfortunately, I didn't find this one in the barn.  I found this one on the VCT Classified ads.  Jeff Cecilio is the one that stumbled on it in the wild and realized what a jewel it was.  Jeff cleaned it up and has taken it to a couple of car shows before deciding to pass it on to the next caretaker.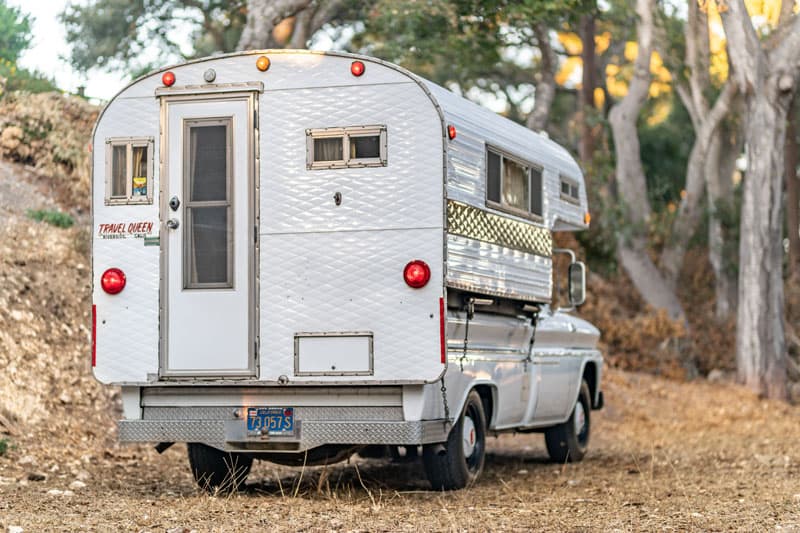 "You may have heard of the 'King of the Road'. This is the Queen."
This 1965 Chevrolet C20 pickup and Travel Queen truck camper special was a one-owner time capsule.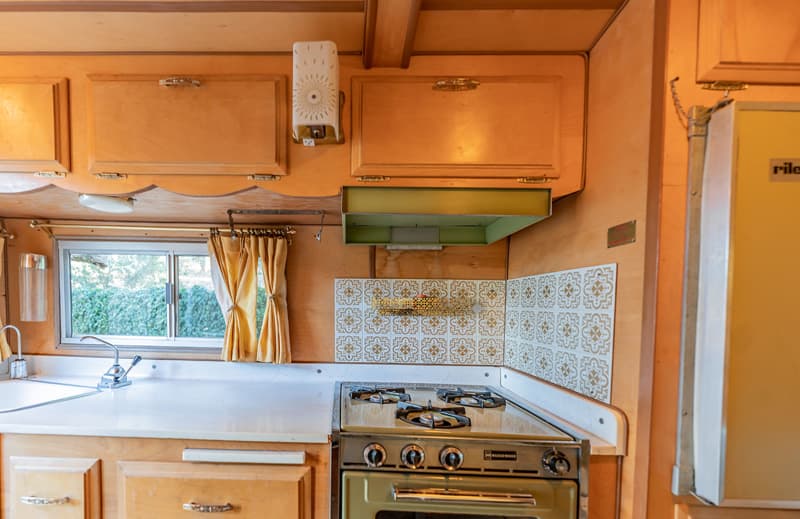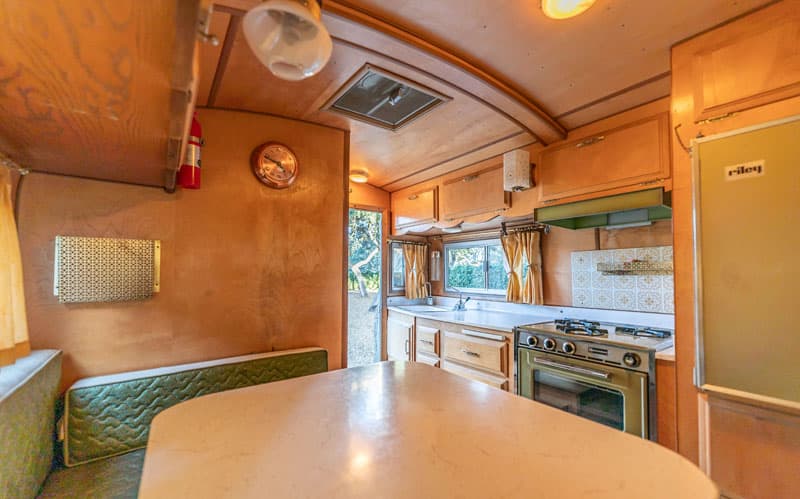 The truck was originally purchased at Fairway Motors in San Bruno, California.  The camper was bought nearby in San Francisco.  The combo was stored for thirty-years in its original paint.
Jeff installed new original style bias-ply tires, radiator, and brakes.  There is even a notebook and miscellaneous documentation of the pair's history that will go with the sale.  The truck has a four-speed transmission and runs and drives great.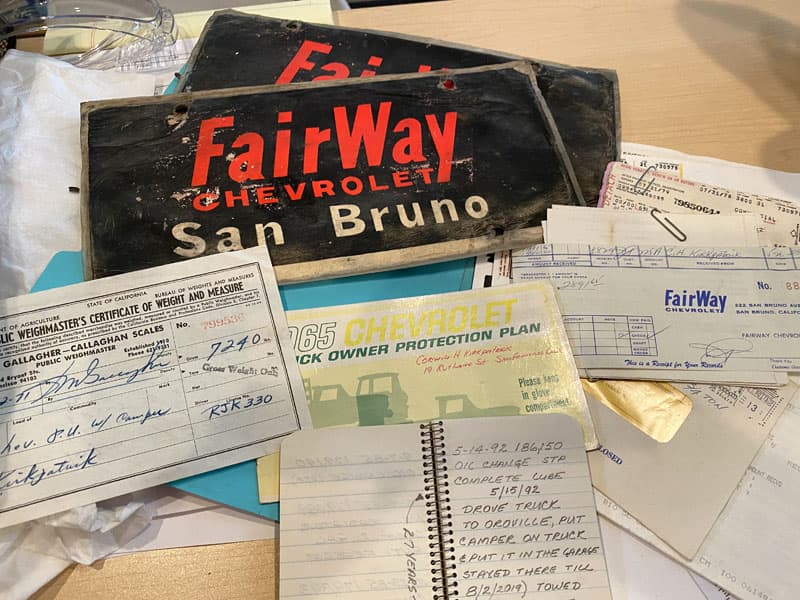 Want to learn more about the history of slide-in campers?  All About Pickup Coaches and Campers, a paperback from January 1, 1962 by John Gartner, is a worthwhile addition to your library of vintage RV literature.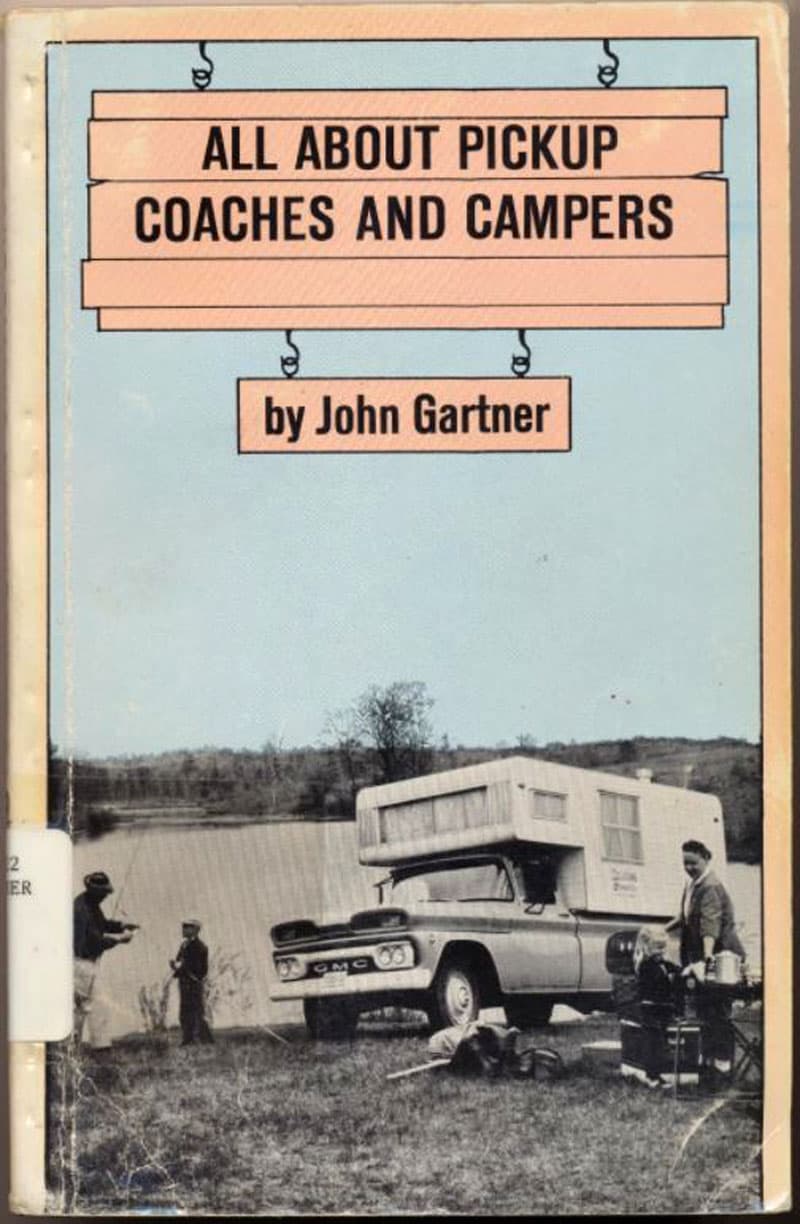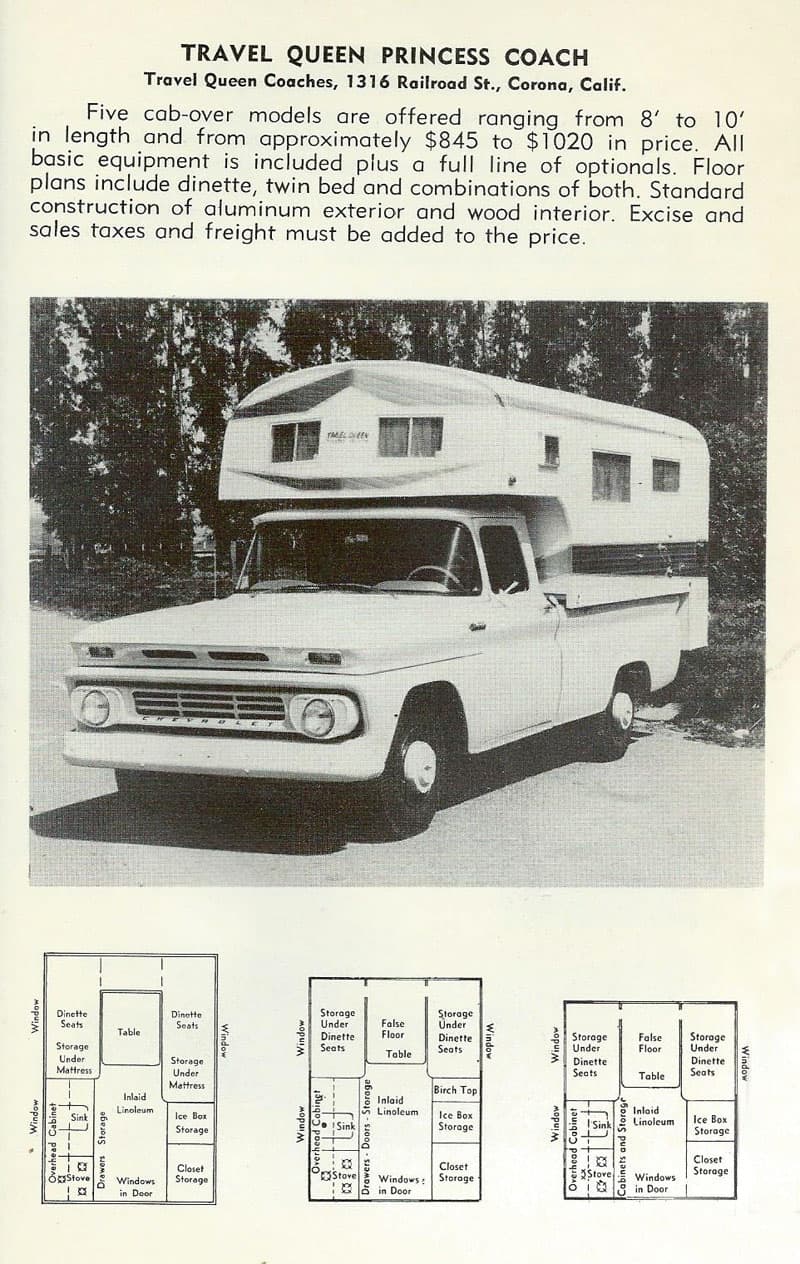 Mid-century America gave way to a population that traveled the highways and enjoyed the great outdoors.  Trailers, RVs, vans, busses, and campers were designed to provide you with home-like creature comforts while you were on the road.  Most were well used or long forgotten and deteriorating from moisture and rodents.  It's not every day you find one that has been cared for in a way that future generations can enjoy her.
Vintage Camper Trailers Magazine doesn't limit itself to bumper pull trailers.  For even more vintage camper, trailer, and RV hobby info, subscribe to The Vintage Camper Trailers Magazine in print and/or digital formats.  We also offer a free newsletter if you would like to stay in touch with us.  If you camp vintage, we hope to see you at one of our rallies or events.