The Publisher of Vintage Camper Trailers Magazine shares his incredible story of discovering an ultra-rare 1961 Airstream Golden Caravan and towing it cross-country with a Capri truck camper.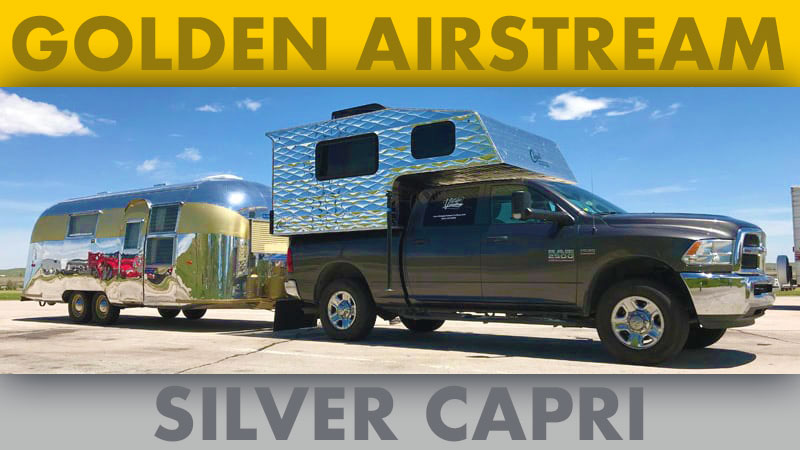 Silver Capri Tows The Golden Airstream
by Paul Lacitinola, Publisher of the Vintage Camper Trailers Magazine
As the Publisher of the Vintage Camper Trailers Magazine, we acquired a one-of-a-kind 1961 Airstream trailer in 2017.  Because this Airstream was so unique, we planned an extensive restoration followed by a cross-country media tour.
The Airstream had room for three-people to sleep, but we had four people on the trip.  We also planned to be gone for six-weeks and would be traveling over 6,000-miles.  We needed accommodations for one more person, but how?
As a vintage trailer restorer and collector, I have long wanted a vintage slide-in camper for my pick-up.  If we added a truck camper to our 2017 Ram 3500, and towed the Airstream behind it, we would have the capacity we needed and I'd finally get my truck camper.
Unfortunately, most vintage campers were built for eight-foot truck beds and feature a rear overhang past the truck's rear bumper.  Our Ram is a 6.5-foot short bed; a size and weight mismatch for a long bed camper.  We also need to avoid having a rear camper overhang that would require tow extensions that reduce towing capacity.
To make matters more challenging, we wanted a truck camper that would visually compliment our vintage trailers.  Finding a camper that met our length and weight criteria and looked the vintage part seemed impossible.  Then we discovered Capri Campers.
The Silver Twinkie, In Gold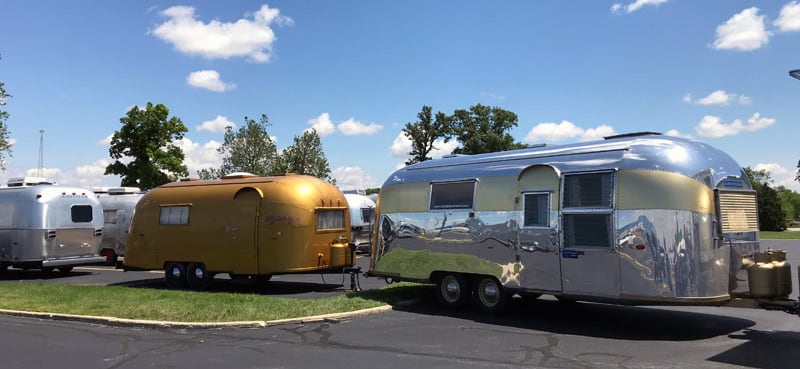 The silhouette of an Airstream trailer has remained mostly unchanged since the 1950s and is thereby recognizable by most.  Often described as a silver Twinkie, silver bullet, or the iconic foil-wrapped baked potato, an Airstream is synonymous with the color silver.  In fact, Airstream trailers are considered by many to be the "Gold Standard" of trailers.
What many don't know is that Airstream also made a few "gold" trailers; the ultra-rare Golden Caravan.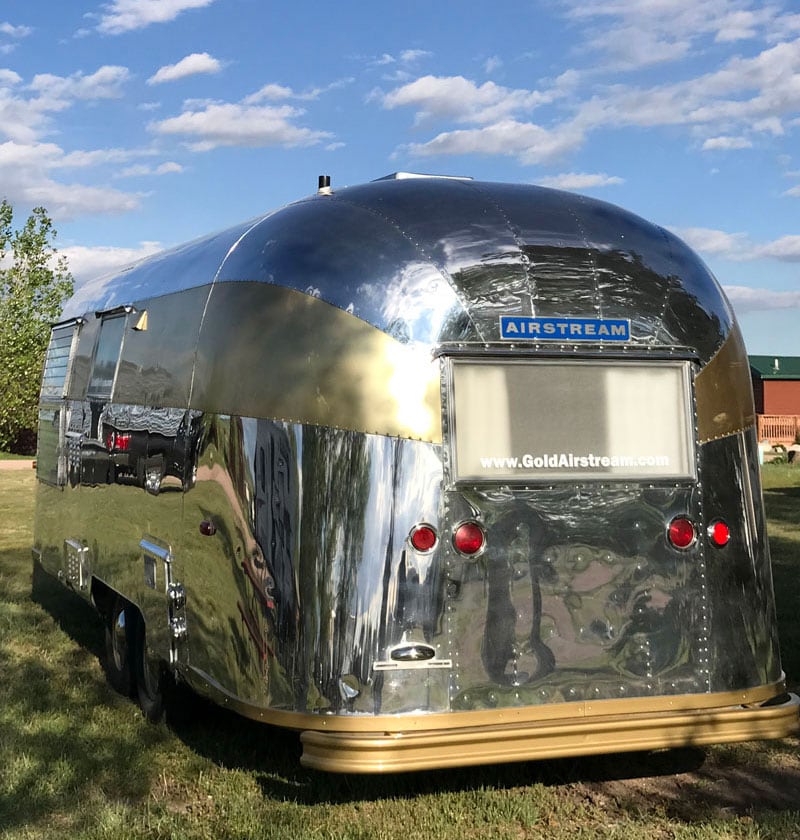 After extensive research of the history of our trailer, we discovered it was made in 1961 for Art Costello, the President of Airstream.  That raised more than a few eyebrows, and sent us digging deeper into this special Airstream's factory specifications.  During this process we discovered that our camper was indeed a Golden Caravan.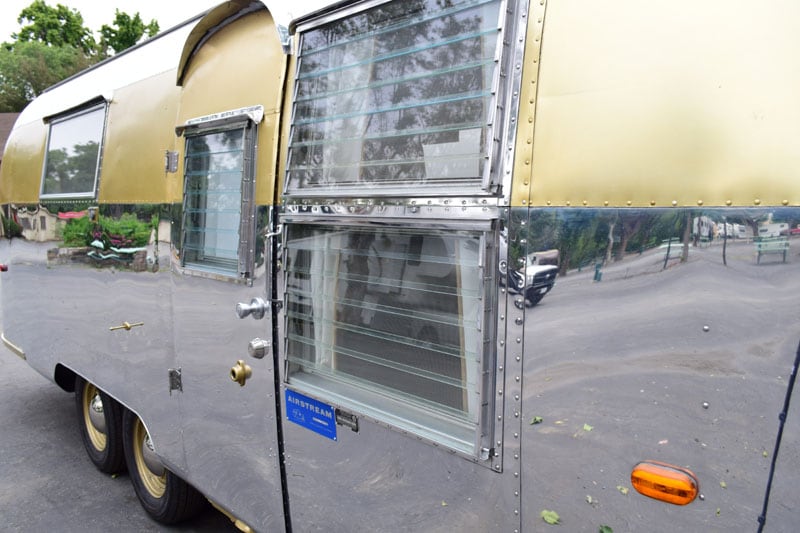 The notes in the Airstream meeting records about the Golden Caravan read, "It is to be an Airstream with distinctive external identification as a Golden Caravan; offered in a limited number of floor plans… it is to be built to the principle that no cost shall be spared in providing the finest and most advanced mechanical contrivances and materials for both world cruising and domestic pleasure travel; it is not to be customized for individual customers but shall be signed by Airstream."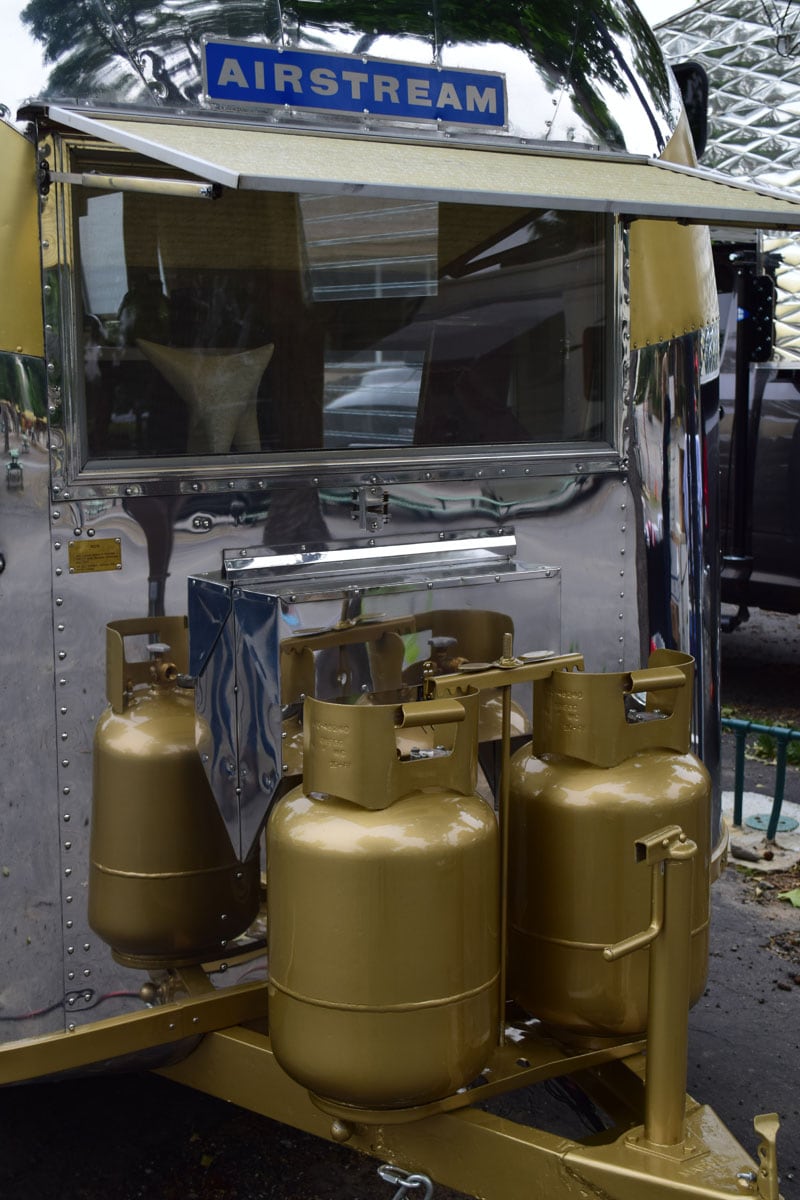 The trailer has unique features like a gold-anodized exterior band, factory-painted gold trim, fiberglass bathtub finished in gold metal flake, unique jalousie windows on both sides and a jalousie window in the entrance door.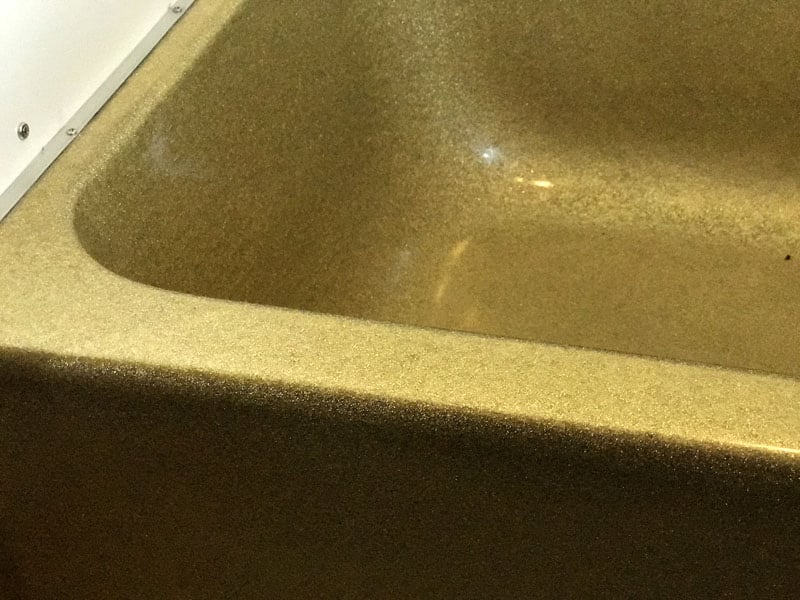 Above: The gold metal flake tub
The Airstream Golden Caravan model we had discovered was dual-axle 24-foot Tradewind.
Our Capri Camper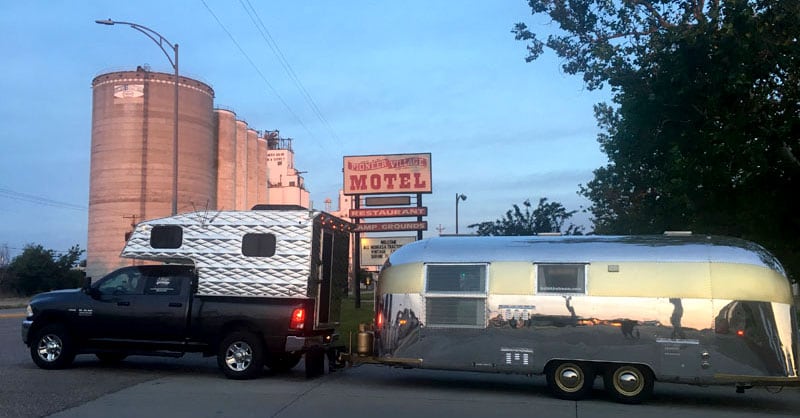 We needed a truck camper for our truck that would compliment a trailer of this caliber.  Fortunately, we found Capri Camper online and became fixated on their Retreat model.
Capri Campers are customizable, light weight, and, most importantly, would fit the bed of our truck. Based in Bluff Dale, Texas, Capri Camper sells many of their campers to rodeo competitors.  Like us, they need to tow trailers and have a place to sleep.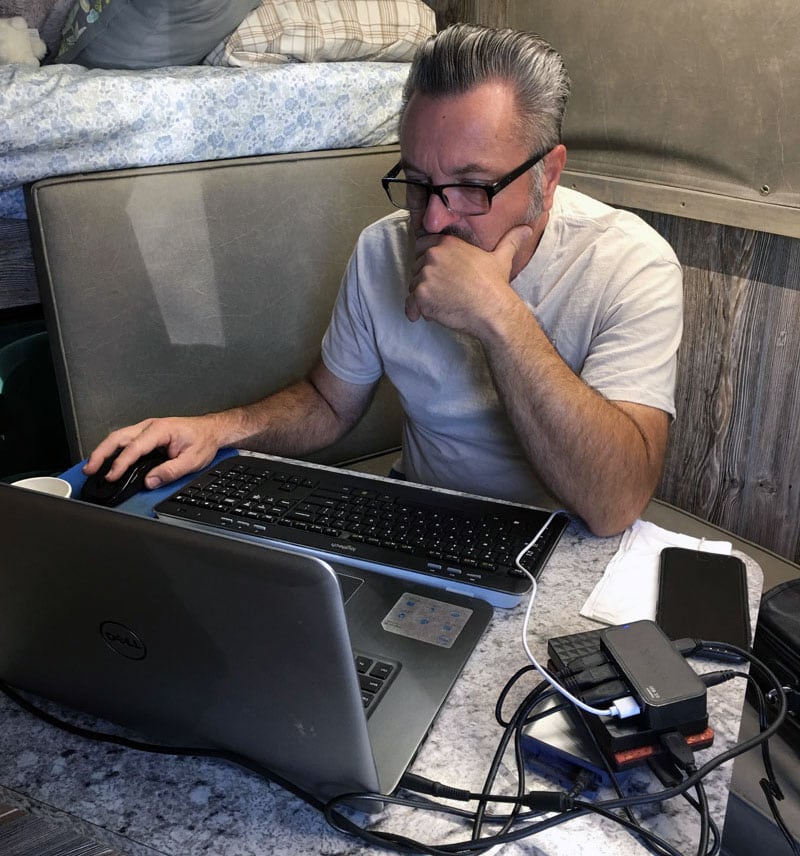 Above: Paul working inside his Capri Retreat
Also important to us was that Capri Camper happened to have a vintage style and used vintage-looking diamond-quilted polished aluminum.  Pete D'Acosta, Owner of Capri Camper, had the idea of doing our camper in all-polished aluminum!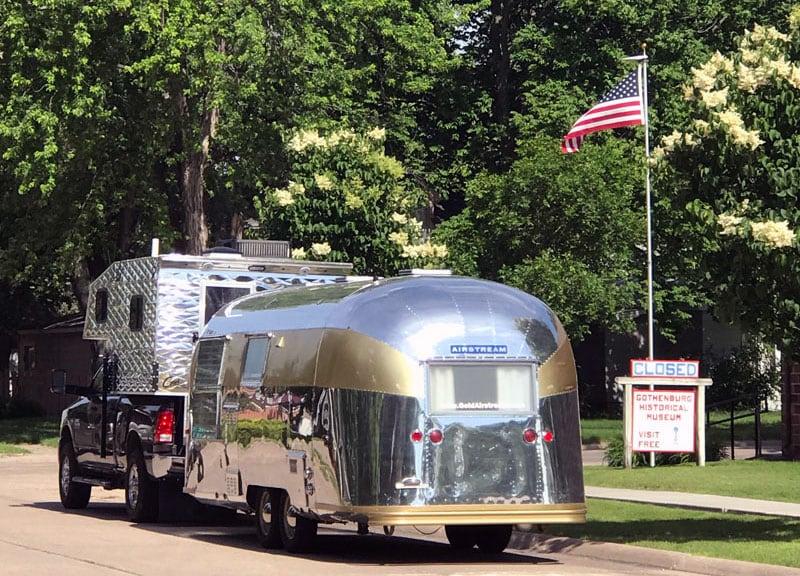 That was it!  We immediately ordered a custom Capri Retreat for the Golden Caravan media tour.
Restoring the Golden Caravan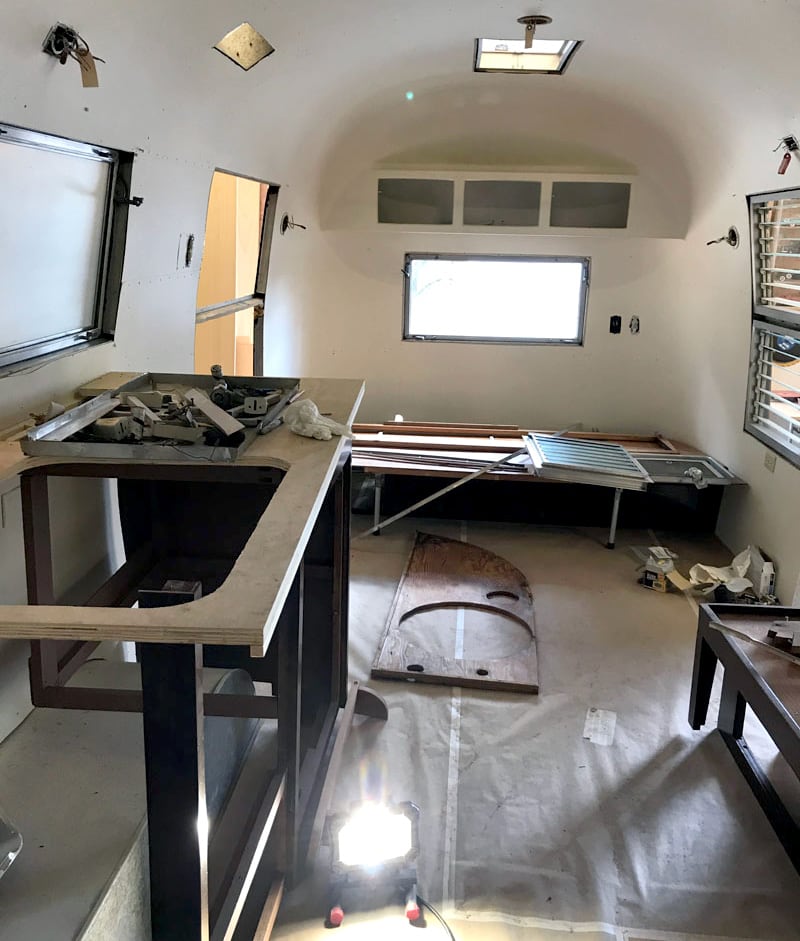 The restoration of the trailer took the better part of three-months taking the trailer down to the bare floors.
Above: The original light fixtures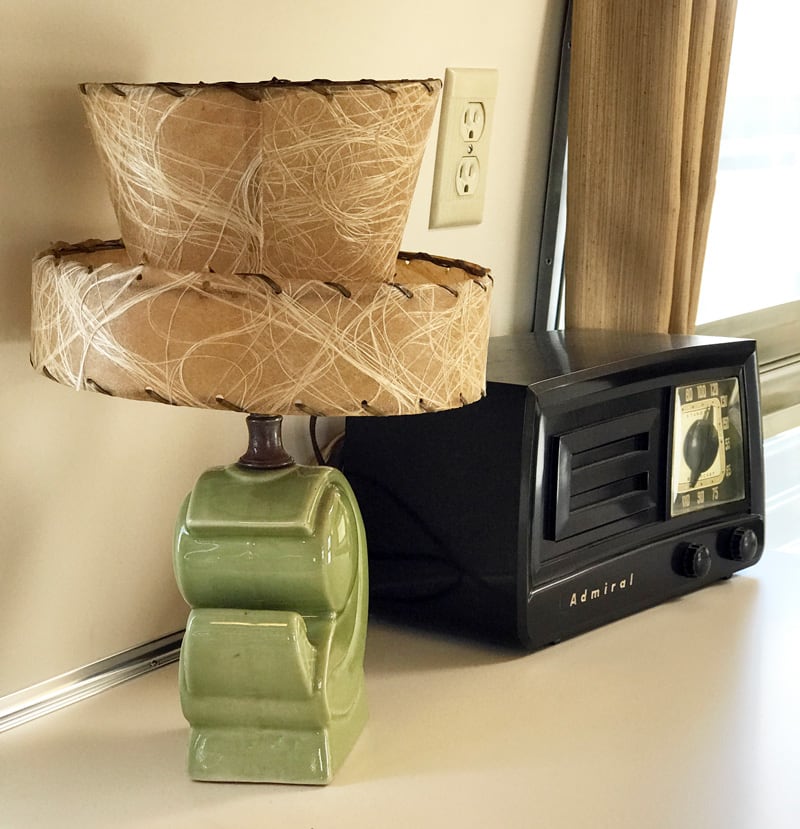 Above: Airstream trailer period decor
Fortunately, when we got the trailer it was complete with all the original light fixtures, sinks and stove.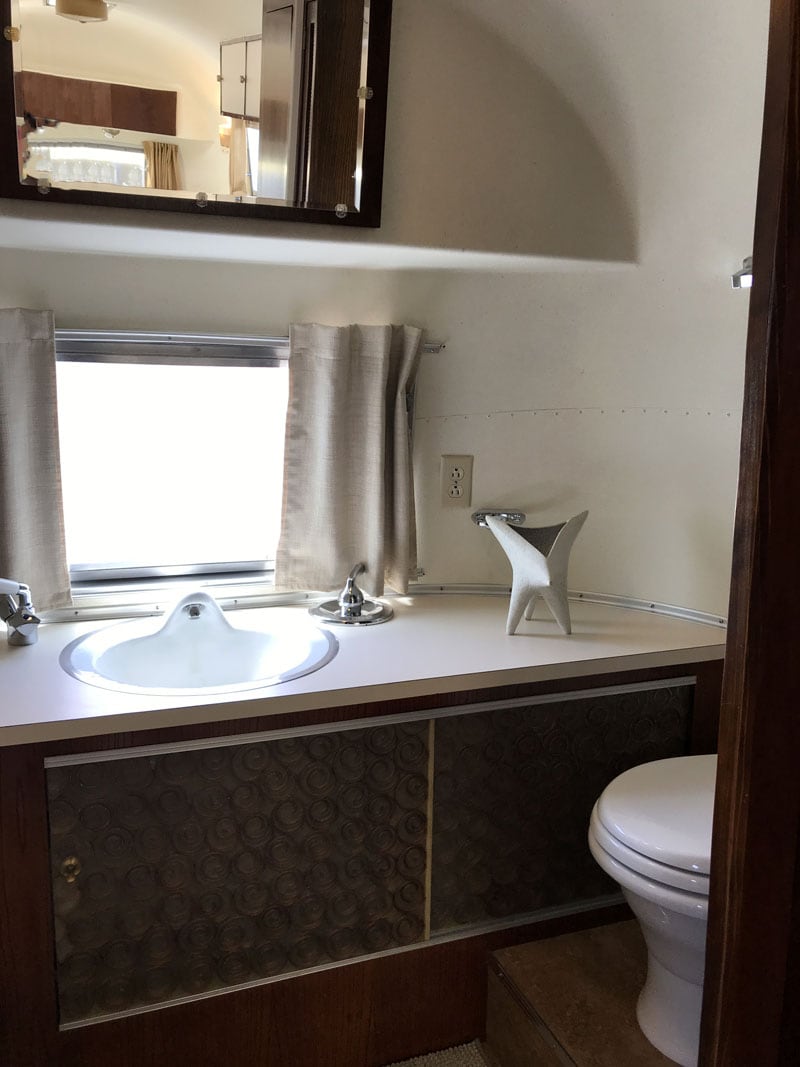 Above: Bath vanity with original sink and cupboard doors.   The fixtures are new, but nearly identical to the originals.
They have all been refurbished and returned to the trailer.  All the sink fixtures are new, for trouble-free operation, but are nearly identical to the old fixtures that had done their duty for almost 60-years.
Most of the cabinets were refaced with black walnut veneers.  Fabrics that mimic the originals were used and with the exception of a TV/DVD hidden in the extra space at the end of the galley.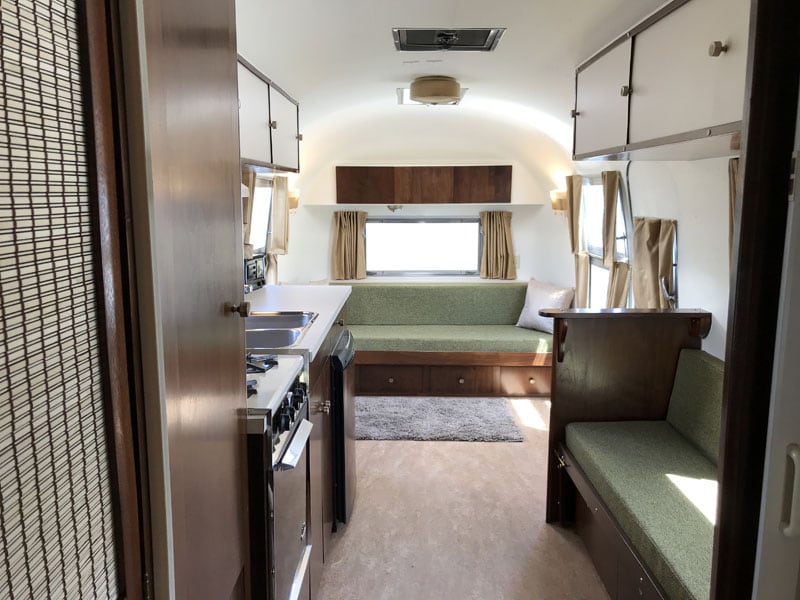 The restored trailer is truly a glimpse of 1960's Americana.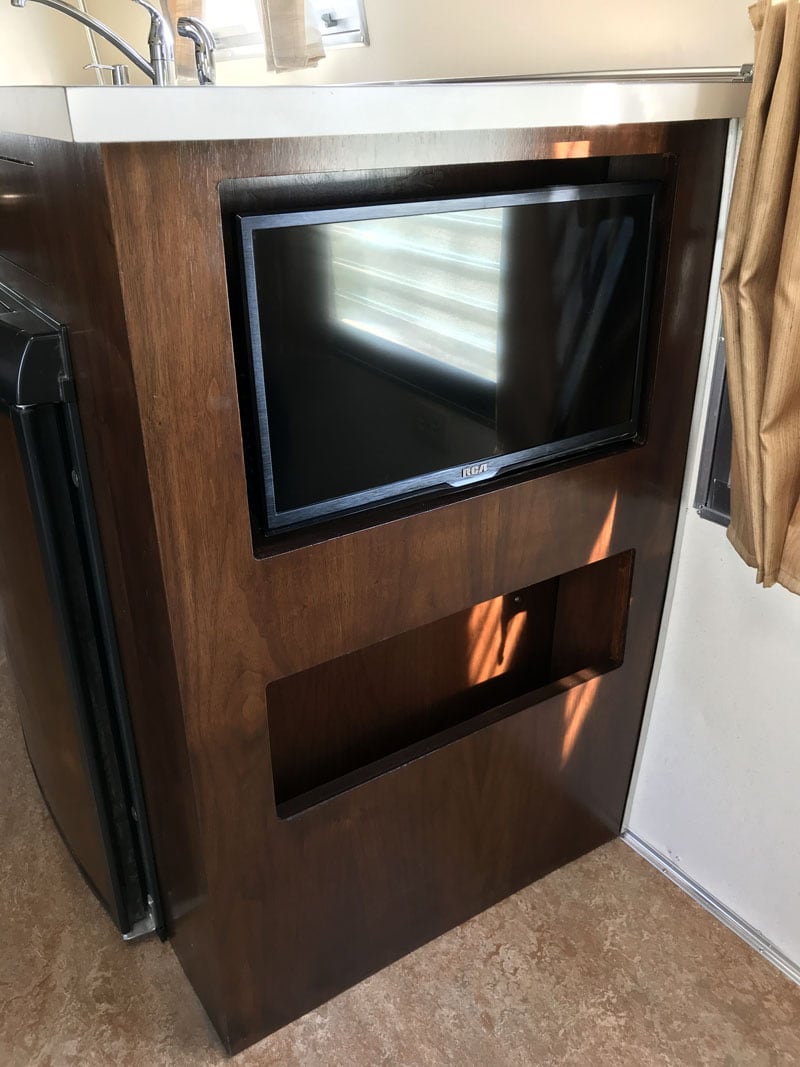 Above: Not original to the trailer, a TV/DVD player
The Golden Caravan Debuts
The trailer restoration was finished in June of 2019 and debuted at the Trailerfest Rockabilly Rally in Hollister, California.
Both the trailer and the camper were huge crowd pleasers.  Compliments on the Airstream were on the spaciousness of the floor plan and the clean, period-correct restoration.  People also loved the vintage styling and finishes on our Capri Camper.
After the rally, we set out on a cross-country road trip to the Airstream factory in Jackson Center, Ohio.  The Golden Caravan Road Trip took us across 15-states over 6-weeks.  We camped with fellow vintage trailer enthusiasts, met with business associates, and displayed the Golden Caravan at museums while exploring the Midwest.
Delivery Dash: California to Arkansas
No sooner did we return home to Elverta, California (near Sacramento), than we were contacted by a Airstream collector from Arkansas.  He had seen the trailer in the Vintage Camper Trailers Magazine and wanted it for his collection.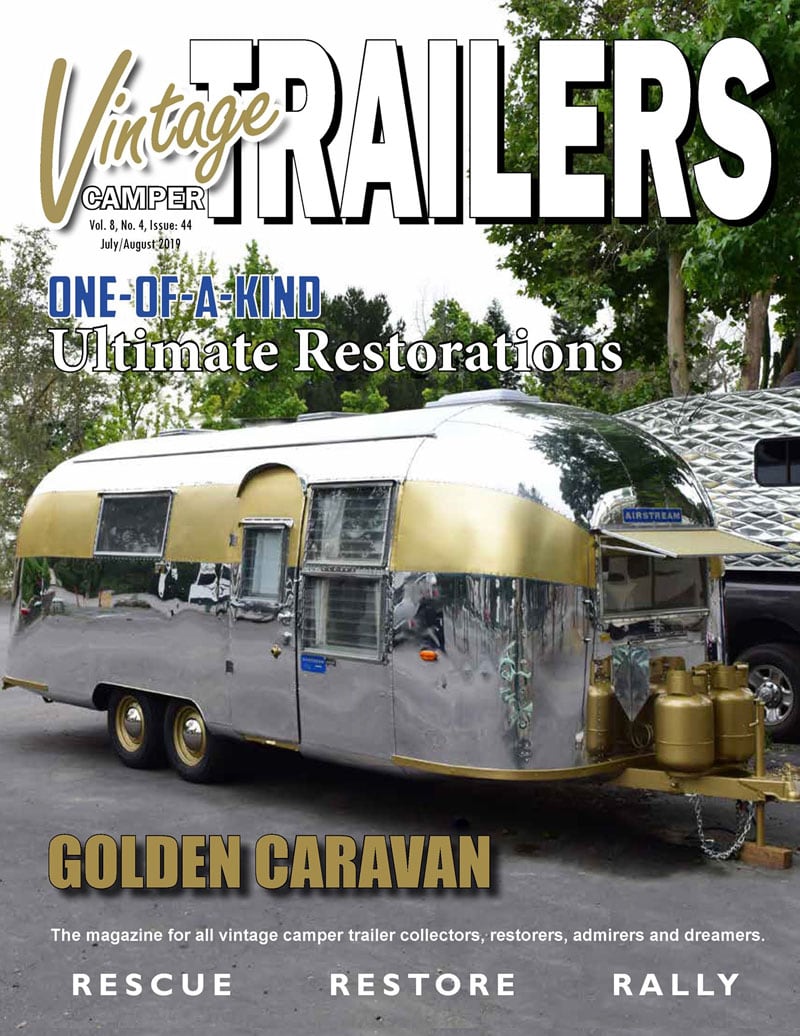 After a bit of negotiating, we agreed to a price that included delivery.  The trip to Arkansas had to be postponed a couple of weeks while we filmed the final segment of a documentary on the Airstreams restoration for the television show, Ultimate Restorations.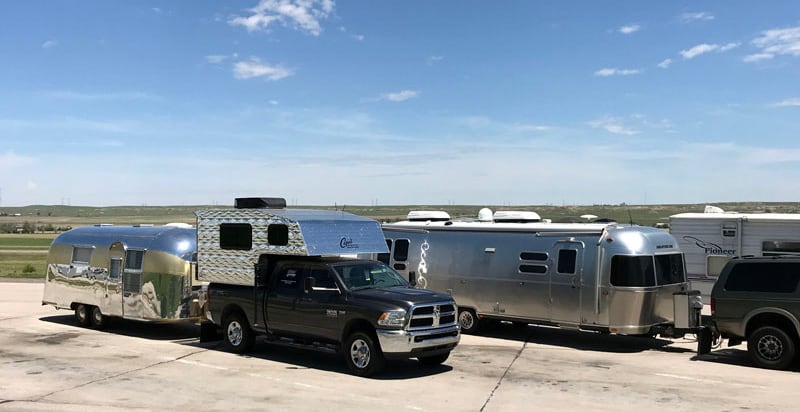 We also had a commitment to show the trailer at the Hot August Nights car show in Reno, Nevada.  The trailer was again well received and won Best of Show in the trailer's category.  Then the Capri Camper and Golden Caravan Airstream trailer led the parade through Reno!
Just a few short weeks after returning from a 7,000-mile road trip, I towed the Airstream almost 2,000 miles back to Arkansas using my Capri Camper to stop as needed along the way.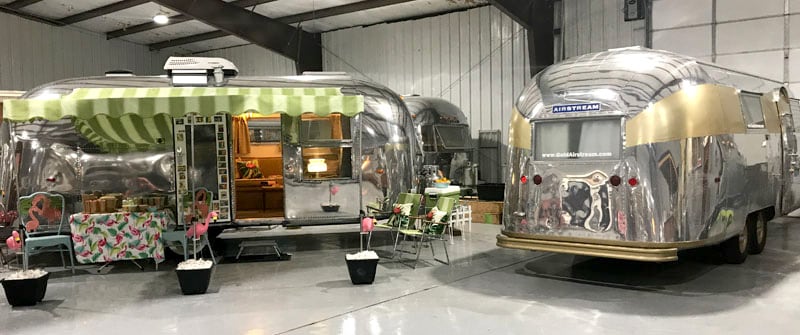 Above: Indoors at the new owner's facility
The Airstream trailer is now a part of a private collection of more than 60-trailers.  It is in the good hands of someone who has a connection with the Airstream brand that spans a lifetime.
While our connection with Capri has just began, I don't see us ever traveling without one.  It has made our travels very comfortable and gets a lot of attention!  Does anyone out there have a vintage Airstream in their garage?
For more information about Capri Campers, visit their website at capricamper.com.  Click here for a free Capri Camper brochure.