We met Gene and Donna Miller at the 2014 Texas Truck Camper Rally.  When Gene told us that he had removed the sofa and installed a set of recliners, we had to stop by and see his mod.  Here's his Eagle Cap recliner modification.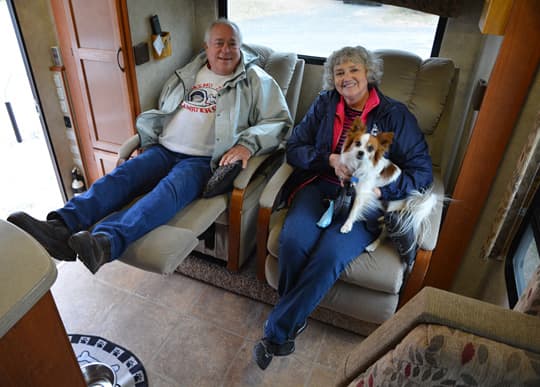 Above: Gene and Donna Miller and Patches relax in their dual recliners
Here's Gene on why he removed the factory sofa, how he installed two recliners:
My Eagle Cap 1165 came with a love seat.  We didn't need the bed, so I took it out and measured what would fit.  We really wanted two recliners.
We looked and looked and looked for recliners.  Most of them out there are too wide.  Then I found La-Z-Boy Walla-Way recliners.  They have narrow arms and are still comfortable.  Instead of leaning back when you pull the handle, the seat part pulls out and slides in.
With my handy tape measure, I knew how much room I had.  With these recliners, I would have room to spare.  We ordered the recliners we wanted based on material and color.
Before installing the recliners, we unbolted the love seat and took it apart to get it out the door.  The recliners were easy to install.  I just re-bolted them to the floor of the rear slide-out.  There's a frame under the slide-out, so the recliners bolt to the slide-out frame.  If I say it's easy, it's easy.  This was a very simple modification.
Before I bolted the recliners to the floor, I laid them back to make sure I had clearance.  Once I had that measurement, I took a magic marker and marked on the carpet where I wanted to drill the holes.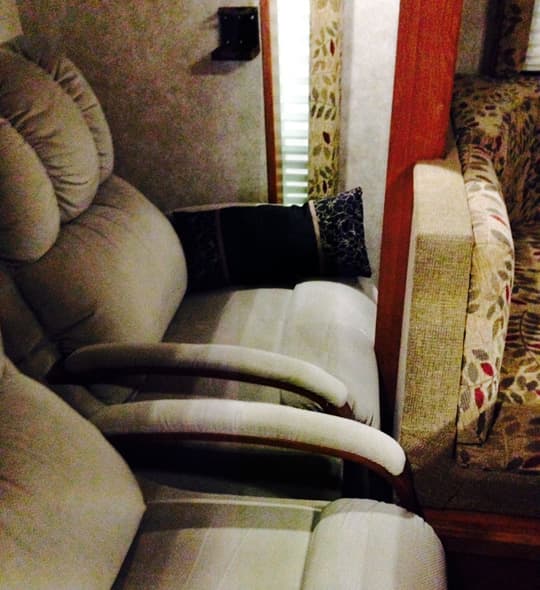 Above: The recliners when the slide-out is in
When the slide comes in, the recliner on the right near the entry door is fine, and has clearance.  But, for the recliner on the left, I had to put a slide on that recliner.  The slide ensures that the recliner doesn't rub when we slide the camper in and out.  There's a rail underneath so that it can move.  I mounted the recliner on that.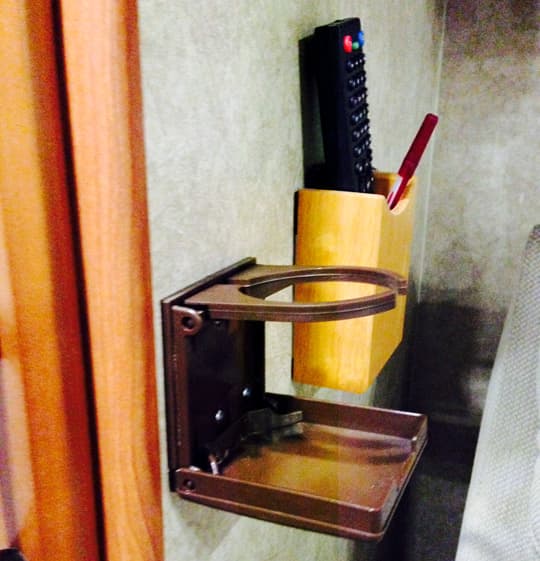 I also added a cup holder on each side and a holder for the remotes.  I also added a magazine rack on the end of the peninsula.
Donna and I wouldn't trade the recliners for anything.  I even slept in mine for a couple nights because of leg cramps from traveling so much.
From the recliner I can watch the news or just relax.  They are worth every penny.  Now people can get recliners in their Eagle Caps because they now offer theater seating recliners.
Editor's Note: Eagle Cap now offers factory Theater Seating.  Check out the Eagle Cap Theater Seating Review.