Over sixty truck camper rigs converged on Kerrville, Texas for the second annual Texas Truck Camper Rally.  If you think you've seen everything that happens at a truck camper rally, think again.

Our journey to the 2014 Texas Truck Camper Rally started on Monday, March 31st in Lancaster, Pennsylvania.  We packed our 2014 Northstar Arrow U, closed up the house, and embarked on a three-day, seven-state, 1,600 mile cannonball run south.  Our first destination; Princess Craft Campers in Round Rock, Texas.
At Princess Craft, we unloaded the Northstar and loaded a 2014 Adventurer 86SBS for the rally.  We would be auditioning the Adventurer for the weekend, and an upcoming review.
The next morning we set our GPS for Kerrville, Texas and hit the road around 9:30am.  Along the way we traveled twisty roads through Texas hill country, saw fields of Blue Bonnets in bloom, and passed through the historic town of Fredericksburg, birthplace of Fleet Admiral Chester Nimitz.  Just after noon, we arrived at Guadalupe RV Resort.  Rally on.
Above: Truck campers throughout Guadalupe RV Resort (click to enlarge)
The campground was about half to three-quarters full of snowbirds in assorted fifth wheels, travel trailers, and motorhomes.  Many truck campers were able to camp together, but some were interspaced between these larger, less maneuverable, and generally less fun "go-to-campgrounds, stay-in-campgrounds" RV types.  Can you tell we're biased towards truck campers?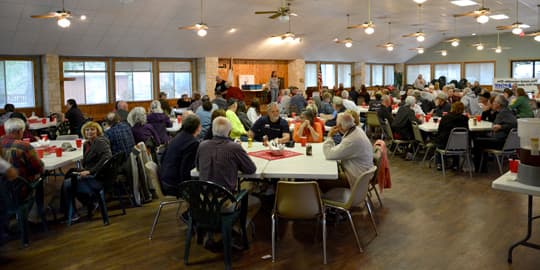 Above: The large indoor pavilion was very impressive
The star attraction of Guadalupe RV Resort was the large indoor pavilion.  This facility was, by far, the nicest pavilion we've ever seen at a truck camper rally.  This worked especially well to gather the rally attendees from throughout the campground under one roof for meals, seminars, and an event that may have you questioning the very reputation of this magazine, not to mention all truck camper kind.  Dear friends, Friday night was a doozy.
FRIDAY
Tech Tips Seminar
There are three primary ways to get an entire rally in one place and paying attention; food, prizes, and tech seminars.  Mention that you'll be presenting and taking questions about batteries, solar, and LED lights and truck camper owners will flock like bugs to a cabover nose.  Free beer would also probably work, but no one has dared try that yet.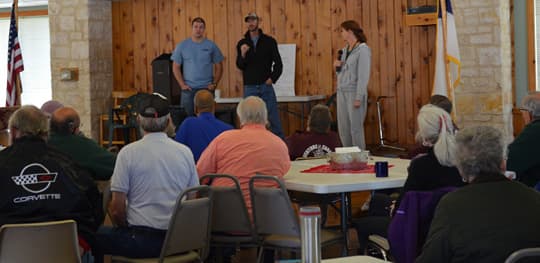 Above: Cody Kneupper, Brandon Burditt, and PJ Buerger answer questions about truck campers during the Tech Talk
On Friday morning, Princess Craft techs, Brandon Burditt and Cody Kneupper, led the first of two tech seminars.  When Brandon and Cody were not presenting, they were walking around the campground helping truck camper owners with their technical questions and issues.  They also installed a pile of Torklift StableLoads.  PJ later said she had the best feedback from rally attendees about the tech seminars.  Nice work Brandon and Cody.
Truck Camper Tours
It's fun to explore brand new truck campers at RV shows and dealer lots, but somehow it's even more fun to see someone's personal truck and camper combination.  Perhaps this is why truck camper tours are so popular at truck camper rallies from coast-to-coast.  The opportunity to see what others have done to their rig is irresistible.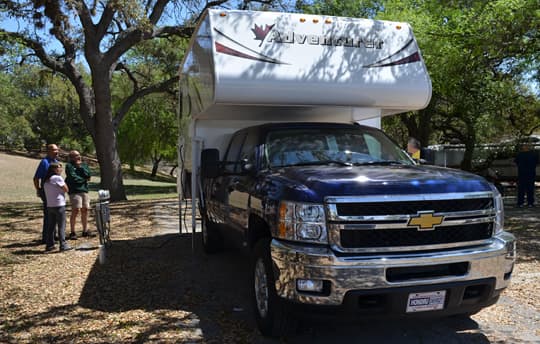 Above: A 2014 Adventurer 86SBS on our 2013 Chevy Silverado 3500