Over sixty truck camper rigs converged on Kerrville, Texas for the second annual Texas Truck Camper Rally.  If you think you've seen everything that happens at a truck camper rally, think again.

Our journey to the 2014 Texas Truck Camper Rally started on Monday, March 31st in Lancaster, Pennsylvania.  We packed our 2014 Northstar Arrow U, closed up the house, and embarked on a three-day, seven-state, 1,600 mile cannonball run south.  Our first destination; Princess Craft Campers in Round Rock, Texas.
At Princess Craft, we unloaded the Northstar and loaded a 2014 Adventurer 86SBS for the rally.  We would be auditioning the Adventurer for the weekend, and an upcoming review.
The next morning we set our GPS for Kerrville, Texas and hit the road around 9:30am.  Along the way we traveled twisty roads through Texas hill country, saw fields of Blue Bonnets in bloom, and passed through the historic town of Fredericksburg, birthplace of Fleet Admiral Chester Nimitz.  Just after noon, we arrived at Guadalupe RV Resort.  Rally on.
Above: Truck campers throughout Guadalupe RV Resort (click to enlarge)
The campground was about half to three-quarters full of snowbirds in assorted fifth wheels, travel trailers, and motorhomes.  Many truck campers were able to camp together, but some were interspaced between these larger, less maneuverable, and generally less fun "go-to-campgrounds, stay-in-campgrounds" RV types.  Can you tell we're biased towards truck campers?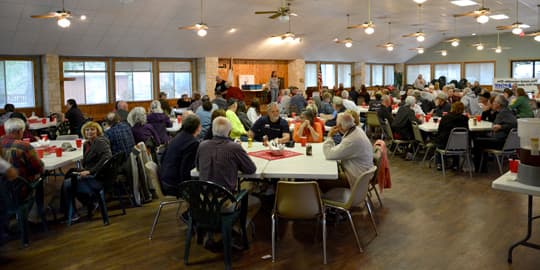 Above: The large indoor pavilion was very impressive
The star attraction of Guadalupe RV Resort was the large indoor pavilion.  This facility was, by far, the nicest pavilion we've ever seen at a truck camper rally.  This worked especially well to gather the rally attendees from throughout the campground under one roof for meals, seminars, and an event that may have you questioning the very reputation of this magazine, not to mention all truck camper kind.  Dear friends, Friday night was a doozy.
FRIDAY
Tech Tips Seminar
There are three primary ways to get an entire rally in one place and paying attention; food, prizes, and tech seminars.  Mention that you'll be presenting and taking questions about batteries, solar, and LED lights and truck camper owners will flock like bugs to a cabover nose.  Free beer would also probably work, but no one has dared try that yet.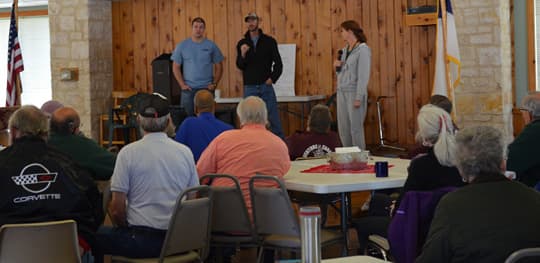 Above: Cody Kneupper, Brandon Burditt, and PJ Buerger answer questions about truck campers during the Tech Talk
On Friday morning, Princess Craft techs, Brandon Burditt and Cody Kneupper, led the first of two tech seminars.  When Brandon and Cody were not presenting, they were walking around the campground helping truck camper owners with their technical questions and issues.  They also installed a pile of Torklift StableLoads.  PJ later said she had the best feedback from rally attendees about the tech seminars.  Nice work Brandon and Cody.
Truck Camper Tours
It's fun to explore brand new truck campers at RV shows and dealer lots, but somehow it's even more fun to see someone's personal truck and camper combination.  Perhaps this is why truck camper tours are so popular at truck camper rallies from coast-to-coast.  The opportunity to see what others have done to their rig is irresistible.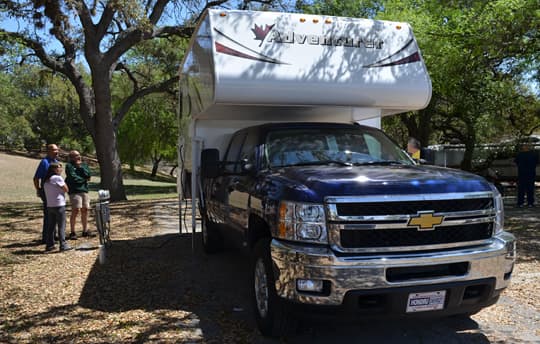 Above: A 2014 Adventurer 86SBS on our 2013 Chevy Silverado 3500
The 2014 Adventurer 86SBS we were in for the rally kicked off the Friday truck camper tours.  The hard-side, single-slide, wet bath Adventurer 86SBS is designed for long or short bed trucks and weighs approximately 3,909 pounds with 38 gallons of fresh water, six-gallons in the hot water heater, two twenty-pound propane tanks, two batteries, and about 500 pounds for us and our stuff.  With its 4,013 pounds of payload capacity, our 2013 Chevy Silverado 3500 was a good match for the 86SBS.
During the tour, we gathered feedback on the 86SBS from the rally attendees for an upcoming review.  It's always good to get perspective from seasoned truck camper owners.
Above: Rally attendees checking out other truck campers during the camper tours (click to enlarge)
After our tour time was done, Angela and I caught up with the camper tour schedule and explored about a half-dozen truck campers.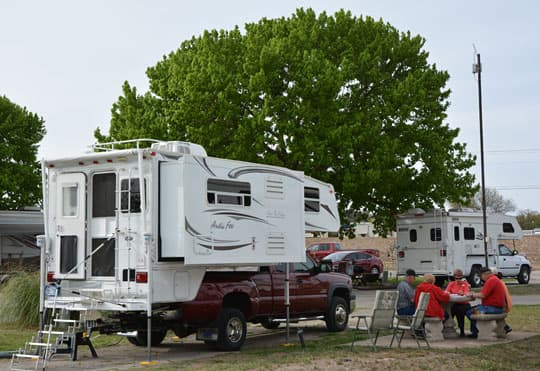 Above: Truck camping friends playing dominoes during the day
For anyone planning a truck camper rally, truck camper tours are an easy and fun activity that yields new ideas, new friendships, and a good excuse to stretch the legs and walk around.
Chili Cook-Off and Awards
I was very excited about the second annual chili cook off but, before leaving the camper, I took about five Beanos and apologized to our cat, Harley, in advance.  Since he likes to sleep at the end of the bed, it was only fair to warn him.
There had to be at least twice the quantity of chili as there had been the year before.  No less than two or three dozen large crock pots were on display brimming with hot chili of every type, aroma, color, consistency, and flavor imaginable.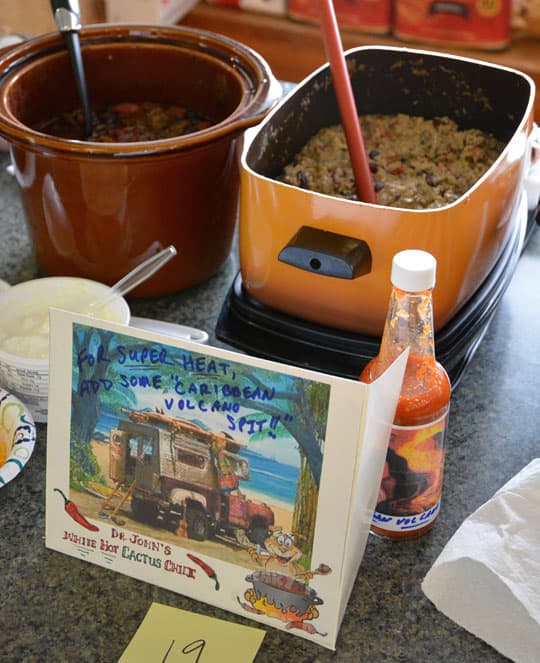 Above: Dr. John's White Hot Cactus Chili and "Caribbean Volcano Spit"
There was hot chili, sweet chili, bean chili, bean-less chili, and chili I don't think there's a category for.  For example, "Dr. John's White Hot Cactus Chili" had a sign that read, "For super heat, add some Caribbean Volcano Spit!"  And yes, there was a bottle of Caribbean Volcano Spit for those so inclined.
Above: Everyone in line carefully selecting chili to try (click to enlarge)
We all did our best to taste and evaluate every chili on display, but it was futile.  There's only so much chili one can eat, and evaluate.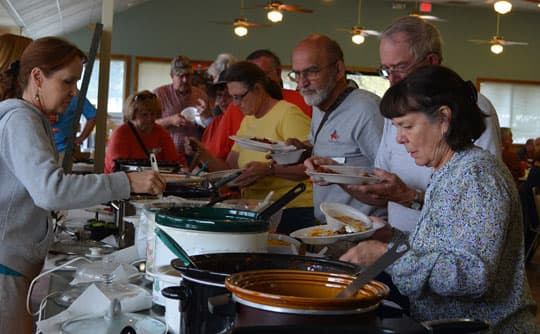 Personally, I gravitated to the chilis with the most kick-in-the-pants heat, attitude, and pizazz.  It's a good thing we don't eat like this everyday.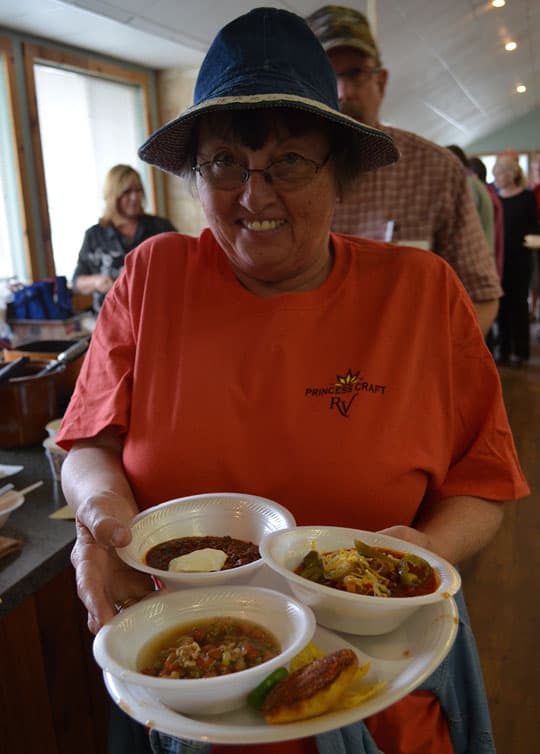 Above: The chili bowl balancing on display was impresssive
Above (left to right): First, second, and third place winners of the chili cook-off (click to enlarge)
After everyone ate their fill, we each voted for one chili.  These votes were quickly evaluated and PJ announced the winners on stage.  Pam Beers won first place, Jim Woods won second place, and John Wells won third place.  Everyone laughed when Pam Beers told the crowd that (a) her first place winning chili recipe included canned ingredients and (b) it was her first time making chili.
During the festivities, there were serious conversations about how to improve the Chili Cook-Off for next year.  It was suggested that there should be at least four or five chili categories set up including hot chili, sweet chili, no-bean chili, vegetarian, and most unusual chili.  Once a winner is selected from those categories, the rally could have a final round of tastings to choose a grand prize winner from those four or five finalists.  I second this idea.
The next morning I immediately checked Harley for signs of life.  He was still breathing, but seemed quite agast.  Sorry Harley.  You'll get over it.
Minute To Win It
I know there's a popular perception within our community that truck campers attract only the most proper and sophisticated individuals.  Those who hold strong to these beliefs may want to turn away now.  This story is about to get completely ridiculous, slightly obscene, and a little gross.  You've been warned.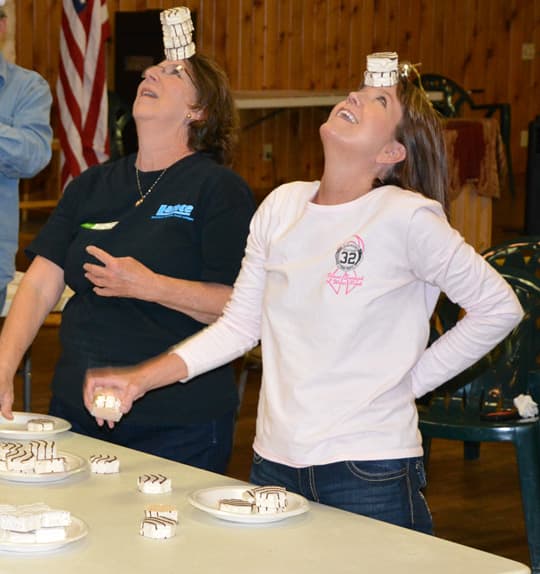 Above: Marie and Ronda balancing stacked cakes on their foreheads
As someone who tries to avoid reality television, I was not completely aware of what exactly Minute To Win It was all about, outside of what I had seen on television promos.  If this describes you as well, allow me to explain the game as I now understand it.
Above: Contestants completing the Minute To Win It challenges (click to enlarge)
The premise is to challenge competing contestants to accomplish a simple but somewhat absurd task during a one-minute trial.  For example, shake ping-pong balls out of a tissue box strapped to your butt.  I can't believe I just wrote that in Truck Camper Magazine.
Want more examples?  Of course you do.
Above: Contestants completing the Minute To Win It challenges (click to enlarge)
The other contests include throwing playing cards at half-watermelons until they stick, whacking plates with marshmallows and trying catch the flying mallos in red cups, balancing stacked cakes on your forehead, and the biggest attraction; dipping one's nose in a bucket full of vaseline, using said vaseline-dipped nose to pick up cotton balls, and moving the cotton balls onto a plate.  I can't make this stuff up folks, it happened.
SATURDAY
Saturday morning brought another well attended tech seminar and more truck camper tours.  Some rally attendees went on a Texas hill country tour bus.  Quite a few attended the wine tasting with Pam Beers.  Others meandered around the campground and enjoyed the best part of a truck camper rally; meeting the other truck camper owners, talking, laughing, sharing favorite routes and destinations, having an adult beverage or two, and just generally having a great time.  Cheers!
Barbeque with the Lawson Boys
Above: The Lawson Boys and the BBQ dinner (click to enlarge)
If the fellas from ZZ Top retired and started a dynamite barbecue catering company, I imagine they would be something like the Lawson Boys.  I honestly have no idea where these guys are from, but they have their Texas barbecue down, and it was delicious.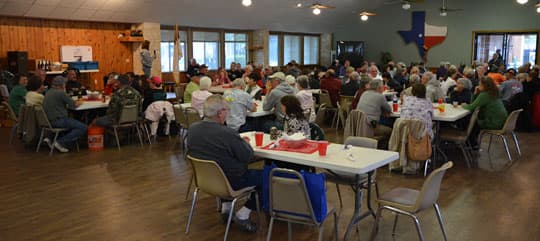 Above: After dinner prizes were given out

Minute To Win It Finals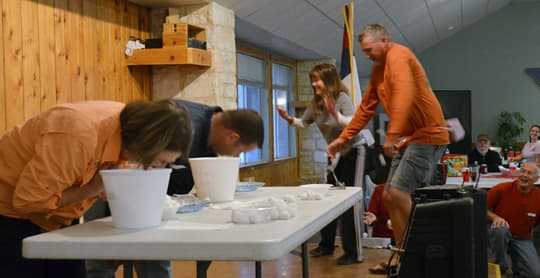 Above: The Minute to Win It finals
In one of those, "But wait, there's more" moments, PJ held the Minute To Win It Finals on stage immediately after dinner.  There's nothing that helps settle a belly full of barbecue more than watching mature adults dipping their noses in vaseline and madly shaking their booty as ping pong balls fly from a tissue box on their back side.  Fellow humans, why do we do these things?
After the last ping-pong ball had flown, and the vaseline had settled, the winner was announced.  Congratulations Shawn.  Please don't put this on your resume.
Truck Camper Jam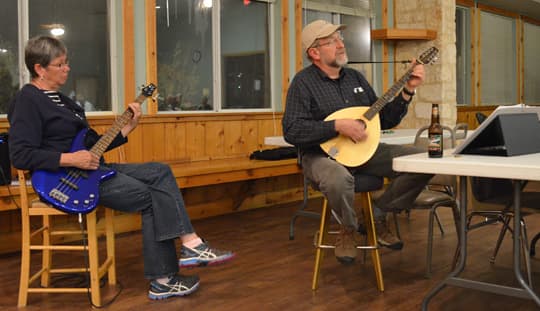 Above: Linda Alverson and John Wells rock the house
The last event on Saturday night was what we believe to be the first ever Truck Camper Rally Music Jam.  Unfortunately, Harley and I had left our Kazoos and Ray-Bans at home leaving John Wells and Linda Alverson to rock the house with the greatest hits of the 70s and 80s.  That's the 1770s and 1880s – and I just blatantly stole John's joke.  Sorry John.
John and Linda's music was the perfect ending to a fantastic day.  While they were playing I wondered if a Saturday night jam session is something that could work at other rallies.  It's worth a shot.  Plus, I'm fairly sure John will be attending the Gettysburg Rally in September.  He's practically Eddie Van Halen on the Mandolin, minus the big hair, and groupies.
SUNDAY
Farewell Breakfast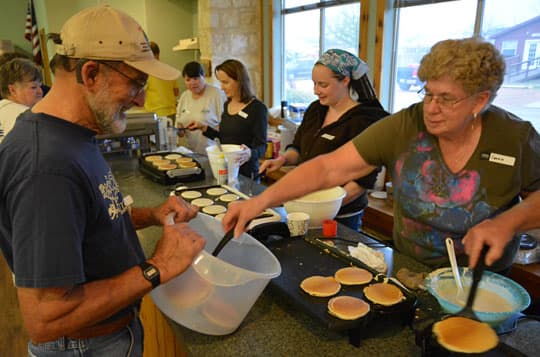 Above: Pancake production by the bucket
There's something about fresh coffee, pancakes, and sausage that gets even the most heartily retired truck camper folks not only out of bed early, but presentable by 8:00am.  PJ, her daughter Lindsey, and about a half-dozen rally volunteers had five griddles flipping golden brown pancakes onto plates at a pace that would have surely filled the pavilion with flap-jacks if the rest of us weren't eating them at an equally dizzying pace.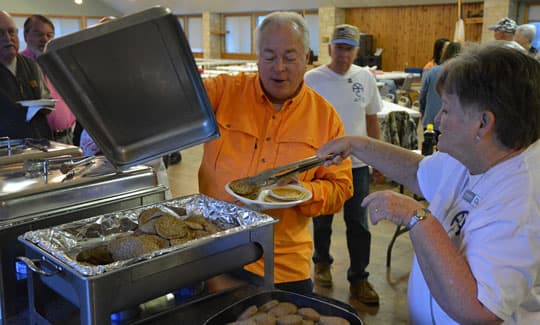 Above: Breakfast sponsored by Princess Craft Campers
Group Photo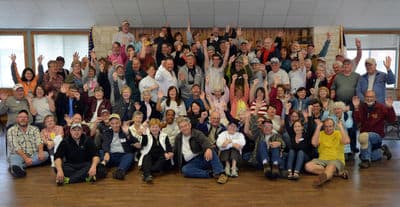 Above: The 2014 Texas Truck Camper Rally Group (click to enlarge)
Once again, Lindsey, took the rally group shot.  And, once again, it was like herding cats to get everyone together, looking forward, and behaving themselves.  If there was any doubt that the second annual Texas Truck Camper Rally was twice as big as last year's event, this photo should prove it.  You're going to need a wider angle lens next year Lindsey, not to mention a megaphone and a pointy stick.  What a bunch.
2015 Planning Meeting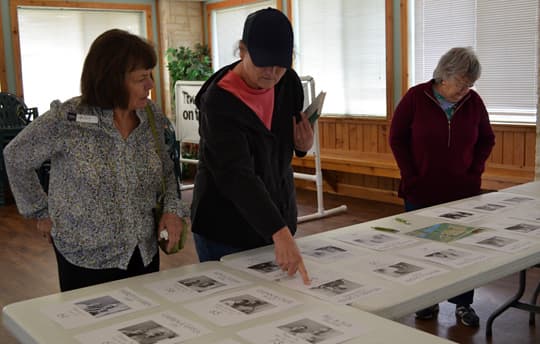 Above: One thing they did this year was take pictures of everyone who attended.  The pictures along with names, locations, and rig information were displayed on tables during the rally.
The last official event at the rally was perhaps the most important.  PJ invited anyone who wanted to participate to a meeting to plan the 2015 Truck Camper Rally.  She asked for feedback about what worked well, and what could be done better next year.
We sat in on the last half of the meeting.  When we arrived, they were talking about returning to Guadalupe RV Resort in 2015, but other campgrounds were also suggested.  It's very likely that 75 or more truck camper rigs will attend next year's rally.  The consensus was, when you're bringing that kind of business, the campground should (a) offer a discount rate, and (b) offer assistance with rally activities.  This is exactly how the North-East Truck Camping Jamboree negotiates for their big rallies.
We would like to have all the truck campers together rather than scattered across the campground.  This is easier said than done with the many snowbirds and sometimes permanent residents at the better Texas campgrounds.  Never the less, it's on the wish list.
Other suggestions included ways to make the meals simpler.  For example, having rally attendees either bring their own plates, cutlery, and drinks rather than having those items supplied by the rally.  This saves both time and money and cuts down on trash and clean-up.  And yes, this is how it's done at the other big rallies.
One disadvantage of having everyone in the enclosed and heated pavilion was the lack of outdoor fireside gatherings.  Next year PJ already has volunteers to bring firewood and host an honest to goodness campfire.  The next question should be inherently obvious; who's bringing the sticks, marshmallows, chocolate, and graham crackers?
Please PJ, can we have s'mores?
Thank you!
Angela and I had a wonderful time at the second annual Texas Truck Camper Rally.  Thank you PJ, Richard, the Princess Craft team, and all the volunteers for making the rally a big success.  We have no doubt this rally is going to grow and get better every year.  Well done.
Note From Princess Craft About Next Year's Rally:
"We have scheduled for the same venue, Guadalupe River RV Resort, on April 9th through 12th.  We have reserved the center block with 100 spaces.  When you register, you will choose your space and we will make every effort to keep you there.  We have plans for a variety of changes including a redesigned chili cook off, evening campfires, raffles, travel destination discussions, etc.  It will be bigger and better.  Looking forward to seeing you there!" – PJ Buerger