In my recent Adventurer 116DS review, I flat-out warned folks about sitting in the reclining theater seating.  In my opinion, these are the most comfortable seating options in any truck camper currently available; bar none.  You may not be shopping for a new camper when you first sit in them, but you might when you get up.  They're that comfy.
Of course this statement is made within the pathetic context of current camper seating.  Too many truck camper seating options seem better designed to help put a Chiropractor's children through college than offer proper support and comfort.  Put another way, modern truck camper seating is often designed to be in the proper shape of a seat, and look like a proper seat, but isn't necessarily supportive and comfortable like a proper seat.
That would work fine if we sat with our eyes and not our backsides, behinds, booty, bums, buns, buttocks, cabooses, cheeks, derrieres, fannies, heinies, hindquarters, keisters, rears, rumps, tails, and tushies.  Note to industry: there aren't a thousand and one words for butt in the English language for nothing.  Petutes are very important to people.  We need to keep their cans comfortable.
Eagle Cap Theater Seating Review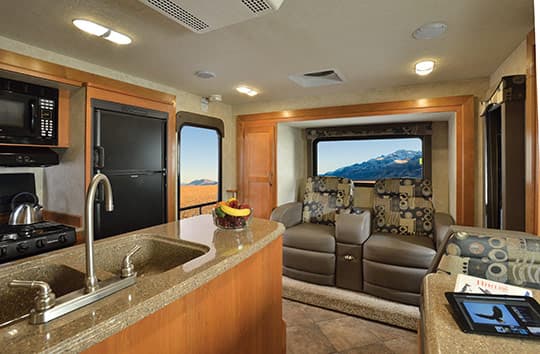 Above: 2014 Eagle Cap 1165 triple-slide with theater seating in the rear slide.  Photo courtesy of Adventurer Manufacturing.
Aesthetically, the Eagle Cap theater seating with the Mystic fabric and chocolate-color leatherette is a knockout.  Over the past few years, Eagle Cap has upped the ante industry-wide with their modern and high-end interiors.  The theater seating, with these fabrics in particular, only continue this trend.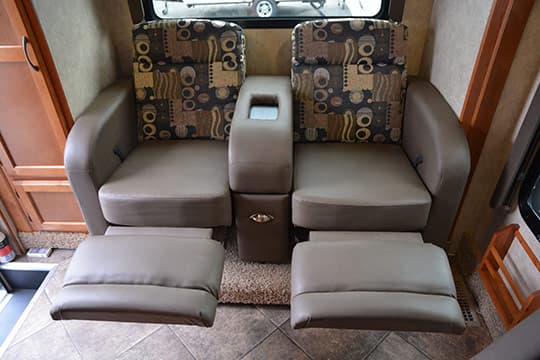 None of that would matter if these seats weren't supportive and comfortable.  If you haven't got the message yet, they are.  After a long day of taking pictures of truck campers at Princess Craft Campers in Texas (someone has to do it) I found myself coming back to Eagle Cap's theater seating for moments of rest and relaxation.
I'm not even a slide-out guy, but these theater seats sure had me thinking that decision over, not to mention scheming how such a set-up could possibly be done in a non-slide.  I know, I'm nuts.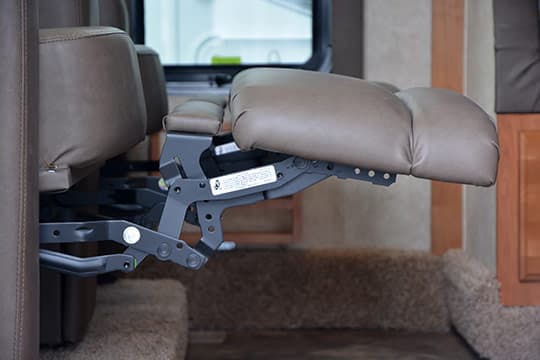 The metal recliner mechanisms release and extend easily and give exactly the kind of relaxed leg support some of us dream about in a truck camper.  If I were selling Eagle Cap truck campers, I would simply lure folks into these seats, and have them recline.  Pop a movie in, and come back in two hours to sign the order form.  These seats will sell truck campers, no doubt about it.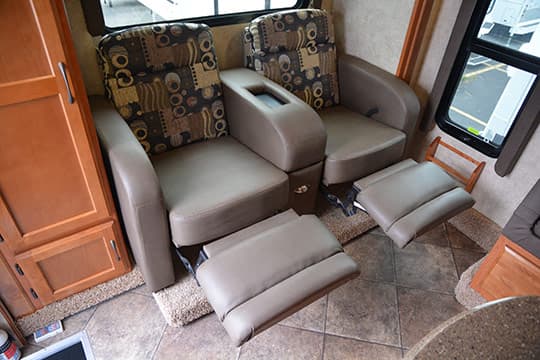 Putting my reviewers hat on a little tighter, I have two nit pics to pick with Eagle Cap's theater seating.  First, getting the reclined seat back into position is a challenge.  I found myself awkwardly getting out of the seat and then pushing the seat back (with some force) with my hands.  The recliner extensions are too stiff to pull back with your legs while sitting.  It's possible that they will get easier to work over time, or that the seats needed some adjustment or lubrication.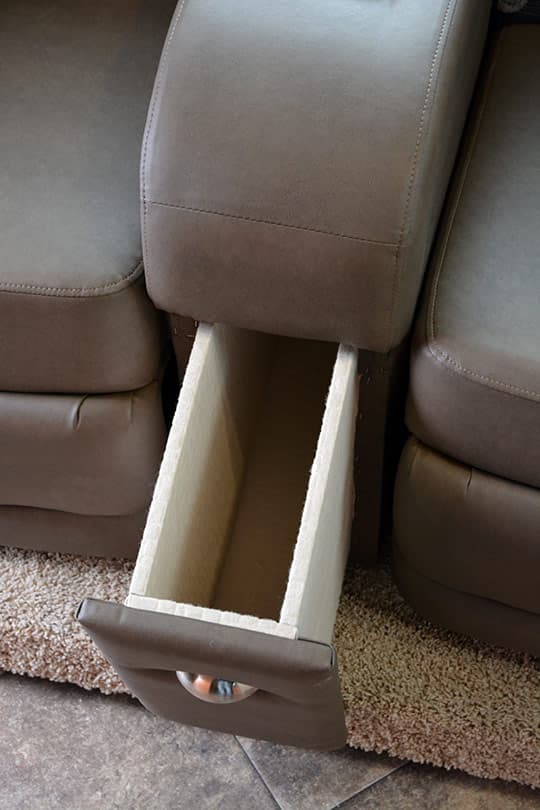 Second, the material has been attached to the frame of the seats using staples in some places.  Now this certainly isn't an unusual practice in the furniture (or RV) manufacturing process but, as a consumer, I don't want to see staples anywhere on a $40,000 plus truck camper.
Unfortunately, the staples are easy to spot when you pull out the central drawer.  And the staple and material job looks a bit shoddy.  This could be done better.
The New CNC
I'm making a big deal out of these seats in hopes that the rest of the industry will take note and get on the "Comfort Not Chiropractors" happy bun bandwagon.  That's not exactly the CNC we're normally talking about in the fine electrons of Truck Camper Magazine, but it's the CNC the whole industry should be paying attention to.
Yes, other manufacturers offer recliner sofas.  Yes, some companies, including Snow River, offered similar recliner seats in the past.  And yes, I suspect it won't be long before other companies follow suit.  That said, for now Adventurer and Eagle Cap are the only games in town if you want recliner theater seating.
Speaking from the hindquarters, thank you Adventurer and Eagle Cap!  This is exactly the kind of comfort many truck campers are looking for.  Review over.  Time to recline.
For more information on Eagle Cap Campers, visit their website at eaglecapcampers.com.