There aren't many aspects of motorhomes that make me jealous, but there is one.  The ability to move from the camper to the driver's seat without going outside is sometimes enough to make me question my truck camper club card.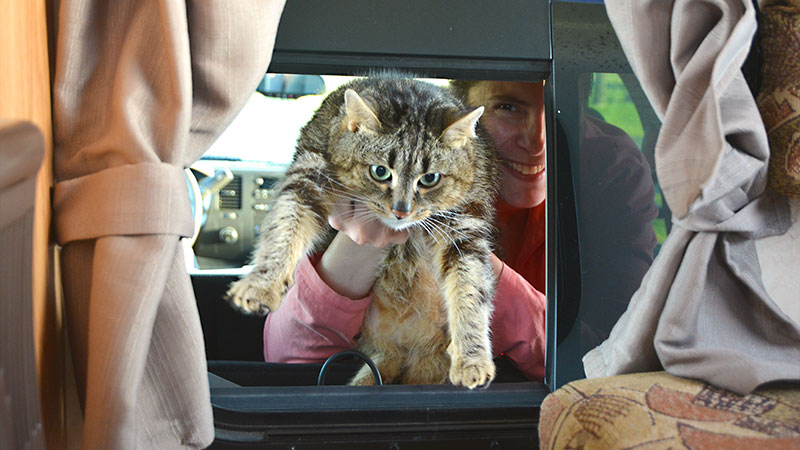 Above: Sneaking Harley through a Northstar pass through during Operation Whisker Sneak
Now don't think for a second that I'm about to go to the dark side.  That's not happening.  I'm just saying this particular motorhome benefit is alluring.
Not that long ago it was fairly standard for truck campers to have a pass-through window.  This pass-through window often lined up with the rear window in the truck.  If both windows opened wide enough, pets and even people could pass from camper to truck, and back again.
Some truck camper manufacturers even made boots to go between the truck and camper to create a sealed pass-through pathway.  Northstar Campers still offers this pass-through boot feature today.
In 2019, most truck camper manufacturers have either gotten away from installing pass-through windows, or install pass-through windows that aren't removable or don't fully open.  The main culprit of this change are slide-outs and mid-baths that either block or consume the space where pass-through windows once resided.  Trade-offs strike again.
In a February Question of the Week I asked, "Is bathroom access an important factor when you select a truck camper for purchase?"  The lead up detailed how bathroom access was once a priority for the consumer, but had faded from design memory as slide-outs took over.
In that same spirit, I want to ask about pass-through windows on truck campers. Like bathroom access, are pass-through windows something that has gone by the wayside, but needs to be brought back to the forefront?
This week's Question of the Week is, "Should the truck camper manufacturers bring back and/or continue with back pass-through windows, or are pass-through windows no longer necessary?"
We use our pass-through window primarily for weather-protected ventilation.  That said, we would love if it lined up with our rear truck window perfectly and was big enough for us to physically pass-through.  What say you?
Create your own user feedback survey