Over 1,100 TCM readers reveal the relevance of pass-through windows for their next truck camper purchase.  Are pass-through windows still pertinent, or passé?  The poll results are in…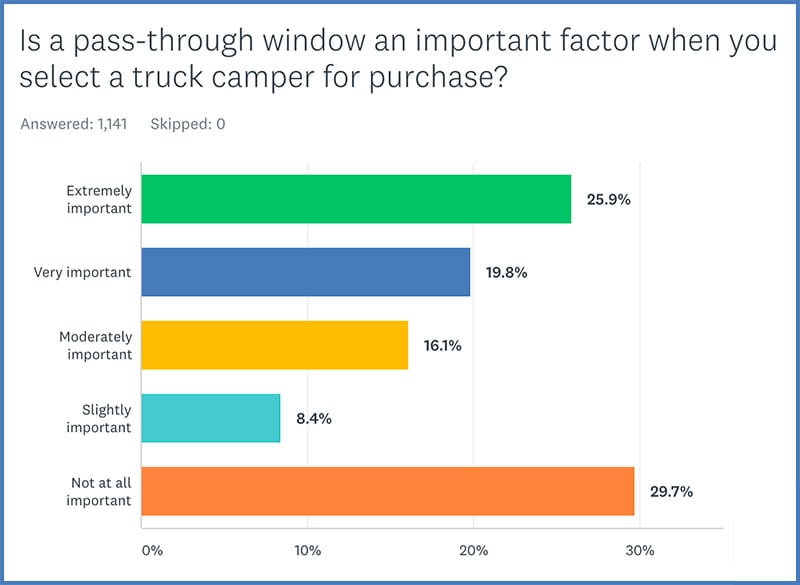 As you can see, over 70-percent of the 1,141 poll participants stated that a pass-through window was at least, "Slightly important" or better.  Of those, 45.7-percent stated that a pass-through was either, "Extremely Important" or, "Very Important".
That's a strong indication that a significant part of the truck camper market prefers to have a pass-through window on their truck camper.  On the other hand, 29.7-percent of responses stated a pass-through is, "Not important at all".
Following the poll, we asked an open question, "Should the truck camper manufacturers bring back and/or continue with back pass-through windows, or are pass-through windows no longer necessary?"
The answers reveal some valuable insights into why people want or don't want a pass-through window.  Over-130 readers chimed in to give their perspectives on the evidently polarizing pass-through proposition.
Read up industry leaders!  Essential marketplace feedback ahead.
"I guess I can see where pet owners may find a pass-through beneficial, but otherwise I do not, personally, see a need. My F-250 has a sliding rear window. I've owned it for seven or eight years. I have never once thought about opening it." – Kevin Jenckes, 2013 GMC 3500HD, 2005 Lance 820
"I would like to see a pass-through on my next camper." – Glen Dunbar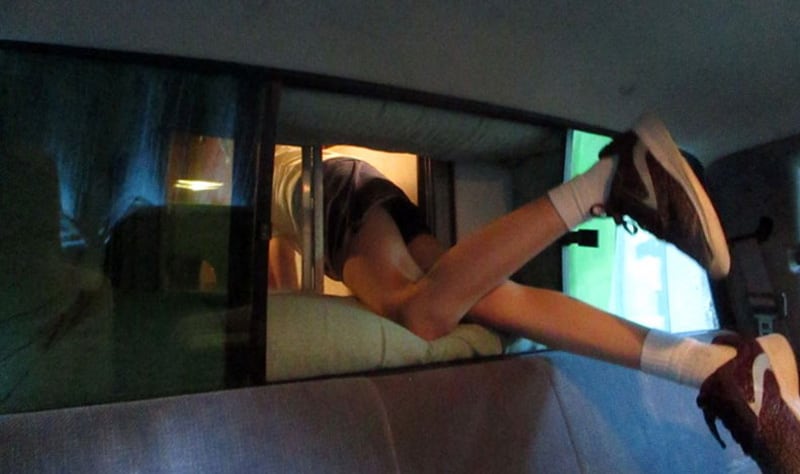 "To us, the pass-through window is very important. I made a boot for our pass-through which is used by our kitty. When we're parked, we place her litter box in the truck's cab. Also, the cab gives her more space to explore and windows to look out. Plus, it has been used by our granddaughter to climb through when we inadvertently locked ourselves out of the camper." – Susan Oliveri, 1996 Dodge Ram 2500, 1971 Amerigo
"Bring 'em back! It's good for the truck's air conditioning passing through into the camper, the pets to pass-through, the radio/music to pass-through, odds and ends to pass through, and small tools pass through. It could be an emergency escape. I don't have one, but will seriously consider a retrofit." – R. Shaffer, 2016 Ram 3500, 2016 Four Wheel Camper Hawk
"No." – Virgil Moore, 2018 GMC 3500, 2007 Arctic Fox 811
"I don't use it for a pass-through, but love it for air circulation." – Rick Jones, 2017 Chevrolet Silverado 3500, Arctic Fox 1150
"Yes!" – Alain Larose, 2011 Ford F-450, 2005 Lance 1181
"I don't have a truck camper yet, but would love to see more campers with a pass-through option. As a single woman, I feel a pass-through big enough for a small person would give me a safe way to drive away if things get sketchy.
I don't anticipate that happening, and I plan on being very proactive when it comes to my safety, but it would be a nice last resort. Frankly, that's one of the reasons I'm still thinking about a Class B motorhome. But a great truck camper with no pass-through would probably not be a deal breaker. I love everything else about them!" – Sabine Kirstein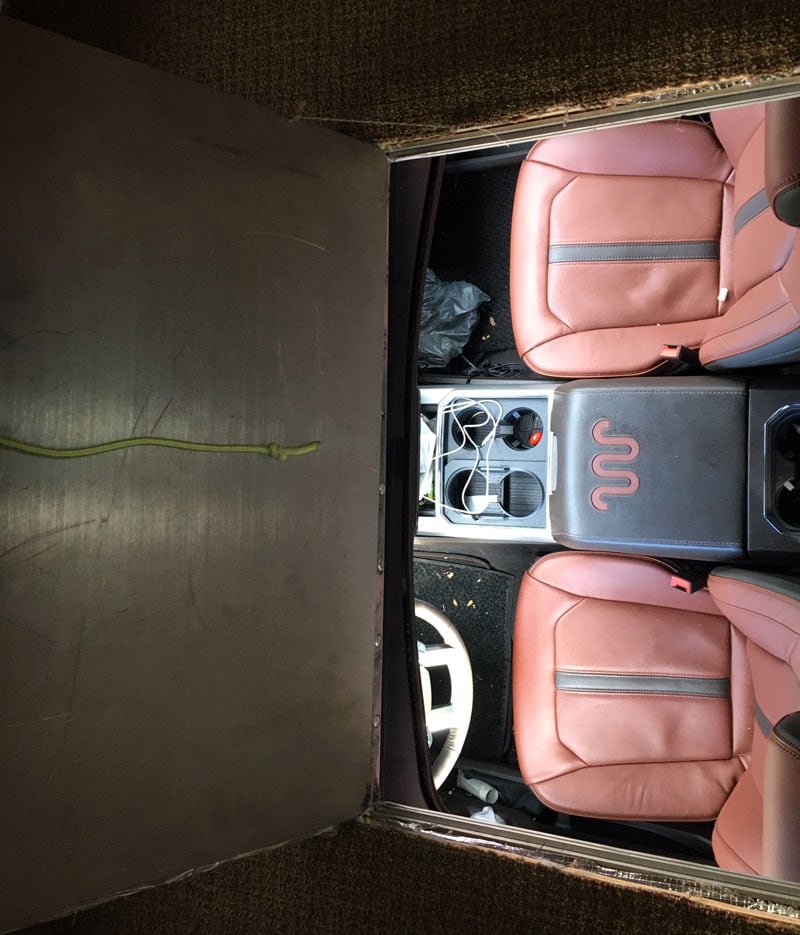 "Yes, but the auto industry engineers also have to ensure that the rear window is capable for being utilized as a pass-through and lines-up with the pass-through windows. Currently the one in our King Ranch F-350 is useless for passing anything larger than a small pet through it to the camper, let alone a person.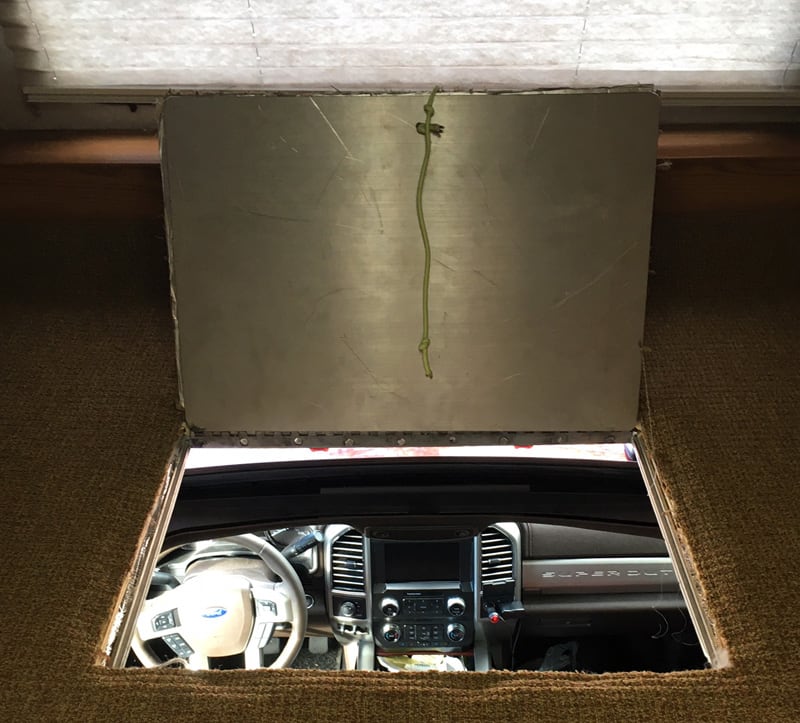 Honestly, I would like to see a rear window that slides down, similar to the front windows. We resolved the issue with the rear window (size and line-up) by using the sunroof instead of the rear window and installing a hatch from the passenger's cab into the overhang (bed area). It was a relatively easy decision as we had water damage in the bed area to repair any ways." – Phil Hanby, 2019 Ford F350, 2003 Arctic Fox 990
"I want a pass-through window of some type and I want a window at the bottom of the rear camper's door. Otherwise, I'm too blind behind my camper. I've had cameras, but they break down according to Murphy's Law. I'm now on my second rear view camera and it will eventually break, too." – Philip Tron, 2009 Chevy 3500, 2012 Lance 1050
"Please make pass-throughs as standard or even an option. I would love having one for stealth and safety reasons." – Chris F., 2006 Ford F350, 2018 Palomino 1200
"I can't use a pass-through window. I do not have a cat and by the time I strip down to my skivvies and grease myself with bacon grease and wedge through, I can open the door and get inside." – Jesse Taylor, 2006 Sierra 2500 HD, 2020 Lance 865
"I think they have become so small that there is not much to pass through them anymore. I do wish I could open the window with a screen for added ventilation." – Michael Swiszcz, 2018 Ram 5500, 2019 Northern Lite 10-2
"I am a big fan of pass-through windows. When aligned with the rear door's lower window it provides good visibility to whatever is behind me; traffic, poles, cliffs, you get the idea. It would make it so that I am not dependent on another gadget such as a back-up camera. Another advantage is that while I'm in the cab of my truck it allows me to see if anything goes amiss inside the camper while driving down the road, like a refrigerator or cabinet door opening and the contents spilling on the floor." – Doris Pursell, 2012 Ford F-250, 2017 Wolf Creek 840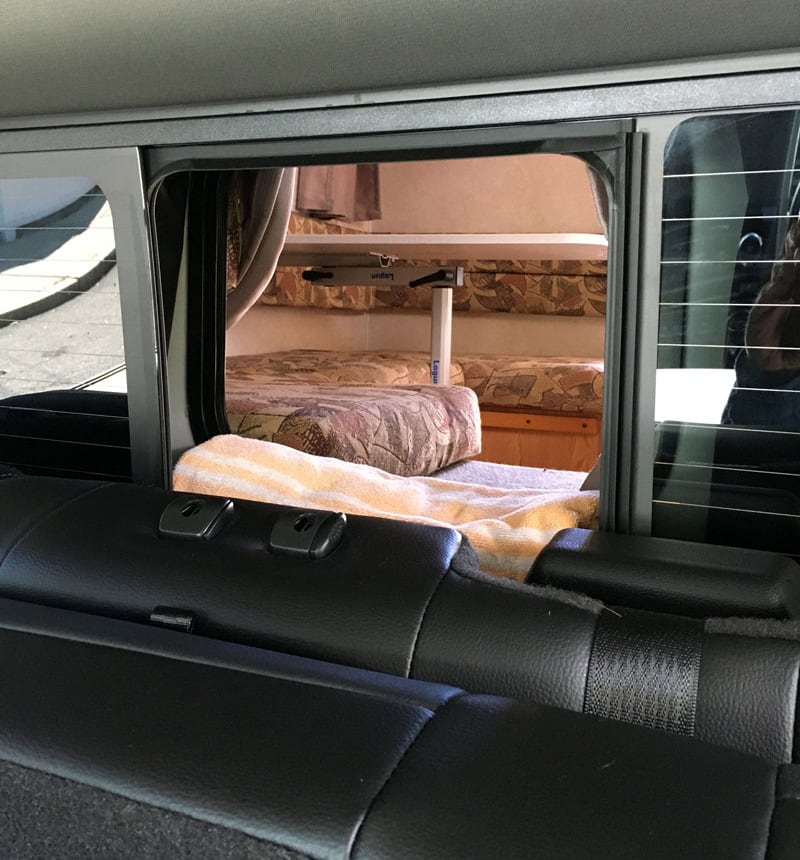 "My Northstar has a pass-through window. It lines up with the truck window's opening and I have the boot that seals the pathway. In my set-up it's absolutely necessary. I travel with two cats and their litter box is on the floor in the back seat of the crew cab. Another advantage is being able to see what's going on outside in front of the camper when you're parked and inside the camper, especially when parking lot boondocking." – Brett Burguard, 2017 Ford F-350, 2012 Northstar 9.5 Igloo U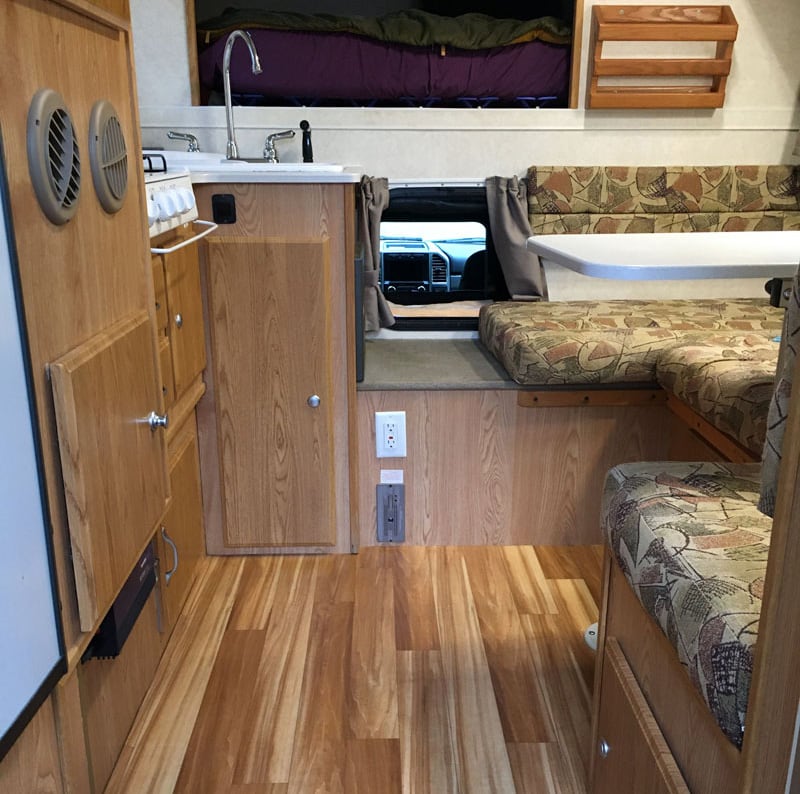 "Yes. Make them even larger!" – Jeremy Nelson, 2015 Toyota Tundra, 2002 Lance Lite 845
"We had a Northstar Liberty a few years ago and changed the back window of our new truck to have a window that opened. We didn't realize the pass-through would not line up. The opening was too small for an adult to go through . I never felt comfortable boondocking since we couldn't escape a threat without going outside. I loved truck camper otherwise, but we travel a lot and lost too much sleep. I sold our truck camper and replaced it with a Class B van. We feel much safer now." – V. Chase
"I like pass-through windows. I don't pass through, but I leave it partially open during rain because the bed overhang shelters the pass-through. I also like to see if something falls while driving." – Robert Therriault, 2017 Toyota Tacoma, 2013 Travel Lite 610P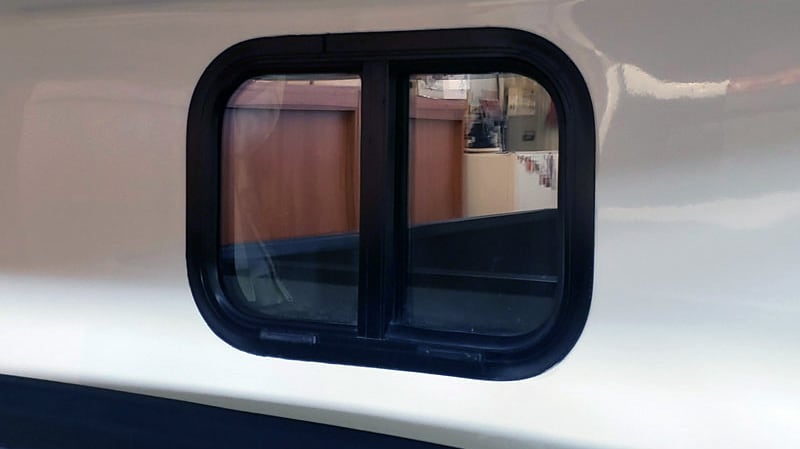 "Not necessary. It's the only window that leaks in our rig." – Timothy Cooper, 2016 Ram 3500, 2009 Bigfoot 25c9.4
"We never use ours, but they might be useful to some campers." – Pat Eastes, 2019 Chevy 2500, 2013 Lance 865
"I've had to use mine more than once to retrieve a forgotten set of keys. Luckily my wife fits through the pass-through." – Steven Ruano, 2011 Ram 2500, 1997 Fleetwood American Flyer
"The one convenience that remains is the ability to use the back seat of the truck to store something while camped. With a boot sealing the space, this was a nice added feature for storing a laundry bag, a bin of dog food, etc. Without the boot, the cab stays open and becomes a good place for flies and other pests. Most trucks now come with a power slider window meaning that it can't be manually opened. For that reason, I see no need for an opening window." – Nik Rende, 2011 Ram 3500, 2001 Lance 1121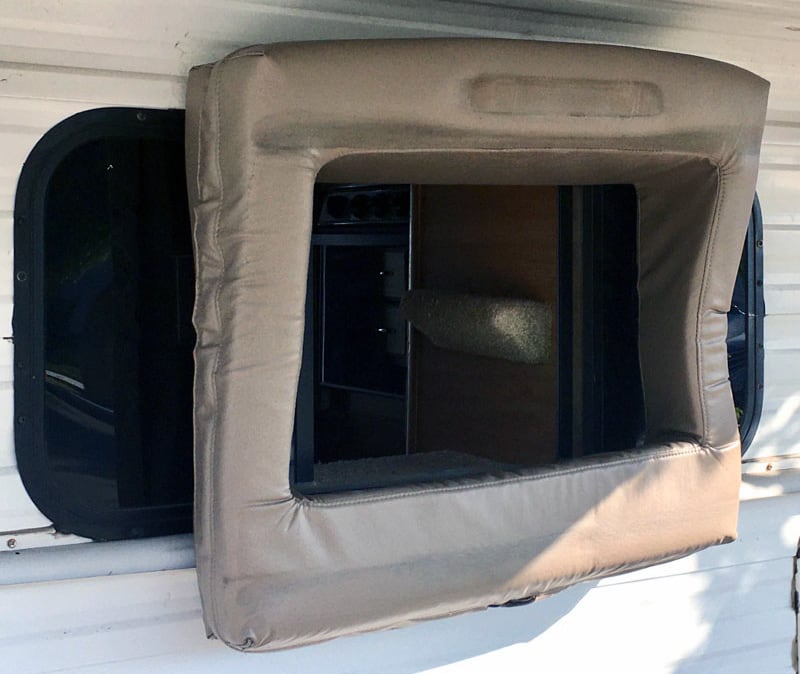 "I may be pushing seventy, but I can still crawl between the cab and the camper and wish to continue to do so. Besides, who doesn't like to hear the creaking, clanking and occasional thuds through the pass-through?
The boot is a vinyl cover I had a local upholsterer build around a foam wedge-style cab-to-camper boot that was, I think, an early Lance accessory. The boot cuts the wind noise and grit intrusion you would ordinarily get when traveling with the cab window open." – Mark Obert, 1999 Ford F250SD, 1999 Lance 920
"No need to have a pass-through." – Michael Herzfeldt, 2017 Chevy 3500HD, 2016 Host Mammoth
"All other features being mostly equal, a usable pass-through would tip the balance when making a purchase." – Larry Heiss, Researching a truck and camper
"At my age there's no way I'm crawling through those windows. It might be beneficial if you have a pet. So I guess I would fall on the side of not needing a pass-through." – Ron Ross, 2017 Ram 3500, 2019 Northern Lite 8-11EXSE
"Pass-through windows are okay if the design allows them to be used as a pass-through. Our present camper and the one before it did not. Layout dictates what can be used where." – Eric Devolin, 2007 GMC 3500, 2006 Adventurer 106DBS
"The pass-through windows should be brought back, and in fact, be made larger. In addition, the truck manufacturers should be lobbied for larger sliding rear windows. This one factor would cause me to go to the dark side." – Doug Glass, 2015 Silverado, 2017 Northstar Arrow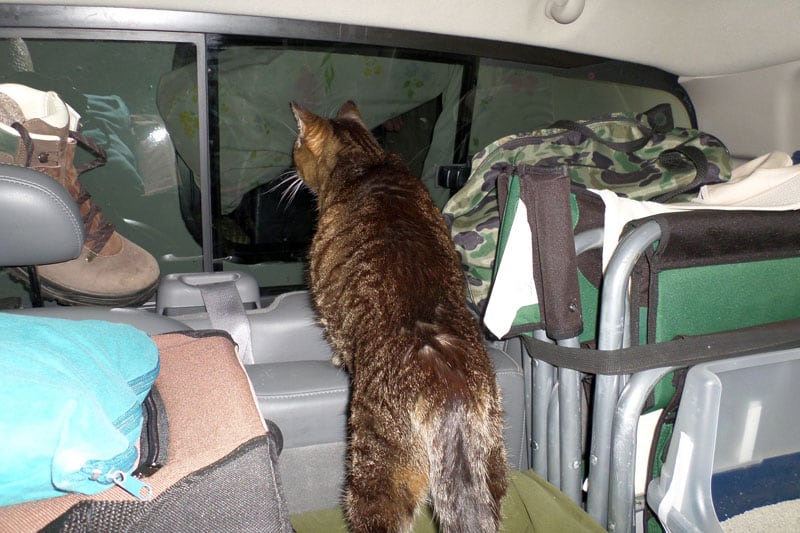 "Pippi Shortstocking thinks that the pass-through is absolutely essential. It gives her access to her crate and litter box in the cab, and to her food and her bed (that she shares sometimes unwillingly with her people)." – Kathy Claycomb, 2007 Dodge Ram 2500, 2019 Northstar Laredo SC
"There is no reason given our current enjoyment of multi-slide campers that a pass-through window is necessary. I've had them on two previous campers and never used them." – Dave Riddle, 2015 Chevrolet 3500, 2017 Host Mammoth
"With my rig, I can still see directly behind the camper through my rear view mirror and I like this feature. As for actually passing something through the opening, it is not practical these days with extended and crew cab trucks from the driver's seat." – Doug Lamb, 2013 Silverado 2500 HD, 2015 Travel Lite 960RX
"I want to drive a truck camper from the United States to Patagonia, South America. I would like my truck camper to have a pass-through window so that in the event of an emergency, I could crawl from camper to cab and take off without having to exit the camper." – David Huie, Researching a truck and camper
"I like the idea of a pass-through, but I want it big enough for me to fit through it. In bear country it would be nice to be able to get into the cab of the truck. We have a pop-up camper." – Matt Reinker, 2019 Ford F150, 2007 Northstar TC650
"I have always liked pass-through windows, especially so that I could see through it and through the window on the door of the camper to keep an eye on traffic and for backing up. Also, I felt that it was an emergency escape hatch if I ever needed one." – Cheryl Lane, BornFree Class B+ motorhome, former truck camper owner
"Leave it for safety reasons. If you are small enough you can slide in the truck from the camper and just drive off without going outside." – Marinus Brand, 2011 Dodge Ram 3500, 1998 Vanguard
"We used the non-opening window in our 2000 Lance 920 to see behind the camper, but the 2019 Lance 975 has a rear view camera that takes its place. So, like a front window, we don't need a pass-through window." – Grayden Obenour, 2011 Ford F350, 2919 Lance 975
"Since ours don't even line up perfectly, we couldn't use it to pass anything through it. We do like to open it for extra ventilation." – Beverly Hanson, 2017 Chevy Silverado 3500, 2018 Cirrus 820
"As my kids are growing up we seem to use the pass-through less. When they were younger they loved to climb into the camper when we were stopped. At a gas station and you don't want to put your shoes on to go to the bathroom? No problem.
However, since most campers no longer have the front bedroom window, I would love to keep the front window just to provide windows on each end of the camper. I strongly prefer to have visibility on each end of my camper even if the window is down low.
Our dog loves the pass-through because it is just his height and gives him a great view of the surroundings. I also almost always use the pass-through window as weather protected ventilation. Pass-through window + opened roof vent = nice ventilation." – Mark Joslin, 2006 Ram 3500, 2005 Lance 1181
"Not a strong requirement, but a pass-through window would be nice. Especailly if they do not adversely affect taking the camper on and off my pick-up truck." – Dave Gibson, 2015 Ford F-250, 2018 Northern Lite
"Yes. I would never buy a camper without a pass-through window." – Scot Millican
"My previous truck and camper had a pass-through window which I never used. I ordered my Ram without a sliding back window. The pass-through window in the Bigfoot is too small to use. I think manufacturers need to remove the window. All it does is collect bugs and is difficult to clean with the camper on the pickup." – Rose McLees, 2017 Ram 3500, 2018 Bigfoot C10.6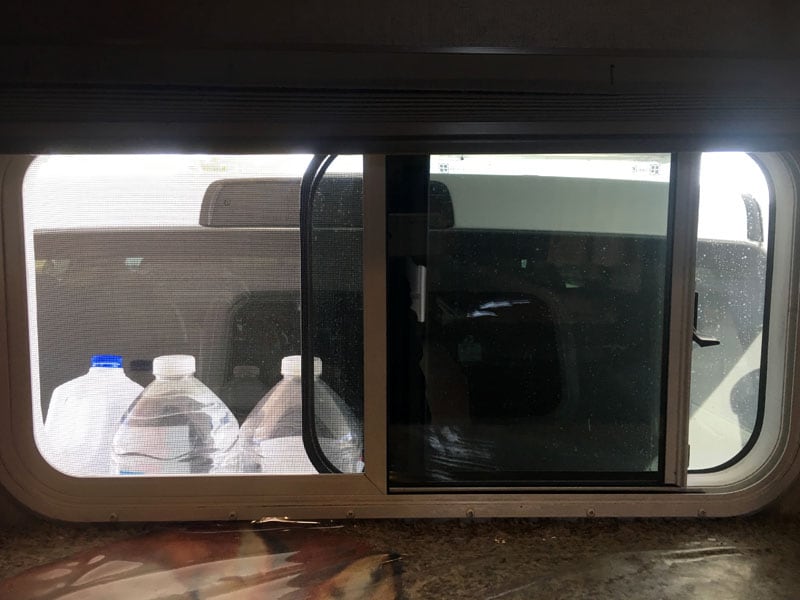 "I enjoy our pass-through window for additional ventilation even though our truck doesn't have a rear window. I've heard manufacturers are doing away with them due to leaking issues when driving in the rain.
Although we do not have a pet, it's nice for people that do have pets so they can come and go from the truck to the camper. Just make sure you have one of those boots that fit between the two. Even though the space between the rig may be 4-inches, cats and small dogs can get themselves in dangerous situations.
Due to us having a custom utility bed built with a 19.5-inch spare tire compartment, our camper is set back. We have about a 12-inch space between the truck and camper. When we are parked we can put a few one-gallon water jugs there freeing up our floor space." – Angela Klinger, 2018 Ram 5500, 2017 Arctic Fox 1140
"We had pass-through windows in two campers. Both leaked when driving in heavy rain leaving wet carpet on the step to the bed. We replaced them with a solid window and have not missed it." – Stan Carman, 2002 Chevy 2500HD, 2002 Lance 1030
"The only time I've used a pass-through is when I had a shell on my truck." – Pete Haidinyak, 2016 Ram 5500, 2016 Eagle Cap 1165
"Yes." – Mac McGreal, 2001 Ford F350, 2006 Arctic Fox 990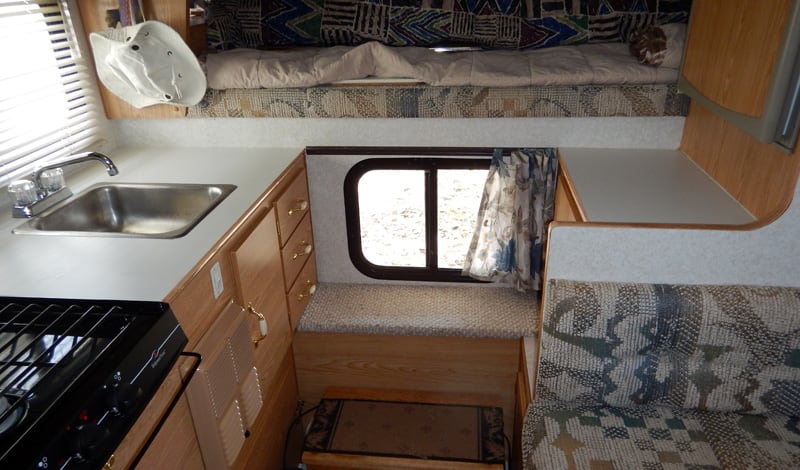 "I think the pass-through window should be considered a safety item. It lets you see what's going on in the camper while you are driving. We have five small dogs we travel with when we get to a destination we just open the windows and the dogs fly through much easier than carrying them one at a time. On one occasion I had to access the truck's cab due to bears outside.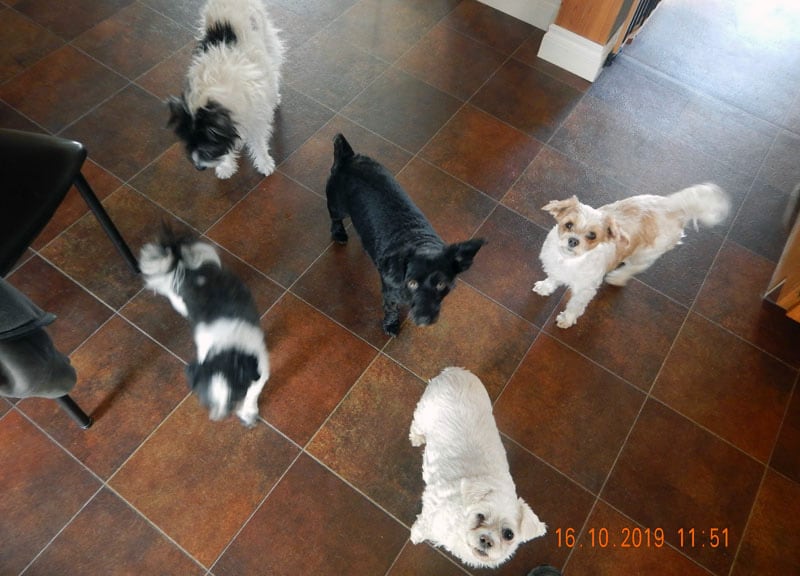 I definitely won't fit through the window anymore. Either the window has got smaller or I have gotten larger (probably the window)." – Brad Slatford, 2013 Ford F-150, 2003 Adventurer 8.0w
"A pass-through window is no longer required." – Dennis Bamford, 2015 Ford F-350, 2018 Lance 1172
"I like the window because when it is raining it gives an option for another drafting point that is not open to the elements. Open that up to allow extra air without having to worry about rain getting in." – Kent Phyfe, 2001 Ford F350, 2019 Arctic Fox 865
"Bring back pass-through windows! Our kitty would love it." – Doniece Montanelli, 2015 Ford F350, 2016 Northern Lite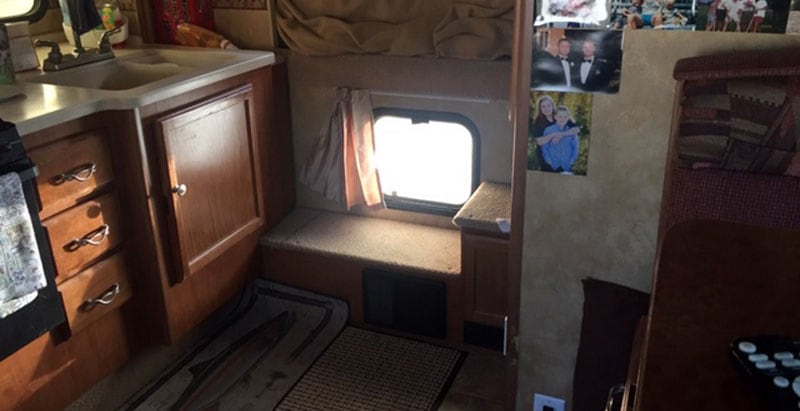 "My pass-through window has blown open while latched at least twice while driving into serious wind. The pressure from the wind coming into the camper caused the kitchen slide to push open a few inches. Luckily I noticed it quickly and replaced the window and retracted the slide before any damage was done." – Phil Borchelt, 2007 Dodge Ram 3500, 2012 Lance 992
"Yes! We use the pass-through for our cat, Roxie. While we are setting up the camper at our site, Roxie is waiting at the window eager to get back into the camper. I would look for this feature on our next model of camper." – Stu Snowball, 2018 Silverado 3500, 2018 Arctic Fox 990
"It is so important to be able to pass-though that I am going to a RV or van. But, it is equally important to have four-wheel drive. The only options I see are Tiger, Mercedes or now a Ford van." – Tom Banks, 2015 Chevy Silverado, 2016 Northstar 850
"Continue with pass-through windows. They're good for ventilation." – Tom Williams, 2001 Northstar Laredo SC
"The only thing I like about our pass-through window is the light it brings into the camper. I hate the way it opens since it can be dislodged if it is accidentally kicked or improperly latched. When that happens, the camper is full of bugs and debris after we stop." – Cindi Goodrich, 2006 Chevy 3500, 2008 Lance 1191
"I don't see any reason to have another opening for loss of heat. Pass-through windows are also in the way for steps getting up into bed." – Frank Niehus, 2007 Ford F-350, 2013 Lance 1172
"It's just the two of us when we are on the road. Our grandkids all grew up. Therefore, we don't ever need a pass-through window. Actually, we keep it covered from inside the camper for privacy purposes.
But, the next person to own this camper may want the pass-through option. The short answer for us is that we don't need it." – Gary and Cinda Whistler, 2019 Chevy 3500, 2017 Lance 1172
"I like the pass-through window, but only for ventilation. I'm way too old to crawl through something like that. Besides, the truck side of the window is the back seat of the truck and it's used to store stuff which is not reasonable to crawl over." – Bruce Colby, 2004 Ram 2500, 2004 Lance 835
"Yes. I think pass-through windows are great!" – Garth Ogle, 1995 Dodge Ram 3500, 2003 Bigfoot 10.5E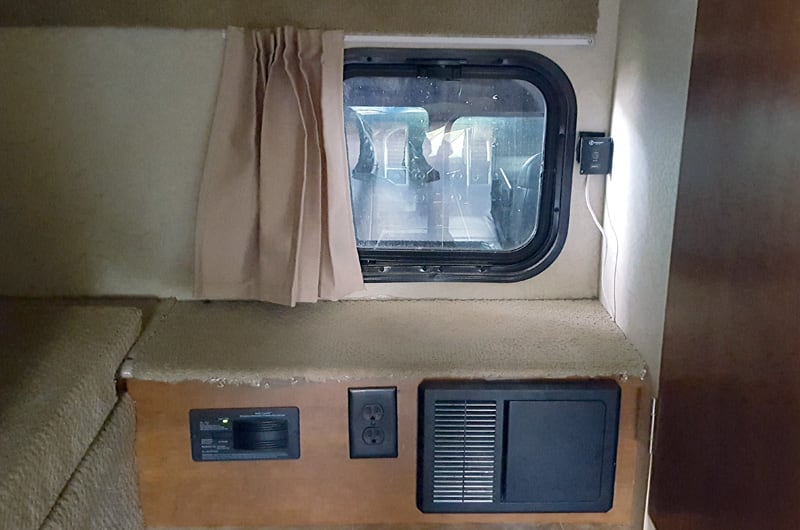 "For some single women, having access to the driver's compartment without exiting the camper is important. My truck's sliding window is smaller than the camper's pass-through. I only use it for ventilation. It would be nice if they included an insect screen." – Gary Usher, 2017 Ford F350, 2015 Lance 1172
"We have never used our pass-through window, but I like having it as well as the ability to see through the rear door window." – Doug Baker, 2006 Toyota Tundra, 2006 Six Pac D650
"I would love a pass-through. The security of having direct access to the cab from the camper would be great when we are boondocking." – Orian Hartviksen, 2011 Ford F-350, Northern Lite 8-11
"With our crew cab it's very difficult to get to the rear window (which is powered). On the other hand, the associated window and screen in the truck camper is very important to us as it provides a point for all-weather ventilation. On my camper it is also important to me that they align providing me with rear view visibility, even if it is a bit limited. Keeping my rear view mirror functional is an important issue for me." – Brett Binns, 2014 Ford F350, 2014 Arctic Fox 1150
"Bring it back. There are a number of good reasons we would like to see the option for a pass-through window again." – Grant Smith, 2015 Ram 3500, 2018 Four Wheel Hawk
"I like the pass-through window on our camper. Like you said, for protected ventilation. However, our truck doesn't have a rear window so it most definitely isn't going to do much else for us.
I don't think it would be a deal breaker for me if a camper didn't have a pass-through window, but I love that we have it because it's the only window which is guaranteed to always be in the shade, and thus pulls cooler air into the camper.
We don't have air conditioning and when we leave the camper during the day, with the cat inside, we put a portable fan at this window to blow cooler air in and have another attached to the roof vent to blow the hot air out the top. So it's not a deal-breaker, but it's a very nice bonus.
And yes, as a kid, I did crawl through to get snacks or go pee while the truck was on the road." – Melissa Malejko, 2002 Chevy Silverado 2500HD, 1981 Okanagan
"We use our pass-through window for pets. Also you can see your load through the rear view mirror if you are towing." – David Jewell, 2008 Dodge 2500, 2017 Wolf Creek
"No longer necessary." – Sherri Weiler, Researching a truck and camper now
"Keep them! We have a cat and she constantly wanders between the camper and the cab; the litter box is in the truck to help control the odor problem." – Jon Hunstock, 2008 Ford F250, 2014 Northstar Arrow U
"Although not a major priority (for me) in choosing a truck camper, what I have found is the pass-through window works marvelously with the camper's ceiling fan. The flow through from floor to ceiling creates a nice amount of ventilation. Additionally, it's much more secure than leaving a side window open for air flow." – Chris Roark, 2019 Ram 3500, 2020 Cirrus 820
"Continue with pass-through windows because it allows me to look through the window and my camper door as I am driving too see part of my boat as I am towing. Once my refrigerator door swung open and I was able to see the door swinging and stopped to reload the items." – Steve Evans, 2014 Ram 3500, 2012 Lance 825
"A pass-through window brings nothing to the table. Leave it off." – Don Pryor, 2020 Ford F-450, 2020 Host Mammoth
"We love the pass-through window for two main reasons. The most practical is the Fantastic Fan drawing cool air from the truck's cab keeping the entire camper cool. The other reason is the dogs love it. They easily pass through. I guess the adults could pass through in an emergency, but not easily." – John Harvey, 2017 Ram 3500, 2017 Northstar 12STC
"I think they should have a pass-through for purposes of boondocking. You could have to leave due to unforeseen reasons." – Dale Gould, 2016 Ford F-250, Palomino HS-8801
"Bring them back. Visibility through the pass-through window and the rear door is a safety issue as far as I'm concerned. The pass-through functionality is important for a variety of reasons. I stopped considering any truck camper from my future purchase if a manufacturer excluded it from a particular model. In some cases on some manufacturers' entire model line up, it has been eliminated!
On a sentimental note, that's part of what makes a truck camper, a truck camper. Additionally, I'd like to see these pass-through window centered in the camper to better line up with the truck's window in order to maintain full functionality. Also, I wish they could make one that doesn't leak when driving in the rain." – Tim Holman, 2013 Ford F350, 2014 Wolf Creek 850
"We like our pass-through window and boot on our Northstar, primarily because it enables us to heat or cool the camper. This feature is nice to heat/cool the camper when stopping for midday for lunch, or to pre-cool or pre-heat the camper when we are stopping at night. There is nothing like a hot bowl of soup for lunch in a warm cozy camper when it is cold outside.
We are a big proponent for keeping the pass-through window." – Firman Schiebout, 2017 Ford F-350, 2013 Northstar 9.5 Igloo U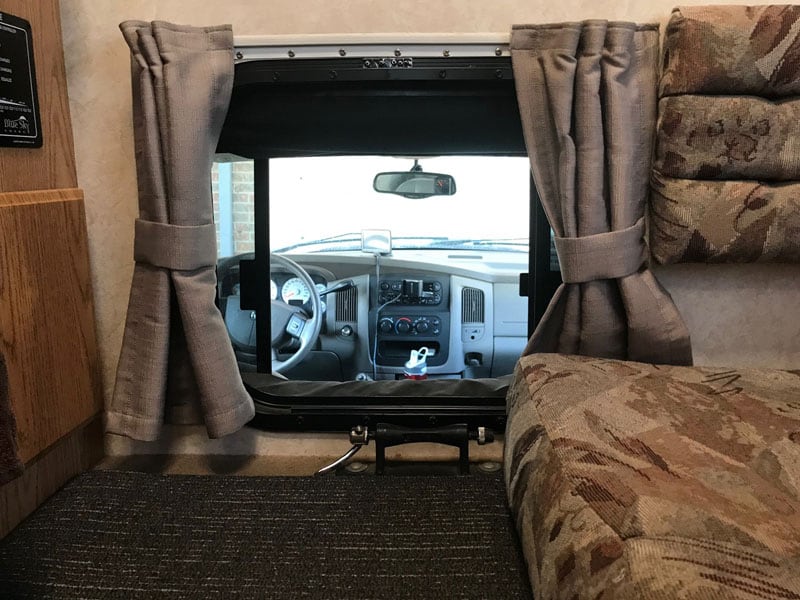 "I've had a pass-through on all three campers that I have owned. I am currently using the Northstar boot. I can send some heat or air conditioning back to the camper while I'm on the road. It's convenient overnight storage for smaller or still damp items, and I can crawl through if sufficiently motivated. Closing the truck's back window effectively separates the two spaces as desired." – Larry Bluhm, 2004 Dodge 2500, 2011 Northstar Laredo
"Pass-through windows are no longer necessary." – Bob Branson, 2008 Ford F-350, 2014 Lance 1172
"Due to the fact that most trucks no longer have a pass-through window, I don't see the need for the truck camper manufacturers to have one. With that being said, I have a pass-through window in my 2011 Lance that I have really enjoyed, not that I use it for the pass-through function. It allows me to see all the way through the camper and out the lower window in the rear door.
However, with a majority of the truck campers manufactured today not having that window, and the popularity of backup/rear view cameras, I don't see a need for even a non-removable window to replace the pass-through window." – Eldon Rhodes, 2008 Chevy 3500HD, 2011 Lance 1050
"We are shopping for our truck camper and a pass-through window is really important to us. We would like the access for our dog to move freely between the truck and the camper. Also, I like the ability to have extra ventilation." – Dottie Dolezal
"Bring it back." – Alan Mueller, 2006 GMC 2500HD, 1995 Lance 845
"I would prefer that the window not be there at all in the camper. I have never used it, not even to look into the truck from the camper. It is just another item that can leak and may need to be repaired and caulked." – Donald Fox, 2015 Ford F-450, 2018 Arctic Fox 990
"My wife and I have long since given up seat hopping. The window is too small in any case to really be of use. If we were to try and use the pass-through we would be parked, so why not go out the door?" – Luther Lloyd, 2016 Ford F-350, Arctic Fox 990
"My current 2013 Adventurer 89RB doesn't have pass-through window because it was not offered. I had pass-through windows on my previous two campers. They were convenient and I do miss them.
In my 1981 Vanguard camper, I accidentally left my truck/camper keys in the off ignition, the door auto-locked when I closed it. I had to climb the ladder to pry open the cabover fire escape vent, crawl through the pass-through. Perhaps not a pretty sight in a kilt!" – Vic Smith, 2015 Ford F350, 2013 Adventurer 89RB
"It's very important for pet access, emergency pass-through of power cords, antenna coax, etc. on trips. It's necessary to temporary carry long pipes, lumber, etc. for projects from Home Depot. It provides air flow and air conditioning into the camper when traveling." – Jim Longthorne, 2005 GMC Sierra 2500HD, 2005 Four Wheel Camper Grandby
"I'd almost like to try one so the dog could go through on the rare occasions I leave her to go sightseeing in someone else's vehicle. For some reason she never barks in the truck, but it is too hot to leave her in the truck. I would much prefer to use that space for steps up to the bed. I do open the window sometimes when it's off the truck for a breeze. But I would get the most use out of some sort of step system to the bed." – Chris Franczek, 2011 Ford F-250, 2014 Lance 865
"If I had a non-basement camper, I would want a pass-through. However, my current truck has a solid rear window, so I couldn't utilize a pass-through even if I had one. And the extra storage that we have with an above the rails floor plan in our current full-basement camper is something I wouldn't be willing to lose to gain the small conveniences we experienced with our previous truck/camper combinations that had the pass-through feature." – John Wells Jr, 2011 Chevy 3500HD, 2012 Chalet Ascent S100F
"We made a screen for our pass-through. When the camper is not on the truck we remove the window. It's nice to get the extra breeze." – Bonnie Bertel, 2015 Chevy 3500, 2016 Lance 1172
"Our pass-through window does not open and I am okay with that. My dog likes to look out it, but I see no other use for it." – David McKee, 2016 Ford F350, 2019 Northern Lite 10-2
"Our pass-through window allows our dog to go from the camper into the truck. The rear seat on our extended cab has been removed and a platform provides his view and storage underneath. Additionally, while traveling we regularly open a roof vent and allow the air conditioning to enter the camper from the truck. This makes it a far more comfortable temperature inside the camper." – Jay Kamys, 2015 Lance 855s
"No longer necessary as far as I am concerned." – Greg Vickery, 2015 Chevy 3500 HD, 2016 Eagle Cap 1165
"Pass-throughs are a great thing for traveling animals and children. I have used it when I didn't want to redress to get something out of the cab on a cold night. Not having a pass-through would be a deal breaker for me." – Cyrus Block, 2014 Dodge Ram, 2016 Outfitter
"Yes, continue putting them in. If we were in the market for another truck camper, it must have the pass-through window for our cat." – Dennis Berry, 2000 Ford F-350, 2014 Lance 950s
"We love our pass through window! We keep it closed, but we like to be able to look through the truck's windows to be able to see who is around the front of the truck while we are in the camper. When we are traveling and we hear something going wrong inside the camper we are able to see what the problem is. Even with the privacy curtain closed, it still lets light in the camper." – Jerry Bonneau, 1995 F350, 2002 Lance 1061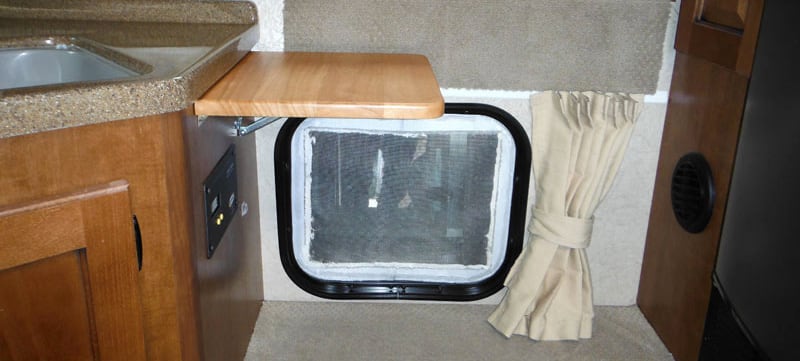 "I thought it was important until after I used my Lance 850. With the back-up camera the window is irrelevant. Plus with the wide angle rear door lens you can only see back about ten feet. The camera is night and day better. I only use our removable pass-through window after I made a pop in screen for it and use it for ventilation. I only use it when I'm still because on the road too much dust comes in (only did that once)." – Edward Kuivinen, 2009 F250, 2016 Lance 850
"There should be a pass-through window." – Greg Zoucha, 2004 GMC 2500HD, 2016 Lance 650
"We lost our cat when a cold front caused our air pass-through to contract allowing a gap, and she got out at 4:00 in the morning." – John Schlobohm, 2013 Ford F150, 2013 Lance 825
"They should keep them, at least as an option. I like the idea of getting to the cab from inside the camper if needed." – Kevin O'Brien, 2014 Chevy 2500HD, 2016 Northstar Laredo
"I wish my camper did not have one as it seems to be a source of cold air leaks." – Ross Vlieger, 2015 GMC 3500, 2015 Lance 992
"We're still in our first year with this endeavor, but the pass-through window arrangement has proved useless to date for both egress and vision – and it's been a non-issue. As with several other features you've identified in recent time, I'd say delete it." – Mike Bowers, 2016 Chevy 3500HD, 2019 Bigfoot 25 C10.4
"Yes, the manufacturers need to retain the feature of pass-through windows because it's an easy (but, necessary) selling feature!" – Ross Eliason, 2016 Ram 2500, No camper as of right now!

"Our last camper was a hard-side Coachman. The pass-through window was used while driving to see through the camper and rear door's window via the truck's rear view mirror.
On the Lance, with the slide-out retracted for travel there is no line-of-sight for the rear view mirror to the back door, so a remote rear camera is necessary. Also, the Lance's pass-through is a remove-to-open window while the Coachmen was a slide-open design. The new model Lances now make that front wall solid and incorporate helper steps to get in and out of the bed area; a mod I am considering." – Gary Possert, 1998 GMC K3500, 2014 Lance 1050s
"I'm about to purchase a Northstar TC650 and would be very disappointed if I could not get the pass-through window. It would not be a deal breaker for me but I would ask the manufacturer if they could build one in for me if they did not offer it standard.
I also wish both cab and camper windows were large enough for an adult to pass through. I also will use it for my cat to pass through as I would put the litter box on the truck's cab floor.
I do worry about theft when the camper is off the truck like someone pushing out the window and would be small enough to pass through. An inside removable lock bar would take care of that worry.
While traveling, the pass-through windows allow heat or air conditioning from the truck to get into the camper, food to be passed through and other benefits." – David Klein, 2016 F150, Northstar TC650
"As mentioned in the article, we like to use the pass-through as a weather-protected window for ventilation. It also allows the dog to look outside without getting on furniture." – Susan Bates, 2018 Ford F450 Dually, 2015 Arctic Fox 1140
"I don't think pass-through windows are necessary in a truck camper. I have never thought about it until now. As a child, I can remember crawling through the pass-through in my parent's truck camper with no problem. It was easy then but being an adult would make that move significantly more difficult." – Angie Scott, 2014 Chevy Silverado, 2016 Northern Lite 8-11EX
"Pass-through windows offer extra ventilation and a view of what is going on in the camper. For example, when my wife didn't latch the refrigerator door properly and food was flying out! I think more windows you have, the better the view is, and bigger windows are better. It seems like most manufactures are putting fewer and smaller windows on the newer campers." – Mark Robinson, 1996 Dodge Ram 2500, 1998 Bigfoot 1500
"Pass-through windows are not necessary to us. I am afraid I will kick it out or otherwise break the one in our current camper!" – Ann Gemberling, 2016 Ford F-350, 2001 Lance 1121
"I never use the one we already have." – Gary Richardson, 2006 Chevy 3500, 2006 Lance 1181
"Not only are pass-through windows great for protected-from-weather ventilation, but since my rear truck window also rolls down with a push of a button, I can haul 20-feet of PVC pipe, or 10-feet or longer 2×4 or 4×4 lumber easily without any tie-downs – even when the camper is on the truck. The materials can easily pass through the opened windows. To me this is a very important feature." – Michael Hallett, 2004 Toyota Tundra, 2007 Four Wheel Camper Hawk
"Since I am in the process of decision making of buying a pickup camper, I only can say that this question was, up until now, not relevant for me. Personally for me, I don't see the necessity of a pass-through window." – Dirk Strahlmann
"Not necessary." – Bob Peterson, 3008 Chevy Silverado, 2015 Northstar Laredo
"Make more pass-through window options. It's very necessary to have a pass-through." – Eric Johnson
"For me, it would be pointless. No way can I get out from under the steering wheel and over the center console. I tried to get out of the driver's seat just to see if I could even get out the driver's window. Nope. Older trucks had more of a bench seat and the driver sat higher with more leg room; not the sports car position of my Tacoma." – Ivan Hass, 2017 Tacoma, 2017 EarthCruiser GZL
"Pass-through windows are not necessary anymore." – Frank Mehaffey, 2012 Ford F250, 2013 CampLite 10
"I like the ventilation. I made a screen for it, so it's like having another window." – John Stahley, 2007 Dodge 2500, 2003 Lance 915
"I think pass-through windows should be an option. When purchasing my camper it had several features that had greater weight than the window, but I do wish it had one." – Lena Swanson, 2019 Chevy 3500HD, 2018 Adventurer 86FB
"No. They should not bring back or continue to design campers with pass-through windows. It's an outdated design that wastes space on the inside of the camper and it's illegal to be out of your seat belt while the vehicle is moving." – Scott Elliott, 2007 Ford F-350, 2013 Chalet TS116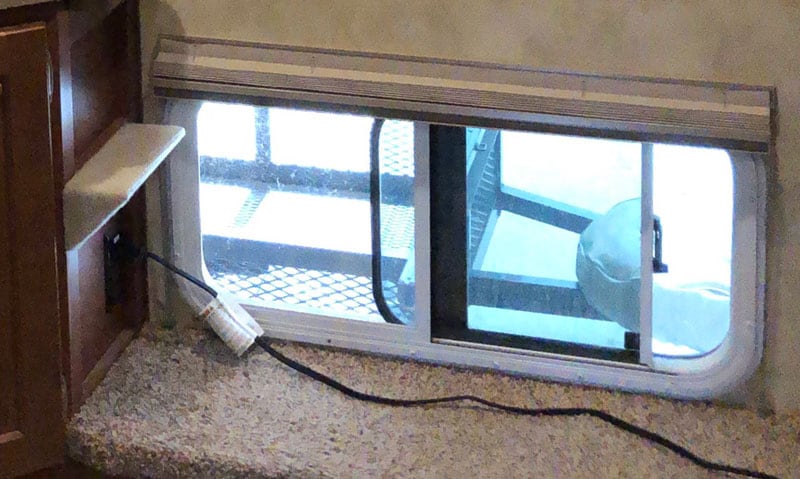 "Having an opening pass-through window is important to us in both the truck and the camper. We don't use it to physically pass through, but it is a window that can always remain open regardless of the weather. If we need to leave our dog in the truck, we can leave the rear window and sunroof wide open because the camper keeps the rain out. When we are in the camper, we always have the pass-through window open for ventilation." – Celina Binns, 2014 Ford F350, 2014 Arctic Fox 1150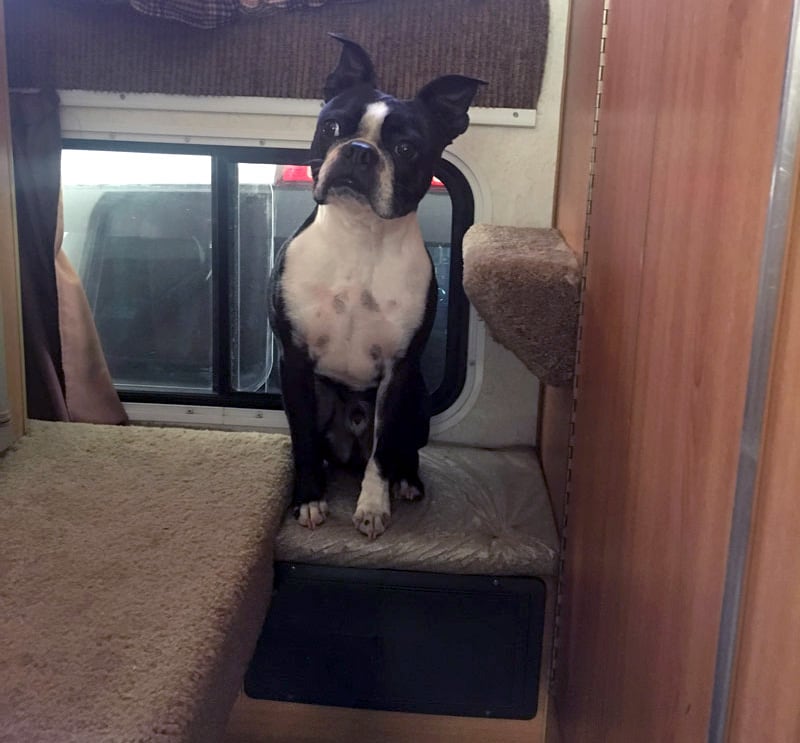 "While I don't think the majority of new purchasers would make a pass-through window a make or break decision, the option is nice to have for those rare occasions when a younger, more spry person can access the camper from the truck in those situations when the battery door lock fails, you want something from the refrigerator while stopped or you can move your pet from truck to camper. While I do have a pass-through window, it doesn't line up with my truck. Therefore my dog uses it for dog patrolling." – Wandering Werners, 2012 Dodge 3500, 2005 Lance 981
"The pass-through window is totally useless in my camper. It only opens half way. My truck back window is electric and only opens halfway so it would have to remain open all the time. The back seat of the truck is full of stuff when traveling; chairs, roll-up table, barbecue, leveling blocks, Vi-air bag, camera bags and bicycle box. So, it's almost impossible to climb back there and push something thru to the camper. I also store my 6×9 outdoor mat between the cab and camper where the sliding windows are.
So yes, do away with the sliding window and the cabover front window which is just there to look at squashed bugs. With the sliding window gone, perhaps another step could be added for easier entrance to the cabover and a place to install two or three Lithium batteries." – Roger Odahl, 2008 Dodge Ram 3500, 2004 Eagle Cap 950
"Bring back pass-through windows large enough for a person. I had to build a pass-through from my sunroof to camper's cabover since the rear windows are too small to get through." – Bob Dold, 2015 Ford F-150, homebuilt camper
"I really like to see through to the traffic behind and to make sure cabinet doors are not swinging open, etc. The pass-through is not so important." – Tom Davidson, 1998 Dodge 2500, 1970s Alaskan 8
"I've not found them to be useful, therefore they're not necessary." – Jim Goodnight, 2019 Ford F350, 2019 Lance 855S
"I think pass-through windows should be incorporated when it doesn't interfere with construction add-ons like slides or front baths. My truck doesn't have a sliding rear window, but I appreciated being able to observe ongoing catastrophes in my rearview mirror. I've been considering doing a mod but don't have structural info." – Rich Fry, 2019 Chevy, 2019 Palomino HS-8801
"When we bought our F-250 the only thing that was missing was the rear sliding window. I had a factory rear slider installed so I could use the pass-through window in our 2015 Lance 855. We love the pass-trough window for our cat. Oliver (aka Bubba) loves to go back and forth during travel, and his litter box is on the floor of the back seat at night and on the floor of the camper when we are traveling. We wouldn't own a truck or camper without it." – Micheal and Nancy Pohl, 2015 Ford F250, 2015 Lance 855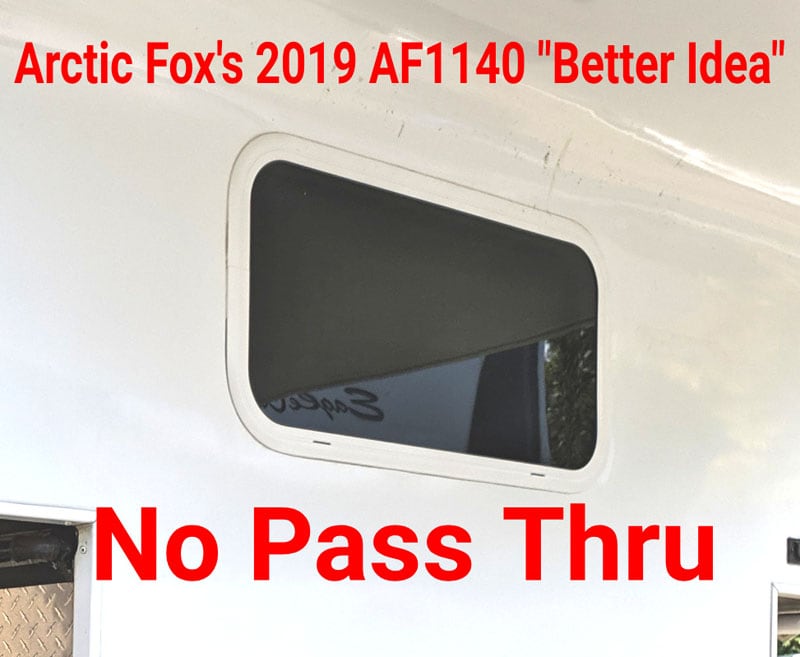 "Bring back (in the case of our Arctic Fox 1140) or continue with pass-through windows. It provides covered ventilation, winter storage ventilation, and a pass-through too!" – James Duarte, 2019 Ford F-450, 2019 Arctic Fox 1140
"We travel with our dogs, Mugg Z and Po. They like to travel back and forth from the truck to camper. We don't travel with them in the camper but, when we stop, the pass-through really helps." – Bruce Lominac, 2015 Chevy 3500, 2008 Lance 1191
"Yes! Texas had record heat this summer. With 52-days over 100-degrees Fahrenheit, campers without air conditioners turned into saunas and were practically useless. I travel several times a year through West Texas, New Mexico, Arizona and California deserts on my way to the coast. I will run with air conditioning on in the cab with the pass-through open and the rear roof vent open in camper." – Richard Spahn, 2019 Ram 3500, 2019 Northstar 850SC
"Pass-through windows are great. We use it to access stuff strategically placed in the cab." – Charlie Book, 1999 Ford F350, Lance 1121
"I think if they are possible with the design of your camper, they should continue. They are a convenience for a lot of campers." – Tim Tuttle, 2015 Chevy 3500, 2013 Chalet 116DS
"Yes! I use it all the time." – P Albright, 2006 GMC, Northstar
"Yes, truck camper manufacturers should bring back pass-through windows. I wouldn't buy a new Lance or any other brand without a pass-through window. My yellow lab rides back in camper and likes to see us in the truck can." – Robert Barnett, 2015 Dodge 3500, 1998 Lance 5000