Gary Schiffner has an amazing dream involving a Lance Camper, Chevy 3500 dually diesel, a Ranger Boat and bass fishing.  If only the darn Homeless Armadillo Association (HAA) would stop calling…
If the above video does not play, click here to watch it on YouTube.
The Story Behind Truck Camper Dreaming
After we published Angela's, "Essential Google Maps For Truck Camping" article in May of 2017, Gary Schiffner emailed us to mark his home on our Google Map for a visit.
Angela put a, "Reader Invite" pin in our Google Map and – nearly two-and-a-half years later – we found ourselves rolling through the southeast.  "Hey Gary!  Remember when you invited us over?  Well…"
With our constantly changing lifestyle, we don't always know exactly where we'll be and when we'll be there.  Fortunately for us, Gary and his wife, Bonnie, were very gracious with our short notice and told us to stop on by.
When we arrived, Gary and Bonnie greeted us at their beautiful four-bay garage and plugged our camper into shore power.  It's funny how Angela and I are now more impressed with a tall-door garage than a house.  Way more.
After seeing their garage, truck, Lance Camper and Ranger Boat, my mind was immediately thinking up a video.  If we could only load that camper, hook up the boat and take it boating and fishing.  That would be awesome!  And Gary and Bonnie's one-ton dually truck and non-slide camper are a phenomenal payload match.  What a dream rig!
There was only one problem.  Gary and Bonnie's truck, camper and boat were perfectly put away and clean.  And when I say clean, I don't think I've ever seen a cleaner truck and camper.
We have seen Lance Campers just completed at the factory that were not this clean.  I've seen rigs come out of truck washes that were not this clean.  Did I mention how clean their truck and camper were?  They were unbelievably clean!
So how in the world was I going to talk these nice folks (whom I had just met) into loading their camper, hitching up their boat, driving it to the park, and putting their boat in the water – all for my video?  There's no way.  It's not happening.  Don't even let that synapse fire.  Forget about it.
As it turns out, I'm not good at that.  Once a creative snowball starts rolling,  I'm going to make a snowman, or at least a snow cone.
That night I started writing a video script.  The following evening I showed Gary and Bonnie the video I made with Charles Phy just the week prior.  I told them it was a sneak peek as it wasn't going to run in Truck Camper Magazine until the following Tuesday.
When the video ended, I surprised Gary and Bonnie each with a video script and explained my vision.  As they read the pages, I had every finger and toe crossed hoping they'd agree to do it.  And without blinking an eye, they did!  The only catch was that we would have to shoot the video after Gary got home from work.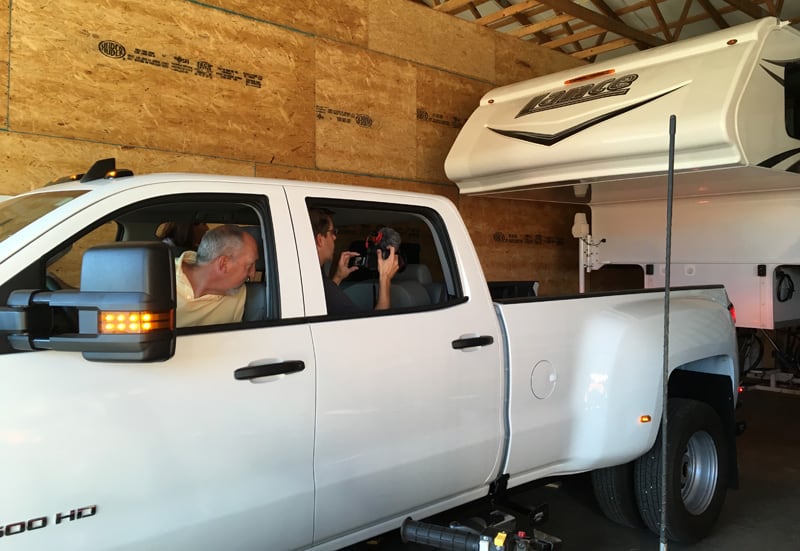 Above: Gary and Bonnie had to load their camper about 10-times as we took shot after shot.  Look closely and you'll see me in the back seat filming Gary's perspective.
On Wednesday and Thursday of that week, we started at 4:00pm and shot for two hours until it was dark.  On Wednesday we shot the camper loading, boat hitching and driving out of the garage sequence.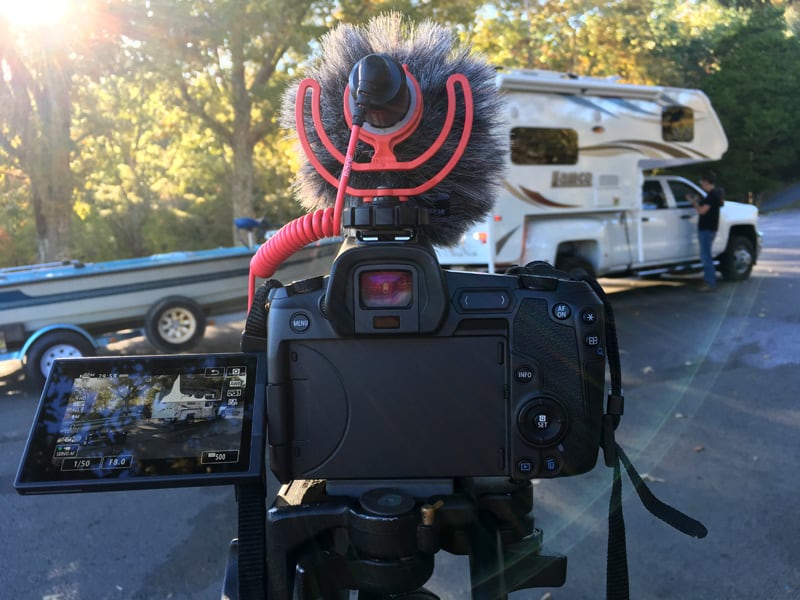 On Thursday we shot the boat going into the water, boating, fishing and driving sequence.  It all went beautifully, but then another snowball started rolling.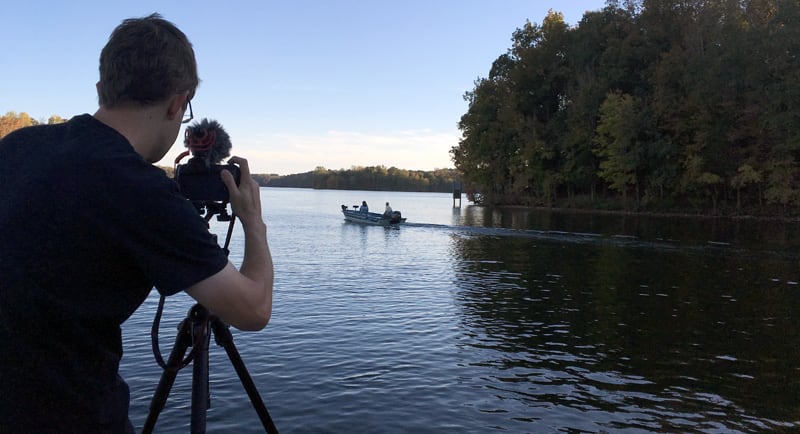 Above and below: First we filmed Gary and Bonnie out on the water from a dock.  Then they came back and picked me up for the onboard boating shots.  These shots are intercut in the video.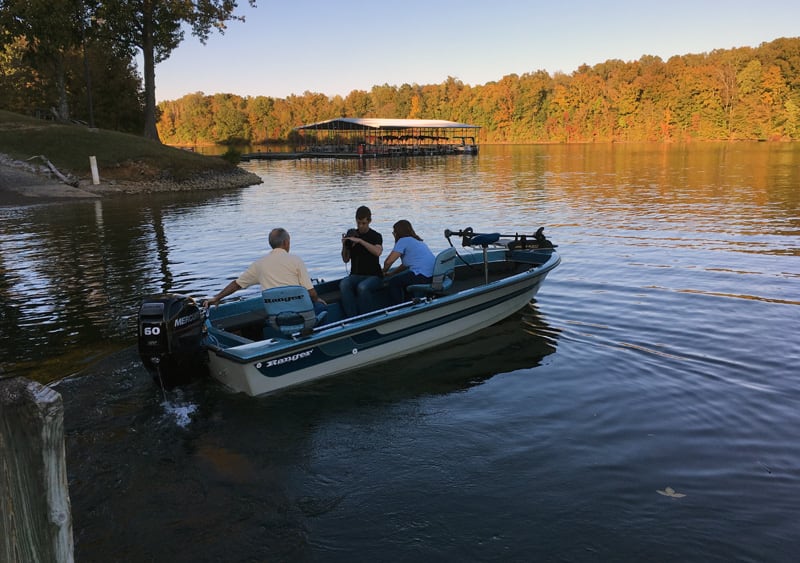 The Second Snowball: Make It A Narrative
Angela had mentioned that the heart of Gary and Bonnie's story was that they still worked, had busy lives, and went truck camping when they found the time.
Gary and Bonnie also both talked passionately about all the places they wanted to go truck camping when they finally retired.  That's where Gary's initial interest in the Google Map story came from in the first place.
And just like that, I got the idea of Gary at work and having a dream.  Gary and Bonnie had taken us to see Gary's company and I noticed one particular office located at the end of a long hallway.  "A push-in shot would look really cool here," I thought.
So I went back to Gary and Bonnie fired up with another vision.  We would go to Gary's work and film a dream sequence, with a voice over.  What was going to be a straight video presentation of a fantastic rig was now going to be a narrative short film.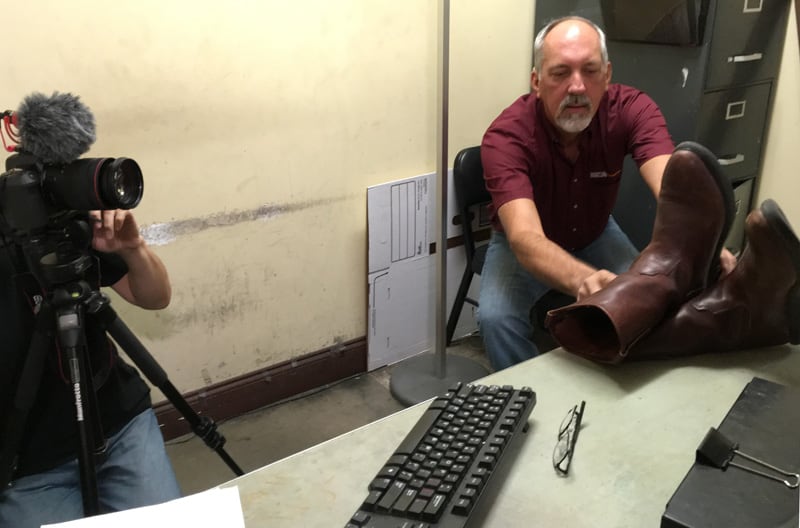 Above: For the shot of Bonnie walking into the room, Gary held his boots on the desk
Truth be told, I had absolutely no idea if I could pull this off.  I was less than a month getting back into video, and now I wanted to make a narrative film?  Am I nuts?  Don't answer that.
We literally shot the office sequence for the better part of Saturday.  When we got back to their house, we recorded Gary's voice over.  Less than 24-hours later, I had the first edit and showed it to Gary and Bonnie.  Much to my relief, it was going to work.
Thank You Gary and Bonnie!
I cannot thank Gary and Bonnie enough for helping make this video possible.  They gave us two days after work and all day Saturday.  And they were acting for goodness sakes!  These two folks we had just met were now acting in front of a camera for us.  Worse, I was directing them, take after take.  Action!  Do it again!  Action!
The best part of this whole thing is Gary's ad libs.  His snoring?  Gary's idea.  The boat suddenly taking off like drug runners escaping the Coast Guard?  All Gary.  He kept doing things unexpectedly on camera and I'd think, "That works!"  Then I'd make him do it ten more times.  As it turns out, Gary can snore like a lumberjack on cue.
There is already another short film in the works.  This one takes things a step further and – as of this writing – I'm still completely terrified about whether or not I can pull it off.
For now I'll give you only one clue about the next film.  It's hu-MOG-ous!